Meet my book, Cosplay: A History
My book about the history of cosplay is finally available to order online!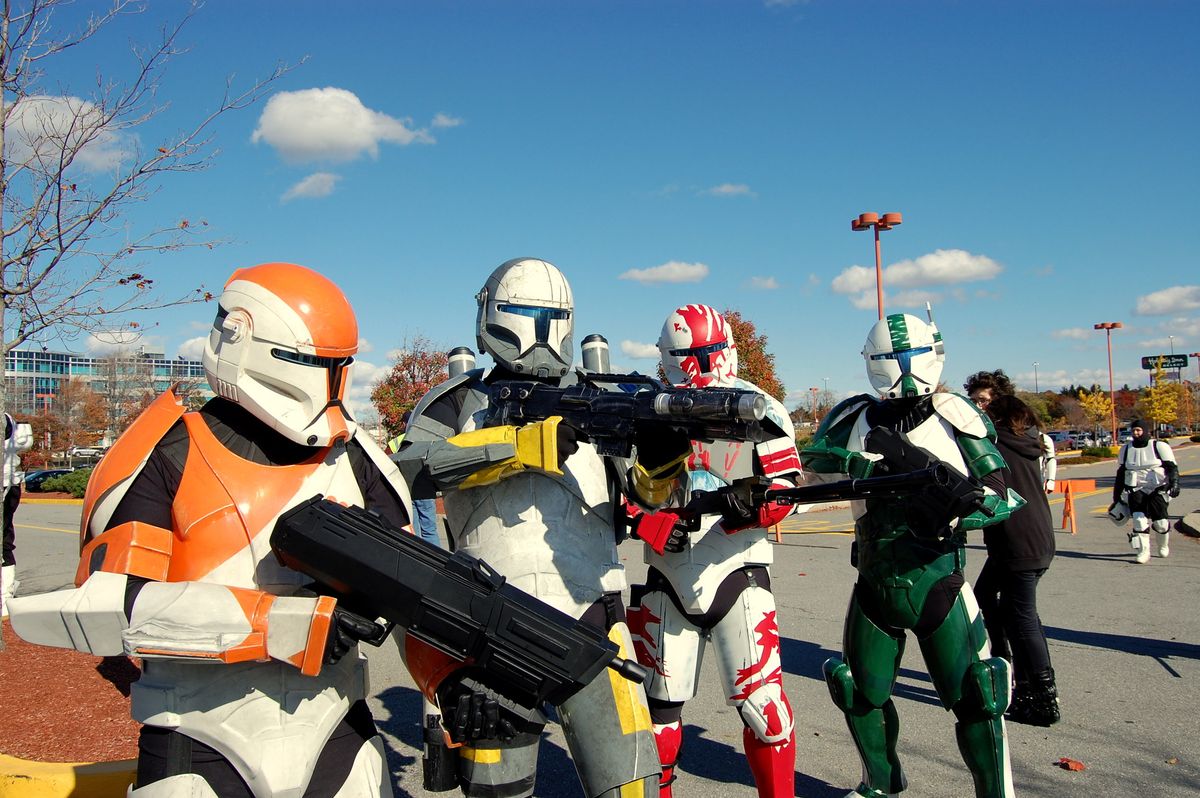 Happy Friday!
This message is coming along a little later in the day than usual: apologies for that, but you can blame Denis Villeneuve and his adaptation of Dune. I caught it at the local theater last night with my son, and I was blown away. It's a magnificent, beautiful film, and I thought it captured the novel really well. I'll have more to say about that next week, after I've seen it another time or two.
Earlier this week, I left Tor.com, where I'd been working as a freelancer for the last 2.5ish years. This is a good move for my personal mental health and stress-level. Stepping away will allow me to focus a bit more fully on some other things, including this newsletter.
I put out a call for subscribers on Tuesday, and so many people signed up: it was probably the biggest spike in new signups and subscribers, and I'm absolutely blown over by that. Thank you so very much for your support and your readership. It's a huge boost in confidence, and gives me plenty to work on for y'all. In case you missed it and want to subscribe you can do so here.
Also, those of you who are new paid subscribers — if you haven't joined the slack channel, shoot me a note and I'll send along the invite link to you.
What was also a huge boost this week? Later that evening, my book popped up online on Simon & Schuster's catalog and elsewhere, proving that it's not a weird dream I've been having for the last couple of years.
Let me tell you a little about it.
---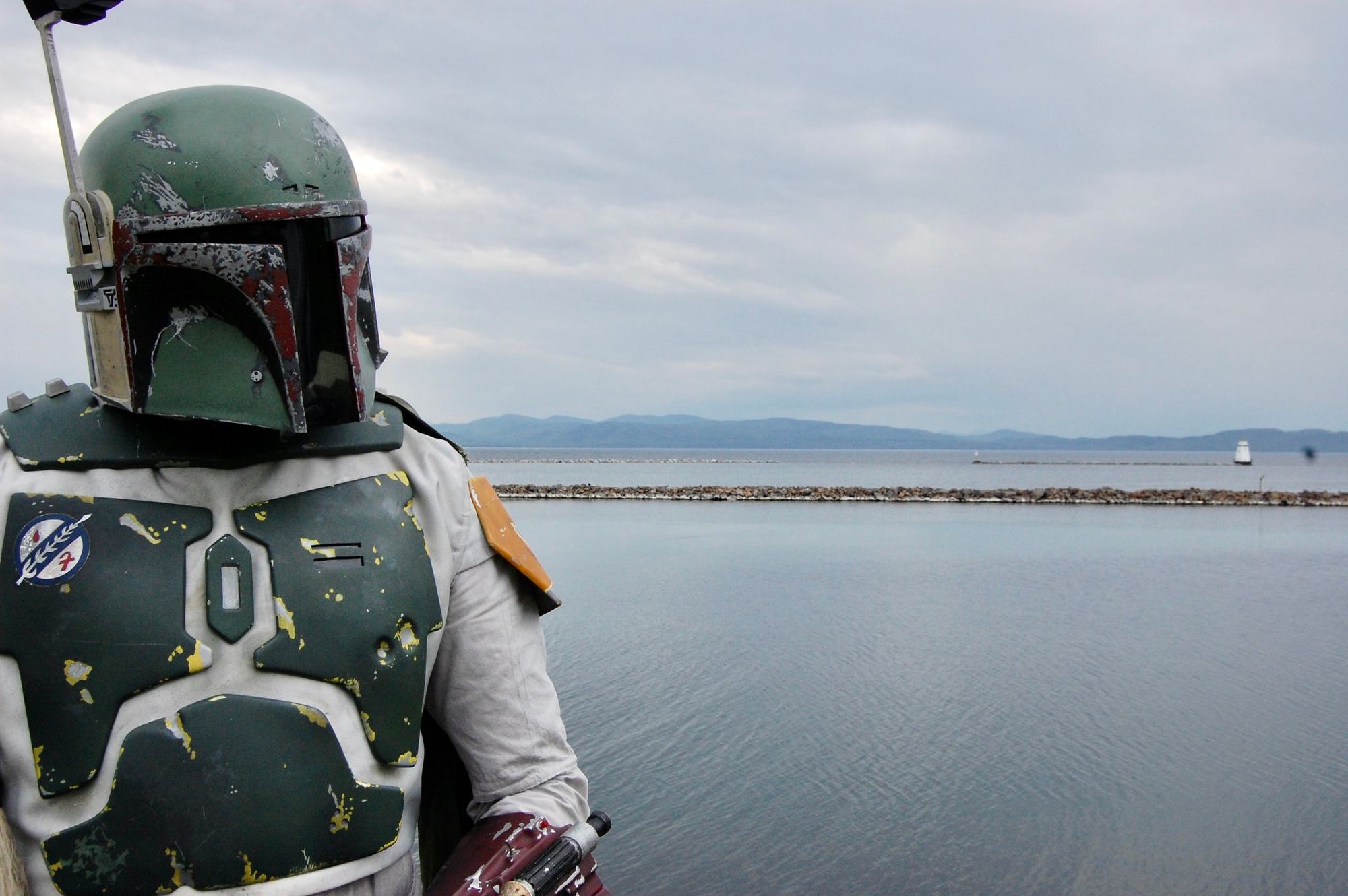 Announcing Cosplay: A History: The Builders, Fans, and Makers Who Bring Your Favorite Stories to Life!
As noted on social media earlier this week, I'm pleased to announce my book: Cosplay: A History: The Builders, Fans, and Makers Who Bring Your Favorite Stories to Life!
I can't wait for the book to come out and for y'all to read it, and to get some answers about it, I'm going to talk to the person who knows the most about this project: me.
Me: So, what's the book about?
Me: Short answer: it's a history of cosplay, running from around the 1500s to the present day, looking at everything from how costuming got its start, to the various technologies and evolutions, and how we as fans interact with the stories we like.
Here's the official description from Simon & Schuster:
A history of the colorful and complex kingdom of cosplay and fandom fashion by Andrew Liptak, journalist, historian, and member of the legendary fan-based Star Wars organization the 501st Legion.

In recent years, cosplay—the practice of dressing up in costume as a character—has exploded, becoming a mainstream cultural phenomenon. But what are the circumstances that made its rise possible?

Andrew Liptak—a member of the legendary 501st Legion, an international fan-based organization dedicated to the dark side of Star Wars—delves into the origins and culture of cosplay to answer this question. Cosplay looks at the practice's ever-growing fandom and conventions, its roots in 15th-century costuming, the relationship between franchises and the cosplayers they inspire, and the technology that brings even the most intricate details in these costumes to life.

Cosplay veterans and newcomers alike will find much to relish in this rich and comprehensive history.
This all sounds neat. When is it out?
I'm glad you asked! June 28th, 2022. That's 249 days from now, and three days after my birthday.
What is cosplay?
My definition basically boils down to: any time someone dresses up for fun to relate to a story that they love. It can be as simple as throwing together a costume from things in your closet to something super elaborate that takes years to build. It can be a mashup of stories and genres, a scene from a film, or something that's extremely scree-accurate. There's no right or wrong way to do it.
Screen accurate?
That's when someone tries to build a costume that is as close to what you see on screen as possible. They might use the same exact parts used in a costume, or exact replicas. For my shoretrooper, the boots I wear are the same ones the production used.
So what got you interested in cosplay in the first place?
The first time I saw Star Wars in theaters, back in 1997: I distinctly remember riding home thinking that I'd love to have a suit of stormtrooper armor. Six-ish years later, I got my wish and I've been doing it ever since.
How did you come to write about this book?
This book has had a long gestation.
In 2015 or 2016, I started chatting with Joe Monti at Saga Press. He'd come across the 501st Legion at San Diego Comic-Con, and one story in particular: a member of the group had lost his wife to cancer a couple of years before, and to honor her, he decided to march 501 miles — in armor — from Petaluma to San Diego. Joe was moved by the story and asked if there was a bigger story there, and he asked me to put together a pitch for a history of the 501st Legion. I did, my agent at the time and I turned it in, and we waited.
A couple of years ended up passing — there were some weird hangups (on a third party) and I ended up pulling the project: I needed to move on.
But while I'd been working on the proposal, it had begun to spill over from the 501st into other things. I wanted to understand not only where the 501st had come from, but where cosplay had come from. I signed with a new agent, Seth Fishman, and we re-purposed that original pitch in 2018, sent it off to Saga that fall, they bought it, and by March-ish 2019, we announced it, right as I was leaving Star Wars Celebration in Chicago.
At the convention, I'd started taking pictures that I figured would end up in the book eventually, and interviewed a handful of people there. Over the next year, I spent a lot of time on the phone chatting with folks about all types of things: the history of costuming, how various cosplayers got into cosplay, about various technological things, and so forth. I amassed a small reference library with dozens of books about cosplay, fandom, and history.
When I left The Verge in 2019, it was a small blessing: I now had time to hit a whole bunch of conventions, and ended up going to Dragon Con, Fan Expo Boston, Rhode Island Comic Con, and Granite State Comic Con to take pictures and interview certain people. All the while, I was filling out my outline chapter by chapter. I ended up adding things, subtracting things, reorganizing it, and eventually turned it in a week before the pandemic hit in 2020.
The book was originally slated to come out this year, but, well, the pandemic happened, so it got bumped back to 2022. Joe handed the project off to a fellow editor, Amara Hoshji, and all fall, we've been editing the book and getting it into shape.
What was the biggest challenge in writing this?
Distance was the biggest thing. There are so many conventions and events out there, and only so much time and logistics that allowed me to get out to a small fraction of them. I'd have loved to have been able to visit Japan, for example, but that just wasn't possible between my then-work schedule, and then working as a freelancer.
Another big challenge was finding the right folks to interview, especially some of the bigger cosplayers out there. I interviewed a ton of people for this book, but like any journalistic exercise, you don't always hear back from everyone. As a result, there are some big-name cosplayers that I reached out to, but never heard back from, or in some cases, people didn't want to / couldn't chat with me. Which is fine! They're busy and have their own thing going on, and I ended up chatting with others who got me the information that I needed.
Will there be pictures in the book?
Yes! I took a ton of images over the last couple of years — I've posted a bunch to Instagram and Twitter as I've been going to cons. My initial draft of the book had a spreadsheet of nearly 350 images, which we've pared down to something like 150-200 because of space. Not all of the images are mine: some folks volunteered theirs, such as images from those very early conventions.
I've seen you take pictures of reenactments and conventions: what is the scope of this book?
One of the things that I realized early on was that this notion of putting on a costume or a uniform was something that went beyond nerds going to comic con. Reenacting, the SCA, living history? It's not quite cosplay, but I think it's under the same big umbrella.
What about Halloween costumes? How is that any different from Cosplay?
I don't know that it really is: think about the costumes you might have dressed up in as a kid: you'd have been dressing up as something you really loved, and might have even made the costume yourself.
But more than that, Halloween (and I've got a chapter about the origins and evolution of the holiday) serves as a fantastic pipeline to cosplay.
Did being a cosplayer yourself make it easier or harder to write the book?
This is a really good question, and it's something I've reflected on quite a bit while writing this. The title of the book is Cosplay: A History, and while I've worked to make it as comprehensive and definitive as I can, it's still a product from me.
I came up in cosplay through the 501st Legion, and given that the book has its roots in a history of the group, there's certainly a bit of a slant towards that side of the cosplay tradition: I spend a good amount of time on that particular group, as well as the Replica Props Forum and things like screen accuracy. Had I been an anime fan and come up in that tradition, the book might have looked different.
I think being in the 501st, my writing about nerd stuff over the last decade, and knowing a lot of people within it was extremely helpful in understanding the scope and story behind the community, as opposed to someone coming in completely blind.
What's the most creative costume you've come across while working on this?
God, so many. I think my absolute favorite was a woman at a convention walking around with a lab coat with the word BAGEL! floating over her head. It's a moment from Spider-man: Into the Spider-verse (at the very last second of that clip), and it makes me giggle at how creative and goofy it is, because anyone who's watched the film will automatically get it.
What is your favorite character to see cosplayed? To have played yourself?
I have my own personal favorites for me: my Rogue One costumes, a Shoretrooper and General Merrick, because I love the film, and the costumes are very cool-looking. My ANH Stormtrooper is also a favorite: it's like a familiar coat and persona that I can pick up right away.
As far as favorites that I've seen at conventions? Far too many to list off. Various power armors that've been 3D printed, a spectacular Catwoman that I saw at Fan Expo Boston this year, a group of cosplayers at Star Wars Celebration cosplaying as a film crew from The Empire Strikes Back, and many more.
I wonder if you've developed a sense of the race, gender orientation, and economic status of cosplayers — or of ethnic and national origin. It would be interesting to see how diverse (or not) this community is. I imagine it somewhat depends on the thing being cosplayed…
This is a great question, and there's no easy answer for this. I think overall, it's a hobby and vocation for everyone. I was on our local CBS affiliate WCAX the other week while they were covering Vermont Sci-Fi & Fantasy Expo, and I noted that cosplay is one of those things that transcends gender, politics, race, geography, franchises, and more. It's a melting pot that simultaneously allows people to step into the shoes of their favorite characters and become someone else.
There's implications there for gender identity and race, and I've devoted some time to the book about this. But there's also an economic story here: your typical 501st member is a white guy in their 20s-40s (roughly) — it's not a group that I'd call representative of the entirety of Star Wars fandom, and part of the reason (I think) is the internal culture (which is changing), and also the fact that it tends to cost around $500-$1000 to build an approvable costume, which shuts a lot of people out.
But meanwhile, you have people making incredible costumes out of EVA foam — the same stuff that makes up yoga mats — which are incredibly cheap and opens up the vocation to people who might be interested, but who don't want to drop a ton of money on an expensive, screen-accurate costume or whatever.
What do you want people to take away from this book?
If there's any one thing, it's that this is a book about how people love stories, and part of that love and appreciation of #insertstory/franchise/movie/etc is bringing the story to life in some way. It's a book about the fan community, and my hope is that people will recognize that it's full of insanely creative people.
I hope that people will look at this and recognize how big it is, and how much my book only scratches the surface. I spend a lot of time on the 501st and its story, but also look at the rise of anime and anime costuming in Japan, on reenacting, on technology, social media, social justice, and quite a bit more. It's an entire world, and I could spend another year or ten adding to this story and still not come close to telling the entire thing.
And my dream takeaway? To see people read the book and take up cosplay for themselves. (I'll absolutely lose it if someone cosplays at the book).
Okay, I'm convinced, where can I preorder this book?
The product pages went live on Simon & Schuster's website earlier this week, as well as Amazon, Apple Books, Barnes & Noble, Books-a-Million, Indiebound, and Kobo. Bookshop doesn't have it yet, but I'm guessing that'll happen eventually.
Where's the best place to preorder?
I've gotten this a couple of times already: the best place to preorder is wherever you're most comfortable buying your books from. If you shop at Amazon frequently, go there! If you want to buy from your local indie bookstore, Indiebound has you covered. ebooks? Apple Books, Amazon, BAM, and Kobo has you covered.
Can I get a signed copy?
Absolutely. It's early yet, but I'm chatting with a local bookstore about some sort of arrangement where they'll order copies, I'll come down and sign them, and they'll ship them out to you. I'll have more details down the line.
I'll also likely be out and about at a bunch of conventions in the coming year(s), so there'll be amble opportunities to meet up and scribble on whatever you put before me. Bonus points if one of us is in costume.
Wait, where's the cover?
It isn't done yet! It's currently being worked on. I've seen proofs and concepts, and it's looking really awesome. I can't wait to show it to you.
(Huge thanks to Aimee, Chao, Jon, Megan, Katherine, Robin, and Sam for their help with questions)
---
Preorder and get a comped subscription
So, the book is coming out in under a year, and publishing has been weird lately because of supply chain stuff and the like. Preorders are really important, especially with a first book.
So, if you're a regular subscriber to this newsletter, I'll comp a year's subscription to anyone who preorders the book. All you'll need to do is to send me your receipt (feel free to take a screenshot and reply to this email, or forward your confirmation along to me), and I'll add you up as a thank you. (If you're an existing paid subscriber and you preordered, I'll figure out something to do with y'all.)
---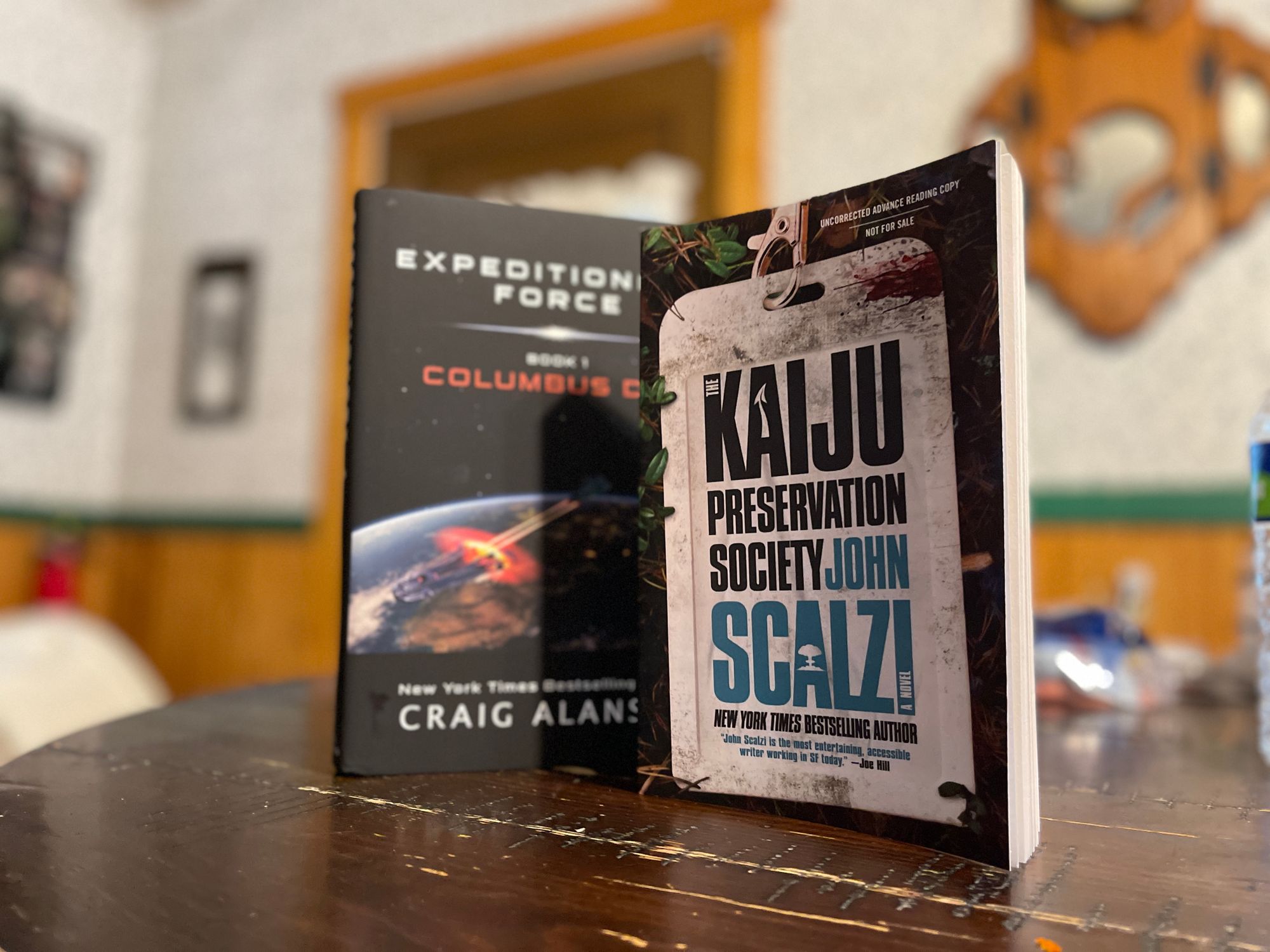 Currently reading
I have a small pile of books that I've been picking through, but I've had two books shoot to the top of the list this week for various reasons. First up is John Scalzi's next novel, Kaiju Preservation Society, which I'm a couple of chapters into. I'm enjoying it: it's pretty much what you'd expect from a Scalzi novel — pithy, fun dialogue and a quick read. It feels very cinematic.
Also on the pile is Craig Alanson's novel Columbus Day, the first of his Expeditionary Force series. I'm plotting out a profile on him, and this is both research, but also for fun — it's a series that I've had on my radar for a while now.
Also on the list: Never Say You Can't Survive by Charlie Jane Anders, Hell of a Book by Jason Mott, When the Sparrow Falls by Neil Sharpson, No Gods, No Monsters by Cadwell Turnbull, The All-Consuming World by Cassandra Khaw, All of the Marvels: A Journey to the Ends of the Biggest Story Ever Told by Douglas Wolk, Low Town by Daniel Polansky, The Book of Accidents by Chuck Wendig.
---
Further reading
Amazon's Wheel of Time gamble
Zach Baron of GQ has what looks like the first big exclusive profile of Amazon's upcoming Wheel of Time series. It's a big, ambitious series, and there was an interesting observation here that I think will stick with me for a while:
WOT Executive producer Mike Weber: "'The audience expectation is coming off of the last season of Game of Thrones, not the first season.' For the first season of Thrones, HBO spent about $6 million an episode, a number that steadily climbed from there. Amazon and The Wheel of Time? They're starting at upward of a reported $10 million per episode—for eight total, the first of which will begin streaming in November—just to get out of the gate."
Dune: Part 2
I'll talk more about Dune next week, but one thing to know about this going in? This one's formally called Dune: Part One, and it covers roughly the first half of the book. There's a lot of uncertainty about the film industry because of COVID-19 and whatnot, but from the sounds of things, Warner Bros. is looking to greenlight a sequel to the film. Deadline conducted an interview with the studio's executives, and they strongly hinted that that it'll happen:
"'Will we have a sequel to Dune? If you watch the movie you see how it ends. I think you pretty much know the answer to that,' WarnerMedia Studios and Networks Chair and CEO Ann Sarnoff told Deadline yesterday in a sit-down chat regarding the conglom's full support of Dune 2."
God, I hope so. And apparently, last night's preview screenings did pretty well.
Horror Films with Stephen Graham Jones
Over in The New York Times, The Only Good Indians and My Heart Is a Chainsaw author Stephen Graham Jones has an excellent op-ed about value of horror films. He runs down the recent high points in the genre, from Halloween Kills, Candyman, Chuck Wendig's The Book of Accidents, and Cassandra Khaw's Nothing But Blackened Teeth, and notes that the genre's excellent at being in "dialogue with the anxieties and fears of its time."
"But horror doesn't just reflect our fears and anxieties back at us. It also helps us process them. Horror is a fun house mirror everybody can use. It exaggerates, distorts and distills whatever it is we're trying to work through, then delivers it back to us as entertainment."
Liu Cixin Interview
The Wall Street Journal interviewed The Three-Body Problem's Liu Cixin as part of its The Future of Everything series, asking about his entry into science fiction, what he sees coming down the pipeline in the future, and a bit more.
It includes an interesting revelation: he isn't sure that humanity would band together to fight a common problem: "Looking back at the past two years, the pandemic has pushed nations toward more divisions. The events of the past few years have made me feel the uncertainty of the future, and made me realize that we cannot use straight-line thinking to predict what is to come. Sudden twists and turns that we haven't anticipated could happen at any time."
Mid-week roundup
As noted in Tuesday's announcement about changes and subscriptions, I'm going to take some of the stuff that I would have regularly been writing for Tor, and will be releasing a regular digest to paid subscribers. This week's went live on Wednesday, and features news about Canada's Aurora Awards, Netflix's Cowboy Bebop, The Expanse, N.K. Jemisin's Broken Earth trilogy adaptation, and the plight of FX's Y: The Last Man.
I've got another one in the works with stories about Last Dangerous Visions and Margaret Atwood, which I'm thinking will go live on Monday. To get it, sign up for a paid subscription here.
Snoop Dogg, Mandalorian
Whenever I want to pull out a fun fact about what I've done in armor with the 501st Legion, I'll point to a high-profile event that I went to in 2010, where I got to escort Snoop Dogg around Times Square along with a whole bunch of other stormtroopers. (You can see me in this video between 0:11 and 0:13, 0:23, and a couple of other shots). It seems like he's still a fan: his latest music video shows him decked out in Mandalorian garb for latest track Mount Westmore — Big Subwoofer.
It's pretty wild to see, and I know a couple of the folks involved in making the armor: Drew Hart, who used to be a member of the New England Garrison, and John Rodriguez, who I interviewed a while back for Cosplay Central. Drew's been working on costume making out in LA for a couple of years, and from the looks of it, John plays one of the aliens. The set? That's Scum & Villainy, a cool Star Wars-themed bar over in LA, which hosted the various fan clubs prior to the Rise of Skywalker premiere back in 2019.
My main takeaway from this? Star Wars is really this universal thing, and it can fit into just about everything.
---
That's all for today. Paid subscribers can expect a recap of this week's episode of Foundation, "Death and the Maiden" tomorrow morning.
Next week: as noted, Dune debuts in theaters today! I saw it last night, and have plans to see it again on Monday on a much bigger screen (my local theater is tiny), so I'll likely put together something of a review at some point. I've got a book review and interview to work on, which I'll do my best to get one of kicked out the door to y'all. Plus a mid-week roundup of the SF/F news for subscribers.  
As always, thank you so much for reading and for your support this week. It means a lot.
Andrew