Here Are the Winners of the 2021 Dragon Awards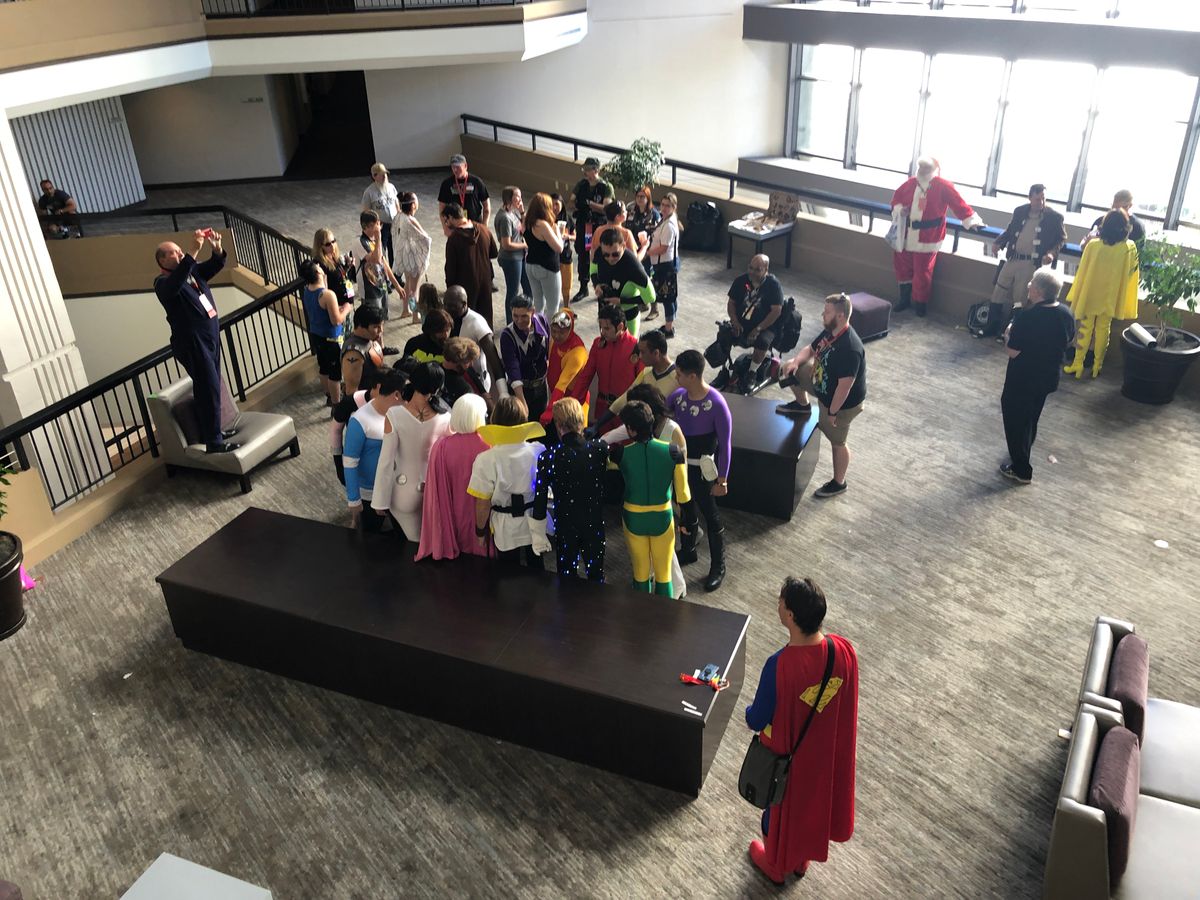 Atlanta's Dragon Con took place over the long Labor Day weekend, and as part of the festivities, the convention handed out its annual Dragon Awards, which honor the past year's best books, comics, and games in a variety of categories.
The awards are fairly new: they were introduced in 2016, and are open to the wider public (you don't need to be a DragonCon member to nominate or vote on the awards.)
Last year's winners included the likes of John Scalzi (For The Last Emperox), Erin Morgenstern (The Starless Sea), Bella Forest (Finch Merlin and the Fount of Youth) and plenty of others.
Here's the full list of winners, indicate in bold. (via File 770):
Best Science Fiction Novel
Machine by Elizabeth Bear
Ready Player Two by Ernest Cline
Attack Surface by Cory Doctorow
A Desolation Called Peace by Arkady Martine
Black Sun by Rebecca Roanhorse
The Ministry of the Future by Kim Stanley Robinson
Project Hail Mary by Andy Weir
Best Fantasy Novel (Including Paranormal)
Battle Ground by Jim Butcher
Piranesi by Susanna Clarke
Once and Future Witches by Alix E. Harrow
Rhythm of War by Brandon Sanderson
The Invisible Life of Addie LaRue by V.E. Schwab
Dead Lies Dreaming by Charles Stross
Best Young Adult / Middle Grade Novel
Elatsoe by Darcie Little Badger
The Scapegracers by Hannah Abigail Clarke
A Wizard's Guide to Defensive Baking by T. Kingfisher
A Deadly Education by Naomi Novik
The Tinderbox: Soldier of Indira by Lou Diamond Phillips
A Peculiar Peril by Jeff VanderMeer
Best Military Science Fiction or Fantasy Novel
Sentenced to War by J.N. Chaney, Jonathan Brazee
Gun Runner by Larry Correia, John D. Brown
Orders of Battle by Marko Kloos
Direct Fire by Rick Partlow
Demon in White by Christopher Ruocchio
Fleet Elements by Walter Jon Williams
Best Alternate History Novel
A Master of Djinn by P. Djèlí Clark
Axiom's End by Lindsay Ellis
1637: No Peace Beyond The Line by Eric Flint, Charles Gannon
The Russian Cage by Charlaine Harris
The Relentless Moon by Mary Robinette Kowal
Daggers in Darkness by S.M. Stirling
Best Media Tie-In Novel
Penitent by Dan Abnett
MacGyver: Meltdown by Eric Kelley, Lee Zlotoff
Firefly: Generations by Tim Lebbon
Shadows Rising World of Warcraft: Shadowlands by Madeleine Roux
Star Wars: Light of the Jedi by Charles Soule
Star Wars: Thrawn Ascendancy by Timothy Zahn
Best Horror Novel
Synchronicity by Michaelbrent Collings
The Taxidermist's Lover by Polly Hall
The Only Good Indians by Stephen Graham Jones
The Hollow Places by T. Kingfisher
True Story: A Novel by Kate Reed Perry
Survivor Song by Paul Tremblay
Best Comic Book
Immortal Hulk by Al Ewing, Joe Bennett
Once & Future by Kieron Gillen, Dan Mora
X-Men by Jonathan Hickman, Mahmud Asrar
Monstress by Marjorie Liu, Sana Takeda
Invisible Kingdom by G. Willow Wilson, Christian Ward
Daredevil by Chip Zdarsky, Marco Checchetto
Best Graphic Novel
Pulp by Ed Brubaker, Sean Phillips, Jacob Phillips
Dracula, Motherf**ker by Alex de Campi, Erica Henderson
The Magicians: New Class by Lev Grossman, Lilah Sturges, Pius Bak
The Green Lantern Season Two by Grant Morrison, Liam Sharp
The Magic Fish by Trung Le Nguyen
The Book Tour by Andi Watson
Best Science Fiction or Fantasy TV Series
The Expanse, Amazon
Loki, Disney+
The Nevers, HBO
Resident Alien, SYFY
Shadow & Bone, Netflix
Star Trek: Discovery, Paramount+
WandaVision, Disney+
Best Science Fiction or Fantasy Movie
Bill & Ted Face the Music by Dean Parisot
Godzilla vs Kong by Adam Wingard
Justice League by Zack Snyder
The Old Guard by Gina Prince-Bythewood
Space Sweepers by Sung-hee Jo
Tenet by Christopher Nolan
Wonder Woman 1984 by Patty Jenkins
Best Science Fiction or Fantasy PC/Console Game
Assassin's Creed: Valhalla, Ubisoft
Crusader Kings III, Paradox Interactive
Cyberpunk 2077, CD Projekt
Ghost of Tsushima, Sony Interactive Entertainment
Hades, Supergiant Games
Star Wars: Squadrons, Electronic Arts
Best Science Fiction or Fantasy Mobile Game
Alba: A Wildlife Adventure, Ustwo & Plug in Digital
Empire of Sin, Paradox Interactive
Genshin Impact, miHoYo
Harry Potter: Puzzles and Spells, Zynga
Orwell's Animal Farm, The Dairymen Ltd.
South of the Circle, State of Play Games
Best Science Fiction or Fantasy Board Game
Curious Cargo, Capstone Games
Dune: Imperium, Dire Wolf Games
Marvel United, CMON Games
Oceans, North Star Games
Pandemc: Legacy Season 0, Z-Man Games
Sleeping Gods, Red Raven Games
Beset Science Fiction or Fantasy Miniatures / Collectible Card / Roleplaying Game
Cyberpunk RED, R. Talsorian Games
Explorer's Guide to Wildemount, Wizards of the Coast
Magic: The Gathering, Strixhaven: School of Mages, Wizards of the Coast
Magic: The Gathering, Zendikar Rising, Wizards of the Coast
Pokemon TCG: Champion's Path Elite Trainer Box, Pokemon
Warhammer: Age of Sigmar: Soulbound Role-Playing Game, Cubicle 7

This post was originally published on Tor.com