Highs and lows
SDCC 2022 was a blast! And also a note about gatekeeping in the cosplay community.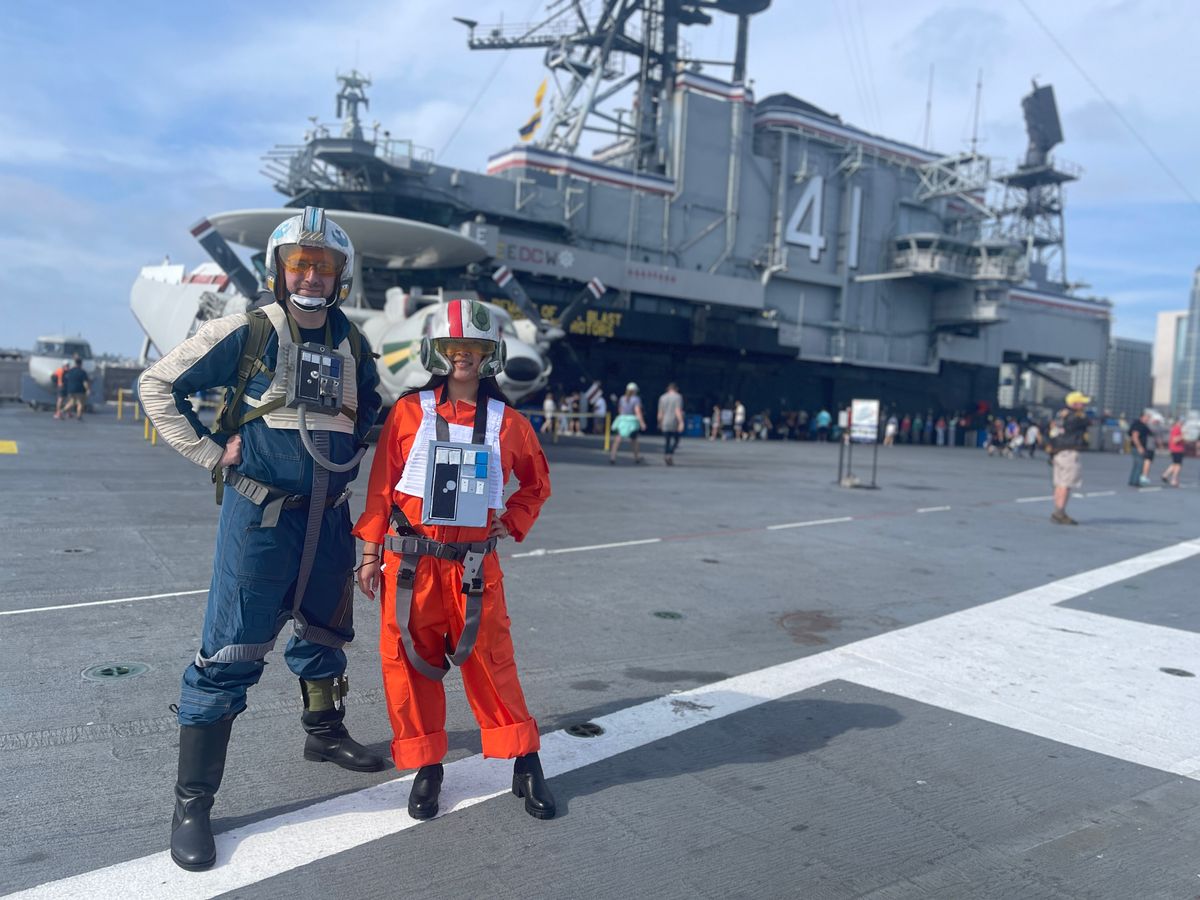 I'm back from San Diego Comic-Con!
The con is always a fun time: I've been twice (2017 and 2018), both times as a journalist, but this was the first time I was on the other side of the table as a guest. The experience was a bit different: there was less pressure to run from panel to panel to snap up the next bit of news that everyone else would be reporting on, and a bit less frantic.
Come to think of it, the pieces that I've written over the years about the con were less the quick hits about trailers and things like that, and more the experiential things, like the usefulness of scooters (didn't see too many there this year), the ubiquity of Wonder Woman costumes, (there were still a ton running around the floor this year), a gallery of NYCC cosplayers (I really should do this format again down the road), and an art/promotional installation based on Andy Weir's novel Artemis.
Those sorts of deeper dives felt—and still feel— consequential, or at least interesting in the larger scheme of things, and I'm realizing just how burned out I am on the daily drip of news about trailers and things like that. (I'll still write about them every now and then, but man, there's a lot of empty calories clogging up my collective body of work.)
I did spend a good chunk of this year's convention running around taking pictures of cosplayers, and came away with a ton of great ones, and got to meet some fun people along the way. Here's a small selection: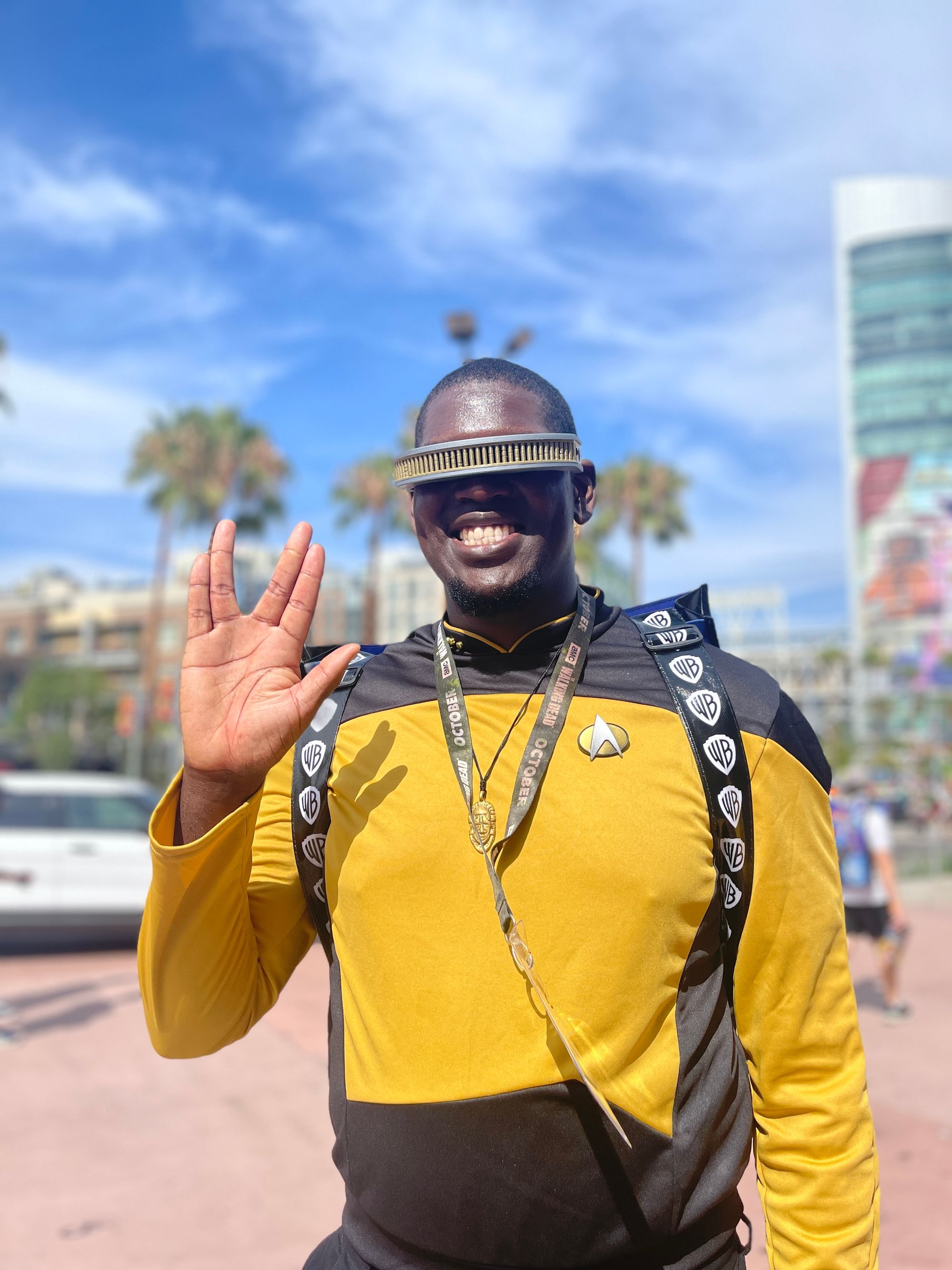 You can find the rest on my Instagram feed.
Oh, and this was a lot of fun to see: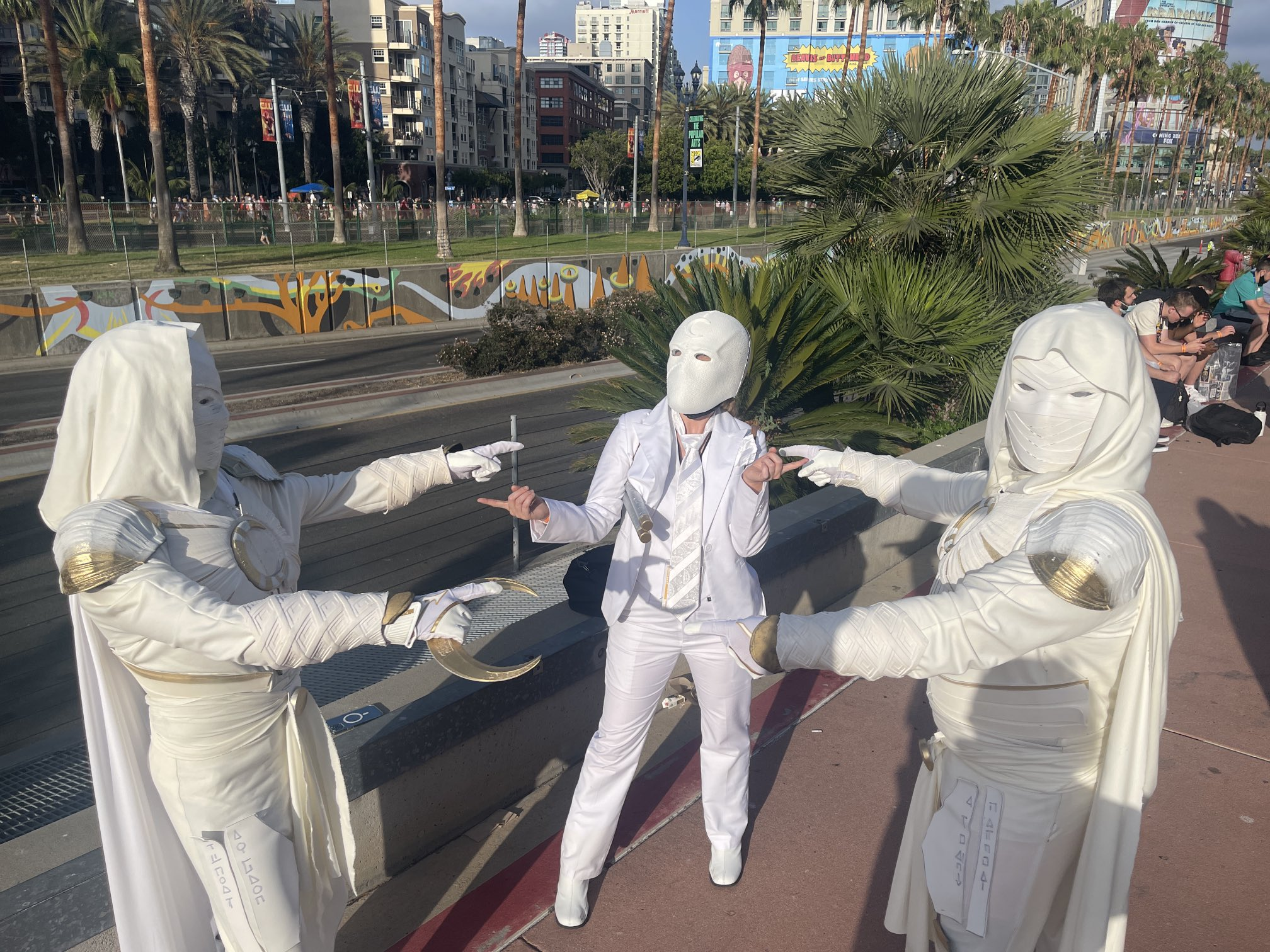 I also had a lot of fun at the two panels that I was part of: The History of Cosplay in 45 minutes, in which I spoke with Allan Lavigneof, a cosplayers who's been around since the 1970s, and who worked on a ton of projects within the film industry, as well as the regular SDCC / Worldcon masquerades and a whole bunch of other things.  
We had a good chat: a broad overview of the book and the history of cosplay and fandom, and all the things that surround it. One of the highlights, however, was getting to meet Brian Sims, a photographer who pointed me to one of my subjects, his cousin, David Rhea, who I ended up interviewing for a piece about Boba Fett costuming and eventually the book. It was a bit of an emotional meeting, because David died in 2019, a month after I spoke with him, and he told me that it was a wonderful tribute to his brother, and that the entire family saw it as such.
The other panel was The Saga Continues, a look at the upcoming titles on Saga's docket in the next couple of months. I'm particularly excited for two: Rebecca Roanhorse's Tread of Angels, a new weird western novella from her, and The Strange, Nathan Ballingrud's debut novel, a sort of Ray Bradbury-esque mystery set on Mars. I'm a huge fan of his short stories, so I'll be excited to actually get a copy to read.
Other highlights? Getting to meet Jordan Morris, creator of the Bubble podcast and graphic novel, meeting Rebecca and getting some of my books of hers signed, seeing Adam Christopher and Beth Revis (and getting my copies of their books signed), and running into and chatting with Jordan Rennert, one of the co-directors for a recent documentary called Cosplay Universe, which is rolling out to various theaters now. I came across the documentary a while back (here's the trailer), and it not only looks very cool, but that it'll complement Cosplay: A History neatly. We had a fun conversation chatting about our approaches to the cosplay world, and it looks like we'll both have things to learn from one another!
But. The biggest highlight came at the end of the convention. When my book came out in June, my editor Amara Hoshijo came up to Vermont for the event, and in thanks for her work, I made her an X-Wing pilot helmet, thinking that she'd go ahead and display it in her office or something.
Oh no. She went and made the rest of the costume, and brought it with her to actually cosplay at the con. That would have been fun in and of itself, but on the way into the con, I remembered that there was an aircraft carrier parked just a stone's throw from our hotel: the USS Midway, now converted into a museum.
What better place for a quick photoshoot? We arrived pretty late and almost didn't get in before they closed, but we got a good couple of shots off before they made us sweep the decks.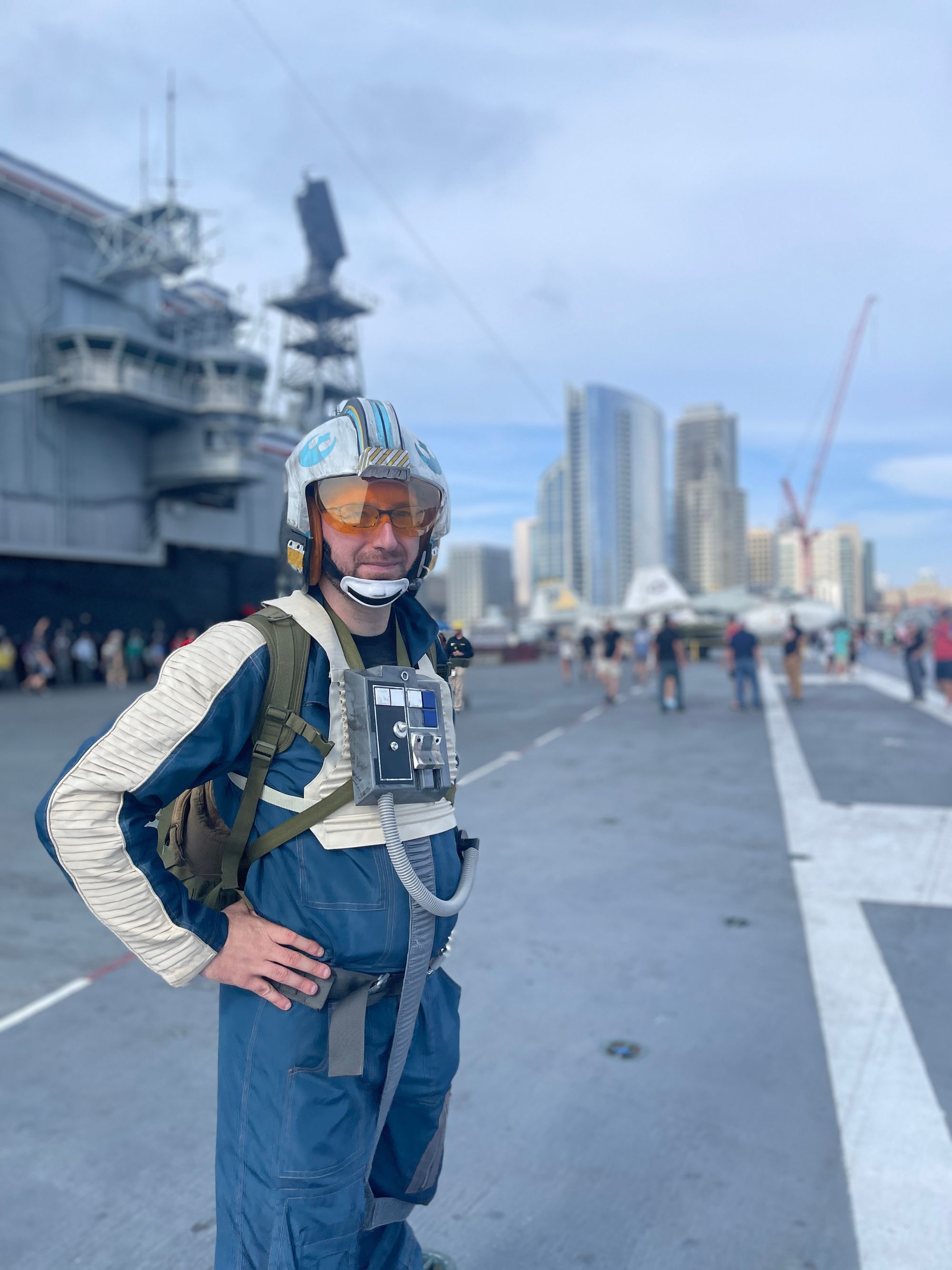 A memorable way to close out an excellent week.
---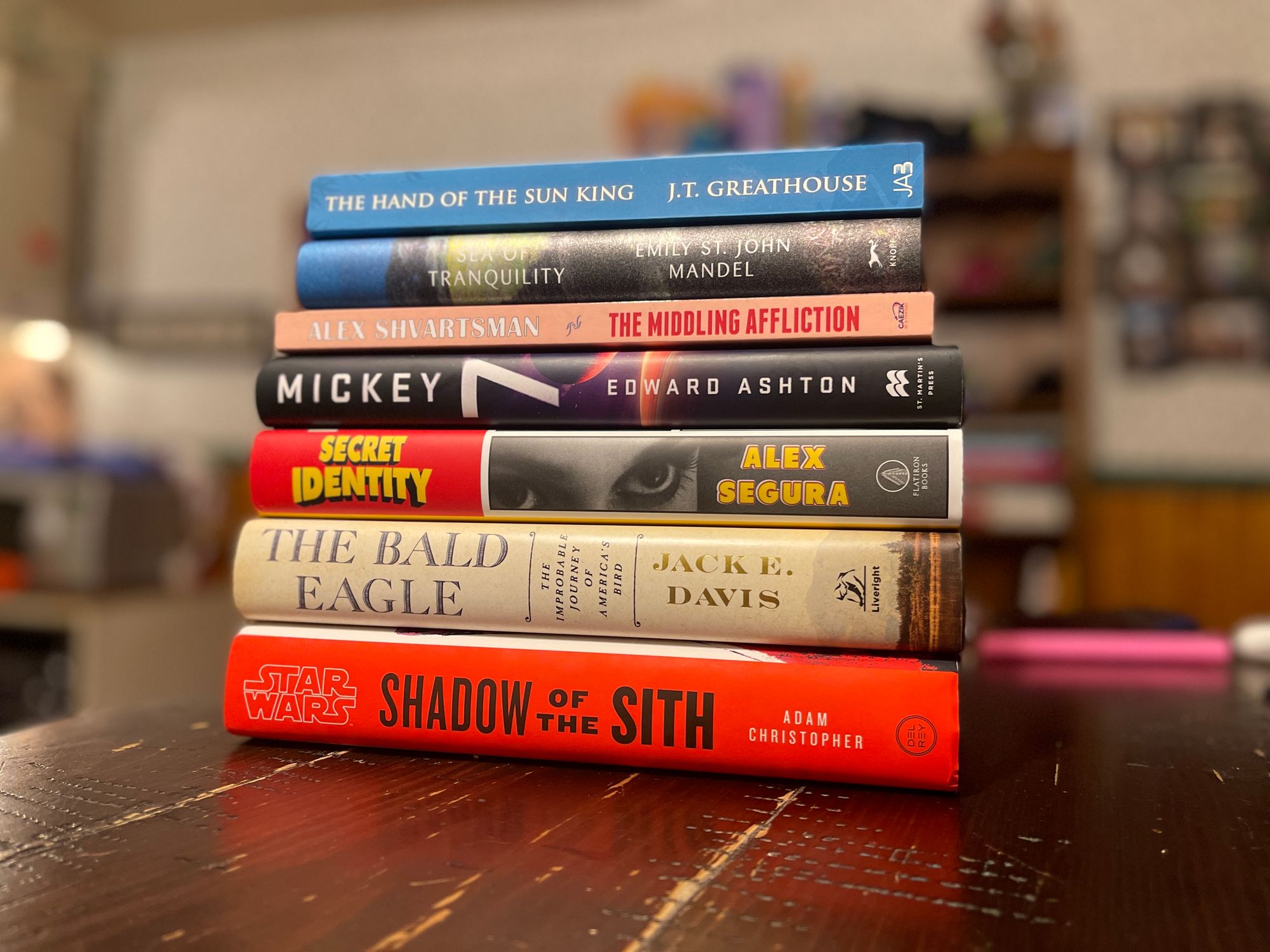 Currently reading
Two more books down!
As noted in last week's newsletter, I blew through Ben Riggs' Slaying the Dragon: A Secret History of Dungeons & Dragons, which was a fun, quirky read, which I might have some more thoughts on later.
Also off the TBR? Laura J. Mixon's Up Against It, which I didn't really enjoy. I was enticed by the foreword by James S.A. Corey (authors of The Expanse), who wrote about how it was drawing from the same well that they were. I can see those connections, but I didn't find this book as compelling as Leviathan Wakes. It felt a little disjointed: two stories (one about organized crime and space mining, the other about an emergent AI) that would have been a bit tighter if either were the focus of the story, but which I didn't think really worked well mashed together.
It turned out to be a bit of a slog, and when you skip over chunks of pages (I didn't even notice 30 pages missing from my copy!), that's not a great sign. Oh well.
The current TBR is stacked:
Hand of the Sun King by J.T. Greathouse
Sea of Tranquility by Emily St. John Mandel
The Middling Affliction by Alex Shvartsman
Mickey7 by Edward Ashton
Secret Identity by Alex Segura
The Bald Eagle by Jack E. Davis
Shadow of the Sith by Adam Christopher
That's just the immediate list. Woof.
---
Let me close out with a bit of a rant that I saw on in the aftermath of SDCC. Last week, I wrote about a video from Colin Adams, in which he spoke about the need for members of the 501st to be less... judgmental toward the efforts of other cosplayers, particularly around accuracy and the finer details of a costume.
It's an attitude that's unfortunately baked into the structure of the 501st, and it's something that's translated into the culture of the organization. On one hand, I think having membership standards are good, because it keeps the costumes that represent the group up to a fairly high bar. The downside is that that's something that at times, is the only thing that members care about, and it's become something of a running criticism about the group. "Oh, those assholes who look down on everyone else."
Something that has bothered me for as long as I can remember is how hurtful elitism and cliques can be to a larger group. I've seen them all over the place, from schools, to workplaces, to clubs like the 501st, and I've tried (not always successfully) to avoid that line of thinking and the attitudes that come with it. It always bothers me when I see members (here at home, online, and elsewhere) delving into these practices and habits, pushing away (or pushing out) members who they don't deem personally worthy. I've seen examples of members taking a lot of time and effort to help out some prospective members, only to turn their backs on others, or being dismissive and rude to them on forums, in person, and elsewhere online. It's frustrating!
That negativity comes from outside of the 501st and cosplay scene as well:
That piece came from io9, which was frustrating to see. As I noted on Twitter, it's an attitude that serves as a sort of toxic gatekeeper for the cosplay world. As I worked on the book, a couple of things became pretty apparent to me:
1) Cosplay isn't necessarily a straight-up replication of what you see in media: it's expressing your fandom through costuming. Obviously, a big chunk of that is replicating costumes and getting something to match what you see on screen or in comics.
b) Cosplay is a deeply personal thing, and it's essentially something that comes down to the intent of the cosplayer. It's their personal relationship with whatever media they're interacting with, whether you're remixing a character, putting your own spin on it, and whatnot.
"Didn't quite count as cosplay because for the most part it was an accessible way to represent a sleeper fan fave from Stranger Things but also put in minimal effort" (aside from being a poorly-written sentence) is just a hop, skip, and jump away from injecting a quasi class system into the world, where effort is the determining factor of what's cosplay and what isn't.
That's not a good way to draw that particular line. Effort isn't just the elbow grease that you put into a costume: it's the money and time that's at your disposal. Some people can't afford to dump hundreds (thousands?) of dollars and hundreds/thousands of hours that go into making a perfect, screen-used costume, or equipment like a 3D printer, CNC machine, or laser cutter. Maybe you don't live in an area where cosplay supplies are readily available. Sometimes, all you need for a costume is what you have in your closet. I can throw one together a janky, hobo-Spider-man from Into the Spider-verse from what I have in my closet. Someone might find the right body suit on Amazon, or assemble something out of cardboard and a bit of paint.
All of those are valid forms of cosplay.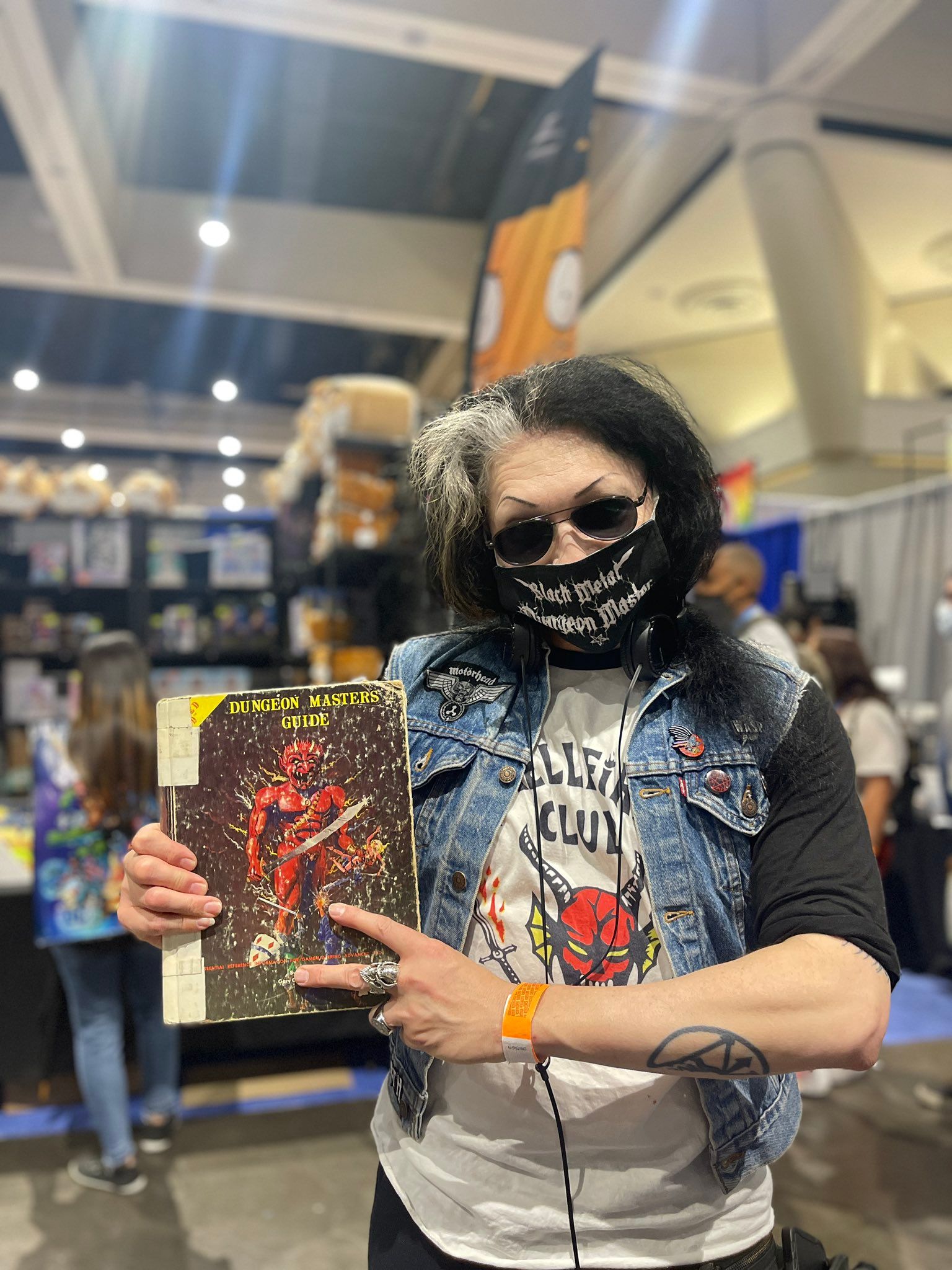 The modern state of cosplay is caught in cycles: you'll see various costumes pop up and become popular for a brief while before dropping off with the next wave of shows or movies. A couple of years ago, it was Harley Quinn, Hobo-Spider-man, and now, Eddie Munson from Stranger Things. There were a ton of them running around the con, and it was delightful!
I think there's a main reason for that: ease of access. Eddie was a particularly fun standout character in the show, but his costume wasn't too difficult to put together: jeans, a Hellfire Club tee-shirt (which I've seen sold at Walmart, Netflix, Hot Topic, and Amazon), a jean jacket, and you're good. You can go a couple of steps further by tracking down or making the various pins, the right styles of jackets/jeans, rip and weather things like you see on screen, and grow your hair out a bit to get something even more accurate.
But you don't need to do that to have a valid cosplay. Absolute screen accuracy is one of those things that you can always get closer to, but never quite reach (unless you have a costume that was screen-used), and there's troubling pitfalls that folks can fall into when it comes to things like body image. I've spoken with cosplayers of color who've encountered racism because their skin doesn't match what you see on screen/games/comics, and women who've been hassled because they've gender-bent a character. None of those attitudes are good.
And ultimately, it's a tool that's exclusionary, something that's antithetical to the entire spirit of cosplay. This is an activity in which you get to celebrate your fandom with your fellow nerd, by literally wearing it on your sleeves. It has no place in the community, and I was bummed to see io9 dropping that in there. Maybe it was a quick mention stuck in without a lot of thought, but even if so, someone held that belief to just it down.
What's the solution here? It's simple: hold your fellow fans to the bar of creating a positive environment. This isn't to say that nitpicking isn't acceptable: I think constructive, asked-for advice or feedback is useful and vital for the cosplay community to produce the costumes that really blow us away. But I think we can get away from the expectation that everything that you see on a con floor is something that looks like it stepped right off a movie set. There needs to be room for beginners, novices, and folks who just want to make something good enough to have a bit of fun in.
---
Want to support the newsletter? Here are a couple of ways to do that:
Tell a friend: share the newsletter on social media or forward this along to your buddies.
Subscribe as a supporting member. This is effectively a part-time effort, and I've got a bunch of bigger pieces in the pipeline that your support helps make possible. There's a slack channel to discuss the SF/F world as news drops, books, and everything in between.
Buy my book! You can find it at all good bookstores. (I'll throw in a supporting subscription if you buy a copy!)
---
At some point, I'll stop yammering about cosplay, but yeah, not today. As always thanks for reading. I met a couple of you at SDCC, and it was a pleasure: I hope to run into y'all again down the line.
I'll have the monthly book list out in a couple of days: stay tuned for that on Monday!
Andrew