John Scalzi's Kaiju Preservation Society optioned for TV
The book is due out on March 15th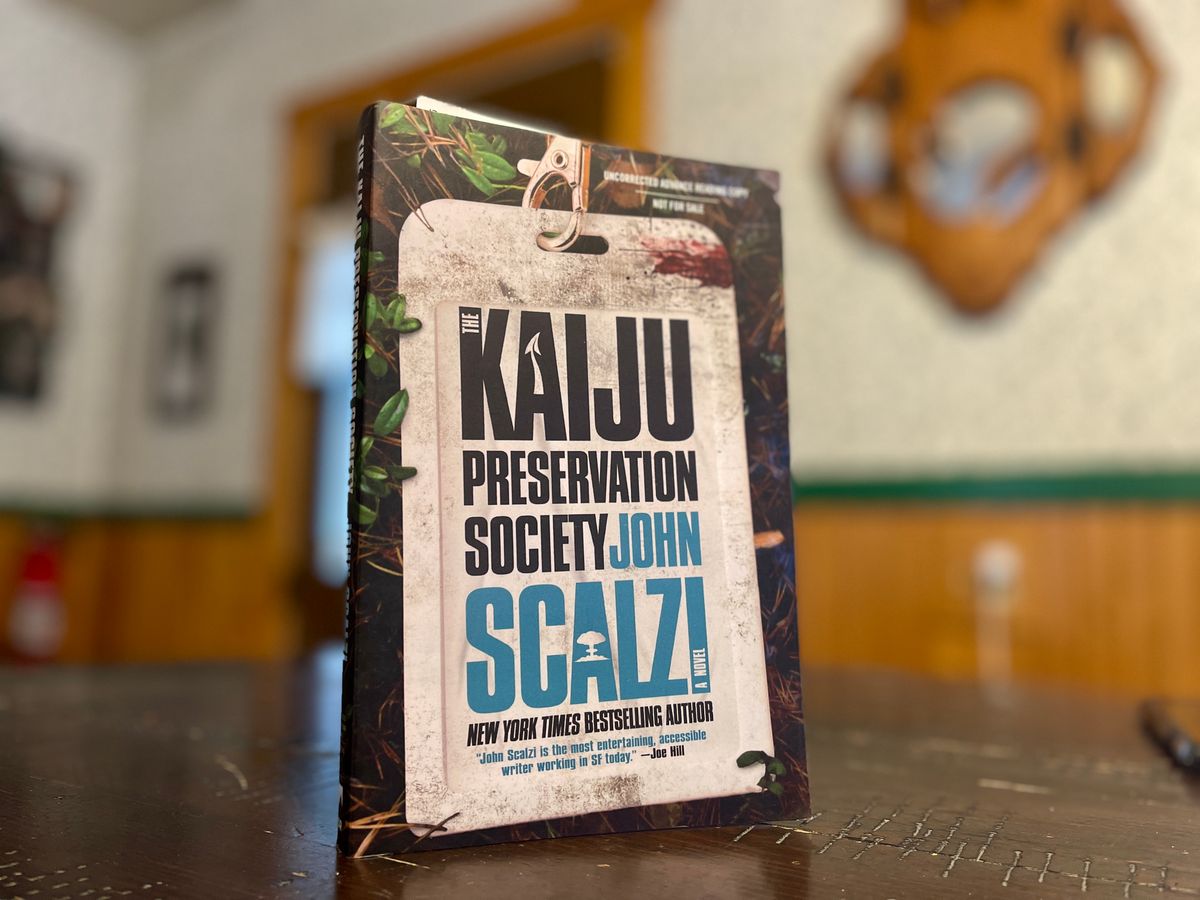 John Scalzi's next novel, The Kaiju Preservation Society, hasn't been released yet, but already it's being courted for a film adaptation. Fox Entertainment has optioned the book for a potential television series, according to Publishers Lunch and Scalzi himself.
I've been reading the book off and on in the last couple of months, and I placed it on my most anticipated books of 2022 list last week. The book follows Jamie Gray, a gig worker stuck making deliveries for an app called füdmüd in the midst of the COVID-19 pandemic in New York City when they make an unlikely delivery to an old acquantaince.
They'd met Tom Stevens while in college, who is now working for a secretive organization. He can't say what he's doing, but he offers Jamie a job because he's down a person. Jamie is wooed by the huge paycheck and not deterred by the level of secrecy surrounding the project and accepts, and is soon treated to an awe-inspiring revelation about the world: massive monsters called Kaiji exist in an alternate reality, and Tom is part of an organization that's dedicated to studying and protecting them.
Jamie's zapped off to this alternate world, and is put to work as the grunt: if something needs to be moved, they're the one to get called in to move it and lend a hand on whatever else needs handling. It isn't long before it becomes clear that there are major problems facing this reality, problems that could eventually tip over into our Earth, which would bring about devastating consequences for humanity — and the Kaiju.
Scalzi is well-known around the science fiction world for his books and writing. His breakout hit was Old Man's War and a handful of sequels, and he earned the Hugo Award for Best Novel for his novel Redshirts, a satirical take on the world of Star Trek. His latest books the Interdependency trilogy (The Collapsing Empire, The Consuming Fire, and The Last Emperox), and a handful of his stories have made it into Netflix's Love, Death + Robots animated anthology series.
Beyond those shorter adaptations, a big adaptation of Scalzi's novels has eluded him thus far. There have been a handful of attempts to adapt Old Man's War, first as a film from Wolfgang Petersen, and then later as a TV series called The Ghost Brigades for Syfy, and most recently (2017) as a TV series on Netflix, which is currently in the works. Legendary optioned Lock In back in 2014, FX optioned Redshirts (that project isn't moving forward, however), and more recently, producer Uri Singer has optioned his audio-first novella The Dispatcher for a potential TV series.  
I haven't finished Kaiju yet, but it'll be familiar to anyone who's read Scalzi's books: it's pithy, sarcastic, and zips along nicely, and it feels very much like it could  adapt nicely to television.
That said, TKTK hasn't said where the project will end up landing, who'll be involved, or when it'll come out, so it's early in the process yet, or if it'll even get produced (see the aforementioned history of unfulfilled Scalzi adaptations). An option at this stage of a book's lifecycle is pretty typical: books and authors with a significant amount of buzz (and Tor seems to be putting a good amount of PR effort into it, having just released an ebook of the first five chapters) behind them tend to capture the attention of Hollywood producers and studios looking for new content for the network of streaming services and platforms out there.
Hopefully, we'll see this make it through the gauntlet and onto our screens at some point in the nearish future. In the meantime, there's always the book itself, which is due out in stores on March 15th.