Here are all the new SF/F books you should check out this November!
Stories about fallen empires, climate change, and more to check out this month.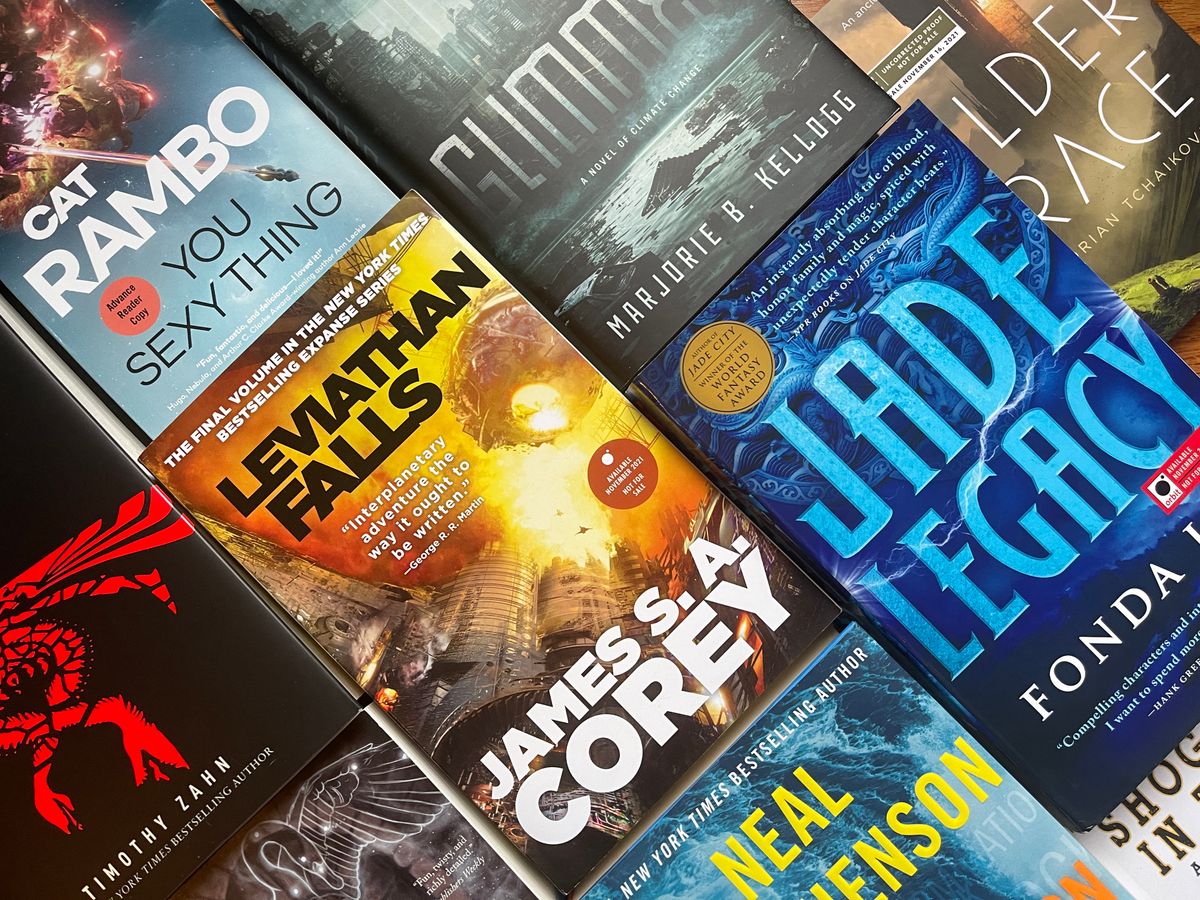 Hello!
It seems like it was just yesterday that October started, doesn't it? Fall is upon us, and that generally means more time inside to enjoy a good book under a blanket next to a fire, or at least a cup of hot tea. As I've done for the last couple of book lists, these have been split into chronological and genre lists. This is the list sorted by genre. You can read the chronological list here.
November (and some belated October ones that I missed) brings a whole crop of new books to check out: lots of reads about collapsing empires, spaceships in the depths of space, post-climate change Earth, and lots more. As always, purchases made via these links to Bookshop.org might result in a commission to Transfer Orbit.
---
Fantasy
The House of Rust by Khadija Abdalla Bajaber  (October 19th)
When a fisherman in Mombasa goes missing, a Hadhrami woman named Aisha sets out in a magical boat, accompanied by a talking cat (and some other animals) to try and find and rescue him. Along the way, she encounters a trio of horrifying sea monsters in order to rescue her father, only to discover that home is far more stranger than when she left.
The New York Times calls the book an "astonishing fiction debut", and that "Bajaber is a born storyteller, pulling you along Aisha's epic quest to know her father's fate."
The Undertakers by Nicole Glover (November 9th)
Nicole Glover follows up her debut novel The Conductors with a sequel, The Undertakers. In the former, she follows Hetty and Benjy Rhodes, conductors on the Underground Railroad, bringing enslaved people to freedom. Following the Civil War, the two turned their attention and skills to solving some crimes that the city of Philadelphia didn't bother with, and work on a murder that stirred up some long-forgotten secrets.
In this new volume, the pair are investigating another murder: a man named Raimond Duval died in a suspicious fire — one of many around the city that the city's Fire Company refused to tackle because it was in a Black neighborhood. When a new body is discovered, Raimond's son, they take another look into the case and discover that the spate of fires in the area might be linked.
Publishers Weekly says that the "easy momentum will keep both new and returning readers racing along to the end. It's fun, twisty, and richly detailed."
Jade Legacy by Fonda Lee (November 30th)
Fonda Lee brings her epic Green Bone Saga to a close with a hefty final volume, Jade Legacy. In 2017's Jade City, she introduced a magical world where magic is undertaken with the use of jade, where a handful of clans rule the island of Kekon.
Various families have been trying to control the supply of jade, and the No Peak Kaul and Mountain Ayt families have been fighting against one another for generations. That conflict threatens to grow even more bloody, and the years of violence threaten to splinter the families and destroy everything they've ever known.
Publishers Weekly gave the book a starred review and says that " in both meeting and subverting expectations at every turn, Lee guides her cast to a deeply satisfying, well-earned conclusion."
A Marvellous Light by Freya Marske (November 2nd)
A young baron named Robin Blyth faces financial ruin because of his parent's mistakes, and he's forced to take a job with the Office of Special Domestic Affairs and Complaints. There, he's accidentally assigned as a liaison to a secret society, and discovers something that's been hidden from the public: magic exists.
As he throws himself into his work, he's attacked and cursed by people looking for something left behind by his predecessor, and he catches some glimpses of the future. Along with his counterpart on the magician's side, Edward Courcey, he's forced to unravel the plot, which could change everything for the magicians of England.
Publishers Weekly gave the book a starred review, saying that "Fans of C.L. Polk's Witchmark, period queer novels, and creative fantasy will all clamor for more."
God of Mercy by Okezie Nwoka (November 2nd)
For generations, the inhabitants of an Igbo village called Ichulu have managed to avoid being taken over by globalization and colonialism. Magic is a firm part of their world, and when a young girl named Ijeoma discovers that she can fly, her father exiles her, worried that she will cause a clash between the gods that they worship.
In exile, she's captured and imprisoned by a local church, charged as a witch, and along with a fellow prisoner, fights a way to escape, learning about the nature of love and faith as she endures her trials.
Read an excerpt.
The Bone Shard Emperor by Andrea Stewart (November 23rd)
In The Bone Shard Daughter, Andrea Stewart introduced us to a world in which an Empire is coming to its end: the Emperor has maintained power for decades through the use of bone magic that allowed him to use constructs to maintain order throughout his realm. His daughter Lin Sukai sought to take his place by learning the magic, and as she moved to try and take the throne, a revolution threatened to change everything.
In this sequel, the Emperor has died, and Lin has ascended to the throne, only to deal with the challenges that that brings: alliances and subjects that don't trust her, and a rebel army gaining traction in the North, with further threats afield.
Publishers Weekly notes that "Stewart keeps the energy up across the many engrossing plotlines, with immersive battles aplenty to keep readers on the edges of their seats."
Comfort Me With Apples by Catherynne M. Valente (November 9th)
Catherynne M. Valente's latest is a short fantasy thriller about a woman named Sophie who is completely devoted to her husband and making a perfect house in a gated community known as Arcadia Gardens. There are some strange things in her life: her husband goes missing for days at a time on mysterious trips, and she's forbidden from going into the basement of the house. As she discovers more oddities and fractures in her world, she starts to question her surroundings.
Writing for Locus, Gary K. Wolfe notes that "the tale is a masterclass in pacing and tone," and praises Valente's use of language and pacing, and says that it's "the sort of well-crafted tale that sends you back through the text to note how carefully she's planted her clues. It's a story nearly as seamless and ominous as Sophia's outsized house and her creepy neighborhood.
---
Science Fiction
Leviathan Falls by James S.A. Corey (November 30th)
After a decade, The Expanse is coming to a close. James S.A. Corey's space opera epic dealt with conflict in the solar system before the action moved across the galaxy after humanity gained access to an ancient alien gate network. In the last couple of books, a breakaway faction of humanity called the Laconian Empire tried to guide humanity into an interstellar empire, before a mysterious, ancient enemy took notice.
That ancient alien presence destroyed the original gate-makers, and in the depths of space, an expedition has been dispatched to try and figure out their nature in a distant solar system, while a former Laconian officer, Colonel Aliana Tanaka, tries to find the daughter of her former leader. And aboard the Rocinante, Captain James Holden try to lead humanity out of the crisis.
Publishers Weekly gave the book a starred review, calling it a "fully satisfying resolution renders the entire series an all-time genre classic."
Related reading: A decade of The Expanse
Halo: Divine Wind by Troy Denning (October 19th)
A new adventure (#29) in the sprawling Halo book franchise is set in the year 2559, just after Troy Dennings' 2015 novel Halo: Last Light, his 2017 book Halo: Retribution, and the 2020 book Halo: Shadows of Reach. These are all set after the Covenant war, and it looks like Cortana has been up to some problems, implementing a galaxy-wide martial law, enforced with Forerunner weapons.
In this adventure, a Covenant splinter group known as the Keepers of the One Freedom have located a forerunner artifact known as the Ark,, and they're looking to activate it to make the "Great Journey". Little do they know, they've been infiltrated, and the Office of Naval Intelligence group that's been tracking them have to make some drastic measures to stop a galaxy-wide extinction event.
The Apollo Murders by Chris Hadfield (October 12th)
It's always interesting when a subject-matter expert delves into fiction. Case in point: retired astronaut Chris Hadfield, who's penned a new murder mystery set on the moon. In 1973, there was one final mission with a secret objective: track down a Soviet space station. But there's soon a deadly accident, and as US and USSR personnel converge on the moon, there's only so much they can do.
Listen to an interview with Hadfield.
Glimmer by Marjorie B. Kellogg  (October 19th)
Nearly a century from now, climate change has wrecked the Earth, with nothing to stop it. The result has meant plenty of refugees moving away from the coasts, who work to rebuild a new society in the ruins. In one city, a priest tries to find a middle-ground between the rich who've conquered the high ground in order to stop an all-out war.
Publishers Weekly gave the book a starred review, saying that "the cinematic worldbuilding and wonderfully nuanced characters set this well-rounded eco-thriller apart."
Star Trek Coda: Oblivion's Gate by David Mack (November 30th)
Star Trek has enjoyed decades of tie-in novels that have played out one particular continuity following the events of The Next Generation and Deep Space Nine. With a shifting continuity (thanks to Star Trek: Picard), the franchise launched a final trilogy called Coda, which will bring that particular line of books to an epic conclusion.
Preceded by Dayton Ward's Moments Asunder and James Swallow's The Ashes of Tomorrow, the story follows a temporal anomaly that threatens to destroy everything, and this final installment caps off the finale as Star Fleet's best-known officers have to make the ultimate sacrifices of their lives.
Sinopticon: A Celebration of Chinese Science Fiction by Xueting Christine Ni (November 9th)
A new anthology of Chinese Science Fiction features 13 of newly translated voices from the country, including some big names like Han Song, Hao Jingfang, Bao Shu, and more. Their stories cover everything from time travel to artificial intelligence, ghosts, and quite a bit more.
Publishers Weekly gave the book a starred review, saying that "the masterful result validates Xueting's endeavor—and will only whet readers' appetite for more translations."
Noor by Nnedi Okorafor (November 9th)
Nnedi Okorafor's next Africanfuturist novel is set in a near-future Nigeria, following a woman named Anwuli Okwudili, who goes by AO. She was born with some disabilities and was in a horrific car accident, which prompted her to augmented herself over the years with various cybernetic parts and implants. She's an outcast in her world, and one day, she and a man named DNA are thrown together when they're attacked: she for her cybernetic nature, and he when he's mistaken for a terrorist.
Video of the attack goes viral, and the two are branded as murderers. As they flee into the Sahel Desert, they look for an isolated community of fellow outcasts that might give them sanctuary. Kirkus Reviews gave the book a starred review and says that it's a "searing techno-magical indictment of capitalism from one of the strongest voices in fiction."
Perhaps the Stars by Ada Palmer (November 2nd)
Ada Palmer has played out her acclaimed Terra Ignota series with Too Like the Lightning, Seven Surrenders, and The Will to Battle, about a utopian future in 2454, in which humanity has enjoyed centuries of peace after nations were done away with.
In this final installment, war has broken out between the various Hives. For centuries, they've maintained peace through some unsavory means, but that appearance of stability has broken down, triggered by a young, special boy. The war is devastating, bringing out old rivalries and destroying the technology that has built up the modern world, and humanity must figure out how to avert total disaster.
Every Star a Song by Jay Posey (October 19th)
In this sequel to Every Sky a Grave, Jay Posey continues his Ascendance series, in which humanity has spread into the stars and are ruled over by this massive intelligence / organization known as the Ascendance. The Ascendance uses a sort of "Deep Language" to maintain control, and a former agent of the group named Elyth is on the run after exposing its darker side. In this book, she's discovered, but the group's agents aren't there to punish her, but to offer her a gig: they need help exploring a planet. Help them, and all is forgiven. Of course, things start to go wrong soon after they arrive, and the planet itself is harboring some dark secrets of its own.
Read an excerpt.
You Sexy Thing by Cat Rambo (November 16th)
Captain Niko Larson, the former Admiral of the Hive Mind's Grand Military has retired to the edge of the galaxy after a career of wartime service, along with the former members of her crew. Together, they're set up a restaurant aboard a distant space station called The Last Chance, and hope to enjoy a quiet existence away from the Hive Mind's endless wars.
But while they've left the war behind, the war hasn't forgotten them. While hosting a prominent restaurant critic, they're thrust into problems: they receive (on ice) the heir to the Paxian empire, a woman named Atlanta, a space billionaire with a bioship stops by to visit, and the station is blown up. The crew ends up on the bioship (named You Sexy Thing), which delivers them to a bunch of space pirates.
Writing for Locus, Liz Bourke says that the book "isn't a grim and despairing sort of book. It's fast, pulpy, and explosive – and full of feeling. Alongside the pulp adventure is a nuanced consideration of responsibility, personal ethics, class, and the nature of art. Also, all the talk about food made me hungry."
This Weightless World by Adam Soto (November 9th)
In this debut novel, humanity learns of the existence of alien life: SETI receives a signal from a planet called Omni-7xc, located 75 light years from Earth. Just as soon as the signal comes through, it's cut off, leaving Soto's wide-range cast of characters — ranging from a music teacher named Sevi to a computer programmer named Ramona and a music student named Eason — to try and figure out what happened and how they can figure out how to make the world a better place.
Kirkus Reviews says that "amid the discovery of alien life, a touching meditation on humanity."
Termination Shock by Neal Stephenson (November 16th)
Climate change has begun to wreck havoc around the world, and in Neal Stephenson's latest tome, a billionaire named T. R. Schmidt has come up with a potential solution for the problem, a massive geoengineering project to try and cool the planet. Stephenson explores the ramifications of that plan, and the problems that could arise as a result.
Read an interview with Stephenson about the book over on Wired.
Elder Race by Adrian Tchaikovsky (November 16th)
Adrian Tchaikovsky remains one of the genre's more prolific authors out there, and in his latest novella, Lynesse, the Fourth Daughter of the queen lives in a medieval-ish world. They're being confronted by a demon, and she seeks help from Nyrgoth, an Elder sorcerer who inhabits a nearby tower.
What she doesn't know is that Elder Nyr isn't a sorcerer, but an anthropologist from an expedition from Earth who's been watching Lynesse's people. He broke protocol when he helped her. Publishers Weekly says that "Tchaikovsky takes beloved tropes to exciting new places, carried by memorable characters and clever prose."  
The Inhuman Peace By Yudhanjaya Wijeratne (November 9th)
In 2018, Yudhanjaya Wijeratne kicked off his Commonwealth trilogy with The Inhuman Race, in which the British Empire never fell and in which history played out very differently. In the year 2033, the various British colonies have been stripped of their resources. The Empire is willing and ready to stop any dissent, and in the midst of this world is the island of Ceylon in the Indian Ocean, which has resisted colonial rule and from which comes a powerful change.  
Star Wars Thrawn Ascendancy: Lesser Evil by Timothy Zahn (November 16th)
The final installment in Timothy Zahn's Thrawn Ascendancy trilogy reveals the Chiss Ascendancy dealing with a significant threat that could destroy it. For thousands of years, it's been a stable presence in the Unknown Regions, but that could be coming to an end as a civil war looms.
To avert a crisis, Thrawn has to delve deep into the Ascendancy's past to learn some long-hidden secrets about the First Ruling Family, and the stories surrounding its rise, which could undermine his entire civilization.
Related reading: Timothy Zahn has returned to Thrawn
---
Others
Even Greater Mistakes: Stories Charlie Jane Anders (November 16th)
Charlie Jane Anders embarks on her third book of 2021, following Victories Greater Than Death and Never Say You Can't Survive: How to Get Through Hard Times by Making Up Stories. Even Greater Stories collects a number of her short stories that she's written over the years (you can see a TOC list here) including some favorites of mine, like "Don't Press Charges, and I Won't Sue," "Six Months, Three Days," and "Love Might Be Too Strong a Word."
Kirkus Reviews gave the book a starred review, saying that it's "an essential Anders treasury," while Gary K. Wolfe at Locus says that "Anders has wisely avoided the temptation to assemble a "greatest hits" album in favor of showing us the shape of her career as she views it. It's a very interesting shape, more com­plex than might be expected by readers familiar only with her novels."
Shoggoths in Traffic and Other Stories by Tobias S. Buckell (November 9th)
Tobias Buckell assembles 24 of his short stories from all over his career, following the unvaccinated amidst a zombie plague, a sea-ward soldier, insectoid aliens, and horrifying creatures from beyond interfering with traffic.
Publishers Weekly says that "Buckell shows his chops in a range of subgenres with a keen focus on diversity and humor. Even the busiest readers will find it easy and worthwhile to take a few minutes out of their day to dip into this collection."
Dispatches from Anarres by Susan DeFreitas (November 23rd)
The footprint that Ursula K. Le Guin left behind after her death in 2018 is immeasurable. Forest Avenue Press has assembled a new tribute anthology to the late author, Dispatches from Anarres. The book contains 31 stories from a variety of authors, including Tina Connolly, Fonda Lee, Tim O'Leary, and others, all of which honor Le Guin's storytelling and the worlds she created.
Publishers Weekly says that "speculative fiction readers will find much to enjoy in this well-crafted celebration."
The Young H. G. Wells: Changing the World by Claire Tomalin (November 2nd)
Claire Tomalin pens a new biography of author H.G. Wells, exploring his early life and education to try and get a sense of how his upbringing helped to shape his worldview and the works that he's best known for.
Kirkus Reviews gave the book a starred review, saying that "Tomalin covers her subject's many shortcomings, but she has an empathy for him and a deep understanding of a young man impelled to reach for everything within his grasp. She ends her story with Wells in his early 40s, noting that she was reluctant to part company with this complicated genius."
---
As always, thanks for reading. If you found this list useful, please consider sharing it on social media, or signing up as a subscriber. Transfer Orbit publishes a weekly roundup of genre news (almost) every Friday, while paying subscribers get regular posts about the news, as well as in-depth commentary, and a dedicated Slack channel. (The last couple of weeks, I've been sending out recaps of Apple's Foundation, and we'll soon pick up The Expanse's final season in a couple of months.)
Have a good week,
Andrew