Right time, right book
Reading and criticism shouldn't be tied to a book's publicity calendar
Hello from Vermont!
This week has been a quiet and somewhat miserable one: I've been dealing with a head cold, on top of which, I've dealt with a broken dishwasher drain hose, which leaked water down into the basement onto a box of SF magazines that I had stored down there. I've fixed it, but it's been a hassle.
Sigh.
In better news, the book and podcast are moving along nicely. Nothing drastic or anything, but forward progress is always good.
This week's thoughts are something that's been on my mind recently: when is the right time to read a book?
---
The right book for the moment
I spent the weekend in upstate New York, where I got a little bit of time to read. As noted above, I knocked off one book, A Psalm for the Wild-Build, Becky Chambers' latest novella, something that I've been looking forward to reading for a while.
The book came out last month, and while I'd had an advance copy for a couple of months, I just hadn't been able to get into it beyond the first couple of pages. Something would come up, I'd put it down, and I'd move onto other things.  
It's been a stressful couple of weeks, and as I packed to prepare to head off, I realized it would make for a good read for the trip. I've always appreciated Chambers' books for their optimistic and cozy feel, and having such a book to sink into while away would be nice. So, I brought it along and started it, and finished it when I got home during a quiet afternoon. And it was just what I needed: a book that muses about one's purpose and direction in life.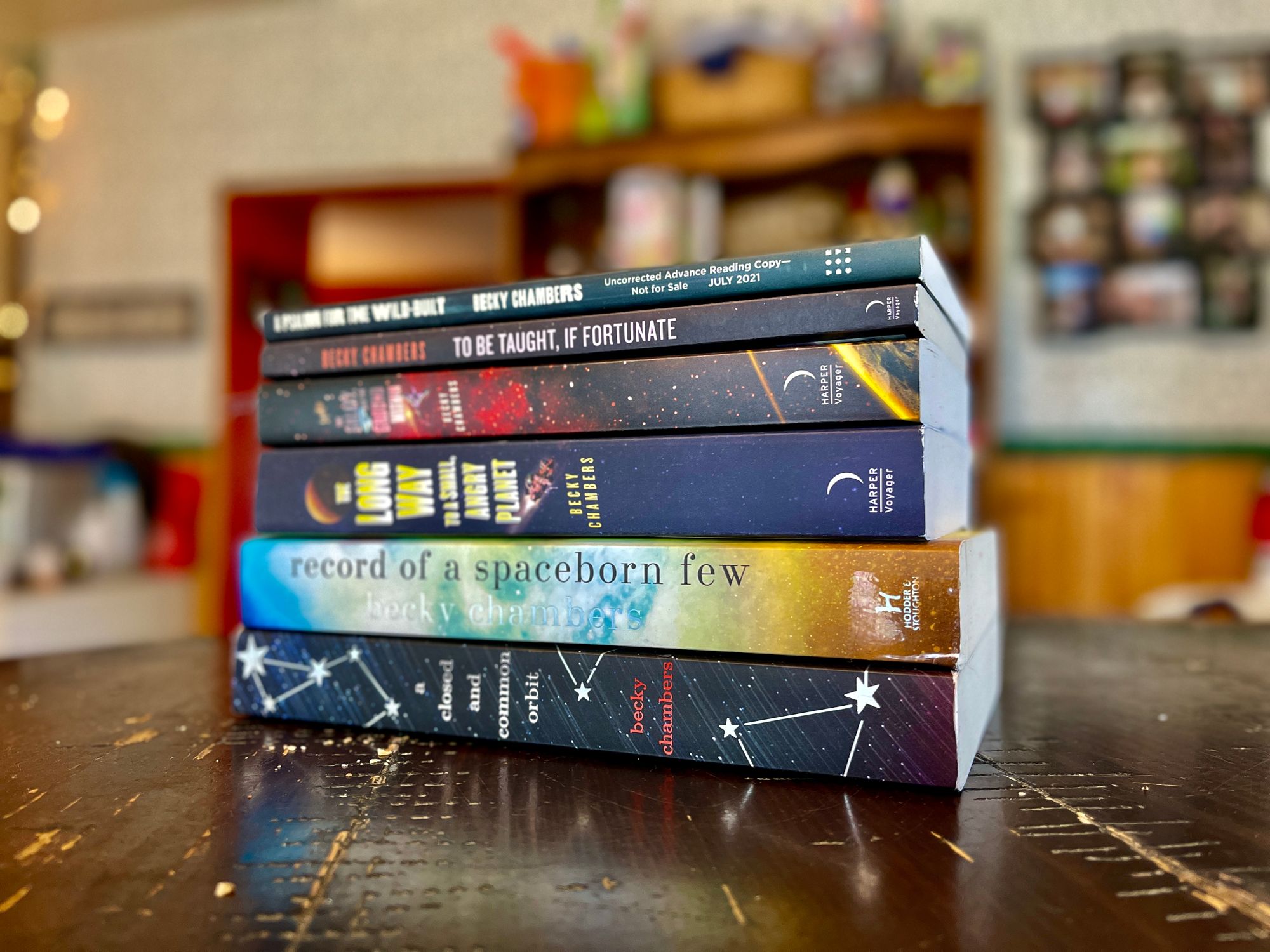 Looking over my bookshelf, there are a lot of books there that I haven't gotten around to reading yet. There's Madeline Ashby's vN, Paolo Bacigalupi's Tool of War, Omar El Akkad's American War, Laurie J. Marks' Fire Logic and Earth Logic, Kelly Thompson's The Girl Who Would Be King, and plenty of others.  They stare at me patiently from their perches, waiting their turn to be taken down, opened, and enjoyed. It's not for a lack of interest on my part. I blew through Bacigalupi's Shipbreaker and Drowned Cities when they came out years ago, and Thompson's book has been something that I've been wanting to read for ages.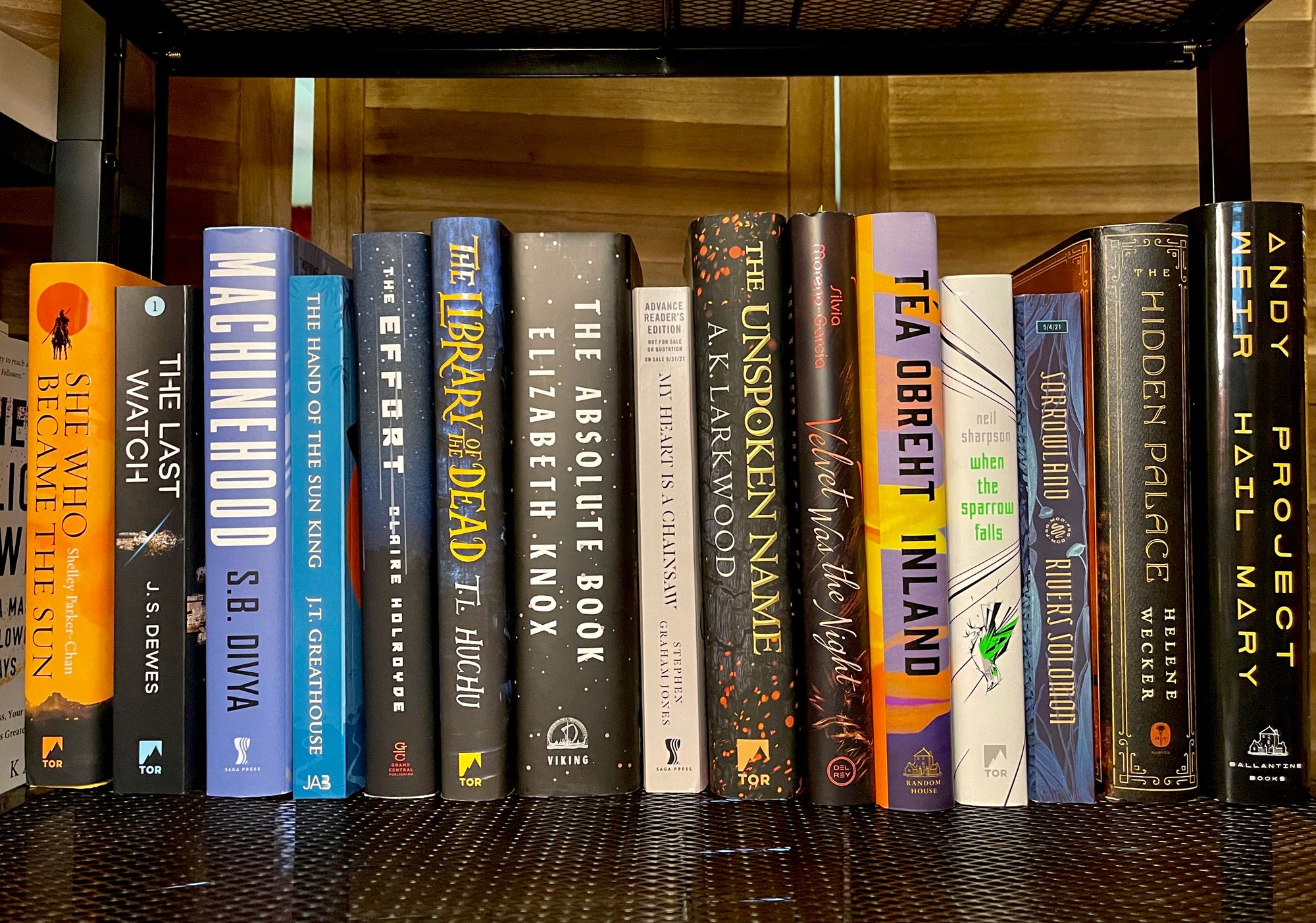 In truth, there are books that I feel somewhat guilty of not getting to — titles from friends or people whose work I otherwise admire, that latest big blockbuster book that seems to have captured all of the critical attention of the SF/F community. At times, working as a reviewer feels very much like trying to drink from a firehose. My to-read list has a ton of books on it that have come out this year: ones that will undoubtably be up for awards and which will help shape the discourse of the very character of the genre.
And yet, there are some that I've picked up and haven't finished. In some cases, like Andy Weir's Project Hail Mary, I've hit a wall with how the book's written. Others have all the looks of *important* books, from their prose to themes and stories. I haven't managed a more than a look at their first chapters. Yet, I like what they're setting out to do and tackle, either with subject matter, style, or story.
I've come to realize or accept that there are going to be books that I'll bounce off of, if anything, because I'm just not in the right mindset or mood to pick it up. I felt this way when I picked up Octavia Butler's Parable of the Sower for the first time last year: I came away from the book really enjoying it, but also with the feeling that if I'd encountered it at some other point in my life, I might not have enjoyed it, or have gotten out of it what Butler was setting out to do.
For years, I've struggled with this paradox: reviewing is something that inherently feels locked to the artificial structure that is a book's publicity cycle. I get an ARC months in advance, page through it, get the finished copy. In an ideal world (for the publicist, author, and publisher), I'll be spending that time reading and thinking deep thoughts about the book, with the intention of writing up a review that'll come out right as the book comes out in stores (along with every other release out there.)
Years ago at ReaderCon, I sat in the audience of a panel dedicated to reviewing, hosted by Locus Magazine. There was the usual talk about reviews, ARCs, schedules, and whatnot, and I ended up asking a question: how do you break away or out of the cycle of books that all other reviewers are looking at at the same time? The moderator blew off the question — it's been one of those moments that's bothered me ever since, not just because she didn't take my question seriously, but because it was one of those moments where it becomes clear that the scene (or at least reviewers / critics at the time) just doesn't take the time to reflect on the process beyond book in and book out.
I don't think that's a healthy way to approach reading and criticism at all: I don't think that the only time that a reader should discover a book is during its publicity cycle, and I don't think that reviewers should exclusively focus on books that are the ones coming down the pipeline in the coming weeks. I have to do that because it's an impossible task otherwise.
A book coming out next week might have an entirely different meaning to me down the road, and I've found that I've been reviewing books less on their own, and more in tandem with one another, trying to tease out some shared lesson or theme between them (Here are a couple of examples: reviews about first contact, horror, and and inequality). And when I review books on their own, I'm finding it useful to go out and talk about them on my own timeline, like I did with Natalie Zina Walschots' Hench, or Micaiah Johnson's The Space Between Worlds.
This doesn't necessarily mean that I need to go delving deep into an author's backlist to hunt for some forgotten gem: it's about breaking away from the relentless publicity cycle to take a moment to enjoy something, rather thanon the assumption that it'll expire the moment it hits bookstore shelves. A Psalm for the Wild-Build was a read I wasn't entirely in the right mindset for, but the right conditions presented themselves earlier this week.
With that in mind, I'm giving myself (and you!) permission not to stress out too much about height of my/your to-read list. We'll get to those books eventually, when we're good and ready.
---
Currently reading
With all that said and done, what's on my immediate to-read list?
I finished T.J. Newman's Falling last week. It's what I'd describe as the perfect airplane / beach read: something that's light and fast to blow through. It's predictable, entertaining, and a good distraction, although nothing mind blowing.
Also on the list:
Chuck Wendig's The Book of Accidents in tandem with a friend.
Afghanistan: A Military History from Alexander the Great to the Fall of the Taliban by Stephen Tanner, a book I picked up ages ago while studying military history, and wanted to refresh my memory on a couple of points.
Charlie Jane Anders' Victories Greater than Death and Never Say You Can't Survive.
A new arrival this week that slipped past my radar: The Hand of the Sun King by J.T. Greathouse, which has a stunningly beautiful cover.
I met up with and interviewed Brian Staveley the other day, and he was reading Neil Sharpson's When the Sparrow Falls, which he highly recommended, and which has been on my short list.
All of those are sort of in a rotational phase: I'll alternate chapter by chapter until I put them down or have one catch me. We'll see what ends up on top.
---
Further reading
Barnes & Noble bouncing back
Publishers Weekly takes a look at the status of bookstore chain Barnes & Noble, and its health after James Daunt took over as CEO. There's been plenty of doom and gloom predictions about the fate of the company, especially amidst the pandemic, but it seems as though his work focusing the stores on selling books has worked. The pandemic has also helped with that — lots of people are buying books.
A key factor here? Putting control of what books are stocked in the hands of store managers, rather than making it a top-down decision from the company. "The goal is to make sure books that are selling well have the necessary quantities, and books that aren't working are returned quickly. Resupplying stores is a "central focus," Daunt said, and the company has invested in its distribution centers and people to make its internal supply chain operate more efficiently." These sorts of behind-the-scenes infrastructural fixes feel to me to be the most important.
Book thief
Over on Vulture, Reeves Wiedeman has a fascinating story about an individual who has been stealing advance copies of books for years — someone who's been going through great lengths to impersonate agents, editors, and authors to get their hands on highly-anticipated titles, possibly to flip over to Hollywood, where they'll be optioned and adapted.
The Changeling
Apple has picked up Victor LaValle's latest novel, The Changeling, for an adaptation.
This one's described as an adult fairy tale, about a father who witnesses his wife commit an unspeakable act and then vanishes, and has to go on a journey through a strange New York City to try and make sense of it. This is one that I'll probably skip — I don't handle kids getting killed in movies well — but it's good to see an author get picked up for a big budget adaptation. Tides and boats, etc.
The end of Curious Fictions
In case you missed it yesterday: I published a lengthy feature about the rise and fall of a reading site that I really liked: Curious Fictions. The site was a neat platform that allowed authors to publish their short fiction — essentially a place where they could give their short fiction back list a new home outside of the print magazines. But readership never took off, and while it had some really good ideas and a slick design, its founder, Tanya Breshears, opted to shut it down today.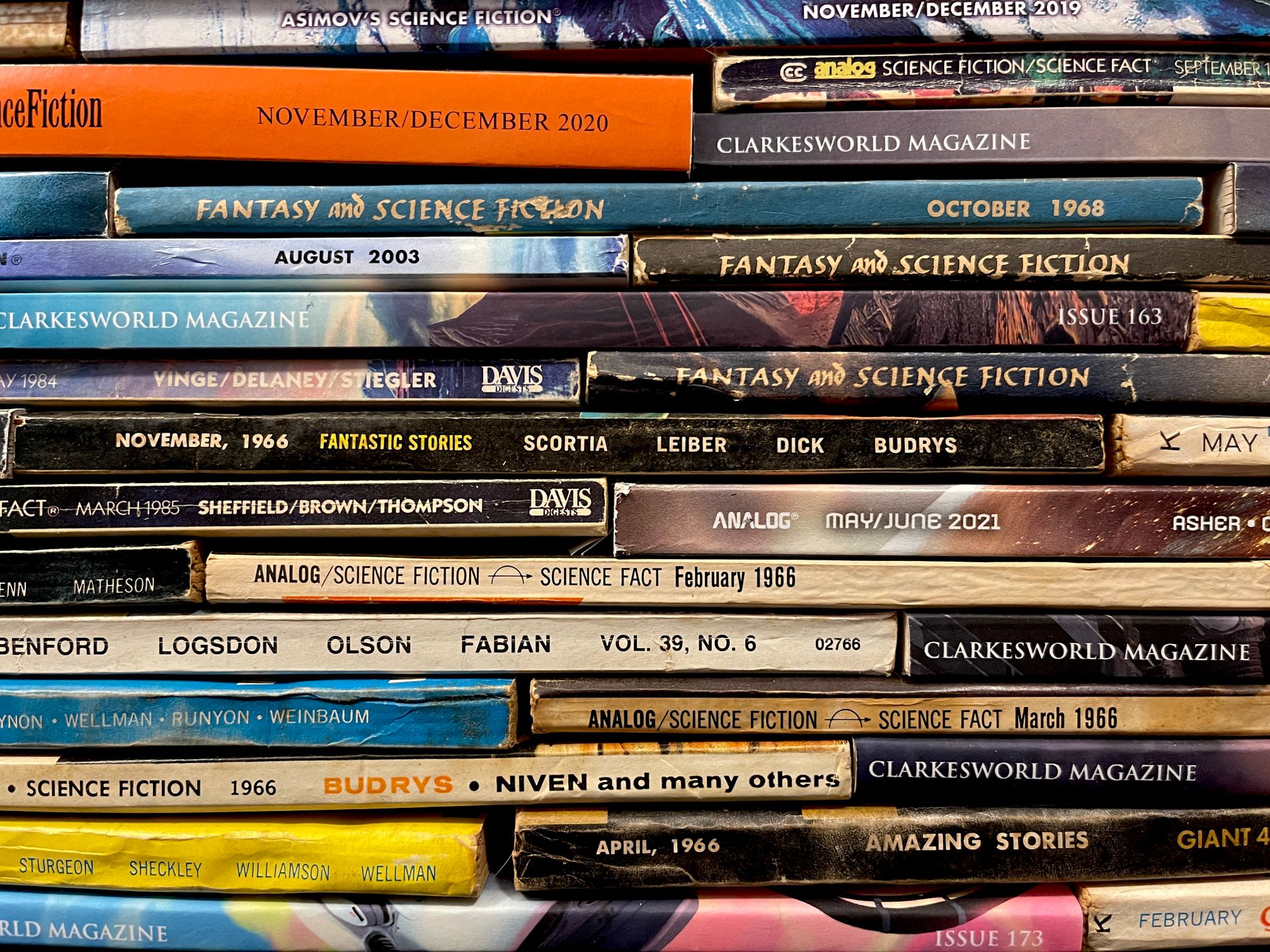 This piece is something that covers a couple of interests: the fragility of online infrastructure, new approaches to reading and publishing fiction online, and a good look back at how to execute an idea. For subscribers, I've also published my interview with Breshears, which you can read here.
Incidentally, I've taken my fiction that was stored at Curious Fictions, and moved them over here. You can find them listed here. At some point, I'll dive into my growing notebook of ideas and start actually turning those notes into actual stories.
Inaudible coverage
This is pretty neat: last week, BoingBoing covered my story about the Dune audiobook scam.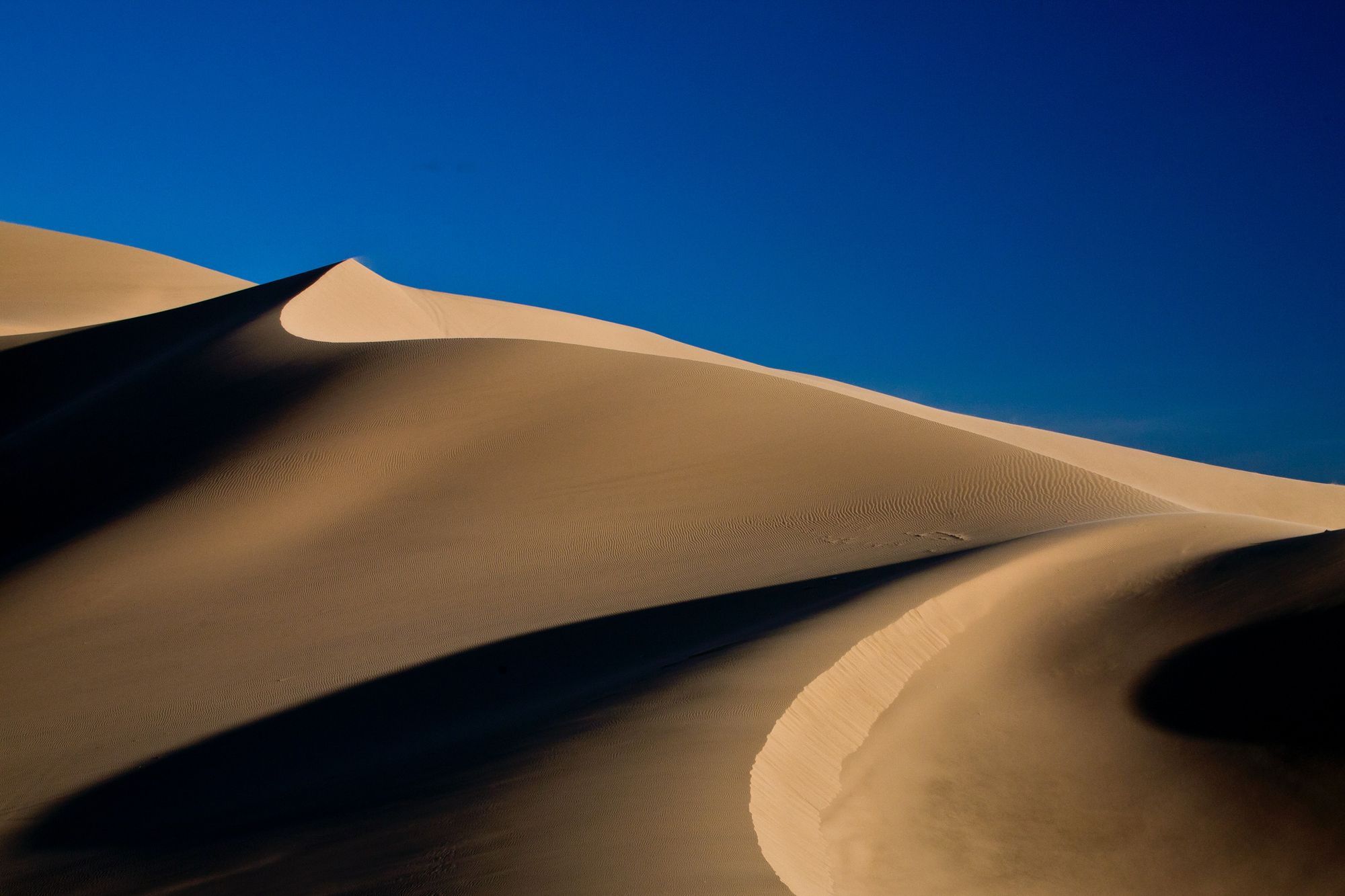 The Matrix: Resurrections
There's a lot of blockbuster movie news this week, because CinemaCon is taking place in Las Vegas. Warner Bros. held its presentation on Tuesday, and one of the big films it showed off is one that I keep forgetting is happening this year: The Matrix 4. The film now has a title (The Matrix: Resurrections), and the studio previewed a trailer at the event, although it hasn't made its way online just yet.
I've always enjoyed the original Matrix — it's one of those films that I'll throw on in the background every now and again — as well as its sequels, Reloaded and Revolutions. I felt like both told some interesting stories, even if they suffered a bit from the excesses that big-budget sequels are saddled with in an attempt to outdo their predecessors. (Seriously though, the highway chase in Reloaded? Hard to top that.)  
The Matrix Revolutions definitely ended on a bit of an open-ended note after Nero and Smith have their epic fight, the Matrix gets rebooted, and there's a bit of peace, with the hint that we might not have seen Neo for the last time after he dies. According to The Hollywood Reporter, we'll find him with no memories of being in the Matrix and popping blue pills. When he meets a mysterious figure played by Yahya Abdul-Mateen II, he gets some of his memories back. The film's set to drop in December, and it'll be interesting to see what that nearly 20-year gap might bring, storywise.
What's also been interesting is that Lilly Wachowski isn't involved in this one: it sounds like she's busy with other projects, doesn't particularly want to do anything with science fiction at the moment, and isn't in the right headspace coming out of her transition. "needed this time away from this industry. I needed to reconnect with myself as an artist and I did that by going back to school and painting and stuff." Good for her.
Nemo's Origins
This looks like a promising series: Disney has greenlit Nautilus, a series based on Jules Verne's 20,000 Leagues Under the Sea, an origin story of sorts about Captain Nemo, the inventor of the Nautilus, who is carrying out a vendetta against the British Empire. There's a lot of material to cover with something like that, and it'll be interesting to see what they do with it. And I can't help but wonder if they'll explore some of Verne's other works. I could see Disney building up a connected universe around some of his other characters.
The Old Guard 2
In news that surprises nobody, Netflix is spooling up a sequel to last year's The Old Guard. The main cast is back, but with a new director, Victoria Mahoney, who got some press last year with the revelation that she was the first director to helm a Star Wars movie (second unit director for Rise of Skywalker). The film was apparently a huge hit for Netflix, so it makes sense that they'd want to keep that franchise running along a bit longer to show off that sometimes, you can get Shakespeare when you hit a typewriter enough times randomly.
I made it through the first half of the film and liked it — it's something I've been meaning to get back to.  
Spider-man!
Marvel and Sony finally released a first look at their upcoming third Spider-man film, No Way Home, which sees Peter Parker and Doctor Strange inadvertently jumping into a multiverse. The MCU and Sony Pictures have both been playing with this concept (see Loki and Into the Spider-verse), and that unlocks some neat opportunities: bringing in some of the characters that we've seen in the other Spider-man films, like Alfred Molina's Doc Ock and Jamie Foxx's Electro. I'm really hoping that we'll see Tobey MacGuire and Andrew Garfield's versions of the character. Charlie Cox's Daredevil is also rumored to be in this one.  
---
That's all for this week. Next week, I've got the September book list (it's a packed one!), as well as a triptych of reviews and some other things. Have a good weekend,
Andrew