Carano, Whedon, and some new fantasy franchises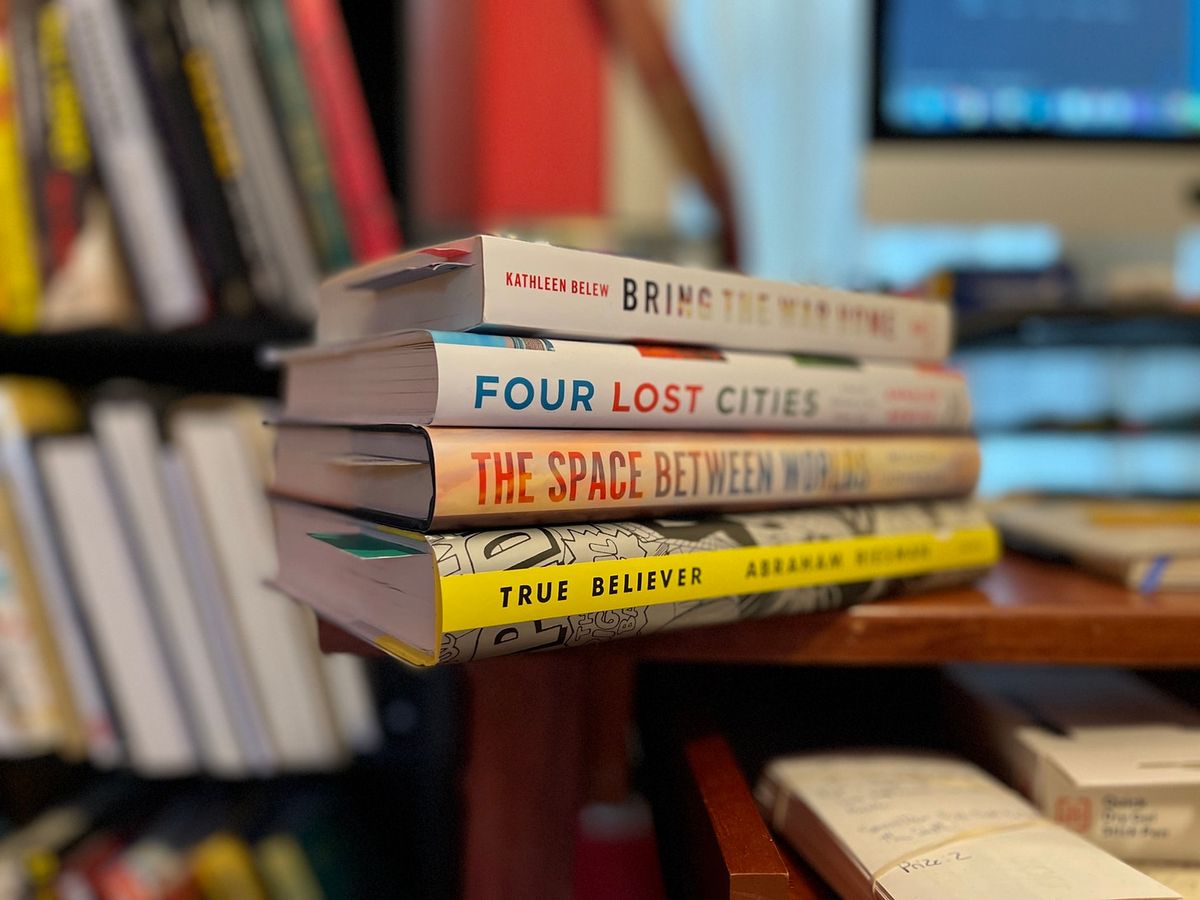 Happy Friday — I hope that you've made it through this busy week. Presently, it's -4° here in Vermont, which has me bundled up in my workplace with an entire pot of hot tea.
This'll be the first of two posts that will arrive in your inbox today. Later this afternoon, I'll be reprinting a longer feature that I wrote for Barnes & Noble a couple of years ago about the history of Chinese science fiction, with some light edits and updates.
It's been a busy week this week, so let's jump into it: the biggest stories this week were about Gina Carano getting ejected from Star Wars over her social media presence, the cast of Buffy the Vampire Slayer coming for Joss Whedon over what sounds like really awful behavior while he was running that show, and how studios have snapped up the rights to two big book series for potential franchises: Redwall and Oz. And of course, there's the usual reading and link roundups.
---
The week in SF/F
Gina Carano's run in Star Wars is over
I covered this in more depth in yesterday's subscriber post: Gina Carano, who played Cara Dune in The Mandalorian, has been fired/dropped by Lucasfilm after posting an antisemitic post on Instagram, part of a pattern of behavior from her over the last year.
The cost here is high for Carano. Last December, Lucasfilm announced a slew of new shows, including two Mandalorian spinoffs, Ahsoka and Rangers of the New Republic. My assumption at the time was that she would have been one of the "Rangers", and had a feeling that the reason she wasn't named as part of the show because of the outcry that she was generating. But now, it looks even worse: she posted herself out of headlining her own show.
More accusations against Joss Whedon
Directing films likeThe Avengers, and The Avengers: Age of Ultron helped turn Joss Whedon from a quirky cult creator of beloved shows like Buffy the Vampire Slayer, Angel, and Firefly into a household name, one with legions of fans. On paper and in the press, he cut a progressive figure, someone who centered powerful, independent women in his work.
Cracks in that image have emerged and begun to widen. In 2017, his ex-wife Kai Cole wrote an op-ed for TheWrap, writing about a series of affairs that he had while producing Buffy, and that he didn't practice the ideals that he was known for.
Last year, actor Ray Fisher, who played Cyborg in Justice League (which Whedon took over after Zack Snyder stepped down) went public with accusations of his own, saying that Whedon's "on-set treatment of the cast and crew of Justice League was gross, abusive, unprofessional, and completely unacceptable." Fisher's statement prompted an investigation from WarnerMedia, which ended in December with a statement that "remedial action has been taken." What that action is is unknown, but Whedon stepped down from his latest show,The Nevers, just days before. Whedon noted at the time that his departure was due to "the physical challenges of making such a huge show during a global pandemic," but the timing is suspicious.
Now, those cracks have widened further. Actress Charisma Carpenter (who played Cordelia Chase in Buffy and Angel) released a damning statement on Wednesday that shed more light on Whedon's actions on set, saying that he created a hostile work environment, repeatedly threatened to fire her, and was disparaging to her and her colleagues. She was backed up by fellow Buffy actress Amber Benson, who said "Buffy was a toxic environment and it starts at the top. @AllCharisma is speaking truth and I support her 100%. There was a lot of damage done during that time and many of us are still processing it twenty plus years later." Eliza Dushku, who's been a huge supporter of Whedon, also voiced her support.
Michelle Trachtenberg, who played Dawn Summers, wrote "we know what he did. Behind. The. Scenes," and added in a note saying that at some point, Whedon wasn't allowed in the same room as her. And Sarah Michelle Gellar, the headlining star of Buffy the Vampire Slayer, issued a statement of her own standing with Carpenter: "While I am proud to have my name associated with Buffy Summers, I don't want to be forever associated with the name Joss Whedon."
Whedon has a long history of working in television, and given some of the uncomfortable moments that crop up in Firefly and some of his other projects, I can't help but think that these accounts will be followed by others. It's also beyond time for actors like Nathan Fillion and David Boreanaz to come out and say something — and potentially address their own issues that they've been tagged with over the years.
It's upsetting, given the amount of love and influence these shows hold for fans, and knowing that they came from a tainted source brings up uncomfortable questions about their messaging and validity.
Two potential fantasy franchises
There were two big announcement that caught my eye from a couple of streaming services, and I get to beat the drum of IP acquisitions as the basis of some potential future franchises: Warner Bros. and New Line Cinemas is picking up L. Frank Baum's Oz books, while Netflix will adapt Brian Jacques' Redwall series.
There's two things that are similar about each acquisition. Both are long-running, beloved fantasy series: Baum wrote 14 novels, Jacques 22, each set in a much larger world, with a ton of characters and adventures, all of which would prove to be excellent fodder for a streaming adaptation.
New Line has brought on Watchmen's Nicole Kassell to direct the movie, but reading between the lines it looks as though she's going to play a big role in shaping the world of the film, and if I had to guess, we'll see this get built out into a franchise for HBO Max, which could further build out the world. It's worth reading this piece from Vanity Fair about her, to get an idea of her approach to directing.
Redwall is something I'm particularly excited about: I devoured those books when I was a kid, and I've always felt that they would make a good basis for some sort of adaptation. There was a cartoon back in the day, but I never really got around to watching it. This deal is for all 22 books, starting with an animated movie and continuing with an "event series" about Martin the Warrior — presumably covering the events of the books Martin the Warrior and Mossflower. After that, they could easily do a ton of seasons following the other books.
Redwall has the opportunity to do something that most epic fantasy properties haven't been able to do — steer away from the adult-oriented content in stories like Game of Thrones or The Witcher, and provide something that entire families can enjoy. (Not that there's anything wrong with adult content — it's just that adults don't make up the entire viewing audience for fantasy.)
At the end of the day, they're two big stories that represent huge worlds of original content for two big streaming – and growing — streaming services. Hopefully, they'll adapt well and live up to their legacies. At the very least, hopefully they'll drive new readers to discover them for the first time.
---
Currently reading
I just picked up Abraham Riesman's True Believer: The Rise and Fall of Stan Lee ahead of its publication next week. I'm not terribly far into it just yet, but thus far it's a very critical look at Lee's life and legacy. (There's a link to The New Yorker's review in Further Reading below that's worth checking in on.)
Another new arrival has been Annalee Newitz's latest book, Four Lost Cities: A Secret History of the Urban Age, which I'm a couple of pages into and am enjoying so far.
I've also been reading / listening to Micaiah Johnson's The Space Between Worlds, a holdover from my reading last year. It's a story about alternate worlds, and a young woman who works for a major corporation by traveling to them. I'm really enjoying it.
Still on the list, Charles Soule's Light of the Jedi, Kathleen Belew's Bring the War Home, and Eliot Peper's Veil, Mike Chen's We Could Be Heroes, and Stina Leicht's Persephone Station. Andy Weir's next novel, Project Hail Mary just arrived as well, and that's one I've been looking forward to.
---
Further reading
---
As always, thanks for reading. Let me know what you've got on your TBR pile, and what you've been reading this week.
Andrew