Here are all the books to check out this August
11 new SF/F adventures to delve into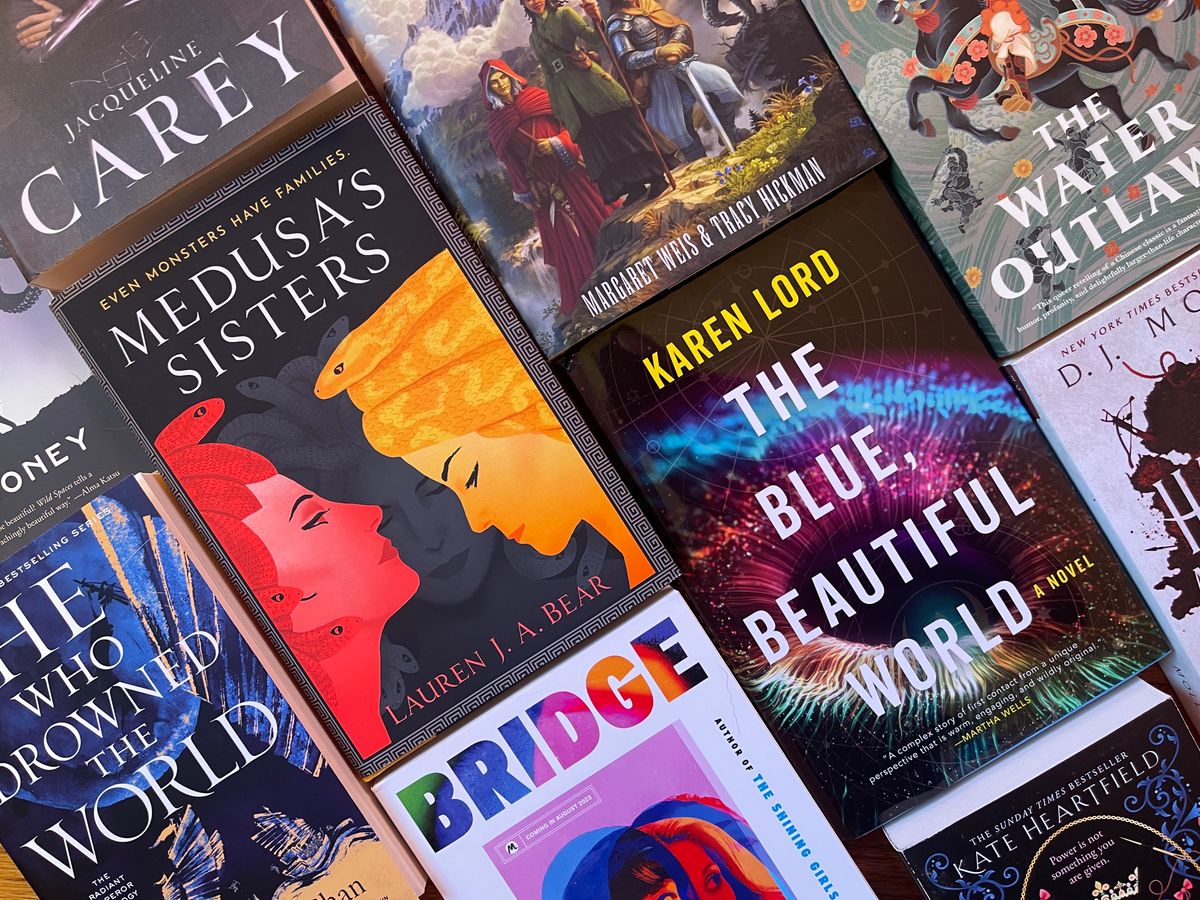 August's books include stories about first contact, re-told Greek myths, multiverses, Lovecraftian horror, and quite a bit more. If you'd like other recommendations, here are all of the other book lists that I've posted here.
As always, links to Bookshop.org are affiliates, and we get a small percentage of sales through that to help with hosting on Ghost. And of course, signing up as a member also helps quite a bit.
Here are 11 new SF/F books hitting stores this month:
Medusa's Sisters by Lauren J.A. Bear (August 8th)
Lauren J.A. Bear launches her debut novel, Medusa's Sisters this month, reimagining the Greek myth of the Gorgons. She delves into the story of the three immortal sisters Medusa, Stheno, and Euryale, and how they ventured into the human world to explore, only to find themselves in the midst of a rivalry between the Greek gods and transformed into the horrific creatures that's become legend. Bear puts both Stheno and Euryale front and center to shine a new light on their lives and the tragedies they became.  
Library Journal gave the book a starred review, saying "Through faith and love, music and motherhood, sex and art, all three sisters find their own ways to join the world, tell their stories, and leave their mark."
Bridge by Lauren Beukes (August 8th)
A woman named Bridge is dealing with the aftermath of her mother's death. Bridge and Jo had a strained relationship, brought on by the latter's obsession with an item she referred to as the "dreamworm", which she believed could open passages to other, alternate worlds.
When going through her mother's things, she discovers that it wasn't fantasy: the artifact was hidden in her freezer, and Bridge discovers that it can open portals to other realities and to her alternate selves. As she begins to investigate what happened to her mother, she discovers that others are after the dreamworm, and who will stop at nothing to get it.
Kirkus Reviews says that "the worldbuilding here is skillful, as is the pacing—Beukes avoids dropping anvil-like plot points or world details, trusting the reader to unpack clues and read between the lines.
Working at a bookstore in the 2000s, I felt like I couldn't escape seeing entries from Jacqueline Carey's Kushiel's Legacy series when they popped up on shelves. The first novel, Kushiel's Dart, was widely acclaimed, and she's followed up with a handful of sequels over the years, which have recently been re-released. (Other entries in the series include Kushiel's Chosen and Kushiel's Avatar).
After a break, she's back with a new entry: Cassiel's Servant. Where Kushiel's Dart followed Phèdre, a courtesan discovering a plot against her homeland, Carey looks at the story from the other side: following the same events from eyes of a warrior priest named Joscelin, her lover and protector. He's sworn an oath of celibacy, but as the two fall in love, he finds that those promises are hard to keep. When they're betrayed, the pair will have to rely on one another to survive.
Library Journal notes that "Joscelin's point of view will revitalize fans of the series and draw new readers to this lush epic fantasy."
Wild Spaces by S.L. Coney (August 1st)
S.L. Coney spins out a Lovecraftian tale about a boy as he spends his days in the wild spaces in South Carolina along with his beloved dog Teach. When the boy's grandfather shows up unexpectedly, that idyllic childhood begins to fracture as family secrets begin to spill out, and as the boy begins to change in strange ways.
Publishers Weekly says "the result is both wrenching family drama and fantastical monster story, and though the climax feels a bit rushed, the exploration of blood ties and the nature of monstrosity resonate."
Lin Chong was a warrior with a promising future in the Song Empire, where she's a prominent combat trainer who's teaching the Empire's next generation of soldiers with a variety of weapons. Her life is upended when she's attacked by a powerful Marshal, Gao Qiu, and when she fends off his assault, she's thrown into prison. When she meets an outlaw, she's given a new opportunity to rebuild her life and recognize the corrupt system that she was part of.
Publishers Weekly gave the book a starred review, saying "By cycling through perspectives, Huang brings a large and varied ensemble cast to vibrant life, skillfully including queer identities in a way that feels historically and mythically resonant."
Time's Mouth by Edan Lepucki (August 1st)
I was a big fan of Edan Lepucki's debut novel California when it came out way back in 2014, and her latest looks to be just as intriguing. Set in the 1950s, Ursa is a woman with a special ability: she can go back in time via her memories and revisit her past experiences. She leaves home for California and gathers a community of women around her and her abilities. Things take a turn before too long, however: the cult takes its toll on her family, and her granddaughter, Opal, eventually grows up heartbroken at her broken family, and is prompted to revisit her own family's past to discover some long-buried secrets.
Kirkus Reviews gave the book a starred review, saying "Lepucki is known for combining domestic realism with a magical worldview and/or SF–adjacent elements (here, there's an isolation chamber in a box in the garage inspired by Reich's Orgone Accumulator) and for evoking California in all its real, surreal, and unreal glory."
In the distant future, humanity is dealing with the challenges brought on by climate change, and now, it has a new one brbefore it: first contact. We've been observed for years by alien life, and now, they've made the next step to make contact.
To confront some of these problems, Earth's youth gather annually for a problem-solving summit, and this particular year, they're challenged with a first-contact scenario – one that turns out to be a test for the real thing. Amongst the team taking part is a VR innovator, a charismatic celebrity, and a youth council member.
Publishers Weekly says "Lord's choice to focus on the voices of historically colonized peoples adds depth and compassion to the classic alien invasion trope."
The Brannic Empire is powered by magic, and it'll do anything to hold onto power around the world. The Empire's Church of Alchemy routinely sacrifices children with magical abilities, using the ashes as a power source. When a soldier named Lochled Thatcher is tasked with taking part in a crusade to a conquered, magical land known as Leftland to harvest their ashes, he's joined by a recruit named Rony, who discovers that warfare isn't what she thought. As they come into contact with their enemies, they they begin to have their faith in their world crumbling.
Publishers Weekly says that "Molles renders this bone-crunching war with gore galore and a strong sense of camaraderie among the soldiers," and that "military fantasy readers will find plenty to enjoy."
Shelley Parker-Chan returns to the world of their debut novel She Who Became The Sun for the second part of the The Radiant Emperor duology. In that first book, a brother and sister grow up in an impoverished village under Mongolian rule. When their village is attacked and their parents killed, the boy – Zhu Chongba, prophesized for greatness – dies of despair, prompting his sister to take on her brother's name and find a way to survive, no matter what it takes.
In this followup, the Radiant King, Zhu Yuanzhang, has triumphed over their Mongolian rulers, and her new goal is to become emperor. But she has rivals also angling for the imperial throne, and Zhu will have to play a delicate game in order to survive.
Writing for Lightspeed Magazine, Aigner Loren Wilson says that "Parker-Chan's writing is as captivating as ever, though, eloquently describing everything from the landscapes and wardrobes—to physical encounters, both sexual and not. The series' heat burns from beginning to end with battles, sexual espionage, and greed-confused determination."
Text Appeal by Amber Roberts (August 8th)
While in college, I worked at the local Waldenbooks (RIP) at the Berlin Mall in Central Vermont. I really enjoyed working there: I'm still good friends with some of my former coworkers. One of those fellow booksellers was Amber Roberts, who's got her debut novel coming out this month: Text Appeal, a romance about a woman named Lark who's the only female programmer at her company.
She lands a big account, only to have a crisis at work: while running a presentation, she accidentally displays an unsolicited, scandalous photo, and she's quickly out of a job. To make ends meet, she signs up for a sexting app, and finds that she's actually pretty good at it, even if it leads to complications in her life.
Publishers Weekly calls the book "enormously satisfying...with a You've Got Mail twist," and that "Roberts makes it easy to fall in love with Lark and Toby through peppy prose and thoughtful conversation."
Margaret Weis and Tracy Hickman return to the world of Dragonlance with a sequel to last year's Dragons of Deceit, a long-overdue revival of Wizards of the Coast's D&D fiction series. That novel follows Destina Rosethorn, who hatches a plan to try and bring back her dead father, by way of an artifact called the Device of Time.
In this followup, Destina and her allies have gone back further than they expected, to the Third Dragon War. There's a wrinkle in their plans: the Device of Time has been destroyed, and they now have to figure out how to not only get back to their own time, but survive the war.