Here's the cover for Cosplay: A History!
Coming June 28th, 2022!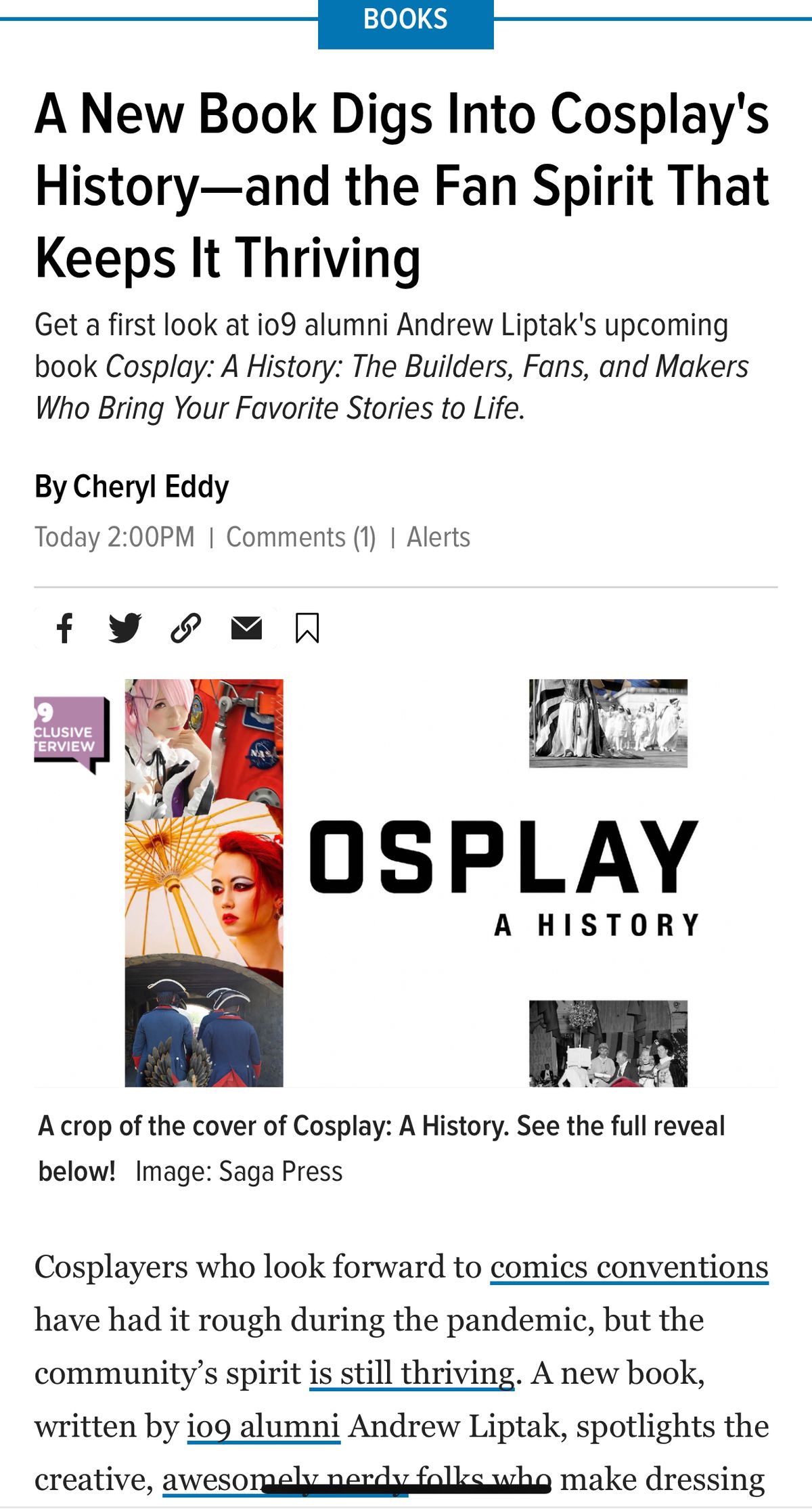 Hello from New York City! I know I said that I'd be taking this week off (and I am!), I have a cool thing to show you: the cover for my book, Cosplay: A History!
The reveal comes thanks to io9's Cheryl Eddy, who interviewed me about the process and direction of the book, and asked some great questions. You can read the full interview and see the full cover here!
Here's a brief except:
io9: Who were some of the most interesting people you talked to while researching and writing the book? What were some of your favorite cosplay discoveries?
Liptak: I spoke with so many interesting people. I spoke with folks like Albin Johnson, who founded the 501st Legion, and Adam Savage, who's best known for his work on Mythbusters and for showing up in costume at conventions. But there were tons of others: Sgt. Swift Stitch and Paige Robins (aka Cosplay Medic), who show up to cons armed with elaborate workshops on their backs to serve as resources for cosplayers who need an on-the-spot fix when something breaks. There was Astrid Bear who was part of the convention scene in the 1960s, David Rhea (who sadly passed away from cancer last year) who made his own incredible Star Wars costumes in the 1970s and 1980s, and Dorasae Rosario (aka Akakioga Cosplay) who has made her own incredible costumes of everything from Suri from Black Panther to an interpretation of Sirfetch'd from Pokemon: Sword and Shield. And tons of others. But not only that, I took hundreds of pictures over the course of my trips to cons, and there were amazing cosplayers at every stop. I wish I could have included each and every one of them in the book.
#

The book is now available to preorder, and you can find the various ways to so that here. I've noted it before, but if anyone preorders it and forwards along their receipt, I'll comp you a year's paid subscription.
Have a good Thanksgiving! If you're in the US, I'd highly recommend checking out the Macy's Day Parade... for no particular reason...
Andrew