Dreams are messages from the deep
Denis Villeneuve's adaptation of Dune succeeds because it understands the grounded nature of Frank Herbert's novel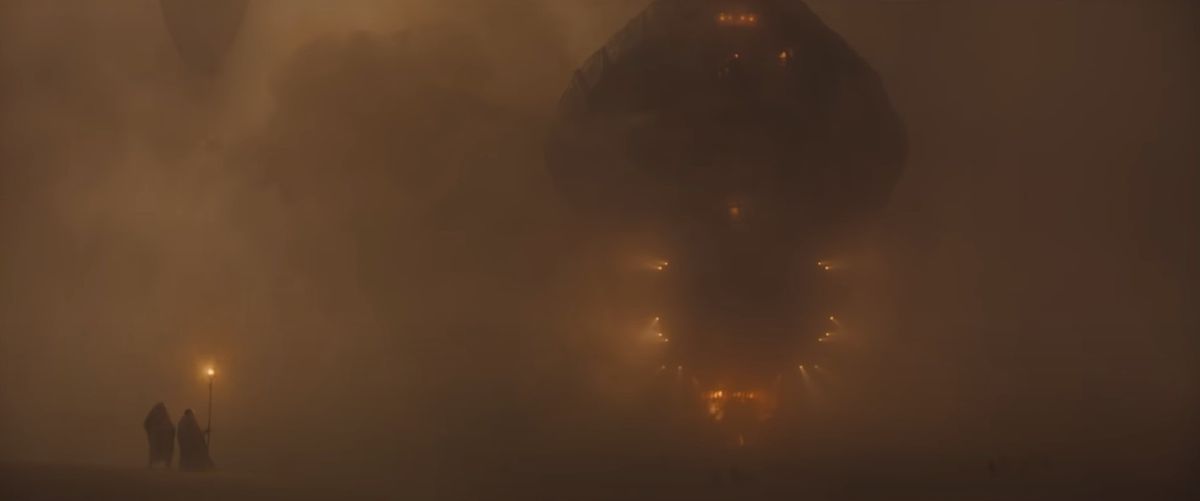 Happy Friday!
A bit of a programming note: I'm taking next week off. It's Thanksgiving, and I'll be on the road to New York City and Pennsylvania for much of the week, and honestly, I need to take a short break. It's been a rough couple of weeks, and some downtime is sorely needed.
I'll have one more post coming out tomorrow: it'll be the final recap for Apple's Foundation, and it'll include a bit of an overview with thoughts looking back on the entire first season. After that, regularly-scheduled programming will resume at the end of the month.
But first, I wanted to finally jot down some thoughts about Denis Villeneuve's Dune.
---
In many ways, I've been waiting for something like Denis Villeneuve's Dune for a long time: a sweeping, immersive adaptation of Frank Herbert's groundbreaking novel.
I first encountered Herbert's Dune in my high school's library: that chunky paperback became one of those core books that has vividly stuck with me in the two or so decades since I first read it. When I picked it up again recently, I marveled at how well it stood up, that the ideas and world that Herbert imbued in his narrative still felt fairly fresh and relevant in 2021.
Herbert dumped a lot into that original novel: it's a story about power, ecology, revolution, and more, and it has a famously challenging history when it comes to taking all of that and adapting it for the screen. After watching the film a couple of times in theaters and at home, I'd have to say that nobody's come close to actually doing the story justice until now.
Villeneuve's Dune is a marvel to watch.
I had high, optimistic hopes for the film from the start: Villeneuve's filmography is a strong one. His 2015 thriller Sicario, about a shadowy government task force working to take down a drug lord, is a masterclass in building tension and paranoia, all cloaked in some gorgeous cinematography. His next film was 2016's Arrival, based on Ted Chiang's acclaimed novella "Story of Your Life" about the arrival of extraterrestrials, and the efforts to understand and communicate with them. After that, he took on the monumental task of following up Ridley Scott's classic film Blade Runner with Blade Runner 2049. Dune feels like a high-water mark for him: a trifecta of classics that will define his career, and he exceeded my already high expectations for the project.
Set tens of thousands of years in the future, Dune is set long after humanity has colonized the galaxy, ruled under the Galactic Padishah Empire in a sort of feudal system of houses. The Empire is held together thanks to one precious resource: Spice Melange, a psychedelic substance that allows humans to expand their mental powers and allowing humanity to travel between the stars. It's found only on a single planet, the desert-covered Arrakis, which up to this moment, has been controlled by one powerful house, the brutal House Harkonnen, which extracted as much spice as it could from the planet during its time there.
At the start of the film, the Emperor decrees that House Atreides will take control of the planet, a move designed to kneecap them before they could pose any real threat to the Emperor. The family and their personal military arrive on Arrakis, and before long, they're attacked by the Harkonnen's forces, helped by the Emperor's personal elite force, the Sardaukar. Paul Atreides and his mother Jessica survive the attack and flee into the desert, where they hope to ally themselves with the Fremen, the planet's native inhabitants who want to transform the place from a desert into a lush, livable world. Paul, as it turns out, is a prophesied savior who'll lead the Fremen to take over the galaxy in his name.
Herbert included a lot in his book, and Villeneuve's adaptation only covers roughly the first half of the first book (never fear: Warner Bros. has greenlit a sequel and Villeneuve wants to adapt the second book in the series, Dune Messiah), which has all of the moments that I vividly remember from my first reading of the book: the introduction to Paul and his encounter with the Bene Gesserit's Reverend Mother Gaius Helen Mohiam, the arrival on Arrakis, the assassination attempt against Paul by a hunter-seeker, Paul and Duke Leto's visit to a spice-miner, and the attack against the city and downfall of the family.
That's a lot for a film in and of itself, but I think that what makes it work well in Villeneuve's hands is two things: his understanding of the source material and what makes it tick under the hood—this is a story that's fundamentally about power—but also in the way that he presents the world of the story to the audience.
Science fiction is very, very difficult to do on a surface level, because you have to signal that it's different from our world, by creating an environment that signals that. There are plenty of films that do this by creating outlandish costumes, props, and sets, some more successfully than others: George Lucas's original Star Wars works exceptionally well because while the costumes are certainly out there, they're grounded in some level of reality.
Villeneuve grounds his Dune heavily into reality: the Ornicopter buzz like angry Black Hawks, the Atreides dress uniforms wouldn't look out of place in a modern royal palace, and the Fremen feel very much like they've already been living in the desert as insurgents for decades.
That underlying design supports the story here: Villeneuve understands that while there are some out-there concepts that Herbert was exploring about consciousness, mental powers, and trippy psychedelic drugs, Dune is the story about the struggle for a planet and the fight between noble houses for supremacy within the galaxy. That struggle comes down on a focal point of Arrakis, where control of the world hinges on the ability to extract those resources without getting killed by the local populations resisting that rule.
[It's interesting watching this movie after the US just spent twenty years trying to control Afghanistan and Iraq with overwhelming military force, and I think the film benefits a bit from a basic understanding of counterinsurgency and geopolitics: it's not hard to see some of the design cues here taking some influence from that experience.]
Where Villeneuve succeeds the most, I think, is that he was able to take this essential, influential work of science fiction and make it something that lives and breathes on its own: this isn't a world that feels like it's heavily inspired by Star Wars or Star Trek or any of the other big space operas out there—it's something that stands completely on its own, from the beautiful design of the starships to the look and feel of the uniforms. (If this film doesn't get some major awards for its costume design, I'll be very displeased, because costume designers Jacqueline West and Bob West really deserves the accolades.)
By grounding the story and understanding that while this is set in the distant future on strange planets, Villeneuve plays out a really incredible story of a power struggle, and the people who stand up to fight against overwhelming odds to survive and to right some injustices in the galaxy.
---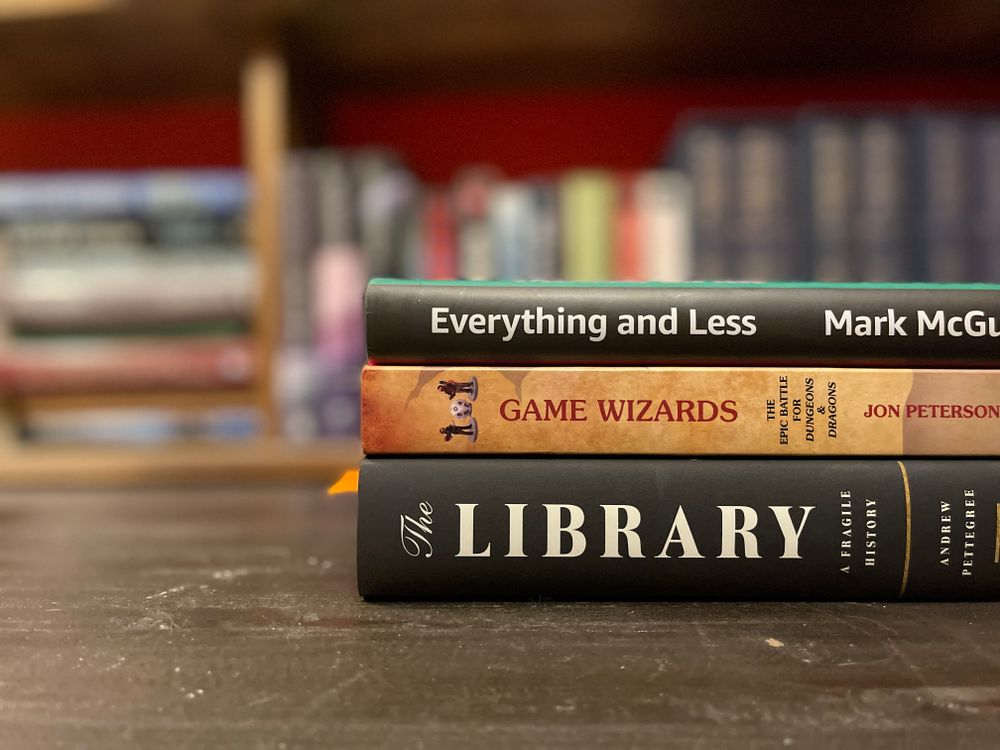 Currently reading
This week, is pretty much the same as last week: I'm still toiling away on The Library: A Fragile History by Andrew Pettegree and Arthur der Weduwen, Game Wizards: The Epic Battle for Dungeons & Dragons by Jon Peterson, and Everything and Less: The Novel in the Age of Amazon by Mark McGurl.
Fiction-wise, I'm making good time with Cadwell Turnbull's No Gods, No Monsters and John Scalzi's Kaiju Preservation Society, as well as James S.A. Corey's Leviathan Falls. I'm hoping to take some good time next week to burn through a bunch of these books.
---
Further reading
Brian Staveley talks The Empire's Ruin
In case you missed it yesterday: I interviewed Brian Staveley about his latest novel, The Empire's Ruin, and it turned into a really intriguing conversation about creating, not being afraid of failure, and pushing one's characters past their limits. You can give it a read here, and I've republished my review of the book here.
FIYAHCon Retrospective
L.D. Lewis looks back on this year's virtual FIYAHCON, a digital convention that's was hosted by the folks behind FIYAH Literary Magazine, a genre publication with a focus on Black writers and perspectives. The convention has earned considerable acclaim for its organization, topics, and general existence, and in a world where it seems as though World Con and the World Fantasy Con can't help but step on the rake and cause a raft of self-generated problems, it's been a breath of fresh air to see.
Lewis was one of the organizers, and runs down the minutia of running a conference. It's worth looking at to try and understand the heavy workload that goes into running a conference, which brings her to her conclusion: the convention won't run in 2022, because it's such a difficult job, and they can't indefinitely rely on the work of volunteers. "Most of us had to put aside our projects and the advancement of our careers in order to pursue this level of community engagement," she writes, "while most of the community was grateful and enthusiastic about what we were able to provide, the staff put up with a frankly absurd amount of harassment and vitriol in the months leading up to the con."
I've been involved in planning conferences over the years—my wife is a professional conference planner—and yeah, they're time-consuming and hard. Conventions are legacy fixtures within the fan community, put on my dedicated fans and volunteers on a local level who gather to celebrate the things they love. That's not a bad thing in and of itself, especially if folks are willing to put in the time and effort to serve their communities.
But cons, especially the major conventions like the World Science Fiction or World Fantasy Conventions are major events. They host the Hugo Awards, they bring together huge groups of fans from all over the place: running one of those events requires dedicated of volunteers, and that seems to be a huge crux to the problem: you really need a professional organizer to come in and take over the running and management of a convention. But more than that, Lewis makes a good point: the companies that produce the content need to step up. I don't know off-hand what contributions publishers like Del Rey, Tor, or Orbit provide to underwrite the con, but it feels like that's something that should be pursued, especially if those conventions want to remain relevant, safe, and useful fixtures in fandom.
Mission creep
Facebook reminded me not too long ago that I was contemplating picking up Halo: Reach. It remains one of my favorite games in the series, but one of the things that has always stuck out for me with it was the realization that the world that it was depicting was beginning to mimic the real world in some subtle ways, like how the UNSC Marines were beginning to look more realistic — they wore their uniforms differently, and there were fixtures on their helmets and gear that looked like they were drawing a lot of influence from the advances and changes to gear over the course of the War on Terror.
It was something I tucked away to someday write about. Someday became yesterday: writing for Polygon, I took a look at how these changes have bled into not only the world of Halo, but the larger world as well. There's some bigger implications here, and in speaking with Matthew Callahan (a former Marine who put together the fantastic Galactic Warfighters photo project), I take a look at some of the pitfalls:
"The big picture implication," Callahan says, "is January 6th. That is the big picture implication —radicalization. It's feeling like you need to militarize yourself to defend yourself, and to just enact that violence on others."
I'm very happy with how this came out, and I'm happy Polygon picked it up.
Also earlier this week, I also published a longer report on the history of military science fiction, and how it seems to flourish during times of national anxiety.
News roundups
This was a busy week for the newsletter: I wrote about Disney+ Day on Monday, in which Marvel took up a lot of oxygen in the room, as well as a piece on Wednesday, which featured write ups about the trailers for Spider-man: No Way Home, The Expanse, and Halo. If you'd like to get those pieces, you can subscribe here.
Star Wars: Rogue Squadron completely off the table?
A couple of weeks ago, word broke that Patty Jenkins' Rogue Squadron movie was being pulled from Lucasfilm's theatrical calendar because of Jenkins' schedule. A new report is suggesting that the project might be off completely, because of micromanagement from Lucasfilm.
Former Hollywood Reporter editor Matthew Belloni, writing for a new news startup called Puck, writes that the problems seem to stem from Lucasfilm chief Kathleen Kennedy, and that while she's been re-upped with the studio for another three years, a bunch of previously-announced projects have been shelved, including Rian Johnson's trilogy and Jenkins' film: "Jenkins wasn't willing to dick around, and she has other projects, notably Wonder Woman 3 at Warner Bros., where she enjoys more creative freedom."
The post is a good rundown of the history of problems at the studio, starting with 2016's Rogue One (I wrote about this back in 2017 at The Verge), Solo: A Star Wars Story (which saw Ron Howard replace Phil Lord and Chris Miller), and Rise of Skywalker (which saw Colin Trevorrow replaced by J.J. Abrams). Rise of Skywalker and the overall development of the sequel trilogy has been ... controversial, and critics frequently drag Kennedy for some of those high-profile failures.
Belloni notes that this is at odds with what Marvel's done under the Disney umbrella, and points out that where Marvel's done a wonderful job planning out its franchise, Lucasfilm's really fallen down on the job here. The sequel trilogy is where this is readily apparent, and it given that Lucasfilm finished off the Skywalker saga with seemingly no plan forward, it's understandable why this has been frustrating.
But on the other hand — is a Marvel model for Star Wars really a good thing? Not to pull out the long-time fan card, but we had to wait years between installments, something that seems less of a problem if Lucasfilm is fully pursuing streaming TV as a storytelling model. Clearly, there's no issue (or little issue) with The Mandalorian, and we'll see how The Book of Boba Fett turns out at the end of next month. I'd much rather see Lucasfilm be super picky about what it develops than throwing everything at the wall to see what sticks, especially with the big films.
That said, Lucasfilm seems like it's got a firm idea of what it wants, but has trouble getting its directors to follow that vision exactly, rather than relying on their strengths as directors—that was an argument that came up with Solo. But Marvel faced some of the same issues, and it feels like it's only really gotten interesting when it's leaned into some of those directors' strengths, like with Thor: Ragnarok, or Shang-Chi.
Either way, hopefully Lucasfilm will get Rogue Squadron back on the calendar at some point.
---
As always — thank you so much for reading, and let me know what you're reading / writing / enjoying. As noted, I'll be largely off next week (unless something huge and newsworthy breaks), and will return at the end of the month. If you're a supporting subscriber, come hang out in the Slack channel — I'll likely be dropping whatever links and stuff that I come across while browsing the internet. Stay tuned: I've got a very cool thing that I'll be doing next week in New York City that I can't talk about, but it's one of those know-it-when-you-see-it type things.
In the meantime, if I can make a request: this newsletter's main avenue of growth is through word of mouth. If you've enjoyed or otherwise found what I've written interesting, would you share it on social media, or forward it along to someone you think would enjoy it? I've got a lot in store in the coming months, and I'd love to build out this community even further. Thanks!
Have a good weekend and Thanksgiving holiday,
Andrew