Dune's growing cinematic universe and Chernobyl / Roadside Picnic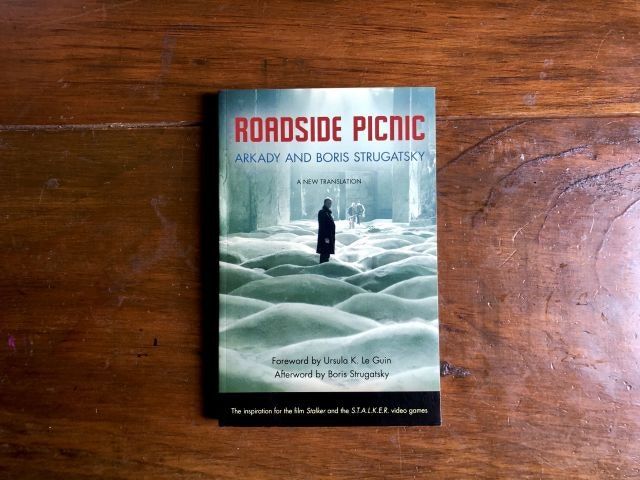 Hello!
This is the Reading List part of this week's newsletter (the other is the short story, which you should have also received.)
First up: I'll be at a couple of events with debut author Cadwell Turnbull: one at Brooklyn's Books are Magic Bookstore on June 27th, and another at the Yankee Bookshop in Woodstock on July 1st. If you're in the area, you should come!
Dune: the next big cinematic universe?
So this is pretty cool news if you're a Frank Herbert fan: WarnerMedia has announced that it's ordered a TV series for Dune, which will accompany Denis Villeneuve's adaptation. Better yet, Villeneuve is directing the pilot for the series.

If you aren't familiar with this particular story, here's the basics: In 2017, word broke that Villeneuve was going to direct a two-part adaptation of Frank Herbert's classic novel. There have been a couple of adaptations over the years: Alejandro Jodorowsky's aborted version chronicled in the fantastic documentary Jodorowsky's Dune, David Lynch's bonkers version, which has essentially become a cult classic, and the SCI FI channel version, which generally received good reviews, but wasn't all that memorable. Villeneuve is exciting because he's a fantastic director: he directed Arrival and Blade Runner 2049, both of which were fantastic adaptations and probably some of the best science fiction to hit theaters in recent years. I also really love his film Sicario.

Better yet, this new version of Dune has picked up an incredible cast of actors, including Oscar Isaac, Stellan Skarsgård, Rebecca Ferguson, Javier Bardem, Dave Bautista, Timothée Chalamet, Josh Brolin, Jason Momoa, and a bunch of others. All of that doesn't necessarily mean that Villeneuve's film will be an automatic good film, but all of the component parts are shaping up to be really compelling. The film is set to be released in November 2020 (conveniently, a year without a Star Wars film to suck all of the money out of the box office in December.)

Something I've talked a lot about before here is that multinational entertainment companies aren't just investing in single films and/or sequels these days: they're aiming to develop big franchise properties that will pay off for years to come. Just look at what Disney has done with Star Wars and Marvel: these are enormous, mature franchises with huge fanbases, and with planned continuations not only in theaters, but on television and direct-to-consumer streaming services.

Dune is a book with some history behind it, and it's never really taken off as a big film franchise. But it's looking like WarnerMedia has some high hopes for the property. They've already planned for two films to adapt the first novel, and now, there's a connected television show that will go up with the company's streaming service, which is expected to debut in beta this year, and fully launch next year.

This new series is called Dune: The Sisterhood, and it looks as though it's going to act as a prequel. What's also interesting is that Brian Herbert (Frank Herbert's son), and Kevin J. Anderson are playing prominent roles as producers here, which makes sense: the two have shepherded Herbert's franchise as a long-running series of novels. If I had to speculate, the series is going to pull some inspiration from one of their prequel trilogies, Great School of Dune, the first book of which is Sisterhood of Dune (followed by Mentats of Dune and Navigators of Dune.)

This would also track with what Herbert and Anderson had envisioned for the series. I spoke with them in 2016, and they talked about how they wanted to keep the series alive, and that essentially meant keeping people interested and engaged by continuing to produce new stories in the world. I've noted in the past that other major authors, like Robert Heinlein, Arthur C. Clarke, and Isaac Asimov, while extremely popular and influential in their lifetimes, really haven't enjoyed the same longevity, because nobody's been at the helm, continuing their works.

The pair faced a major challenge when they began talking about reviving the series. The original novel was written 30 years earlier, and while it is considered a classic, writing a new installment deep in a series long after its original author died is a hard sell. "Before we could [finish Book 7]," Anderson told The Verge, "we had to reawaken interest in Dune itself, more than a decade after Frank Herbert's last book was published."

The pair had a lot to work with: Herbert had left behind plenty of notes and a rich world, and they ended up publishing numerous novels that adhered to the spirit of his intentions, eventually publishing what he had planned as a seventh installment of the series. What they also noted — just before word of this big franchise came out — was that there was a lot of interest in continuing to expand the franchise:
"There is a huge amount of interest in moving forward to expand the Dune universe," Herbert noted, "making it familiar to more than the legions of fans around the world who already know about it." That interest isn't limited to the novels that they've written: plans are being laid for other potential projects, which could include games, television or film. Herbert is confident in the staying power of the series his father began. "Dune will be read for centuries to come."
The groundwork has certainly been there for a huge world, and it seems that a bunch of things have lined up for it to make the jump from novel to multimedia franchise: a pair of movies, a streaming show, and probably more. Should those initial efforts work out (and I'm guessing that if WarnerMedia is greenlighting a TV show, they're pretty confident in it), there's material there to continue to play out for years and years, across films and shows. We'll see what happens.
Roadside Picnic & Chernobyl
A show I recently watched is HBO's Chernobyl, and I've become positively addicted to it. It's a chilling, 5-episode miniseries about the nuclear disaster at the Vladimir Ilyich Lenin Nuclear Power Plant in 1986, with an interesting take on the disaster: it's about the events that led up to the disaster, for sure, but it's also about the layers of lies and deception that was part of Soviet society. After watching the series, I couldn't help but be reminded of another Russian story: Roadside Picnic by Arkady and Boris Strugatsky.
The brothers are possibly the best-known science fiction writers to come out of the Soviet Union, and published Roadside Picnic in 1972 — well before the Chernobyl disaster. But despite that, there are some parallels to the aftermath of the incident.
The novel opens with an explanation of an event known as "The Visitation." Earth was visited some sort of extraterrestrial presence at six different locations. Nobody saw the arrival or departures, but they've left behind zones that exhibit strange properties and technologies. The book follows a man named Redrick "Red" Schuhart, who's a Stalker — someone who goes into a zone in the pursuit of technology that he can flip on the black market.
The idea behind the book is that the zones could be thought of as a picnic on the side of the road: you stop your car, get out, eat, then leave, leaving behind a number of items that you might have discarded. The ants on the side of the road can't comprehend what these items are, and the aliens essentially don't recognize the ants as anything other than ants.
Writing in the Survey of Science Fiction Literature, Sam J. Lundwall writes that "much of the novel is actually a tale of self-fulfilling prophecies, with the aliens acting as catalysts, untouchable and incomprehensible gods who can only be glimpsed through the effects of their unpredictable litter. This is a rather ironic view of humanity, groveling before the discarded trash of unknown cosmic travelers and finding esoteric meaning in this junk."
The book is a brilliant read, going beyond your typical alien invasion or visitation novel, and over the course of the novel, Red is after an elusive prize: a golden sphere that may or may not exist, but which would grant its user wishes. The zones are dangerous places, and it's impossible to read the book now and not think of them as being similar to the Chernobyl Exclusion Zone (or the Fukushima Exclusion Zone in Japan, for that matter). The parallels to Chernobyl comes in another way: it's a window into a very different mindset and vision of what humanity is capable of. Just as Roadside Picnic isn't your typical alien invasion story, Chernobyl isn't exactly disaster porn: it's a fantastic meditation on the value of truth.
More Love, Death + Robots
Netflix has renewed its animated anthology series, Love, Death and Robots for a second season, bringing on Kung Fu Panda 3 director Jennifer Yuh Nelson. It hasn't released an episode count or release date, but I've been hearing for a little while now that some authors have been approached for their short stories, which is pretty cool. The first season was 18 animated short films adapting a variety of short stories from authors like Peter F. Hamilton, John Scalzi, Marko Kloos, and a couple of others. That first season was pretty heavy on the male gaze, and I wrote up a bunch of recommendations for short stories that would make a good fit for a potential second season.
Further Reading
As mentioned in my last newsletter, I reviewed Rebecca Roanhorse's Storm of Locusts, which was fantastic. I really love these books: they're easy to sink into and really move along at a nice pace.
​ In other book review news, my colleagues Chaim Gartenberg and Adi Robertson reviewed Sarah Gailey's debut Magic for Liars and Neal Stephenson's Fall, which I recommend checking out.
An upcoming video game called Star Wars Jedi: Fallen Order will feature Rogue One character Saw Gerrera as a character. This is really interesting, because he's popped up in a bunch of other places throughout the franchise, and he's quickly becoming a really important nexus point for the larger story of how the rebellion came into being — and that it's not really a straight-forward good-verses-evil story.
This is something that got me hyperventilating earlier this week: Nintendo is working on a sequel to its 2017 game Breath of the Wild. This is probably my favorite video game of all time — set in an immersive world with a great story. I keep playing it and still find things I haven't discovered yet. Plus, the gameplay mechanics are really great. I'm very pumped for a return to the world. It can't come soon enough!
The XPrize Foundation released a new anthology in honor of World Oceans Day, which includes a fantastic roster of authors — my colleague Mary Beth Griggs has a writeup on it.
A sad bit of news locally: an acquaintance of mine, Taylor Dobbs, is leaving the local alternative weekly paper, Seven Days, where he worked as a reporter covering state politics. Before that, he was at Vermont Public Radio. He's a really good writer, and broke a lot of stories about state government. He's leaving the profession entirely, and had some pointed comments on Twitter:
"When I exposed that @GreenMtnPower was using "Alternative Regulation" to collect millions of dollars from Vermonters without satisfying state rules first, I was treated to an hour-long lecture on journalism ethics by company execs."
It's a shame, and I certainly get the sense of frustration he's got with the job, but also with what it's like trying to live here in Vermont. He'll be missed.
Currently Reading
I'm still reading a bunch of books. The main one right now is Alphabet Squadron by Alexander Freed, which I'm really enjoying. Also on deck is The Untold Story of the Talking Book by Matthew Rubery, Elizabeth Bear's Ancestral Night, and W.M. Acker's Westside.

I've also recently picked up The Lesson by Cadwell Turnbell and my colleague Barbara Krasnoff's The History of Soul 2065, which I'm enjoying. There's also the usual short-list of things that I really *want* to get to, including Max Gladstone's The Empress of Forever and Karl Schroeder's Stealing Worlds. Sigh. The pile grows ever higher.
I've also been working on reading up on more short fiction (I've been really behind this year). I'm working on a new home improvement project — stripping paint off of our front door — and listened through "Mother Tongues" by S. Qiouyu Lu in Clarkesworld, which I read last year in Asimovs. It's a really fantastic, heartbreaking story, and the audio version was really well done.
That's all for now. Thanks for reading (this letter, and the story.) Please let me know what you think and what you've been reading lately.
Andrew