Fragile Infrastructure
What does Twitter's messy takeover mean for the SF/F community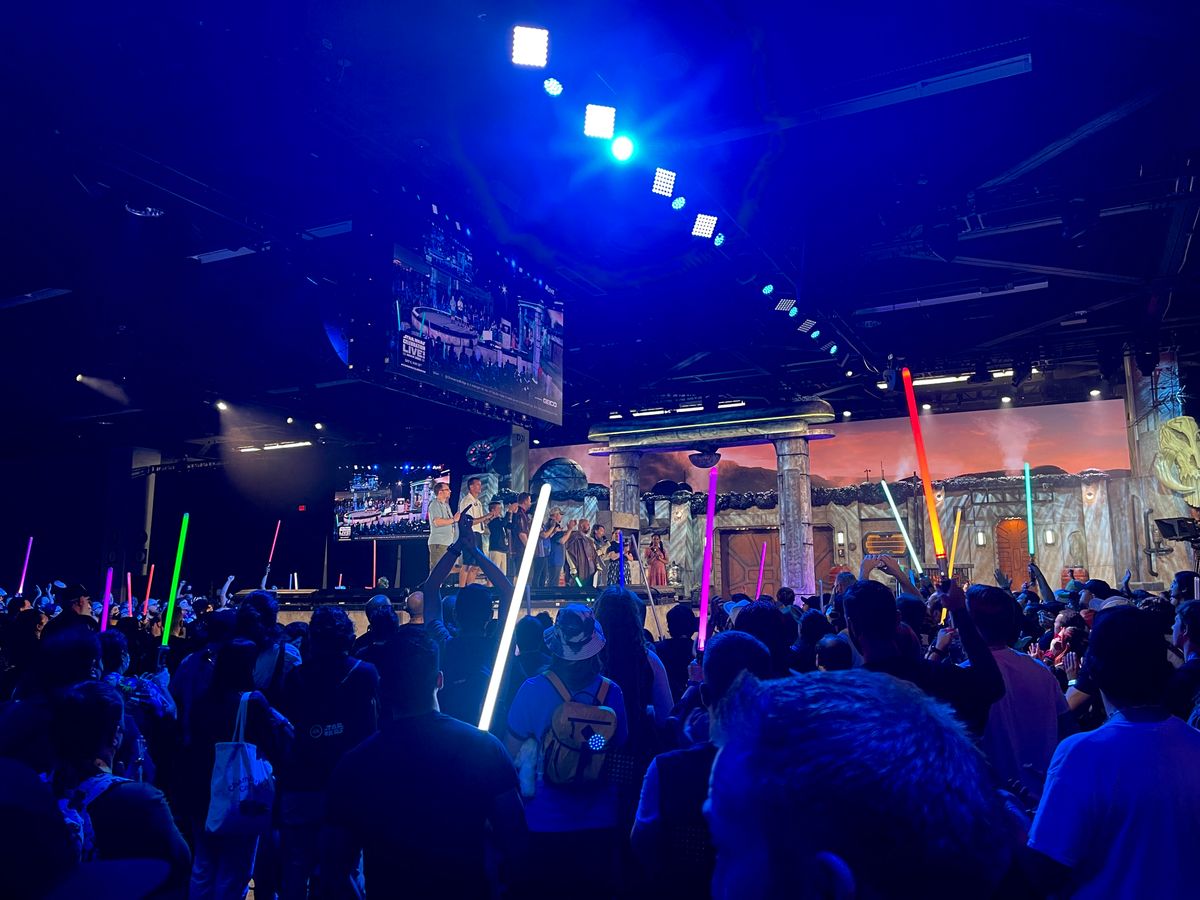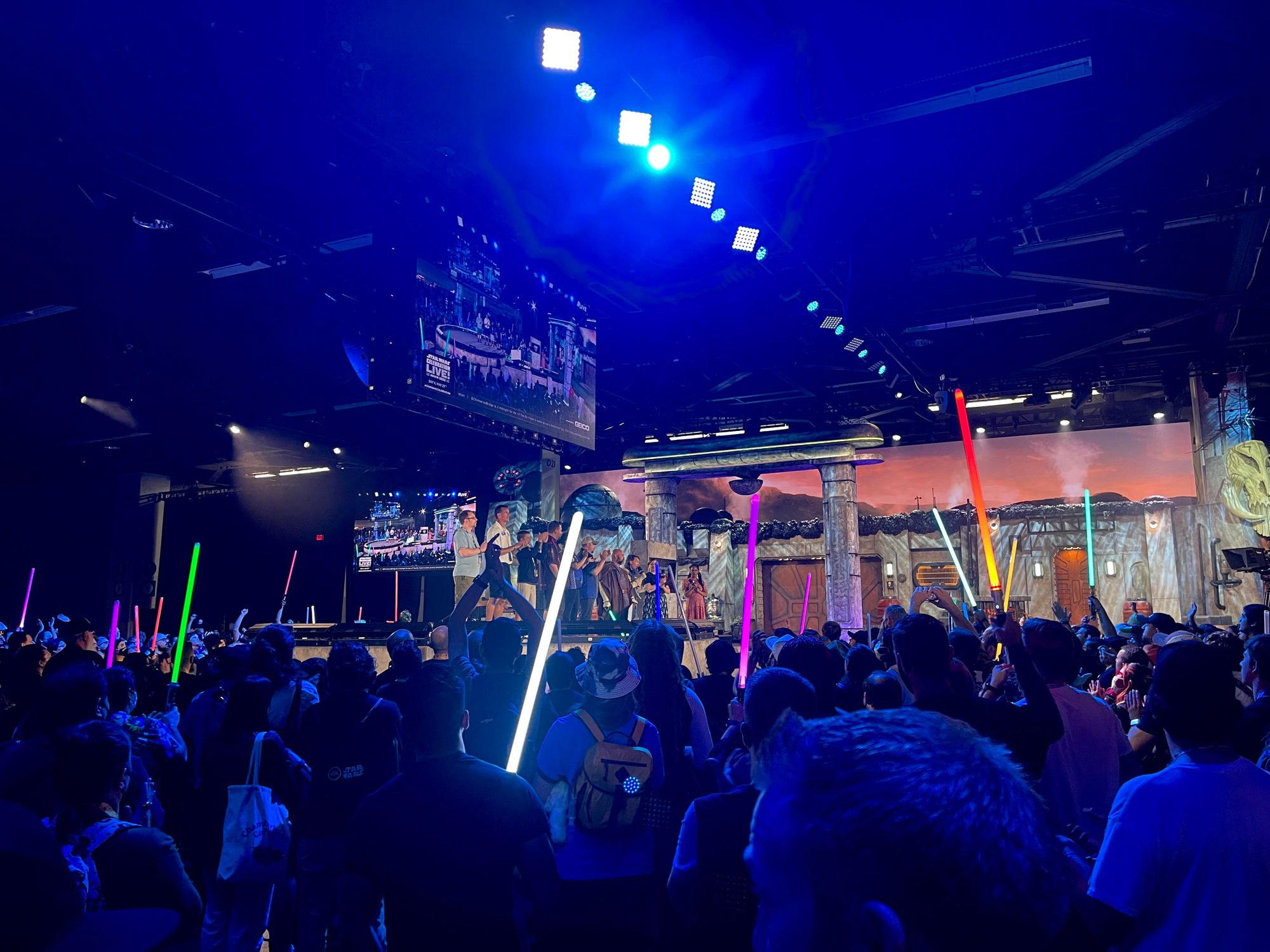 Hello, and happy Saturday,
It's been an exhausting couple of weeks on all fronts, and the biggest story that's touched the SF/F community has been about something that has helped underpin some elements of fandom in the last decade: Twitter. The recent ownership shifts haven't been great, and it's proving to be a good example of the fragile nature of our online infrastructure.
Also, welcome to the handful of new folks who've found their way here in the last week or so! I hope you enjoy this newsletter. As a brief introduction: it's a regular look at science fiction, writing, and the future of reading (and a whole bunch of things in between). This is what I typically call a roundup edition: a bit of commentary, a look at what I've been reading. I also regularly publish book reviews, monthly book lists of new titles, and longer reports / features.
---
You've probably been hearing the news all week, especially if you're plugged in online: Tesla/SpaceX/Boring company CEO and occasional cosplayer Elon Musk bought Twitter for $44 billion, and it's been causing something of a freakout amongst a whole bunch of communities. Anecdotally, I've seen my own follower count drop about 1% (two people I followed have also vanished). I don't pay a lot of attention to follower counts, but it's an interesting thing to notice when a major platform abruptly jumps over a couple of feet. More interestingly, the shift in leadership has led to an exodus of advertisers (some who apparently put a halt on their ad buys while on a conference call with Musk), and a lot of people jumping platforms because they don't like the direction this is headed in.
In particular, there's been quite a bit of introspection amidst the SF/F community, which has used Twitter as intended: an open square where we can talk about the books we like, shoot the shit, raise issues within the community, and so forth. They're understandably worried: Musk doesn't have a great track record with his online presence, and Twitter's long been a haven for trolls and bad-faith actors who stir up trouble, cause problems for everyone, and it doesn't seem like we have the best role model for dealing with this. Online communities are hard: there are a lot of things that go into it to ensure that users are protected and safe, and that bad habits don't get rooted into the community. The SF/F community has had an up and down relationship with Twitter over the years, but it's been a pretty constant thing, which makes this entire shift so notable.
I think it's safe to say that the Twitter that was around in 2009-2022 is gone, and what remains to be seen is what Twitter of 2022-beyond will look like. A social media platform is a tool like any other — it's just been a particularly useful tool for publicists, authors, fans, and everyone in between, which is why this feels like a real bookend to an era within the community.
All of this has been a good reminder that platforms are just that: tools to facilitate some function, and one of the things that I've long been fascinated by is how the culture and rules that define the boundaries of an online platform help shape the tenor and tone of the discussions and community actions within. I have many frustrations with Twitter here: I think the short nature of the posts, the ability to game posts for attention, and the ability for people to pile on has been a bad influence on how we think and interact as a community. It's one reason why many people have rediscovered blogging or moved to newsletters.
That's to say: Twitter may very well not collapse altogether. It's undergoing an abrupt, rough transition to be sure, but there's a lot that remains to be seen as to what the policies and attitudes might be moving forward under Musk's leadership. I'm not terribly optimistic (especially when you abruptly cut your workforce in half), but maybe with a bit of time, those who remain will get things straightned up a bit and onto a bit of a new direction. We'll see.
While developing Cosplay: A History, this was one of the things that I wanted to tackle: why is cosplay, or groups like the 501st / Rebel Legion the way that they are today? In a large part, they're not just static groups: they're ones that pass along learned behavior through club / community rules (spoken or unwritten alike), in part because of the platforms that they used to form in the first place.
And, like any platform that you decide to adopt as a community, you're beholden to the whims of the people who control that platform. Rather than rehash what I wrote in the book, here's a brief excerpt:
Fragile Infrastructure
While the internet has been an essential resource for costumers, the infrastructure that fosters such communities is deceptively fragile. While any picture you post to the internet might well stay on there forever, the meticulous documentation, images, and build threads are reliant on a vast patchwork of volunteers, owners, and cheerleaders to ensure that they remain a useful resource.
In its earliest days, the owners of the Replica Prop Forum had to pay for their own server. "Back then, it was a big deal how much data you took up," Art Andrews recounted. "So they wouldn't allow threads to go beyond three hundred posts. They would shut them down, and after a certain period of time, they would delete threads."
Andrews noted that while there were intentional deletions to save server space, there were also accidental data purges. Before he took over the forum, "there were several server migrations that lost so much." He explained, "You still go out there, and it's one of my greatest sadnesses; that there is so much great data gone."
Another major issue surfaced in June 2017, when popular photosharing website Photobucket announced in a blog post that it was introducing a payment tier for its users. Launched in 2003, it was once one of the most popular websites on the internet, and by 2017, it found that it couldn't keep operating under its free model. Previously with a free account, users could upload their images, and from there, provide links to online retailers, personal websites, or forum posts. But now, if someone wanted to hotlink an image that they'd uploaded to the site onto another site, they'd have to pay $399 a year for the privilege.
It was understandable overall, but the company didn't warn users before eliminating its free tier and ended up automatically blocking users from reposting images on other websites. The result was disastrous, particularly for costumers, who had for years used Photobucket as a place to store all of the images they'd taken of costumes and props they were building. For users who didn't pay, each hotlinked image was replaced by a gray box with an illustration of a speedometer and the header: PLEASE UPDATE YOUR ACCOUNT TO ENABLE 3RD PARTY HOSTING.
"Don't think this doesn't affect you because you don't use Photobucket," wrote Norvic Philatelics after discovering the change of terms. "This still affects you if you look at any site which uses images stored [there]." Once-useful build threads and tutorials were now filled with pages of the warning image, rendering them largely ineffective. Andrews noted that it was a problem right away on the RPF. "You get so many great things that are like, 'Hey, here's how to do something, look at the pictures,' and there are no pictures, well, that makes people upset and the thread totally useless."
Some users ponied up the money to get their images back online. But Photobucket had been around for nearly a decade and a half, with millions of users: if people had moved on from the hobby, didn't care, or simply couldn't afford to pay the fee, those images remained broken across the internet. Two years later in 2018, the company course corrected, bringing on a new CEO and reducing the prices on its paid tiers. Most importantly, it dropped the speedometer image, although the stand-in image remained watermarked to encourage users to subscribe. "Photobucket hurt very badly," Andrews explained. "They finally got that corrected, but by the end, so many people had gone and deleted their account anyway. That stuff is lost forever."
/end excerpt.
Photobucket isn't the only example that I cite here: Yahoo Groups is another great example, and while writing the book, I ran into plenty of instances where a citation that I'd used was no longer available when I went to double check it, months later. Thank god for Archive.org. Even things like changing features can have a dramatic impact: imagine if Facebook decides to get rid of its Groups feature: there'll be TONS of not just reference material, but tangible community connections that'll just be wiped out of existence. You see this happen all the time on Twitter, too: users get banned or leave, taking with them timelines of interactions and connections to one another.
This isn't a new phenomenon! The history of the internet is littered with abandoned social networks that failed to adapt with the times and were quickly overtaken by others.
To be sure, science fiction fandom will survive: it's been around for going on for nearly a century, and has adapted and changed with time. An exodus from Twitter won't eliminate it. Even if a number of people stick around, that major component will be less useful. We're already seeing the effects – and not just from the recent change in ownership – there are plenty of authors who've become so frustrated with the platform, its moderation policies, the outrage, the Discourse, the trolls, and the hoops you have to jump through to get noticed amongst the noise that they've simply changed their handle to "AuthorName: Updates Only" using the platform not to engage with others, but just to have the status updates of what they're up to, keeping their footprint intact to let what fans do pay attention to them know when their next book/blog post/etc. is out. As Annalee Newitz put it recently, Twitter's becoming something of a lost city. (And they should know: they wrote the book on lost cities!)
Undoubtably, SF/F authors / fans / professionals will settle in a new place, and will have to adjust and change accordingly to fit within that new set of rules. Already, there's lots of possibilities: Mastodon, Tribel, etc. I'm not sure where I'll end up: I've already a lot of social media fatigue, and I imagine that there are a lot of people out there who feel like they've had enough or have been burned one too many times by these sorts of platforms. But, I don't think that we can escape community for too long: it's a powerful draw.
Personally, I'd like to see something akin to Vermont's Front Porch Forum: a geographically-based message board that allows you to read posts a couple of times a day in your email. (You can read my feature about it here.) The reason for its success is that it's put community health as a priority (also slightly more stringent level of identity verification: you have to have a valid city / town address) and accordingly, it reviews postings before they go out to a community. You still see some cranks that get through or people who write dumb things, but for the most part, it's a positive, supportive tool for the towns here in Vermont (and a couple in New York and New Hampshire.) I think the SF/F community could benefit from something like that: something with enough interaction that you can talk with one another via email / daily digests, but slowed down enough so that you don't have the breakneck pace of Twitter / Facebook comments. FPF has its limitations, but I think it's a solid model.
If you look at the history of social platforms, you see that they're not often replaced by platforms that look or function a lot like what came before: Facebook, for example, is very different from Myspace, which is different from TikTok. The next big social network will look different from all of those. Accordingly, it'll be interesting to see how people use it and how those changes will reflect back on the communities who take up residence within its borders. Hopefully, we'll find something that will help keep everyone on the same page.
---
Couple of housekeeping items!
First up, Ghost has made some updates to various things in its backend. The look and feel of the newsletter is a little cleaner now.
Second, you can now comment on posts! Because Ghost didn't have a native comments app, I installed a plugin called Cove, which was... not great: it required a lot of fiddling and some coding, and only worked sometimes (if I changed the format of the post, it would knock commenting out.) Not many people ended up using it, and at $50 a year, it just wasn't worth it. Now, Ghost has comments, so I've turned it on: no additional logging in or anything like that will be required!
Finally, Ghost introduced the ability to set a seven-day free trial for members. I've turned that on. I haven't done a ton of supporting members-only posts, but it's something that I'll probably get back to. If you'd like to sign up and help support the newsletter, you can do so here.
To that end, I'm going to do up a discount for a year's subscription toward the end of November: something like $40 a year as opposed to $50 a year. If you've been wanting to subscribe or if you've not been able to, this might be a good opportunity.
---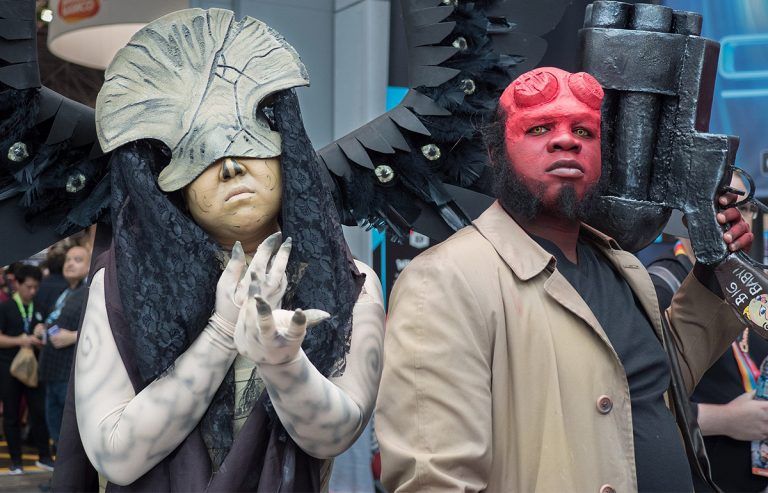 Upcoming Events
I've got a handful of events coming up in the Vermont / New Hampshire area! If you're in the region, these will probably be the last ones that I'll do this year. Here's where you can find me:
Saturday, November 12th, 12PM-3PM: Barnes & Noble, Manchester, NH
I'll be doing a regular book signing / talk at this event. I'm hoping that we'll have some cosplayers showing up (If you are one, please come!). Come get a book signed, come chat about cosplay stuff, and so forth.
Wednesday, November 30th, 6:00PM: Aldrich Public Library, Barre VT
I'll be at my hometown library to chat about the book and history of cosplay! If you're in the area (I know some of you are!), come by and say hello: I'll have some costumes with me to show off, as well as some copies of the book.
Wednesday, December 7th, 7:00PM: Manchester Community Library, Manchester VT
This is an event sponsored by the Vermont Humanities Council, and I'll be in town to chat about ... what else, but the history of cosplay and costuming.
I really hope to see you at one of these events: they should be a good time, and I'm looking forward to chating about the book and meeting folks.
---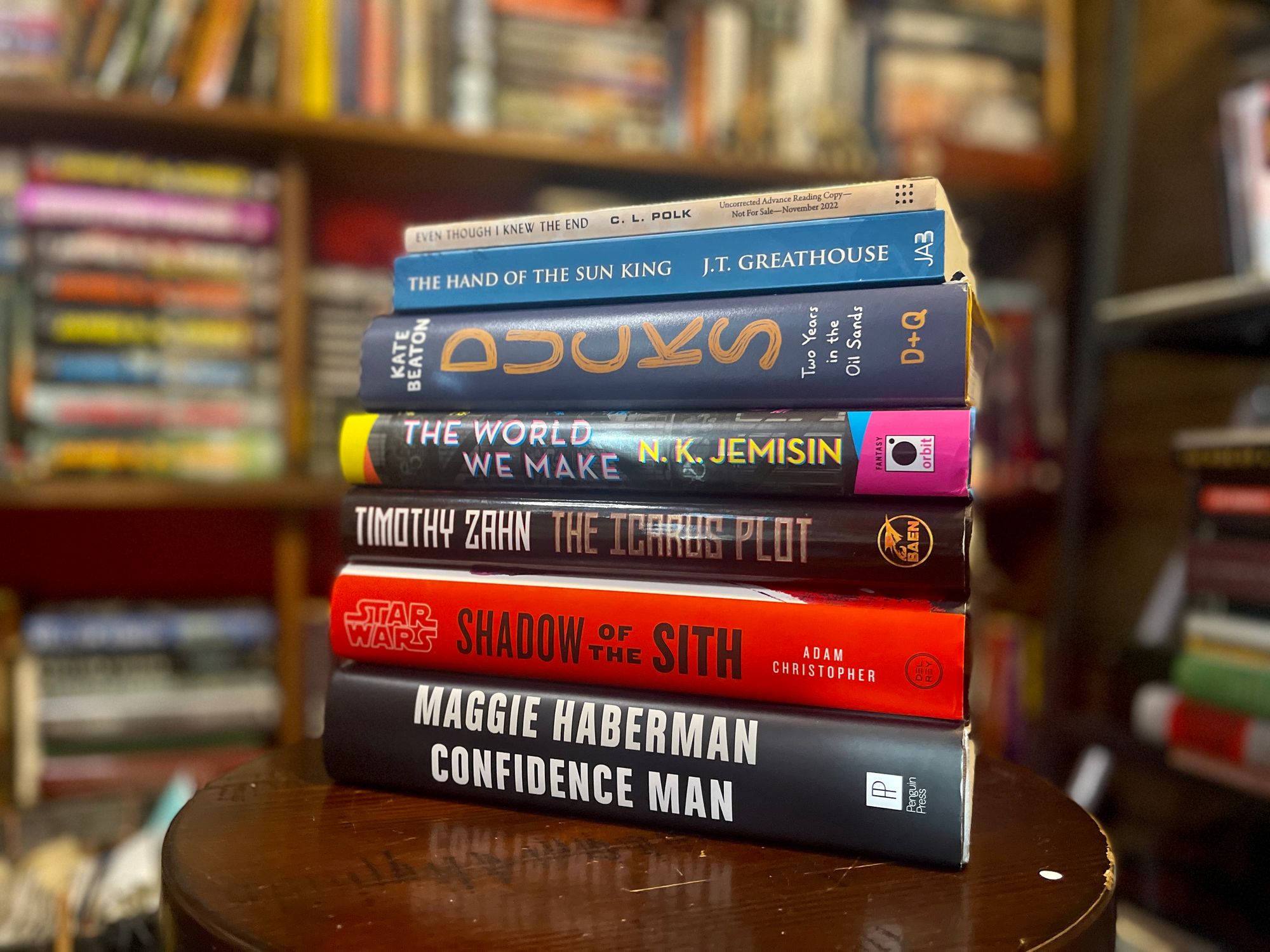 Currently reading
Since my last roundup, I've finished a bunch of books on my TBR pile:
Phasers on Stun! by Ryan Britt. This was a fun read for a Star Trek novice like me: while I've gotten into the franchise since the 2009 films, I've largely bounced off of the older shows, and this has convinced me a bit to give them another try. At its core, I really like the central thesis: that by continually evolving, Star Trek has remained relevant. It's a good lesson.
On Writing: A Memoir of the Craft by Stephen King. This is one of those writing books that I think everyone has read (or at least has on their shelves), and I'm happy to have finally gotten into it. It's an intriguing, instructive read.
The Mountain in the Sea by Ray Nayler. This book blew me away. It's an astonishing story about the nature of intelligence, and I think it's probably my favorite read of the year thus far.
Secret Identity by Alex Segura. This was an excellent mystery that weaves in the history of comics, intellectual property, and everything in between.
I feel like I'm starting to pick up the pace a little with my TBR.
Ducks by Kate Beaton. I've been waiting to read this for a while. Beaton's the cartoonist behind Hark! A Vagrant, and Step Aside, Pops, and this seems like it's her most personal work yet.
Star Wars: Shadow of the Sith by Adam Christopher. Still picking away at this. I haven't really been in the mood for Star Wars stuff lately, but I have been enjoying this one.  
The Hand of the Sun King by J.T. Greathouse. I picked up the audiobook for this one recently, and I'm chugging along. It's fine: an interesting world and characters, but nothing mindblowing.
Confidence Man by Maggie Haberman. Haberman's a polarizing figure to be sure, but she's the person who's covered Donald Trump the most. I've appreciated what she's looking to do with this book: try and understand how his upbringing shaped him, rather than throw together one of those typical political books, and it's accessible and interesting so far.
The World We Make by N.K. Jemisin. Anything by Jemisin gets boosted instantly onto the TBR. I've read the first couple of pages (and have the audiobook from Libro.fm), and I'm looking forward to digging further in.
Even Though I Knew The End by C.L. Polk. Libro.fm has this one up as an "influencers" ARC, and it's a short read, so I figured I'd give it a shot. It's... fine so far. If you're a fan of the series Supernatural, this should be the perfect read for you.  
The Icarus Plot by Timothy Zahn. Zahn's The Icarus Hunt is one of my favorite space opera of all time, and I've been eager to see what his return to thi world looks like.
The end of the year is coming up, and I've got a bit of a priority list that I'd like to get to before the end of the year. Babel by R.F. Kuang, Locklands by Robert Jackson Bennett, A Half-Built Garden by Ruthanna Emery, A Prayer for the Crown-Shy by Becky Chambers, and a couple of others are on there.
---
Further Reading
#BookTok & authenticity. Rolling Stone has an interesting report about a collaboration between Penguin Random House and the social media platform TikTok: essentially a way for users to use a feature to link to a book that they're talking about. It's Publishing's way of streamlining the links between users and its products, and not everyone is happen. In a lot of ways, I think this is an old argument: how novel and authentic, organically-driven fan enthusiasm is co-oped for marketing purposes.
A decade of Disney + Star Wars. In 2012, Disney made the announcement that it was purchasing Lucasfilm from George Lucas. The decade mark earlier this week meant it was a good time to take stock.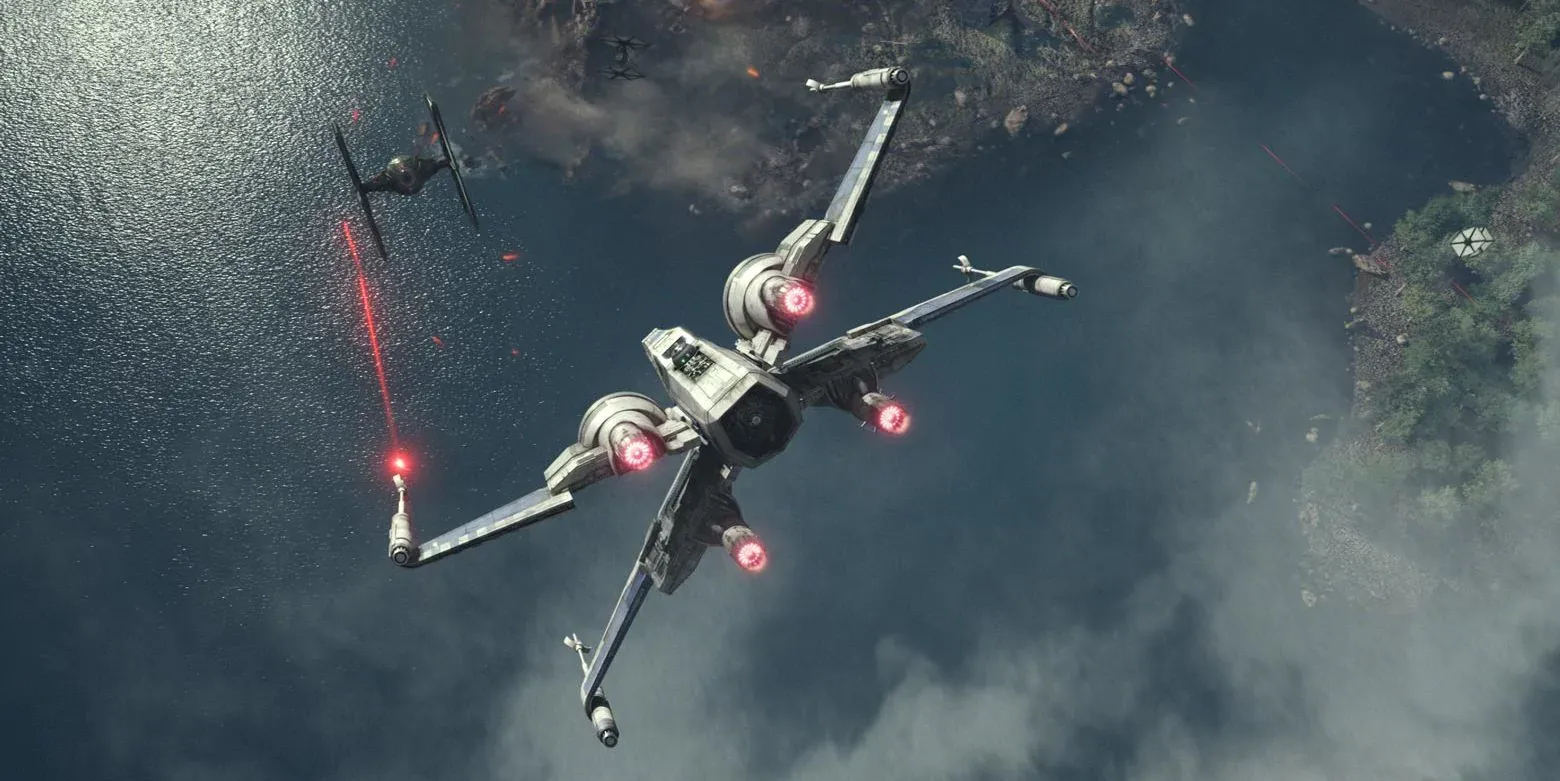 Erewhon moves to Kensington. Kensington Publishing has acquired indie SF/F publisher Erewhon.
Generative AI & anime. Rest of the World has a fascinating report about the uneasy mix of anime fandom and artwork and the sudden rise of generative AI platforms like DALL-E. This is going to be a wild future in the arts.
Gibson's legacy. Writing for Esquire, Ryan Britt talks about the influence that William Gibson has had on science fiction (tying in with the release of a new adaptation of his work, The Peripheral.)
Night lights. I picked up a Bowio book light a while back, and I've really been enjoying using it. Here are my thoughts on it, as well as some thoughts about the utility of book lights.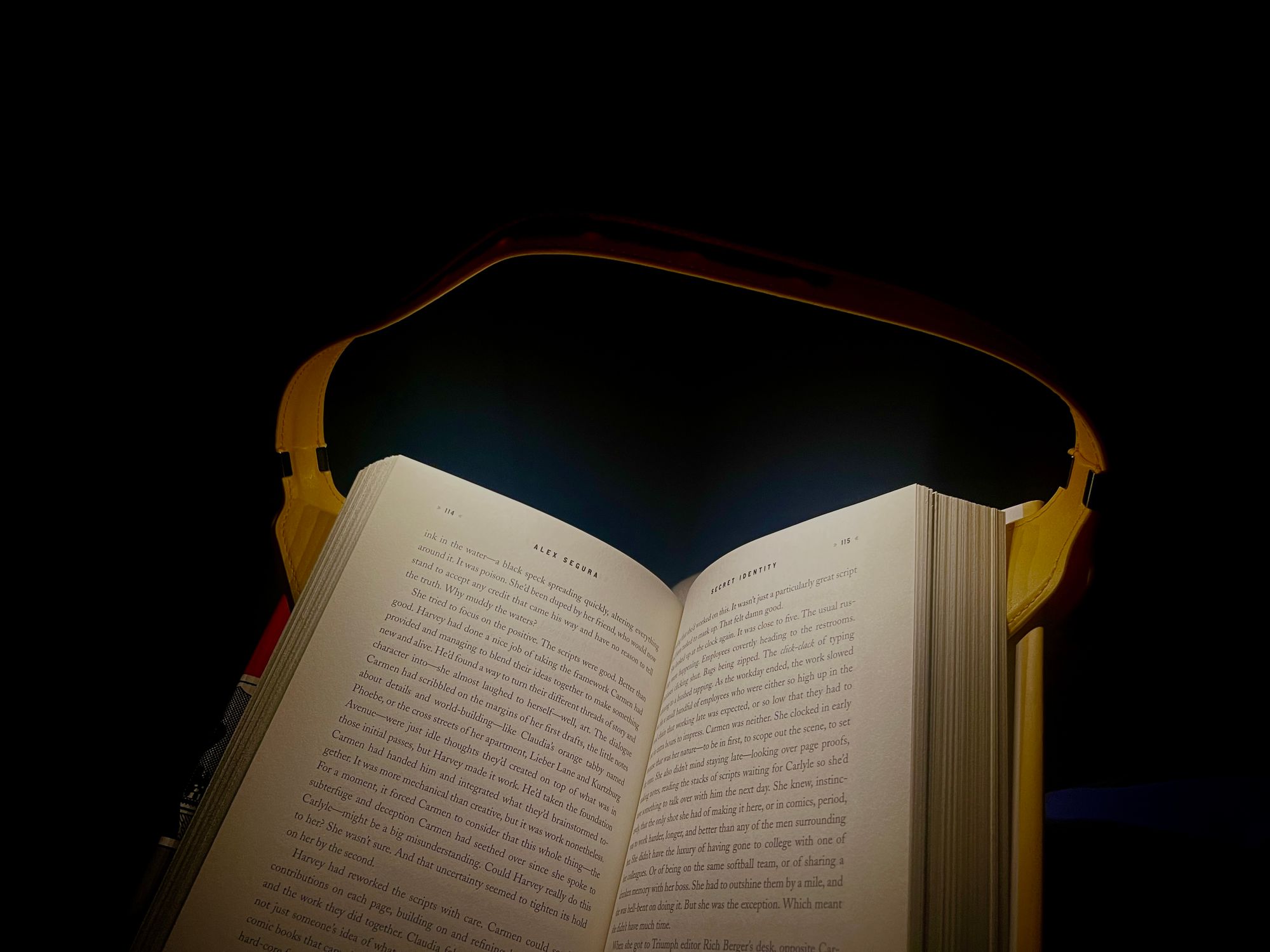 No merger for you! A judge blocked the proposed merger between Simon & Schuster (my own publisher) and Penguin Random House. (Penguin Random Simon? Random Simon?). Good: there's too much consolidation in the world as it is.
November books. Earlier this week, I put together the usual monthly book list. There were a ton of books in my first list, so I ended up splitting it into two more digestible ones. The next one will drop November 15th.
The politics of Star Wars. The Atlantic has a good piece that echoes a lot of my thinking about why Andor is such a good bit of storytelling.
Where to start with PDK. The New York Times's Molly Young has a good overview of the career of Philip K. Dick, with some very pretty book pictures.
---
That's all for this week. I'm hoping to ramp up the #Content here a bit in the coming week or two. I've got a small stack of books that I've been meaning to review, but just haven't gotten around to just yet: those are next on my to-do list. Stay tuned.
Andrew