RIP Greg Bear
A titan of science fiction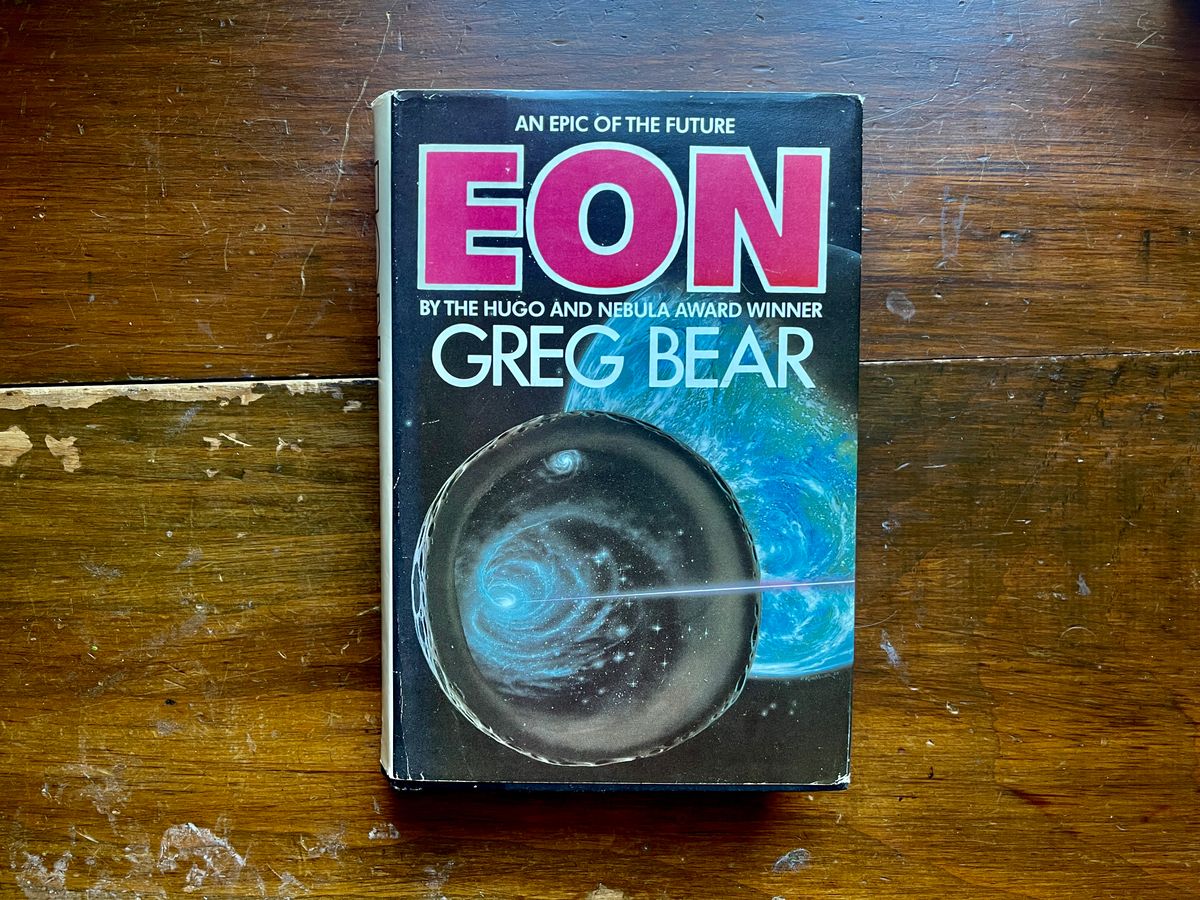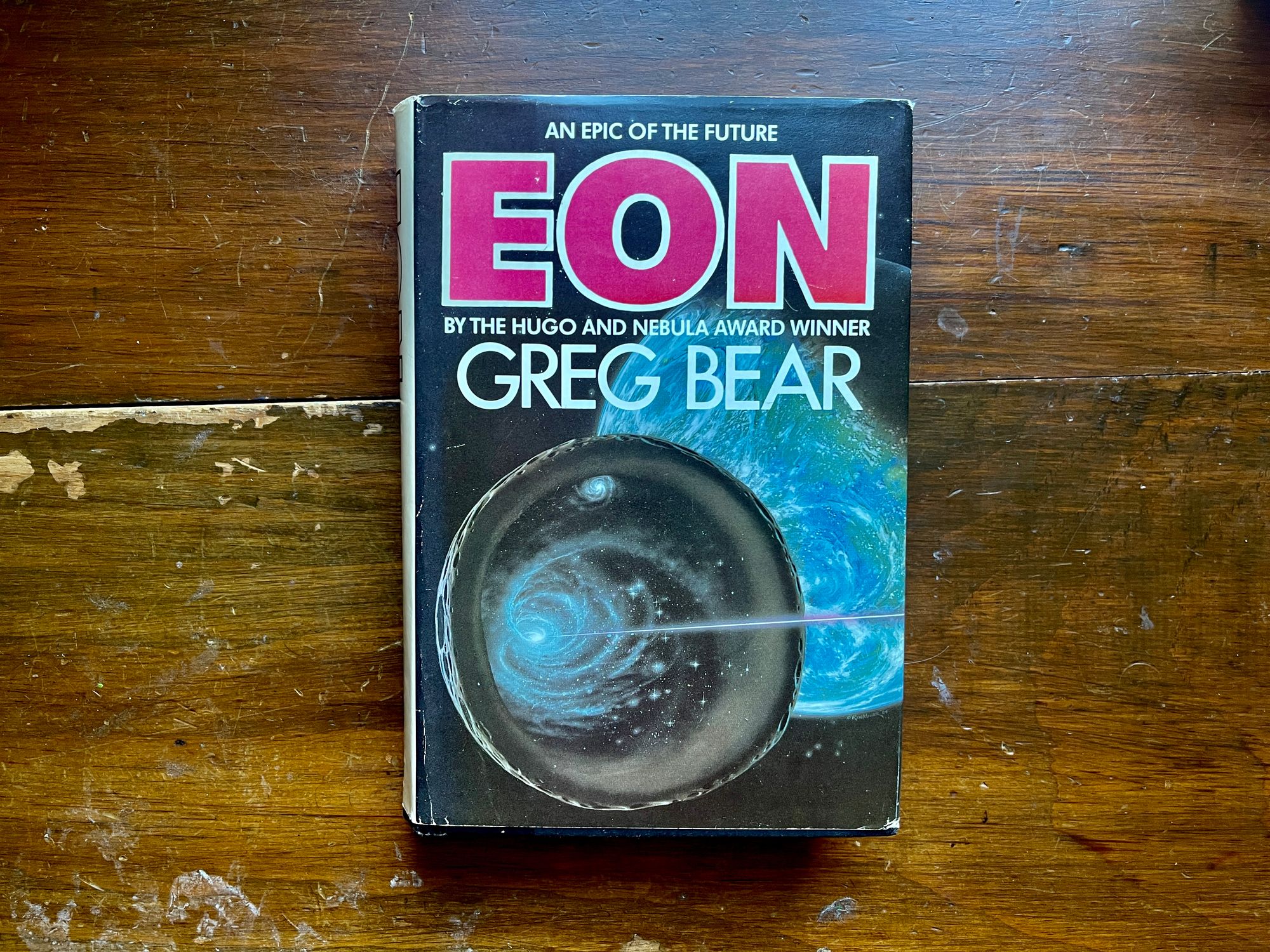 Over the summer, I fished a copy of Greg Bear's 1985 novel Eon out of my local library's free pile. It had all of the hallmarks of something that I'd likely enjoy reading: a story involving a big dumb object and the fate of the Earth, clad in one of those covers you just don't see anymore. I carried it home and stuck it up on my to-read shelf, and in the months since, it's been one of those books that's beckone whenever I happen to look in its direction.
I started reading it this weekend when his wife, Astrid Bear, revealed that he had a stroke and wouldn't awaken: per his will, he would be taken off life support. He passed away yesterday at the age of 71 shortly thereafter. His passing is a huge loss for the science fiction community: a number of authors and fans have recounted his kindness, generosity, and humor, while explaining how his works impacted them.
I encountered only a handful of Bear's works over the course of my time as a reader. I distinctly remember reading his 1999 novel Darwin's Radio while in high school (It's definitely a book that flew over my head at the time), while I also picked up his 2000 Star Wars novel Rogue Planet (it's probably one of the weirder books in the franchise), and later dipped into his Halo Forerunner trilogy. Along the way, I picked up his 2011 book Hull Zero Three a couple of years later, his military SF book War Dogs, in both cases coming away from them finding them somewhat wanting, but if there's anything I've learned about looking back at a book with that reaction, it's that I missed something along the way or didn't quite understand what they were going for in the first place. With Eon, I'm enjoying everything he's putting down: fifty pages in, and I've had my mind blown several times already, with much more promised to come.
---
Born on August 20th, 1951, Bear published his first short story, "Destroyer" at the age of 16 in Famous Science Fiction's Winter 1967/1967 issue, and began publishing in earnest in the 1970s, in magazines and anthologies like Analog, Galaxy, Universe, New Dimensions, and others before capping off the decade with his first novel, 1979's Hegira.
According to Adam Roberts in The History of Science Fiction, Bear was part of a new wave of science fiction writers that rose to prominence in the 1980s. In 1983, Bear published "Blood Music", which earned him the Hugo and Nebula awards for Best Novelette (he later expanded it into a novel in 1985, which earned him nods for both awards, plus some others), while in books like Eon and The Forge of God he took on big questions about our place in the universe and the very nature of intelligence and awareness.
If science fiction had long been the genre of hard science adherents in the 1950s-1970s, the coming wave of scientific advances in computing and biology held more than enough potential in the 1980s. "Blood Magic seemed to herald a new age of 'hard sf' based on the metaphoric nut and bold of cellular and genetic technology rather than the real rivet of spaceships or the plugged-in-sex-drugs-rock-and-roll of cyberpunk," wrote Camille Bacon-Smith in her 2000 survey of the genre, Science Fiction Culture, "but few could give to cellular biology the transcendence that rocket ships had given to technological destiny."
Indeed, Bear continued to blend biology and physics together in compelling ways: Darwin's Radio imagined how strange illnesses could unlock the evolutionary potential embedded in our genes, while in Rogue Planet, he introduced a living planet that would (retro-canonically) have some big implications in the direction of the Star Wars EU.
Bear was more than just a writer within the science fiction community: he led SFWA at the end of the 1980s as its president, severed on the board of advisors for the Museum of Science Fiction in Washington DC, and was a long-standing instructor for the Clarion West Writers Workshop. His final novel was The Unfinished Land, a fantasy novel published in February 2021.
---
Bear was one of those authors that I'd come across over the years, but never had the pleasure of interviewing. (I did interview Astrid for Cosplay: A History, and had my Dune/Foundation podcast project gotten up off the ground a couple of years ago, he was on my short list of folks to chat with.)
While reading up on his career, I couldn't help but be heartened by the enthusiasm that I caught from a brief couple of paragraphs in Patti Perret's excellent book The Faces of Science Fiction: Intimate portraits of the men and women who shape the way we look at the future: "I'm having the time of my life. I've wanted to be (and have been) a writer since I was eight years old, perhaps even before that... The writing is not easy. It's frequently hard and painful work. And I can think of no greater joy."
---