Why are they called the Hugo Awards?
A history of science fiction's biggest award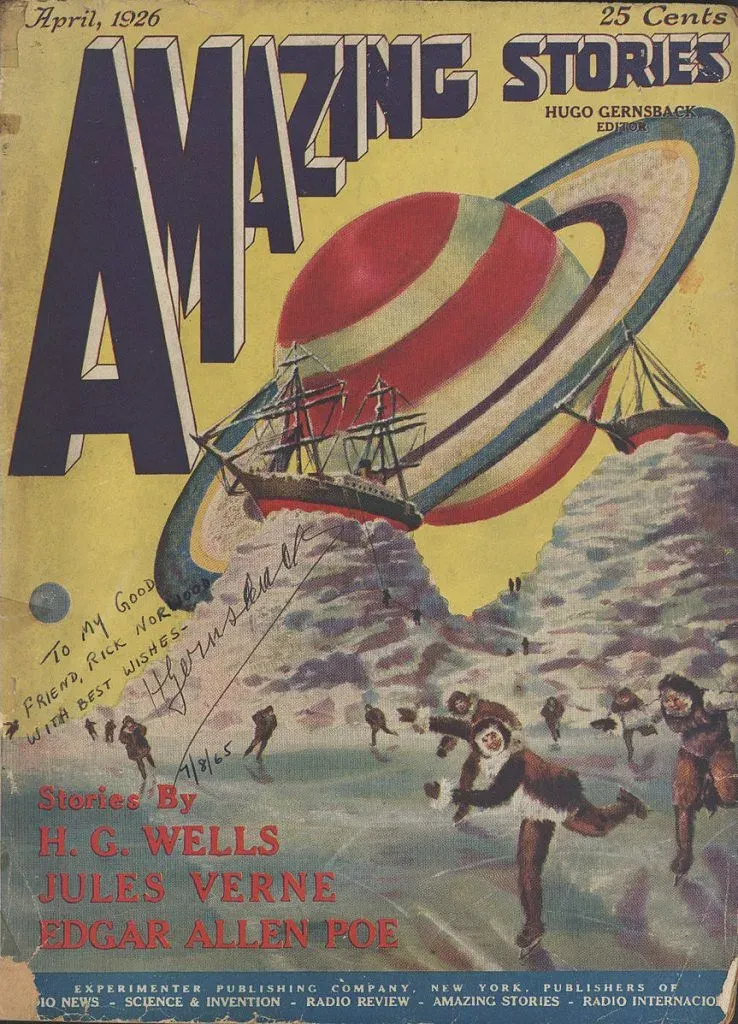 This post was originally posted to the Barnes & Noble Sci-Fi & Fantasy Blog. I've reprinted it here with some minor changes.
The 77th World Science Fiction convention is occurring right now in Dublin, Ireland. It's one of the biggest annual gatherings of science fiction fans and professionals from all all over the world. Amongst the convention's many high points is the annual Hugo Awards ceremony, during which the attending members of the convention hand rocket-shaped trophies recognizing the prior year's best sci-fi and fantasy literature, art, film, and more. The Hugo is the oldest and, by some measures, most prestigious award in the genre, and more often than not, the book that walks away with Best Novel honors will go on to withstand the test of time. (This year's slate is certainly a promising one in that regard.)
If you're even a casual fan of sci-fi and fantasy, you doubtlessly know what the Hugo Awards are. But why are they called the Hugos?
The awards are named for Hugo Gernsback, often considered the "father of science fiction" because of the role he played in the formation of the genre in its modern form.
Gernsback was born in Luxembourg in 1884. Early in life, he developed an interest in electricity, and, inspired by the successes of inventors like Nikola Tesla and Thomas Edison, he immigrated to the United States in 1904 hoping to make his own mark upon the world. He set up an importing business for radio parts, and, according to Mike Ashley's genre history The Time Machines, was, "astonished at the general ignorance of technology amongst the American public. 'It rankled me that there could be such ignorance in regard to science and I cowed to change the situation if I could,'" Gernsback said.
Thus, amid a burgeoning career as an inventor himself (he held some eighty patents for radio equipment and other devices), he proceeded to set up a magazine about radios, technology, and science, which he called Modern Electrics.
The magazine was akin to the tech sites of today, providing articles and news about the latest gadgets as well as providing a place for readers to order parts through the mail. In 1911, he started to include something else in Modern Electrics: a 12-part story he wrote called Ralph 124C 41+.
As an institution, science fiction predates Gernsback by at least a century—depending on which academic you ask, anyway—and a number of magazines had included stories that incorporated speculative elements before, but Gernsback took it to another level. After he received positive feedback on his story from readers, he began looking for others interested in contributing stories of their own. He would eventually sell Modern Electrics to a partner, who merged it with another publication to form Modern Electrics & Mechanics; that periodical would eventually be transform it into Electrician and Mechanic magazine, a publication that still exists to this day under a different title: Popular Science.
After the sale, Gernsback went on to found another publication in 1913: The Electrical Experimenter, in which he continued to include short science-themed stories. While he would continue to publish the magazine for a number of years, he eventually stopped publishing short fiction, preferring to save it for another he soon innovated, one dedicated exclusively to short science fiction stories: Amazing Stories. Clad in a bright yellow cover featuring fantastical a red, ringed planet, the first issue hit newsstands in March 1926, featuring a lineup of authors the likes of Jules Verne, H.G. Wells, Edgar Allan Poe, and others. Science fiction had arrived.
In his introductory editorial, Gernsback explained that he wanted a selection of stories to not only "make tremendously interesting reading," but also ones that would be enlightening. "They supply knowledge that we might not otherwise obtain—and they supply it in a very palatable form." Ashley notes that Gernsback set out with an ambitious goal, but "found it difficult to back this up with quality fiction." While Gernsback's contemporaries criticized him for the slapdash quality of the stories that he published, his magazine had a notable effect on the field: young, aspiring writers were drawn to it, and were in turn moved to write their own fantastic stories.
Over the years, Gernsback did other things with the magazine than just publish fiction. He set up letter columns for readers to write in about the stories they liked, and encouraged them to stay in touch with one another. He set up a fan club, the Science Fiction League, which brought together fans in person, long before fan conventions would do the same thing. He eventually lost control of Amazing Stories in 1929, but founded other science fiction publications, including Air Wonder Stories and Science Wonder Stories (which would eventually become simply, Wonder Stories), and, later, Science-Fiction Plus. He was not particularly well-regarded by the writers he published, known for paying extremely low rates and sometimes even then only upon the threat of a lawsuit.
The first World Science Fiction convention (now better known as WorldCon) took place 80 years ago this year in New York, attracting a collection of people who would become well-known in the field: Isaac Asimov, Ray Bradbury, John W. Campbell Jr., and others, and would become a regular gathering of fans in the coming years. Despite his dodgy reputation, Gernsback was made a guest of honor at the 1952 WorldCon, held in Chicago. In the following year, during which the convention took place in Philadelphia (hosting duties fall to fans in different city every year), organizers planned an award ceremony to honor that year's publications. Because obviously "the Annual Science Fiction Achievement Award" isn't going to roll off of anyone's tongue, they were given a nickname: the Hugo Awards, recognizing Gernsback's contributions to the fields of both publishing and early fandom.
The name stuck. The awards became an annual tradition starting in 1955, and have been awarded annually every year since. The 2019 Hugos will be handed out on Sunday, August 18, and each of the accomplished winners will be taking home with them a little piece of Hugo Gernsback's legacy.