Karen Traviss' Wess'Har Wars series is an essential environmental SF saga
The series is an engrossing dive into colonization, environmentalism, and destruction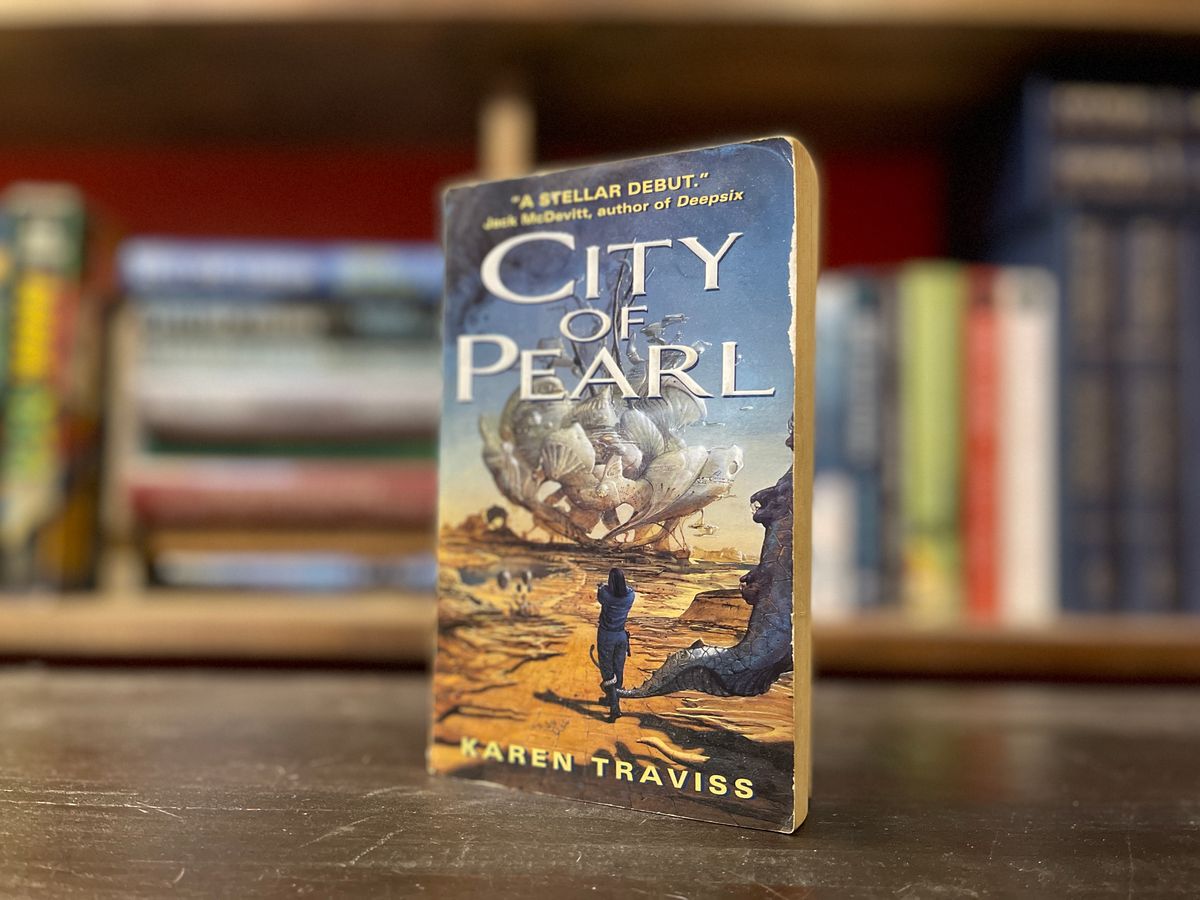 I first came across Karen Traviss's work not in a book, but in the February 2003 issue of Asimov's Science Fiction: "Suitable for the Orient," an enthralling short story about a medic stationed in a distant colony who must come to terms with a colonial legacy while interacting with an indigenous species. If was memorable enough that I followed her into book-length fiction when, a year later, Traviss launched an epic space opera series called the Wess'Har Wars, a six-novel cycle covering humanity's first contact with several alien races, with themes of first contact, warfare, environmentalism, and colonialism.
Traviss is probably best known for her tie-in work for various high-profile genre franchises, writing new stories for franchises like Star Wars, Gears of War, and Halo. While she's distanced herself from some of that work, she once asserted that while she's working in established worlds, those works are not lesser, creatively. I've always been impressed with her take on characters and the worlds they inhabit, and that's something that I found with books like City of Pearl.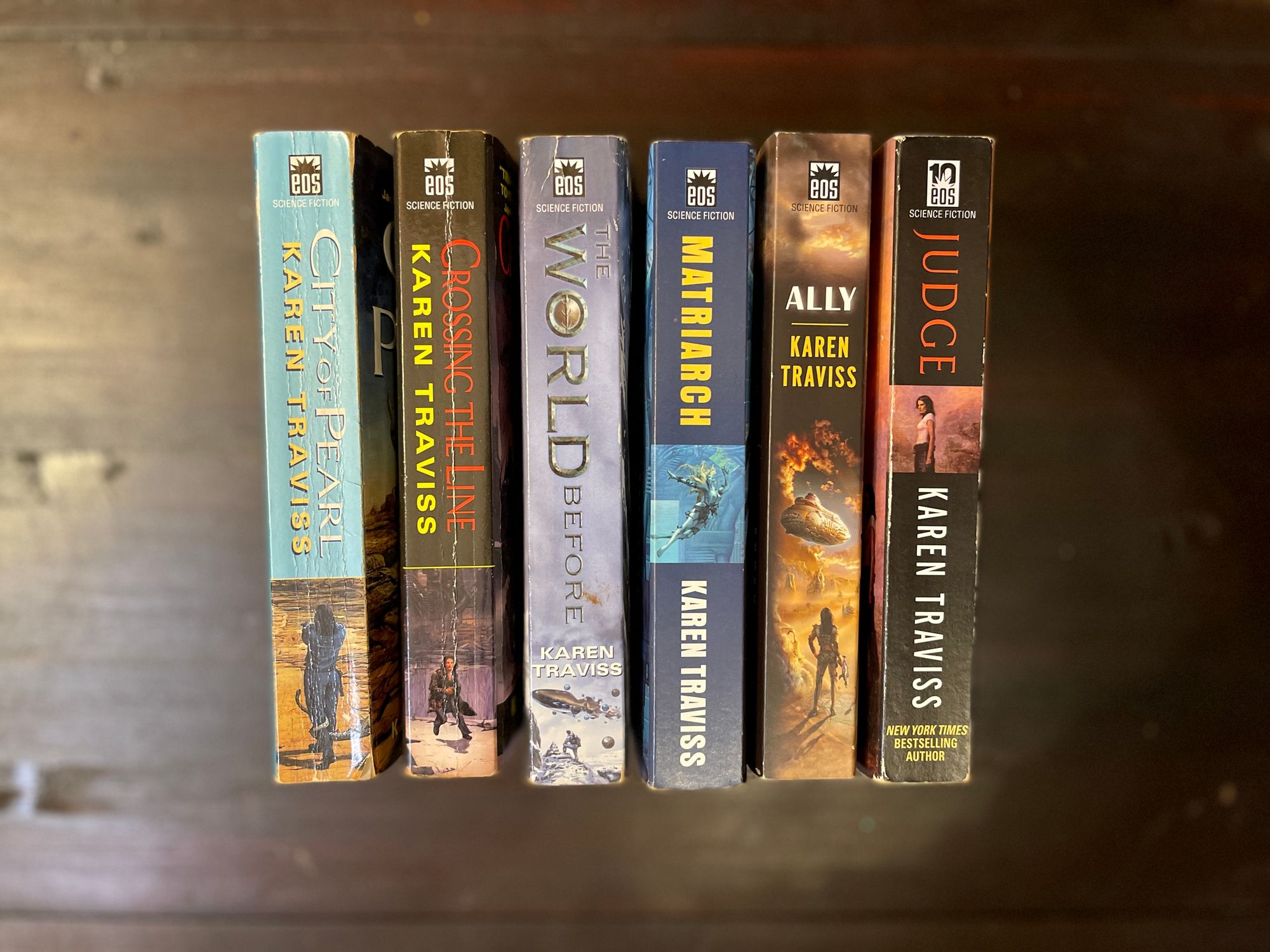 Writ large, the series is the story of a struggle for resources among three different alien species inhabiting the resource-rich, Earth-like world called Bezer'ej (get used to those apostrophes) located in the Cavanagh system: the Bezeri, squid creatives native to the planet; arachnoid-like Isenj, who inhabit Umeh, another planet in the Cavanagh system, and who want to exploit their neighboring world's resources; and the Wess'Har, environmentally-focused aliens who serve as stewards of Bezer'ej.
The first book, City of Pearl opens with a Wess'Har soldier, Aras, observing a robot that's been sent ahead of a human expedition as it assembles a colonial settlement. He's an exile in his own right — long ago, he was infected with a parasitic infection called c'naatat, and has been tasked with protecting the world. When the humans eventually arrive — Christians in search of a less wicked world — arrives and inhabits the colony, which they dub Constantine, and cuts off contact with the rest of the galaxy.
Years later, a former  Shan Franklin, a former environmental police officer, arrives on the world, which they call Cavanagh's Star, with a detachment of Royal Marines and a mission to figure out what happened to the colonists. What she discovers is a complicated, multi-faction struggle for the control of the planet's precious resources.
Over the course of the six novels—City of Pearl, Crossing the Line, The World Before, Matriarch, Ally, and Judge — Traviss does some fascinating things that set the Wess'Har Wars apart from most other space operas. She weaves together a complicated story of multiple alien species desperate for survival, each with its own strange biology, customs, and culture, and considers the consequences of existing in an interstellar neighborhood with few habitable worlds. The arrival of humanity prompts a major interstellar conflict between the Wess'har, Isenj, and humans as beliefs and cultures clash, often violently. Meanwhile, Aras, infected with c'naatat, a parasite that renders him nearly immortal, is targeted by human elements who see the potential in what he carries, and he and his allies must go to great lengths to prevent its destructive tendencies from falling into the hands of other species.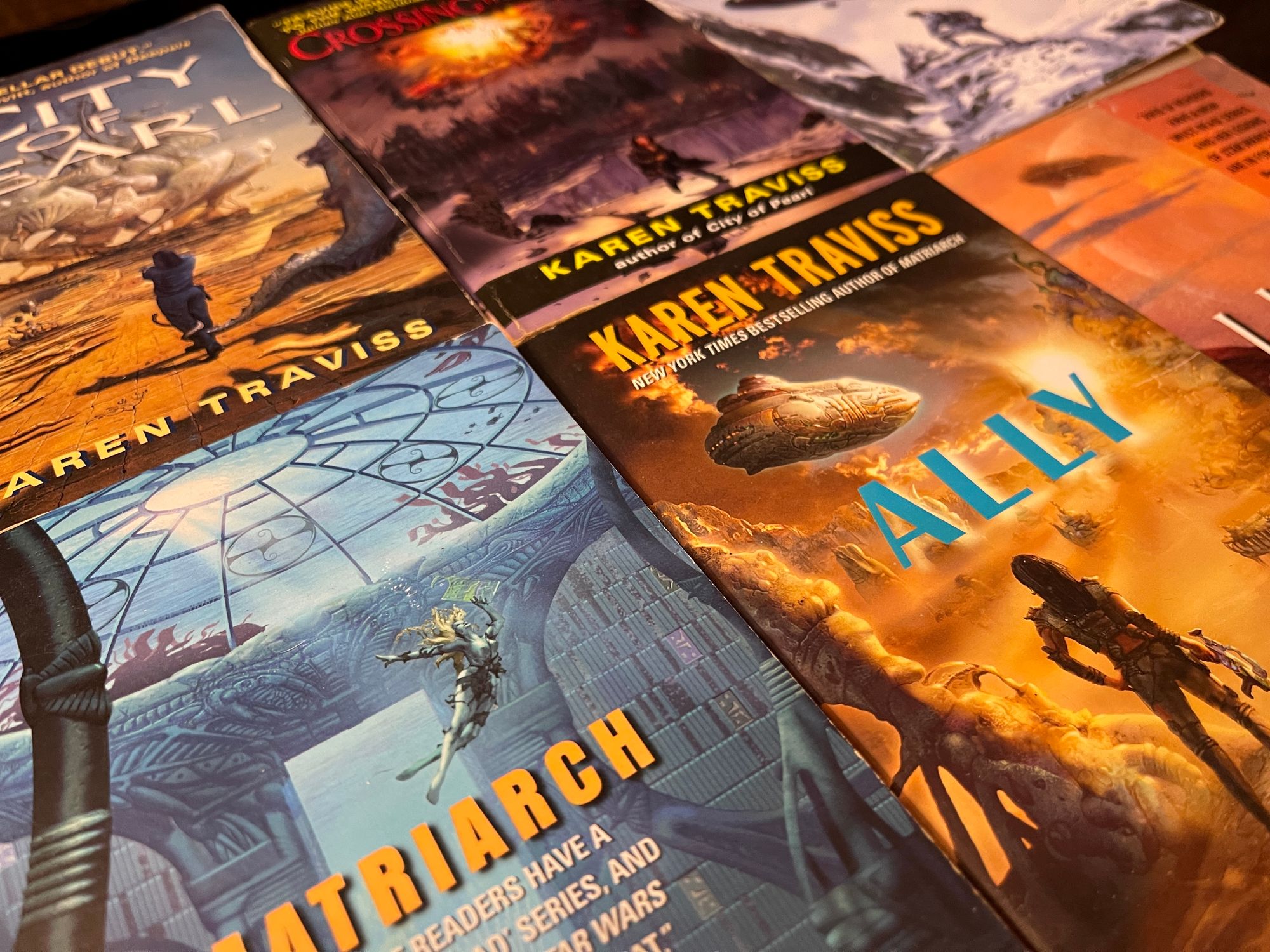 Central to the novels is the idea of balance. Bezer'ej is a cleansed world, protected by the Wess'Har, who view ecological stability as their central purpose in life, one they will go to drastic, genocidal lengths to fulfill. As humanity inserts itself into the equation, our destructive habits put Earth at risk. Traviss goes dark early, and never pulls back, ruthlessly killing off major characters and entire alien species and threatening entire planets with the shadow of war.
As the books progress, we're introduced to an incredibly rich network of characters and interpersonal relationships that provide a depth with few peers in speculative fiction, set amidst a backdrop of intrigue and warfare. Traviss explores some genuinely provoking topics, ranging from colonial ethics (much in line with that first short story I discovered), interpersonal and inter-species relationships, and environmentalism.
For some reason, the series flew largely under the radar, despite a Campbell Award nod for the first book. Traviss attracted some notice as a talented author, yet few people seem to have heard about the books, much less read them. That's a genuine shame, because the Wess'Har Wars deserves not only to be read, but to be carefully considered as well. Trapped as we are on a world with a changing climate, with concern for the environment around us rising, Traviss emphasizes the importance of ecological balance, and warns us that the consequences of ignoring it can be drastic, and devastating.
This piece originally ran on The Barnes & Noble Sci-Fi & Fantasy Blog back in 2015.