Sheree Renée Thomas is the The Magazine of Fantasy and Science Fiction's new editor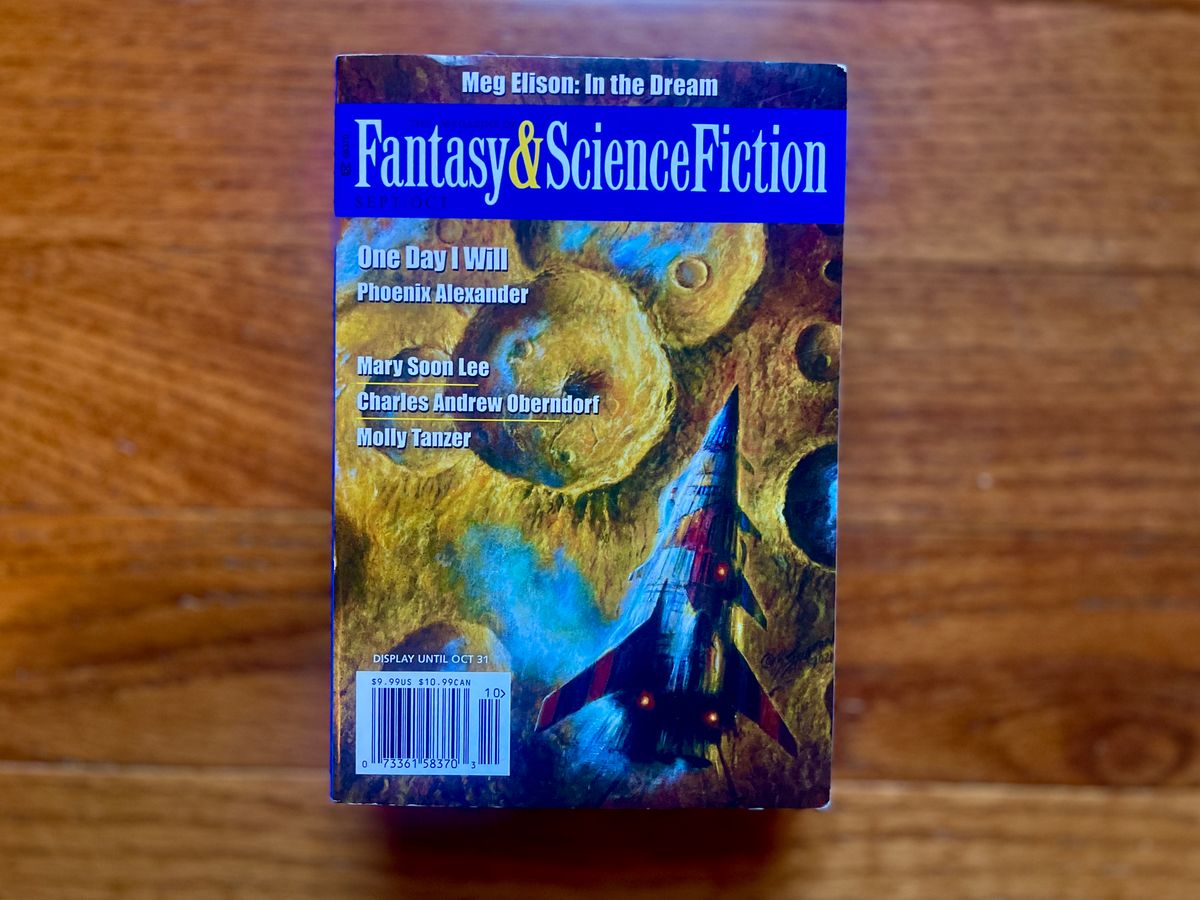 One of the genre's oldest publications has a new editor: Sheree Renée Thomas will take over as editor of The Magazine of Fantasy & Science Fiction from C.C. Finlay, who assumed the role in 2015.
Thomas will take the helm of the magazine for its March/April 2021 issue, and will reopen submissions in January 2021.
The Magazine of Fantasy & Science Fiction is one of the last legacy publications in the field. Originally founded in 1949, it was a mainstay of the speculative fiction genre in the 20th century alongside the likes of Astounding Science Fiction (now Analog Science Fiction and Fact), Asimov's Science Fiction Galaxy Science Fiction, and Amazing Stories, and was a home to authors such as Ray Bradbury, Harlan Ellison and James Tiptree, Jr., and more, and serialized such classics as Robert Heinlein's Starship Troopers and Daniel Keyes' Flowers for Algernon.
From 1991, Kristine Kathryn Rusch took over as editor, and was succeeded by Gordan Van Gelder, who took over the magazine as publisher in 2001. He continued to edit the magazine until Finlay's tenure. Over the course of his time at the magazine, Finlay was nominated for the Best Short Form Hugo award in 2020, and was a finalist for both the Locus Award and World Fantasy Awards.
In an interview, Thomas told me that she got her love of the genre in the same place that most fans have gotten it: her parents. "My father was in the Air Force, and we traveled a bit when I was younger." One of the places that left the biggest impression on her was White Sands in New Mexico, where the US Army tested nuclear bombs in the Second World War. In addition to the unreal surroundings and landscape, she noted, "whenever we went on and off the base, you are surrounded by these giant replicas of rockets and spaceships."
Her parents were both readers who read a lot of science fiction, and she says that her first encounter with The Magazine of Fantasy and Science Fiction was when she was out shopping with her mother, and caught sight of an issue on a shelf, and asked her mother for it. "That's where I first encountered stories by Howard Waldrop, Greg Bear, and others."
She later went on to attend Clarion West in 1999, where she studied under instructors including Bear and Waldrop, as well as Nancy Kress, Octavia Butler, Gwyneth Jones, and Gordon Van Gelder.
After attending Clarion, Thomas began publishing short stories in anthologies like Mojo: Conjure Stories (edited by Nalo Hopkinson), So Long Been Dreaming: Postcolonial Science Fiction & Fantasy (Hopkinson), Afro-Future Females: Black Writers Chart Science Fiction's Newest New Wave Trajectory (Marleen S. Barr), Jalada 02: Afrofuture(s) (Moses Kilolo), Stories for Chip: A Tribute to Samuel R. Delany (Bill Campbell and Nisi Shawl), The Big Book of Modern Fantasy (2020), and in collections such as Shotgun Lullabies: Stories & Poems (2011), Sleeping Under the Tree of Life (2016), and Nine Bar Blues (2020). Her fiction has also appeared in places like Apex Magazine, Fiyah Literary Magazine, and Fireside Magazine.
In addition to her own fiction, she's edited a number of publications, including Apex Magazine, Strange Horizons, and Obsidian: Literature & Arts in the African Diaspora, as well as a pair of anthologies: Dark Matter: A Century of Speculative Fiction from the African Diaspora, and Dark Matter: Reading the Bones.
Now, Thomas takes on the formidable task of helming The Magazine of Fantasy & Science Fiction. She joins the magazine at a time when short fiction is increasingly moving online, and as new platforms allow for drastically different types of stories than had been written when the magazine was first introduced. But despite those changes, "in terms of what I see as a 'Fantasy and Science Fiction' story, it's this kind of excitement and newness that I can imagine readers would have felt when they read The Dark Tower, or when they read some of the [magazine's] most iconic stories, like 'The Women that Men Don't See' by James Tiptree Jr., right?"
"So of course, I think any publication, whether you are print like F&SF, Asimov's, Analog, or if you're digital like Fiyah and Strange Horizons, and Uncanny, you want a story that you're going to remember, you want a story that has a sense of wonder in it, that transports you from where you are, that has a love of language."
Thomas mused about some of the structural changes that the science fiction and literary industry has undergone, noting that she's had an unconventional career, working in all aspects of the publishing industry. She noted that she was the first Black editor to win the World Fantasy Award for Best Anthology for Dark Matter (twice, in 2001 and 2005), and that "for me, I'm about bringing more great people to the table, more great people into the room, more great stories for people to read and enjoy."
Thomas was nominated for the World Fantasy Award's Special Professional Award earlier this year. "There's wasn't a conversation about what the contributions for the genre were. I was thinking—when is that conversation going to happen? Because I'm happy to have it—I've been waiting to have it for 20 years! There are Pulitzer Prize winners, National Book Award Finalists, Bram Stoker Award Winners, all these amazing New York Times bestsellers, all these amazing people that came out of those two [Dark Matter] volumes in the field that told us we didn't exist initially."
Now at the head of Fantasy & Science Fiction, she's well-positioned to have that conversation. "I'm just going to continue the work," she said. The magazine's existing staff have been hard at work for more than a quarter century, and she hopes to keep their work going into the years to come.