Small stakes
Travis Baldree's Legends & Lattes is a delightful fantasy about coffee and community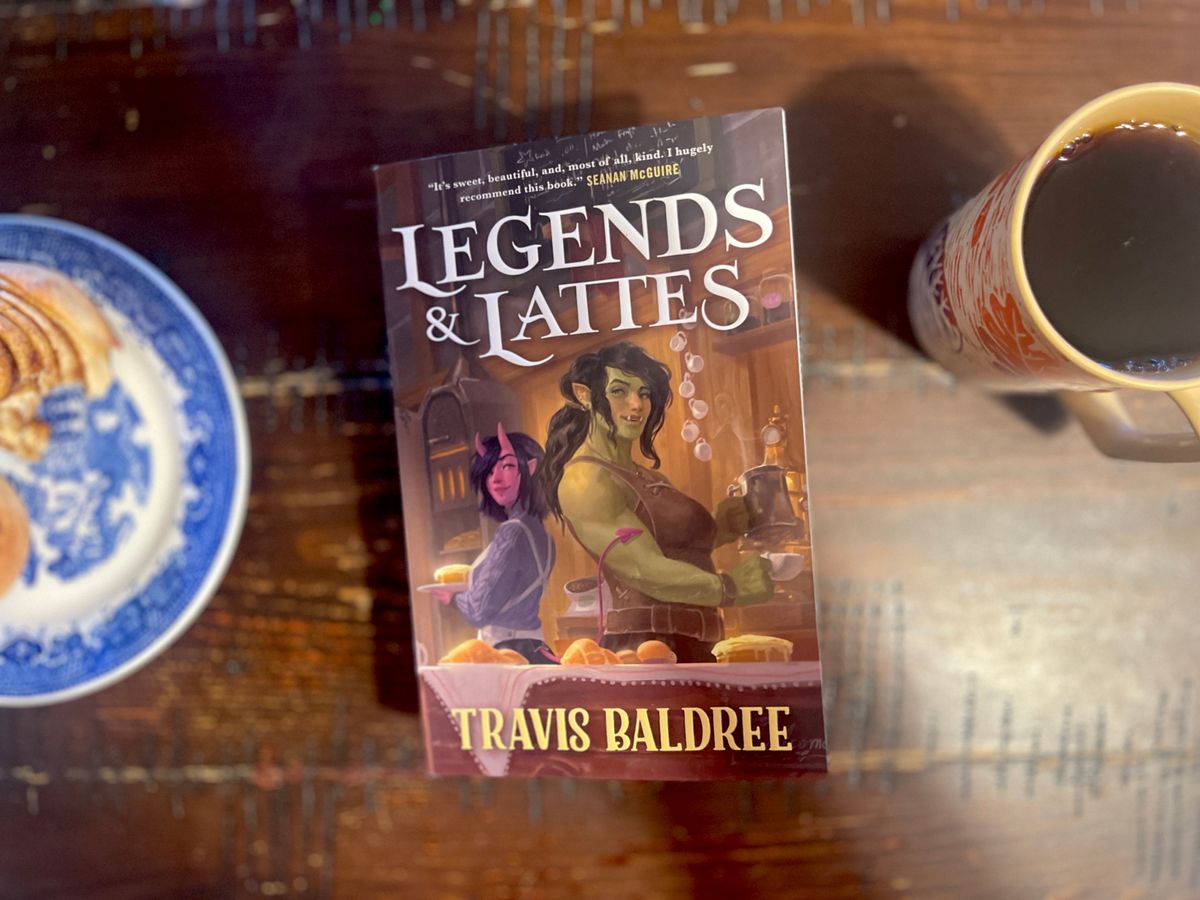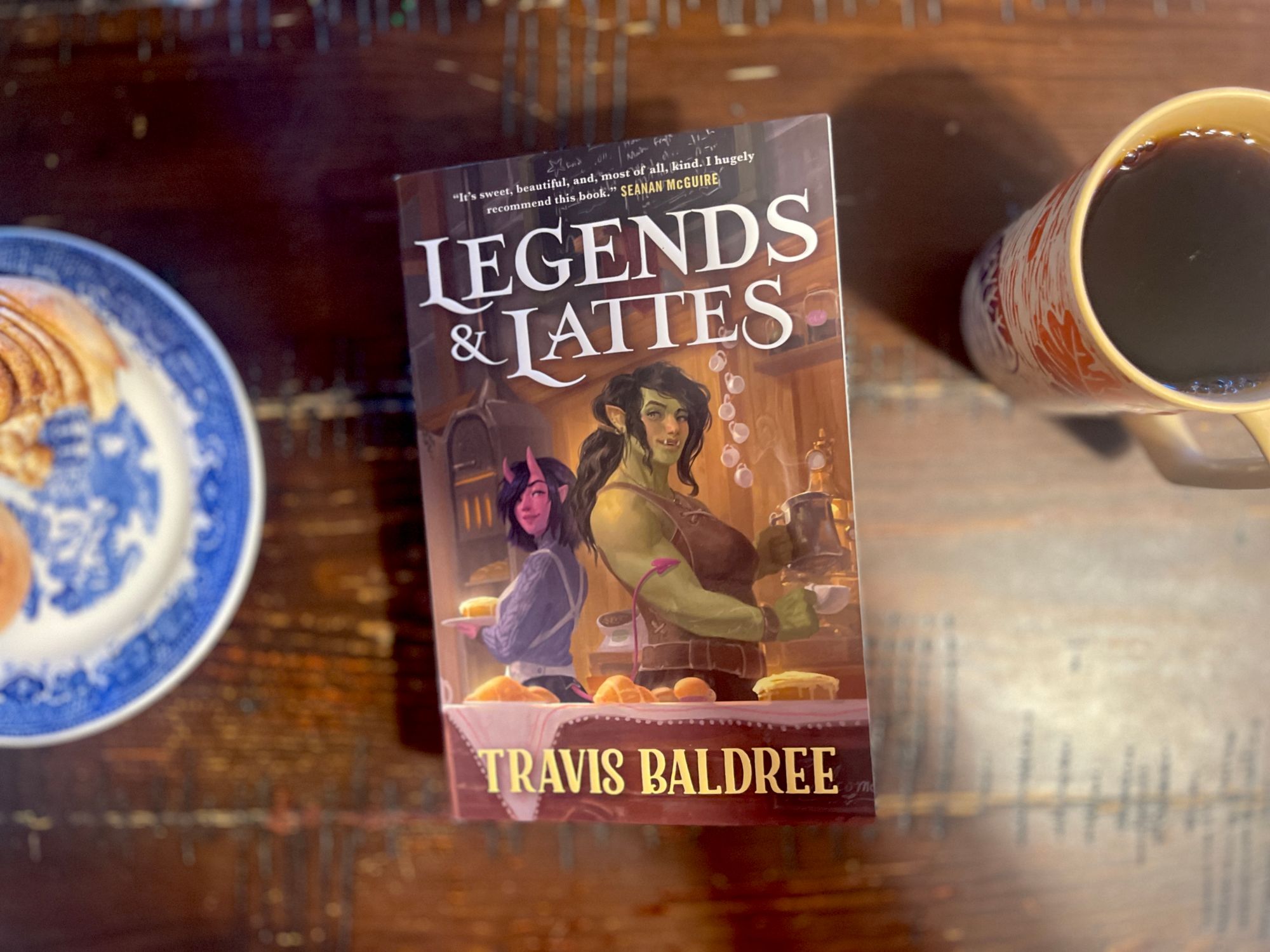 In my formative years reading fantasy, there was one series in particular that I gravitated to: Brian Jacques's Redwall. I eventually turned to other books, like J.R.R. Tolkien's Lord of the Rings, Ursula K. Le Guin's A Wizard of Earthsea, T.A. Barron's Lost Years of Merlin, and plenty of others, but I'll forever have a soft spot for those chunky hardcovers. They don't contain much magic: they're adventure stories featuring talking animals in a forested land, but what Jacques excelled at was crafting a cozy environment for his characters, often with lavishing descriptions of homey feasts and dwellings. They're warm books, and it's easy to see why the heroes of each story fight so hard to keep their homes free from those who wish to oppress them.
There's plenty of coziness embedded in some of those foundational fantasy novels: Tolkien certainly has his moments, and the success of Lord of the Rings gave rise to shelves of fat paperback series that ran through thousands of pages, each with their own feasts and comfortable formulas that transported readers to new worlds. It's a style of story that went somewhat out of vogue in the 2000s as books from authors like George R.R. Martin, Joe Abercrombie, Robin Hobb, Mark Lawrence, and others gained popularity, injecting a hefty dose of gritty realism into their worlds, with devastating consequences waiting for their characters.
Travis Baldree's Legends & Lattes is a new high fantasy novel that feels as though it runs counter to the entire grimdark movement. Repetition can burn out any reader, and in its opening pages, an orc mercenary named Viv decides that she's had enough of adventuring. After one last, brutal job, she takes her cut and heads off to a city called Thune to set up a coffee shop and enjoy a quiet retirement.
Coffee, as it turns out, is something she came across on her travels, and was entirely captured by the smell and taste, and armed with a fabeled stone, she sets out to figure out how to start her own small business. It's harder than it looks: there's the usual things, like fixing up a decrepit location and introducing her new neighbors to this as-of-yet-untasted product, but she also faces challenges like local organized crime hitting her up for protection money, sleezy men harassing her employees, and a figure from her past bent on stealing the stone from her.
Baldree takes us through her journey step by step as she tracks down a reliable carpenter named Cal, a barista named Tandri, and a baker named Thimble. Where Viv had comrades in arms before, it becomes clear that they were colleagues that she was friendly with, but not an actual family. With the opening of her coffee shop, Legends & Lattes, we see her build that close set of connections in her new community. With each step along the way, she's forging stronger bonds with people who not only make her a better person – Tandri in particular helps steer her away from some of her more violent tendencies that she might have jumped to in the past – but the community as a whole stronger and more resilient.
With epic fantasy, there's a tendency to go for the big, world-altering changes: the overthrow of a dark lord/god/wizard/king/strongman, magic that changes the fabric of reality, or epic quests that takes adventures from here to the edge of the world. Baldree rarely takes his readers out of the confines of the shop, opting to keep the story's drama and problems limited to much smaller stakes: how they're going to get the right equipment, dealing with unsavory types, and trying to get the local university student to stop taking up space without ordering things.
These are all things that we can readily imagine: the image of a crowded coffee house is something most of us have likely experienced, as well as those smaller communal clusters that we find ourselves part of. Stories of good vs. evil feature plenty of good lessons for us to ingest, but there's often more to those stories than pitching your antagonist off a cliff after a heated battle. Those smaller victories, like building a group of strong friends you can rely on, by bringing your neighbors together to invest their time, money, and emotional well-being into their community, and simply finding space for one's mental health are just as important – if not more so. By grounding what might otherwise be a more dramatic or epic story, Baldree helps to drive those points home: that those bard-worthy successes and victories can be accomplished on more than just epic quests: they're things that anyone, from the lowly NPCs to the reader, can do in their everyday lives.
In a world where it certainly feels as though the only way out is through an epic quest or earth-shattering, superhuman feat, it's comforting to know that there are things that we can do to make the world better in little ways. We often think that there's a magical fix or major effort to fix something and assume that it's done, but it's really the other way around: it's often long, behind the scenes work that brings about major changes. Forging those strong bonds with one's friends and neighbors is the first step towards resilient communities against disaster, and sometimes, all you need is pastries and coffee to get the job done.
---