A brief history of a time(piece)
Harold Hawes, World War I and the rise of the men's wristwatch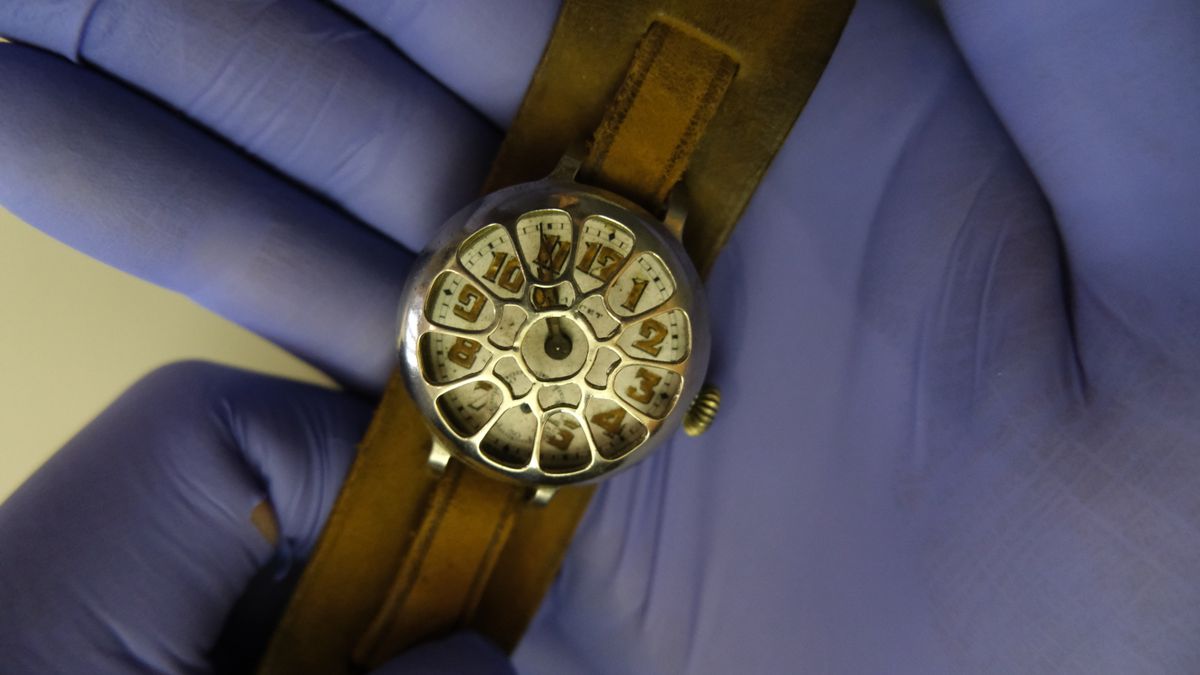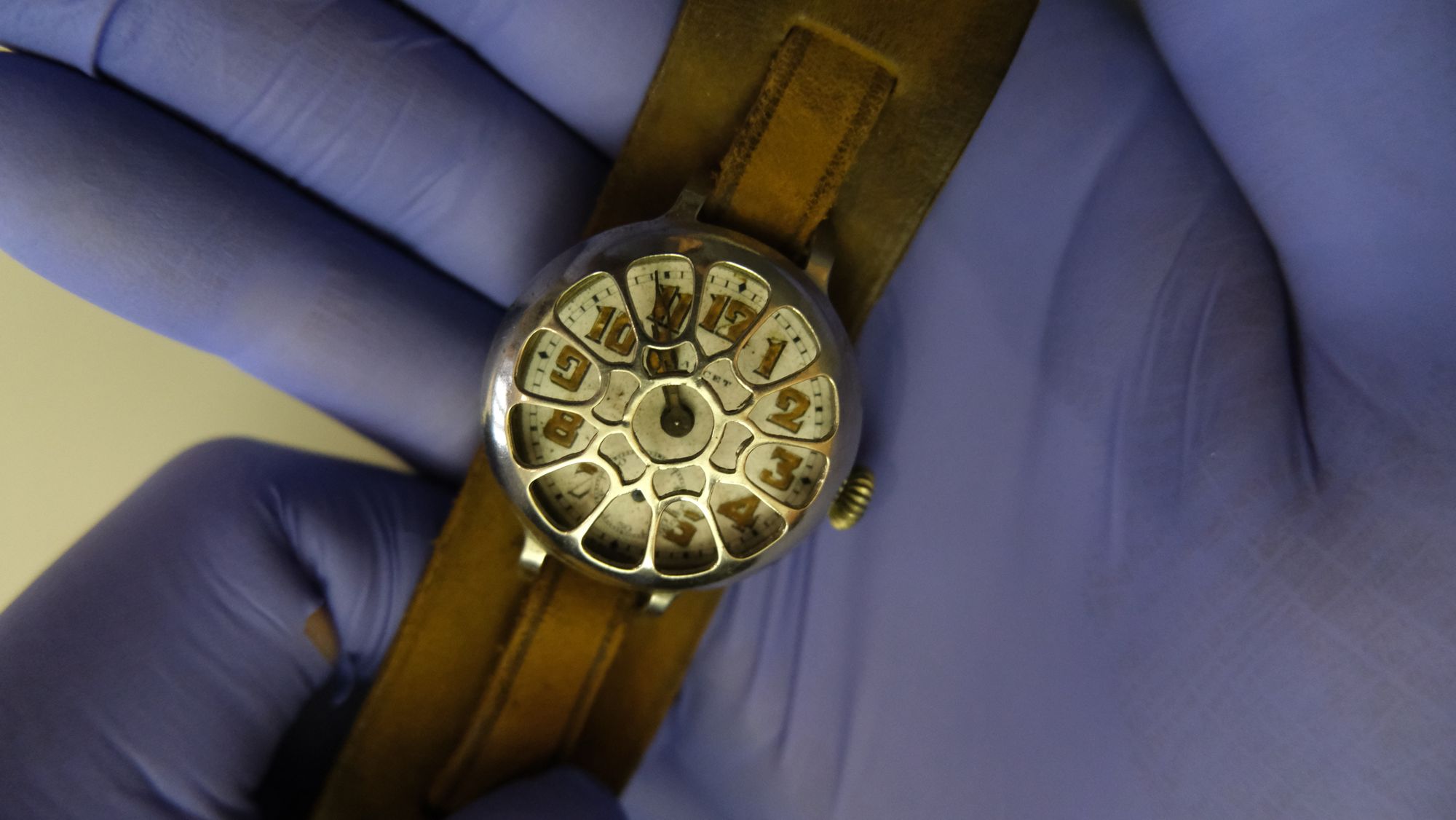 This article was originally published in the Summer 2023 issue of
History Connections,
the Vermont Historical Society's member magazine. To subscribe and support our work,
head over to our website
.
"Do you have the time?"
If you wear a wristwatch, you might have just glanced at your wrist, looking at what the tiny arms and numbers on the dial tell you. Presently, the global wristwatch industry accounts for tens of billions of dollars in revenue each year, encompassing everything from expensive, high-end timepieces like Rolex and the modern Apple Watch, to the ubiquitous and utilitarian Timex.
For more than a century, the wristwatch has been a popular and useful accessory. One item in the Vermont Historical Society's vast collection is a good representative example of how watches became a common and indispensable part of one's everyday outfit: a Lancet owned by Harold Hawes of Barre.
The story of clocks and timekeeping stretches back millennia and is integral to the history of technology and industry. The first mechanical timepieces emerged from Europe in the 13th and 14th centuries for city towers, and technological innovations allowed inventors to devise smaller clocks.
When wrist-worn clocks were invented, they were relegated to the realm of women's fashion, known as "wristlets," while a pocket watch became an indispensable tool for the men involved in the industrializing workplace, where precision timekeeping was essential.
The mechanized nature of war brought a new level of precision to the battlefield: maneuvers and actions could be coordinated in time and space, and in the heat of battle, fishing a watch out of a pocket cost precious seconds of attention. In her book, Marking Modern Times: A History of Clocks, Watches, and Other Timekeepers in American Life, Alexis McCrossen explains how British soldiers began to strap their pocket watches to their wrists during the Second Boer War in South Africa, so they could read them at a moment's notice. It was a move that helped prompt the clock's shift from a man's pocket to his wrist.
With the advent of the First World War, clock manufacturers recognized a growing market for a new product: the trench watch.
This is where Hawes enters this story. Born on May 24, 1889 on Vine Street in Berlin, Vermont, he spent his childhood in Montpelier and Barre. When the United States entered World War I in 1917, he qualified for the draft, but ended up volunteering for a specialized training program set up by the University of Vermont to train blacksmiths, carpenters, machinists, and mechanics for the Army.
After he completed the program, Hawes was assigned to the 87th Infantry Division, where he likely was part of the 336th Field Artillery Regiment, which was deployed to France in September 1918 – mere months before the Armistice in November. Among the items he brought with him was his Lancet wristwatch.
Made by Switzerland's Langendorf Watch Company, Hawes's watch, and those like it, saw widespread use by U.S. soldiers during the war, with several innovations designed to help the wearer in the field. Fastened to one's wrist with a sturdy leather strap, it features large, easy-to-read, radium-painted numbers on a white dial, and comes with a metal shrapnel protector for the glass face. We do not know if Harold saw combat while in France (he likely he served in an engineering role), but it's a tool he would have relied on while there.
After returning home, Hawes settled into a quiet life. He married Carol Batchelder in 1922 and found work in the insurance industry, first as a salesperson and then as a fire inspector. He became deeply involved in the Barre community through the local chapters of the Masons, American Legion, and other community organizations. When he passed away on May 11, 1945, the city's papers reported his funeral was attended by a large gathering of his friends, colleagues, and neighbors.
Hawes was, in many ways, a typical citizen soldier. He was someone who went off to serve his country and returned to civilian life in his community, where the utility of the wristwatch did not fade away. In a piece for The Atlantic, "A Brief History of the Wristwatch," Uri Friedman points out that while the pocket watch was an emblem of the railroad era, World War I ushered in a new, modern world, one where the wristwatch quickly became part of the fashion of the new, technological world. It's endured the technological advances of the last century, a testament to its utility and function, and continues today to function as both a tool and a fashion accessory, ready to tell you the time at a moment's notice, whether you're in Barre or a distant country.