Watch a Star Wars character go from image to cosplay in realtime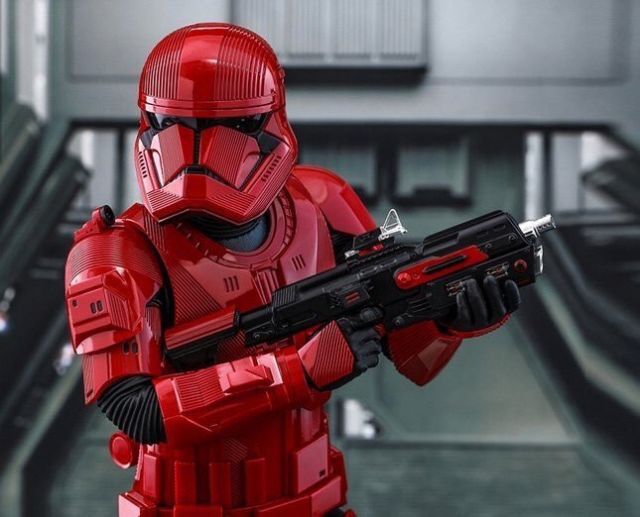 Hello!
I'm writing this weekend from upstate New York. My parents have a house on a lake up here, and it's been a bit of a retreat that we've been utilizing over the last couple of years. They got high-speed internet a year or so ago, which means I can easily work from the house's office, and I've been coming up here to work more often, carting my computer up with me.
It's relaxing, and up until last year, I've come up here to get away from the internet (no cell service), usually with a stack of books to read. It's funny — I have a handful of books that I've read here that have become deeply associated with the drive up and back — N.K. Jemisin's Fifth Season, Obelisk Gate, and Stone Sky, which I read and listened to here. Kim Stanley Robinson's New York 2140, Timothy Zahn's Thrawn, and a couple of others.
I said last issue that I'd be devoting this edition to Cadwell Turnbull's book The Lesson. That didn't quite work out for this edition, but it's coming, along with some thoughts about the latest season of Stranger Things, which will be in the next installment. This issue, I've got a short review of Suzanne Palmer's novel Finder, some cosplay stuff, and a roundup of news and notable articles from / about the SF/F world.

(Oh — I'm contemplating shifting this newsletter over to Substack. TinyLetter is *awful* on a tablet, and I like Substack's form a bit more. I need to do some due diligence and checking, but I'll let you know what I decide to do. If I do make the switch, that transition should be seamless for you.)
Finder: what not to do in a novel
One of the books that I recently read was Suzanne Palmer's Finder, which… left a lot to be desired.
I had high hopes for the book. Palmer earned a Hugo award last year, and the description for this book was particularly intriguing: it's about a man named Fergus Ferguson whose specialty is recovering things like spaceships. When a Cernee crime boss named Arum Gilger steals a ship called the Venetia's Sword, Fergus is sent off to recover it, and ends up in the midst of a civil war.
The first half or so of the book is quite a bit of fun: Palmer sets up an intriguing world, and sends Fergus and a bunch of newly-acquired companions after their target. Capers are always fun, and I dig the idea of someone trying to pull off a heist in the middle of an orbital civil war.
But by the end of that first section, Fergus recovers the ship something that should be the finale of the entire story. He's then captured and brought onboard an alien ship, given some fantastical powers (he can generate electricity and zap people), ends up back in our solar system, then heads back to Cernee to finish out the rest of the conflict. In short, it's a mess, because it becomes so unfocused. Ultimately, the book is a good demonstration for what not to do with a story.
While the plot turns into a bit of a mess (it honestly feels a bit like it started out as a shorter work, and was expanded), but it's the character of Fergus that ultimately bothered me the most and undermined the entire narrative.

He gets a pretty comprehensive backstory: he ran away from home at an early age from his home in Scotland, ended up on Mars, and bounced around the galaxy, getting into trouble. But while he's established as a roguish figure, I never really get the sense that his backstory really influences his decisions for this new adventure. He's just … sort of along for the ride, and he's a character that really should have more agency here. He talks a lot about his past, but it never connects in a meaningful way, and it feels as though Palmer is just juggling too much. I've been noticing this a lot in stories: authors have a lot of interesting ideas, but they end up undermining the story by throwing too many in, where they might be better served by slimming the story down a but to give it focus. I think this is a habit from my work at The Verge leaking into my story preferences, that it's a good preference to have.
What's annoying here is that this is a story where the character should be right in the center, driving the action forward beat by beat. That was fine for the part where he's recovering the ship, but he's soon pulled off in various directions, none of which really circle back to the ship. He's given fantastical powers by a mysterious alien species, but that feels like part of the plot that's bolted on as a bit of an afterthought. Furthermore, I just... really didn't care about the characters by the end of the book.
Ultimately, it's a story that reads as though it needed a good, critical scrub of an edit to work out some of the kinks. All of the right parts are there, but they just don't line up in a satisfactory way, and it didn't work for me.
Sith Trooper: Watch it go from image to costume in real-time
Earlier this week, Lucasfilm revealed its San Diego Comic-Con exclusive: the Sith Trooper, which we'll undoubtedly see for all of 4.5 seconds in Star Wars: Rise of Skywalker this December. Star Wars has always been a toyetic franchise, so toy releases are a pretty big part of the hype cycle for it.
And damn — this is a sick-looking trooper. I was lukewarm on The Last Jedi's Executioner Trooper (the white/black color scheme was … meh), but this one looks fantastic. The red just *pops*, and it's got all sorts of gear and sharp lines that makes it look mean as hell. I have to laugh at people complaining that Disney has run out of ideas: every Star Wars film has its own, iconic troopers and flood of merchandise, and this really isn't different. It's a complaint that pops up with every film.
And, because Star Wars costumers are always looking for the next thing to build, people are already starting to plan out how to turn this into a costume. Within hours, I've saw at least two prop shops begin sketching out and even molding parts: a helmet, chest, and thighs, while another has indicated that they'll be planning on supplying soft parts, like the boots and gloves. Others have started thinking about it as well. Additionally, a pair of groups on Facebook have popped up to gather together interested builders. Others will surely follow in the coming days, weeks, and months: the race is on to get one of these suits put together by the time Rise of Skywalker hits theaters in 159 days.
These prop and costume makers will have plenty of material to work with in the coming days: Lucasfilm says it will display a full set of the armor at SDCC, and it'll be releasing a bunch of toy figures, which these folks will snap up and use as reference. The toys aren't as good as reference material, but the screen-used set of armor will be photographed from every conceivable angle, which will be used by others. With those references and measurements, builders will be able to start working on parts to sell to costumers.

This happened in 2016 with Rogue One back with the Shoretrooper — I was one of those costumers who wanted to get a suit finished up prior to the film. Sets of armor appeared at cons for fans to look at, and online prop shops quickly began working to churn out pieces of armor, helmets, guns, gloves, under suits, and more. I finished mine in time for the premiere.
From what I can see from these few pictures, this costume will be a greater degree of difficulty this time around. For one, there are physically more parts than the Shoretrooper (which had fewer) and on par with the First Order costumes, but each piece is completely different and more complex. Makers will need to model or sculpt the entire thing, either from scratch, or based off of existing armor. Almost every piece has fine grooved texture on the surfaces. That detailing looks as though it'll be difficult to vacuuform well, and I won't be surprised if people just opt to 3D print the entire suit to get that detailing. That will also a tall orderin and of itself: printing will get those details, but the actual printing process will be slow, and once it's printed out, costumers will have to sand out all of the print lines.
159 days? Challenge accepted — it'll be really exciting to see what people come up with in the next couple of months.

... Also, if you're going to SDCC, please pick one of these up for me? Sadly, I'm not going this year.
An X-Wing pilot of my own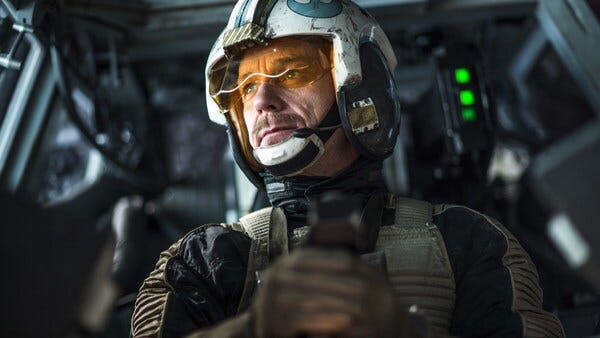 On my own personal costuming front, I just placed an order for some parts for a new costume: General Merrick from Rogue One, the leader of Blue Squadron. Unlike the existing orange-suited rebel pilots that you see in all of the other Star Wars films, these guys wear a green-blue flightsuit, and I really liked the look. I came across a pair of cosplayers suited up in the costume at Star Wars Celebration, and I really liked how they looked.
So, I'm going to put one together: I just ordered a helmet kit, chestbox, and compad from an Etsy store, and they should arrive in a couple of weeks. When supplier Imperial Boots opens up for its next wave, I'll pick up the rest of the parts — they helpfully bundle everything together.
This will be my second attempt at a pilot's costume. Years ago, I began to put together a Corran Horn costume. I had all of the parts, but never quite got my act together to finish assembling it, and ended up sending it to someone in trade for another trooper. Maybe this time, I'll get it done.
Further reading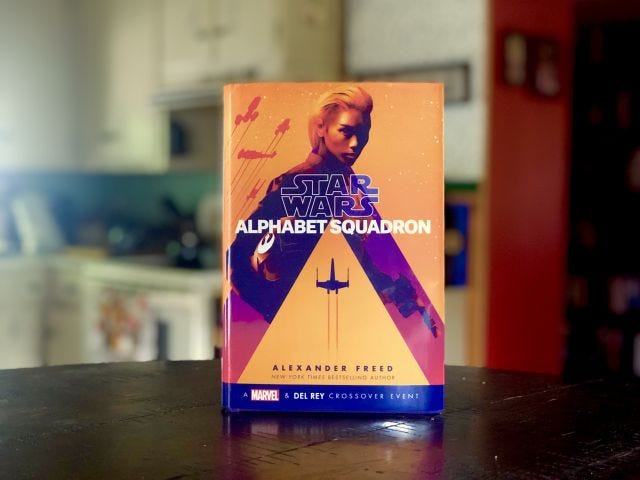 For years now, I have been making the case that we should be treating translated and international works as equals: stories worthy of standing alongside those we have routinely seen published. This proposal sends the opposite message, and on those grounds intend to vote no.
My feeling on this is that a "best translated novel" category is that it's coming at it from a place where English is the default category, and it is — if you're a fan from the US or England. SF certainly isn't native only to English, although it's certainly arguable that it's biggest audience (at least in print form) is US/UK. But I don't know if that's an attitude that really should be codified.
Currently reading
With Finder and Alphabet Squadron now off my reading list, I've been moving onto some other books. I've started listening and reading to Samantha Shannon's doorstop of a fantasy novel, The Priory of the Orange Tree, Dan Moren's The Bayern Agenda, and Amal El-Mohtar / Max Gladstone's This Is How You Lose the Time War. There are some others that I've mentioned lately that are creeping up the list — Max Gladstone's Empress of Forever will probably be there soon.
I've also been reading through J.W. Rinzler's fantastic coffee table book Making of Alien. Stay tuned for an interview with him about that in the next week or so.
That's all for now. Thanks for reading — I really, genuinely appreciate it. Let me know what you think, what you've been reading, and keep in touch.

Andrew