What do book events look like in 2021 and beyond?
Book programming in a post-COVID world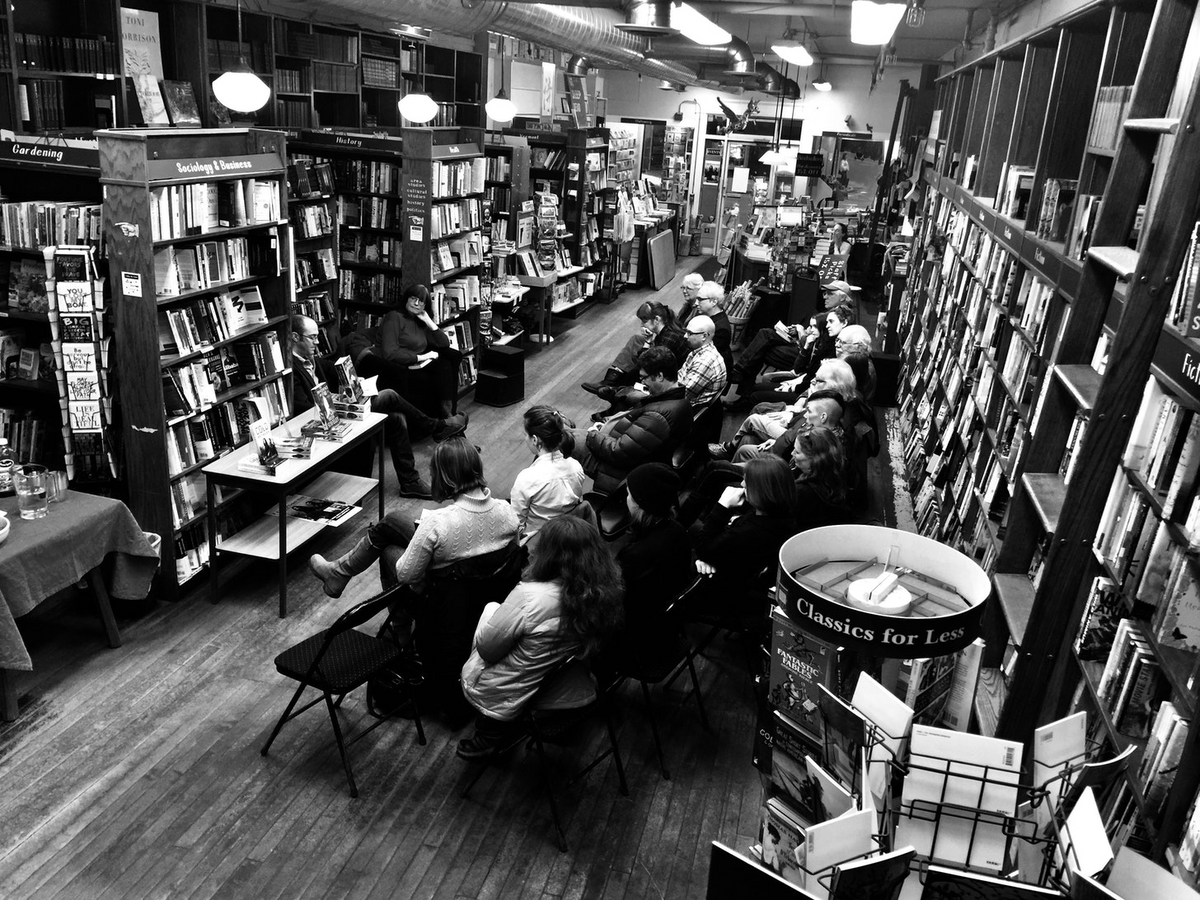 As the COVID-19 pandemic began to creep into the United States in early 2020, it quickly became clear that the following months would be difficult for huge sectors of the economy and society. A highly infectious illness, in-person activities such as indoor dining, comic conventions, and shopping in crowded markets seemed as though they were perfectly suited for spreading the pandemic further.
As early as March, the year's conventions began to announce that they'd be postponing or canceling their scheduled activities, and a bulk of the industry moved online, with major conventions such as the Nebula Awards Weekend, WorldCon, and New York Comic Con figuring out how to adapt their planned slates of activities for an online environment. Included in that mix were bookstores and publishers, which had to figure out how to take scheduled author tours and appearances and move them into an online environment.
Tours to bookstores and other event spates can be a useful part of an author's publicity package. For new authors, it's a chance to get out to meet booksellers and readers around the country, while for established authors, it's a chance to meet long-term fans. Tours and events help generating additional publicity for authors in local press and groups at each stop along the tour, or simply boosting local sales for stores as fans turn out to get their books signed.
With COVID, in-person events were an activity that poses some unique problems — gathering a handful, dozens, or even hundreds of people into the close confines of a bookstore can be dangerous to attendees, bookstore / event staff, and to the author themselves.
As COVID swept across the country in the spring, authors like N.K. Jemisin (who was about to release The City We Became) and John Scalzi (who was about to release The Last Emperox) — as well as numerous others — were forced to announce that they were cancelling their planned tours.
But book events didn't go anywhere: over the course of this summer, they moved online as booksellers and publicists figured out how to get their authors before virtual audiences. In some cases, these were as simple of booting up Zoom and advertising the event through their existing social channels. In other instances, we saw bookstores reserving events for ticket holders or book buyers.
Now, there are several vaccines on the horizon, with distribution starting imminently around the world. It'll be a while before we see widespread protection because of them (and keep in mind, vaccines are just one tool in combatting a pandemic), but they at least show that there's some light at the end of the tunnel, and that at some point, life will return somewhat to normal. At some point, we'll see in-person events like comic and science fiction conventions and bookstore events return.
So what does that look like?
Katherine Arden is known for her Winternight trilogy, as well as her Small Spaces middle grade series — and toured extensively for both in the last couple of years, hitting up everything from comic conventions to bookstores to schools to libraries. She told me that she thinks that these events will be pretty slow to bounce back, even with a vaccine being widely deployed, for a simple reason: "people will be slow to restart activities that require sitting in a crowd with strangers."
That seems likely: we've spent most of 2020 being told to keep your distance from people outside of your household. Changing that habit will take some time as people regain their comfort of being in crowds.
But beyond that, she notes that the shift of events online will likely not go anywhere, for some very practical reasons: cost. "I think publishers will continue seeing the benefits of doing online book events," she explained. "Sending an author on tour is much more expensive than setting up a series of Zooms, and I think we'll probably see fewer authors going on tour, and also authors mixing online and in-person events going forward."
Scalzi was a bit more optimistic that we'll see the return of live events at some point: the attraction to seeing an author live and in person to sign your book, where you can have a minute or to chat directly with the author, still widely appeals to people. "I don't think the actual physical aspect is going to change that much once things have come back to a level where people are able to go out and do events in public anyway, he says. "What I do think is going to change and what I think is probably going to be the case going forward is that there will be virtual events in addition to the public events, and probably in a way some complementing and even replacing in some cases."
We did a whole year of virtual events and they were reasonably successful, in the sense that it did bring eyeballs to to authors it helped bookstores. In the cases where it doesn't make sense to put someone on the road but you still want to get them out and you still want support bookstores putting those virtual book stops in I think is going to be something that is not only an option but it's going to be a first round of option for a lot of folks.
Moreover, in-person events can be good sources of revenue for bookstores, which have been hit hard during the pandemic, and Arden noted that she wasn't sure that "online versions drive sales in quite the same way." (Something I've heard anecdotally from bookstores).
From the publicist end of things, Ellen Wright of Orbit Books noted that she isn't sure when that'll happen. "We don't know when large-scale, in-person events will be safe again," she explained. "However, my guess is that virtual events will be a bigger part of the landscape than they were pre-COVID. Though you can't reproduce the experience of an in-person event online, the silver lining is that it's much easier to pair together authors who are physically distant from each other, and open events to attendees across the globe."
Scalzi noted that he thinks that we'll see book events splitting into two tracks: "there's going to be physical touring for specific authors, or there's going to be some authors who are going to get longer tours,  whereas newer authors or mid-list authors or will get one or two physical stops and then maybe after that a lot of virtual appearances."
When we do get back to events at some point in the future, they're likely not going to look quite the way they did before: an author stands up before a room of listeners. I used to run events for Bear Pond Books in Montpelier, and thinking about how we ran events back in the before times feels as though it just wouldn't work now.
Those earlier events went through a couple of phases: we'd market events through our social media channels and website. On the day of, we'd reorganize the store, set up chairs, invite people in to listen.
Were I running events now, I think we'd be far more careful about what events we decide to hold-in store. Book club meetings (of which we had a couple) would probably stay online — talking to friends, they've had a lot of success holding those, because they're really more of a conversational thing, rather than a presentation.
Where we'd likely still hold events is with an author with a sufficient profile coming through, either on tour or launching a book. I'd encourage a ticketing model, so that we'd know in advance how many people would be showing up day-of, and we'd probably also work to live-stream any event for folks uncomfortable with appearing in person. (I can see a setup of where you get a link to the livestream if you buy a book.) When people show up, we'd give them a temperature check, ask them to wear masks, and space out seating accordingly. Rather than a signing line, we'd likely get books pre-signed, and distribute them as folks arrive.
Scalzi notes that he'll likely change his behavior a bit while on tour. "I will probably do less hand shaking and less pictured taking, but again it all depends on how things work out with regard to vaccines and everything else," he says. Broadly, "I think we're going to be a lot more observant. We can talk to each other in a line, but we're going to not touch. We're not going to shake hands. All that sort of stuff. Which I think is fine. I mean, my very first tour I shook someone's hand in San Diego and the next thing I knew I was in Minneapolis and somewhere in between was Phoenix and I got really really ill."
I have every bit of faith that we'll get back to some semblance of normality, even if that looks like years or even a decade. I've always really enjoyed book events — meeting authors, getting to listen to them talk about or read from their latest title, and get to interact with fellow fans who might show up to do the same. Arden echoed that thought. "They bring joy to many local authors and readers, and I am living for the day when I can talk to readers in a real room again."
Hopefully, we'll take away some good lessons from what 2020 brought to the industry. Virtual events are certainly here to stay, because they bring some real benefits to readers and authors: not only allowing people to remain safe, but allowing for people who might not ordinarily attend to pop in, either because of time, distance, or ability. I've heard from many an author (and cosplayer / congoer for that matter), who've gotten sick and exhausted on a multi-city tour or after a convention, because they're events so well suited for disease transmission. Hopefully moving forward, we'll see less of that.
---
Thanks for reading — I hope that you're doing well and staying safe. I'll have another roundup coming up soon to your inbox (later this week), while paid subscribers will get a couple of other things I'm picking away at for this month.
Andrew