What's In My Bag: 2020 Edition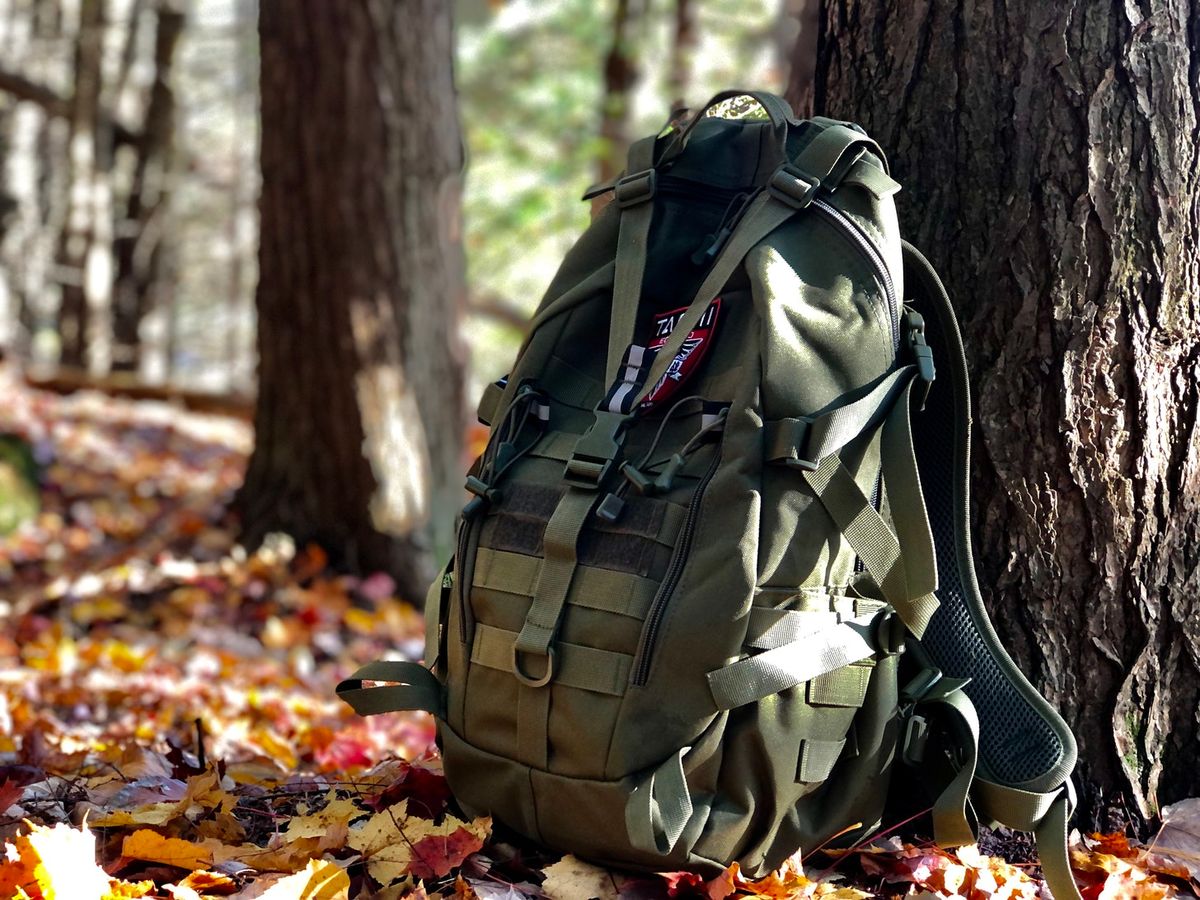 Mobile office for when I need to get out of the house\
Last June, I took it upon myself to write up a post about what I carry with me when I go out and about. I did another one for the newsletter GetRevue, which was a lot of fun to put together.
This spring and summer has meant a lot of changes, and I obviously don't go out as much as I might have otherwise. I had a couple of favorite haunts to write in, which made that particular setup useful. Sadly, I haven't been able to write at the local library or bookstore, but over this summer, I have found some other places, and changed around some of the gear that I carry around. So, new bag, new roundup.
---
My wife and I have been hiking a lot this summer: it's been a delight to discover the vast spiderwebs of trails in our immediate area and rediscover the outdoors. As we've started taking some longer hikes, I've been carrying some more stuff, and realized it was a good time to find something that I could use for both hiking and writing.
For years, I've had a North Face Ion pack (since 2005, I think), and I absolutely love that bag. It's held up through moves, treks to England, Germany, Greece, and Scotland, to the American Southwest, to conventions, and business trips. And I'll still use it for those sorts of trips. But it's a little awkward to use: and everything sort of collects down at the bottom, and the front flap is pretty floppy. I wanted something a little more balanced.
A couple of weeks ago, my Facebook feed served up an ad for a company called Raynge Tactical, a pseudo-military gear outfitter. I've always liked the looks of military gear — recognizing that there are some serious issues with a sort of creeping "tacticool" culture out there that's really troublesome. This store feels like one of those popup gear sites that'll vanish after a short while, but I really liked the look of their Charlie Pack 40L. Plenty of pockets, including one critical one: side pockets for water bottles, which my old Ion has, but which are pretty useless. So, I picked it up, with the idea that if it wasn't practical, it would get sent back pretty quickly.
A couple of hikes later, and I really like it. It's got enough space for hiking essentials, and stuff like water, snacks, first aid kit, and so forth, is accessible from the outside. The main pouch has plenty of space for the stuff I usually carry around, and it's all laid out in an innovative way: particularly two exterior pockets that zip up vertically for small things.
For hiking, there's straps that can clamp down a jacket or sleeping pad, and things to clip onto if needed, like rings for a whistle or mask or something similar. For regular writing stuff, it's not quite as open as Adam Savage's EDC-1 bag, but it's not hard to find stuff.
Plus, it's really comfortable.
---
Writing Gear
Writing is a thing I … do, so I've got a handful of items that relate directly to that. I had a couple of pouches for the EDC-1 bag, but I've swapped one out in favor of a Tool Roll from Lochby, which I've really liked.
Before, I kept all of my pens, pencils, and other similar items in a small pouch, which was fine, but in order to find the thing I needed, I needed to pull them all out. I came across a company called Lochby, run by a US Army vet named Chris Elfering, who designed these waxed canvas accessories. I really liked the look of both the Tool Roll and Field Journal, and ended up picking both up.
I really dig the Tool Roll: it's got a bunch of slots for pens, pencils, my spoon, a small ruler, markers, business cards, and a couple of tea pouches. As it sounds, it rolls up nicely and when opened up, makes it super easy to find things.
The Field Journal is also quite nice - it's got some slots to swap in small notebooks, which Lochby also sells. The paper's good, there's space for business cards and pens, and it has a nice aluminum clasp to hold it shut. I've been using it to freehand some story ideas. It's also about the size of a paperback book, so it doesn't take up a ton of space.
---
I picked up this pouch from Barnes & Noble a couple of years ago. It's big enough for regular equipment / gadget stuff. Right now, I've got two plugs for my iPad / iPhone / Airpods (not pictured), as well as a spare battery and a tube with meds / ibuprofen. I have less stuff in there right now, but there's a rotating assembly of things that also end up in there that just aren't at the moment.
---
iPad Pro
My trusty iPad Pro, which I've got equipped with Apple's keyboard. I use this for writing away from my regular computer, and it's a great little writing machine. Not much has changed there, and in the handful of years I've had it, I really haven't felt like I've needed to upgrade to the latest model. Someday, maybe, but it does everything I need right now.
---
Reading Materials
I try not to leave the house without books. As of the time that I took these pictures, I've got two: Paul Tremblay's Survivor Song and Rebecca Roanhorse's Black Sun.
---
Snacks / Water / Tea
The pack has a pair of pockets on the front that zip vertically, which are perfect for small items like snacks. I recently took this pack hiking, and brought along some fruit snacks and toasted corn to nibble on, which I just didn't take out.
The water bottle is an aluminum one with a snap lid, which showed up from somewhere. (Costco, I think?) It's good for hiking, I've found, and it fits nicely into one of the pack's two bottle holders.
The mug is Stanley's Adventure Stainless Steel All-In-One Food Jar, which I found recently on clearance at Walmart. I've been using it for tea, and it's really perfect for it. I'll make a pot in the morning, then put about half of it in there: it'll keep it warm for hours. I've found that to be great while hiking, but also while working in my office.
---
Safety
As noted, I took this pack hiking recently, so I've got a small first aid kit tucked in one of the front pockets. I've also got a spare mask that I've got as a backup in case I forget my regular one.
The light is a new addition: a compact, hand-held Hitachi flashlight from 1996 that I found in a free pile on the side of the road. I actually found three of them, and with new batteries and bulbs, they work nicely.
I love the look and feel of this flashlight. It's got a metal clip that I can use either to attach it to the bag or use as a stand at a variety of angles. It'll also fit into a shirt pocket. I'll definitely keep this one in my pack for hiking / reading, etc.
---
So, that's what I've been carting around in recent weeks. Unfortunately, the weather's starting to cool down, but I'm hoping that there'll be some more opportunities to head out and read and write for a couple of hours at a couple of trusty, isolated picnic tables in the area.
As always, thanks for reading. What do you carry around on a regular basis?
Andrew