Wordplay: Star Wars Celebration, Rogue One, and Literary SF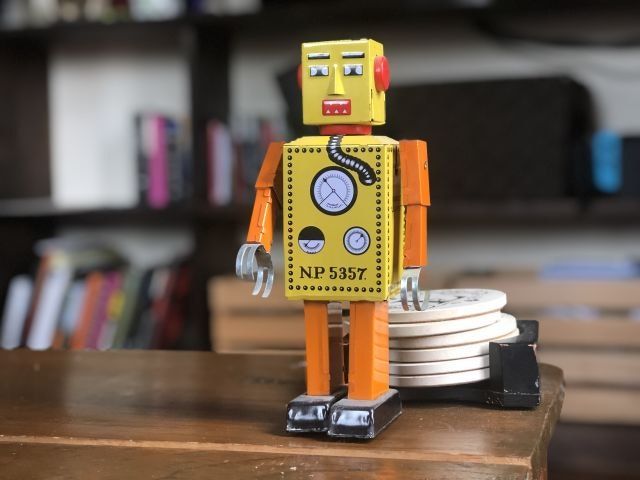 Hello!

I'm back from Star Wars Celebration. It was a blast, and I have to say, post-con blues are a thing. I've been down all week, and I'm already looking forward to hitting up another convention at some point in the nearish future. Onto your regularly-scheduled newsletter!
Star Wars Celebration!
I wrote a bit about the convention on my blog: the tl;dr version was that it was a blast. How about that trailer?! I'm excited. I've really liked the Disney films, and I'm really excited to see what The Rise of Skywalker brings. I also haven't seen anything beyond bootlegged footage, but The Mandalorian looks pretty cool as well.
But what I was most excited about was getting to hang out with a bunch of other 501st members, especially other Shoretroopers.
I've been a member of the 501st since 2004, and I've built 5-7 different sets of armor over the years. I love the group, building costumes, and what we do, but I haven't really been bitten by a costume as much as I have been with the Shoretrooper from Rogue One. Don't get me wrong — I love the look of the classic Stormtrooper and the incredible variety of the clones. I've grown to really like the First Order troopers. But something about the Shoretrooper just clicked for me. I love the color scheme, it's an incredibly comfortable thing to wear, and it just looks fantastic — like it's ready for combat.
Part of that is the community that grew up around this costume as the release date for Rogue One approached. A ton of fans got together and began building the costume, aided by reference photos from 2016's Star Wars Celebration in London, as well as glimpses in the trailers and other promotional images. As a result, they were able to put together a decent version of the costume before the film hit theaters. I had my costume ready to go the day of. I did a couple of runs of hats in the group for a while — a brown cap with the red logo on it — and I've picked up patches and coins with trooper on it. I'm always looking for new shirts and art depicting the costume type, something I've not really done with other costumes.
Since then, I've trooped in the costume quite a bit, but other than one guy in my garrison, I'm usually the only one. Celebration was an opportunity to see more people in the same gear. As one of my friends once said: "One trooper is just a dork in plastic — 10 of them is a platoon." There's a strength in numbers. It's easier to see this — to be dressed up by yourself, and to come across others in the same gear.
I only caught a fleeting glimpse of a Shoretrooper or two on my first day, but on Saturday, I came across an entire group. I was excited and took a bunch of pictures of them as they posed, and chatted with them a bit. I raced back to my room and got my armor on, and found them wandering around. It was a lot of fun, posing as a group.
Sunday was the big 501st Legion picture, and I suited up again and huddled with a different group of Shoretroopers — most of the ones from the day before didn't turn out for it, or were in other costumes — and we ended up wandering around again, taking over one of the big prop tanks that another group had made. After a short break, I suited up again for a Rogue One group photo, which included Rebel Marines, Jyn Ersos, Orson Krennics, and even a K-2S0. It was great fodder for a bunch of pictures. I'm seriously coveting a Blue Squadron pilot's uniform, because it looks fantastic in person.
Rogue One

All of this has had me thinking about the film itself — Rogue One. It's one of the films that really stands out, because of how strange it is within the context of the rest of the franchise — in good ways.

It's a standalone film with largely original characters, but it connects the prequel and original trilogies in so many ways. It also drops you right into the midst of what's clearly a longer, ongoing story, with characters that are pretty fleshed out. It's an interesting example of a film and story that wouldn't exist in any other form than within the Star Wars universe, and it tells a really good one. I'm pretty excited to see that there'll be a prequel to it coming out on Disney+ about Cassian in 2021.

I'm hoping that we'll get to see Shoretroopers in it at some point. But even if we don't, Cassian is one of those characters that I really want to see more of, because there's so much potential there. Plus, more K-2S0, which is always a good thing.

Just Call It What It Is, Part II
Back in March, I pointed to an annoying post: a literary author got some press for coming up with a novel idea: "what if I began writing a story — no, wait for it — set in a world that someone else already created!" I'm not sure what it is about the literary establishment's habit of coming up with something that the science fiction genre's been doing for decades, and thinking that it's a completely new concept.
The latest offender is Ian McEwan, who is publishing a new book called Machines Like Me. It's a story set in an alternate reality where Alan Turing invented the internet, and sentient robots are commonplace. McEwan spins out a story about a man who buys one of these robots, and gets caught up in a romantic triangle with a mysterious upstairs neighbor. He's been doing press for the book, and in an interview with The Observer, there's the following fun exchange:
McEwan has an abiding faith that novels are the best place to examine such ethical dilemmas, though he has little time for conventional science fiction. "There could be an opening of a mental space for novelists to explore this future, not in terms of traveling at 10 times the speed of light in anti-gravity boots, but in actually looking at the human dilemmas of being close up to something that you know to be artificial but which thinks like you. If a machine seems like a human or you can't tell the difference, then you'd jolly well better start thinking about whether it has responsibilities and rights and all the rest."
I mean, imagine if someone had thought about this before. Never mind that Isaac Asimov's I, Robot was playing with the logical dilemmas about artificial intelligence, or that Philip K. Dick was writing about intelligence and the like.
Even accounting for McEwan's comments being taken a bit out of context (as Jeff VanderMeer suggests could be the case), it's still pretty eye-rolly, and there's a long history of "literary" authors jumping into speculative fiction's turf and both distancing themselves from the term "Sci-Fi" and pretending that they've stumbled onto something that everyone's missed. Some of that, I imagine, is ego, but another part is deliberate ignorance.
I get parts of it: science fiction has long been saddled with a bit of baggage, going all the way back to the era of pulp magazines. I've long seen the genre as a definitively blue collar movement, spearheaded by writers who wrote in their spare time, trading their day jobs as engineers, secretaries, and scientists for imagined futures in their spare time, writing to supplement their income, or just because they found it fun.
And to be sure, these two groups are made up of very different people, coming from different backgrounds. Certainly, there's a lot of ignorance on the backgrounds of both groups. It doesn't strike me as odd that an author might drop into the field on their own — there are certainly brilliant works that people have come up with from outside of the larger SF/F sphere — but it does stir up trouble when said authors think that they've stumbled onto something never before discovered. In most cases, that's not accurate.
There's been a wave of the more "literary" SF/F novels hitting stores in recent years. You've got books like Cormic McCarthy's The Road, Marlon James' Black Leopard, Red Wolf, Naomi Alderman's The Power, Helene Wecker's The Golem and the Jinni, Famous Men Who Never Lived by K. Chess, and The Bear and the Nightingale by Katherine Arden.


In some cases, the authors are pretty clearly acknowledging the works that came before them — James, Arden, and Wecker certainly haven't tried to put distance between themselves. But then there are books like Ling Ma's Severance, which feels unaware of post-apocalyptic works that preceded it, and doesn't really add on to the genre in any real way.
On the other hand, you have books that are essentially marketed in a cross-over fashion: they're plainly science fiction, but angled more towards the wider reading audience — Black Leopard, Red Wolf, The Power, and books like Charlie Jane Anders' The City in the Middle of the Night, and Lev Grossman's The Magicians.
My gut feeling is that we're going to see a lot more of this — literary works dipping their toes into territory that's largely been ignored by everyone but SF authors. Art is always grappling with the concerns of the present, and we're certainly living in a world that could easily exist in a science fiction novel. We have private space companies, digital surveillance, and robots all over the place. Hopefully, authors won't do what McEwan did, and ignore the good work that's already been set down to paper — doing so means retelling stories, just with an acceptable coat of paint.
Further reading
First up, my former editor Annalee Newitz published a fantastic opinion in The New York Times earlier this month: Why the Cool Kids are Playing Dungeons & Dragons. It's certainly about the appeal of playing D&D and all that, but she frames it in a really neat way: face to face social interaction is incredibly important in this day and age.
"What drove me away from Facebook wasn't just the fake friending. It was that fake friendship could be weaponized, used by a hostile government or group to manipulate us. When we fantasize together, in person, we always know that the bot army isn't real. We know that an insult can hurt. But online, we wear masks over masks. I still love the internet, but I'd rather have a real friendship with a half-elf bard than a thousand faceless followers."
This gets right to the heart of why I've been so eager to pull back on social media in favor of meeting people in person, and why social media can be detrimental. There's certainly something to be said for the infrastructure that it allows for creators and people who are isolated IRL, but it's irritating to see people spending their time yelling at one another in the comments sections of faceless pages. A good followup read is P.W. Singer's LikeWar, which is a fantastic book about the state of the internet right now. I strongly urge you to read it.
Another great thing to read is A Place of Vanishing: Barbara Newhall Follett and the Woman in the Woods, by my friend Daniel Mills in the Los Angeles Review of Books. It's about a body that was discovered back in 1948, and he tries to unravel who it might belong to. There's two women that went missing that it might belong to, and he spends some time trying to piece together the story. He's an exceptional writer, and this one is well worth the read, especially for lines like this:
"She sinks into pine needles, into the black earth. Years pass, and animals scavenge her body. Tree roots pierce her clothes and shoes. She is scattered down the hillside and joined with it: a spirit of nature, a part of the hills. If this is her ending, then it is beautiful and terrible, but we may never know if this is, in fact, what happened."
In sad industry news, Jason Sizemore announced that Apex Magazine is going on "indefinite hiatus," citing recent health issues and the need to refocus on Apex Book Company. I'm sad to see this, because Apex has published some really great stories recently that have earned some pretty prestigious awards. They recently cut back on physical editions for the magazine, and I guess this is something that's sort of been happening. It's also sad, because Apex published War Stories, and included Karin Lowachee's fantastic story from the book, 'Enemy States'. Hopefully, they'll get the magazine running again at some point.
Finally, I've released the latest book list for The Verge, which has some intriguing titles on it.
Reading List
I ended up not reading nearly as much as I thought I would on the train to and from Chicago. I finished James S.A. Corey's Tiamat's Wrath just before I left — my review is going up tomorrow — and it's another really excellent installment of The Expanse series. It's amazing at how the first book told such a small, interesting story in the midst of a much bigger conflict, and by this point, we've zoomed out to encompass huge, cosmic battles. There's still plenty of mystery left in the series, and I really can't wait to see what the final installment brings.
I ended up bringing Adam Savage's new book, Every Tool's A Hammer: Life Is What You Make It, which is a really fantastic read. I've met Adam a couple of times, and interviewed him at various points in the last couple of years, and I've always appreciated his enthusiasm for building and making things, whether that's costumes, props, or random other things. This book really hooked me: it felt like every page had *something* that spoke to me on a creative level, and it was a good thing to read as I rode the train to Chicago, where I was surrounded by a ton of creative people.
Travel allowed me to listen to a huge chunk of Charlie Jane Anders' The City in the Middle of the Night. I'm almost done with that one, and I'm really enjoying it. I also began reading Chen Quifang's Waste Tide, which is translated by Ken Liu. I've really been waiting for this one, and it's pretty good so far. On deck: A Memory Called Empire by Arkady Martine and Storm of Locusts by Rebecca Roanhorse. I also *just* got in a copy of Alexander Freed's upcoming Star Wars novel Alphabet Squadron, which I'm very excited about. I hope that it'll hit the high bar left by Michael A. Stackpole and Aaron Allston's X-Wing series.
News!
I've been vaguebooking some news the last couple of months. One of the things I can talk about: I'm going to be a dad! Again! Megan and I are expecting a baby girl in October(ish). Bram is super excited, and I am as well.
Another piece of news… I can't talk about just yet. But it's progressing! Things have been signed! Work is happening! You should keep an eye out on the internet (maybe Syfy.com?) on Monday.
That's all for now. As always, let me know what you're reading, what you liked about this, and whatever questions you might have.

Andrew