2020 Transfer Orbit Holiday Gift Guide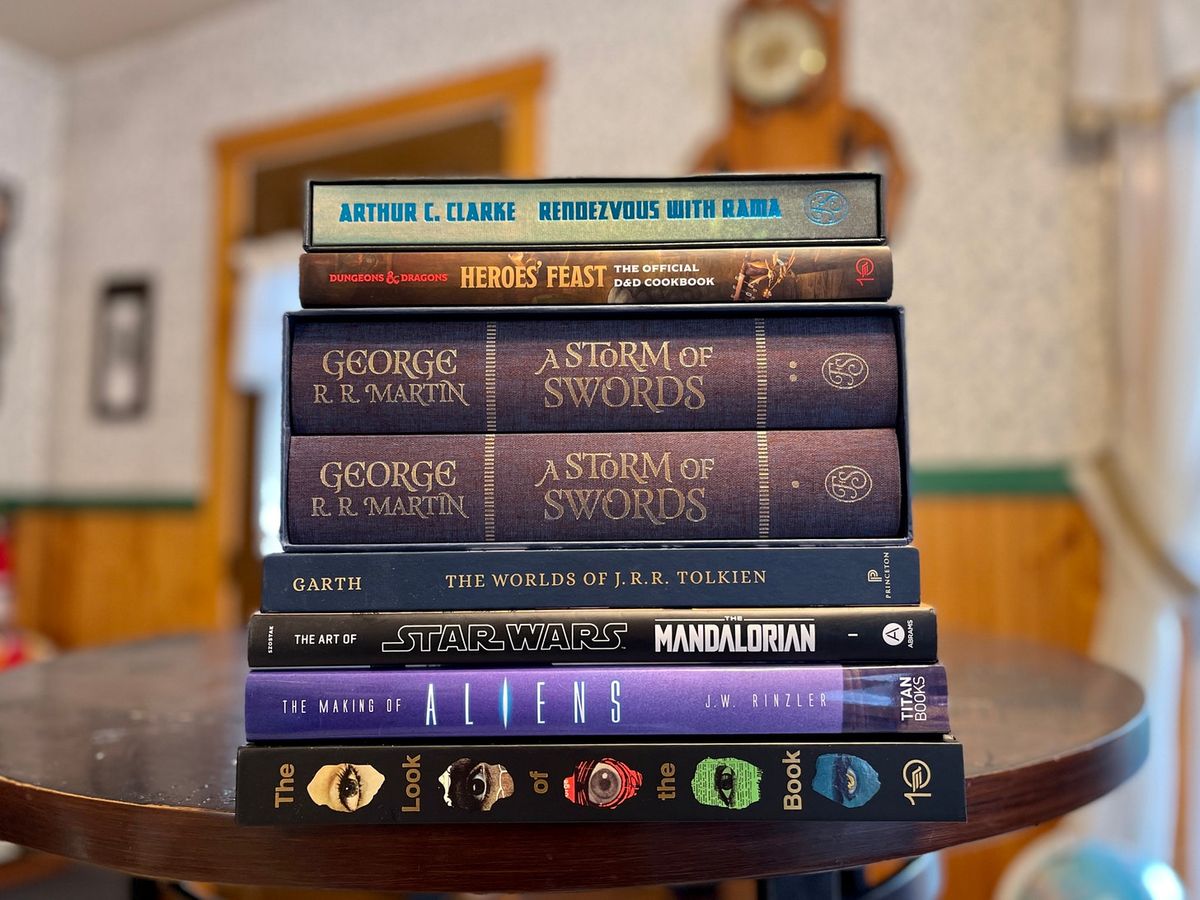 It's mid-December, and I've had gifts on my mind the last couple of weeks, and I've always had fun putting these sorts of lists together. If you're looking for some ideas of things to get for your friends or family (or yourself!), I've rounded up some items that newsletter readers will probably find appealing.
You can see my recommendations from last year here.
---
Stuff
Core Sample Tumbler Glass — $18
I came across this neat glass earlier this year by way of an ad on Facebook. The company is called Cognitive Surplus, and they have a number of really neat, science-oriented wares, from kitchen supplies to notebooks to clothes, and more.
I studied geology in college (I ended up with a minor in it), so this glass particularly appealed to me, displaying the geologic time scale on the side, along with depictions of the fossils from each era.
Lochby Field Journal and Tool Roll — $40
Earlier this year, I wrote about what I've been carrying this summer in my bag, and two items were from a company called Lochby: a field journal and a tool roll. I've been trying to get away from writing on a computer 100% of the time, especially when I've been plotting out short stories or longer works. Their field notebook is nice and compact, and is nicely rugged for tossing into a backback.
Their Tool Roll is also exceedingly helpful: a way to pack up my pens and other random accessories in a way that's easy to pull them out when needed. Previously, I used a pouch, but found that to be a little cumbersome: I had to pull everything out anytime I wanted to find one pen or pencil. This eliminates that entire mess.
---
To Read
Rendezvous With Rama by Arthur C. Clarke — $60
I have a fond memory of reading Arthur C. Clarke's novel Rendezvous With Rama while riding the bus to school, completely immersed as a trio of astronauts explored an extrasolar object that came by our solar system. It's a really fun, classic golden-age adventure.
Earlier this year, The Folio Society acquired the book for one of their high-end editions, and did a really stunning job, putting Matt Griffin to work providing some illustrations, and bringing in noted critic John Clute for the introduction.
The Worlds of J.R.R. Tolkien: The Places That Inspired-Middle-earth by John Garth — $30
Noted Tolkien scholar John Garth's latest work is an in-depth look at what inspired J.R.R. Tolkien's Middle-earth: from cozy hamlets in England, Germanic, Nordic, and Celtic folklore, English forests, ancient ruins, and battlefields.
It's a wonderful examination that looks not only to the complexities of Tolkien's worldbuilding, but also serves as a quasi biography of the author.
A Storm of Swords by George R.R. Martin — $200
I've gushed before about The Folio Society's edition of A Game of Thrones and A Clash of Kings, and they've followed up with the third installment of the series, A Storm of Swords. It's a handsome edition with some great art from Jonathan Burton, and it sits on the bookshelf nicely along with the prior two editions.
The Look of the Book: Jackets, Covers, and Art at the Edges of Literature by Peter Mendelsund and David J. Alworth — $50
I got a copy of this book earlier this year and was immediately engrossed. Book covers are a really fascinating topic to me, because they fill so many roles: art, advertising, character, etc. Peter Mendelsund and David J. Alworth's new book is an exploration of covers, looking at the design and how they evolved over time.
The Making of Aliens by J.W. Rinzler — $60
I really love J.W. Rinzler's Making Of books: he's released ones for the original Star Wars trilogy, Indiana Jones, Planet of the Apes, Alien, and now, Aliens. These books are really exhaustive resources for fans of the film in question, and I always get a lot out of reading them and flipping through the pages to look at the behind-the-scenes photos, concept art, and designs. The Making of Aliens is a particularly good read, one that sheds some interesting light on the sequel that's making me look at it in a different way than I had before.
Art of Star Wars: The Mandalorian by Phil Szostak — $40
With each new film, Lucasfilm has been releasing a wonderful coffee table book of concept art. Five films in, they make for a nice row on my bookshelf, and they're now joined by the first live-action TV series, The Mandalorian.
Like its predecessors, it's an intriguing insight into how the show's look and feel came about, as well as how the show came about. It makes for fascinating reading if you're a huge fan of the franchise, or if you simply want to page through looking at some great art.
Heroes' Feast: The Official D&D Cookbook by Michael Witwer, Kyle Newman, Jon Peterson
Food is certainly a part of Dungeons & Dragons' lore, and Wizards of the Coast has gone and released Heroes' Feast, an official cookbook. It's a clever idea, one that feels well-suited for turning your weekly gaming session into a feast for your friends. (At least, when we can game in person again.)
There's a wide variety of recipes here, broken up into various sections (human, elvish, dwarves, etc.), and I've tried a couple of them. They're good, and most aren't terribly difficult to put together. It's definitely something that I'm planning on using again, when I'm looking for inspiration for dinner.
---
Play
Wingspan + European + Oceanic expansions — $60 / $25 / $30
While the pandemic raged through the country this year, a lot of people turned to boardgames — my family included. One of the games that I'd been wanting to play for a while is Wingspan, and I finally bit the bullet and picked it up earlier this summer.
It's a glorious game, one in which you work to acquire food, eggs, and birds for your habitat. We've played it constantly, marveling at the types of birds that are out there in the world. It makes for a smart, interesting hour of play, one that's translated into a renewed interest in birds in the real world.
Parks + Nightfall expansion— $50
Another thing we got up to this summer was hiking around central Vermont, checking out the various trails that meander through the woods. An impulse buy at Target earlier this year mirrored that activity: Parks.
This game is a quick one, in which each player works to collect parks that they visit in a season of hiking. Like with Wingspan, it helps foster a sense of curiosity for the outdoors, and we've spent a lot of time playing this one at the end of the day. Plus, this game has the best interior organizer that I've ever seen in a board game.
Star Wars Squadrons — $40
Michael A. Stackpole and Aaron Allston's X-Wing novels have a special place in my heart, so I was very, very excited to see that there was a new starfighter game coming out this year. Squadrons is a real blast to play, and I've been picking away at the game level by level in the cockpit of an X-Wing for a couple of months now. And given that Star Wars: Rogue Squadron is happening as a film, that makes this all the more fun.
Immortals: Fenyx Rising — $60
This was a recent purchase for me, and the pitch that sold me on it was that it's Breath of the Wild meets Greek legends. You play as Fenyx, a sole surviving soldier who washes ashore to find that Typhon has escaped and has overthrown the Olympian gods. It's up to her to figure out how to reunite them with their powers to save the world.
Like Breath of the Wild, you're playing in a vast, immersive world, where you can go from challenge to challenge, exploring and fighting. Bram and I have been playing it constantly, and we're delighting in each new battle and challenge.
Other
There are a couple of things that I'd like to point to. The pandemic has hit bookstores and your local papers hard. If you're looking for a good gift, I'd highly recommend picking up a gift card or subscription for people in your life. I'd also recommend giving someone a membership to the Audubon Society.
I'd also be remiss if I didn't point out that you can give gift subscriptions of this newsletter to people:
---
This list is coming in a bit later than I'd like, so if you're planning on picking up something for friends or family, a IOU might be in order.
Andrew