My most anticipated reads of 2022
Make room on your TBR pile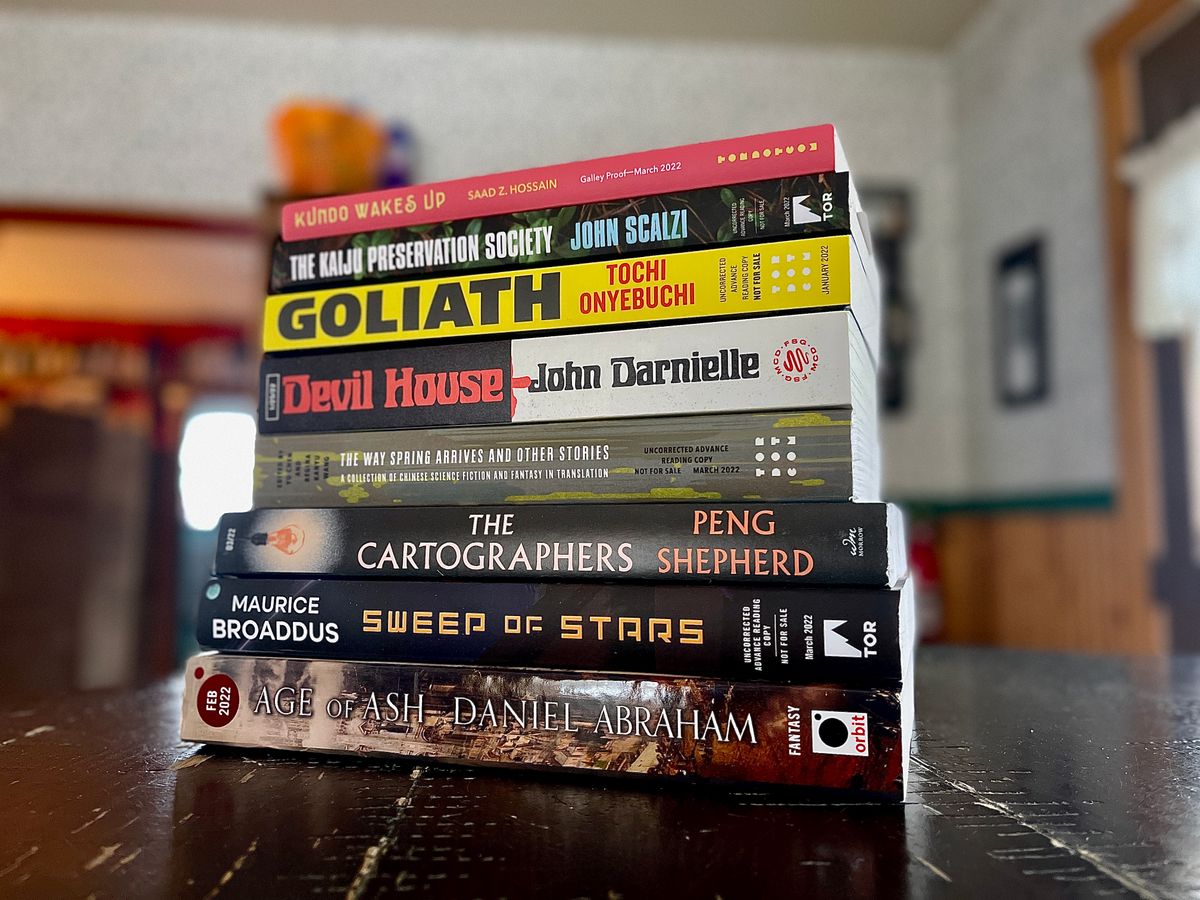 It's a new year, and that means that there'll be a ton of new books to check out in the months to come. As I've done the last couple of years (here's the list for 2020 and 2021) I've put together a high-level list of the titles that I'm most excited to check out in 2022.
Over the course of the coming year, I'll still put together a monthly list that rounds up a larger number of books (you can check out prior book lists here), but these are the ones that stand out a bit for me: they're either authors that I've enjoyed in the past and I'm looking forward to their next stories, or authors who're new to me that look like they'll be good things to read. Hopefully, I'll have reviews for some of these in the months ahead.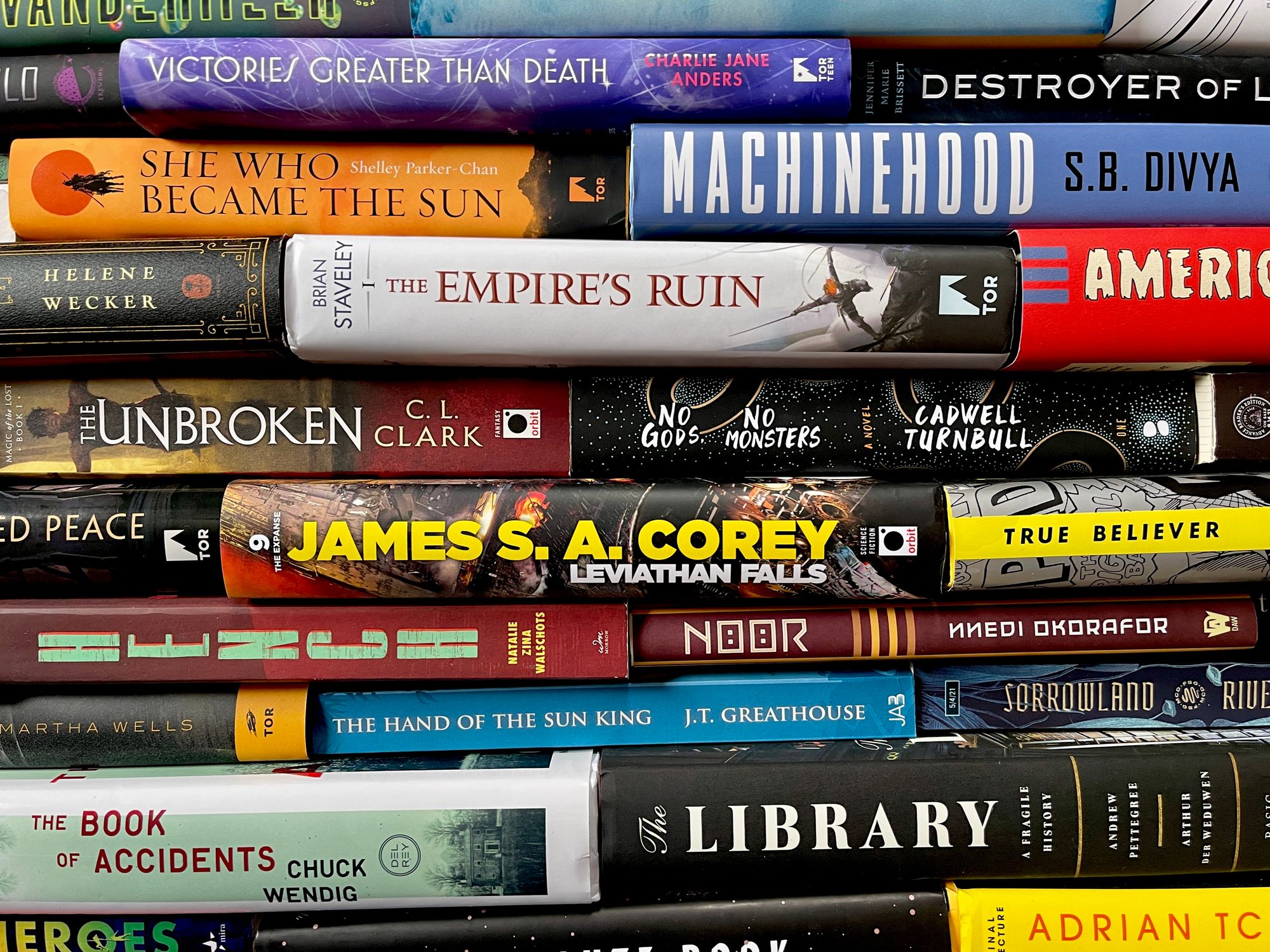 Some housekeeping notes: links via Bookshop.org are affiliate links, and any purchases you make through them might result in a commission. The release dates here might slip, given ongoing COVID-19 supply chain-related problems.
If you find a book that you like, or if you'd like to get more book recommendations, reviews, and commentary about the genre in the months ahead, consider signing up as a free or paid member of this newsletter!
Here are 24 books that I'm eager to read this year:
---
January
You can see a longer list of books that I highlighted for January here.
Goliath by Tochi Onyebuchi (January 25th)
I really enjoyed Tochi Onyebuchi's novella Riot Baby when I read it a while back: it was a heartbreaking story of race relations and power. It looks as though he's picking up some similar themes with his next novel, Goliath, set in a future where Earth is wrecked and poisoned, and in which those who can flee the planet for better habitats have done so, leaving the disadvantaged far behind to fend for themselves.
Onyebuchi follows a number of characters in that environment, from Black laborers making their way in the world, to a white couple who opts to return, all the while exploring the impact of gentrification, racism, the environment, and more.
Devil House by John Darnielle (January 25th)
As noted in the January list, this is one that I've been reading in the last week or so, and I'm completely captured by it: it's about a true crime writer who ends up buying a house in a small town in California, in which a couple of brutal murders took place as part of the research for his next book. As he delves into the crime and its location, he begins to question the nature of the work that he's devoted his life to, and finds some connections in not only the murders that he's studying, but in the cycles of abuse that exist within his own family.
---
February
Age of Ash by Daniel Abraham (February 15th)
When I interviewed Ty Franck and Daniel Abraham about a decade of The Expanse, Franck noted that Abraham thought that he'd have a ton of extra time after Syfy canceled their series, so he "just sort of panic wrote a new [book] series."
The result is Age of Ash, the first installment of his Kithamar fantasy trilogy, and it's the book that seems to most consistently be at the top of everyone's list whenever I ask what folks are looking forward to. It follows Alys, a thief who sets off on a mission to find out why her brother was murdered in the independent city of Kithamar. As she delves into her brother's killing, she uncovers that there's more to the killing, and that the repercussions will ripple out throughout the city.
Moon Witch, Spider King by Marlon James (February 15th)
Released a couple of years ago, Marlon James's debut fantasy novel Black Leopard, Red Wolf was a powerhouse epic set in Africa, spurred on by his desire to see a Game of Thrones-style narrative set on the continent. The story follows a man named Tracker who has been tasked with trying to find a boy who went missing, and ends up going on a quest across the fantastic landscape, alongside some equally fantastic companions, like a shape-shifter named Leopard.
In this book, James shifts the attention to Sogolon the Moon Witch and her own relationship with the missing child, as well as her long-running feud with Aesi, the chancellor to the king.
Last Exit by Max Gladstone (February 22nd)
A new book from Max Gladstone is always a welcome thing. His Craft sequence is excellent, and his next book is an intriguing take on multiverses. A decade ago, a woman named Zelda and some companions traveled to various alternate realities to combat an evil rot that destroys every world it enters. Their last mission went sour: Zelda's lover Sal was overtaken and lost. As a result, the group fell apart.
Ten years on, Zelda is continuing her mission without her former companions, and discovers that Sal might still be alive, and works to reunite the group to try and save not only Sal, but the rest of the multiverse.
---
March
The Way Spring Arrives and Other Stories: A Collection of Chinese Science Fiction and Fantasy in Translation by Yu Chen and Regina Kanyu Wang (March 8th)
I've written quite a bit about Chinese science fiction over the years, and I'm always intrigued when I see a new anthology of translations come out of the country. The latest book is The Way the Spring Arrives and Other Stories, which puts a focus on female and non-binary authors, which should help do away with the notion that Cixin Liu is the only big author worth reading.  
Memory's Legion by James S.A. Corey (March 15th)
While James S.A. Corey's The Expanse wrapped up back in November with Leviathan Falls (review to come), there's one more book in the series coming: a collection of the short stories and novellas that the authors have penned over the years.
Those stories include "The Butcher of Anderson Station", "Gods of Risk," "The Churn," "Drive," "The Vital Abyss," "Strange Dogs," "Auberon," and an original novella, "The Sins of Our Fathers," which will take place after the events of the series.
There's one exception here: "The Last Flight of the Cassandra," the short story that popped up in The Expanse RPG, won't be included.
Kundo Wakes Up by Saad Z. Hossain (March 15th)
Saad Z. Hossain's The Gurkha and the Lord of Tuesday was a delightful read when I picked it up a couple of years ago, and I was delighted to see that he'll be returning to the world for another installment: Kundo Wakes Up. In the first book, a long-sleeping Djinn named Melek Ahmar awoke after millennia, only to discover that the world he left behind was vastly different, and that the city of Kathmandu is now ruled by an artificial intelligence.
In this book, the AI known as Karma has gone silent, leaving the city of Chittagong to its own devices, while a once-prominent painter goes on a search for his missing wife, only to discover that there's more to the story.
The Cartographers by Peng Shepherd (March 15th)
I missed the boat on Peng Shepherd's debut novel, The Book of M, a story about a group of people caught up in a phenomenon that sees people lose their memories. It's come highly acclaimed and recommended to me, but I've just never gotten around to picking it up. At some point, I will.
But in the meantime, her next novel looks very intriguing: a woman named Nell Young is obsessed with maps, and for years, she looked up to her father, a legendary cartographer. But their relationship took a turn when he fired and forced her out of the field after an argument over a seemingly innocuous, gas station map. When he turns up dead in his office with that map in his desk, Nell begins to look into the case, discovering that the map wasn't actually worthless, and someone is doing their best to try and destroy it.
The Kaiju Preservation Society by John Scalzi (March 22nd)
A John Scalzi novel is always a welcome addition to a bookshelf, and I've been reading this book off and on for a couple of months. It's a fun read so far, about a gig worker who's recruited to a top-secret project involving alternate realities and Kaiju, and efforts of a shadowy organization to prevent the giant beasts from coming to harm. It's a pithy, hilarious read so far.
Sweep of Stars by Maurice Broaddus (March 29th)
A couple of years ago, I saw a book announcement about Maruice Broaddus's next big book, described as the first installment in an Afrofuturist space opera trilogy. It immediately grabbed my attention: his 2017 novella Buffalo Soldier was an excellent steampunk adventure, and he's got a story in the anthology Jaym Gates and I co-edited, War Stories.
This novel looks like it'll be a fun read: in the future, a society of Pan-African citizens form a breakaway civilization called the Muungano empire in an attempt to get away from the oppressive governments of Earth. The society is made up of a handful of city states that exist on Earth, Mars, Titan, and other locations around the solar system. In 2121, forces are underway to try and undermine the empire, actions that'll challenge the leaders, soldiers, and starship captains who have worked to make a new home for themselves.
---
April
The Memory Librarian: And Other Stories from Dirty Computer by Janelle Monáe (April 19th)
Janelle Monáe editing an anthology of afrofuturist tales based on her album Dirty Computer? Yes please. Contributors include Yohanca Delgado, Eve L. Ewing, Alaya Dawn Johnson, Danny Lore, and Sheree Renée Thomas.
Sea of Tranquility by Emily St. John Mandel (April 5th)
Emily St. John Mandel's novel Station Eleven is having a moment right now: HBO Max is currently airing a miniseries adaptation of the excellent novel. It's a good time to check out her next book, Sea of Tranquility. Like Station Eleven, she splits the story across different times, starting in the year 1912 as Edwin St. Andrew is exiled to America, to an author named Olive Llewellyn who's embarking on a bok tour of Earth from her home on the Moon. Along the way, there are temporal anomalies, pandemics, music, and more that connects both Edwin and Olive across time and space.
Fevered Star by Rebecca Roanhorse (April 19th)
Following the events of Black Sun, Rebecca Roanhorse takes readers back to the city of Tova, which had seen various groups come together as a solar eclipse arrived, portending of a coming unbalancing of the world. The city now lies in ruins, the sun captured by the eclipse and a new age is coming, as well as a battle between the mortal humans and the gods. The sea captain Xiala finds herself in the midst of the changes, and acquires some unexpected allies, while Serapio and Naranpa contend with their status as living avatars, and have to contend with their humanity and destinies.
---
May
The Golden Swift by Lev Grossman (May 3rd)
I don't usually cover Middle Grade or YA books, but last year, I read Lev Grossman's The Silver Arrow to my son, and we were both hooked on it. That book followed a girl who gets a fantastical train for her birthday, and ends up ferrying animals all over the world, learning lessons about responsibility and being brave while she does so.
Grossman has a sequel to that book, which sees Kate and her brother Tom back in action behind the Silver Arrow, and are dealing with some greater problems: her uncle Herbert (a former conductor who gave her the train in the first book) is missing, and there are more animals that need help because of climate change. At the same time, there's another mysterious train out on the rails, and it's all about to turn her life upside down.
---
June
Locklands by Robert Jackson Bennett (June 21st)
I was hooked on Robert Jackson Bennett's fantasy novel Foundryside (review) and its sequel, Shorefall (review) when they came out over the last couple of years: he set up a fascinating magical system, in which magic works akin to computer programming, thanks to some elemental languages that help make up reality. Somewhere in the deep past, humanity was able to fight off some pretty nasty gods, and now, one of them is coming back.
Bennett is finishing out his trilogy as Sancia, Clef, and Bernice are forced to take their fight against an intelligence that's looking to scrive (this world's term for casting magic) human minds with the idea of making a better humanity. To do this, they've been forced to transform themselves in an effort to escape, and are working as hard as they can to reach a doorway that will lead them to the heart of creation itself.
Speaking Bones by Ken Liu (June 21st)
Ken Liu was supposed to finish out his Dandelion Dynasty trilogy with a final installment — last year's The Veiled Throne, but the story grew in the telling, so much so that he ended up splitting that final book into two volumes, the last of which, Speaking Bones, wraps everything up. I'm eager to see how he brings this epic to a close.
Star Wars: Shadow of the Sith by Adam Christopher (June 28th)
Adam Christopher was supposed to write a Mandalorian novel, but that was ultimately scrapped, apparently because of how canon was changing along with production of the series. Disappointing, for sure, but he'll be releasing a Star Wars novel this year anyway: this one's set between Return of the Jedi and The Force Awakens, and it'll be following Luke Skywalker as he gets visions of a dead world called Exegol, all the while Lando Calrissian begins a desperate search for his kidnapped daughter, which brings him into contact with a Sith assassin named Ochi of Bestoon, who's on a mission of his own.
I was a bit let down by Rise of Skywalker, but one of the things that I've told myself is that Star Wars is a franchise that can endlessly support itself by building up the story to support what we saw on screen. From the sounds of things, this'll help plug some very big holes.
Cosplay: A History: The Builders, Fans, and Makers Who Bring Your Favorite Stories to Life by Andrew Liptak (June 28th)
You didn't think that I'd leave my own book off of this list? I'm super excited for it! It's my history of the cosplay movement, stretching from the 1800s all the way to the present day, with tons of interviews, pictures, and thoughts about what cosplay means for our relationship with the stories we love.
(If you preorder this one, send me the receipt, and you'll get a paid membership for this newsletter.)
---
July
The Pallbearers Club by Paul Tremblay (July 5th)
I'm always excited to see a new book from Paul Tremblay: his last couple of novels have been heart-wrenching and terrifying. His next looks very intriguing: a student at a high school sets up a club for volunteers to attend sparsely-attended funerals, and ends up attracting a strange woman who is more than she lets on to be.
I interviewed Tremblay about this back in December, and one of the interesting things that he let slip was that there's some discussion of a local New England thing going on here: a vampire scare in the 1800s.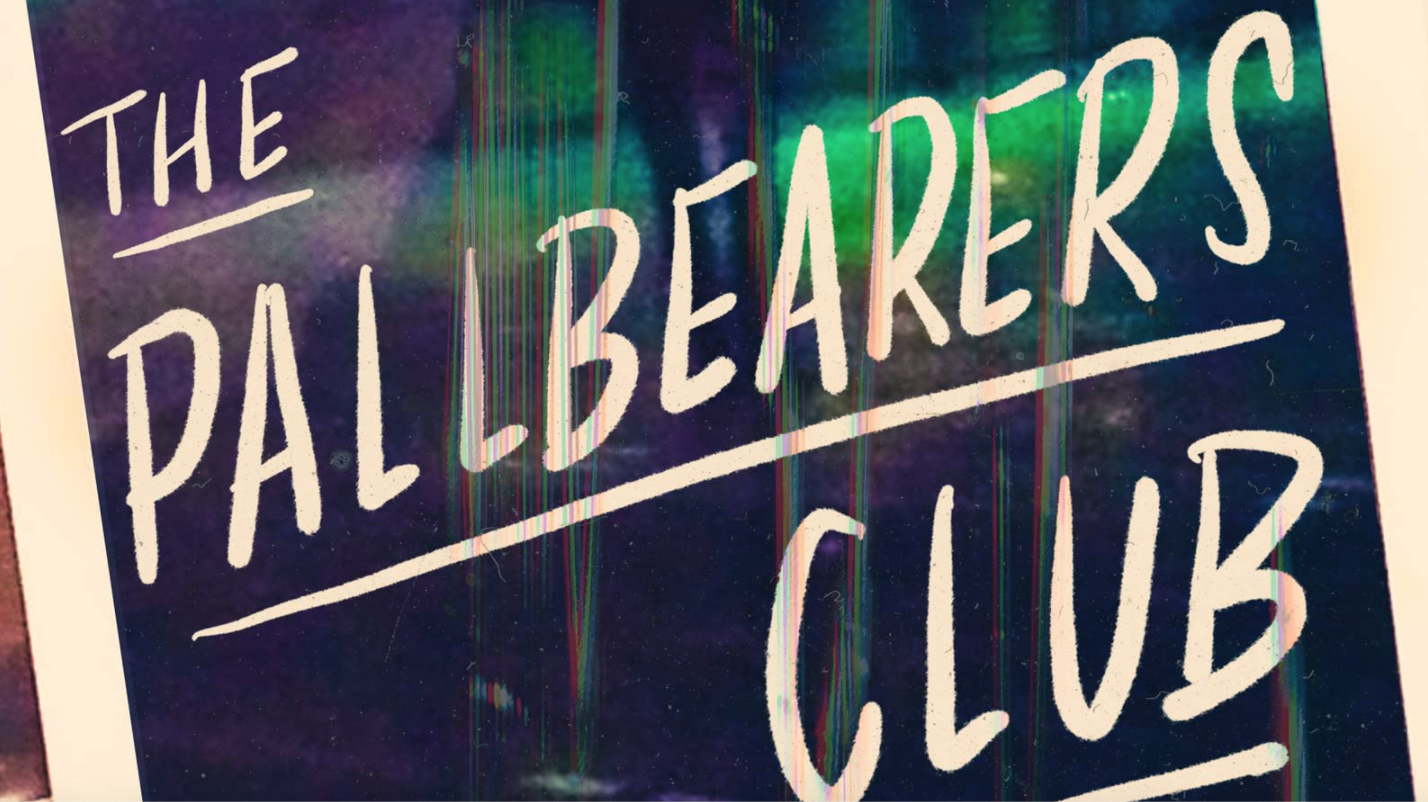 A Prayer for the Crown-Shy by Becky Chambers (July 12th)
A Psalm for the Wild-Built was one of my favorite reads last year, a cozy story about a tea monk trying to make their way in life on a distant planet where robots had vanished years ago. Becky Chambers returns to the world for a followup adventure with A Prayer for the Crown-Shy, following Sibling Dex and Mosscap as they continue their journey to various cities and villages. I expect that it'll be a nice, cozy read this summer.  
The Daughter of Doctor Moreau by Silvia Moreno-Garcia (July 19th)
Silvia Moreno-Garcia's Mexican Gothic put her on the map for me, and while I've yet to read her latest novel, Velvet Was the Night, it's been high on my to-read list ever since it came out.
Her next novel drops this summer, and it looks like an intriguing take on H.G. Wells' classic novel The Island of Doctor Moreau. In it, Moreno follows a young woman named Carlota Moreau, who grows up on a distant and isolated estate on Mexico's Yucatán peninsula. Her father is Doctor Moreau, and he's assisted by Montgomery Laughton, a fellow outcast with something of a tragic past. Their experiments are a group of animal-human hybrids who're trained to follow the doctor's whims, and everything is thrown out of balance with the arrival of Eduardo Lizalde, the son of Moreau's patrons.  
August and beyond
Blood in the Machine: The Origins of the Rebellion Against Big Tech by Brian Merchant (August 9th)
I don't have a ton of nonfiction on this list, but one book that I'm looking forward to the most is Brian Merchant's next nonfiction book: Blood in the Machine, in which he looks into the history of the Luddites.
Previously, he wrote The One Device, an essential book about the iPhone, and one that's been personally influential on my thinking about tech and history — Cosplay: A History owes a small debt to the approach that he took to looking at the complicated story of Apple and the device that it's become known for.
Babel, or The Necessity of Violence: An Arcane History of the Oxford Translators' Revolution by R.F. Kuang (August 23rd)
In 1828, a Cantonese orphan named Robin Swift arrives in London, where he begins to study under a mysterious professor, learning a number of languages in preparation to his enrollment at Oxford's Royal Institute of Translation. The school, known as Babel, is the world's most prestigious center for translation and magic, and it's behind the British Empire's expansion throughout the world.
While at the school, Robin realizes that he's torn between two destinies: serving his adopted England, or betraying his homeland, a conflict that grows wider as England launches a war against China.
---
This list is but a small sliver of what will hit bookstores in the coming year: what are you most looking forward to (on or off of this list?)
Andrew