The best SF/F books of 2021
Essential reads from a bleak year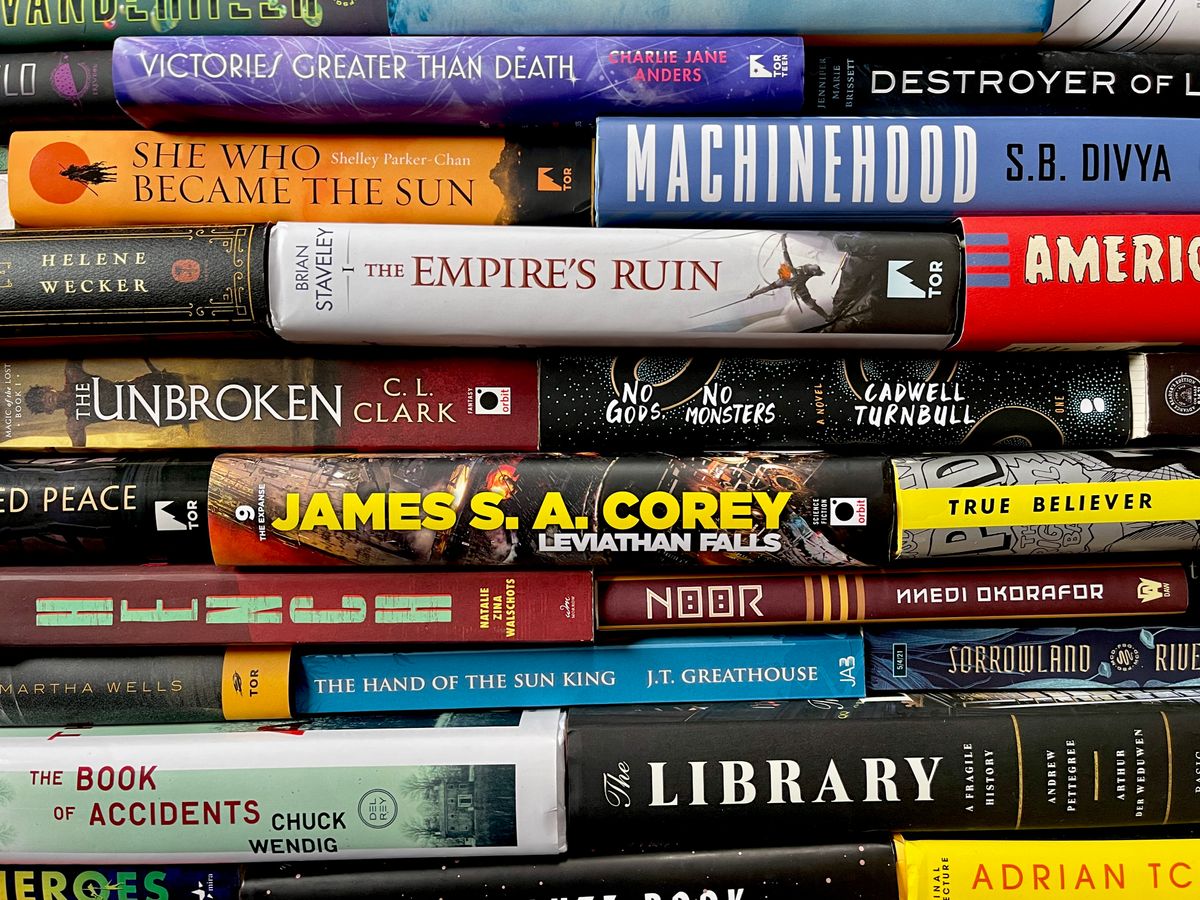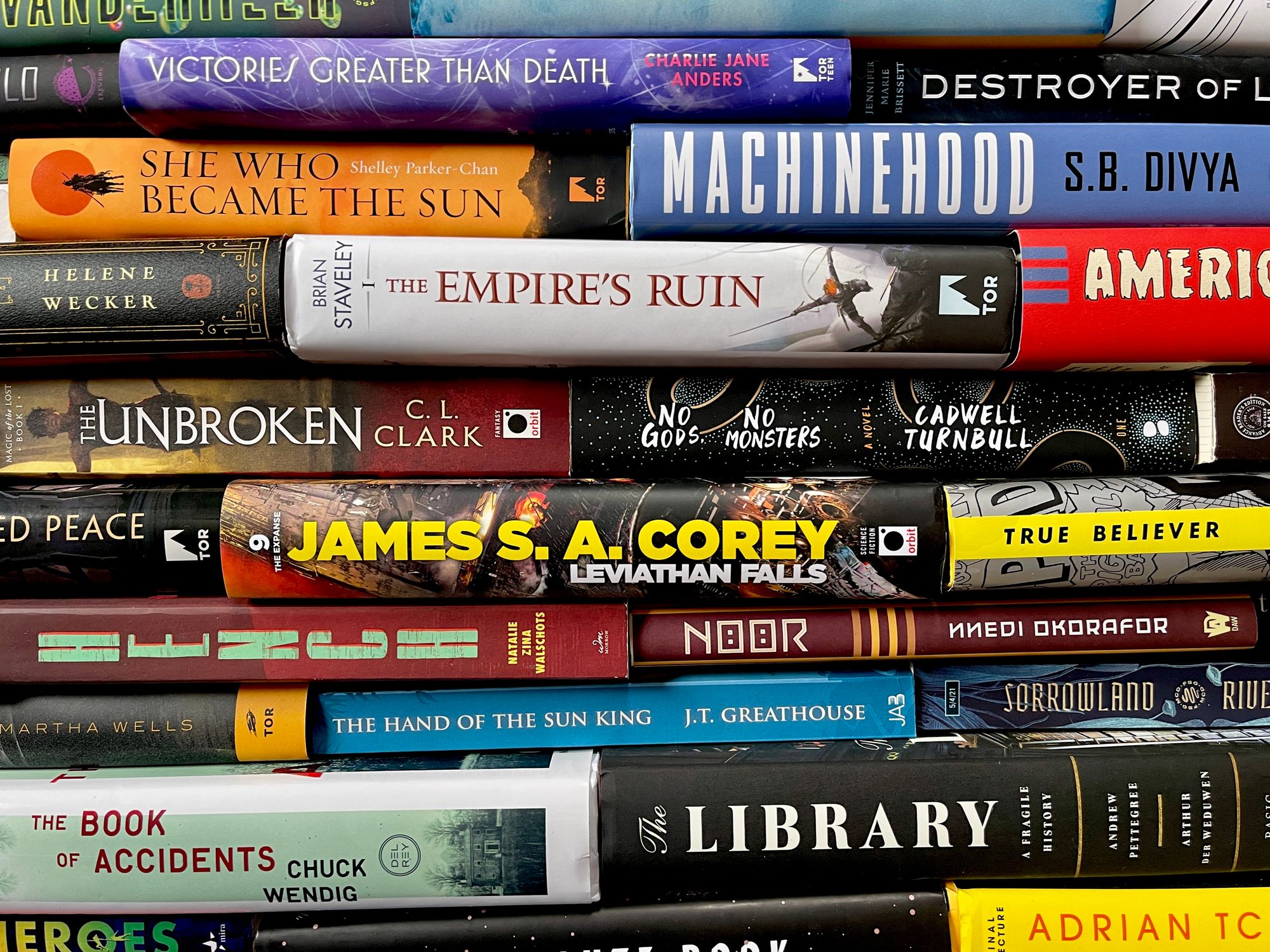 Enduring a global pandemic for the last couple of years has reinforced a long-held belief of mine: books and stories are more important than ever. They're equal parts refuge from the storm of current events and a conduit for better understanding the complexities that surround our lives, from climate change to politics to identity to a rapidly-changing world.
Readers of this newsletter won't find this surprising; we've always known about the power of escapism and the ability to vanish into a book to pass the time. But what COVID-19 has helped demonstrate to me is not only the power that fiction holds to help us envision better futures ahead of us, reinforcing lessons of collective and societal good, but also those stories that help to show characters learning, failing, and growing, helping to show that we don't always have to take refuge in vast galactic empires or distant spaceports and fantastical taverns.
Over the course of this year, I found myself drawn to books that help to explain the state of the world in some form: our possible ecological futures, the sorry state of our healthcare system, the stories and histories that inform our lives, the events that shaped the entertainment industry, and those that feature characters just trying to make their way in the world by doing a little better for those around them. It was a good year for reading, and I feel evermore enriched by the experience.
This year, I'm doing something a little different: I'm breaking out the bigger genres (sci-fi, fantasy, horror, and nonfiction), and picking my top four or five reads in each section. And because there are always more good books that I've never been able to get to, I've included a long list of books that I've had recommended to me, seen on other best of the year lists, or which I've otherwise heard good things about. No list is exhaustive, but I hope that you'll enjoy these books as much as I did.
Some housekeeping: as always, links that go to Bookshop.org, might yield a small commission if you make a purchase. And if you found this list useful, please consider signing up as a paid subscriber. I've got a lot planned this year, including more book lists, reviews, interviews, and features, and your support helps make that happen.
---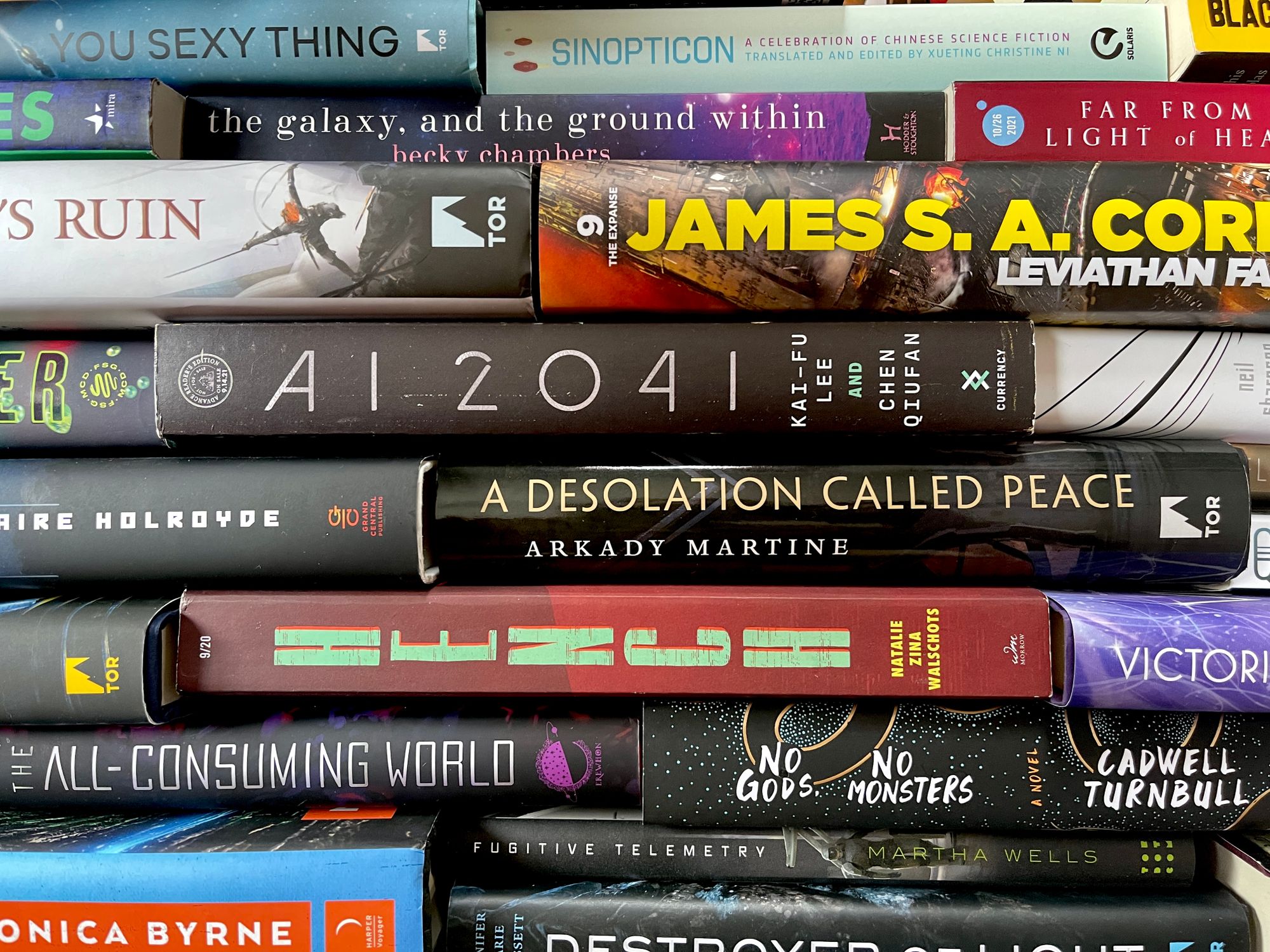 Science Fiction
Arkady Martine's 2019 novel A Memory Called Empire (my original review) was a powerhouse of a debut novel. Set in a distant future in which humanity had spread out amidst the stars, it followed an emissary from an independent station to the galactic capital after her predecessor mysteriously dies. Her task is to try and ensure that her home remains independent, and ends up getting tangled up in a deeper conspiracy concerning the future of the galaxy and imperial succession.
Following up that story would be difficult, but Martine manages to pull out a phenomenal sequel, one that carries forward some of the lingering threads, but explores wholly new territory. At the end of Memory, Martine leaves us with the possibility of first contact, and that's the central focus in this novel. The Teixcalaanli Empire has encountered the edges of an alien civilization, and it's up to her characters to make contact and try and understand their potential foe, one that's been taking over border worlds.
At the center of this book is a story about colonization and assimilation, neatly demonstrated by the expansion of an empire and an alien species that at its core is a bit of a hive-mind. Martine perfectly balances this big, epic story against the journeys of her various characters, which drives home all of her points nicely.
Full review: Can you hear me now?
After a decade, James S.A. Corey has brought their epic space opera series The Expanse to a close with Leviathan Falls. The pair (Ty Franck and Daniel Abraham) had modest ambitions with their throwback space adventure / noir detective novel, Leviathan Wakes, and with each subsequent volume, have built upon and expanded not only the story and world, but their ambitions. The Expanse has played out a massive story about inequality, colonialism, fascism, power, and more over the course of its nine installments (and handful of shorter works), and ending a series like that has always seemed like a daunting proposition.
But Leviathan Wakes not only manages to pull the series to a close, it does so in an excellent fashion. The last third of the series (Persepolis Rising, Tiamat's Wrath, and Leviathan Falls) jumped forward in the series timeline, and has followed the emergence of two threats: a breakaway faction of humanity bent on building a galactic empire, with one, immortal man at its center, and the threat of the aliens that destroyed the original gatebuilders. Corey approaches those threads nicely, but spends plenty of time bringing each of the central characters' stories to their natural endings. It's a world that I'll miss seeing more of (although we're getting a new game and if I had to guess, the TV / film side of things isn't quite done with the world just yet), but it's a journey that I'm happy to have taken.
Interview: A decade of The Expanse
(Full review coming)
Feature: Waking the Leviathan
This was a good year for Becky Chambers: we got two books from her this year, and it was a tossup as to whether or not The Galaxy and the Ground Within or A Psalm for the Wild-Built would come out over the other. In the end, I settled on Galaxy.
The book is part of her longer Wayfarers series, and like the rest, it's a standalone entry in this larger world. On a distant spaceport, a crisis rapidly unfolds that traps a bunch of travelers in place, and as they contend with arriving at their destinations late, they all come together through a series of encounters. This is a wonderful, character-driven story that resonates a two years into the pandemic. It's a book about friendship, connections, understanding-despite-differences, and empathy, all traits and lessons that I feel are more valuable than ever.
Interview: Space belongs to you
How will artificial intelligence change the world around us? That's the story at the center of Kai-Fu Lee and Chen Qiufan's intriguing collaboration. Lee is a leading computer scientist and expert in artificial intelligence, while Qiufan is one of the leading authors of science fiction in China (his novel Waste Tide is an excellent look at a near-future China), and together, they've worked to try and extrapolate what our future might look like, with a strong basis in the latest scientific and technological trends.  
I'm a big fan of the types of stories that are written hand-in-hand with subject matter experts (there's a growing trend of this in military circles), because I feel like this is where science fiction's potential as a genre can be most useful — not just as entertainment, but as a way to help us envision the future and a complicated topic.
The ten stories here go far beyond the typical depictions of murderous robots and malevolent artificial intelligences, and explore how the technology might be implemented and affect our lives day to day. This includes everything from employment to the entertainment industry, dating, and quite a bit more. The result are stories that may or may not actually come to life, but they're told in a way that comes from a more informed place, and thus, this feels a little like a window into what the coming decades might look like.
Hench by Natalie Zina Walschotts
I realized belatedly that this book came out in 2020, not 2021 (I read it in the spring of 2021). Still good!
One of my markers for these sorts of end of the year lists is how much a book has stuck with me, and of all the books on this list, one that's stuck with me the most is possibly Natalie Zina Walschott's Hench. In a world where superhero adaptations dominate the box office and cultural discourse, Hench is an intriguing novel that goes beyond the action and adventure that's framed on the big screen in a story that interrogates the idea of superheroes and their impact on society.
With this book, Walschotts joins a small but durable subgenre of stories like Austin Grossman's Soon I Will Be Invincible and Lavie Tidhar's The Violent Century, which bring into prose a sort of deconstructionist approach to superheroes. We meet Anna Tromedlov, a low-level "hench" who's essentially a gig worker for supervillains. She doesn't bring the brawn or skillset needed for something like a heist, but she helps provide all the logistical support needed for a supervillain to keep their nefarious operations up and running. It's just another day job. When she's horrifically injured by a superhero, she's desperate to try and expose the problems with superheroes and is eventually picked up by a major villain named Leviathan, who is eager to take down those who've been held up as heroes.
It's an interesting take on the world, and Walschotts brings depth and nuance to the idea of heroics, painting the world in a very different light, all along with a gripping story that touches on big data, disability, and what really makes a hero.
Review: The cost of superheroics
Other good reads: Victories Greater Than Death by Charlie Jane Anders, Destroyer of Light by Jennifer Marie Brissett, The Actual Star by Monica Byrne, A Psalm for the Wild-Built by Becky Chambers, We Could Be Heroes by Mike Chen, Cyber Mage by Saad Z. Hossain, The All-Consuming World by Cassandra Khaw, The Annual Migration of Clouds by Premee Mohamad, Sinopticon 2021: A Celebration of Chinese Science Fiction edited by Xueting Christine Ni, Noor by Nnedi Okorafor, You Sexy Thing by Cat Rambo, When the Sparrow Falls by Neil Sharpson, Far from the Light of Heaven by Tade Thompson, Hummingbird Salamander by Jeff VanderMeer, Questland by Carrie Vaughn, and Fugitive Telemetry by Martha Wells.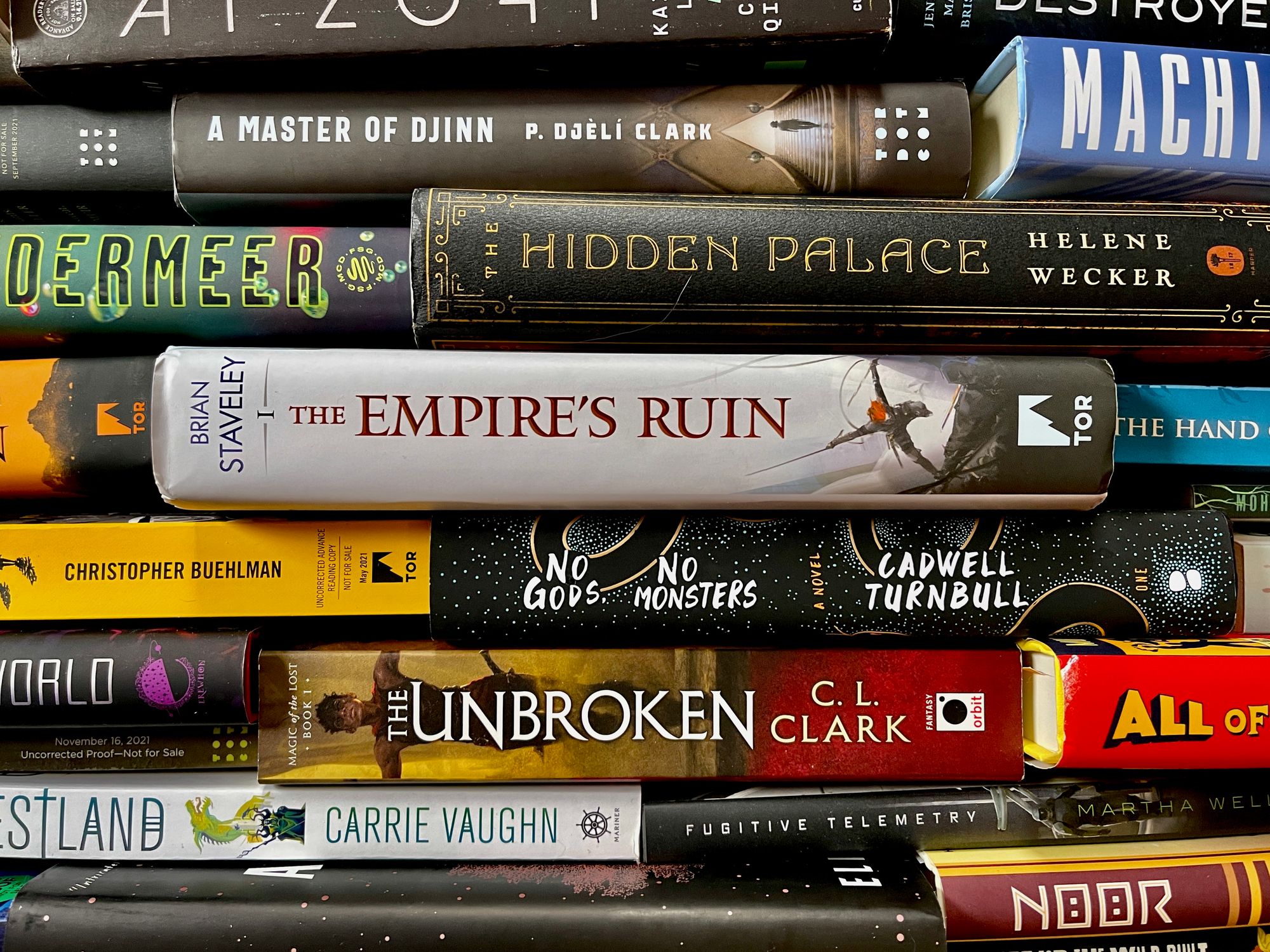 Fantasy
A young woman named Touraine is stolen as a child from her home and conscripted into the army of the Ballad­aire Empire, tasked with enforcing its will abroad. Along the way, she meets a royal, Luca, a disabled heir to the throne, who wants to undertake some reform of how her nation has interacted with its subjects, and finds that Touraine might be the perfect conduit through which she can bring those intentions to life.
Clark weaves together a complicated tale of revolution, loyalty, romance, as Touraine is swept up in the revolutionary fervor after her dedication to the Empire is undermined and questioned. Works depicting anti-imperial or anti-colonialist narratives have popped up frequently on my to-read / to-watch lists this year, and The Unbroken is a stellar entry in that theme.
What impressed me most with The Unbroken is how deliberate Clark is with her characters, slowly building them up before throwing them into an emotional grinder that has them each questioning their loyalties, beliefs, and actions.
P. Djèlí Clark popped up on my radar last year with his excellent novella Ring Shout (review), and after reading his novella The Haunting of Tram Car 015, I was totally and utterly sucked into this alternate history steampunk world where djinn and mythical creatures walk amongst us.
On one level, Clark's worls serves as a sort of steampunk X-Files, following Fatma el-Sha'arawi, an agent with Egypt's Ministry of Alchemy, Enchantments and Supernatural Entities as she works to figure out what's behind the apparent reappearance of al-Jahiz, the man responsible for ripping open the veil between our world and the next. It's a fast-paced fantasy thriller with lots of action and magical excitement, wrapped up in a neat plot.
But under the hood, Clark is examining the role of European colonization, and presents a world where that traditional power structure has been upended: magic has leveled the playing ground, and he's created a world in which the colonized now grip incredible power and use it to forge their own path forward.
Interview: Imagining different histories
With The Emperor's Blades, Brian Staveley set up a wonderful, engrossing, and grim second-world fantasy that continued with The Providence of Fire, The Last Mortal Bond, and Skullsworn, following the efforts of a trio of Imperial heirs to try and hold their birthright together.
In The Empire's Ruin, Staveley leveled up his storytelling significantly: by turning the question of preserving an empire up on its head, he takes a new handful of characters through the aftermath of that trilogy. The walls are closing in on the Annurian Empire. It's military strength is diminished, and a new threat looms on the horizon. The empire dispatches a disgraced soldier to unknown and dangerous parts of the world, where she is confronted with her past and her upbringing, leading her to question everything that she's gone through. Staveley puts his characters through the wringer with this one, and it's a masterclass in character development and worldbuilding.
Interview: Destroying empires
A couple of years ago, Cadwell Turnbull released his debut novel, The Lesson, a fascinating first contact novel that wove together race, violence, and memory in the Caribbean. With his second novel, Turnbull has produced an ambitious story about the people — in this case mythical creatures — who hide in the margins of society and who begin to emerge after an event known as "The Fracture."
The result is a multifaceted, engrossing read that kicks off when a Black man named Lincoln in Boston is killed by police officers. The killing is horrible, and it isn't quite what it seems: when his estranged sister gets a copy of the video of the killing, she learns that he was a werewolf, and that someone is hiding the truth about the nature of the supernatural in the real world. Turnbull follows a handful of characters in the aftermath of the event, diving into secret societies, internet forums, remote parts of the world, and more to build up a set of complicated characters trying to make sense of the world and one another.
Other good reads: The Blacktongue Thief by Christopher Buehlman, She Who Became the Sun by Shelley Parker-Chan, The Hand of the Sun King by J.T. Greathouse, A Spindle Splintered by Alix E. Harrow, The Once and Future Witches by Alix E. Harrow, The Absolute Book by Elizabeth Knox, The Veiled Throne by Ken Liu, and The Hidden Palace by Helene Wecker
---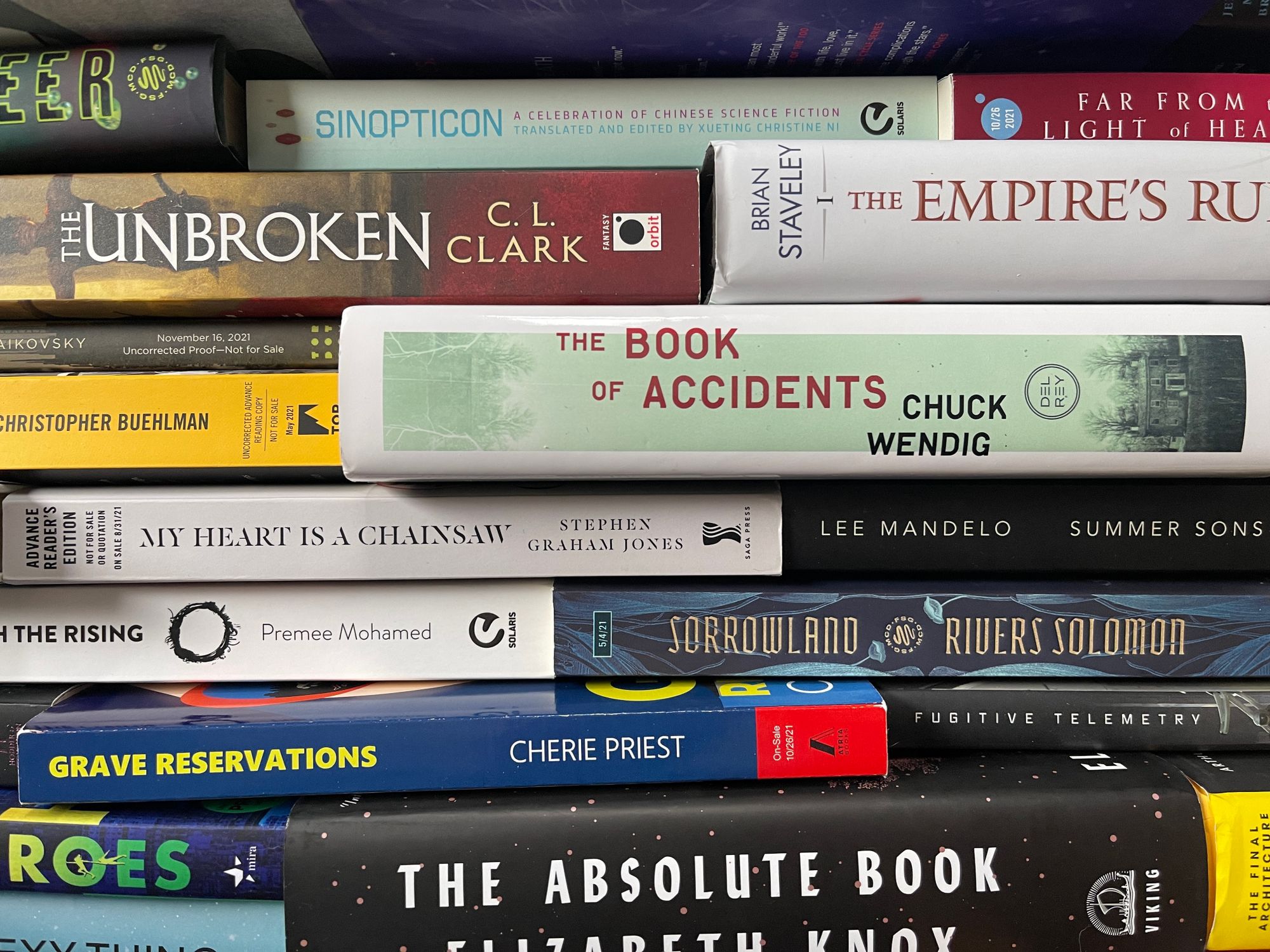 Horror
Stepehn Graham Jones is quickly becoming one of the best names in horror. His book The Only Good Indians was a fantastic parable of horror and the Indigenous American experience, and his latest is a great primer and appreciation of the slasher horror genre. It follows a woman named Jade Daniels, an angry young woman who's subsisted on a diet of every slasher film under the sun, and when bodies start turning up in her town of Proofrock, it's her time to put that knowledge to use.
I'm admittedly not much of a horror film fan, but this book doubles as not only an appreciation of the genre's strengths, but as one itself. It's a gripping read, one that touches on wealth inequality, racism, and the desire to escape from one's small town before it's too late.
Lee Mandelo's debut novel is a haunting story: a queer, supernatural romance set in the heart of the Appalachians, and which follows a kid named Andrew who's trying to figure out the story behind the abrupt suicide of his best friend, Eddie. He was to join him at Vanderbilt's graduate school, and suddenly finds himself thrust into a world without Eddie in it: roommates, classes, and as he digs deeper, he's forced to reexamine his relationship with his friend, and the ghosts of their past.  
Lee (who's written for Transfer Orbit) takes a slow burn approach to this book: it's a deliberate read, one that allows you to soak into the environment. As he does so, he takes a look not only at topics of masculinity and privilege, grief and trauma, and recovery and moving on.
This is a thick book, but Wendig's writing and short chapters make this an incredibly zippy book to dig into: I had a very difficult time putting it down. The novel follows Nathan Graves, a Philadelphia cop who moves to his family's ancestral home in more rural parts of the state after his abusive father leaves it to him.
Along the way, there's plenty of creepiness: a serial killer put to death in the 1990s who mysteriously vanished, local legends of ghosts, and Nathan's son Oliver who has a particular empathetic gift who's getting bullied at school. Wendig pulls these various threads together into a compelling story about trauma, abuse, and memory, and how they're all interconnected to bring out some real modern horrors.
Other good reads: Among the Lilies by Daniel Mills, A Broken Darkness by Premee Mohamed, Grave Reservations by Cherie Priest, and Sorrowland by Rivers Solomon.
---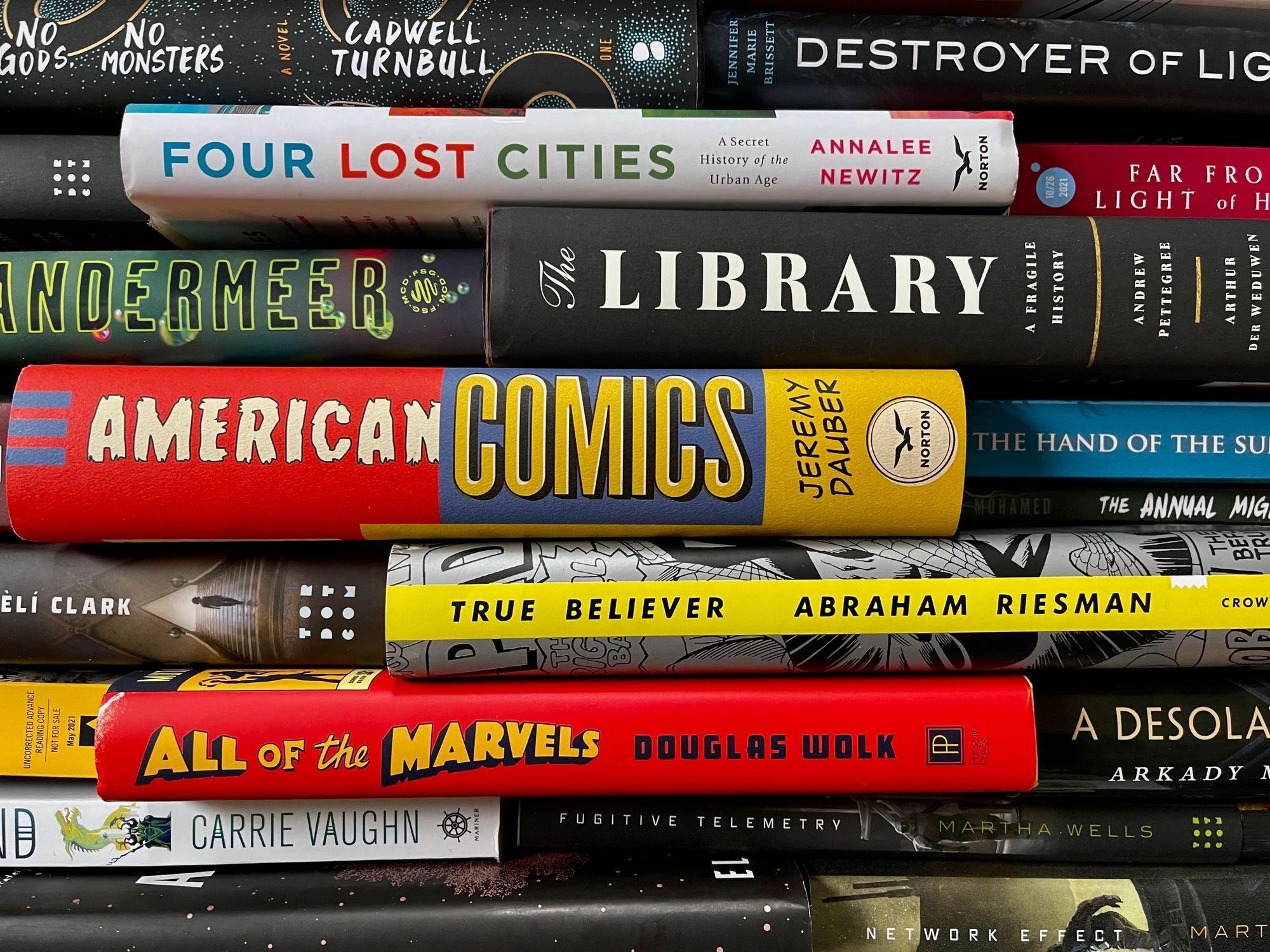 Nonfiction
I have to put a bit of a disclaimer at the front of this one: F. Brett Cox was a teacher of mine at Norwich University, and he's been a friend and mentor throughout my career as a writer.
That said, his latest book is an entry in the University of Illinois Press's Modern Masters of Science Fiction series, covering the the story of Roger Zelazny, one of the genre's most celebrated writers. Zelazny was an author I knew little about, other than a handful of short stories that I've read from him. Cox deftly examines his career as an author, looking over his best-known stories and novels, and charting the course that he created for himself with his Amber novels and other, later works. It's a detailed, engrossing text, and one well worth picking up.
A number of years ago, I came across an engrossing history of comics. The book was a powerful motivator: it helped get me interested in writing about cultural history, and I was devastated when its author was jailed for possession of child pornography. The book isn't one that I can recommend to anyone, influential as it was.
Fortunately, I think I have a new favorite: Jeremy Dauber's American Comics: A History, a sweeping epic of the story of comics in the United States. Dauber takes a multi-pronged approach here, looking at the deeper history of how we began to tell stories in comic form, and slowly weaves his way up through the history of editorial cartooning, to the rise of superhero comic books and the entertainment empires that they now sustain.
He covers a lot of ground here, looking not only at how the format changed entertainment and helped inform readers, but also how it changed the relationship of creators and artists with their readers, how their work has been exploited by larger companies, and how they've told these impressive, major stories that enrapture us today.
Libraries have been in the news in the last couple of weeks as various states enact laws targeting their collections in schools in an attempt to purge undesirable content from their shelves. In their sweeping history, Andrew Pettegree and Arthur Der Weduwen look at how the library came to be in the first place, and examines their contentious existences as content repositories that have frequently been subjected to bans, purges, and outright destructions over the centuries.
But the overarching story that the pair present is a larger one: our long relationship with books and reading. Libraries were imagined as places to store and study texts, as tools to improve society, as something for rich book owners to show off to their wealthy friends. This book is a fantastic examination of all of that, and how we got up to the modern day, where all of those arguments return time and time again.
In the world of the modern comics world, one name stands above all the rest: Stan Lee. For better or worse, Lee is a towering figure, thanks to his hand in the creation of comic characters like Spider-man, The Fantastic Four, X-Men, and his numerous cameo appearances in just about every Marvel film out there.
But Lee's story is far more complicated than the narrative that's grown up around him would suggest, and Abraham Reisman's recent biography helps to provide some context for those complications. The comics industry enjoys a contentious relationship with its creators, and Reisman paints a picture of a manager and creator who was less interested in the worlds and characters that he was creating than he was trying to establish himself as someone seeking fame and wealth. Along the way, he created fantastical stories that inspired millions, but alienated some of his closest collaborators as he did so. And, it seems as though he was never happy or comfortable with the life that he built for himself, turning Reisman's biography into something of a tragic story for the comics icon.
This was the year for reading comic-related histories. Another favorite of mine was Douglas Wolk's All of the Marvels: A Journey to the Ends of the Biggest Story Ever Told, in which he undertook an overwhelming project: read all of Marvel's stories, from beginning to end. In doing so, he covers the ups and downs of the world of comics and how Marvel's massive story has played out over the decades.
And a fascinating, massive story it is. He breaks it up into notable issues and arcs, seeking to understand the characters and their creators as the machine transforms over the years into the cultural juggernaut that it is today. I've long been a casual comics reader, and this book has single-handedly gotten me more interested in going back to read them again.  
Other good reads: Never Say You Can't Survive: How to Get Through Hard Times by Making Up Stories by Charlie Jane Anders, The Bronze Lie: Shattering the Myth of Spartan Warrior Supremacy, Myke Cole, Secrets of the Force: The Complete, Uncensored, Unauthorized Oral History of Star Wars by Mark A. Altman and Edward Gross, Pulp Empire: The Secret History of Comic Book Imperialism by Paul S. Hirsch, Chinese Science Fiction During the Post-Mao Cultural Thaw by Hua Li, Everything and Less: The Novel in the Age of Amazon by Mark McGurl, Americanon: An Unexpected U.S. History in Thirteen Bestselling Books by Jess McHugh, Beloved Beasts: Fighting for Life in an Age of Extinction by Michelle Nijhuis, Four Lost Cities: A Secret History of the Urban Age by Annalee Newitz, Game Wizards: The Epic Battle for Dungeons & Dragons by Jon Peterson, and The Reason for the Darkness of the Night: Edgar Allan Poe and the Forging of American Science by John Tresch.
---