4 books to get you through the pandemic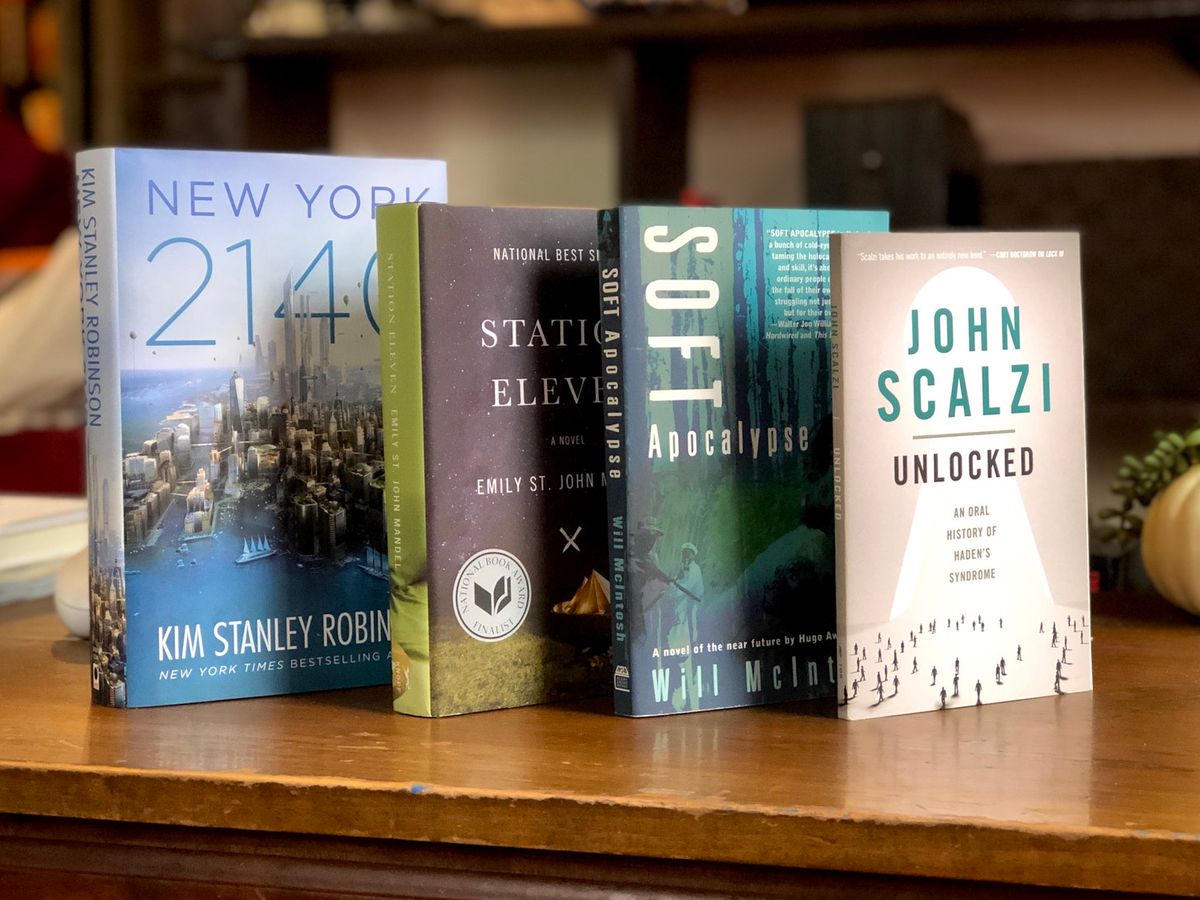 I hope that you're doing okay — it feels like the last two weeks have been an eternity. The last couple of days have been rough, watching things like the unemployment numbers skyrocket, and seeing headlines that trumpet that we're certainly headed for a recession, if not a depression.
It's a scary thing to think about. I keep wondering what type of future my two children will have in the years ahead, and how we've experienced this one-in-a-generation-type-of-setback. I wonder about my future, as someone who's pretty much only qualified to write about Star Wars and things like that.
It's also infuriating, because this entire situation should have been preventable: we saw the warning signs and downplayed and ignored them. We're making terrible decisions on every level, from hospitals that are firing doctors for airing their concerns about protective equipment, to going out to parties, and so forth.
I'm trying not to let that fear paralyze myself. My daughter started saying her first words yesterday: "dada" and at one point "hi kitty". Having the two kids home is a challenge, but it's getting to be rewarding to watch him learn first-hand. I'm catching up on television and books that I've been meaning to read for ages.
I have a couple of things for today: a handful of books that look at an apocalypse through an optimistic lens, as well as a look at The Folio Society's latest release: Planet of the Apes.
---
Four books to get you through an apocalypse
Apocalyptic events are good fodder for science fiction authors, as I've mentioned before. But while these types of books can run to disaster porn or nihilism (The Road, I'm looking at you), not all post-apocalyptic works need to be cynical takes on the nature of humanity. In some cases, it's a good framework for highlighting the best of humanity.
As I noted in a couple of editions ago, pandemics are particularly good fodder for science fiction writers, and that they often serve as a sort of rejection of authoritarianism and focus on the necessity of a healthy community to get through the crisis. But more broadly, there's a sense that crises are thing that can be overcome and endured, provided that people come together to build the systems needed for a better world and future.
As I've been thinking about this and watching our own journey through this period, there are four books that come to mind that could serve as good inspiration for us.
The first is Will McIntosh's Soft Apocalypse, a 2011 book that slipped under the radar, when it was released, but which really should have gotten more attention. The book is a short one, but covers a long period of time, jumping months and years at a time. It follows a recent college graduate named Jasper in 2023 (gosh, that doesn't seem too far off now, does it?) as the US experiences a massive economic decline. Jasper and his friends are working on making their way through life while society continues to collapse and transform around them.
Next up is Station Eleven by Emily St. John Mandel. This one's been talked about quite a bit in recent weeks: it starts off with a super flu that kills off a ton of people over a couple of months. It's split between two time periods: during the flu, and years afterwards, a young woman named Kirsten travels with a band of actors, bringing the works of Shakespeare to remote communities, recognizing that it's not enough to just survive day to day: people need to be inspired and have a reason to keep going.
Kim Stanley Robinson's New York 2140 mentions outbreaks and pandemics in passing, but it's largely a climate change novel, one that's all about how people survive amidst a slow moving, ongoing crisis like traumatic sea level rise in New York City.
Finally, there's Unlocked by John Scalzi, an oral history of a super flu that sweeps the world, with an unfortunate side effect: a subset of the people that it doesn't kill are "locked in" to their bodies. The book serves as background for Scalzi's novel Lock In and Head On, but walks through how the outbreak spread around the world, and what people did to work around it.
All of these books have something in common: there's a massive shift and change in the world: economic meltdown, pandemic, or climate change, each of which utterly changes the world in horrible ways. People are displaced or die, and their next days are uncertain. But in each, people come together to adapt to the change.
Station Eleven incorporates a lot of those same ideas: people simply move on from the crisis, forming their own isolated communities of neighbors and friends. Soft Apocalypse sees this adaption happen as people find mundane ways to keep going, from getting jobs, dating, and figuring out where their next meals are coming from, but also in working to force some massive changes — in this instance, introducing fast-growing bamboo to disrupt roads and cities, and releasing a genetically-modified pandemic that alters how people relate to one another: it forces cooperation and community between groups of people. New York 2140 follows a similar tangent: New York City is consumed by rising sea levels, but people still persist: some turn to high-stakes trading to profit off of the disaster, while smaller communities of buildings work together to form stable homes for themselves, and work to force institutional changes within the city to allow them to survive in the face of danger.
Scalzi's Unlocked looks at this from a technical standpoint. There's straight-up numbers to contend with: x number of people will die, y number will survive, and subset z will be afflicted with "Lock In" syndrome. From there, people figure out what to do: they build virtual communities and robotic bodies for the afflicted, who are then able to regain some part of their lives back — and form entirely new lives and communities that wouldn't have existed prior to that.
We're seeing elements of this now: look at all of the people who are working to sew masks or 3D print respirators. There are people who are volunteering to help their neighbors by delivering food and supplies to those who can't get out. And moving forward, this pandemic that we're enduring will have its own impact: the financial effects will be felt for years, if not decades, while the necessary social distancing will likely have its own peculiar impact in the years to come. What will the long-term effects be on the people who get the virus and survive?
Moreover, these books all point to these crises having a massive effect on the systems that led to said crises in the first place. People recognize the failures of capitalism in New York 2140, of how society is structured in Soft Apocalypse, and the need for massive governmental intervention in Unlocked. We're in the midst of a political race right now, where one opponent is going into it with the very real burden of having allowed our crisis to occur: what blowback will we see from the public in the years to come because of this? I'm honestly not sure, but it will certainly make for many, many pages of history in the decades to come, when we can look back and see this with more context and understanding.
In the meantime, we have to survive, and these four stories provide some worthwhile things lessons to take to heart.
---
Folio Society's Planet of the Apes
I've written about The Folio Society quite a bit over the years: they're a specialty publisher that puts out high-end editions of classic books. In the last half-decade or so, they've really dipped their toes into science fiction and fantasy canon, putting together beautiful editions of books like 2001: A Space Odyssey by Arthur C. Clarke, A Scanner Darkly / Do Androids Dream of Electric Sheep by Philip K. Dick, American Gods and Anasasi Boys by Neil Gaiman, Ursula K. Le Guin's The Dispossessed, The Left Hand of Darkness, and A Wizard of Earthsea, George R.R. Martin's A Game of Thrones, and more. Now, they've released a new edition of Pierre Boulle's Planet of the Apes.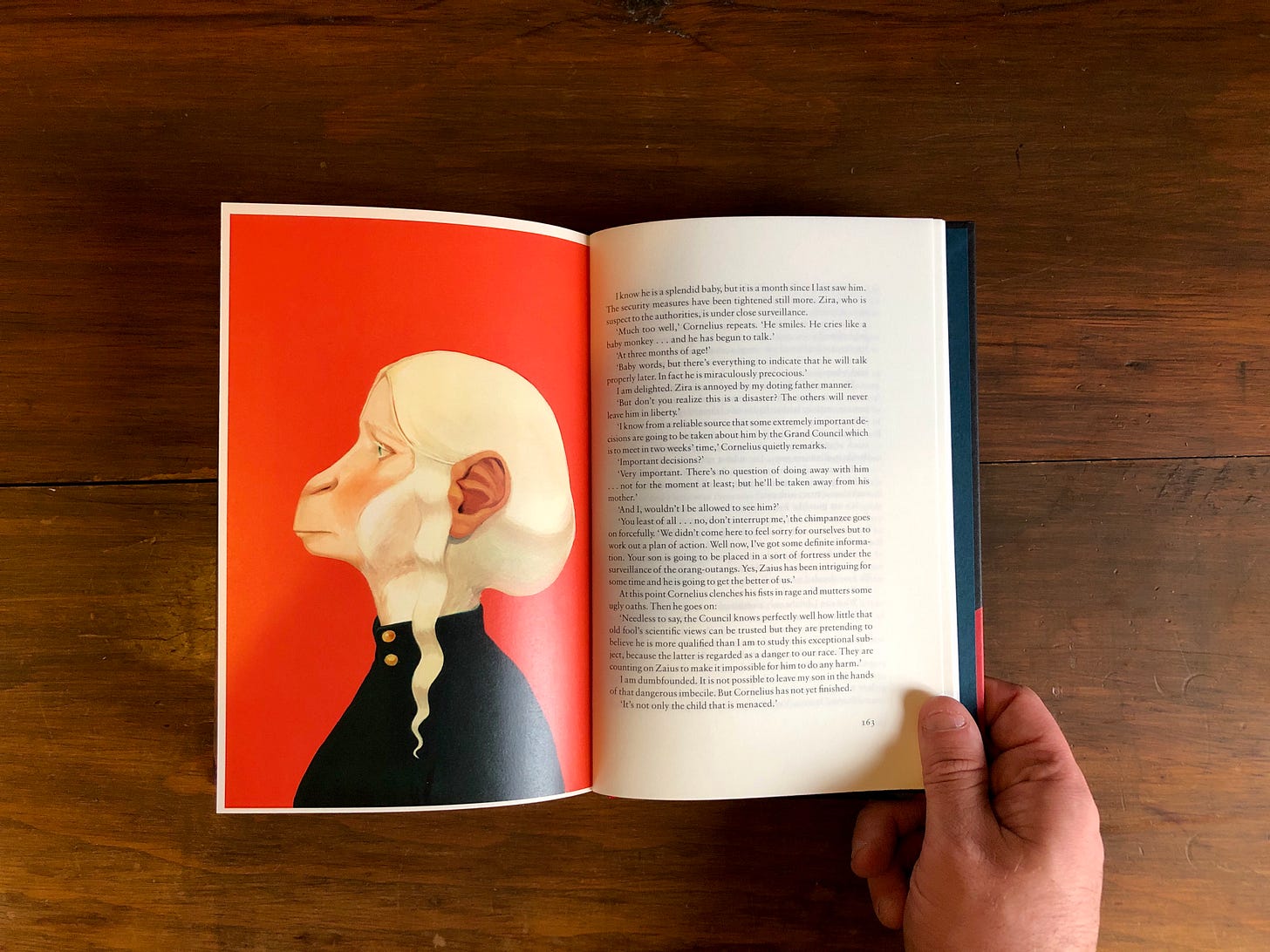 I read this novel years and years ago, and profiled Boulle back in 2015 for Kirkus Reviews. He's an interesting author and Planet of the Apes is an interesting book, given how closely intertwined the public's awareness of it is wrapped up in the movie. It's a thoughtful, satirical book, and I wasn't quite sure what to expect when I received a copy of The Folio Society's new edition.
Folio's books are gorgeous — and Planet of the Apes is a good example of where they can break some of the expectations for what one might get with one of these volumes. I've interviewed a number of their artists over the years, and typically, once selected, the artists have a considerable amount of free reign to interpret the text.
Planet of the Apes is no exception there — the artwork here depicts the apes in a modern world, rejecting the quasi-feudal elements that have come with the movies. In many ways, this feels like a real rejection of a sort of baked-in racism that's accompanied the books, and something that harkens back to the original purpose of Boulle's story: the apes are advanced, while humanity isn't. Dressing them up in modern (or in this case, 1800s/early 1900s uniforms and dress) removes the iconography of a bunch of apes looking as though the pinnacle of their civilization really something that's the equivalent of ancient times.
This is something that's at the heart of the argument between cover art and the actual content of the book, and I think it's a roundabout way for why I really like the Folio Society's books. Cover art is really just a billboard, and it's fascinating to see how cover design has changed over the years as bookselling has changed. The pulpy, psychedelic, and abstract paperback covers gave way to more serious, literal-ish art with the onset of chain bookstores, which has somewhat given way to titles with lots of text with the advent of online bookselling.
Folio doesn't really have to do that, though: they're aimed at a collector / enthusiast marketplace, selling books that you don't necessarily need to sell the concept on for said readers. That gives their artists an extraordinary amount of freedom — the freedom from established marketing and economic norms that drives what you typically see on the cover of a book. The result? Books with some fantastic artwork within their two covers.
---
Further Reading
April Reads. Over on Polygon, I've rounded up 17 new SF/F books to check out that hit stores this month. The ones I'm looking forward to the most? Vagabonds by Hao Jingfang, The Last Emperox by John Scalzi, and Shorefall by Robert Jackson Bennett.
R.F. Kuang on The Burning God. I was a big fan of R.F. Kuang's debut novel The Poppy War, and the finale for her trilogy is coming out later this year. I spoke with her over on Tor.com about it.
Star Wars & Canon. James Whitbrook has an interesting piece up on io9 about canon and how it can be an oppressive thing for storytelling. Star Wars is pretty famously noted for keeping its timelines somewhat tidy, with everything fitting into a bigger world continuously.
But this craving for it above all else is a toxic attitude, not just to the way we talk about pieces of media from a critical perspective, but in fan circles as well. The hunger for facts above all else leads to things like "filler episode" becoming a derogatory term for stories that don't advance the larger ongoing plot of a narrative or don't include some shocking new revelation that someone can add to a list.
Tales from the Loop. I've long been a fan of Simon Stålenhag's artwork and the art books that he's put out over the years. Amazon just adapted his first book, Tales from the Loop, into a series, and I've got a review over on Tor.com. The short version is that it's a beautiful series (the parts that I saw), that really captures the heart of his images. It's definitely worth checking out.
Ted Chiang on disasters and normalcy. Electric Literature has a great interview with Ted Chiang about fiction in the time of disaster, with some interesting insights. Essentially: after disasters, we don't return to normalcy and the familiar.
---
Currently Reading
There are three books on my list right now:
Sixteenth Watch by Myke Cole: a near-future military science fiction novel about the Coast Guard in space. I've been a big fan of Myke's books for years, and this is a new direction for him.
Gravity of a Distant Sun by R.E. Stearns. The final installment of the Shieldrunners trilogy, which started with Barbary Station and Mutiny at Vesta, both of which I really enjoyed.
Otaku by Chris Kluwe. Near-future of gaming with a conspiracy thrown in. I'm enjoying this one quite a bit, and it feels a little like a better version of Ready Player One.
I recently re-read Simon Stålenhag's Tales from the Loop in preparation for my review of the new Amazon Prime series, which holds up nicely. If you haven't checked out his work, you should: it's beautiful and makes for a good series. (My review is forthcoming at Tor.com).
On the short list after those? The City We Became, Hearts of Oak, and a couple of the other ones I've mentioned recently.
---
Giveaway
Before I sign off, I want to experiment with something. If you follow me on Facebook or Twitter, you know that I get a lot of books to read and review. I'm perpetually looking to get rid of them, and two local libraries, the Aldrich Public Library and Norwich University's Kreitzburg Library are always happy to take them.
This week, James Patterson announced that he was setting up a fund to help independent bookstores, and that he was donating $500,000 to it. I'd like to encourage people to do the same, to help save your local bookstore.
So, I've got a challenge: donate to this fund before April 14th, and let me know how much you donated. I'll be doing a drawing for four stacks of three books: science fiction, near-future SF, fantasy, and translated SF, as well as three copies of War Stories: New Military Science Fiction. (Seven recipients total). To enter, all you need to do is reply to this newsletter (either saying that you'd like to enter, or with a donation total). You don't need to donate to win: but I'd encourage you to do so.
Here are the official rules for this giveaway.
I'll tally up the donation total, and will let people know how much was raised in the next newsletter. I'll let winners know via email.
Please donate, because indie bookstores are important to communities, and this pandemic represents an existential threat to their existence. We don't want to live in a world where the only places we can buy books from is Amazon: we need the quirky, squeaky-flooded, shops with eclectic and curated selections. While you're at it: if any of the books that I mentioned catch your eye, consider buying one from your local store. It could make all the difference.
---
That's all for now: stay safe out there.
Andrew