Amazon's roar
Amazon announced that it's acquiring film studio MGM. The move is part of a larger trend of media consolidation, and it could have some worrisome impacts on MGM's creative legacy.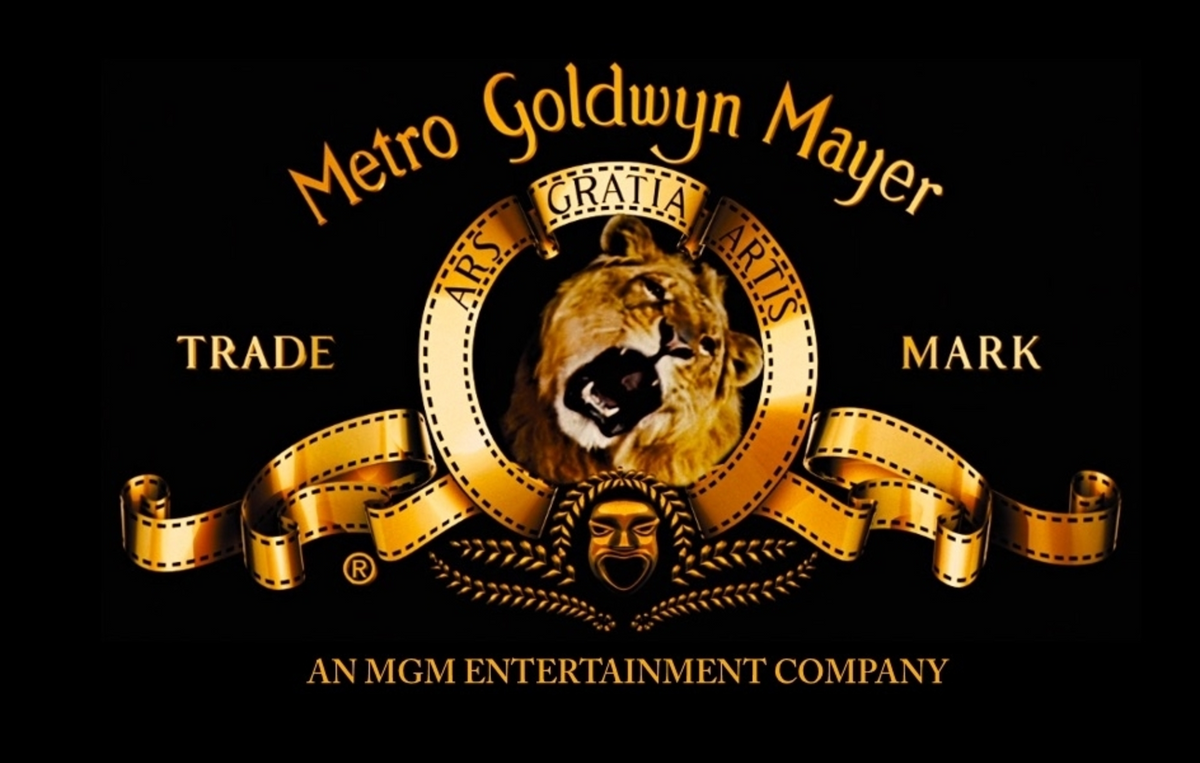 Hello!
This week's been quietly busy here. I've removed the pile of rubble from my driveway — a solid workout if ever there was one — and while I've been doing the usual writing and reading work this week, I've been consumed with another project: editing my history of cosplay, Shapeshifters.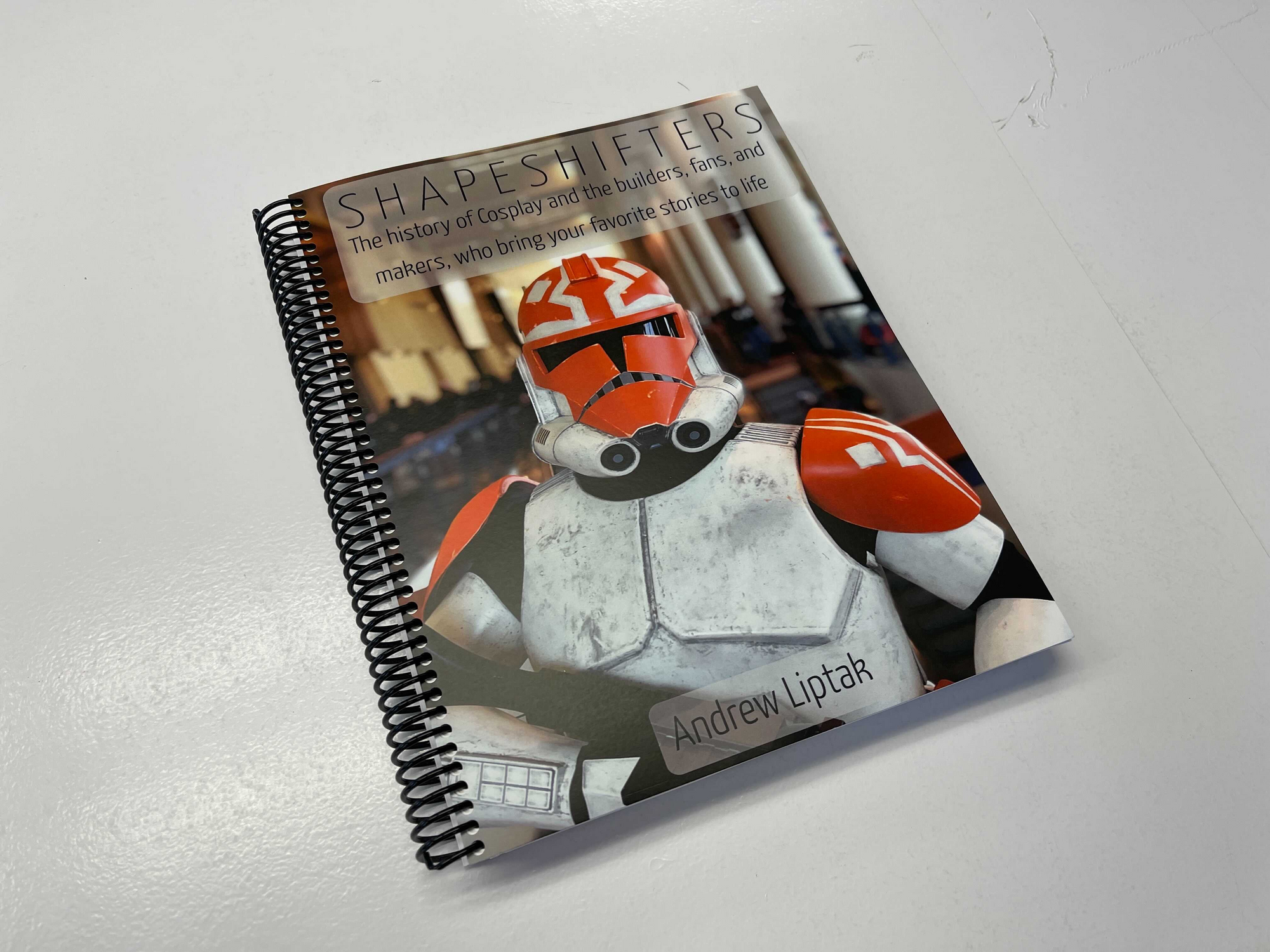 That's the book: 371 pages of my manuscript. I'm still awaiting edits from my editor, but with several months' distance from actually writing it, I've been going through and doing some preemptive edits of my own while I go through and highlight points where I'd like to insert pictures. I went to a local printer to get this printed up myself, because I've found that editing by hand helps me find the sentences that I'd like to get fixed. So, it's getting filled with lots of red ink, which I'll then go through and fix in the file.
The book was originally slated for a 2021 release, but because COVID had such a huge effect on the publishing and bookselling world (And because cons are only just starting to come back this year), it made sense to delay it a bit while. That's a plus: it gives me more time to edit and update some sections. I've found some things that I'll be adding that I didn't have when I first turned it in, and I think that that'll make for a better book when all is said and done.
But in the meantime, my book's an actual physical object (even if I had to do it myself), and that's pretty cool.
---
Programming note: with the transfer from Substack to Ghost, there was an issue with the migration and I ended up creating an elaborate workaround for those of you who are paid subscribers. Folks who were recurring monthly subscribers were comped through the end of May, which we've now reached. I'll reach out to y'all separately, but I'll be switching those comped subscriptions off soonish. Annual subscribers who were comped will continue on a rolling basis starting now. I do hope that folks will renew those subscriptions, and I'll be holding a bit of a subscription drive starting next week with a discount.
I've also bolted on a new perk for paid subscribers: a dedicated Slack channel, which a bunch of readers have jumped into to chat about things like books and... books. If you're a paid subscriber, you can find some details about that (and a link to join) here.
---
This week in SF/F
Last week, I wrote about how Amazon's rumored acquisition of film studio MGM might play out well for a favored show of mine, Stargate SG-1. Earlier this week, those rumors proved to be true: Amazon announced that it was acquiring the studio to the tune of $8.45 billion, and with it, an entire catalog of intellectual property in the form of more than 4,000 films and 17,000 TV shows — including Stargate and James Bond.
I've talked a lot about streaming television and IP plenty of times over the course of this newsletter, and what Amazon's done fits with a larger pattern within the entertainment world: build up its catalog as a way to entice subscribers. In most cases, like Netflix or Hulu, that imperative to build a base of subscribers comes to keep itself going. In Amazon's case, streaming is just another incentive for people to sign up for Amazon Prime, and keep shopping there.
And it's part of a larger trend in media consolidation: over the last decade, we've seen Disney scoop up 20th Century Fox, Lucasfilm, and Marvel, while AT&T acquired Warner Bros (And is now spinning that off into its own entertainment company with Discovery), Comcast acquired Sky, and so forth, and some of these bigger studios have signed creators to major overall deals to develop content for their streaming outlets.
Should the deal go through — it's subject to all of the usual approvals from stakeholders and regulators — Amazon will have an expanded catalog of some major films. What will Amazon do with it?
Critically, it'll have an expanded catalog of offerings that it can show its subscribers, and potentially build off of in the years to come. During Amazon's shareholder's meeting, Amazon CEO Jeff Bezos noted that they're looking to "reimagine and develop that IP for the 21st century," and looking at the list of titles that the company included on its press release, titles like James Bond, Legally Blonde, Poltergeist, Rocky, Stargate, Tomb Raider and others are all things that can be replicated and continued in various forms of continuations/revitalizations or outright reboots.
In a statement, Prime Video and Amazon Studios' senior VP Mike Hopkins echoed that: "The real financial value behind this deal is the treasure trove of IP in the deep catalog that we plan to reimagine and develop together with MGM's talented team. It's very exciting and provides so many opportunities for high-quality storytelling."
What might MGM under Amazon look like?
The Hollywood Reporter notes that Amazon will likely continue the studio's theatrical releases for now — and that holdings like James Bond will mean that that's going to be a reality for a while. Plus, there's plenty of projects slated to be released this year, and that's unlikely to change. And Amazon says that it'll "help preserve MGM's heritage and catalog of films and provide customers with greater access to these existing works. Through this acquisition, Amazon would empower MGM to continue to do what they do best: great storytelling."
Press releases are largely meaningless, especially if Amazon's goal is to help drive subscriptions to its Prime service, and thus, more of your shopping dollars.
Best case scenario, Amazon gives MGM some additional resources and the power of its subscriber base — more than 200 million people, 175 million of whom have been watching its content. That's a lot of eyeballs. Worst case, Amazon strips MGM for parts, meddles in its workings, and deteriorates the creative process that produced this vast body of content in the first place.
Stargate producer and writer Joseph Mallozzi weighed in, noting that "There's no doubt that if this sale is finalized, we will see a new Stargate series sooner than later," but cautioned that that doesn't mean that whatever new iteration of Stargate comes out will be the continuation of the existing franchise that Brad Wright has been working on.
"In a best case scenario, an executive familiar with the franchise, and its amazing fandom, will recognize the huge potential there and fast-track his series" Mallozzi writes. "In the worst case scenario, someone else is brought in, 20 years of canon gets wiped out, and the fans get screwed.  The latter is, in my view, most unlikely."
Despite all of the original programming that it has, there hasn't been a lot that's really grabbed me on Amazon Prime Video. Fleabag was fantastic, I've been thrilled that it's continued The Expanse, and I really dug Tales from the Loop and Jack Ryan. But other shows, like Carnival Row, The Man in the High Castle, and The Boys have been projects that I've struggled to finish. I like them in theory, but their execution has just been as such that they haven't grabbed me enough to sit down and finish.
Journalist Brad Stone recently released a book called Amazon Unbound: Jeff Besos and the Invention of a Global Empire, a followup to his book The Everything Store: Jeff Bezos and the Age of Amazon, and charts some of the latest initiatives from Bezos and Amazon.
(If you buy something from an affiliate link, Transfer Orbit may earn a commission)
I haven't read the entire thing, but he devotes a chapter to Bezos' efforts towards streaming video, and there are some interesting revelations in there. Stone notes that was pretty hands on with the initiative early on, such as when he "regularly asked [executives] to come to Seattle to discuss which shows to green-light."
Particularly, Stone writes, Bezos wanted his own version of HBO's Game of Thrones, and fought with his executives about the lack of globally-oriented programming that was available on the platform. "In one of the conference rooms, the frustrated CEO laid into the tepid storytelling of The Man in the High Castle. 'The execution is terrible,' he complained, 'Why didn't you guys stop it? Why didn't you reshoot it?'"
Stone recounts that Bezos laid out a list of elements that he felt made up a good story: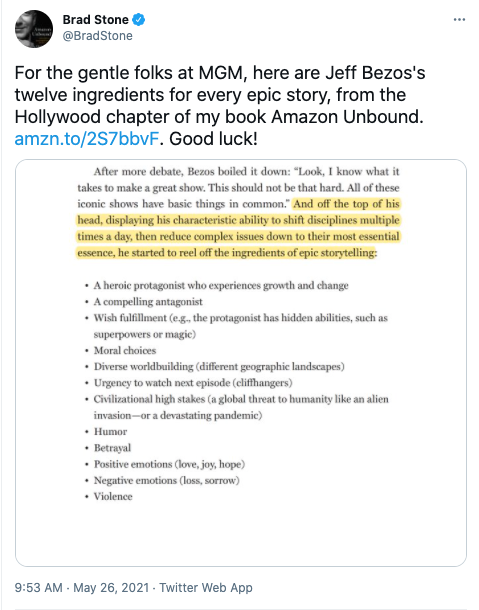 After that internal conflict, Amazon Studios personnel referenced that list to make sure that their programming hit most — if not all — of those bullet points. The list is being roundly criticized for its simplicity (and Stone's fawning), but Bezos isn't exactly wrong in most cases, especially when you consider the context that he's looking for big, epic worlds for his streaming service.
Look at some of the latest projects that the streaming service has picked up: The Expanse, or Middle-earth or Wheel of Time, and you'll find that they hit a lot of those notes. It's easy to roll one's eyes at those requirements, because a lot of what we've seen includes them already (I mean, what story doesn't have positive / negative emotions already? And what about key elements like romance, friendship, community, or other, similar themes?), and assigning a proscribed list to the projects you're looking to pick up feels like a serious crimp on one's creative process. And it certainly doesn't apply to everything, unless I missed the Civilizational high stakes part of Fleabag. Ultimately though, list strikes me as most of a list of suggestions rather than guidelines.
But there's a bigger issue hovering all of this: Amazon's tendency to hoover up everything it can in the name of selling more do-dads. Art has long been used as a loss-leader for salespeople — pulp magazines had plenty of ads, after all — but this seems like yet another big media consolidation that will further snuff out some level of creativity if Amazon remains hands on, demanding that its creatives justify their choices with stringent metrics.
The artistic world has begun to live and die by metrics: publishers have reams of data thanks to Amazon sales figures and an author's backlist. Netflix routinely looks at a show's performance to decide whether or not a series will live or die next season. Newsrooms frequently look at their traffic to figure out what angles to write a story (or if a topic is worth covering at all). Chasing traffic has always felt to me like a source of diminishing returns. If Amazon goes that route, it'll waste MGM's long legacy.
Rather, I think the right approach is what Pixar's Ed Catmull and Amy Wallace wrote about in their 2014 book Creativity, Inc.: Overcoming the Unseen Forces That Stand in the Way of True Inspiration, in which Catmull outlines his approach to storytelling at Pixar: a relentless focus on what's best for the story, with the understanding that if you provide an audience with a good story, they will find greater long-term success. This involves some pretty extensive workshopping and editing on the part of storytellers over the course of their productions, and it seems to have worked: Pixar has produced an amazing catalog of original films.
In its run to build up content, places like Amazon, Disney, and Netflix have been pumping billions into their streaming services to attract new subscribers, and I think that the results are telling: how many shows are really going to stand the test of time? Disney's The Mandalorian or Netflix's Stranger Things, certainly, either out of franchise momentum or nostalgia. It's in stark contrast to Apple TV+, which seems to have taken a slower, deliberative approach to content, and it's quietly been putting out shows that have gained quite a bit of acclaim, like Ted Lasso and For All Mankind. That's a bit of an oversimplification, but I think it hits on why there are some streaming services that I'll gravitate towards over others. (For original content — I'm currently binging House, MD on Amazon).
What Amazon's approach here remains to be seen. Bezos is stepping down from his CEO post at Amazon in July, and will hand over the reins to AWS's Andy Jassey. Bezos will still be executive chairman, and I can imagine that he'll remain involved with shows like Middle-earth, which he had some stake in creating. I'm betting that he'll also be spending more time working with Blue Origin and some of the other initiatives that he's been involved with over the years. How that'll translate into the new shows and movies that an Amazon-powered MGM will produce will remain to be seen.
---
Currently reading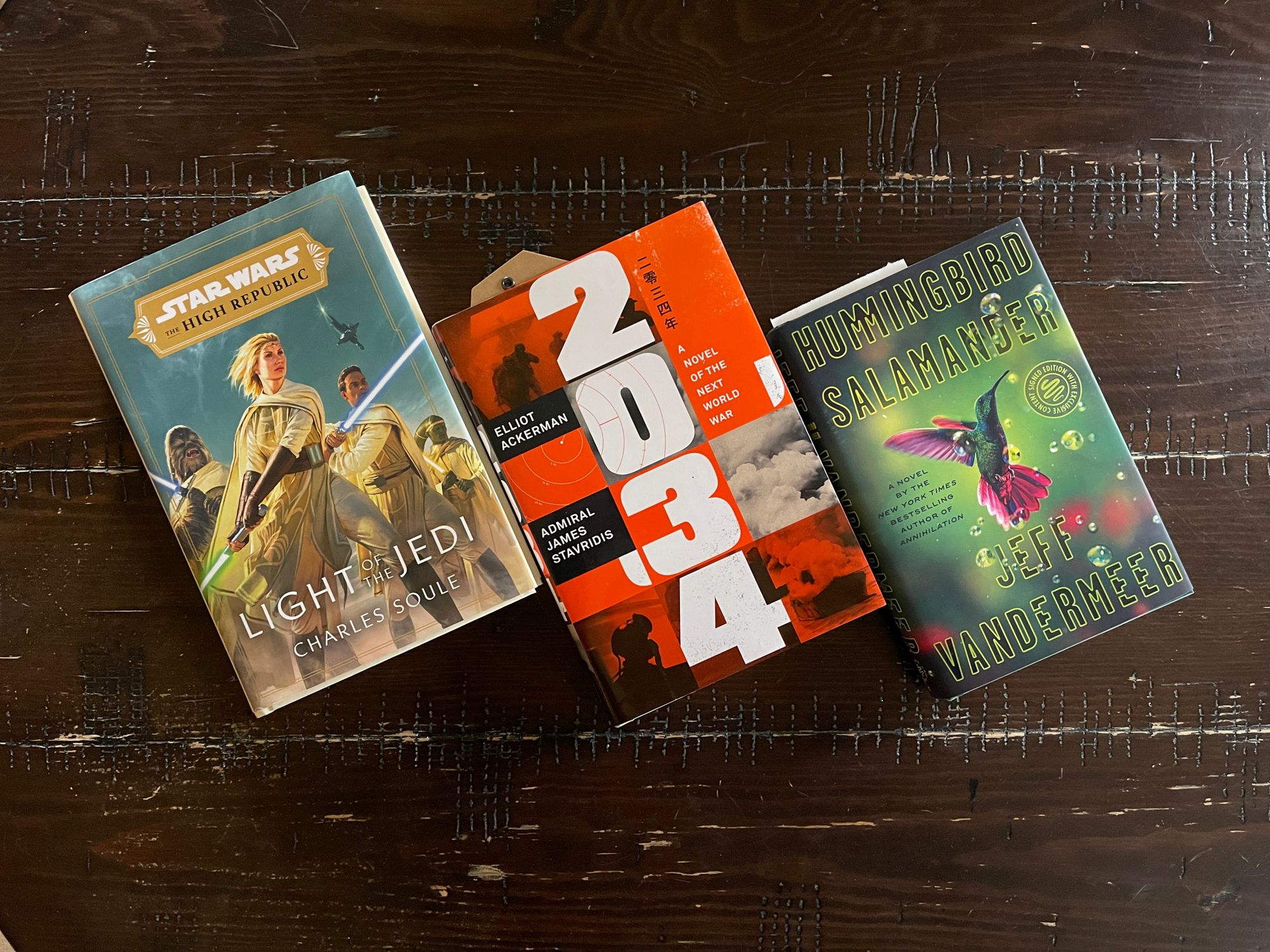 Top of the list this week is Jeff VanderMeer's Hummingbird Salamander. I'm also working through Elliot Ackerman and Admiral James Stavridis' 2034, Charles Soule's Light of the Jedi, Bailey Richardson, Kevin Huynh, and Kai Elmer Sotto's Get Together: How to Build a Community With Your People, and Lev Grossman's The Silver Arrow.
---
Further reading
---
That's all for this week. I didn't get to finish transcribing my interview with Becky Chambers, but I should be able to finish that for next week. And, I'll have the June book list coming on Tuesday.
Have a good (long) weekend,
Andrew