Here's the June 2021 sci-fi/fantasy book list!
A roundup of all the science fiction, fantasy, and horror novels coming out in June 2021 that you should add to your bookshelves.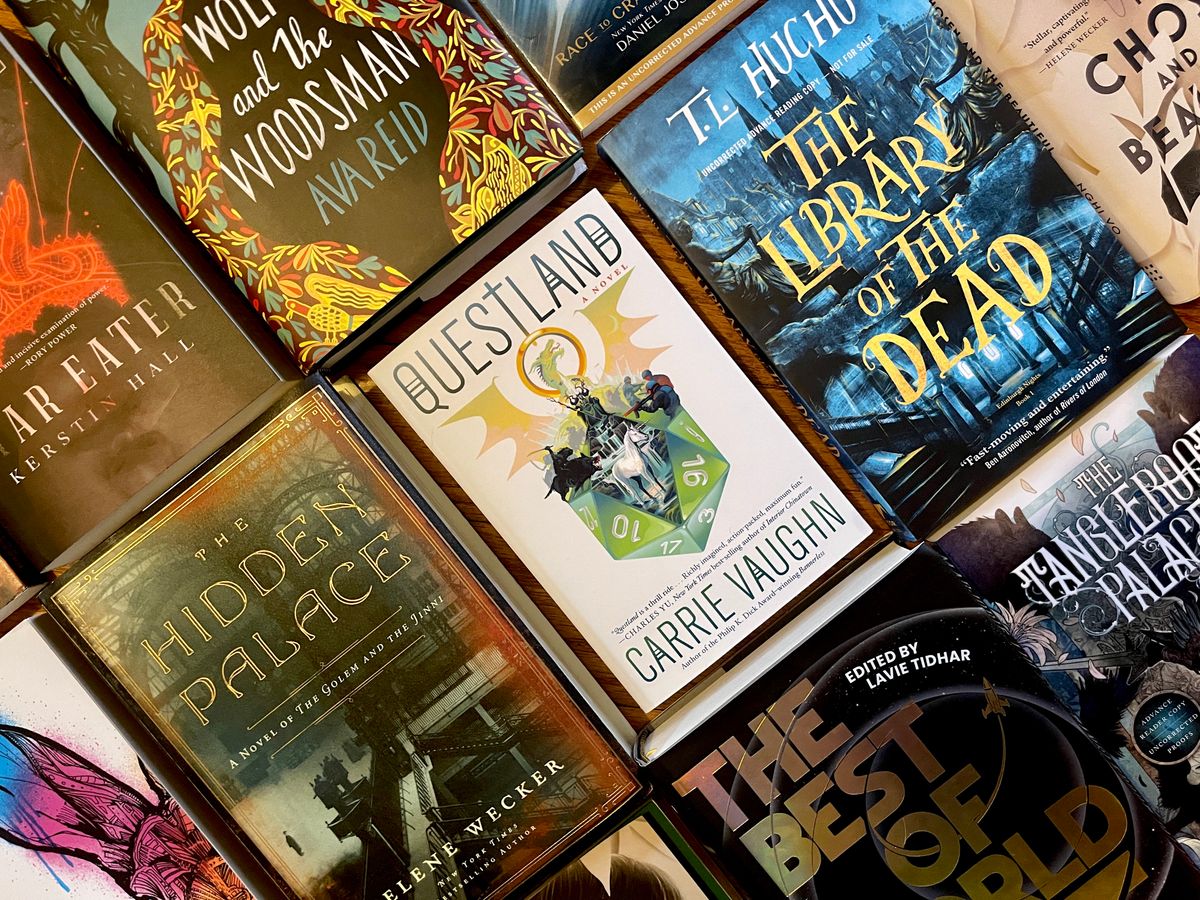 Happy June!
New month, new books, just in time for the summer reading season!
I've rounded up 15 new good-looking titles that are hitting stores this month for you to check out: there are a couple of techno-thrillers about artificial intelligence, robotics, and tech companies, some long-awaited sequels, and some exciting new debut authors hitting shelves in the coming month.
(If you buy something from an affiliate link, Transfer Orbit may earn a commission)
---
If you're new to this list, welcome! I always look forward to assembling these roundups, because it helps me find new things to read, helps highlight all the books that I'd love to dig into (but will never have enough time to do so), and introduce new people to their next favorite book.  
It is a time-consuming effort, and if you've found them useful (here are the lists for January, February, March, April, and May), please consider signing up for a subscription. Annual paid memberships are going to be discounted for the next couple of weeks, and you can find more details about joining as a member here.
---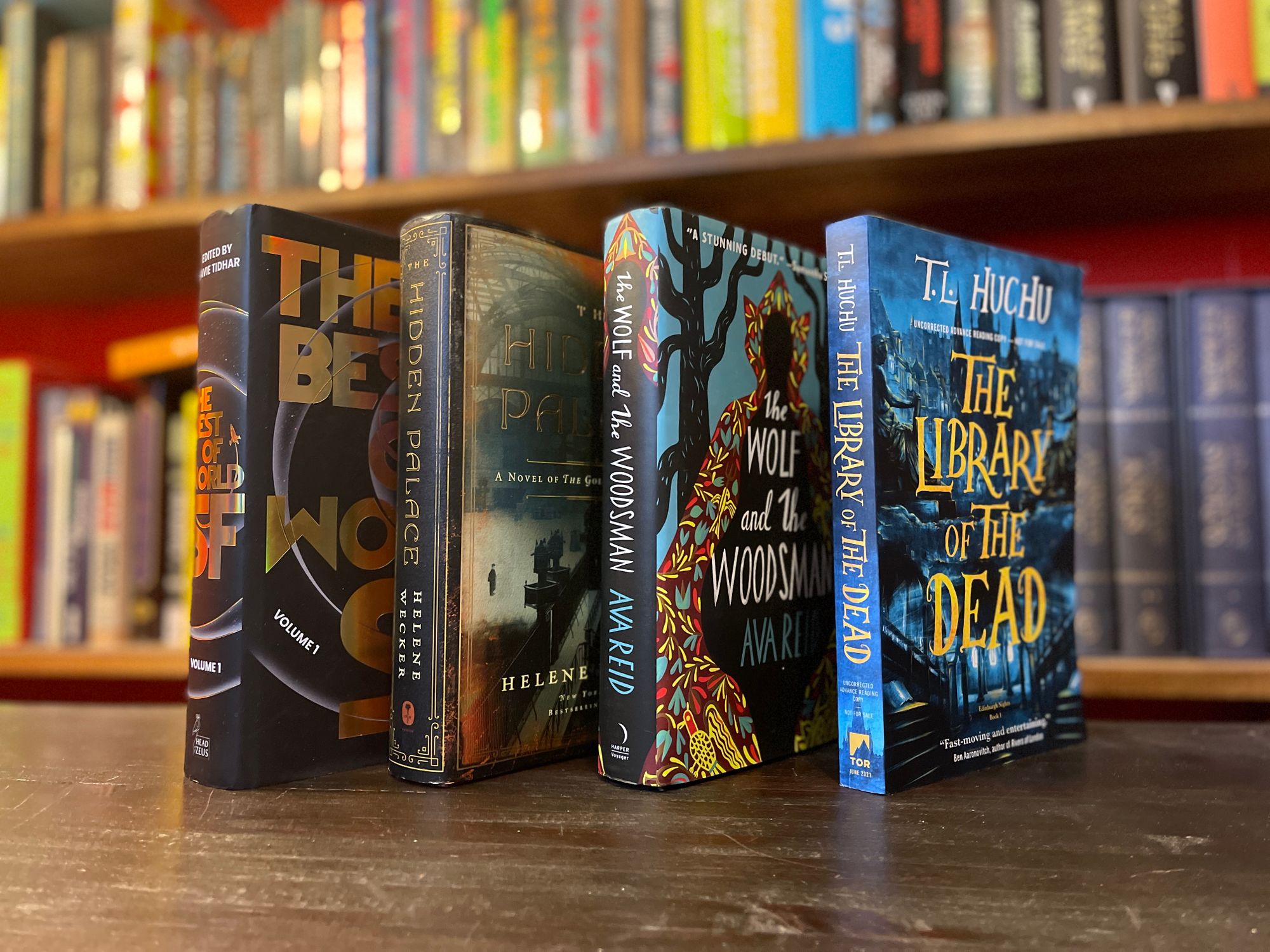 June 1st
The Best of World SF: Volume 1 by Lavie Tidhar
For a couple of years, Lavie Tidhar edited Apex Boom Company's The Apex Book of World SF, a great series featuring some outstanding international fiction. Now, he's helming a new anthology project from Head of Zeus. This volume includes 26 short stories from 21 different countries: Botswana, Brazil, China, Cuba, Finland, France, Ghana, Iceland, India, Israel, Italy, Japan, Malaysia, Mexico, Nigeria, Russia, Singapore, South Africa, Spain, Sweden, and Trinidad.
There are some names on there that I recognize in this book: Aliette de Bodard, Chen Qiufan, Vandana Singh, Han Song, Taiyo Fujii, Tade Thompson, Fabio Fernandes, Hannu Rajaniemi, Karin Tidbeck, Silvia Moreno-Garcia, and a bunch of new ones that I'm excited to check out.
The Library of the Dead by T.L. Huchu
A Edinburgh woman named Ropafadzo "Ropa" Moyo has picked up an unlikely vocation: she's a ghost talker, someone who listens to the dead and takes their messages to the people they left behind in the world of the living. She soon encounters the ghost of a woman named Nicola who brings her an urgent message: something is stealing the souls of children in the city, and it sends Ropa down a path to investigate, and makes some shocking discoveries.
The Scotsman reviewed the book and notes that it's "serious about disparity, about haves and have-nots, about arbitrary stratifications and codes of behaviour. If Ropa is allowed to see what we mostly ignore in terms of the dead, she also sees what we willingly ignore in terms of inequality. The Library Of The Dead acknowledges this is Book One of Edinburgh Nights, and lurking behind the victory is a Bad bigger than the debut's Big Bad."  
Read an excerpt.
The Chosen and the Beautiful by Nghi Vo
For her debut novel, Nghi Vo picks up and reworks the world of F. Scott Fitzgerald's now public-domain Great Gatsby with a fantastical spin. In the Jazz Age of the 1920s, Jordan Baker is a Vietnamese adoptee who's grown up in the upper tiers of society, but while she has money and an education, she's still an outsider. When her childhood friend sets her up with Nick Carraway and meets Jay Gatsby, it sets a tangled series of relationships into motion, along with a healthy dose of magic, ghosts, and enchantments.
Publishers Weekly gave the book a starred review, saying that "the plot unravels tantalizingly slowly, and Vo's immersive prose never ceases to captivate."
Read an excerpt.
---
June 8th
Rabbits by Terry Miles
Terry Miles is known for his podcasts like The Black Tapes or Faerie, and he's taken one of his projects, Rabbits, and has adapted it into a novel. In it, Rabbits is a strange, global Augmented Reality Game that's been around for decades. Players from all over the world chase after conspiracies, and over ten different iterations, nine winners have been named — although nobody knows who they are or what the prize is.
A new round has started, and one hopeful, K, has been trying to figure out how to get into the game, and when he's approached by a billionaire named Alan Scarpio (and who is rumored to have won one of the rounds) who tells him that the game's broken and that it'll lead to some dangerous consequences, he jumps at the chance. But soon, his benefactor vanishes, and K and his girlfriend Chloe are sucked into a new, dangerous round that could spell the end of humanity. Kirkus Reviews gave the book a starred review, saying that it's "a twisty, timey-wimey roller coaster that morphs seamlessly from treasure hunt to conspiracy thriller to escape room."
The World and the Woodsman by Ava Reid
In this debut inspired by Hungarian history and Jewish folklore, Ava Reid introduces us to Évike, a young woman in a pagan village, who is an outcast amongst her peers: she doesn't have any sort of magical power to call upon. When soldiers arrive from the Holy Order of Woodsmen to collect a sacrifice, she's betrayed by her neighbors and handed over to them.
But shortly after she's taken away, her captors are attacked by monsters in the woods, leaving her and the group's captain — a disgraced prince named Gáspár Bárány — to rely on one another to survive and prevent Gáspár's cruel brother from seizing the throne.
Kirkus Reviews says that "Reid's academic background in ethnonationalist religious history is used to great effect here, and she shows how folklore is bent and twisted to fit the dominant culture of the moment. Reid wades thoughtfully into thorny conversations about religious persecution, identity, and personal sacrifice."
The Jasmine Throne by Tasha Suri
Tasha Suri kicks off a new trilogy (Burning Kingdoms) inspired by India's history and folklore, about a princess named Malini, who has been imprisoned in Hirana — an ancient temple devoted to elemental magics — by her brother. There, she meets Priya, a maidservant with a secret: she has powers of her own, and when Malini recognizes her abilities, the two are thrown into a plot to retake the throne, a move that could upend the Empire.
Publishers Weekly gave the book a starred review, saying that "Suri's confident and passionate prose expertly guides the reader throughout. This is a blade-sharp, triumphant start to what promises to be an exciting series."
Read an excerpt.
The Hidden Palace by Helene Wecker
I loved Helene Wecker's debut novel The Golem and the Jinni when I read it years ago, and I've been waiting eagerly for her followup, The Hidden Palace, which brings us back to the turn-of-the-century New York City and the next adventures of Chava and Ahmad. They're still in the city, working to pass as human to stay safe from monsters.
Ahmad fell into a relationship with a woman named Saffiyah, which changed her permanently, the effects of which sends her on a journey to Syria. Meanwhile Chava has made a home for herself as a baker in the city, and discovers another Golem named Yossele, made to accompany a young orphan named Kreindel. Over the course of years, the characters find their fates intertwined as they work to make their way in the world and to stay true to themselves.
Kirkus Reviews gave the book a starred review, saying that "Wecker skillfully combines the storylines of these and numerous other players, good and evil, in a story that, while self-contained, gives every promise of being continued."
Read an excerpt.
---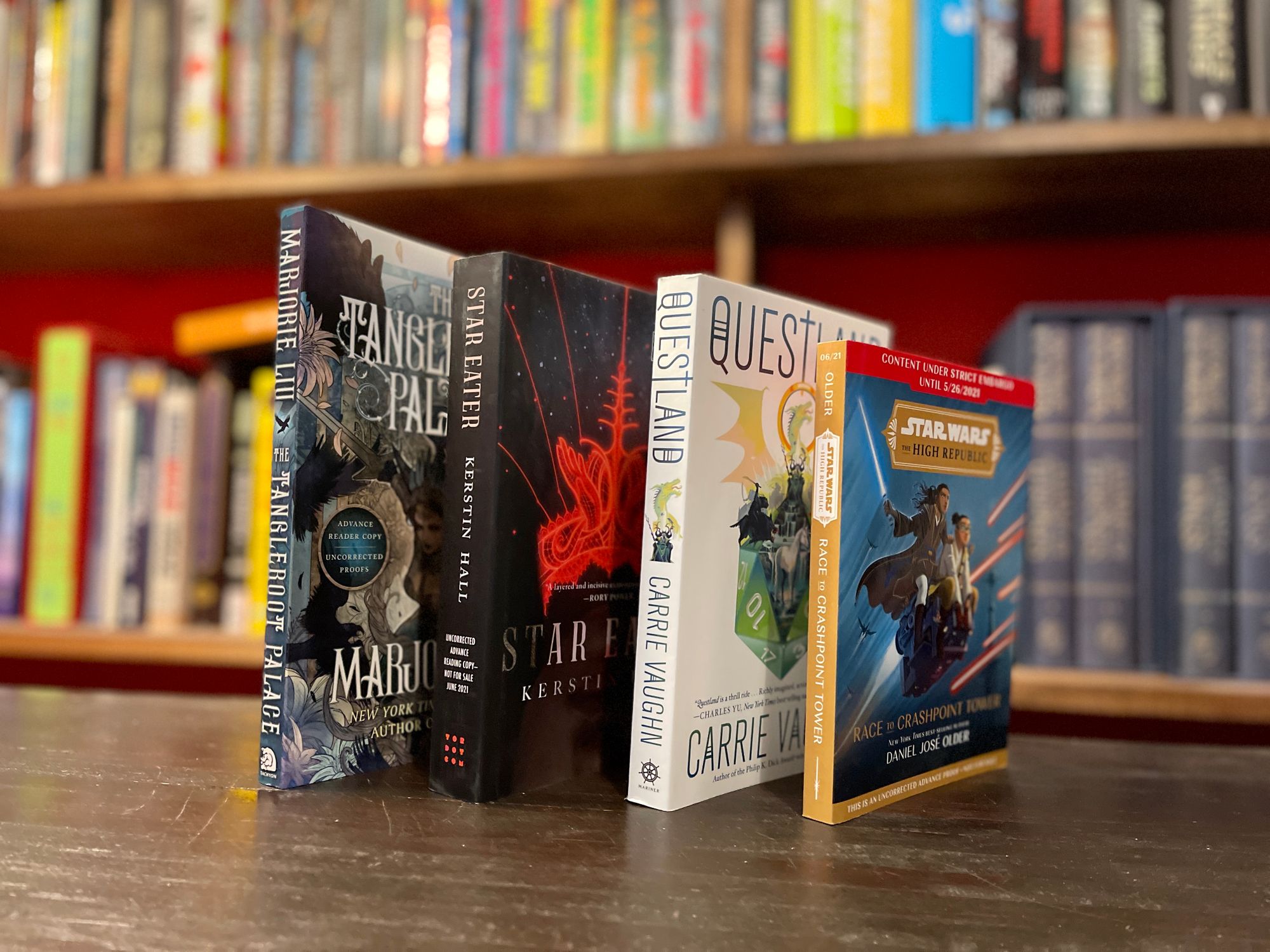 June 15th
The Tangleroot Palace by Marjorie Liu
Comic book writer Marjorie Liu has earned considerable acclaim — in the form of the British Fantasy and Hugo Awards — for her graphic novels and comic art, but she's also written a handful of short stories over the years.
Now, she's collecting those short stories into a debut collection, The Tangleroot Palace, featuring stories about sorceresses, warriors, retellings of Sleeping Beauty, steampunk westerns, and supervillains, and more.
Publishers Weekly gave the book a starred review, and says that her "mastery of so many different subgenres astounds, and her ear for language carries each story forward on gorgeously crafted sentences."
---
June 22nd
The Witness for the Dead by Katherine Addison
A couple of years ago, Katherine Addison (aka Sarah Monette) released The Goblin Emperor, which was a huge hit within the fantasy community: it went on to earn the Locus Award for Best Fantasy Novel and the Hugo and World Fantasy Awards for Best Novel in 2015.
Now, Addison is returning to the world for a standalone sequel. Where the first dealt with Maia — a mixed-race Elven and Goblin heir to the throne — dealing with the realities of court drama. Now, Emperor Maia works to track down those responsible for the death of his father and siblings, and enlists the help of an estranged member of the royal court, Thara Celehar a witness for the dead.
Liz Bourke reviewed the book for Locus Magazine, and said that "like The Goblin Emperor, it's fundamentally humane, sensitive, and kind. Celehar is a compelling protagonist, and as always, Addison gives her characters striking and engaging voices. The Witness for the Dead is an accomplished and enjoyable novel, and I believe fans of The Goblin Emperor will find much to delight them here."
Read an excerpt.
Star Eater by Kerstin Hall
Kerstin Hall's debut novel features a members of the Sisters of Aytrium, Acolyte Elfreda Raughn, who's troubled by her order's gristly efforts to preserve their magic — magic that's been passed down from mother to daughter for generations, and one that will force her into pregnancy and an inevitable death.
When a member of a breakaway sect offers her a way out (spying on their enemies), Elfreda jumps at the chance, and begins to lead a double life. Library Journal gave the book a starred review, saying that "Hall's solid worldbuilding and strong prose create an utterly gripping novel that blends the boundaries of horror and fantasy."
Seven Deaths of an Empire by G.R. Matthews
General Borden of the Imperial army is tasked with bringing the Emperor's body home after he was killed in an operation, and along with a magician named Kyron, the two have to deal with the new upheaval this event brings: rebellion is brewing within the Empire. In order to bring the Emperor's body and a magical amulet containing his soul and wisdom home, they have to travel through hostile territory and avoid assassins and other threats to the Empire.
Aaron Jones over at Grimdark Magazine praised the book, saying that "inspired by the masters of the fantasy genre as well periods of political upheaval throughout history (watch Netflix's Barbarians – the Roman Empire halted by the union of Germanic tribes in a forest), this is fantasy at its finest. A magnificent, bloody beginning to the series and I cannot to read more. Five Stars."
Questland by Carrie Vaughn
I finished this book a couple of weeks ago (I'll have more to say about it soon), and as I was reading it, I was texting everyone in my social circle that they had to read it. The book is about a literature professor named Addie Cox, who is recruited by a tech billionaire to help with a unique problem: he's been setting up an immersive fantasy world, and some of his employees have gone rogue.
Addie is tasked with accompanying a mercenary team to retake control of the island, because one of the mutineers is her ex-boyfriend. Along the way, she falls in love with the world and all of its fantastical easter eggs and references to everything from Lord of the Rings to D&D, and Vaughn muses on the value of stories and quite a bit more. Think Ready Player One, but not dumb.
---
June 29th
Gearbreakers by Zoe Hana Mikuta
In the distant future, the nation of Godolia rules with an iron fist — literally. They employ giant mechs called Windups to maintain order, and they've been oppressing the people of the Badlands for years. One young rebel named Eris Shindanai specializes in taking the mechs down, but is soon captured and thrown in prison, where she meets Sona Steelcrest, a cybernetic Windup pilot, who has a grudge against the system. The two are on opposite sides of the war, but soon learn to trust one another as they escape and plot to destroy Godolia.
It looks like we could see this book on the big screen at some point: back in 2019, Aaron Magnani Productions snapped up the rights for an adaptation.
Read an excerpt.
When the Sparrow Falls by Neil Sharpson
Neil Sharpson introduces us to a 23rd century steeped in artificial intelligences in this debut novel: they're our neighbors, friends, even family. They're everywhere except for the Caspian Republic, an oppressive, locked-down state that has taken a stand against the rise of AI, keeping it out of its borders. But when a journalist named Paulo Xirau is discovered to have been murdered, there's a shocking revelation: he's actually an AI in disguise.
The discovery rocks the state, and Agent Nikolai South tasked with chaperoning Xirau's estranged wife to reclaim his body. He's shocked when he sees her: she looks uncannily like his own dead wife, and despite his loyalties, he has to figure out why Xirau was killed, and uncovers a deeper plot that could undermine his home.
Publishers Weekly says that Sharpson "showcases the untenable nature of the Caspian Republic and its corrupt framework. The result is a thoughtful sci-fi thriller that skillfully blends a retro spy aesthetic with future technology."
Read an excerpt.
Star Wars The High Republic: Race to Crashpoint by Daniel José Older
I've been working to finish a couple of the High Republic novels, but I really enjoyed reading the series' first middle grade novel from Justina Ireland, A Test of Courage, about a young Jedi who finds herself stranded on an alien world and is forced to rely on her training to survive and save her friends.
In this next installment from Daniel José Older, we meet Jedi Padawan Ram Jomaram, who's awaiting the Republic Fair, a major, intergalactic event that'll showcase all that the Republic has to offer. But when an alert goes out from a security alarm, he goes off to investigate with his droid, V-18. In doing so, he discovers that the event will soon be under attack by the Nihil raiders, and he'll have to face off against them before calling for aid from the Republic.
---
As always, thanks for reading: let me know what caught your eye, and what you've got on your TBR pile!
Andrew