20 science fiction and fantasy books to check out this April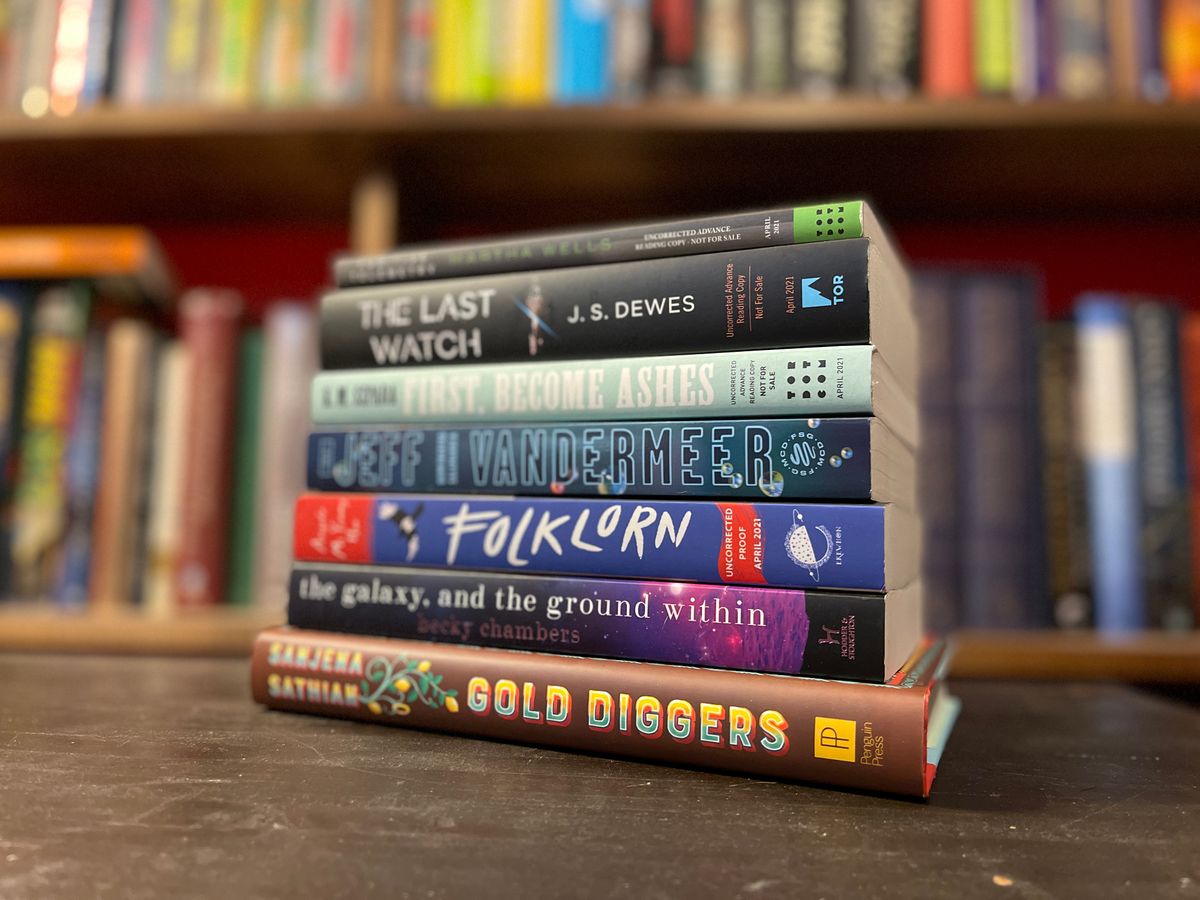 Happy April! It's finally spring, although Mother Nature decided to play a cruel April Fool's joke on us here in Vermont: I'm watching snow fall past my window right now.
With the beginning of a new month, it's time to look forward a bit to see what books are coming out to bookstores in the nearish future: April brings a great selection, with some new works from some of my favorite authors like Jeff VanderMeer and Becky Chambers, to some promising-looking debuts from folks like J.S. Dewes, and more.
Here are 20 SF/F/H books hitting bookstores this month that you should check out. As always, if you make a purchase through a link on this page, it might result in a small commission.
If you found this list to be useful, please consider subscribing as a paid member — this newsletter is supported by a small band of readers who help facilitate its SF/F coverage and commentary.
---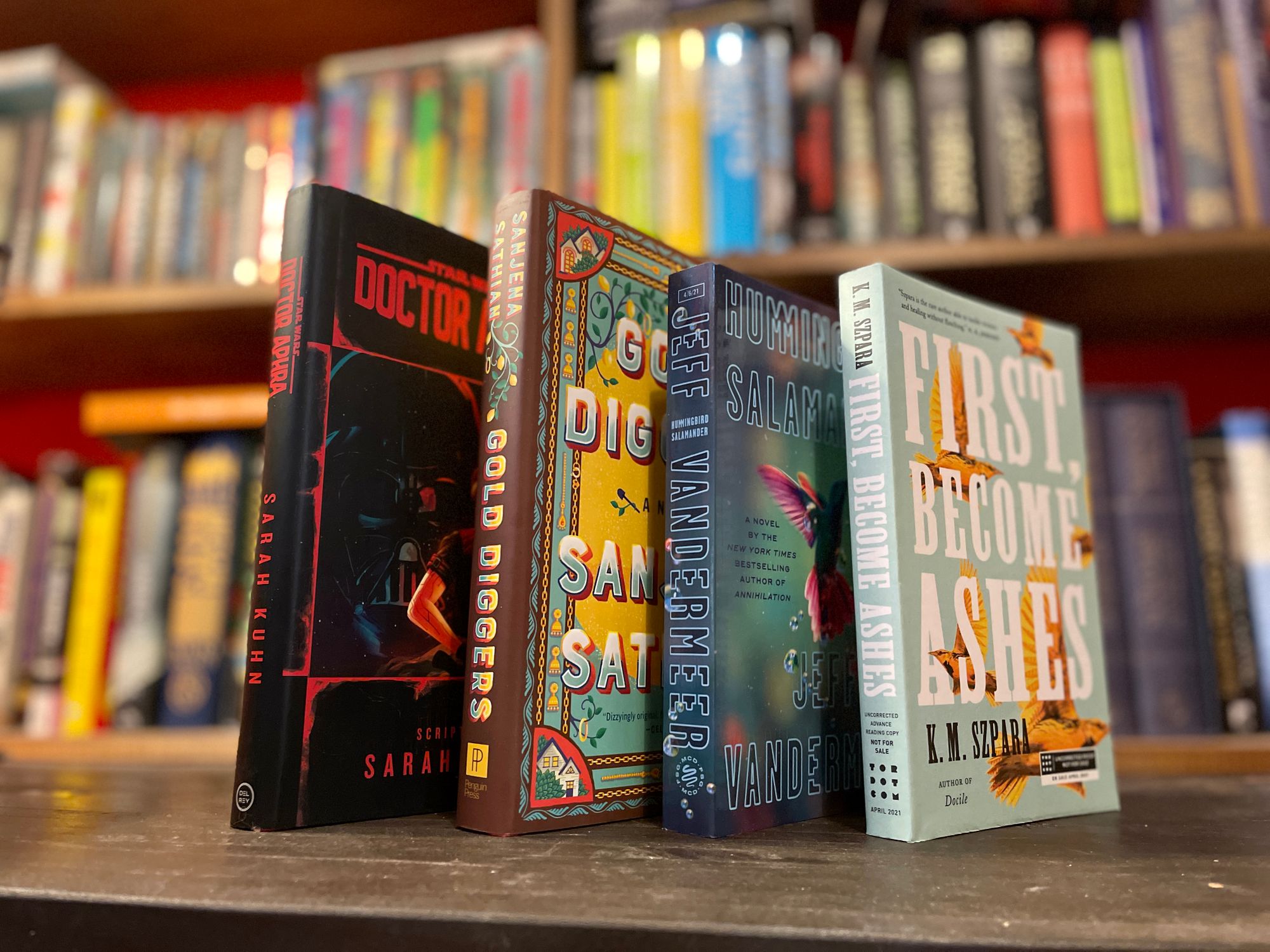 April 6th
ELADATL: A History of the East Los Angeles Dirigible Air Transport Lines by Sesshu Foster and Arturo Ernest Romo
This looks like a neat fictional history of a more utopian what-might-have-been for the United States, had dirigibles become popular in the 20th century. Told through a series of character narratives and illustrations, it charts out a secret history that involves airborne pirate radio stations, acrobats, and secret agents.
Publishers Weekly gave the book a starred review, saying that it's "as much fun to read as it must have been to make."
I'm Waiting for You: And Other Stories by Bo-Young Kim
South Korean science fiction author Bo-Young Kim has been publishing short fiction for a while in her home country, and has appeared a couple of times in Clarkesworld, where I first discovered her (incidentally, we share a TOC in the May 2015 issue of the magazine!)
This collection brings together four short stories that feature two worlds. "In I'm Waiting for You" and "On My Way", a couple fight against relativity to reunite and get married, while in "The Prophet of Corruption" and "That One Life," supreme cosmic beings look down upon human and contend with some existential questions.
Doctor Aphra by Sarah Kuhn
Last year, Lucasfilm released an audio drama featuring a newish character named Doctor Aphra, an archeologist with some questionable ethics, hunting through the galaxy for random artifacts. The audio drama is itself an adaptation of the 2015 comic series Star Wars: Darth Vader, and now, if audio isn't your thing, you can read the script for the audio drama. It's not the first time LFL has released something like this: they did the same thing for Dooku: Jedi Lost a couple of years ago.
Gold Diggers by Sanjena Sathian
In Sanjena Sathian's debut novel, Neil Narayan's a second-generation teenager who's flummoxed by his family's sky-high expectations. He's enamored of his neighbor across the street, Anita Dayal, who has a secret: she and her mother know how to create an ancient alchemical potion that imparts that needed ambition and focus. There's a problem though: it's made with stolen gold, and while it gives him a boost for a couple of years, he eventually runs out of steam and after reuniting with Anita, the two hatch a new plan to get their hands on a lot more gold.
Publishers Weekly says that "the sharp characterizations bring humor and contemplation in equal measure, touching on the pressures Neil and Anita face to produce a legacy that honors their parents' sacrifices."
First, Become Ashes by K.M. Szpara
In K.M. Szpara's sophomore novel First, Become Ashes, we follow a man named Meadowlark, who had grown up in an isolated cult that prepared him to protect the world from monsters. Shortly after his partner Kane turns 25 and leaves the compound, the FBI launches a raid against the group, and works to compel Lark to testify against their leader, Nova, in an abuse case that they've been building.
More troubling to Lark is the revelation that magic and monsters aren't actually real. He eventually escapes and sets out to complete his mission and save Kane from a monster that's clearly corrupted him.
Kirkus Reviews says that it's "a timely tale about the dangers of committing too fervently and unquestioningly to a person and their cause."
Read four excerpts: here, here, here, and here.
Hummingbird Salamander by Jeff VanderMeer
I've long admired Jeff VanderMeer's Area X trilogy and his novel Borne, but also his sense of nature, our relationship with it, the need urgent need for conservation, all of which bleeds into his books. I've written a bit about my increasing interest in environmentalism and conservation recently, and that's one reason why VanderMeer's next novel, Hummingbird Salamander, appeals to me quite a bit at the moment.
The novel is about a security consultant who discovers a storage unit left behind by an ecoterrorist with a taxidermied hummingbird and clues towards a taxidermied salamander. The discovery sets a plot into motion that'll soon escalate, one that could threaten the world.
Kirkus Reviews gave the book a starred review, saying that it's "a daring change of genres, and an entertaining whirlwind at that."
Read an excerpt.
---
April 13th
Victories Greater Than Death by Charlie Jane Anders
A bit of a disclaimer is required for this one: I read an early draft and provided some minute suggestions for Charlie Jane (whom I also used to work for at io9). I don't know if she adopted any of those suggestions, and I don't have any stake in the book other than that.
Charlie Jane Anders has written a couple of incredible novels, and with Victories Greater Than Death she turns to YA fiction, about a young woman caught up in an interstellar war.
Tina Mains grows up on Earth as a seemingly-ordinary kid, with a huge secret: she's really a clone of a famous war hero, Captain Thaoh Argentian, who leads the Royal Fleet, an interstellar force that's currently on the losing side of a brutal war.  When her original version is killed and she's summoned into space, she takes along her friend Rachael, where she has to take command of her predecessor's ship and crew and lead them to survive the coming battles against and live up to the legacy that she's now taking over.
Publishers Weekly says that "exploring themes of identity and destiny against an intricately built universe, Anders folds it all into a revel of action and love.
Read an excerpt.
Unity by Elly Bangs
In a dystopian future, a woman named Danae hosts a secret: she contains a multitude of parts, and is desperate to escape the dangerous underwater community of Bloom City. She hatches a plan with her partner Naoto, and hires a former mercenary to help them escape across the broken landscape of what used to be the United States, pursued by enemies that will stop at nothing to recapture them.
Gifting Fire by Alina Boyden
Last year, Alina Boyden published Stealing Thunder, a fantasy that followed Razia Khan, the former Crown Prince of Nizam, but fled after coming out as a woman and invoking the wrath of her father. She ultimately ended up in Bikampur, and after stealing something from a prince named Arjun, and falls in love with her target and accidentally ends up in the midst of a political war in the kingdom.
Razia had to make a deal with her father to save Arjun from being destroyed, and now, he's calling in his favor: help him secure a rebel-held territory. Things are made even more complicated when her home is invaded by a hostile prince, who exiles Arjun and forces her into an arranged marriage. It'll be up to her to save her adoptive home and her friends.
Publishers Weekly says that "lovers of non-Western fantasy and readers looking for empowering women- and trans-led stories will be thrilled."
Near the Bone by Christina Henry
In this horror novel, a woman named Mattie can't remember a time when she hasn't lived with her abusive husband William on an isolated mountain. Things take a complicated turn when they discover a dead fox and some strange tracks in the snow — some sort of violent creature has also taken up residence nearby. It's being tracked by three cryptozoologists who are obsessed with urban legends — and who recognize Mattie as a woman who had been kidnapped more than a decade ago.  
Read an excerpt.
The Helm of Midnight by Marina Lostetter
Marina Lostetter  made waves with her Noumenon space opera series, and now, she's got a second-world dark fantasy for fans to enjoy. The Helm of Midnight kicks off a new trilogy, in which a team of thieves steal a magical artifact: the death mask of Louis Charbon, which contains the spirit of the horrifying serial killer. Its theft has unleashed Charbon from death, and its up to a Regulator named Krona Hirvath and her team to figure out how to stop him.
Stormland by John Shirley
In John Shirley's latest novel, he takes us to a future where climate change has ravaged the United States, creating a perpetual series of hurricane-strength storms that pummel the southeastern United States day in and day out. Despite the conditions, some people still eke out a bleak existence in the remains of Charleston, South Carolina, which has turned into a violent, lawless zone. A former US Marshall, Darryl Webb, is tasked with tracking down a reformed serial killer, Gerald Fogle, who's now trying to save the people in the region.
Publishers Weekly says that its "howling super-hurricanes, grisly torture scenes, and the horrors of scientific experimentation on human brains make for harrowing reading. This is a sober warning about the seductive dangers of power."
---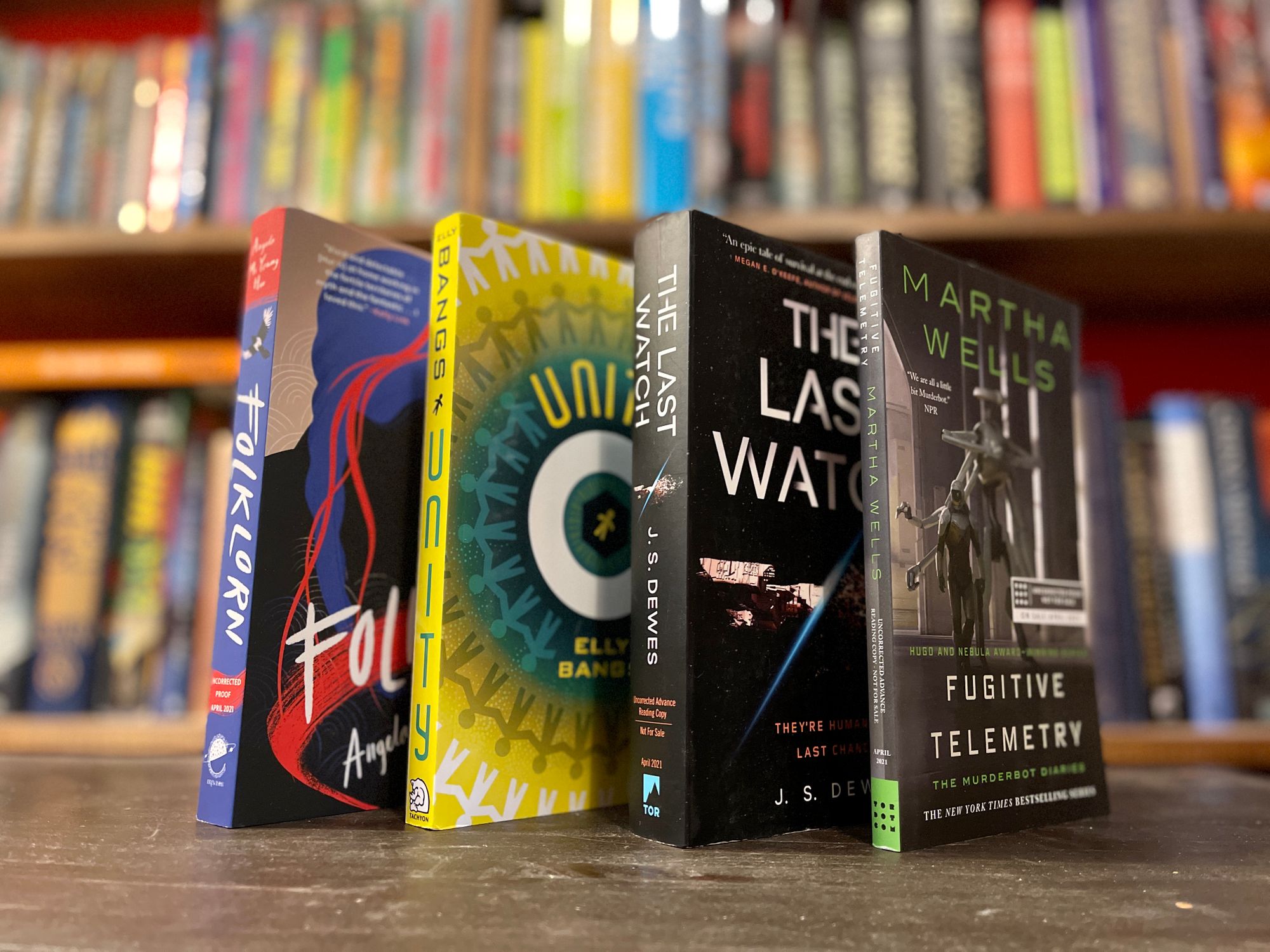 April 20th
A Dark Queen Rises by Ashok K. Banker
In this sequel to 2019's Upon a Burning Empire, Ashok K. Banker returns to his epic fantasy world of the Burnt Empire, following Queen Aqreen as she flees acros the Red Desert to prevent her daughter from being used as a political pawn by her husband, Jarsun. Hot on their heels are his forces, and their years-long journey across the desert will see them confronting other dangers.  
The Galaxy, and the Ground Within by Becky Chambers
A new Wayfarers novel from Becky Chambers is always a welcome addition to my bookshelf. She has consistently blown me away with her fantastic characters, and with The Galaxy, and the Ground Within, she brings the series to a close, set on the planet Gora, an out-of-the-way interstellar crossroads that's a convenient stopping point for freighters and their crews.
In this book, when a satellite accident halts all traffic and communications around Gora, three aliens — Pei Tem, Roveg, and Speaker are all stuck on the planet. Worried about missing their connections and loved ones elsewhere, they bond and learn about one another's pasts and where they might be headed in life.
Publishers Weekly gave the book a starred review, saying that "the highlights are the characters' meaty debates and Chambers's delightful exploration of cultural difference."
Defekt by Nino Cipri
I really enjoyed Nino Cipri's novella Finna when I read it last year; a fun romp through a multiverse with an extra dose of criticism for the workers who toil away in the relentless box store retail grind. Their characters Ava and Jules find a way out of their world, and in this sequel, Cipri introduces us to another loyal employee, Derek, who obsessively works for the strange, Ikea-like retailer, LitenVärld.
When he takes a sick day, his manager questions his loyalty to the company, and assigns him to a special task: searching the store to track down defective products, along with four doppelgängers.
Publishers Weekly notes that the book is over too quickly, but that its "characters and atmosphere are expertly handled."
The Last Watch by J.S. Dewes
J.S. Dewes's debut looks like it'll be an excellent military science fiction adventure. At the edge of space is The Divide, which is guarded by a the Sentinels, a crew of misfits and recruits exiled a wall of decommissioned ships, waiting for any sign of an alien civilization known as the Viators. They're led by Adequin Rake, who has few resources to draw on in case of danger.
When a civilian, a former royal named Cavalon Mercer is stripped of his titles and exiled to the Sentinels, just as they begin to learn that The Divide is beginning to collapse, and he might be the key to saving everyone.
Publishers Weekly says that "Dewes fluidly interweaves complex worldbuilding with a fast-moving plot and satisfying character development in Cavalon and Rake."
Read an excerpt.
---
April 27th
Folklorn by Angela Mi Young Hur
Elsa Park has been estranged from her family for years, and has become one of the world's foremost particle physicists, heading up a research effort to study neutrinos in Antarctica. But an imaginary childhood friend eventually catches up to her, recalling a warning from her mother that their family's women are doomed to repeat the lives of their ancestors. Prompted to return home, she's forced to confront her family's demons.
Publishers Weekly says that "This thought-provoking work will appeal to SFF fans who like their talk of particle physics side by side with fox spirits and fairy tales."
The End of Men by Christina Sweeney-Baird
Set just a couple of years into the future, Christina Sweeney-Baird imagines a world where a mysterious illness originates in Scotland. It seems to only infect men, and it's lethal, snowballing into a global pandemic. Over the next six years, we follow several storylines as they work to figure out life in a radically-changed world.
Publishers Weekly says that "the personal politics and gender dynamics are spot-on, and readers will feel connected to the main characters' struggles and resilience."
Fugitive Telemetry by Martha Wells
Martha Wells returns to the world of her Murderbot series with a new novella, Fugitive Telemetry. Set prior to the events of her novel Network Effect, we follow the soap opera-loving security android Murderbot as it discovers a dead body on Preservation Station. Working alongside station security, it has to figure out who the body belonged to and how and why it was killed. And in doing so, it has to do what it hates the most: dealing with squishy humans.
Writing for Locus, Liz Bourke says that "Fugitive Telem­etry is a brisk, well-paced delight, and fills in a gap in Murderbot's adventures in a satisfying way. I enjoyed the hell out of it, and I hope that Wells continues to tell Murderbot stories for a long time to come."
Read an excerpt.
Star Wars: Thrawn Ascendancy Book II: Greater Good by Timothy Zahn
Timothy Zahn continues his Thrawn: Ascendancy trilogy with a second installment, Greater Good. In Chaos Rising, we were introduced to a younger Thrawn just starting out as an officer in the Chiss Ascendancy.
Related: Timothy Zahn has returned to Thrawn
After his successful campaigns in that first installment, there's more work ahead of him, as there are lingering threats to his home system, both externally and from within. A series of events bring about the possibility of destruction for the Chiss Ascendancy, and Thrawn and his forces must unravel a plot before it's too late.
Read an excerpt.
---
As always, thank you for reading! I'm always excited to hear what you are reading, so let me know in the comments what you've got on your TBR pile, and what titles on this list catch your eye.
Subscribers should expect the weekly roundup tomorrow, and later this month, I'll have posts about science fiction and climate change, the legacy of Game of Thrones, white supremacy and science fiction, as well as a handful of reviews.
Have a good one!
Andrew