Even more books to add to your TBR this April
20 new books to check out for the rest of the month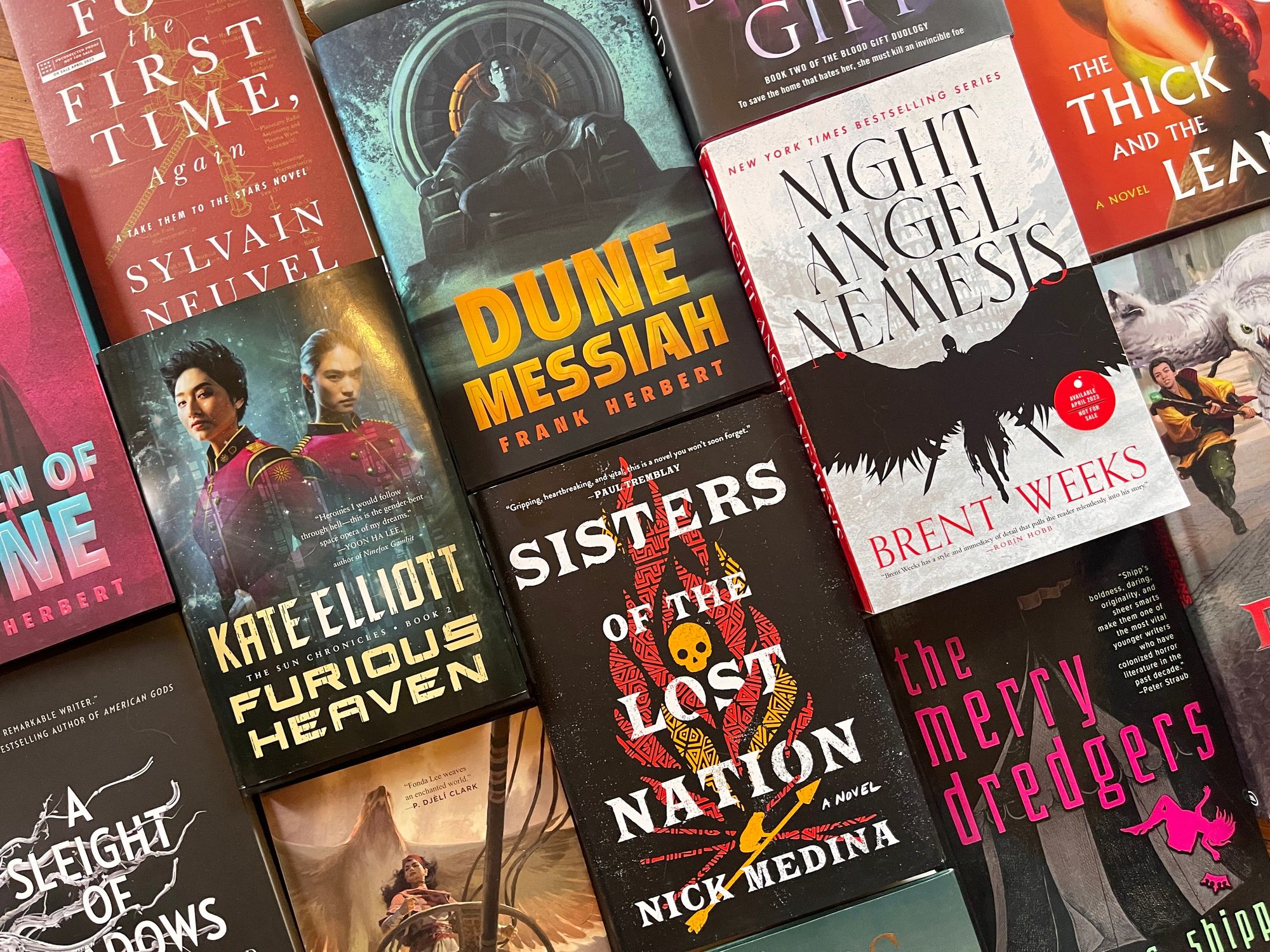 Spring is finally here in Vermont: we've transitioned out of stick season, where everything is sort of grey, and into our state's namesake of the Green Mountains. The next couple of days (especially with this week's rain) should bring out the greenery and transform the state into a beautiful landscape.
Of course, while it's raining, it's the perfect time for a book: I've got the ever-growing pile that I've been absorbed in, and it's a good excuse crawl under a blanket and enjoy the sound of the rain outside.
In case you missed the first April book list, you can find that here. You can also find prior lists via the Book List tag here in Transfer Orbit.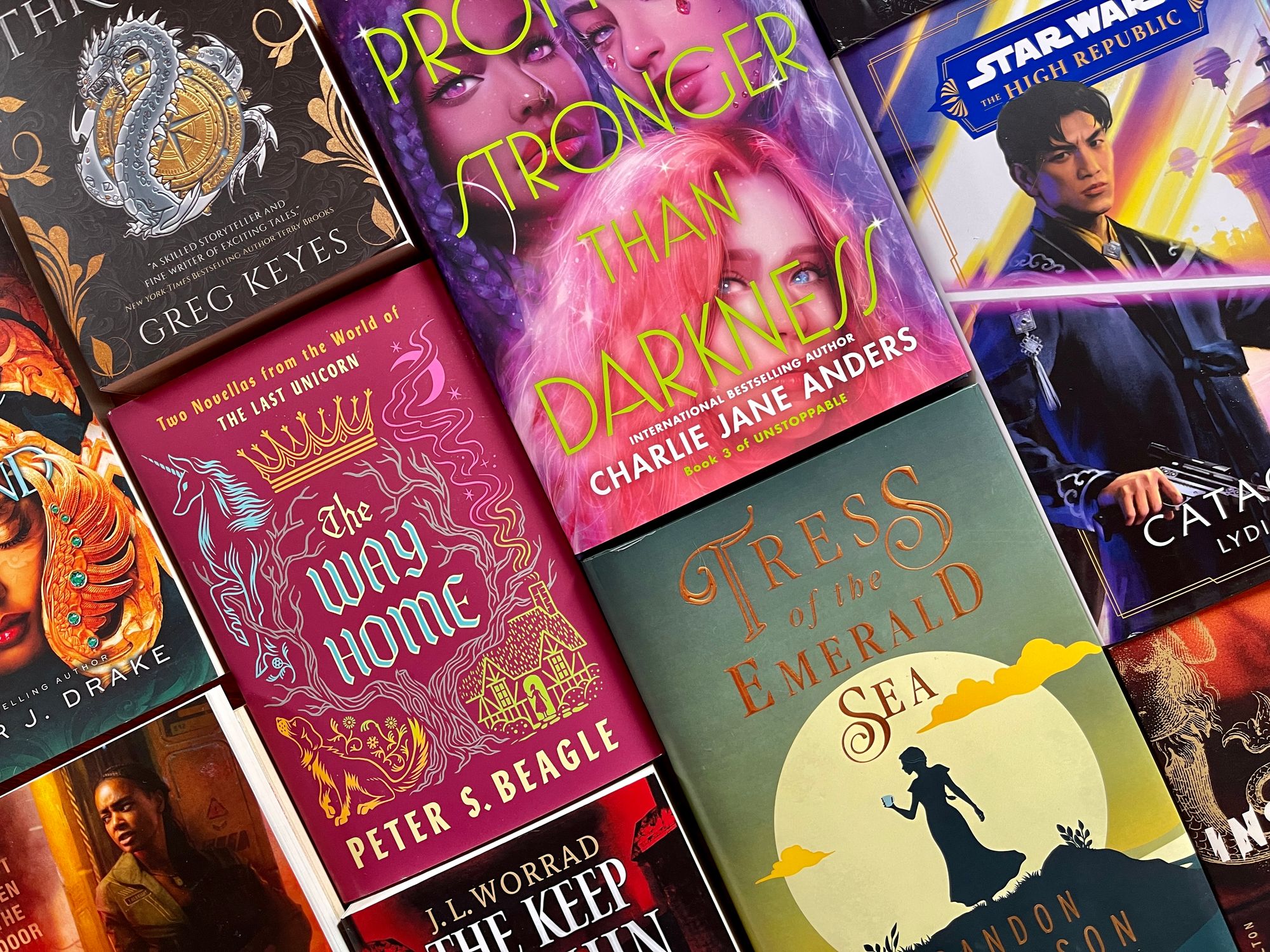 If you're new to TO, welcome: this is a regular fixture for the newsletter: a roundup of some upcoming SF/F books that catch my eye, along with regular essays and reviews (as well as some extras for paid subscribers) that help to explain the current state of science fiction and fantasy writing and reading.
If you find a book that you like, please consider supporting the newsletter: it helps keep things moving on the back end. Posts like this take a good couple of hours to put together, and hosting on Ghost costs around $100 a month. Spreading the word is also incredibly important: if you've enjoyed what you've read, please consider sharing this on Facebook, Twitter, Reddit, Substack, #insertSocialMediaNameHere, etc. Every little bit helps grow this community.
Finally, links to Bookshop.org are affiliates, and if you make a purchase through said links, we'll get a small commission.
Okay, here are 20 new SF/F books for you to check out this month:  
In this horror story, a woman named Alejandra is forced to confront some demons that are connected to her family's distant past, as well as some that are raging inside of her. When she's particularly upset, she receives visions of a ghost: a crying woman in a white gown. As she begins to explore her family's history, she uncovers some dark secrets, learning about the tragedy and heartbreak that's been visited upon her female ancestors.
Publishers Weekly notes that "Castro cleverly uses Mexican folklore to shine a light on multigenerational trauma," and that "horror fans who prefer psychological scares will find plenty to enjoy here."
The Blood Gift by N. E. Davenport (April 18th)
N.E. Davenport returns to close out her Blood Gift duology with The Blood Gift. In the first installment, The Blood Trials, she followed a soldier named Ikenna, whose grandfather, a general in the Republic of Mareen's army, was just assassinated. She joins the Republic's Praetorian Guard to try and track down his assassin, and survives a series of trials, and is forced to reveal her secret ability to quickly heal.
In this sequel, Ikenna and her team are now on the run, and she's having trouble controlling the powers given to her by the goddess of Blood Rites. While this is happening, the Blood Emperor has launched an invasion against the Mareen Republic, leaving destruction in his wake, and Ikenna and her remaining allies must go to enormous, destructive lengths to save her home, even as the consequences are impossibly high.
Publishers Weekly says "Ikenna is truly a force to reckon with, but her increased power is counterbalanced by lovely human touches, like her fiery romantic chemistry with squad member Darius Reed and her emotional interactions with both friends and foes.
Cory Doctorow launches a new trilogy about a legendary forensic accountant named Marty. He's spent his career tracking down money that people have been trying to hide. When an old friend comes to him for help, he's pulled into a new caper: his friend Danny built an enormously successful crypto currency, but the key to the backdoor that he built into the system has gone missing, and it's up to Marty to try and find it.
This is more dangerous than anything he's ever tackled, with a bunch of criminal organizations and some government agencies are involved. Library Journal notes that "this absorbing and ruthless cyberpunk thriller from Doctorow (Attack Surface) tackles modern concerns involving cryptocurrency, security, and the daunting omnipotence of technology.
If you want the audiobook, you can back Doctorow's Kickstarter, which blew past its goal. Move quickly though: it's set to end tomorrow (April 18th)
Tananarive Due has a new collection out, featuring 14 short stories that show off her abilities as one of field's best authors of horror and afrofuturism. The stories are suspenseful, horrifying, and full of twists, and range from science fiction to straight-up horror. (You can read the title story over on Uncanny Magazine.)
Kirkus Reviews gave the book a starred review, saying "A patchwork of stories that somehow manages to be both graceful and alarming, putting fresh eyes to the unspeakable."
Furious Heaven by Kate Elliott (April 18th)
In this sequel to Unconquerable Sun, Kate Elliot picks up this space opera as the the Republic of Chaonia fleets, led by Princess Sun and her mother, Queen-Marshal Eirene, defeats the Phene Empire's navy. While it's a setback for the Empire, it's not a finishing blow: the Empire is working to recover, and the Chaonian fleet suffered its own heavy losses.
As the Empire prepares for another strike, the Chaonian fleet, led by Eirene prepares to launch a surprise strike after allying themselves with a secretive religious cult that specializes in assassinations. But when tragedy strikes, Sun is set to take over, and faces some unexpected challenges as she takes the throne and as she works to forge her own path forward.
Publishers Weekly says that the book's "byzantine plot [is] enhanced with lovingly detailed action sequences, romance, and moral and philosophical questions about personhood and duty,"
The Warden by Daniel M. Ford (April 18th)
Aelis had a plan: use her money and family connections to become one of the only female necromancers, get a good job, and enjoy a good life. Things randomly go to plan, and when she finds herself sent to a distant village called Lone Pine and serving people who want nothing to do with her, she has to endure an underwhelming existence.
But when villagers start to act strangely, she begins to realize that she'll have to put her talents to use, and that she might be the only person standing between unspeakable evil and the rest of the world.
Publishers Weekly says "The charming misfit cast is the highlight here. Readers who enjoy the maturing mages and heroes of Robin McKinley and Melissa Caruso will find another youngster on the rise to cheer for in these pages."
A couple of year ago, Ace Books released a deluxe hardcover edition of Dune: it's a slick edition with a new cover, nice endpapers, an updated map, and a new introduction from Brian Herbert. Now, we've got the next two novels getting the same treatment: Dune Messiah and Children of Dune each get some new covers, introductions, and endpapers, and altogether, they're very nice edition. You can also get all three books together in a boxed set.
Back in 2018, Kat Howard released An Unkindness of Magicians, about a young magician named Sydney who was on a mission to destroy a secret magician's society in New York City.
Howard has written a sequel, A Sleight of Shadows, in which Sydney is left with few magical powers, and resolves to work her way back into the fold. She has to move quickly: the House of Shadows, where she had trained, has begun to reform itself, and she must do everything in her power to keep them from taking over again.
Oddments by Marko Kloos (April 16th)
I'm a big fan of Marko Kloos's novels, but over the years, he's written a variety of shorter stories as well. He's put together a collection that brings them together, Oddments, which includes 120,000 years of alternate history, fantasy, military science fiction, and a bit more. It has nine previously-published stories, as well as three brand new ones.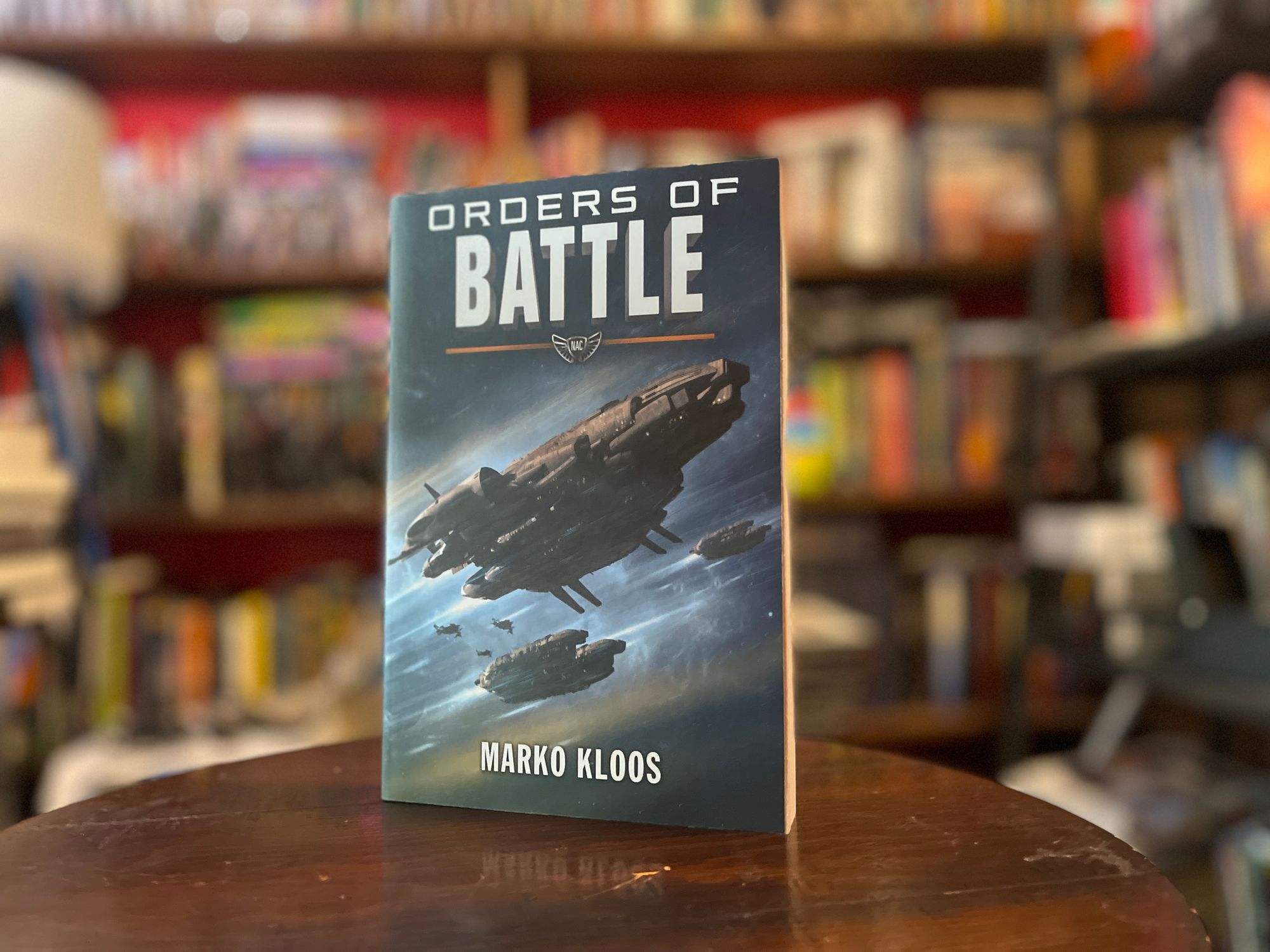 Deep in a forest lives a human named Victor Lawson and three robots: an inventor robot named Gio, a nurse machine, and a vacuum. When Vic brings home another android named HAP, he learns about a dark past that Gio and Hap share: they had hunted humans, and with Hap's activation, some robots from their past learn about this small family.
Gio is captured and brought back to his former laboratory, and Vic and the rest of his family embark on a journey to rescue him, all while contending with the complications that the revelations about their past have brought them.
When her family is destroyed by a manticore attack that leaves her baby brother and mother dead, Ester embarks on a mission of revenge: to hunt down and kill the monsters that changed her life.
She joins the Kings Royal Mews, flying giant raptors to hunt down the manticores and their riders. She's paired with a young roc named Zahra, and she discovers a new purpose in life, and as she does so, she has to come to terms with the sacrifices and connection to her powerful steed.
For her whole life, Anna Horn has been pursued: by bullies, by tourists visiting her reservation's casino, and by a supernatural entity from tribal folklore that's come to life, intent on consuming her.
As strange things happen at home, she begins to realize that not all of their troubles are ancient, and as girls (and her sister) go missing around the reservation, she and her fellow tribe members need to figure out answers to save themselves.
Publishers Weekly says "Medina resolves the plot well and gracefully weaves real-life concerns about disappearing Native people into the whodunit plot. This author is off to a strong start."
Sylvain Nevel closes out his Take Them To The Stars trilogy (A History of What Comes Next and Until the Last of Me) with For the First Time, Again. In this alternate history, (the first book took place in the 1940s, and the second in the late 1960s), he brings us up to 1999, where a boy named Aster wakes up in a hospital after her father is killed, and through some blood tests, discovers that she's the last member of an alien species called the Kibsu.
That makes her a target: not only are the Trackers after her, but so is the US government, and with help of some unexpected allies, she escapes and begins to learn more about the titanic battle that she now finds herself part of.
Publishers Weekly says "Neuvel keeps the frantically paced plot tight and effectively counterbalances all the action with nuanced character work.
I wrote about this a while ago: the European Astrobiology Institute put together an anthology that partnered up science fiction writers and academics to imagine what life might look like throughout the galaxy. It includes stories from authors like Tobias S. Buckell, Julie E. Czerneda, Mary Robinette Kowal, Geoffrey A. Landis, Rich Larson, Premee Mohamed, Malka Older, D.A. Xiaolin Spires, Bogi Takács, Peter Watts, and many others.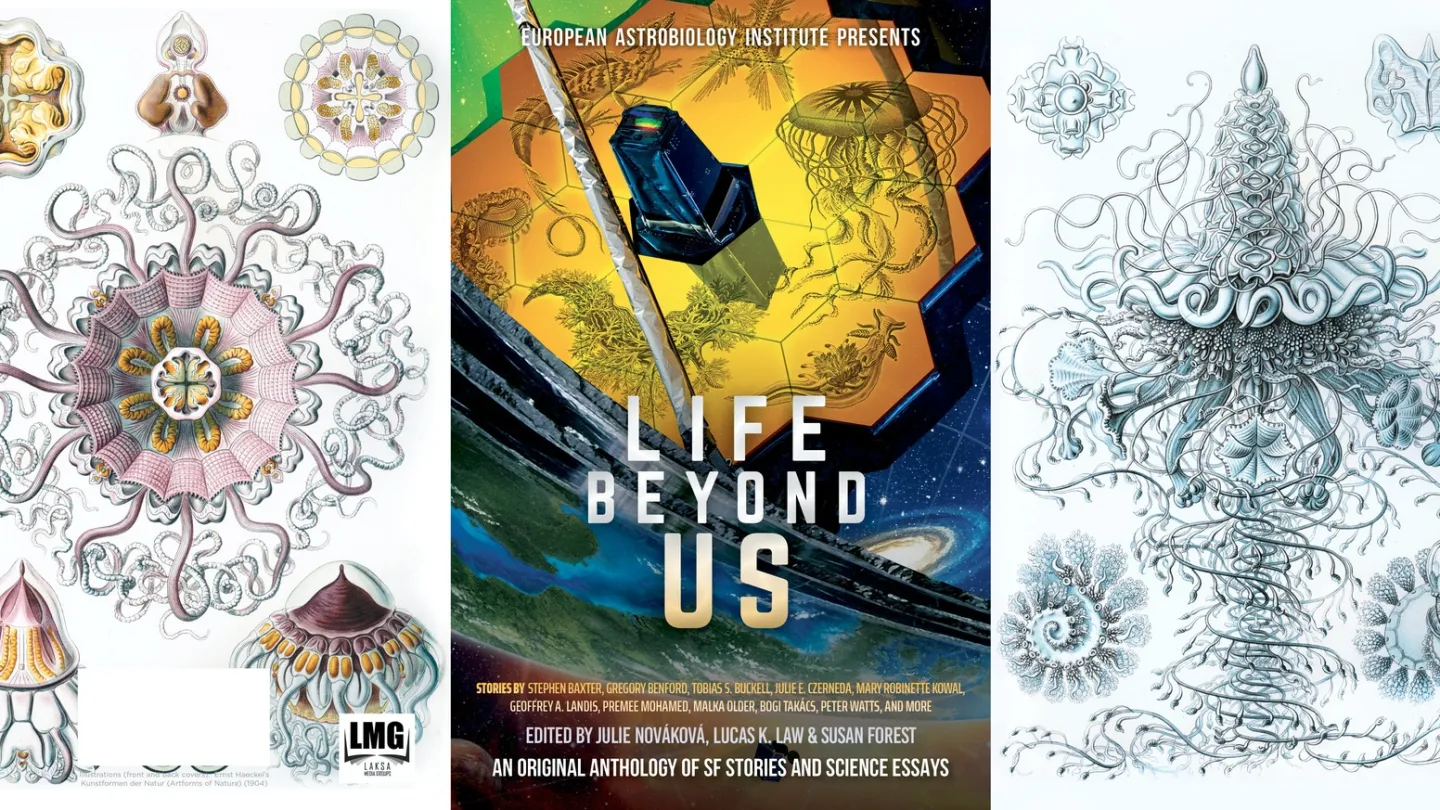 Phil Plait is pretty well known amongst science fiction fans: he's written a lot about astronomy and the cosmos over the years, and his latest book looks like it'll be an excellent overview of what we've all imagined traveling through space might be like, and what's behind the planets, stars, galaxies, that we see in the night skies.  
Publishers Weekly gave the book a starred review, noting "The text is laced with humor, as when he offers a detailed account of the annihilation readers would face if they flew too close to a black hole and quips that "you probably should've read the small print in the guidebook before signing your Rent-a-Starship contract." Diagrams and vivid color photos enhance the presentation."
Chana Porter imagines a world where food and eating is akin to sex: it's enormously taboo, and in the religious town of Seagate, abstaining from eating is a way to get closer to God. Beatrice Bolano craves food, and its forbidden nature, and as Seagate clamps down on what its people consume, she has to make a choice between remaining and giving up her passion for cooking, or leaving the only place she's known as home.
Lightspeed Magazine calls it "phenomenal" and that it "delves into socio-economic class dynamics, racial discrimination, and the ethics of accumulating power."
I saw Dungeons & Dragons: Honor Among Thieves the other week, and we delighted by it. It felt like a film that really captured the experience of playing in a group: it was funny, there was lots of action and fun improvisation, and I'm definitely going to watch it again. Accompanying the film is an art book, and I've been paging through it, finding some neat insights into the film's production, character design, and storytelling. I should make for a good read for fans of the film, and of the game itself.
Seraphina Ramon's sister Eff has ended up in a coma after a suspicious accident, and it sends her on a mission to try and figure out what happened. Her first stop? An abandoned amusement park that's now home to a group of cultists, known as the Merry Dredgers. As she investigates, she works to untangle what the group is really about in this strange environment, and how to extract her sister.
Publishers Weekly says "Readers who like their weird fiction with a dash of wry humor will eat this up."
Brent Weeks returns to the world of his his Night Angel trilogy (The Way of Shadows, Shadow's Edge, and Beyond the Shadows – all repackaged in a handsome series of trade paperbacks) for a new adventure. The first trilogy was about an assassin named Durzo Blint and a man named Azoth who comes into his employ and has to navigate the world of assassins and their politics and magic to become an assassin in his own right.
In this new book, we follow the story of a man named Kylar Stern, a veteran who was broken by his experiences in war. He's vowed never to kill again, but an amnesty agreement promises to free a murderer and he can't let that pass. But first, he has to do one last job: save the twin sons of his only friend, the High King Logan Gyre, with the help of a magical artifact that he has to track down first.
Publishers Weekly notes that "Weeks keeps the plot moving, despite the book's length, and makes it easy for newcomers to get engaged in this world. Fantasy fans who like roguish antiheroes will want to check this out.
---