14 SF/F books to check out this December
Stories about distant civilizations, magical cyberpunk, and the history of libraries.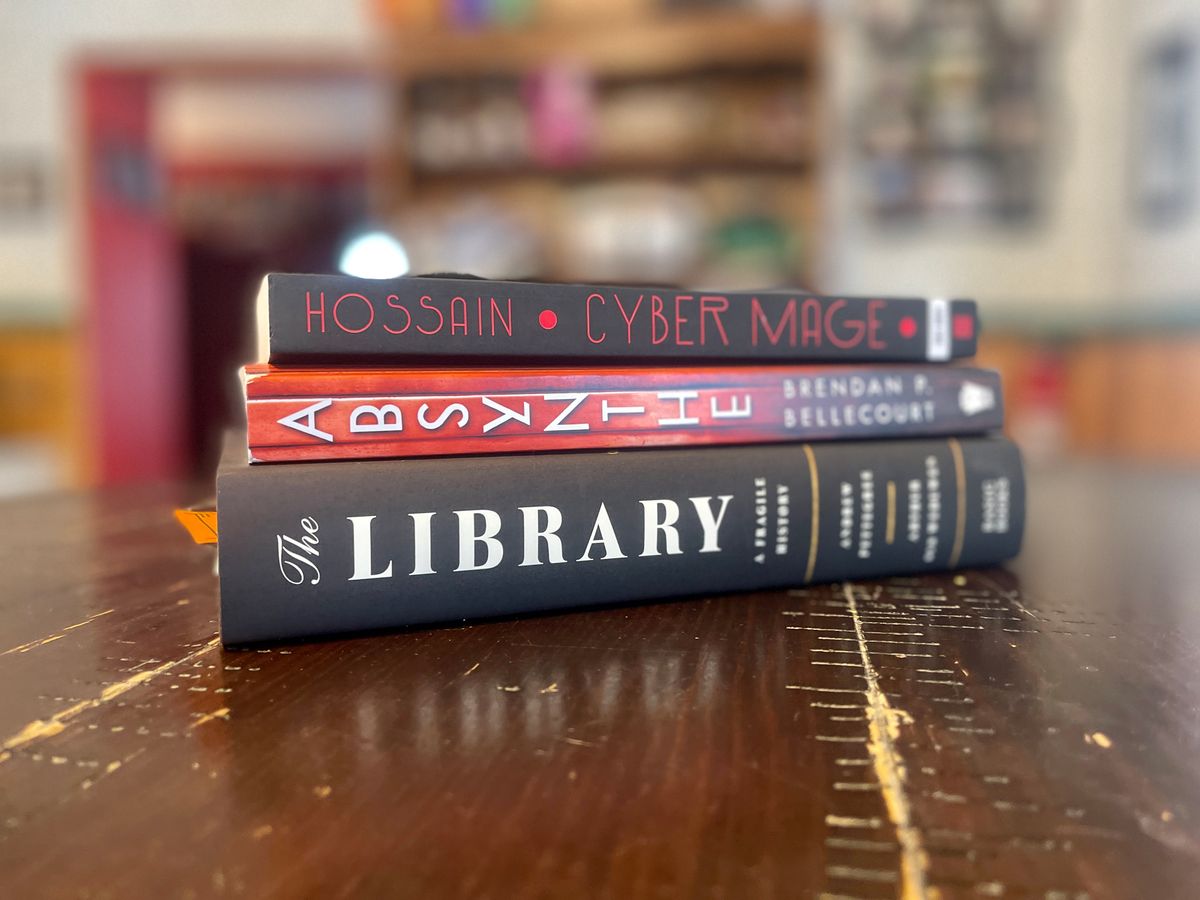 We've reached the end of 2021. It feels like it's flashed by in a moment, yet lasted forever. This is the final new book list of 2021! This year brought so many good books, and this final list caps it off with some interesting things to read (or represents a good last-minute gift fo the holidays.
A couple of things that I'll point to: I've got a book of my own in the pipeline, Cosplay: A History, which is now available to preorder from a variety of online retailers. The book is due out on June 28th, 2022, and I'm very excited for folks to read it!
Secondly: I'm currently running a promotion for subscribers: I've knocked 20% off the annual price, and a year's subscription will cost you $40 (normally $50.) You can take advantage of this here. Your support helps keep the newsletter going.
Here are 14 SF/F (and some nonfiction) books to close out the year. This list is in chronological order: you can read the genre-sorted one here.
*As always, books bought through Bookshop might result in a commission to Transfer Orbit.
---
November holdovers
Sanctuary by Allen M. Steele
Allen M. Steele has ben one of my favorite authors for years, starting with his brilliant book Coyote. He's a prolific short story author, and often brings together some of his shorter stories into longer books. His latest is Sanctuary, which kicked off back in 2017 with a great story on Tor.com. He's followed up with additional installments in Asimovs, and has now brought them together in a print book.
Set on Tau Ceti-e (I guess I need to update my original post about this), in which a human ship crashed onto the world and who are confined to a single island by the planet's native Cetans. The book's protagonist is a detective named Jeremy Crowe, who's after a missing person, and it's a hunt that takes him through Sancuary's strict caste system and beyond.
Publishers Weekly says that "Steele's engaging tough-guy narrator and well-wrought alien culture make this an enjoyable romp for both science fiction and detective story fans."
The Perishing by Natashia Deón
Set in a 1930s Los Angeles, a woman named Lou wakes up missing her memories. She's taken in by a family and begins school, trying to put the idea that there's a good chunk of her life that she's missing behind her. She goes on to become a journalist, and meets a firefighter whose face she realizes she's been sketching for years. She's convinced that they met at some point, she realizes that she's immortal.
Read an interview with Deón in the Los Angeles Times.
Beyond the Hallowed Sky by Ken MacLeod
Ken MacLeod kicked off a new space opera, about a scientist who will eventually discover faster-than-light travel. When her past self gets a letter from the future outlining how she'll do that, she's exiled from the scientific community, only to get an offer to build her technology from a mysterious source. Along the way, there's a secret out there that's slowly being uncovered that could fundamentally chance humanity forever. (This one appears to only be out in the UK, but hopefully it'll make its way to the US eventually.)
Read an excerpt here (and listen to it here.)
The Library: A Fragile History by Andrew Pettegree and Arthur der Weduwen
I've been reading this book for a couple of weeks now: it's a comprehensive history of how the library came to be. But it's a bit more than that: it's an interesting look at how we've developed, stored, and valued books over the years, and how print changed how society functioned. It's a really fascinating read.
Read an excerpt here.
The History of Science Fiction: A Graphic Novel Adventure by Xavier Dollo & Djibril Morissette-Phan
There are tons of histories of the story of science fiction, but Xavier Dollo and Djibril Morissette-Phan take a new approach: a graphic novel, which traces the roots of the genre through the changes from Mary Shelley and Jules Verne, all the way up to modern authors like Ken Liu and Ted Chiang.
Publishers Weekly notes that the panels get a little crowded at times with names and recommendations, but "readers beloved of the mysteries and magic of science fiction will truly enjoy this undertaking."
December 7th
Fallout: Expeditionary Force by Craig Alanson
Craig Alanson's latest book is the 13th in his long-running Expeditionary Force series. I've been reading the first installment, Columbus Day, and it kicks off when aliens called the Ruhar arrive on Earth. We were saved by another alien civilization, the Kristang, who jumped into our system and saved us. They're part of a much larger interstellar war, and the series follows the soldiers who board a Kristang ship and set off to help their war, only to find that it's more complicated than they originally thought.
In this latest installment, The Merry Band of Pirates have to deal with a random superweapon that might be used by some desperate factions, and they'll need to figure out how to deal with the fallout.
Absynthe by Brendand P. Bellecourt
Bradley Beaulieu adopted the pseudonym of Brendand P. Bellecourt to launch his first science fiction novel, which is set in an alternate 1920s Chicago. He follows Liam Mulcahey, a traumatized veteran of The Great War, and when the speakeasy he's in is attacked, he's saved by an heiress named Grace who can cast illusions. She tells him that the attack was coordinated by the Leland De Pere, the president of the United States, Liam's former commander, and after talking with her, he begins to remember his experiences in the war.
He was a member of an elite squad known as the Devil's Henchmen, and they were part of a medical experiment that turned them into telepaths. As he retains his abilities, De Pere puts a hit out on him, eager to put to bed a secret that Liam is beginning to learn.
Publishers Weekly says that "Bellecourt uses the mechanika to question the nature of personhood and the presence of mind control and illusions to constantly challenge both characters' and readers' perceptions of reality."
Read an excerpt.
The Liar's Knot by M.A. Carrick
Earlier this year, M.A. Carrick — the pen name for Marie Brennan (author of the Memoirs of Lady Trent) and Alyc Helms (author of the Adventures of Mr. Mystic) released The Mask of Mirrors, the first installment of a the Rook & Rose trilogy a fantasy, in which Renata Viraudax left her rural town for the city of Nadežra to try and con her way into one of the noble houses only to end up face to face with a crime lord and a vigilante known as the Rook.
In this sequel, Ren is still trying to make her way, holding up a couple of identities as she works to help House Traementis rid themselves of a long-lasting curse upon their house, one that has deeper links to the city's earlier history. Meanwhile, the Rook, aka Captain Gray Serrado is still trying to rid the city of a feared crime boss, and as Ren uncovers a long-simmering evil in the city, everyone will have to put aside their differences to save their home.
Cyber Mage by Saad Z. Hossain
Saad Z. Hossain, (whose novella The Gurkha and the Lord of Tuesday I really loved) takes his readers into a future Dhaka, Bangladesh that's grappling with sea-level rise and overcrowding. The solution that they try out is a bit of nanotechnology that helps maintain the climate, while artificial intelligence makes labor obsolete. Teenager Marzuk Dotrozi spends a lot of his time in Virtuality, a digital space where he's best known as Cyber Mage. He's a hacker who's been tracking an assassin named Akramon Djibril who's working on behalf of a Djinn who's been cutting off heads of people in the city.
But when Marzuk discovers a new type of AI lurking around the dark web in Bahrain, the two eventually cross paths, while Hossain throws in everything from the decrepid remains of the International Space Station, dragons, a sentient airport, and quite a bit more.
T.G. Shenoy writes in Locus Magazine that the novel is "Cyber Mage hits the sweet spot of being engaging and making you laugh and think in equal measure. If genre-bending novels are your cup of tea, then take a sip from this book. You will not stop till the cup is empty, leaving you wanting more."
Read an excerpt.
The Veiled Throne by Ken Liu
In 2015, Ken Liu released his debut epic fantasy novel, The Grace of Kings, which introduced readers to his  silkpunk universe in which two men, Kuni Garu and Mata Zyndu rose up together against an emperor and eventually became bitter enemies. He followed it up with The Wall of Storms, and for years, fans have been waiting for a conclusion to the trilogy. That third installment became two installments, and the first, The Veiled Throne, has now arrived.
In The Wall of Storms, the Lyucu empire invaded Dara, and while both sides work to try and find a peaceful solution, it's clear that Lyucu plans to subjugate the islanders. To find a way to save her people, Princess Théra sets off across the world to try and reach the Lyucu homeland, all the while questioning the traditions that have brought them to the present.
Kirkus Reviews gave the book a starred review, saying that "the real genius here is the fusion of extraordinarily deep worldbuilding with profound (and timely) themes, which include cultural assimilation, identity, intolerance, and more," and that "this is a shelf-bending fantasy masterwork: as good as it gets."
Read an excerpt.
Discordia by Kristyn Merbeth
Kristyn Merbeth wraps up her Nova Vita Protocol trilogy with Discordia. In the first installment, 2019's Fortuna, she introduced us to Scorpia Kaiser, the heir to her mother's smuggling empire, and deal with some of the darker elements of their work in the midst of a devastating war. In 2020's Memoria, the Kaiser family deals with the aftermath of the averted war and the consequences of some alien technology and relocate to a peaceful world called Nibiru. But Scorpia and her brother Corvus have trouble leaving the past behind.
In this final installment, Scorpia has assumed command of a ship called the Memoria, and is working to steer clear of the greater conflicts in the region, while Corvus works to rebuild his life. Their new beginnings are tenuous, and greater powers in the system are looking to lock them up for the secrets that they know, especially the ancient alien technologies that threaten to destroy everything in the system.
Library Journal notes that "Merbeth's engrossing final book of the trilogy is filled with disaster, family moments, and high-stakes action."
December 14th
Sounding Dark by Jo Graham
In the distant future, the pirate republic of Eresh is waging a losing war against the Calpurnian Navy: and after a devastating defeat, the Steel Captain knows that their republic is coming to a quick end if they don't find some help. The only survivor of the attack is Bister, a smuggler who should have died, and along with a couple of allies, they set off to try and locate an advanced starship called the Sounding Dark that's been lost for centuries — it might give them the edge that they desperately need to survive.
Publishers Weekly says that "Graham amps up the action, constructs a rich mythology of gods, cultures, and societies, and develops evocative characters that will make readers cheer."
Spidertouch by Alex Thomson
In this epic fantasy, the city of Val Kedić is ruled by the Keda, a mute race that maintains a tight grip on humanity by taking their children to work in deadly mines. One man, Razvan, has his son stolen, and finds work as a translator for the Keda, who use a touch-based language as a way to try and protect his son. As the city is besieged by another aggressor, Razvan is forced to chose sides: risk losing his son, or help rid his people of their oppressors forever — if he can trust them.
Publishers Weekly says that "Thomson builds a fascinating world of competing forces and political motivations," and that "Action-adventure fans will enjoy this brisk story of revolution, revenge, and justice—and look forward to the sequel hinted at the end."
Read an excerpt.
December 28th
The Wellstone by Wil McCarthy
Baen is republishing Wil McCarthy's 2003 hard SF novel (the second installment of his Queendom of Sol series) The Wellstone. The first installment, The Collapsium, is set in the distant future, in which a pair of scientists, Bruno de Towaji and Marlon Sykes, have to put aside their bitter rivalry when an experimental communications system is attacked and threatens to destroy the solar system.
In this installment, McCarthy takes on a couple of new characters: a type of matter called Wellstone allows people to halt their aging and live forever. Bascal Edward de Towaji Lutui is the son of the Queen of Sol, and will never assume the throne as long as she lives. Tired of the court and his royal parents, he and several friends opt to set of into the depths of space to forge their own paths in life.
Read the first five chapters.