Mythological figures of the Green Mountains
Costuming local heroes in the 1930s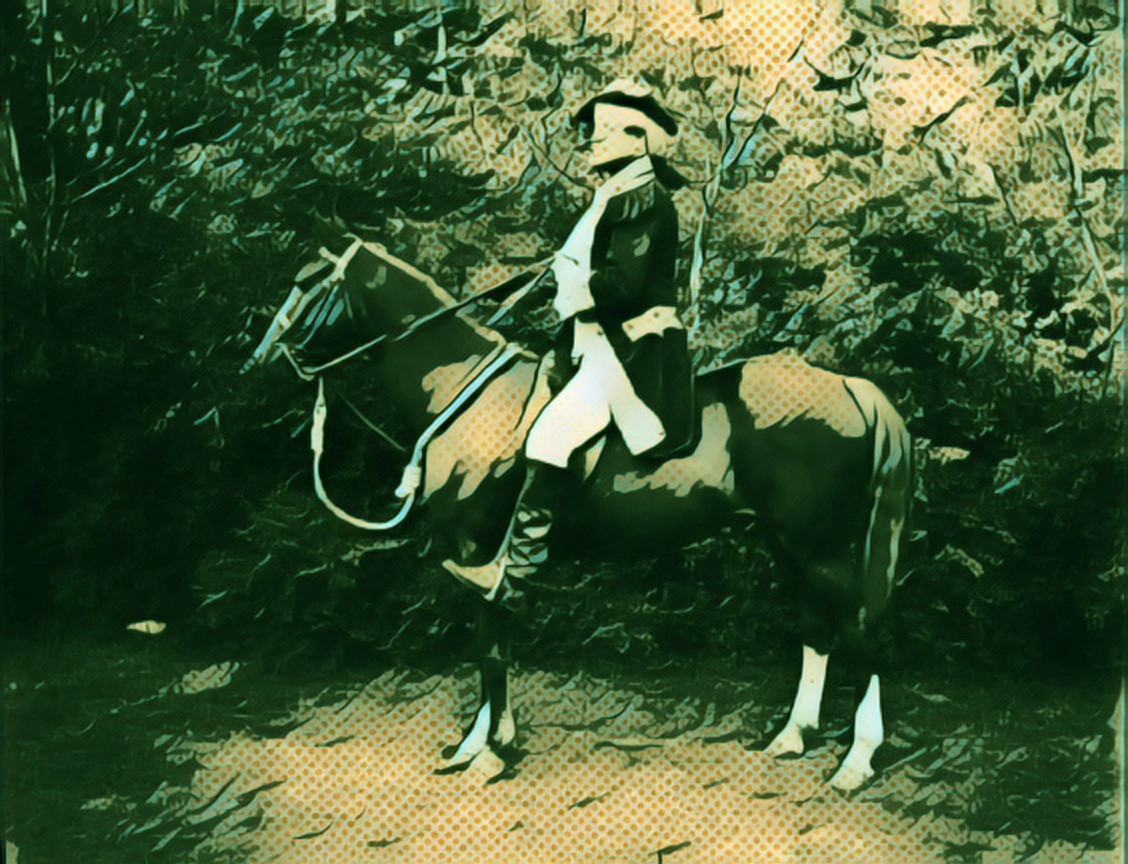 I came across an interesting story the other day: the Bennington Museum featured a picture of a vehicle decorated in flowers, explaining that it was one of the cars that took part in a parade to celebrate the opening of a section of the Ethan Allen Highway (now US Route 7) between Pownal and Manchester on September 20th, 1930. The road now stretches from Massachusetts to Canada, and it's a lovely drive.
At the time, the opening of this road was a big occasion: a paved, concrete roadway at a time when cars were beginning to grow a bit more commonplace. Here's an image of a section (Weirdly, from the Wisconsin Historical Society archives), and it's a huge improvement over the roads that you'd commonly find around Vermont at that time: unpaved dirt roads that would likely be impassible for cars at certain times during the year. I was interested in this because it's got a firm date, which I can use it for social media purposes for the day job.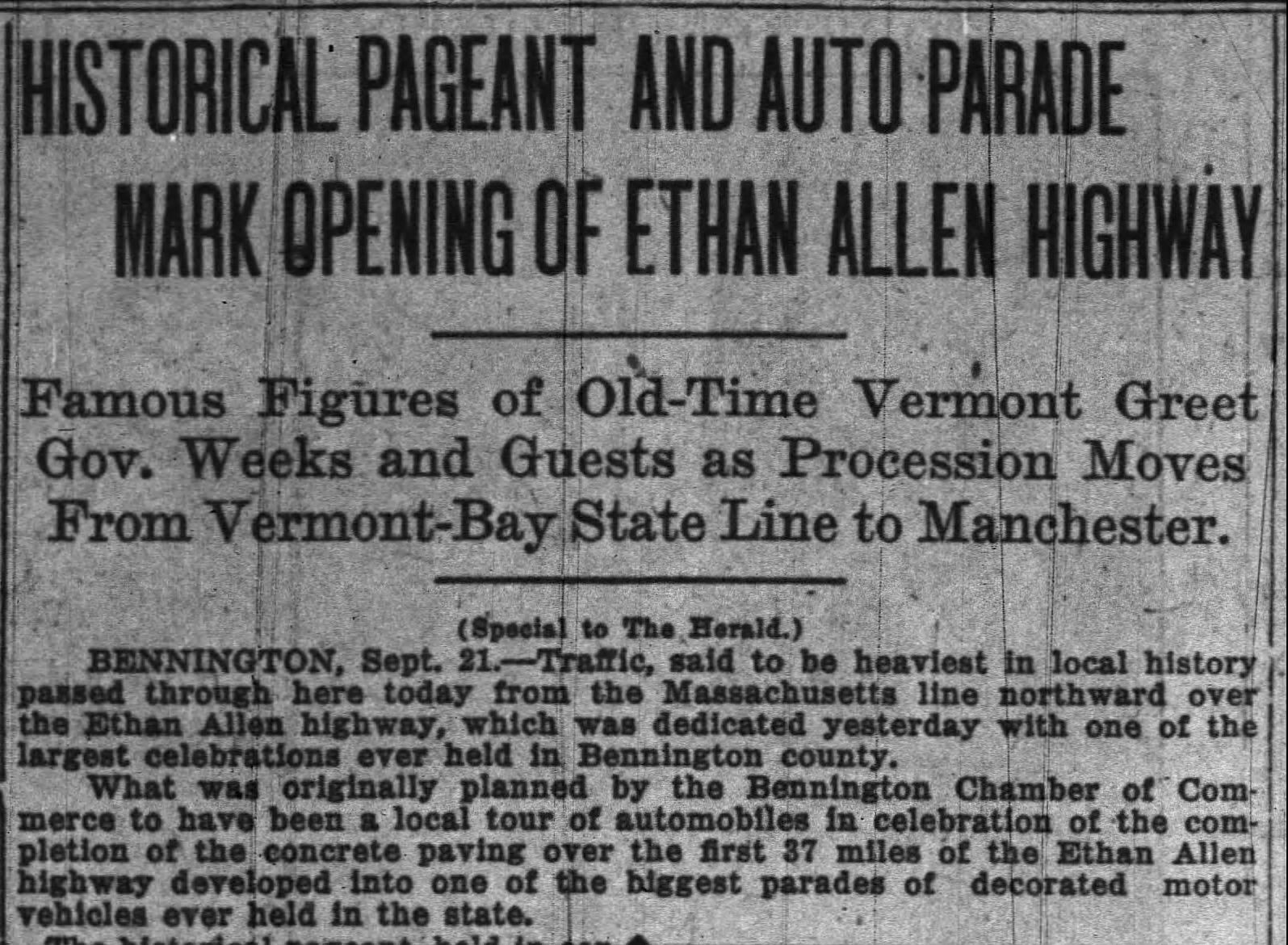 Thousands of people showed up to the opening: the Rutland Daily Herald called it "the biggest parades of decorated motor vehicles ever held in the state." Apparently there was a flyover by Abraham Lincoln's granddaughter, the governor, John E. Weeks, made some remarks, and... a whole bunch of folks dressed up as historical figures from Vermont's history like Ethan Allen.  
Allen, if you haven't grown up in Vermont, is something of a local hero: he was the leader of the Green Mountain Boys, a local militia that formed to literally fight New York officials when they stepped in trying to lay claim to land granted to settlers by the colony of New Hampshire. It was a bloody fight: Allen had a bounty on his head, various authorities conducted raids trying to capture him or his men (one, Remember Baker, got his thumb cut off when he was captured during an attack on his house, and was subsequently rescued on the road to Albany). When the Revolutionary War rolled around, the Green Mountain Boys were a ready-made fighting force that stepped in to help the Americans (we weren't a state at that point – we'd declared ourselves an independent republic, and eventually made it to statehood in 1791.)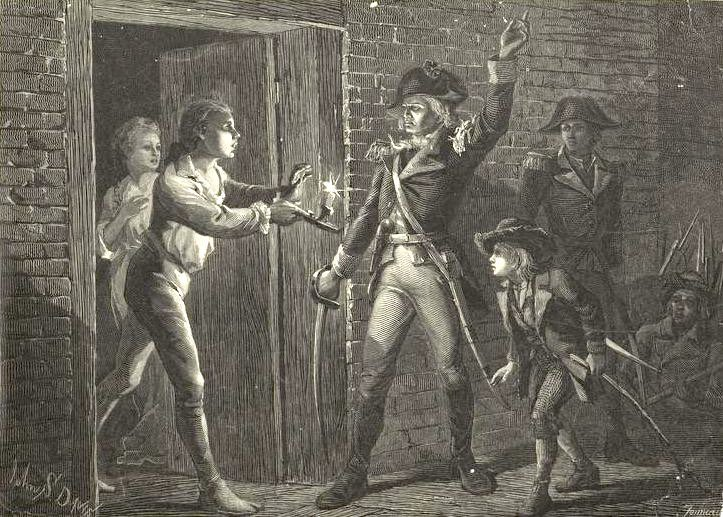 Allen is best known for capturing Fort Ticonderoga, held by British forces in 1775: it was a strategic chokepoint along Lake Champlain, and holding it meant control of the waterway. Fast-forward a bit, and Allen helps lead an ill-advised attack on Montreal later that year and gets captured, then returned a while later. (I've always felt that his role as a heroic figure is a little overblown, but if you want to know more about him, pick up Christopher Wren's Those Turbulent Sons of Freedom: Ethan Allen's Green Mountain Boys and the American Revolution, which paints a pretty good picture of his life.)
He's been held up as this sort of "founding father of Vermont" ever since, and you can find his name everywhere: we've named some military installations after him, some ships, the furniture company, a hospital, motels, a rail line, and so forth. When the time came in the 1920s to name this new road, there were a bunch of people who advocated for it to be named for the man, and it was eventually adopted.
Last year, I wrote a book about the history of cosplay, Cosplay: A History, and one of the things that I specifically focused on was the idea of using costuming as a way to engage with the people around you, either as a teaching or research tool (living history or reenacting) or because you're a fan of something (cosplay) or because you want to make a political point (protests). Folks have used costumes in these ways for decades and even hundreds of years: there were some early forerunners to cosplay popping up in the late 1800s, and even some reenactments that went earlier. So, someone dressing up as Ethan Allen for something like this is pretty interesting: it's a good example of where the idea of using costumes as a type of storytelling was a pretty normal thing.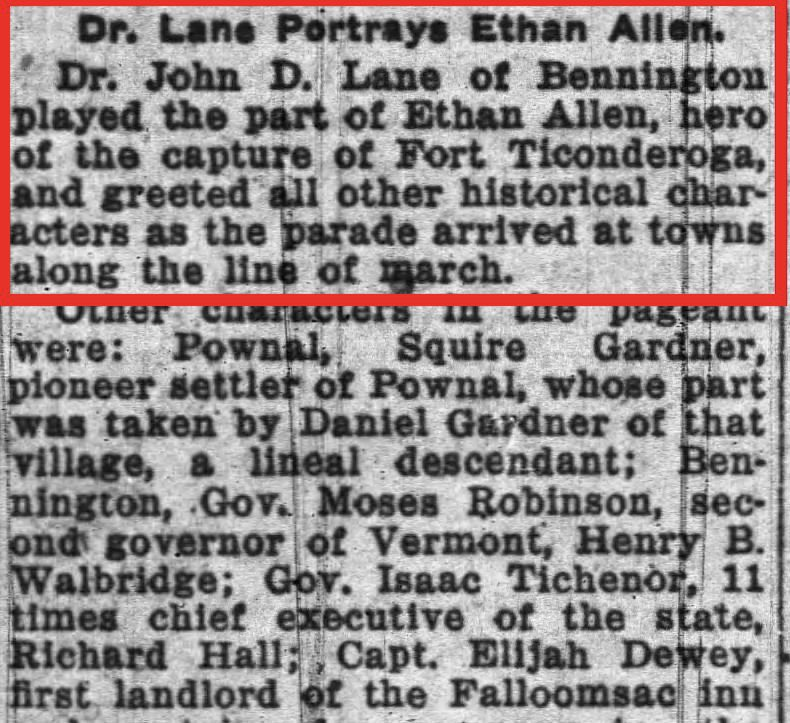 According to the Rutland Daily Herald, a local doctor named John D. Lane portrayed Allen, and he was joined by a whole bunch of other historic figures: Thomas Chittenden and Moses Robinson (the state's first and second governors respectively), Remember Baker (a member of the Green Mountain Boys), Ira Allen (Ethan's brother, Green Mountain Boy member, and founder of the University of Vermont), and a whole bunch of others. These "characters" greeted the parade as they drove through each town, welcoming them along the way and joking that they'd have an easier time moving through the countryside than when they would have during the colonial era.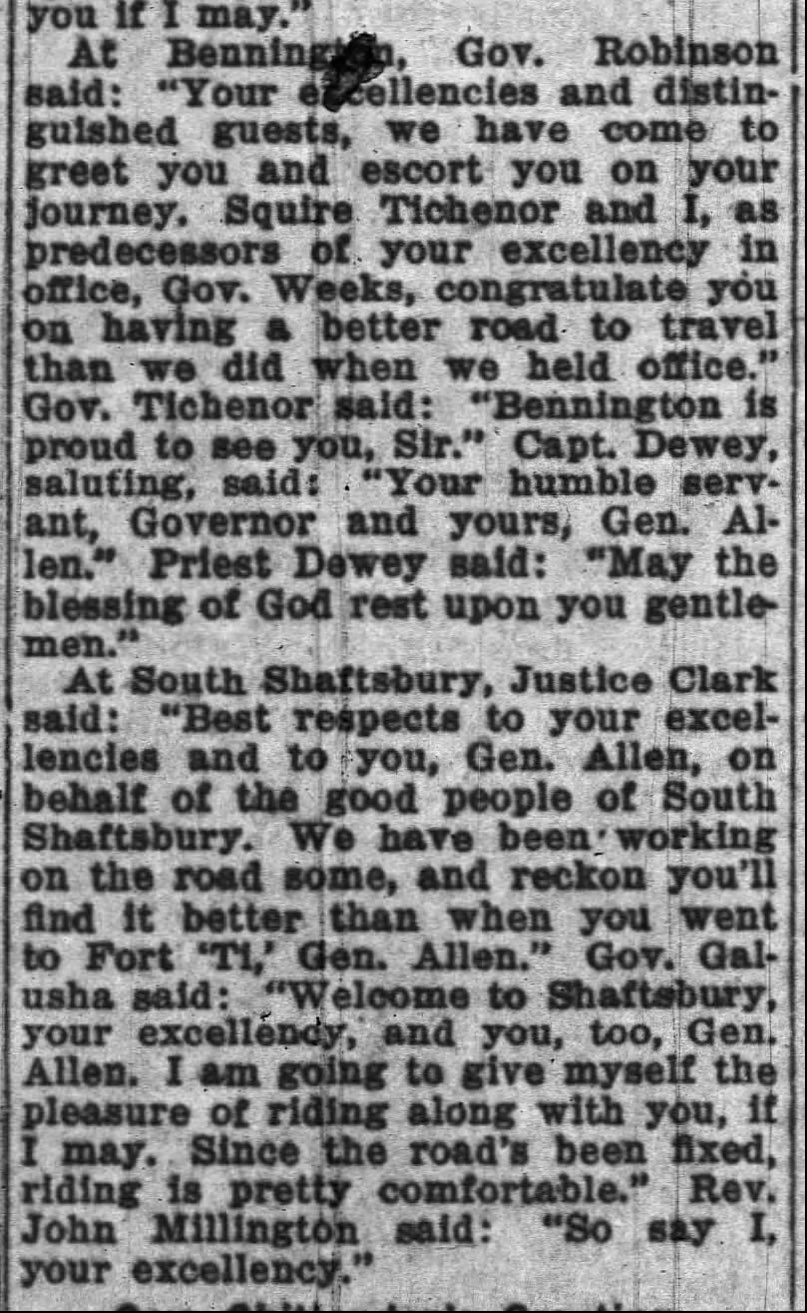 It's a fun gimmick, but also to my mind feels less like reenacting and more like what we now think of as cosplay: people bringing some familiar (and popular) characters to life.  
What's also neat is that there are actually pictures of the festivities. Here's Lane as Allen: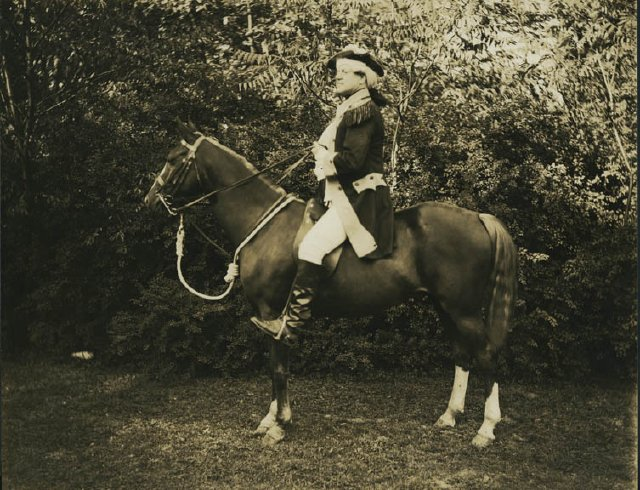 This seems to have been a hobby of Lane's: if you take a look through images in the Bennington Museum's archives, you'll find that at this point, he'd been doing this for two decades: dressing up as historic figures for the town's annual Battle of Bennington Day festivities. The pageant has historically been a big occasion in the city, and it's perfect for costumed reenactments: I've found newspaper stories about townspeople and Boy Scouts dressing up in period gear for the celebrations throughout the 1900s.
I think mostly of science fiction and superheroes as fodder for cosplayers, but the story of cosplay stretches far earlier than SF/F fandom: this is one good example of where people have put costumes to use in a public setting in something that doesn't quite seem to be a wholly historical event or reenactment, nor necessarily an educational one. They brought the characters in because the people in the area would have been pretty familiar with them, and would have been something of an attraction in and of themselves!
Indeed: two days before the event, the Caledonian-Record ran a story: "Pageant to mark the opening of Ethan Allen Highway", in which they noted "In the leading car will be Governor John E. Weeks, who will be met at each town by some of the prominent characters in early history. Ethan Allen, himself will be on the scene, as well as Governor Tichenor and a score of others. Each of the characters, returned to the scene of his former activities for this occasion, will speak a brief word of welcome to the governor, and will board a float riding from the place he meets the procession to Manchester fair ground, where the afternoon's program will complete."
The Bennington Evening Banner also highlighted the arrival of costumed figures: "Fighting Patriots, Scouts, and Officials in Costume," reads the sub headline on September 18th: "The first stop will be made in Pownal opposite Proud's store where Allen clad in all the brilliance of his regimentals will receive congratulations from the Squire Gardener [founder of Powenal]. Squire Gardener will be attired in colonial civilian dress."
One of the conclusions that I came to in Cosplay: A History was that we cosplayers are attracted to elements of the story: we want to recreate the costumes of the heroes and villains to bring out some those heroic or anti-heroic qualities in those tales. Certainly, the origins of the United States has been cloaked in a sort of its own heroic mythology: valiant rebels fighting against a distant and malevolent foe. Ethan Allen has endured this sort of cultural mythologizing: there were a bunch of novels written about the exploits of Allen and his Green Mountain Boys, and an entire book about how his image was crafted, Inventing Ethan Allen, Vermont scholars, John J. Duffy and H. Nicholas Muller III. I frequently hear him described in appreciative tones by visitors here at the museum. (To which I usually point to Those Turbulent Sons of Freedom and tell them that he seems like he was a bit of a jerk, or at the very least, a complicated individual.)
It doesn't surprise me that people here would dress up in period costume as figures like Ethan Allen: he and his compatriots were very much akin to the superheroes of the day, years before superheroes landed in newspaper strips and in comic books, ready to be gobbled up by eager children. They're people made out to be the very heroes people wanted to emulate, and trotting them out in person to a major community event helps to reinforce that image and those superimposed values to those around them.
---
As always, thanks for reading! A while ago, I had thought about writing up a series of posts that could accompany Cosplay: A History, something like the lost chapters of stuff I didn't quite get to cover in the book. I'm planning on finally getting to that this year, and I think we can consider this to be part of that.
If you'd like to check out the book, you can pick it up from Bookshop (that's an affiliate link), or at any other place that generally sells books. Simon & Schuster's page has a bunch of links: