Even more SF/F books to check out this March
20 more books to cram onto your bookshelf this month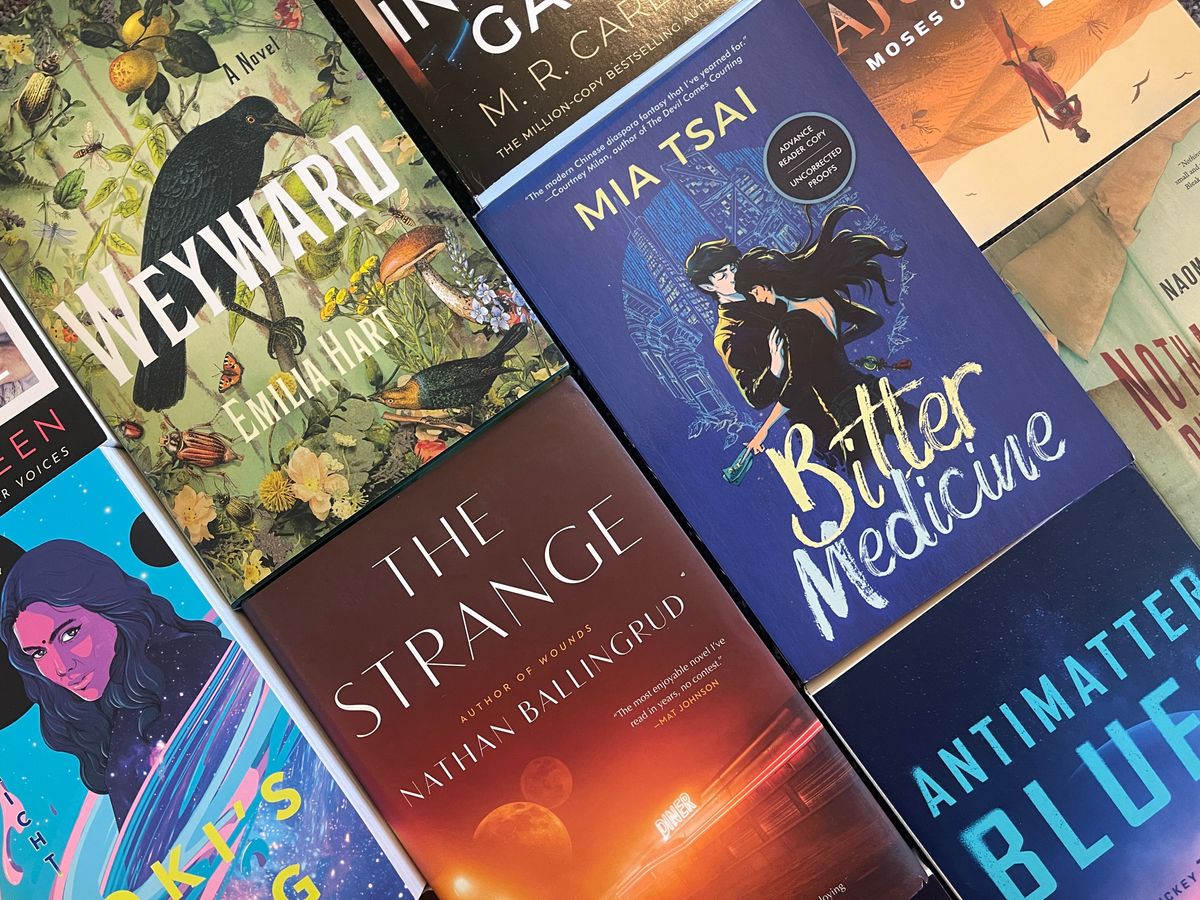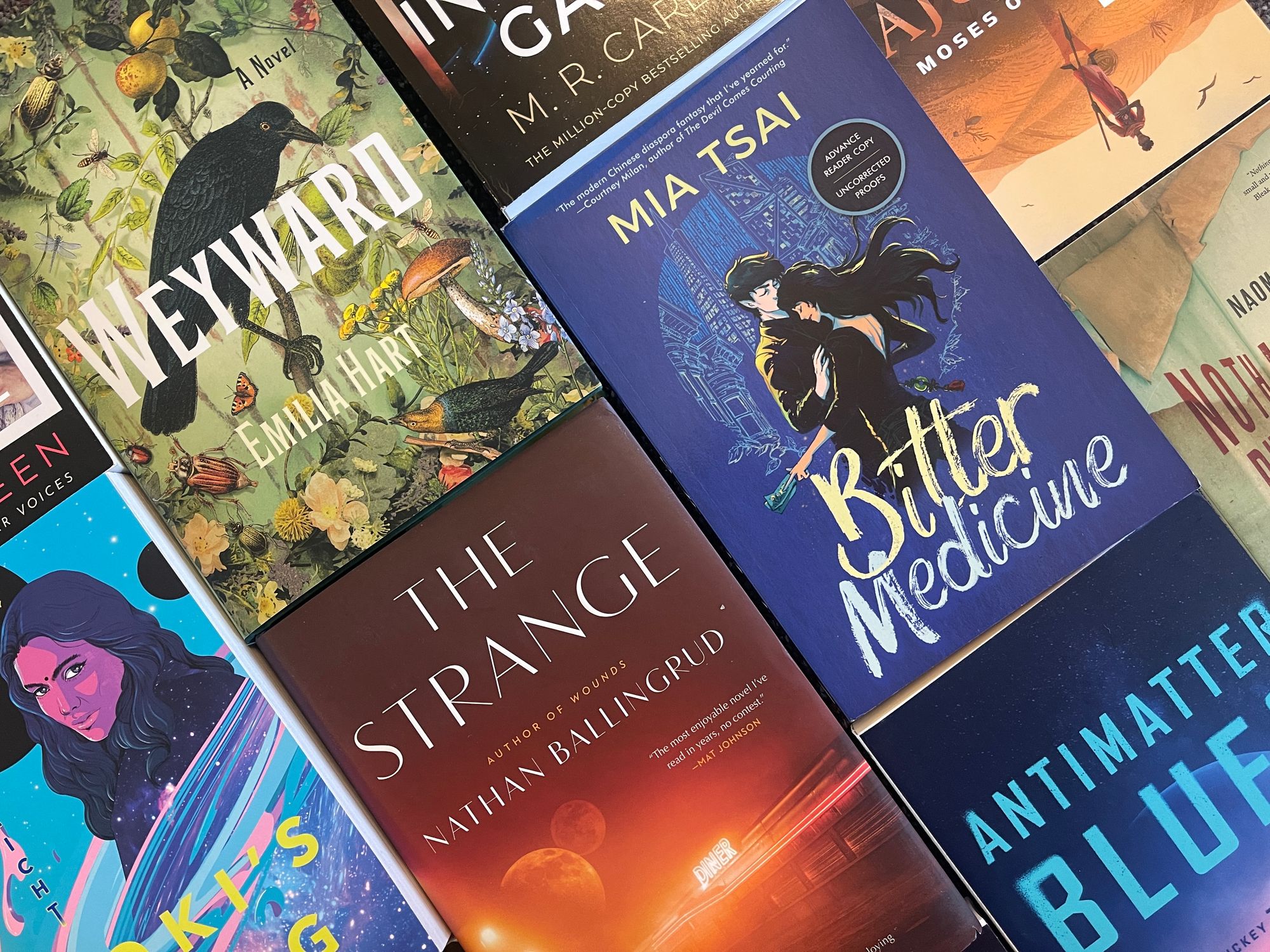 We've reached the halfway point for the month, and because March was so packed with books, I opted to split the book list into two parts. The second half of the month is positively loaded: there's weird westerns, fantastic alien worlds, artificial intelligences, and quite a bit more to check out.
In case you missed it, here's the first list for the month:
You can also check out other lists from this year, such as my 2023 anticipated reads, and lists for January and February.  
As always, links to Bookshop.org are affiliates: Transfer Orbit gets a small cut of any sales made through it: it's a good way to support the newsletter!
You can also pick up my own book, Cosplay: A History, about the history of the cosplay movement and where it's headed. (You can find out more about that here.)
Another excellent way is to sign up as a supporting subscriber (details here), or to share this list with your friends / followers / book-loving co-workers, etc.
Definitely sign up for more: I've already gotten the list for April underway, and I've got a bunch of other posts in the works that look at the state of science fiction and fantasy, reviews, and more. Recent posts include a look at the Nebula finalists, a plan to read up on some SF/F classics, and some thoughts about real world ambiguity and storytelling.
Without further ado, here are 20 more books to check out this March!
---
One of my favorite books from 2022 was Edward Ashton's Mickey7, about an expendable crew member on a planetary expedition on a hostile planet. When he's left for dead and his replacement is decanted from a cloning tank, the pair have to figure out how to survive without one of them being offed.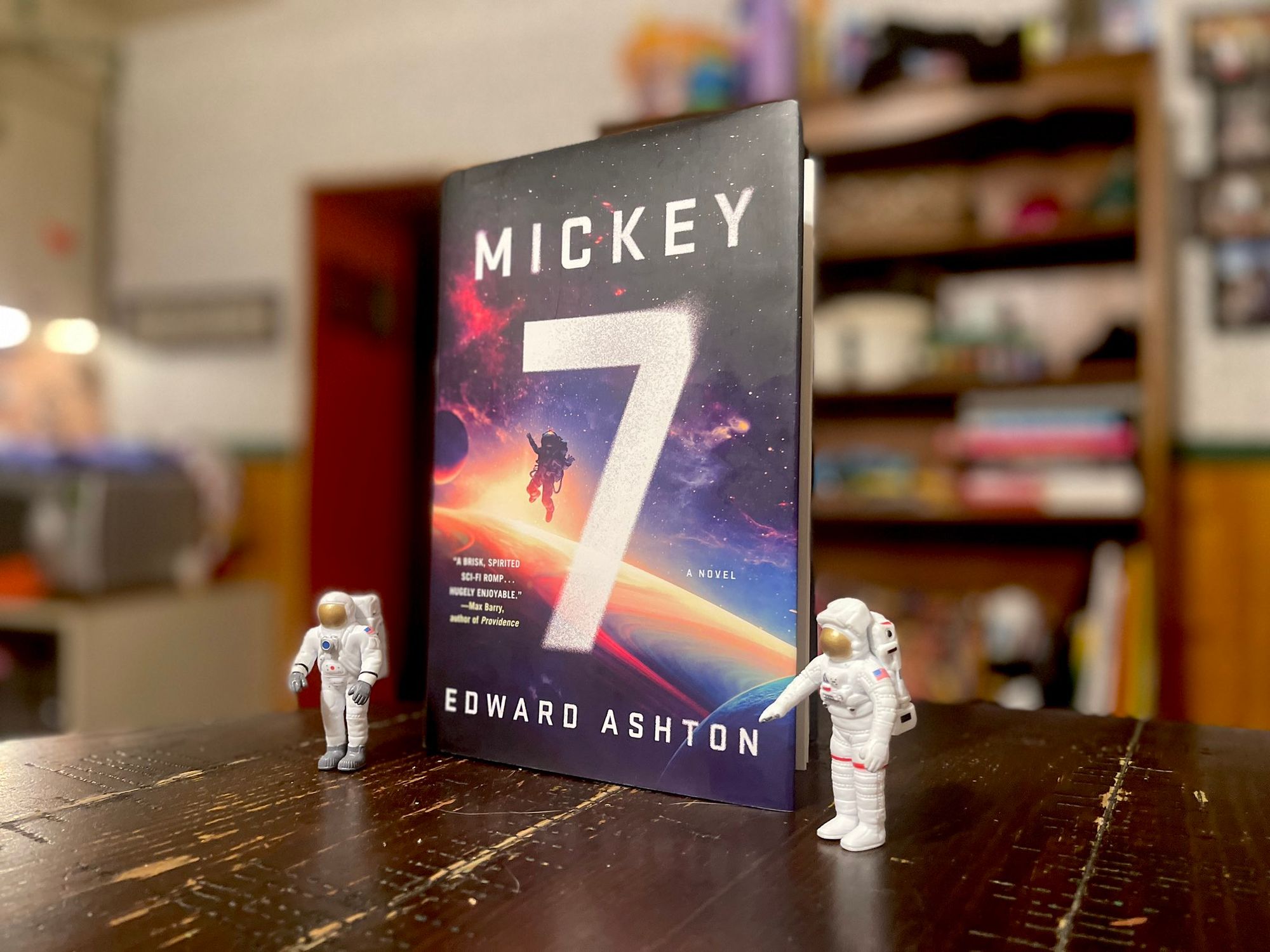 2023 brings a sequel in the form of Antimatter Blues, in which Mickey and the rest of the Niflheim colony are trying to figure out how to survive on the planet's the upcoming winter season, while the native lifeforms are about to call the bluff that Mickey made to save the colony in the last installment.
Publishers Weekly says that "Ashton's breezy characters, especially a few alien creepers able to communicate with the humans, delight, and the grungy details of colony life are rendered as realistically as Mickey's hunger pangs."
The Strange by Nathan Ballingrud (March 21st)
Nathan Ballingrud has long been one of my favorite writers of short horror fiction, and I've been eager to see what he'll do with a novel-length work. That arrives this month in the form of The Strange, a Ray Bradburyesque tale about a young woman on Mars in a settlement called New Galeston. When communications with Earth are abruptly cut off, a gange of raiders attacks, and it puts her on a quest for revenge. This sounds very much like it's science fiction in the vein of Ray Bradbury, and I'm here for it.
Booklist gave the book a starred review, saying "Rife with literary references, from True Grit (1968) to the works of Arthur Conan Doyle and Ray Bradbury, Ballingrud's tale offers a visceral portrait of the haunting Martian landscape and of the unflinching pioneers who populate it in a gorgeously textured sf western full of action, danger, and heartbreak."
Yesterday, I wrote about a new edition of Roadside Picnic from The Folio Society's Spring 2023 collection. That's not the only sci-fi release on there: another is the first Culture novel from the late Iain M. Banks, Consider Phlebas. That's one of the books that I have on my list to re-read this year, and I've been picking away at my copy: an epic story about a galaxy-spanning conflict between the Culture (an interstellar, post-scarcity civilization) and the Idiran Empire.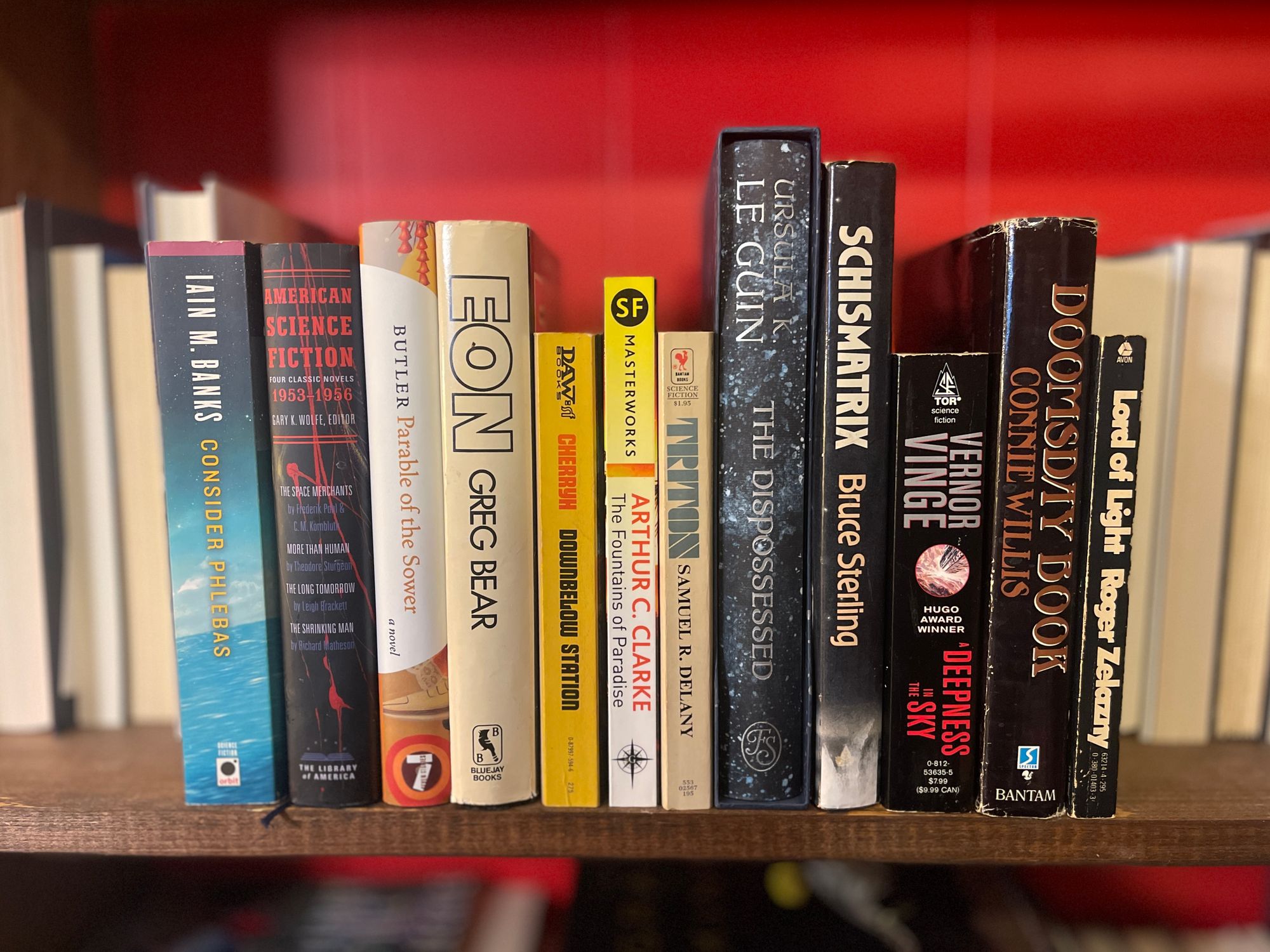 I don't remember much of the book (I read it years ago), but I remember that I really enjoyed it, and this edition looks spectacular. It comes with art by Dániel Taylor, and from the looks of things, Folio will be doing the rest of the series in the future.
Infinity Gate by M.R. Carey (March 28th)
M.R. Carey (known for books like The Girl With All The Gifts and The Book of Koli) is back with a new story about the multiverse. When a scientist named Hadiz Tambuwal discovers the secret to travel between worlds while looking for solutions to her Earth's imminent climate collapse, she discovers the Pandominion, an alliance amongst a million alternate Earths. While she discovers that there's a solution to her Earth's problems, she also finds herself in the midst of a war as the entire Pandominion comes under threat from an emergent artificial intelligence.
Kirkus Reviews gave the book a starred review, saying "The plot doesn't map onto a traditional hero's journey arc and feels all the fresher for it. Short, action-packed chapters keep the pace brisk, and each character we meet, however briefly, is vividly and empathetically drawn."
Flux by Jinwoo Chong (March 21st)
Jinwoo Chong spins out an intriguing-sounding story about three people: eight-year-old Bo, who loses his mother in an accident days before Christmas, 28-year-old Brandon, who's out of a job when his company is taken over, and 48-year-old Blue who was set to testify in a criminal case against a failed tech startup. Their lives are connected through the story of a TV show from the 1980s called Raider and a bit of time travel.
Publishers Weekly gave the book a starred review, saying that "Chong writes with such subtlety and skill that readers won't realize the true nature of the speculative mystery at play until they're already waist-deep in these interlocking narratives. The result is a gorgeous speculative gem."
Childhood's End by Arthur C. Clarke (March 14th)
Another new release from The Folio Society is Arthur C. Clarke's classic novel Childhood's End. This is another great one, depicting Earth after it comes into contact with a mysterious alien civilization, which works to push humanity into an advanced state to join a galactic hivemind.  
Rubicon by J.S. Dewes (March 28th)
J.S. Dewes (Known for her debut The Last Watch) is back with a new science fiction thriller about a resurrected soldier. Sergeant Adriene Valero has died and been brought back to life 96 times, and is assigned to a special forces unit that's aided by an advanced artificial intelligence in a desperate attempt to save humanity in a war against a robotic enemy. When her AI becomes sentient, she's forced to drawn into a plot to end the war, no matter what extreme ends that leads to.
Publishers Weekly says that "Dewes cleverly thinks through all [the implications of a superior AI]: military tactics are influenced by the apparent ease with which skilled soldiers can be recycled, but what is the psychic impact of so many revivals on the surviving minds?
The New One by Evie Green (March 28th)
Two parents, Tamsyn and Ed endure their worse fears: their feisty daughter Scarlett has been in an accident and is comatose. They get a desperate chance to save her: a medical trial offers up an apartment in Switzerland and an unlimited spending account, as well as an artificial copy of Scarlett.
The AI replacement, Sophie brings some semblance of normalcy to their lives, although it's not quite the same. Things get complicated when Scarlett recovers, and there are some things going on in the background that make their lives even more complicated and dire.
Weyward by Emilia Hart (March 7th)
In her debut novel, Emilia Hart spins out a story of three witches, told across three separate times: in 1619, a woman named Altha is on trial for the murder of a farmer. Her mother had taught her magic, the type that comes from a deep knowledge of the natural world. In 1942 Violet is confined to her family's decrepit estate in the midst of World War II, and longs to escape and recieve an education that was long denied to her. And in 2019, a woman named Kate flees London and arrives at Weyward Cottage, which she inherited from a great aunt that she never really knew.
Hart ties all of these stories together in a powerful story that looks at how women are confined in society. Kirkus Reviews says that it's an "engaging novel that captures the ways patriarchy has sought to limit women for all of history and the ways women have found to carve out freedom for themselves.Thoughtful and at times harrowing, this novel is a successful blend of historical fiction and modern feminism."
Hel's Eight by Stark Holburn (March 21st)
In this sequel to Stark Holburn's Ten Low, Ten "Doc" Low is a medic who lives on a desert moon called Factus, helping those who're in need, keeping the frontier safe. She can see the future, and sees a vision of a conflict that spells the death of some friends from her former life, prompting her to leave her home and return to try and stop a war before it begins.
Publishers Weekly says that "Holborn's vision of the future is as stark and gritty as ever, leavened with flickers of hope and resilient friendships."
Lone Women by Victor LaValle (March 28th)
In his latest novel, Victor Lavalle heads to the American West in 1915: A woman named Adelaide Henry travels with a massive steamer trunk that has to remain locked: if it's opened, people around her start to disappear.
She's fled from California to Montana to try and make a new life for herself, taking advantage of a governmental offer for free land to anyone who can homestead on it. She carries with her a secret, one that killed her parents and that she's tried to lock away, but it might also be the thing to help her survive in the rough land.
Kirkus Reviews awarded the book a starred review, saying "LaValle's fluidity when it comes to style is balanced by a focused thematic vision: Through Adelaide (and that steamer trunk), he explores isolation and division across race, within families, and through communities. Her struggle to find her place is complicated by everyone being tight-lipped and eager to create pariahs."
Loki's Ring by Stina Leicht (March 28th)
Gita Chithra, the captain of a starship named The Tempest is used to emergency runs: she and her crew are often called in for retrival and rescues. When a distress signal comes in from an AI that she trained from its birth, she realizes that this'll be a more dangerous mission than usual. Ri is trapped on an alien, artificial world called Loki's Ring, and has watched as everyone around her has been killed by a mysterious illness. To rescue Ri, Gita will have to go to desperate lengths and risk everybody she cares about.
Publishers Weekly says that it's "The result is a riveting cocktail of high-stakes adventure, philosophical musing, complex family dynamics, and cloak-and-dagger intrigue."
Ken MacLeod kicks off a new space opera trilogy with Beyond the Hallowed Sky, in which a mathematician named Lakshmi Nayak gets a letter from her future self that unlocks the mysteries of faster-than-light travel. There are barriers in the way: her paper is cirticized, and an Alliance agent warns her away. But when she defects to the Union, she gets an offer to get the ship built.
But theirs isn't the first such ship: decades ago, another launched under a secret project, Black Horizon. Onboard, biologist Emma Hazeldene has been studying an alien world called Apis, which has life that appears to have come from Earth and which appears to be home to an alien intelligence in the form of crystals. Life on the planet is challenging, but when that alien intelligence awakens, everything changes, and all three worlds will be forever changed.
Russell Letson reviewed the book for Locus Magazine, saying that "we have the pleasures of the intrigue thriller, of First Contact, of the mysteries of ancient and godlike intelligences, of planetary pioneering, of socio-politico-economic speculation, of the possibilities of artificial intelligence, and of the various plot chases."
I'm a big fan of Lee Mandelo's work, and I'm excited to read his new novella, Feed Them Silence, about a scientist named Sean Kell-Luddon, who has an experimental connection to some of the last wild wolves. The connection allows her to study the animals on a visceral level and to see the world through their eyes. But her work extracts a cost: her marriage is fraying and the venture capitalists behind the study have their own motives.
Publishers Weekly gave the book a starred review, saying "Mandelo delivers a powerful message about environmentalism and the limits of technology that doubles as a page-turning story about a collapsing marriage."
Brian Nelson finishes off his Course of Empire trilogy (The Last Sword Maker and Five Tribes), a series set in the near future as a global pandemic rages across the world and as the power between the US and China begins to tip in dangerous ways. in this latest installment, General Chip Walden has taken control of a powerful military AI, and he brings in a scientist, Eric Hill, to help control the tech before it destroys the world. While he works on that front, an FBI agent works to exact revenge after an eco-terrorist kills some of his fellow agents.
Publishers Weekly gave the book a starred review, saying that "The tension builds toward a climax in which life on Earth must either be wiped out by nuclear holocaust or horrifically transformed into something with new possibilities. This is challenging stuff, but it's so clearly and forcefully presented that readers will find it hard to put the book down."
In Aloisville, the rain never stops falling. Nobody can remember when it started, but everyone there is losing their memories: the rain seems to be washing their pasts away. Laverne has been keeping a journal as the town changes around her, trying to remember who she is.
Library Journal notes that it's a "story about the cost of survival in a world where all transgressions can be forgotten, even the one that put them there in the first place."
Chlorine by Jade Song (March 28th)
In this debut novel from Jade Song, Ren Yu is a young woman who's entire life is wrapped up in her passion for swimming, and who hopes that if she's good enough, she'll succeed: she'll go on to a good school, win the approval of her parents and coaches, and enjoy a good life.
From an early age, she was obsessed with mermaids, and as the pressure mounts from those around her, she begins making some desperate choices that are reminiscent of David Cronenberg.
Kirkus Reviews says that it's a "A striking portrayal of teenage transformation," and that "Song is at her best when writing about the elaborate and sometimes agonizing experience of coming into one's own power."
Karen Traviss continues her Nomad trilogy (Best of Us and Mother Death) set in a world where the West has been devastated by war and famine. The world has been irrevocably changed, and the planet Opis is now the home to a small group of evacuees on a secret base.
When the threat of an alien attack comes, they'll be forced to make a choice with few good options: do they offer those on Earth a lifeline in the form of alien drive technology and reopen new wounds, or try and start over anew by standing and fighting on their own?
In the City of Lies, children have their tongues cut out at the age of 13, a cruel demand from the Ajungo Empire that ensures that they'll continue to send water to the parched city. 12-year-old Tutu is due to turn 13 in a couple of days, and his mother is dying of thirst, prompting the boy to makle a deal with his oba: he'll provide his mother with water if he travels out to the desert and finds more for the city, kicking off a quest to save his family and home.
Arley Sorg writes in Lightspeed Magazine that "Utomi creates a fresh-feeling world, each line bright with sparks of subtext on our real histories, effectively using the fantastic to discuss our own sociopolitical dynamics," and that it's "very deep. But it's also just inventive fun."
A woman named Elle is the descendant of the Chinese God of Medicine, and had been destined to become a doctor. That wasn't her path in life: she's ended up as a magical calligrapher at a fairy temp agency, and has been working to prove herself. She finds a challenge in Luc, the agency's top security agent, outfitting him with some high-powered glyphs. He's on a mission to get rid of a curse – a holdover from a prior job, and when Elle saves his life, a romance blooms, but the two are bound by their duties, and to break away from their lives, they'll have to make some sacrifices.
The book got a starred review from Publishers Weekly, which says "with brilliantly developed, multifaceted characters; a clever magic system; and witty prose, the pages of this fantasy fly."
---