The sci-fi and fantasy books I'm looking forward to in 2023
19 new reads to read this coming year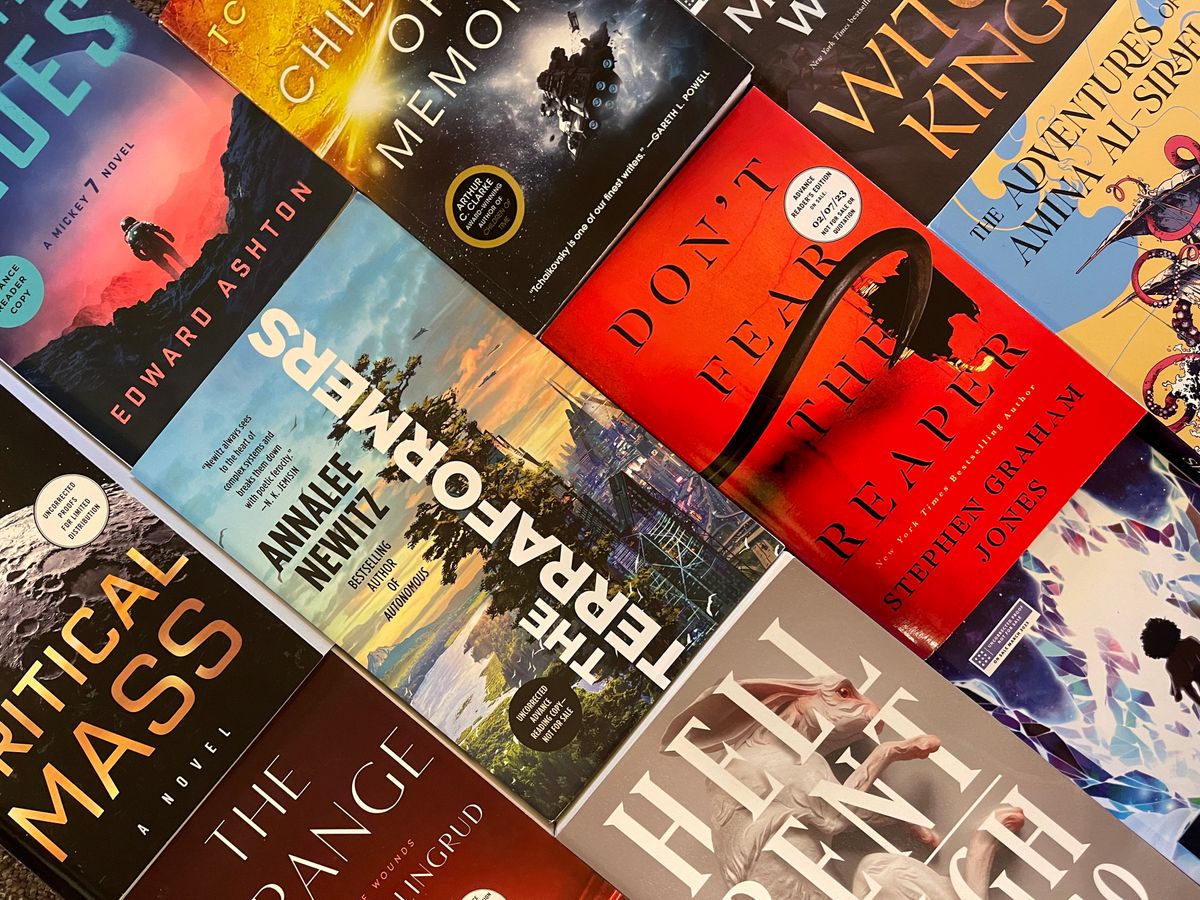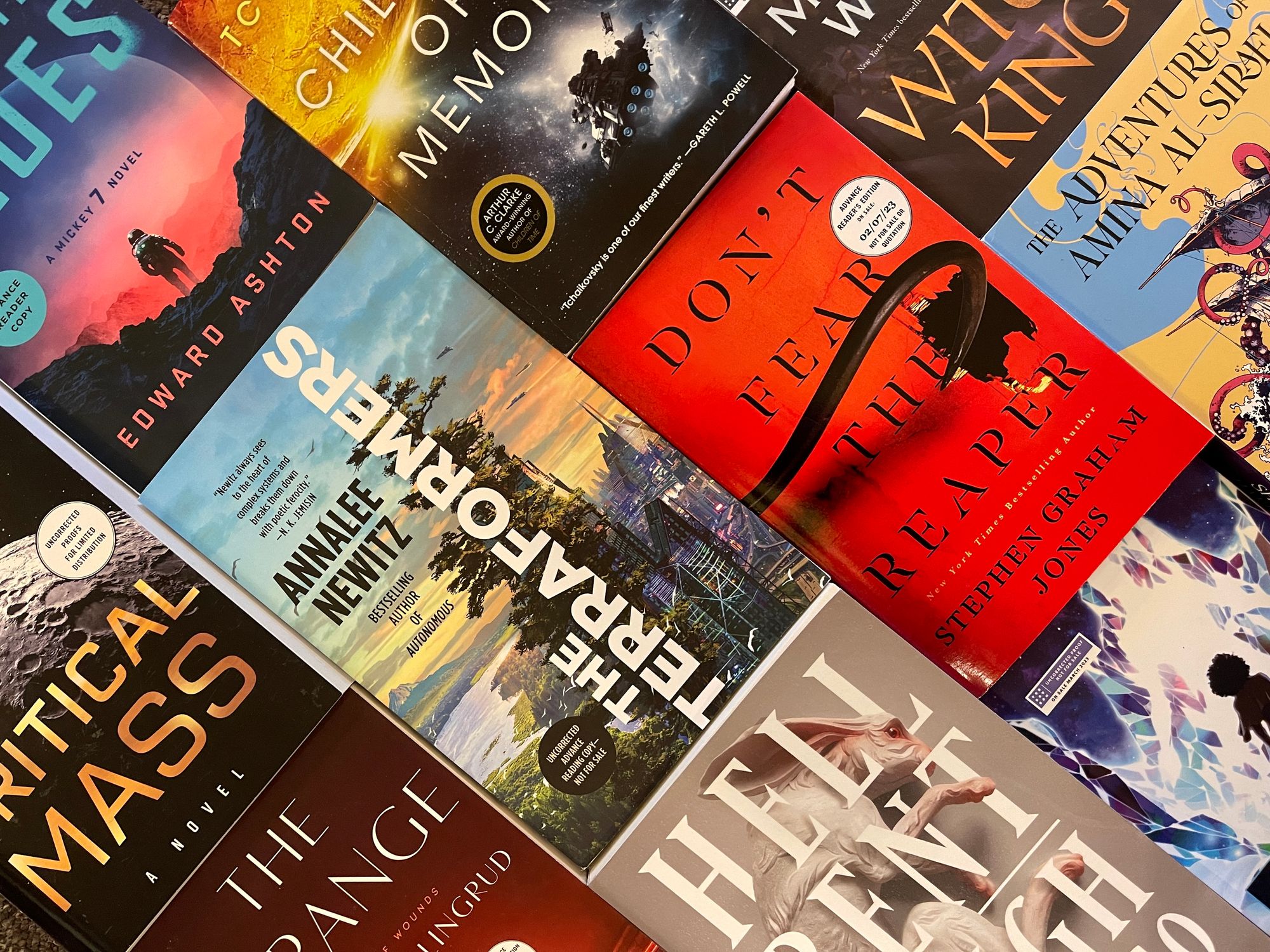 Another year approaches, and with it, another bumper crop of books. I end every year with a sizable stack of books that I'd wished that I'd picked up to (along with a hefty dose of regret for the time I've fettered away on social media), all while eyeing the pile of shiny new tomes that promise to bring me to new worlds and on new adventures. This year is no different, although I'm hoping to spend a little more time focused on catching up with the piles of yesteryear in 2023.  
Here are my lists for 2022, 2021, and 2020.
Here are the usual housekeeping notes: links via Bookshop.org are affiliate links, and any purchases you make through them might result in a commission. The release dates for these upcoming books might also slip, given various supply chain issues, COVID-19, etc.
As always, you find a book that you like, or if you'd like to get more book recommendations, reviews, and commentary about the genre in the months ahead, consider signing up to get this newsletter in your inbox! I write a monthly list of new books, lots of commentary about the state of SF/F entertainment, and quite a bit more.
---
January
Hell Bent by Leigh Bardugo (January 10th)
I really enjoyed Leigh Bardugo's novel Ninth House when I read it a couple of years ago: I love stories about magic hiding in plain sight, and the institutions that support it. In that book, we met Galaxy "Alex" Stern, who has the ability to see ghosts, and who ends up in the midst of an unfamiliar world of magical houses and abilities as she works to bring some measure of justice to a woman who was murdered.
It looks like this book will bring even greater challenges for Alex: she's on a mission to steal a soul from Hell, and forbidden to attempt any sort of rescue, she has to turn to some other allies from Lethe to help her. There's more afoot, however: as she embarks, something has begun killing teachers at Yale, and to survive, she'll have to figure out some deadly secrets hidden in its walls and history.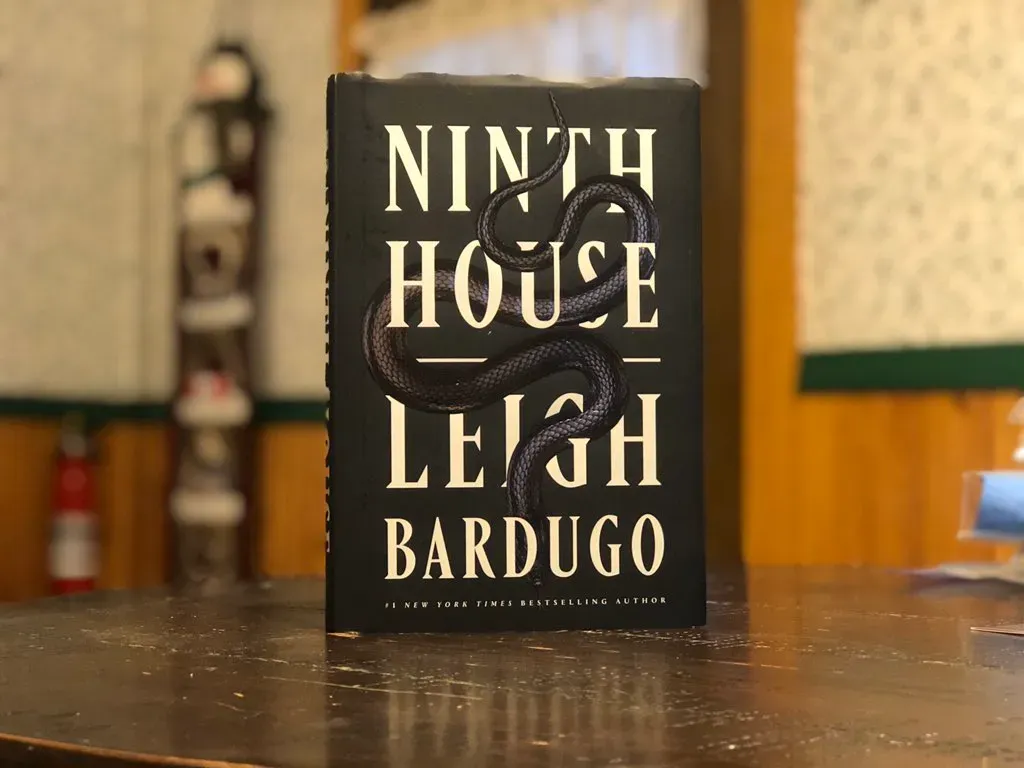 The Terraformers by Annalee Newitz (January 31st)
Any time I see a new book from Annalee Newitz, it's an insta-buy for me. I've greatly enjoyed their science fiction and nonfiction alike – Autonomous and The Future of Another Timeline were each was a fantastic novels, while Scatter, Adapt, and Remember and Four Lost Cities were enlightening studies of how societies function.
I've been looking forward to The Terraformers: a story about a woman named Destry who's working to terraform a planet called Sask-E, and is tasked with managing the planet's ecosystems. But when she discovers a hidden city that shouldn't exist, it throws her entire life, mission, and future of the planet into question. This looks like it hits all the right buttons for me.
Critical Mass by Daniel Suarez (January 24th)
In Daniel Suarez's novel Delta-V, a tech billionaire hatched a plan to sent a secret mission to an asteroid to begin mining it, hoping to kickstart a new, off-world industry. He hired a team of specialists and put them through a rigorous, secret training regimen to prepare them, but the realities of asteroid mining were far more challenging than anyone could have predicted.
When the mission escaped, they left behind a pair of crew members, and now they have to set about rescuing them. To do so, they have to rely on their own efforts to build a next-generation station and infrastructure to support their efforts, tasks that could potentially help solve some of Earth's most pressing issues – if they succeed.
I really dug Delta-V, because it leaned into the optimistic vision for how humanity's future in space might be, while not ignoring some of the pressing and systemic issues (the whims of billionaires being one of them) that lie in our path. This should be an excellent followup.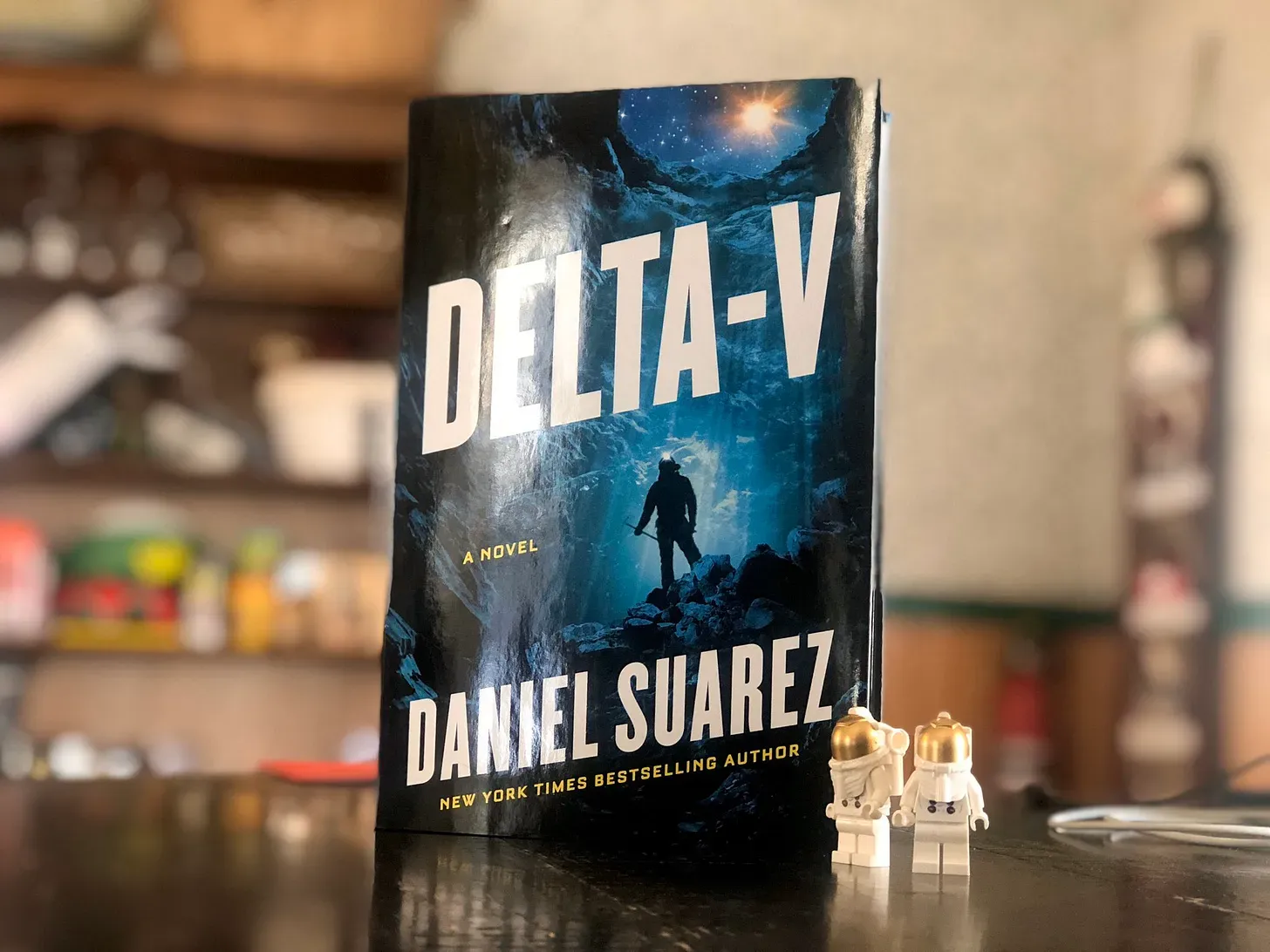 Children of Memory by Adrian Tchaikovsky (January 31st)
While driving down to Pennsylvania for the holiday, I brought along Adrian Tchaikovsky's latest – a sequel to his books Children of Time and Children of Ruin, which follow the efforts of a group of terraformers to expand humanity into the cosmos. Those first two books dealt with uplifted spiders and octopuses, all while dealing with the big questions of the nature of intelligences and sentience, as well as our place in the cosmos.
This new book takes the action to another world, where an original human colony ship has set up shop, and where first contact from this new interstellar civilization is proving to be challenging, and where the very nature of reality and consciousness might come into question. I've since finished this book, and it's excellent.
February
I really dug Stephen Graham Jones' novel My Heart is a Chainsaw when I read it last year. It's a master lesson about the slasher film, following Jade Daniels as she pieces together a plot that seems like it's right out of the horror films she adores.
In this sequel, Jade's been released from prison four years after those events after her conviction is overturned. But when she returns home, a serial killer known as Dark Mill South has escaped from prison and is seeking revenge for the murder of 38 Dakota men who were hanged in 1862, and has resumed his murderous rampage, and it's going to be up to Jade to save everyone.
I loved Matt Ruff's Lovecraft Country when I read it back in 2016: a fantastic, Lovecraftian adventure set in the midst of Jim Crow America. The TV series was also excellent (I was bummed that it didn't get a second season), but I was pleasantly surprised to see that he's got a followup coming out this year: The Destroyer of Worlds.
Set during the summer of 1957, Atticus Turner and his father Montrose head to North Carolina to commemorate the anniversary of an ancestor's escape from slavery, only to come face to face with an old nemesis. Meanwhile, George Berry, striken with cancer, makes a devil's bargain with the ghost of Hiram Winthrop, while his daughter and her friends head to Nevada to conduct some research for the The Safe Negro Travel Guide.
Like the first book, this looks like it'll be an excellent collection of episodic, pulpy adventures, and given how authors and creators have been upending Lovecraft's legacy to reimagine his stories and worlds, this should be a fascinating series of adventures.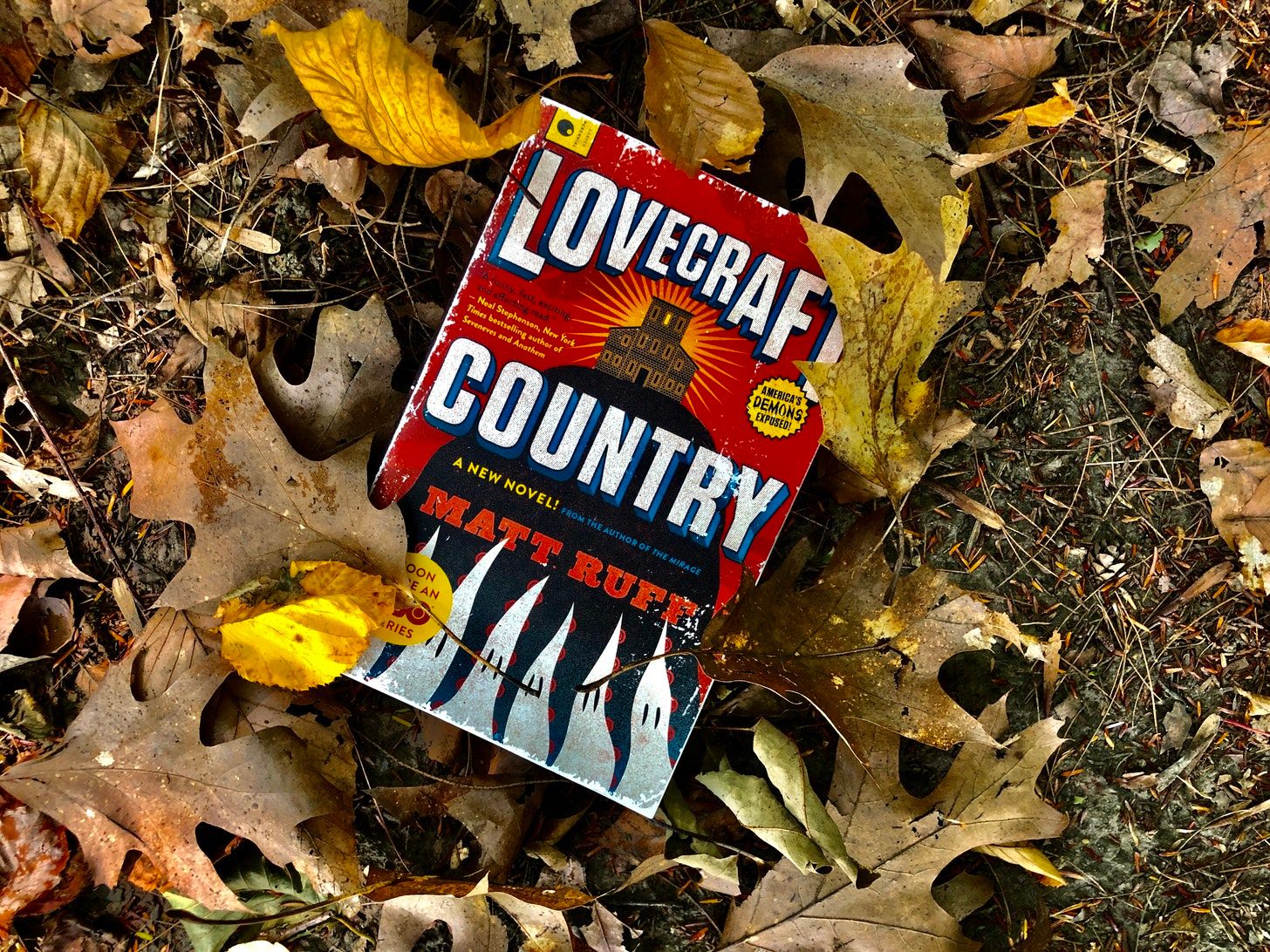 March
Edward Ashton's Mickey7 was one of my favorite books of 2022, and I'm eager to see where he takes the story in this followup, Antimatter Blues. That first book is about a colony mission's expendable member: someone they can toss into the most dangerous situations, and who accidentally gets duplicated, throwing survival of the entire colony into jeopardy.
In Antimatter Blues, we're back on the planet Niflheim, just as summer approaches. Mickey's still around, having saved the world's native lifeforms with a bit of trickery, and he's now adjusting to life as just another colonist. With winter soon approaching, that lie to save the aliens is coming back to haunt him, and once again, the fate of the colony is in his hands.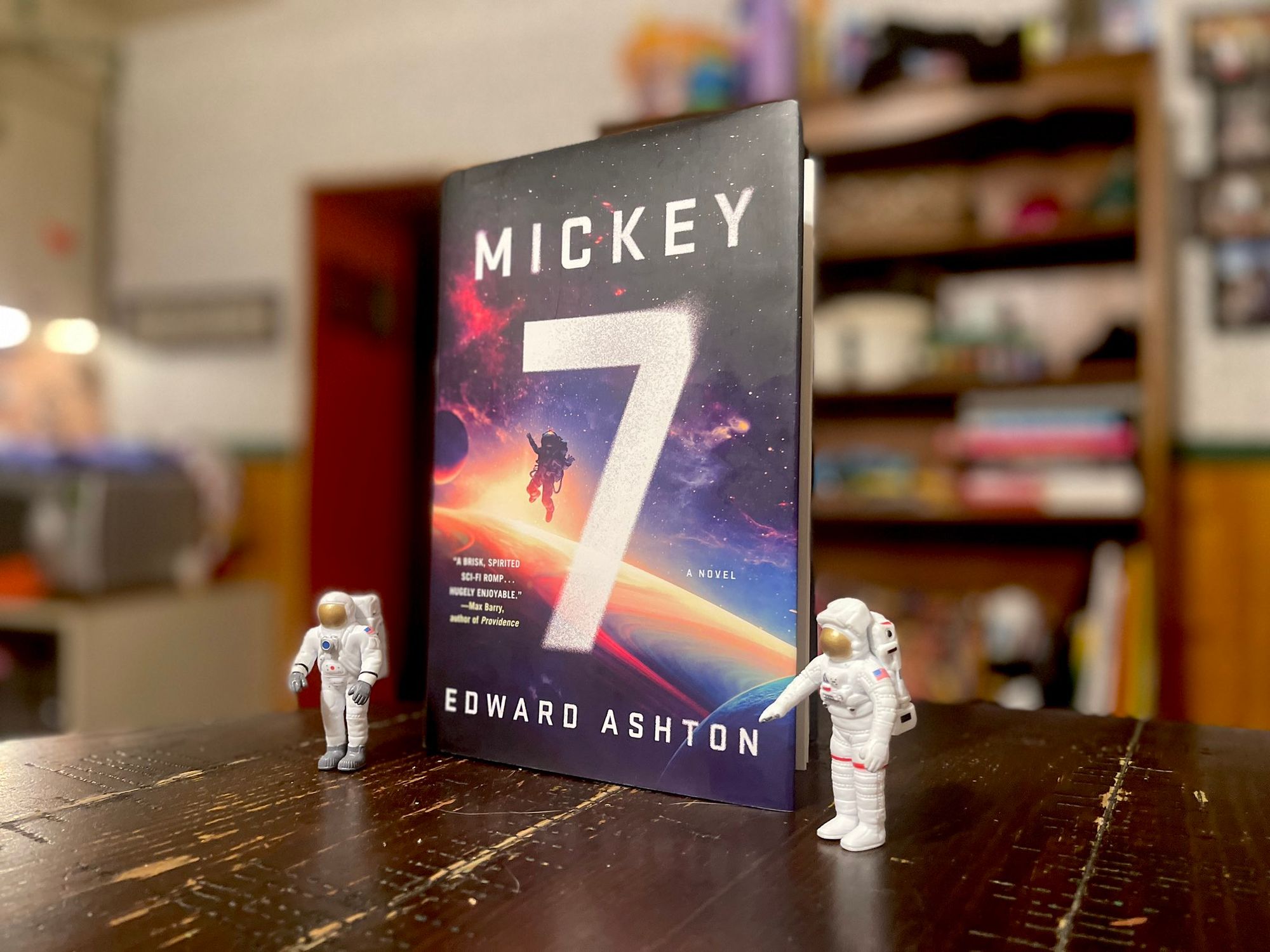 The Strange by Nathan Ballingrud (March 21st)
I've sang plenty of praises for Nathan Ballingrud's short fiction over the years: his collections of short horror fiction (North American Lake Monsters and Wounds) are superb. I've been looking forward for years for what he'll do with a novel-length project, and that arrives this year: The Strange.
This looks like it'll be a bit of a change of pace for him: rather than horror fiction, The Strange is a Ray Bradbury-esque story about 14-year-old Anabelle Crisp, who in 1931 lives in New Galveston, Mars. When shipments and contact from Earth abruptly go silent, she sets off to track down a gang that attacked her family and upended her life and family.
The cover for Shannon Chakraborty's next book (She wrote the Daevabad trilogy under the name S.A. Chakraborty) stopped me dead in my tracks: The Adventures of Amina Al-Sirafi is about a legendary pirate who's survived plenty over the course of her career, everything from rogues to husbands and even a demon, and she's now hoping to enjoy a quiet retirement as a mother.
But when the mother of a former crew mate shows up with a bounty that she can't refuse – rescue her missing daughter – Amina jumps at the chance, only to discover that there's more to this job and her friend's disappearance than meets the eye.
Dead Country by Max Gladstone (March 7th)
I've long been a fan of Max Gladstone's Craft Sequence: a series of standalone urban fantasy novels that treats magic in some interesting ways: less mystical and more like a study of the law or economics. I've been waiting for a return to the world for him, and that comes in the form of the first installment of a new trilogy: Dead Country.
The book picks up the story of Tara Abernathy (who appeared in several of the prior books), who returns home to bury her father. There, she saves a girl from an attack by undead Raiders, putting into motion a series of events that will change the world forever.
One of the video games I finished recently was Jedi: Fallen Order, which introduced a former Padawan named Cal Kestis to the franchise. When the Jedi Order was wiped out at the end of the Clone Wars, he went into hiding, and is reluctantly drawn out. Now, a new game is on the way: Jedi: Survivor, and it'll be accompanied by a new novel by Sam Maggs, Jedi: Battle Scars.
This book is set between the two games, after Cal and the crew of the Stinger Mantis escaped Darth Vader, and they've worked to strike against the Empire where they can. On one such mission, they meet a former stormtrooper who's looking to escape that life, and with it, word of a potentially valuable weapon for them to use. To get to it, they'll have to cross paths with one of the dreaded Inquisitors, Fifth Brother.
Another one I'm looking forward to is Star Wars Inquisitor: Rise of the Red Blade by Delilah S. Dawson (July 18th), which follows a group of former Jedi who've come to serve the Empire's Inquisitors. One, Iskat, joins to try and uncover the past that was hidden from her by the Jedi Order.
Malka Older's best known for her acclaimed Centenal Cycle (Infomocracy, Null States, and State Tectonics), but for her next work, she's jetting over to Jupiter to a remote colony where a man has gone missing. Investigator Mossa works to track him down, heading to Valdegeld, the colony's university, where she encounters her ex, Pleiti, a specialist in pre-collapse ecosystems who hopes to help bring life – and humanity – back to Earth. The two are thrown together to figure out the disappearance, discovering secrets that could upend what remains of human civilization – and the efforts to return to Earth.  
May
Witch King by Martha Wells (May 30th)
If there's one book in my stack that everyone is dying to get their hands on, it's Martha Wells' next fantasy novel, Witch King. Wells has written an extensive amount of fantasy over the course of her career, but her Murderbot stories have thrust her into new heights and fame.  
In this return to fantasy, Witch King Kai-Enna was murdered, but his consciousness persisted, and he reawakens to discover a mage trying to use his powers. Kai has to learn why he was murdered and orient himself on the status of the new world he finds himself in.
June
Ann Leckie burst onto the scene in 2013 with her acclaimed debut novel Ancillary Justice, and this year, she's returning to the world with a new book: Translation State. A translator named Qven was made to serve as a bridge between humanity and the alien Presger, but ends up rebelling when they realize that deviation from the norm will result in their elimination.
In doing so, they cross paths with Enae, a diplomat who inherited a mission to track down a fugative who's been on the run for centuries, and Reet, a mechanic who's looking to understand his roots and why he's so different. Their collision could have huge implication for Imperial Radch space and its relationship with the Presger.
Also, it looks like there'll be a new edition of Ancillary Justice coming in May.
July
Blade of Dream by Daniel Abraham (July 18th)
Earlier this year, I picked up Daniel Abraham's latest fantasy novel, Age of Ash, and really enjoyed this slow-burn morality tale about a street thief named Alys and her quest to bring some form of justice to her brother's murder – even if it means her own corruption in the city of Kithamar.
In this side of the story, Abraham follows Garreth Left, the heir to one of the city's prominent merchant families. His path has already been charged for him, but it's not one he's interested in following, and after a chance meeting, his life veers off in an unexpected direction, one that could change the future of the city and its people.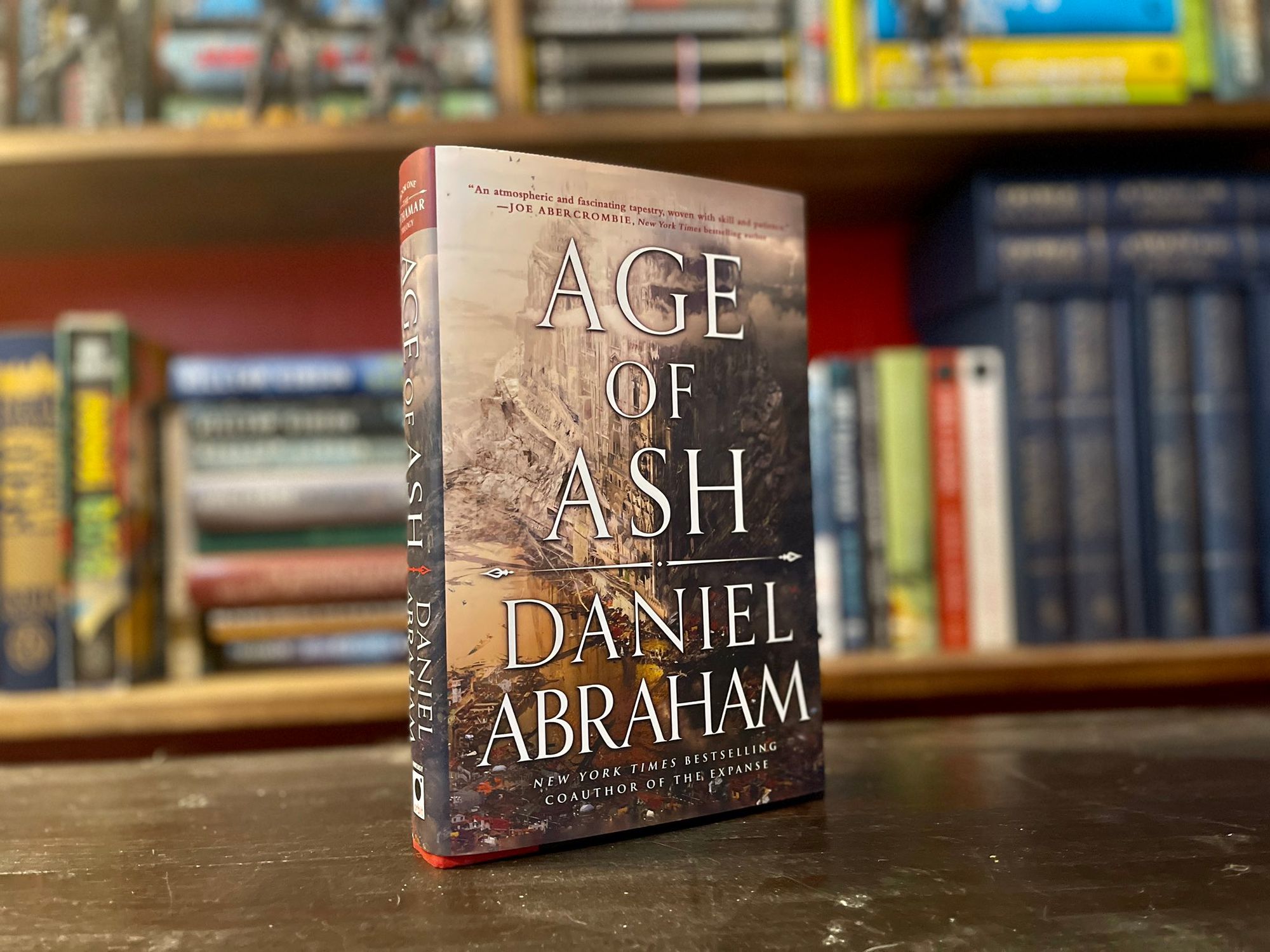 I've been following Adam's work on Twitter (as @70sscifi) as he highlights science fiction cover art from throughout the 1970s (and plenty of other decades). I love those classic covers of the era, and I was pretty excited to see that he's putting together a book that explores the work and the artists who were experimenting and envisioning what the future might look like.
Silver Nitrate by Silvia Moreno-Garcia (July 18th)
I still have to get to Silvia Moren0-Garcia's 2022 book The Daughter of Doctor Moreau, but I'm happy to see that there is more from her on the way. This new adventure takes us to 1990s Mexico City, where a sound editor named Montserrat has been working to break into the industry. When she and soap opera star and friend Tristán meet a new neighbor, a cult horror director named Abel Urueta, they find a new challenge for their careers.
Urueta had worked on a horror film about a Nazi occultist, but he's yet to finish it: he thinks he's cursed, and his career has suffered. He asks the two of them to help him complete the picture, but as they begin work, they begin to experience strange encounters: shadows and ghosts. It looks like an excellent, genre-bending tale that Moreno-Garcia's become known for.
September
Starter Villain by John Scalzi (September 19th)
Scalzi's always been great at pithy and funny science fiction novels: his book Kaiju Preservation Society was a lot of fun, and I'm looking forward to his next romp: the story of a character who inherits their uncle's supervillain business, and who has to deal with everything that that entails, from real estate, minions, enemies, and managerial cats. It should be a fun adventure.
Beyond
System Collapse by Martha Wells (November 14th)
It's a new Murderbot novel from Martha Wells. Need I say more?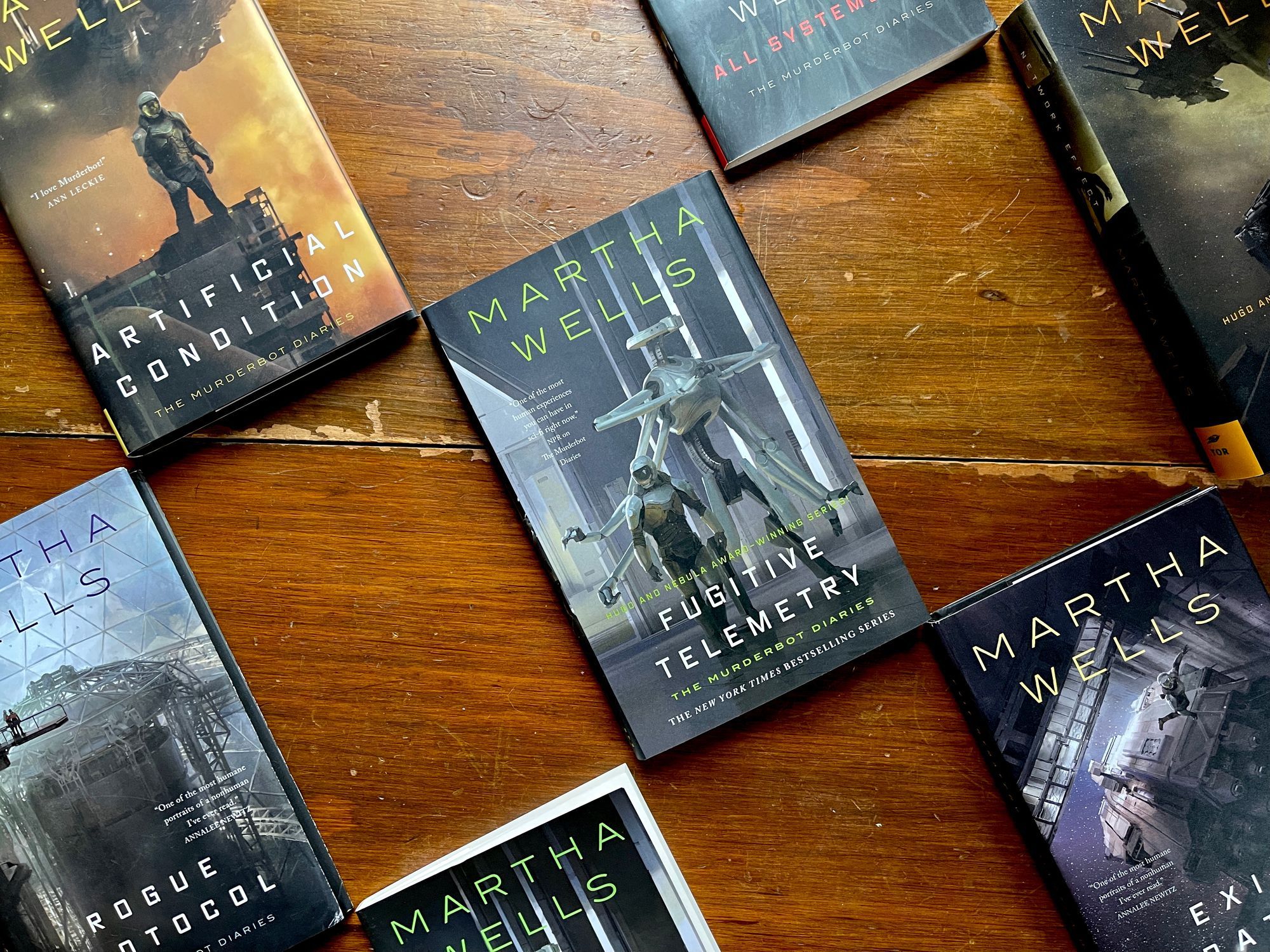 ---
What are you most looking forward to in 2023? What remains on your TBR list? Let me know in the comments / email / Slack / etc.!
As noted, I've got some more end-of-the-year stuff coming, and today's the last day to get a discounted rate for an annual / monthly subscription to Transfer Orbit.
Have a good New Year's Eve!
Andrew