The humble Vermont clothespin
The unexpected origin of a household staple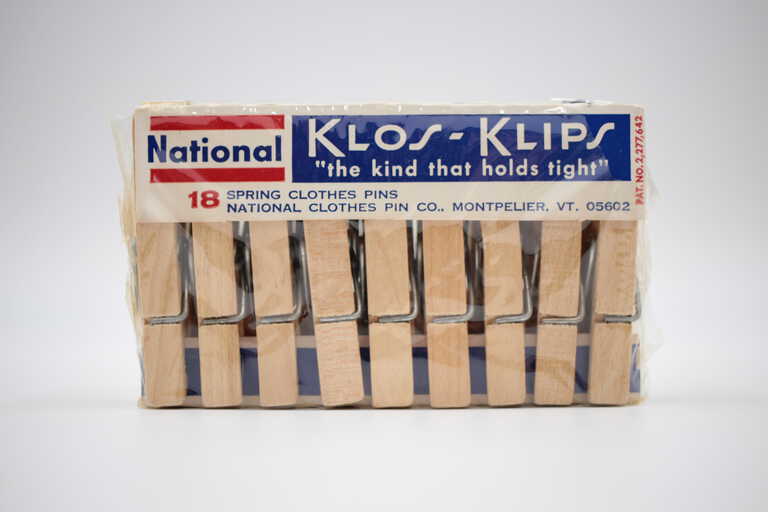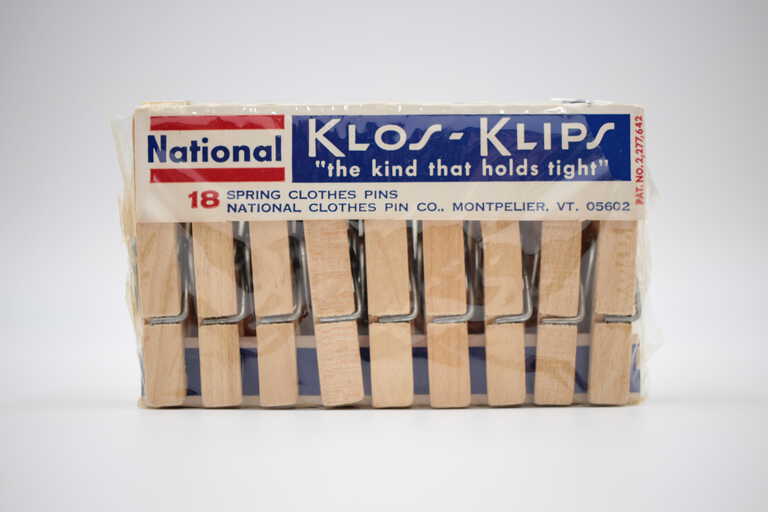 For hundreds of years, the humble clothespin has been a staple of households all over the country and world. I'd wager that you likely have at least one in your home. If they aren't being used to hang your laundry, you might have some tucked away in a junk drawer as a handy way to keep a bag of chips closed, or to hang a child's artwork on a refrigerator.
Clothespins are a relatively recent invention. They appear to have first been used in the 1700s and were simply a peg of wood that was split in such a way that you could secure laundry to a wash line. The Economist notes that their invention likely came about as people packed into densely populated cities, and where room to spread one's clothes was limited to the lines strung between buildings.
It was in the middle of the 19th century that Springfield, Vermont inventor David M. Smith applied for a patent for a more advanced clothespin. His invention was a "spring-clamp for clothes-lines", which he filed in October 1853. It called for a small spring that levered two pieces of wood together to clasp one's clothes on a line. Two decades later, another Vermont inventor, Solon E. Moore of Swanton, filed another patent in March 1887 for an improvement over Smith's invention, a "Clothes Pin", which used a "coiled wire spring to close the jaws," made up of two pieces of shaped wood.  The modern clothespin was born.
Montpelier, Vermont became the home to the nation's clothespin industry. Factories like the U.S. Clothespin Company and the National Clothespin Company took in waste lumber and milled the components of the clothespin into the right shape. Located on the bank of the Winooski River along Memorial Drive, the U.S. Clothespin Company's factory used an array of high-tech saws and wood-working machines to produce tens of thousands of units each day. The factory was distinctive, featuring a giant working model of its product on its roof.
The National Clothespin Company originally occupied a factory right across the river from their rival (along Main Street), but in 1918, its owners relocated upriver to set up shop along Granite Street and Stonecutter's Way, likely to take advantage of the placement of new electric wires. The wood-frame factory building is still standing today, and is now on the National Register of Historic Places. According to its National Register application, the factories played a major role in the economic health of the region: they were an important source of revenue for "timberland owners, saw mill operators, and carriers."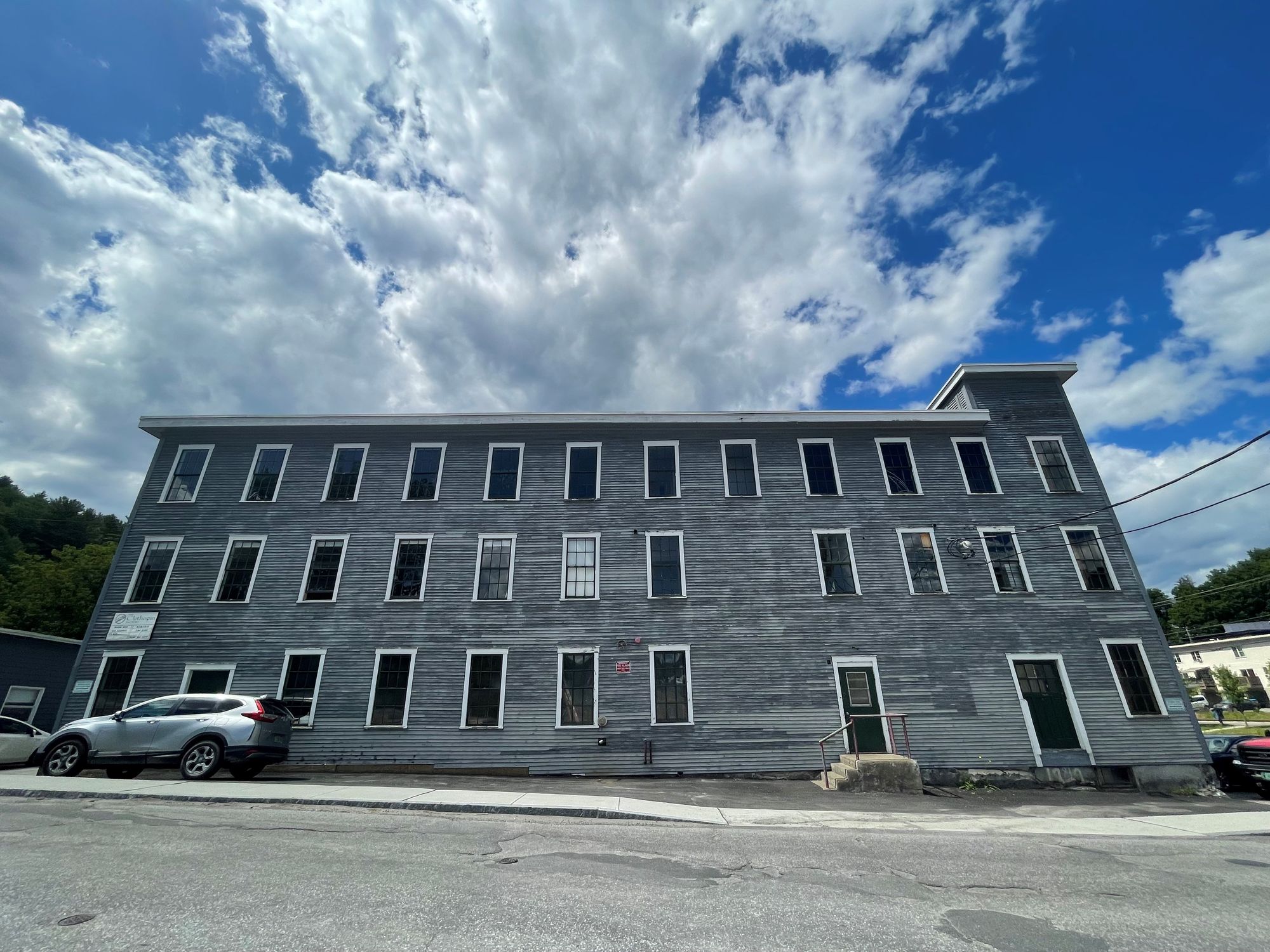 Montpelier's clothespin industry eventually waned. While the industry hit its stride in the 1930s with 15 clothespin factories throughout the Northeast, a confluence of factors eventually took hold. The introduction of electric clothes driers reduced the demand for the products, while increased competition from cheaper alternatives (wood and plastic) from overseas also ate away at the demand for domestically-produced clothespins.
While most of those companies went out of business, the National Clothespin Company remained in operation for decades, eventually closing shop in 2003, the last survivor of what was once a bustling industry for the city.
There are still some reminders around town: in 2020, local artists Ben Cheney, Jesse Cooper, and Chris Eaton from Flywheel Industrial Arts created a trio of three massive clothespin sculptures that have since gone on display in Calais and Greensboro. According to Montpelier Alive, those sculptures might soon find a new home in Montpelier: just a stone's throw from where their diminutive predecessors were originally manufactured.
---
I've always been intrigued by the daily items in our lives that sort of fly under the radar, and hopefully this was informative. If you're in the Montpelier area, those clothespins will be on display at some point in the spring: we have a small rotating exhibit that I've written up.
One thing that I like about this particular story: everything has an origin story, and no matter where you go around your community, state, country, or planet, you'll find some interesting stories hiding in plain sight. My challenge to you for 2023? Turn over those rocks: find those interesting stories, and learn a little more about the place you call home.
That's all for today: stay tuned for some additional posts later this week (favorite reads of 2022, most anticipated books of 2023, what I read in 2022, etc.) Also: this is the last week that supporting memberships will be discounted: after January 1st, they'll go back up to $50/year / $5/month. If you'd like to support this newsletter and join the slack channel at a slightly discounted rate, now's the time!
Andrew