What I read in 2022
52 books!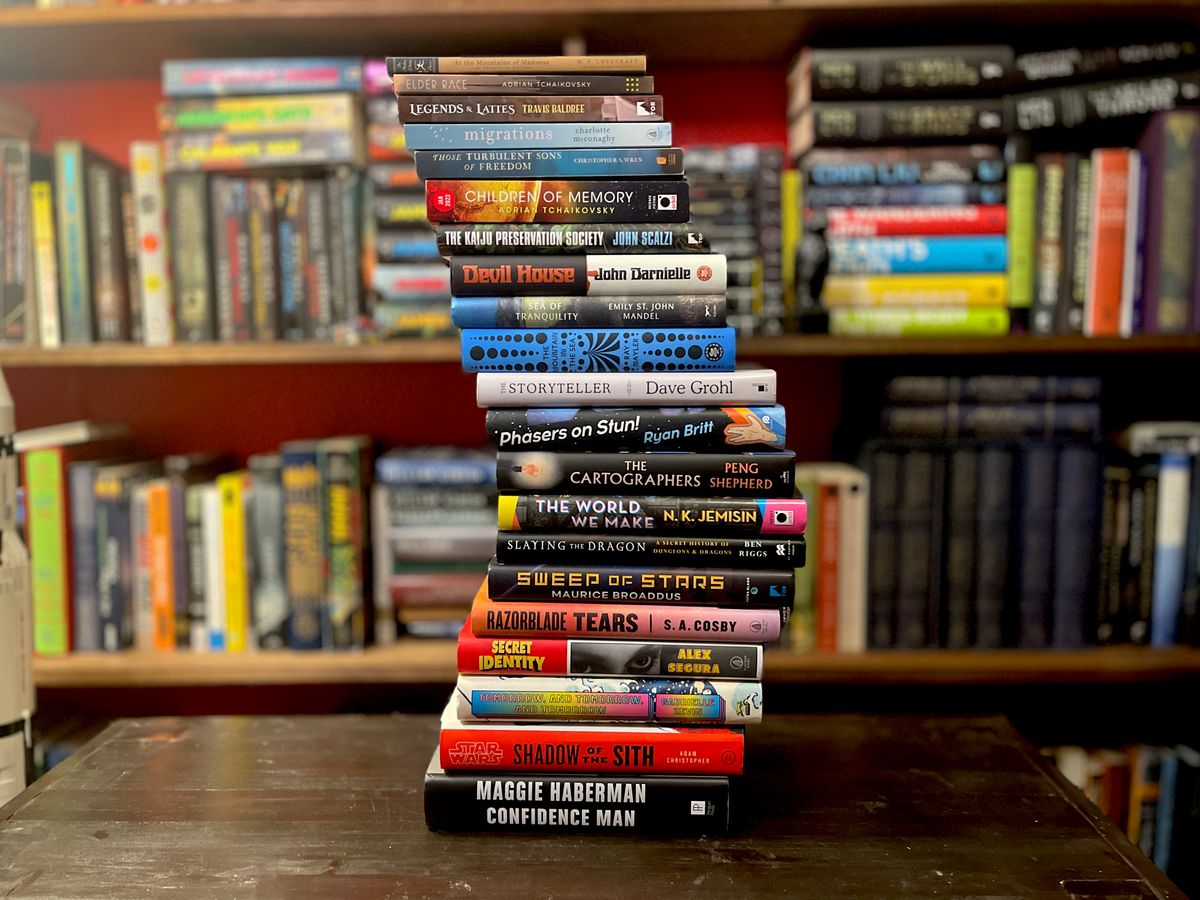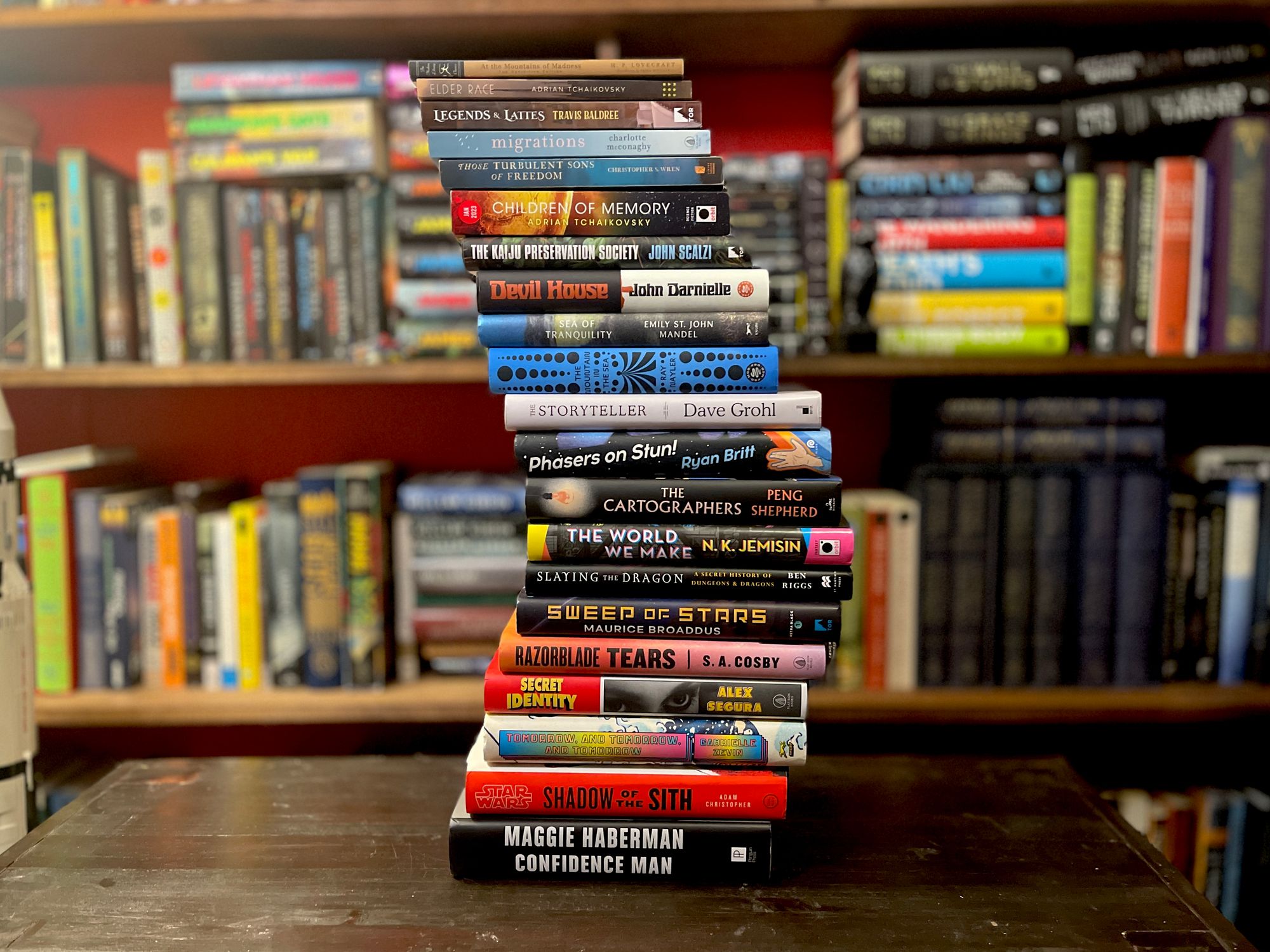 2022 was quite the year, for events out in the world and for books, and as I've done the last couple of years, I've kept track of the books that I've read, with the goal of hitting 52. I made it this year, which was no sure thing: December 31st was a day of catching up on all those unfinished or short books that I've been meaning to get to over the last couple of months.
Here are my lists for the last couple of years: 2021 (52), 2020 (44), 2019 (42), and 2018 (74).
I'm keeping the same goal for 2023 that I had in 2022: 52 books, or one a week. I've said it in prior years, but my hope is to always devote more time to reading, and I'd like to get through the pile of books that are hanging over from 2022 (and 2021) and through at least some of the books I'm looking forward to in the year ahead.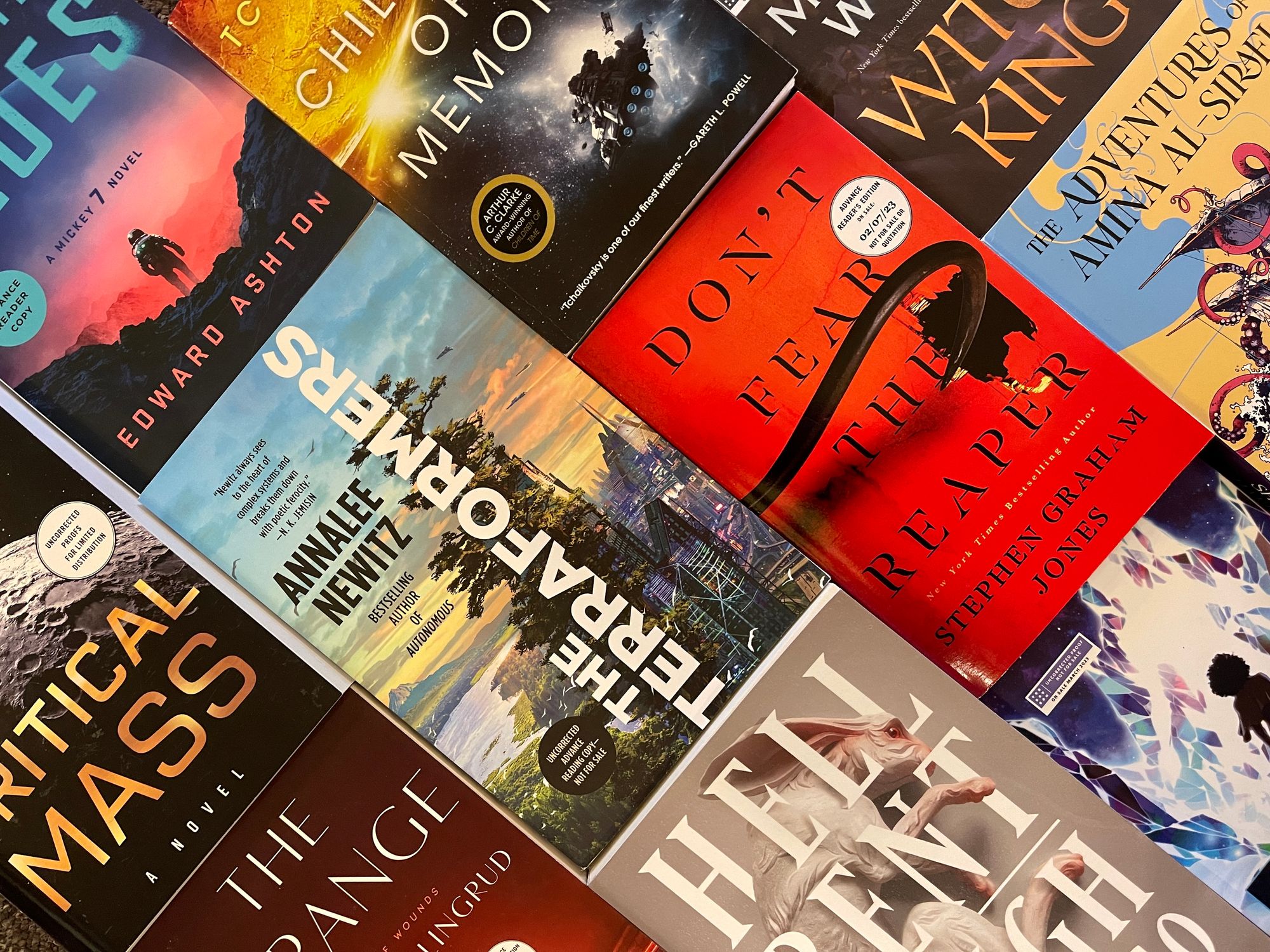 The trick is always the same: carve out that reading time and protect it. An unmovable block of 20-30 minutes a day goes an incredibly long way.
If I have any other reading goals for 2023, it's to read more widely than before. This year felt like I did that more than before: I picked up a wider range of books, particularly nonfiction, and I've got a nice stack of books about science, history, technology, and society that I'm hoping to make a dent into.
---
Without further ado, here's what I picked up and finished in 2022:
Elder Race by Adrian Tchaikovsky (Review)
The Library: A Fragile History by Andrew Pettegree and Arthur der Weduwen
Yuanyuan's Bubbles by Liu Cixin, Valérie Mangin and illustrated by Steven Dupré
Storyteller: Tales of Life and Music by David Grohl
The Alchemy of Us: How Humans and Matter Transformed One Another by Ainissa Ramirez
No Gods, No Monsters by Cadwell Turnbull
Noor by Nnedi Okorafor (Review)
Bad Blood: Secrets and Lies in a Silicon Valley Startup by John Carreyrou
The Library of the Dead by T.L. Huchu (Review)
Razorblade Tears by S.A. Cosby
Age of Ash by Daniel Abraham (Review)
The Kaiju Preservation Society by John Scalzi (Review)
Batman: Year One by Frank Miller and David Mazzucchelli
Devil House by John Darnielle
Redshirts by John Scalzi (Review)
Migrations by Charlotte McConaghy
The Golden Swift by Lev Grossman (Review)
Star Wars: Brotherhood by Mike Chen (Review)
Sweep of Stars by Maurice Broaddus
The Cartographers by Peng Shepherd (Review)
January Fifteenth by Rachel Swirsky (Review)
Slaying the Dragon: A Secret History of Dungeons & Dragons by Ben Riggs
Up Against It by Laura J. Mixon
Mickey7 by Edward Ashton (Review)
Sea of Tranquility by Emily St. John Mandel
Tomorrow and Tomorrow and Tomorrow by Gabrielle Zevin
Those Turbulent Sons of Freedom: Ethan Allen's Green Mountain Boys and the American Revolution by Christopher Wren
Velvet Was the Night by Silvia Moreno-Garcia
Pictures by J.R.R. Tolkien
Fellowship of the Ring by J.R.R. Tolkien
Machinehood by S.B. Divya
On Writing: A Memoir of the Craft by Stephen King
Phasers on Stun! How the Making (and Remaking) of Star Trek Changed the World by Ryan Britt
Secret Identity by Alex Segura
The Mountain in the Sea by Ray Nayler
Even Though I Knew The End by C.L. Polk
Legends & Lattes by Travis Baldtree (Review)
Ducks: Two Years in the Oil Sands by Kate Beaton
Daredevil: The Man Without Fear by Frank Miller and John Romita Jr.  
The World We Make by N.K. Jemisin
The Magicians: Alice's Story by Lev Grossman, Lilah Sturges, and Pius Bak
At the Mountains of Madness by H.P. Lovecraft
Star Wars: Shadows of the Sith by Adam Christopher
Confidence Man: The Making of Donald Trump and the Breaking of America by Maggie Haberman
Children of Memory by Adrian Tchaikovky
The Amazing Alligator Girl by Kristin Dearborn
Saga Volume 7 by Brian K. Vaughn and Fiona Staples
Saga Volume 8 by Brian K. Vaughn and Fiona Staples
Saga Volume 9 by Brian K. Vaughn and Fiona Staples
All the Horses of Iceland by Sarah Tolmie
A Prayer for the Crown-Shy by Becky Chambers
The Art of John Harris, Volume 2: Into the Blue by John Harris
---
I'll have a list of my favorites headed your way tomorrow, but in the meantime, what did you read in 2022? What were your favorites, and what were the ones that you didn't finish?
Andrew