My favorite reads of 2022
10 stories about space, time, and decisions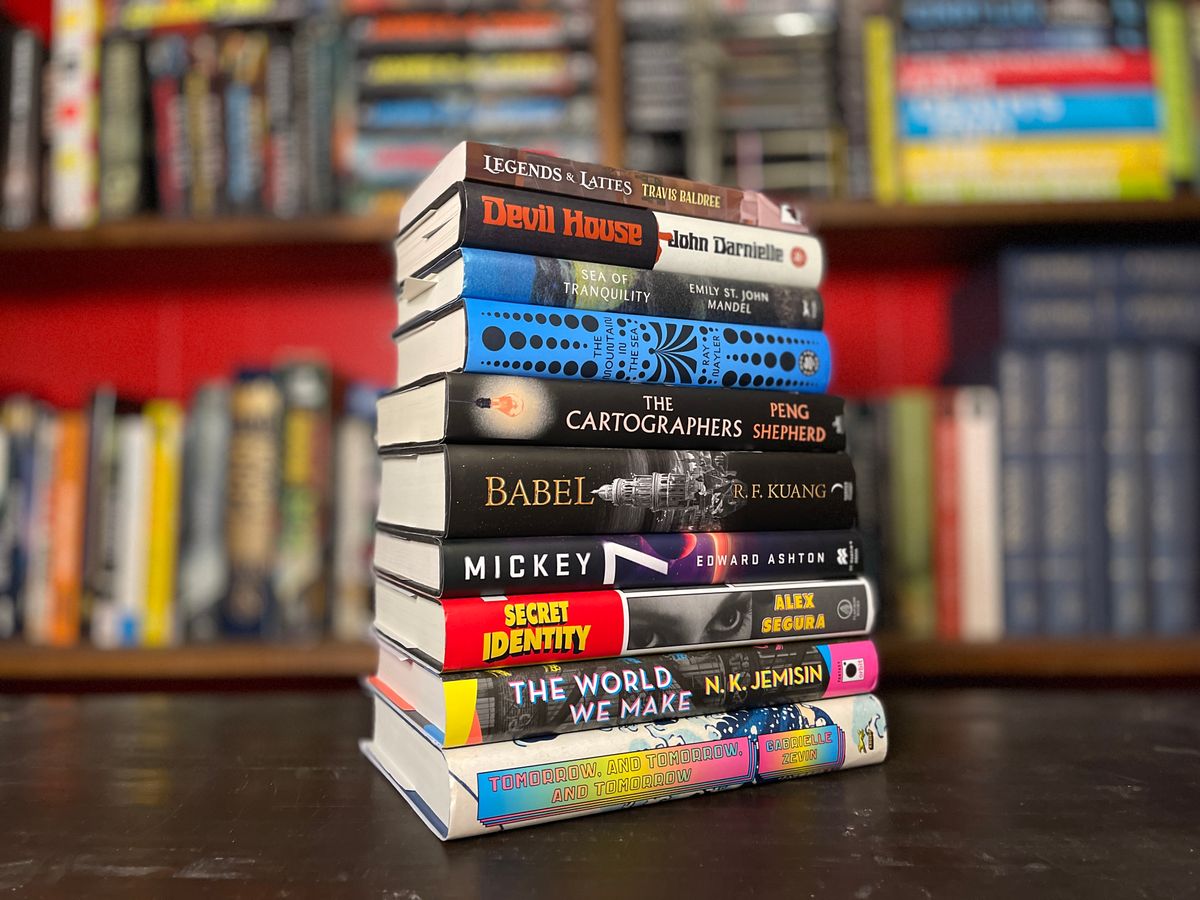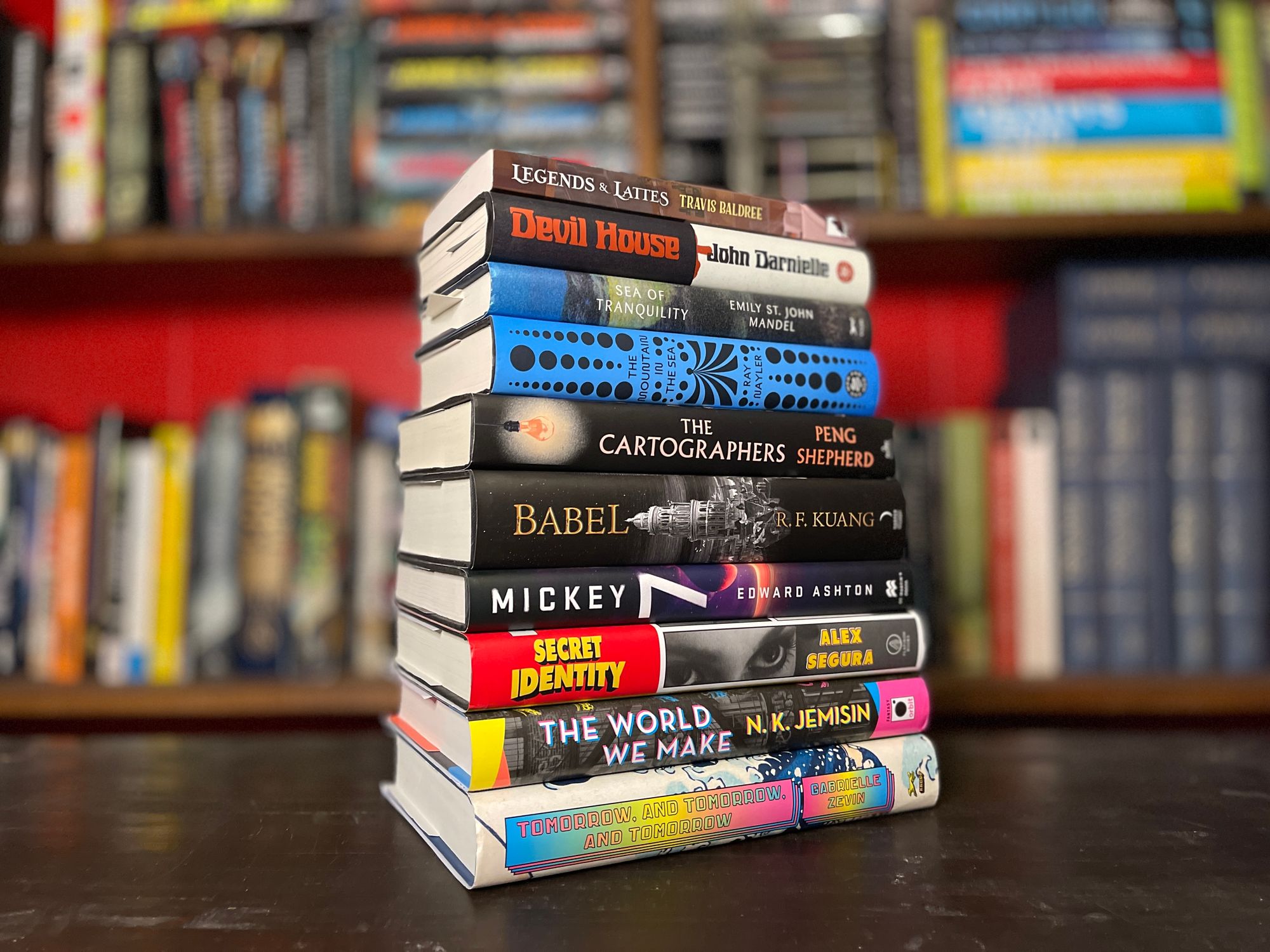 The end of the year and start of the next is a period of reflection, and as one reading season ends, I've always thought it to be useful to look back on the year to see if there are any common themes that stick out.
Here are my favorite books of 2021, 2020, and 2019. You can also find the rest of the monthly book lists (and other lists) via the Book List tag.
In prior years, I've found that I gravitated toward books that seek to explain the state of the world, which offer a form of escape, or which offer up ideas for rebuildng after hard times. Looking over what I read this year, I found something a little different: stories about choices.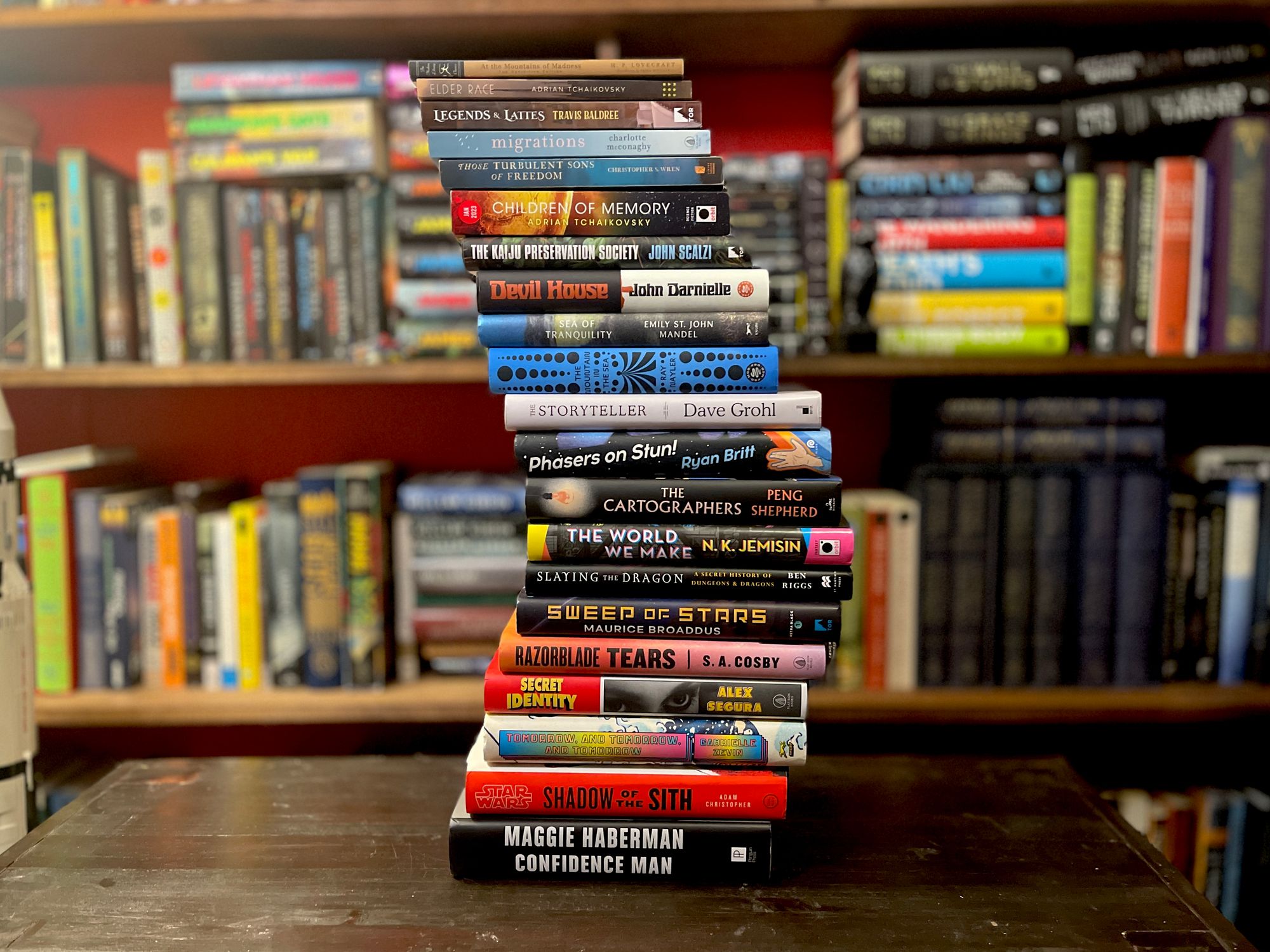 Certainly, there are books that examine the nature of colonialism and imperialism, intellectual property and artificial intelligence, but at the core of all of those books are stories where I was particularly struck by the efforts on the parts of their characters to recognize the problems that face them and to find ways to improve or change their station in the world. Choices, I fervently believe, are the minutia that drives the action and direction of every story, and the following ten novels are outstanding examples of characters whose choices define the story. Big and earth-changing, or small and minute, the choices defined those characters and their stories. Those choices helped them build their world, uncover something incredible about the nature of the world, or defined their relationships with their friends, loved ones, and peers. It was a good year for books.  
Here's the usual housekeeping reminders: links to Bookshop.org are affiliates and might yield a small commission if you make a purchase. And if you found this list useful, please consider signing up as a paid subscriber. I've got a lot planned in the coming year, including more book lists, reviews, interviews, and features, and your support helps make that happen.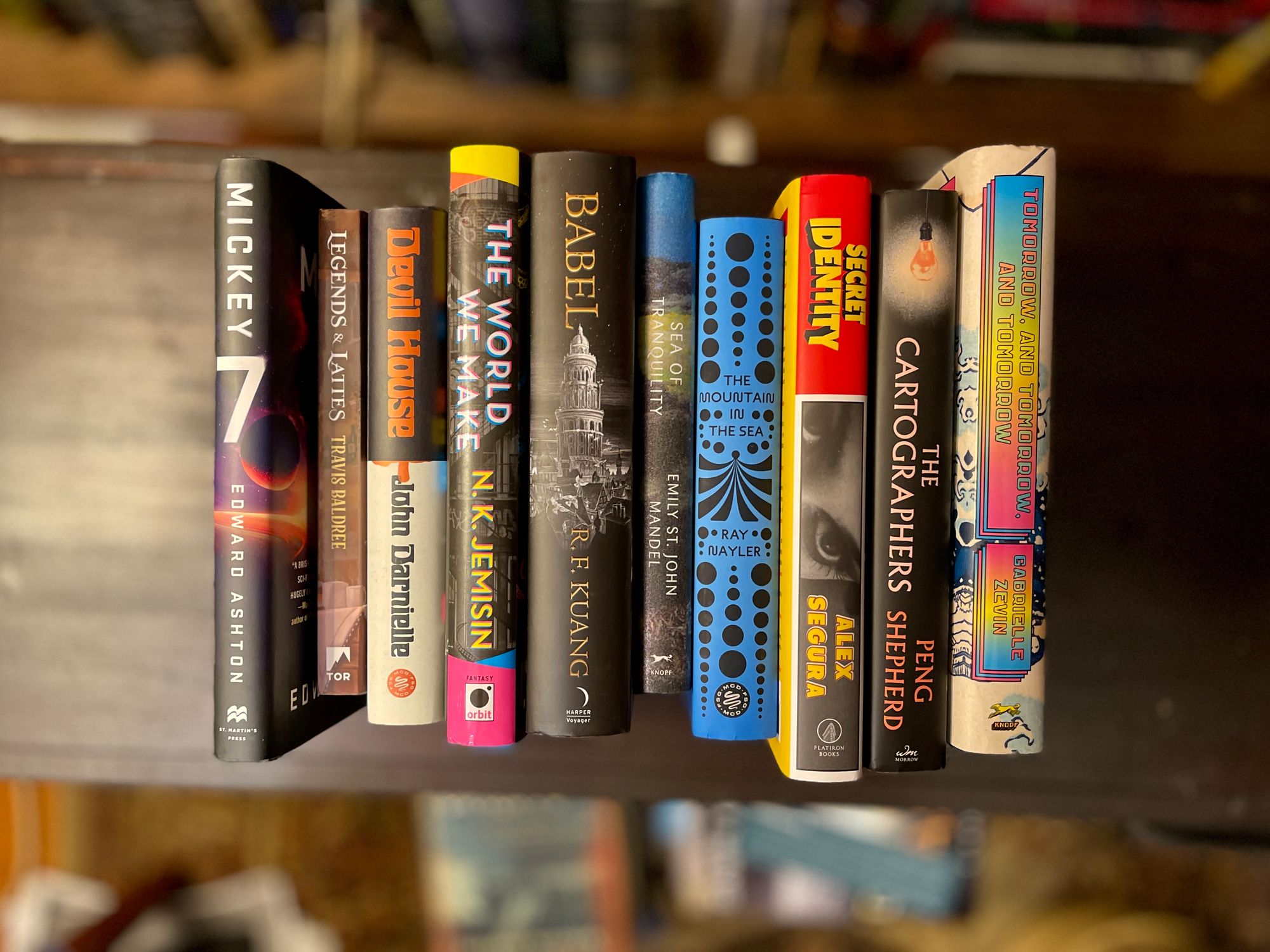 Without further ado, here are the books that came out in 2022 that I loved:
Mickey7 by Edward Ashton
When Mickey flees his home on a colonial expedition, he accepted a truly desperate job: as the mission's expendable person who's mind is backed up and who can be tossed into any dangerous situation with the understanding that he can be cloned and brought back again. It's a dangerous role: he's killed in all sorts of horrific ways while on the way to their new home, and once there, when he's left for dead once again, he finds his way home and face to face with his cloned successor.
Edward Ashton's book is a fast, action-filled thriller as Mickey7 and Mickey8 work to make sure that they aren't mulched as the colony begins to fall on harsh times. Along the way, he explores the complexities of sharing space with one's own copy, and the realities of landing a colonial settlement on a planet that might already be occupied, and the hard choices that people need to make along the way.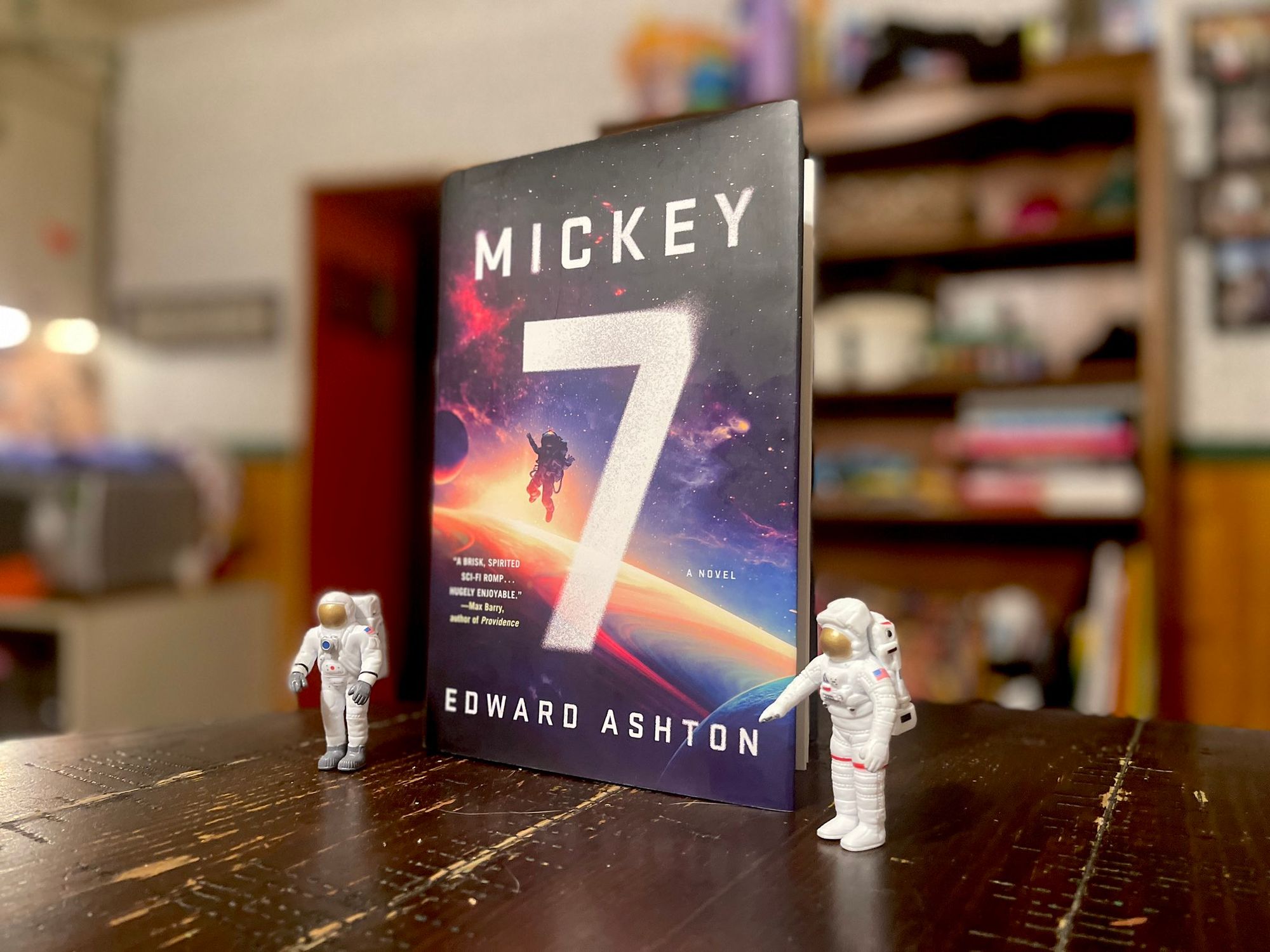 I'm a firm believer that not every cup of coffee has to be a work of art, and that not every film has to be a groundbreaking work of cinema. Sometimes, you need something cozy with small stakes that you can enjoy. Travi Baldtree's fantasy novel has that atmosphere: a comfortable tale about some ordinary characters looking to make their way in the world.
Viv's way in the world happens to be setting up a coffee shop in a small fantasy city, and all the small challenges that come up: hiring new staff, dealing with jealous people from her past, and local muscle who want a cut of her new business. By grounding the stakes, Baldtree has not only put together a book that's perfect with a cup of coffee and a pastry (it inspired me to make my own cinnamon rolls for the first time in ages), he's told a story that shows that you don't have to have show-stopping, end-of-the-world stakes to power an epic fantasy. The result is a book that triumphs in showing that the smaller stories are just as important and relatable.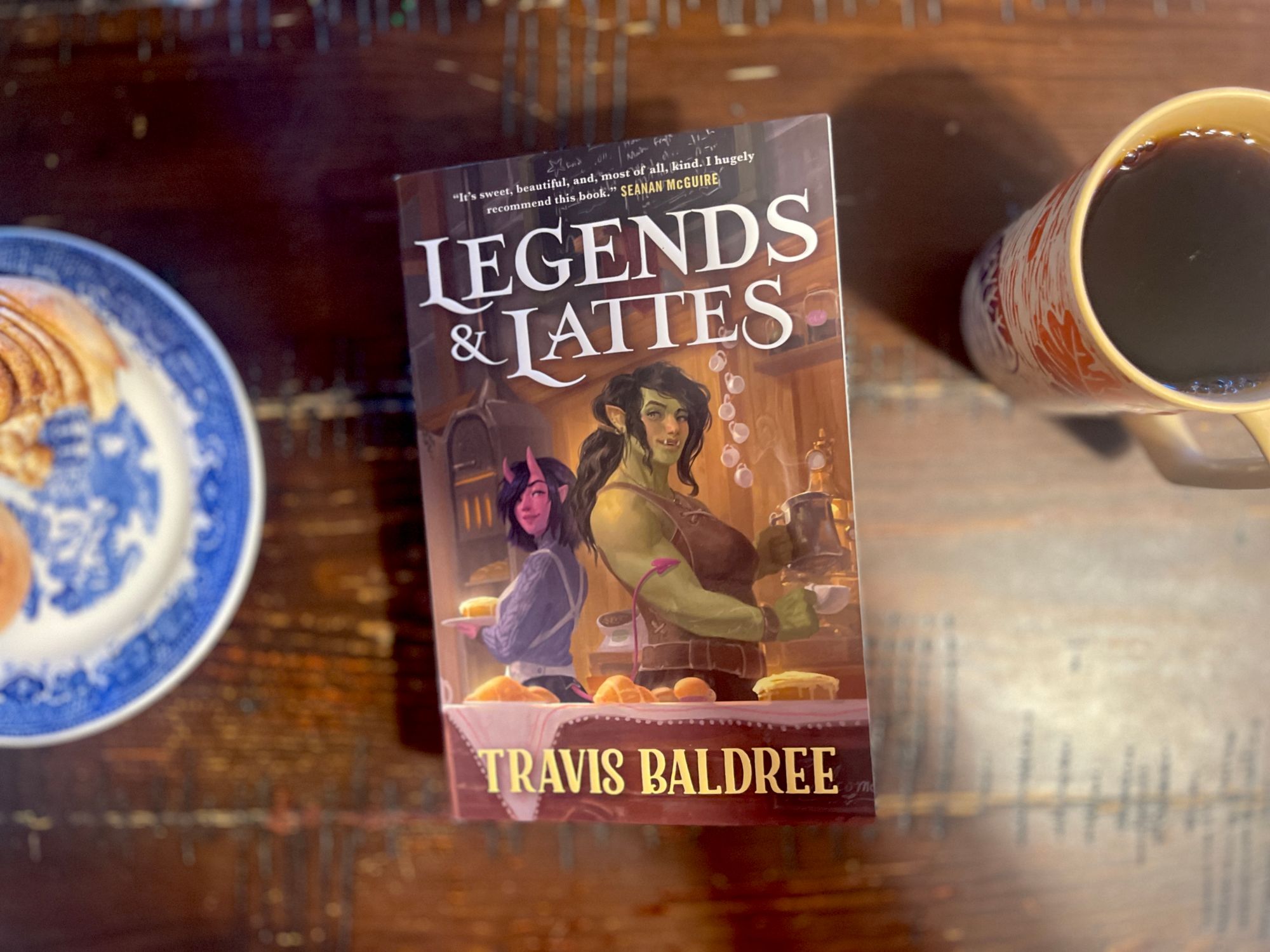 A true-crime author named Gage Chandler takes on a new assignment for his next book: an investigation into a notorious murder that took place at the height of the Satanic Panic during the 1980s. He moves into the house where the brutal murders took place, and begins to take a look into the events and people who were involved in the crime.
Like the crime that his character begins exploring, John Darnielle's book isn't exactly what it appears on its face. As Gage spends time piecing together the story, he finds that the crime wasn't as it appeared, but that part of the story falls away as Darnielle looks at the sensational nature of true crime itself, how different stories collide, and what the meaning of protecting one's sense of home is.
Fresh off of her Broken Earth trilogy, N.K. Jemisin turned to upending Lovecraftian horror in her 2020 book The City We Became, spinning out a brisk thriller about a group of people tapped to become the avatars of New York City as they face an existential threat that comes in the form of white supremacy and gentrification. In 2022, she capped off the story with The World We Make, a spectacular finale as the Woman in White redoubles her efforts.
Jemisin raises the stakes in this book: the face of not only New York City is at the forefront, but our entire world, as forces far beyond our understanding threaten to unmake the world in the name of an  orderly existence. The avatars of New York City have to not only get their own house in order, but convince the elder cities of Earth that the threat extends to them as well. It's a powerful story that drips with relevance about our own, broken world.  
A bit of a disclaimer up front: I haven't completely finished this one, but I'm far enough along to know that this title belongs here. It's been a book to savor. In 1828, an orphan named Robin Swift arrives in London, brought by a mysterious benefactor who prepares him to enroll at Oxford's Royal Institute of Translation.
As we follow Robin through his journey, R.F. Kuang spins out a story that explores the lasting impact of Britain's colonial era, and how remnants persist in the form of academics, institutions and language. It's a powerful read.
In Emily St. John Mandel's breakout hit Station Eleven, she followed the remnants of civilization in the aftermath of a world-ending flu pandemic. With the onset of COVID-19, the book was certainly one that readers turned to, and in her latest, she once again grapples with the implications of pandemics in this time-sprawling read.
Mandel splits her story between three different times: in 1912, an Englishman named Edwin St. Andrew is exiled to the Canadian wilderness after some pointed remarks at a family gathering, while 200 years later, an author named Olive Llewellyn embarks on a book tour on Earth from her home on the Moon, while a lunar detective named Gaspery-Jacques Roberts sets out to investigate an strange anomaly.
The three stories are all connected because of that anomaly and moment, and that connection steers the destiny of each character. I'm a big fan of novels that loop in on themselves, and Mandel uses this technique to meditate on the nature of time and of reality itself. The result is an engrossing, thoughtful story that lingers on the state of the world that we have now – and how the choices we make can alter our destinies.
If you put a gun to my head and forced me to pick my absolute favorite book of 2022, one serious contender would be Ray Nayler's The Mountain in the Sea, an engrossing exploration of the nature of intelligence and how we might recognize it.
In the nearish future, a mysterious tech company called DIANIMA has purchased Vietnam's remote Con Dao Archipelago, and invited a marine biologist named Dr. Ha Nguyen to come an help it study a species of hyper-intelligent octopuses that lives there. The company is known for its efforts in developing artificial intelligences: virtual companion apps and robots, and it seems likely that studying the animals will help it unlock new secrets to furthering its goals. Accompanying Ha is Evrim, the world's first — and thus far only — sentient android, and grim security officer Altantsetseg, who help her with her research and protect the island from all threats — external and otherwise.
The octopuses are a big part of the plot, but at the center of the story is Nayler's fascination and interrogation of just what is intelligence and how we recognize it. As Ha and her companions work to understand the nature of the task that's before them, they also face other challenges from DIANIMA and its own nature and agency.  
Regular readers of this newsletter know of my fascination with intellectual property and how it's used, and there's no better case study of this than the larger comic book industry: a sprawling network of publishers, studios, artists, executives and writers who've built massive industries out of paper, ink, and imagination.
Alex Segura sets his novel in 1975 in a third-rate comic publisher called Triumph that. There, aspiring writer Carmen Valdez works as an assistant to the publisher's irascible editor, when she gets a break: one of the writers that the publisher is working with offers to bring her in as a ghost writer on a project, the publisher's first female-led book, The Lethal Lynx. Carmen pours her ambitions into the project, only to come up short when her co-writer turns up dead.
As she pulls on the strings behind his murder, she discovers that the project she's been working on on — and her partner, have ties to a deeper plot within the comic book industry involving the nature of IP and the value that it holds. It's a fascinating blend of comic book history, murder mystery, and commentary on the ever-changing comic book industry.
Maps are intriguing documents, ones that proclaim to offer up a sort of truth or representation of reality, but which can be deceptive at the same time. When you zoom in on the finer details, you recognize the latitude that cartographers have at their disposal for what to place on paper.
Peng Shepherd picks up the story of a  young cartographer named Nell, who discovers that her estranged father has abruptly died. Their estrangement came over her discovery of a seemingly worthless gas station map, but while searching his office, she discovers that he's kept it all these years. The map is the clue to unlocking a deep-seated mystery that her father was at the heart of, and there are powerful people looking for it to try and take control of the secrets that it holds – secrets that can undermine reality itself.
Shepherd's book is a blast to read: a slick thriller that drags the reader along on a fascinating mystery, all while asking posing some big, important questions about the nature of the things that we take for granted.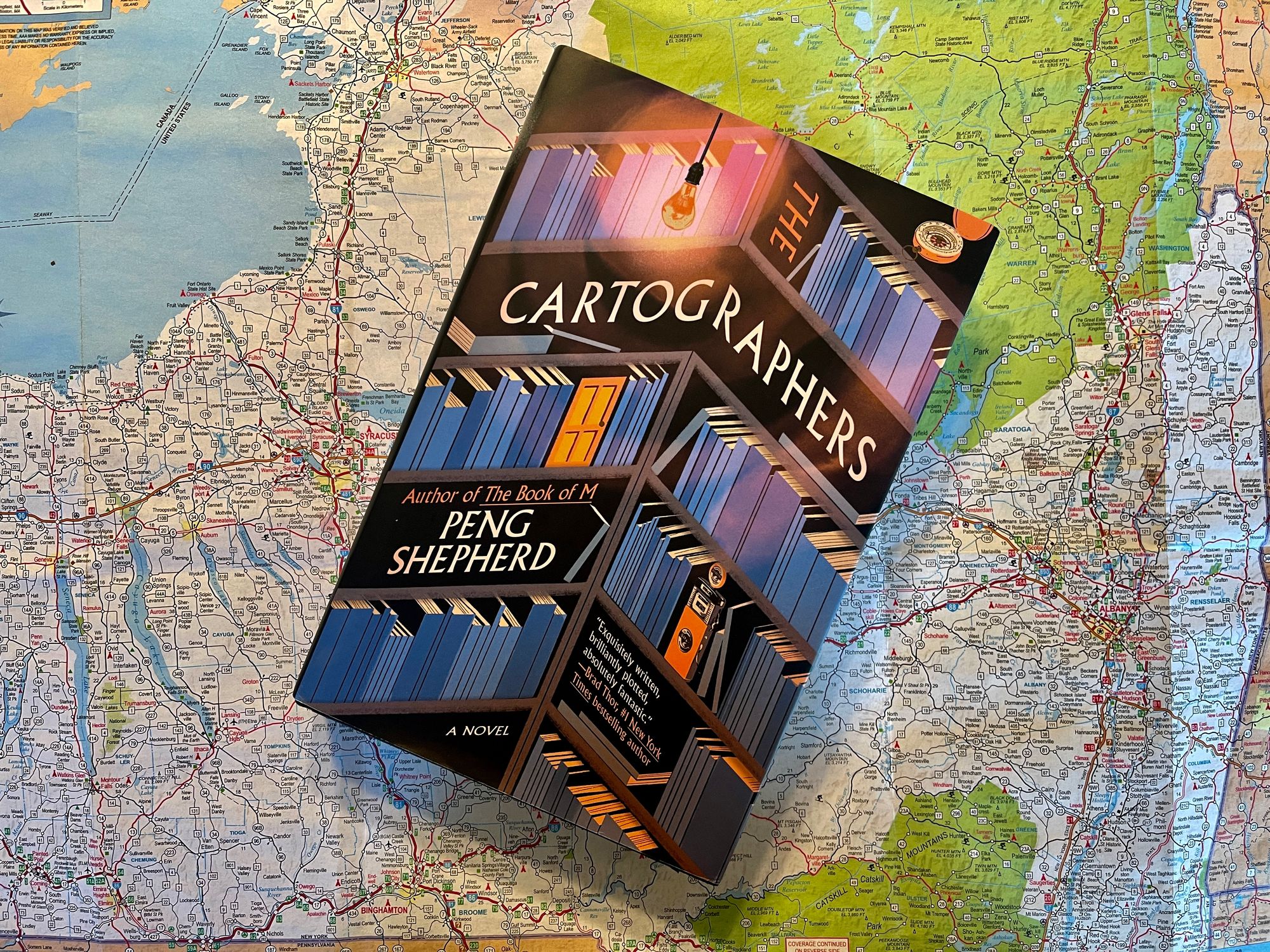 If pressed again on what my absolute favorite read of 2022 might be, the other easy answer would be Gabrielle Zevin's novel Tomorrow and Tomorrow and Tomorrow, a heartbreaking story of a difficult friendship between two game developers that stretches across decades.
While studying at Harvard in Boston, Sam Masur encounters an estranged friend, Sadie Green, and after years apart, the two rekindle their friendship over their mutual love of video games and storytelling. The two set out to build a new game, Ichigo, and encounter mainstream, blockbuster success, propelling them into the depths of the gaming industry of the 2000s. Their professional partnership and friendship has its ups and downs over those years, each intently focused on their work and desire to create real art out of the medium, even if it costs them everything they've worked for. Along the way, Zevin takes a hard look at realities like creativity, disability, sexism, and the complexities that come with real life in a way that few books ever fully realize. It's a stunning, emotional, and heart-rending story that holds up a mirror to the world and entertainment that we consume.
---
Other excellent books that I enjoyed, but which didn't quite make the list include:
Every year leaves with a pile of books that I'd desperately hoped to delve into, and this year is no different. The following are ones that I've both highly anticipated and have read enough praise for to think that they likely would end up on this list, but I just hadn't managed to get through enough of them to include them. I'm hoping to rectify that before too much longer.
---
What books were your favorites of 2022? What would you recommend to your fellow readers? Let me know in the usual places.
Here's to a good 2023 (here are the books that I'm looking forward to the most), and I look forward to writing to you in the coming year.
Andrew