Here's what I read in 2021
52 books in 52 weeks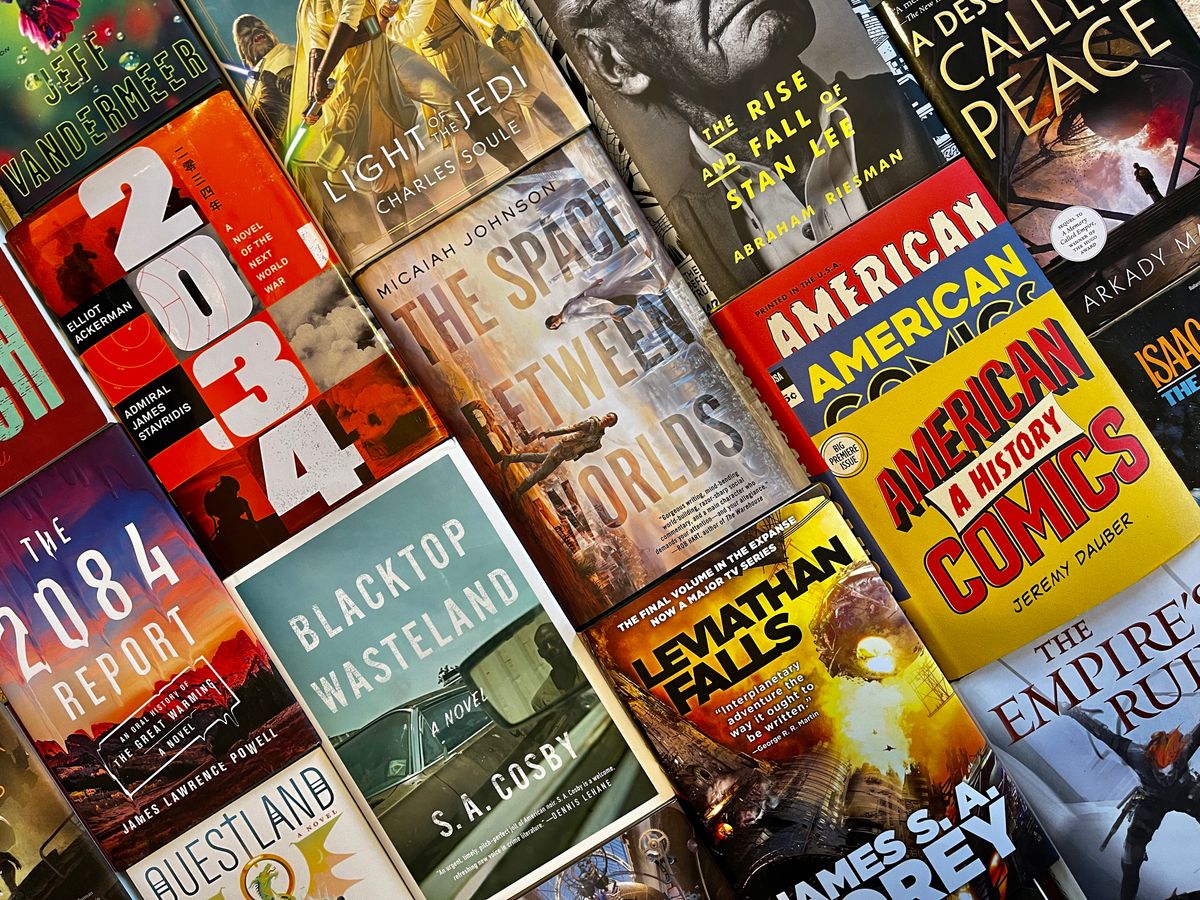 As has been an annual tradition on my blog and here on Transfer Orbit, I've been tracking what I've been reading. My goal the last couple of years has been to hit 52, and by god, I made it this year, something that hasn't happened since 2018, when I hit 74 books. I only hit 42 in 2019, and 44 in 2020, so it's nice to finally hit that elusive goal.
Here's the lists from the last couple of years:
What's the secret? As always, just carving out time and muscling through distractions. In 2018, I made a conscious decision to read for 45-60 minutes a day in the morning, after the kids went off to school and before I logged into work. It feels like there's been more distractions in the last couple of years, and where I might spend 10-15 minutes before bed reading, I might just scroll through Twitter or Instagram, something I really am trying to stop doing.
My goal for 2022? Same as before: 52 books. I'm hoping to make more time in the mornings to read, and I bought a nice brass bedside lamp to help me read before bed. Hopefully that'll help me chug through the ever-growing pile of books that I'd like to read.
---
Ministry for the Future by Kim Stanley Robinson (Review)
Busted Synapses by Erica L. Satifka
Stuffed, Vol. 1
Star Wars: The High Republic: A Test of Courage by Justina Ireland
Remote Control by Nnedi Okorafor
The 2084 Report: An Oral History of the Great Warming by James Lawrence Powell (Review)
The Labyrinth by Simon Stälenhag
The Once and Future Witches by Alix E. Harrow
The Space Between Worlds by Micaiah Johnson (Review)
Hench by Natalie Zina Walschotts (Review)
Armies of Those I Love by Ken Liu
Veil by Eliot Peper (Review)
Fire Cannot Kill A Dragon: Game of Thrones and the Official Untold Story of the Epic Series by James Hibberd (Related)
Stuffed: Magic Kingdom
Network Effect by Martha Wells (Interview)
The Ragman's Memory by Archer Mayor
Fugitive Telemetry by Martha Wells (Interview)
Beloved Beasts: Fighting for Life in an Age of Extinction by Michelle Nijhuis (Review)
Bring the War Home: The White Power Movement and Paramilitary America by Kathleen Belew
True Believer: The Rise and Fall of Stan Lee by Abraham Reisman
Questland by Carrie Vaughn (Interview)
The Galaxy and the Ground Within by Becky Chambers (Interview)
Paper Girls vol. 1, by Brian K. Vaughn and Cliff Chiang
Hummingbird Salamander by Jeff VanderMeer (Review)
Banana: The Fate of the Fruit that Changed the World by Dan Koeppel
The True Story of a Made-Up Thing by Jacob Goldstein
2034: A Novel of the Next World War by Elliot Ackerman and Admiral James Stravidis
Get Together: How to build a community with your people by Bailey Richardson, Kevin Huynh, and Kai Elmer Sotto
Tribe: On Homecoming and Belonging by Sebastian Junger
Star Wars: The High Republic: Light of the Jedi by Charles Soule
The Haunting of Tram Car 015 by P. Djèlí Clark (Interview)
A Master of Djinn by P. Djèlí Clark (Interview)
Foundation by Isaac Asimov (Related)
A Desolation Called Peace by Arkady Martine (Review)
Campaigns & Companions by Andi Ewington and Rhianna Pratchett
Bubble by Jordan Morris, Sarah Morgan, Tony Cliff, and Natalie Riess
Blacktop Wasteland by S.A. Cosby
The Unbroken by C.L. Clark
Falling by T.J. Newman
A Psalm for the Wild-Built by Becky Chambers (Interview)
My Heart is a Chainsaw by Stephen Graham Jones
Grave Reservations by Cherie Priest
The Art and Soul of Dune by Tanya Lapointe
My Father's Things by Wendy Aldiss
Tales Too Ticklish to Tell by Berkeley Breathed
The Silver Arrow by Lev Grossman
Four Lost Cities: A Secret History of the Urban Age by Annalee Newitz
Leviathan Falls by James S.A. Corey (Interview / Review to come)
The Annual Migration of Clouds by Premee Mohamad
American Comics: A History by Jeremy Dauber
A Spindle Splintered by Alix E. Harrow
---
As noted before, I'm gunning for 52 books again in 2022... starting with some of the holdovers from 2021 that I didn't quite get to. What are you hoping to read this year?