January's books
18 new books to start off 2023 with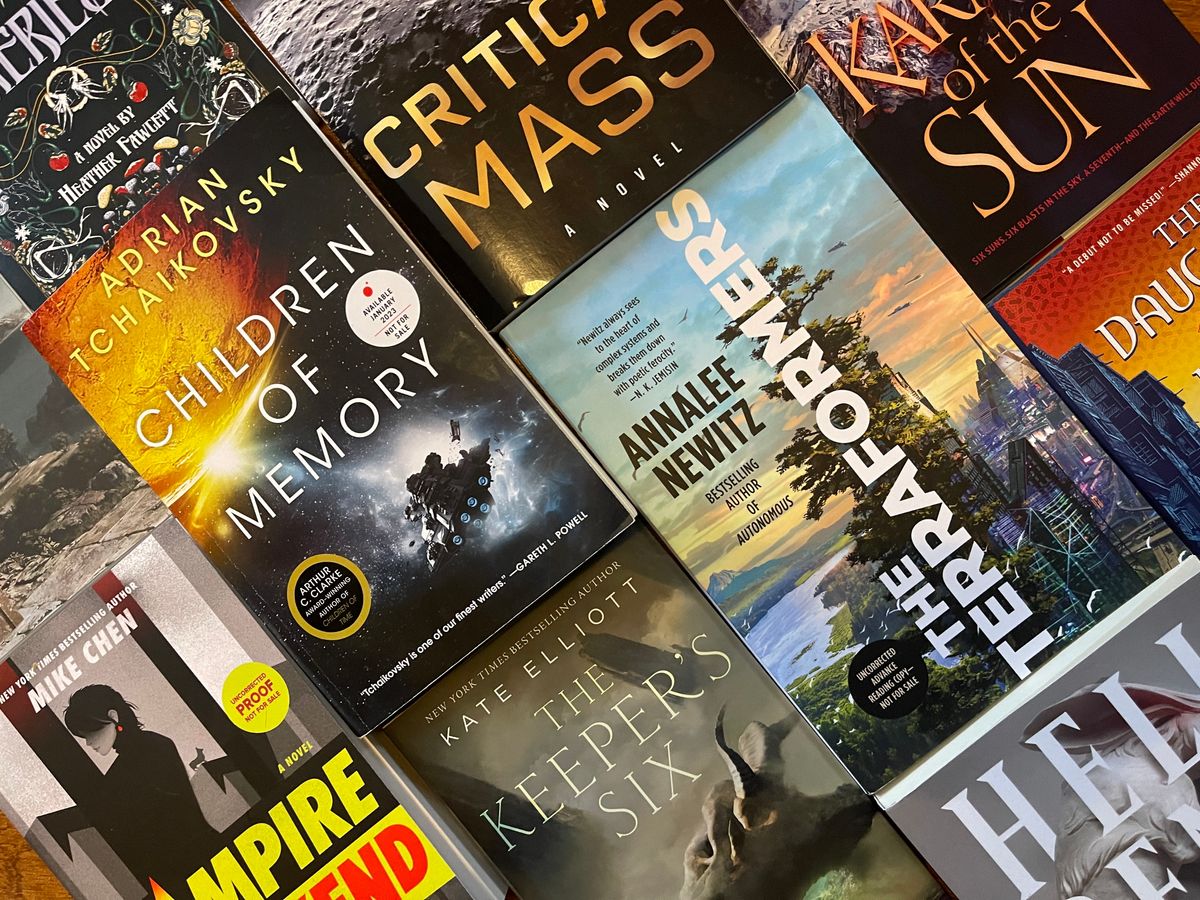 Another month has begun: and with it, another crop of books to add to your reading list.
Some other book-related lists that I've sent out recently: what I read in 2022, the books that I'm looking forward to in 2023, and my favorite reads of 2022!
As always, you can find prior recommendations via the Book List tag, which has all of my monthly lists on this newsletter! In the meantime, here are 18 new SF/F books to check out this January.
Usual disclaimer: Bookshop.org links are affiliates, and I might earn a small commission for any purchases made through them. It's one way to help pay for this newsletter's hosting. You can also support the newsletter by signing up as a paid subscriber. If you find a book that you enjoyed, or like this newsletter, please consider signing up to support the newsletter.
---
Failure Mode by Craig Alanson (December 6th)
I missed this one back in December: Craig Alanson brings his long-running Expeditionary Force series to an end with the dauntingly-titled Failure Mode, in which the Merry Band of Pirates have hit a snag in their latest mission. They have no way to complete their objective, can't regroup, don't have a Plan B, and all they can do is try and recoup from their losses and figure out their next steps.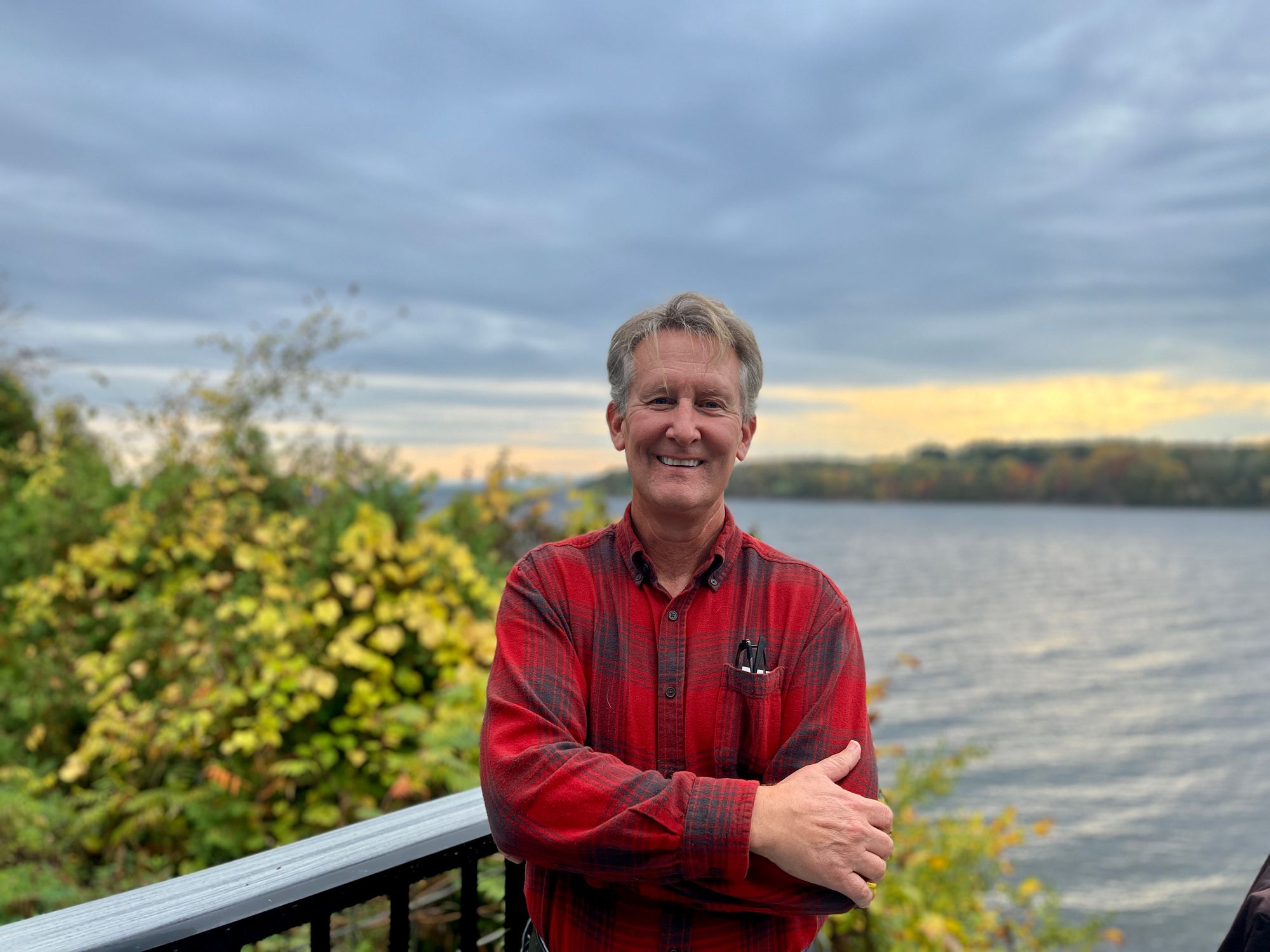 CERN has advanced scientific understanding in some unprecedented ways over the course of its operations. This anthology from Comma Press pairs up science fiction writers with CERN scientists to explore the facility's findings, and its table of contents includes the likes of Steven Moffat, Iawn Watson, Stephen Baxter, and many more.
(Note: this appears to be available in the UK starting in January, with a US release date to follow in April.)
Hell Bent by Leigh Bardugo (January 10th)
I featured this book in my most anticipated list: Leigh Bardugo's book Ninth House was a fantastic magical institution book, and I'm eager to pick up its sequel and to see what happens to its lead character, Galaxy "Alex" Stern, who has the ability to see ghosts.
This one brings new challenges for Alex: she's on a quest to bring someone back from Hell, and she's going to have to turn to some allies from the Lethe society for assistance. While this is happening, there's something killing Yale professors, and she's going to need all of her wits to figure out what's going on and survive.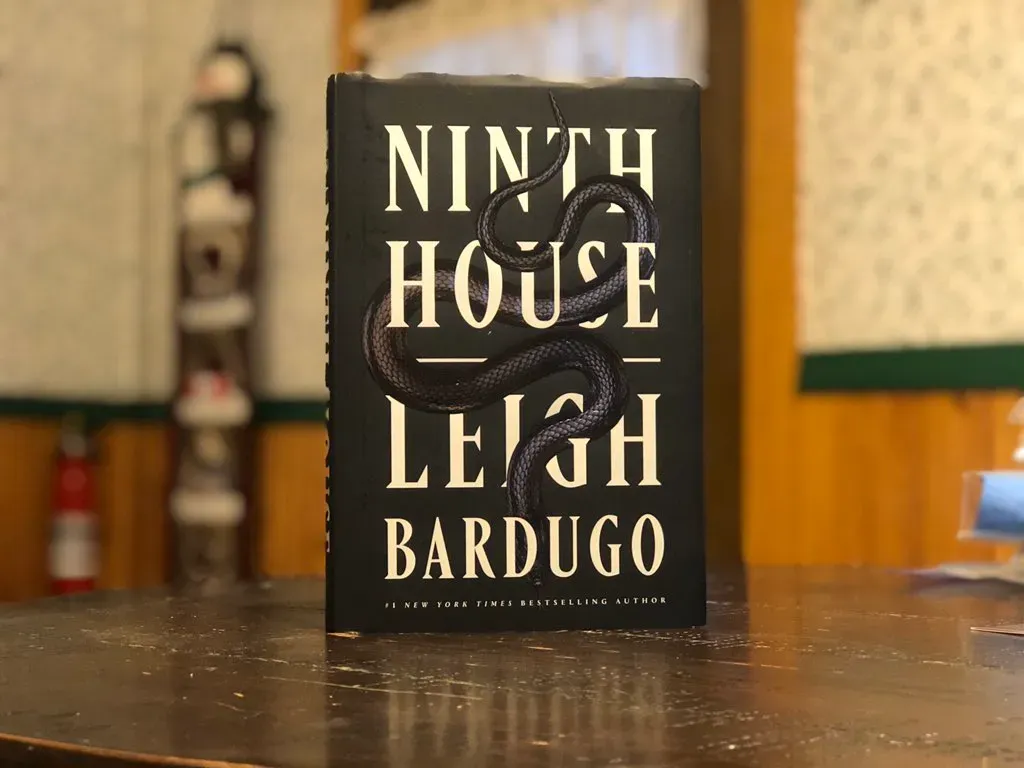 Publishers Weekly gave the book a starred review, saying that "Bardugo surrounds Alex with fascinating supporting players, among them a damaged New Haven cop and a naive roommate excited by the lure of the supernatural, while keeping the story's drive firmly in Alex's grip for another scrappy underdog tale."
Karma of the Sun by Brandon Ying Kit Boey (January 17th)
After nuclear Armageddon, the last remnants of humanity are clinging to life on the Tibetan plateau, faced with threats from warlords and spirits that haunt them. A seventh nuclear blast is coming, and a kid named Karma is looking for his missing father before the world ends. He's called by an unheard horn, and embarks on a quest for a mythical mountain that might be a bridge between our world and the spiritual one – and which might also show the way to save the world from destruction.
Publishers Weekly says that "the quest is perilous, with a path soaked in bloodshed and betrayal around every corner, and the sensational descriptions of the Himalayan landscape form the heart of this harrowing tale."
James L. Cambias adds to his Billion Worlds series (following The Godel Operation) with The Scarab Mission, in which a scavenger named Solana and her crew (made up of a cyborg, a dinosaur, and a raven), board a colony ship to see what they can take before it's sent off out of the solar system. But while onboard, they encounter a pirate crew and a stranger who has a world-changing secret. In order to survive, Solana has to overcome her own past and deal with the secrets that the ship has in its halls and buildings.
Publishers Weekly says "Cambias's unconventional underdogs will win readers over, and the inevitable affection for the characters makes the climax all the more powerful."
Mike Chen's latest is all about vampires. Everything you might have heard about them? Probably untrue: they can't turn into bats or fly, murder is frowned upon. It's really an unglamorous existence of night jobs and snacking on blood bags. Louise Chao endures a lonely existence, but her one outlet is punk rock. Looking for something to be a part of, she yearns to join a band, but keeping her nature a secret is troublesome.
When a long-lost, music-loving teenage relative named Ian shows up at her door, she finally has a connection, but when he discovers her identity, things get more complicated.
Publishers Weekly says in its starred review that "Chen fully immerses readers in Louise's mindset, delivering both laugh-out-loud snark and moments of aching loveliness as she navigates the thorny experience of being other, all underscored by a soundtrack that defined a generation.."
In this new read from Kate Elliot, a woman named Esther has been banished from the Beyond – an alien landscape that exists between worlds. She hasn't spoken with the rest of her traveling party, but when she awakens to hear her grown son cry for help, she knows that they're the only ones that she can trust to help her get him back.
Going undercover to escape notice of the Concilium – the magical group that banished them from the Beyond – they'll have to face dragon lords, darkness, and reminders of a long-ago crime that has come back to haunt her.
In its starred review, Publishers Weekly says "The conflicting goals of the smart, well-shaded cast produce believable confrontations that will appeal to those looking for mature, thoughtful conflict."
Hadeer Elsbai kicks off a fantasy duology with The Daughters of Izdihar, set in a world inspired by Egypt's modern history. A woman named Nehal is a waterweaver who can manipulate water to her will, and yearns to join a newly opened school for weavers to better control her power and eventually join the military. However, her family is poor, and she's married off to a wealthier family. Her new husband Nico isn't interested in her: his heart is set on a bookseller named Giorgina, a woman with her own, secret powers. She's an earthweaver, and is part of a radical women's collective called the Daughters of Izdihar,
Connected by Nico, both Nehal and Giorgina come together, and begin to fight for their rights. There are other challenges on the horizon, however: war is brewing beyond their country's borders, while factions grow closer to home, threatening their progress.
Kirkus Reviews gave the book a starred review, saying that the book is "Reminiscent of Tamora Pierce's fantasies, but all grown up, with a focus on women, magic, and political schemes, this novel is cleareyed regarding social issues, timely, and above all, an engrossing fantasy."
A Cambridge professor named Emily Wilde is a leading expert on faeries, who published the first encyclopedia of of faerie lore. While she's good with the otherworldly, she has far more trouble talking with people, preferring to spend time with her dog, books, and the creatures she's studying.
When she arrives at the village of Hrafnsvik to study an elusive group of faeries, she's not planning on making friends, but they soon win her over, especially a fellow scholar named Wendell Bambleby. As her research progresses, she finds she's asking more questions: who exactly is Wendell, and what are his intentions?
The Fantasy Hive says to "prepare to be enchanted," and that "Fawcett's prose throughout is so wonderfully detailed...The Encyclopaedia itself feels much like a fairytale unfolding within each entry."
Grady Hendrix is known for books like The Southern Book Club's Guide to Slaying Vampires and The Final Girl Support Group, and now has a new horror tale that looks like a lot of fun. When Louise finds that her parents have died, she is reluctant to return home, not wanting to leave her daughter with her ex, and she certainly doesn't want to deal with her parent's home.
The place is loaded with mementos of her father's career and her mother's obsession with collecting dolls and puppets [NOPE], but she really doesn't want to deal with her brother Mark, who hasn't accomplished much with his life, and resents her own successes. She needs his help to get the house ready to sell, but as it turns out, the house has its own plans for the two of them.
LibraryJournal gave the book a starred review, saying "The down-home charm of the Charleston family is on point, and the scares are fun and frequent, while the author almost painfully captures sibling dynamics.."
On the Marble Cliffs by Ernst Jünger, translated by Tess Lewis (January 31st)
The New York Review of Books releases a new translation of German author Ernst Jünger's 1939 novella, bringing back the allegorical work about the rise of fascism to a new generation of readers.
Set in a village under a great set of marble cliffs overlooking a lake, they're bordered by bands of herders in the northern the grasslands, and warriors in the great forests. The book's narrator and brother, Otho are tired of war, and enjoy their quiet existence. But dark times seem to be approaching: the forest warriors have begin spreading to peaceful lands, led by the head forester who threatens to change their way of life forever.
I don't usually cover reprints or new editions in these roundups, but a new edition of an Ursula K. Le Guin novel is worth making an exception. Scribner is reissuing The Lathe of Heaven, her novel about a man who discovers that he can alter reality with his dreams, and the attempts to try and control this power.
Coming with this new edition is a foreword by Kelly Link, in which she talks about how this particular novel fits into the larger canon of science fiction literature. (You can read that in the preview at Bookshop.)
Jack McDevitt adds to his long-running Alex Benedict space opera series with Village in the Sky (which kicked off with 1989's A Talent for War and which has continued with titles such as Coming Home and Octavia Gone.) In this new installment, humanity makes a new discovery in the Orion Nebula: a planet that can sustain life, with a new, preciously-uncontacted species.
But when a mission to the planet arrives, all traces of the civilization have vanished, and Alex Benedict and his archeological crew arrive to take a look to see what happened to them, only to find more mysteries and higher stakes than they ever imagined.
Michael Mammay released this book as an audio-first story last summer, but now, he's bringing it to print. A scout platoon leader, Lieutenant Kiera Markov is part of a peacekeeping force on a planet called Tanara, known for its supply of lithium. When her unit comes under attack, she's suddenly in charge of her entire brigade, and she has to deal with the problems that arise as the planet's leaders try and use her and her forces as pawns in a coming war.
The Terraformers by Annalee Newitz (January 31st)
A new Annalee Newitz book is always a cause for celebration, and I'm looking forward to this latest one: The Terraformers follows Destry, a member of the Environmental Rescue Team on the planet Sask-E. She works to rescue the planet's ecosystems, but on one mission, she discovers a city that shouldn't exist, and that throws her entire life and mission into question.
LibraryJournal gave the book a starred review, saying "Newitz's prose makes accessible the novel's discussions of Indigenous genetics, terraforming, representation, and urban development," and that it's "an incredibly emotional and action-packed novel deftly taking on personhood, corporate ownership, and terraforming." (Publisher's Weekly also gave it a starred review.)

Last year, John Scalzi released an audio-first installment in his Dispatcher series. It's set in a world where the recently-murdered come back to life, and there, a group of people work to murder people in instance where they can mitigate the risk of someone dying in a dangerous situation, like a risky operation. In this story, Dispatcher Tony Valdez finds himself in a plot involving a friend and fellow Dispatcher, real estate, and cryptocurrency.
Subterranean Press is releasing a limited (2000 copies) hardcover edition of the book, and preorders are now open: it's set to be shipped out later this spring.
Critical Mass by Daniel Suarez (January 31st)
Another of my anticipated reads of 2023, Daniel Suarez's Critical Mass picks up the events after his last book, Delta-V,  in which a tech billionaire attempts to kickstart an asteroid mining program by secretly sending a team into space to mine an asteroid. Things don't exactly go as planned, and the team leaves a couple of their members behind.
Now, they're working on a rescue, but in order to do so, they need to do a lot of building: create a new space station, and develop some new technologies in order to bring their people home – all technologies that could help rescue an Earth that's in dire trouble from climate change and other disasters.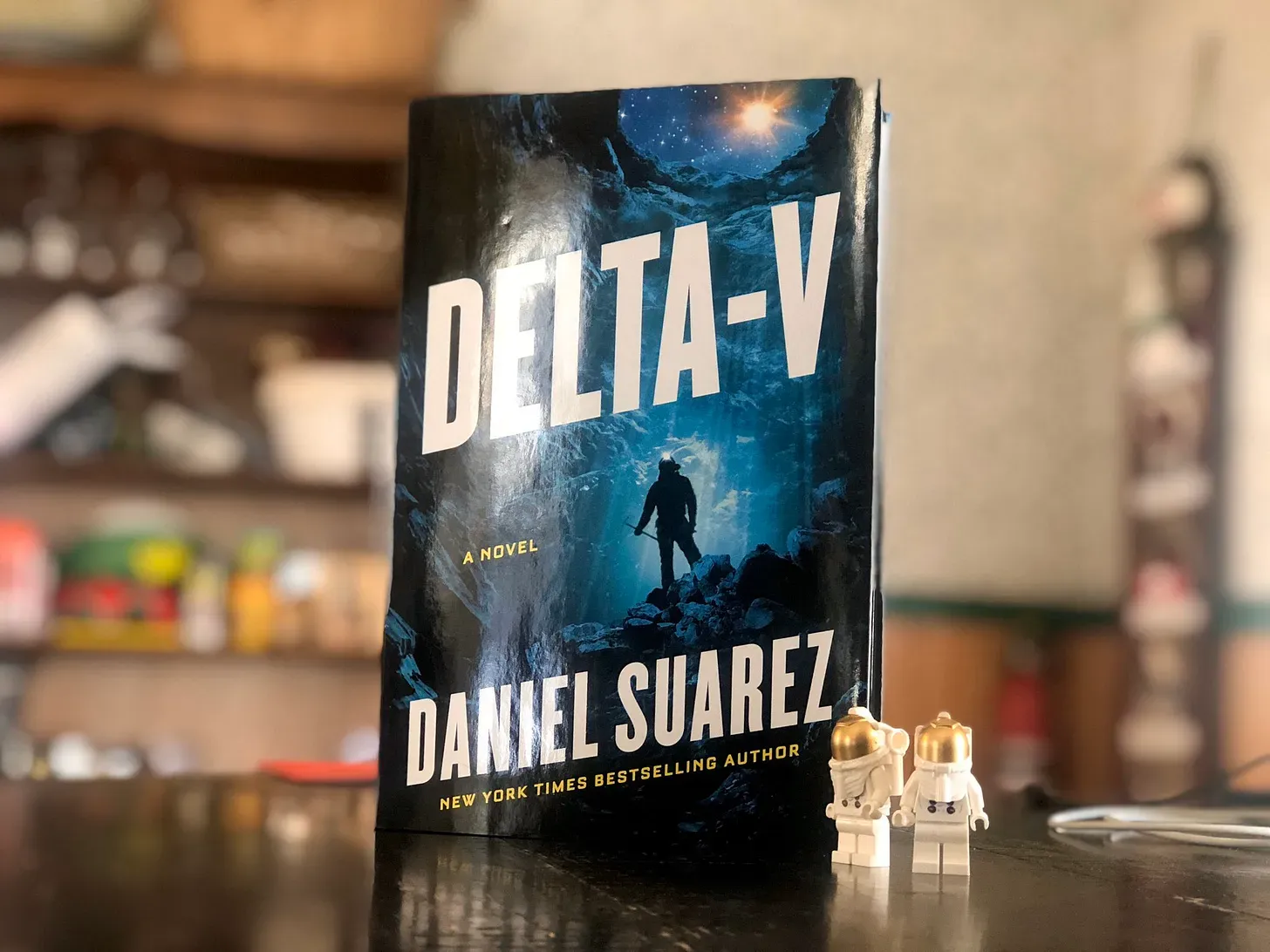 Children of Memory by Adrian Tchaikovsky (January 31st)
This was one of the books that I finished late in December, and it's a fine installment that follows Adrian Tchaikovsky's Children of Time and Children of Ruin. In those books, he followed the efforts of humanity to spread into the stars by way of a failed terraforming program, out of which came uplifted species of spider, octopuses, and humans to begin forming a new interstellar civilization.
In this installment, a human terraforming mission arrives on a desolate planet and begins putting in the work to try and make it a new Earth. When representatives of this uplifted civilization take note of a signal from the planet and arrive, they find that things aren't as they seem.
I don't want to spoil the twist that comes in this, but it's an intriguing read about the nature of memory, simulation, and what makes us perceive the world around us.