14 shiny new books to add to your TBR this March
Books about magical revolutions, immortal beings, space colonies, and more to dive into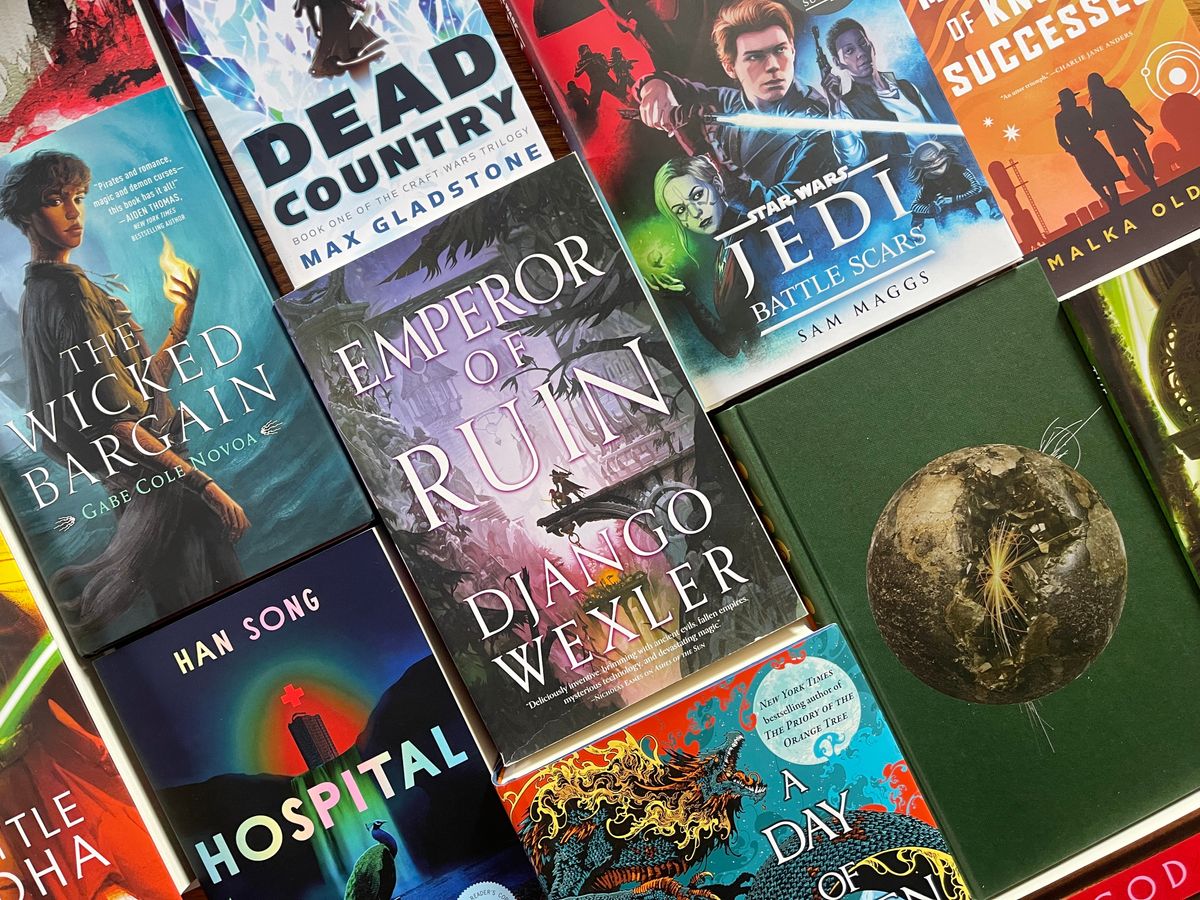 March 2023 is packed with books: this is the first of two lists that I'll sent out this month (the next will come in a couple of weeks). Books this time around include some new Star Wars adventures, magical revolutions, immortal beings, space colonies, alien invasions, and quite a bit more.
As always, you can find prior recommendations via the Book List tag, which has all of my monthly lists on this newsletter. You can also check out the lists from January and February.
Usual disclaimer: links to Bookshop.org are affiliates, and I might earn a small commission for any purchases made through them. It's one way to help pay for this newsletter's hosting. You can also support the newsletter by signing up as a paid subscriber. If you find a book that you enjoyed, or like this newsletter, please consider signing up to support the newsletter, or sharing this list with your friends and followers. Every little bit helps!
---
C.L. Clark continues the adventures of Luca and Touraine after their adventures in her first book, The Unbroken. Touraine is a conscripted soldier for the Balladaire Empire who'd been stolen from her homeland as a child, while Luca was an heir to the throne of that empire. That book was one of my favorites of 2021, and followed the pair as revolution blossomed in the city, and as they worked to figure out their relationship.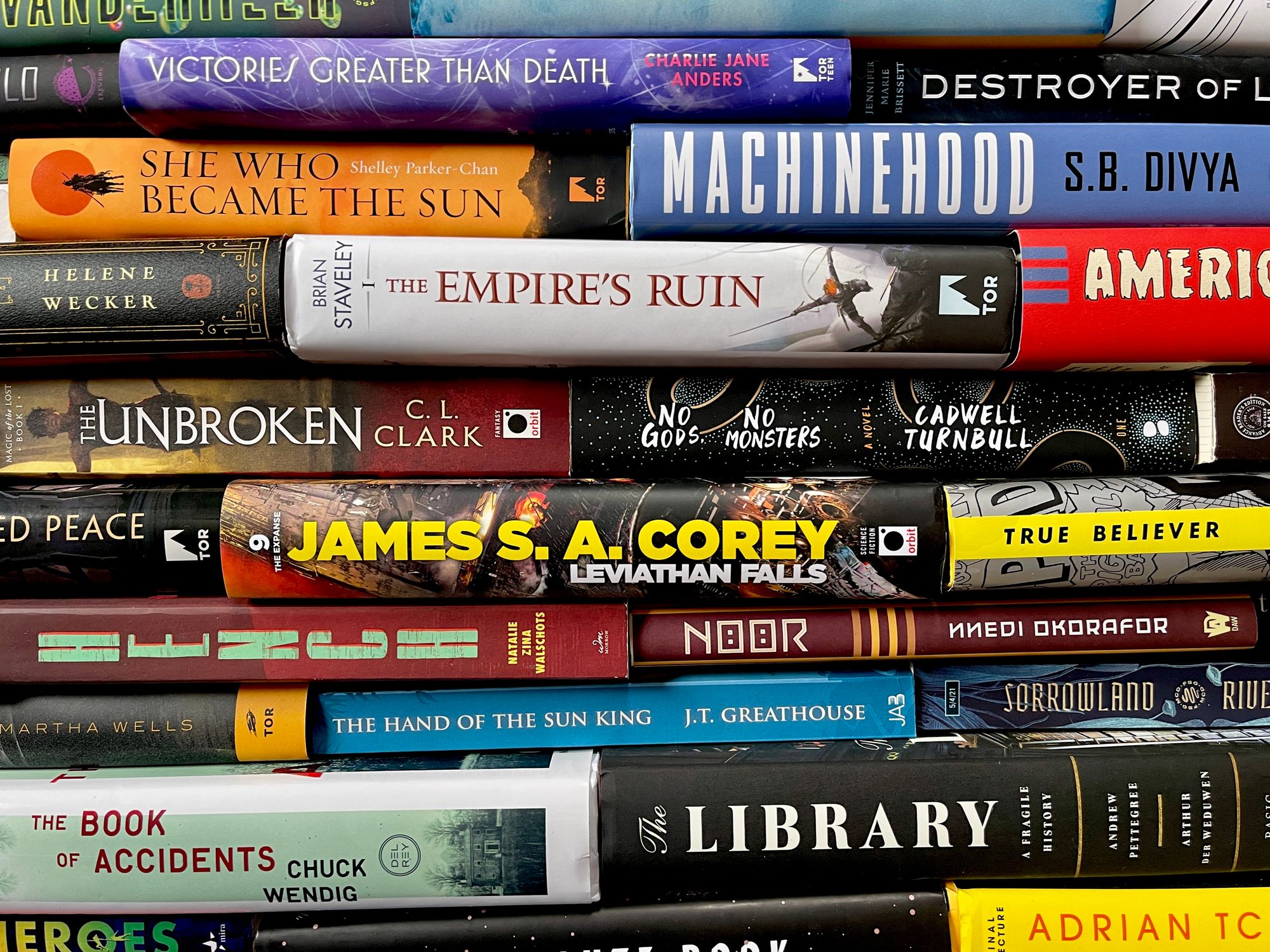 In this new installment, Touraine and Luca return to Balladaire as Luca works to reclaim the throne, and set about the difficult task of pulling the empire back in the face of rebel victories.
Dead Country by Max Gladstone (March 7th)
After a short break, Max Gladstone returns to the world of his fantastic Craft Sequence (Three Parts Dead, Two Serpents Rise, Full Fathom Five, Last First Snow, Four Roads Cross, and Ruin of Angels) with Dead Country, which kicks off a new trilogy, the Craft Wars series.  
In this story, Tara Abernathy (who we saw in Three Parts Dead and Four Roads Cross) returns home to her small town when her father dies. There, she discovers a young girl and saves her from some raiders – cursed, undead creatures that seem to be on the rise. In doing so, she inadvertently begins to change the course of the world.
Publishers Weekly notes that "while the intricate, logic-based magic system still plays a significant role, this tale moves away from the corporate realm of the prior series to delve into an exciting new facet of the Craft Sequence world."
Collette LeSange is an immortal being: she was granted this gift and curse in the early 19th century, and has since endured the ups and downs of world history. 150 years later, she's become an artist running an art school for children in New York, and when a new child arrives, she finds her life upended as a figure from her past unexpectedly returns.
Publishers Weekly gave the book a starred review, saying "Holland's refreshing vampires lean philosophical as they struggle with immense grief and loneliness. The intrinsic magic of her worldbuilding, meanwhile, creates a consistent feeling of mystery."
Eric LaRocca republishes his collection of short horror fiction, which now comes with an introduction from Wanderers author Chuck Wendig. This volume includes eight of his dark short stories, which touch on themes of grief, obsession, control, trauma, and tragedy.
Arca by G.R. MacAllister (March 7th)
G.R. MacAllister continues her Five Queendoms series (begun with Scorpica), an epic fantasy series set in a world where girls are no longer born, kicking off a crisis across the queendoms.
The Drought of Girls has since ended, but the scars that the crisis left run deep: political infighting has made relations difficult between the Queendoms, and in the senate of Paxim, Queen Heliane has worked to see her son on the throne, while across the border with Arca, Scorpican has massed its troops for an invasion, with only a young, inexperienced queen facing them.
Publishers Weekly says that "Macallister keeps the tension high, brilliantly weaving together political intrigue and adventure. The refreshing worldbuilding and intricate character work remain highlights. This takes the series to new heights.
I'm not much of a gamer, but I was pretty thrilled with 2019's Jedi: Fallen Order, which followed a former Padawan in the years after Star Wars: Revenge of the Sith. I finished the game last year after a couple of short tries to get into it, and once I got the hang of the gameplay, I really enjoyed using the Force to shove Stormtroopers off of high places, and generally follow Cal Kestis as he's hunted by Imperial Inquisitors.
A sequel to the game, Jedi: Survivor, is due out in April, and ahead of its release comes a tie-in novel, Battle Scars. The two games are set five years apart, and this novel follows Cal and the crew of the Mantis as they make their way through the galaxy. When they come across a former stormtrooper, she brings with her word of a potentially valuable tool in their fight against the Empire, but to get it, they'll have to cross paths with Fifth Brother, one of the Inquisitors.
Last month's Star Wars release came in the form of the screenplay for George Mann's Battle of Jedha, a High Republic-set audio drama. This story's set in the aftermath of Zoraida Córdova's The High Republic: Convergence, as the Festival of Balance on the planet Jedha approaches. The galaxy is still dealing with the fallout from violence on Eiram and E'ronoh, and the Jedi dispatch a pair of emissaries, Mater Creighton Sun and Jedi Knight Aida Fort to try and end the war.
Mar is a non-binary, transmasculine teen pirate who's been hiding a magical ability: they can control ice and fire. But those magical powers aren't quite enough to stop the devil from collecting on a bargain that Mar's father made years ago. He's now shown up to collect their father's soul, and that of their ship's entire crew.
When Mar is rescued by a pirate crew in the Caribbean, El Diablo gives them a choice: give up their soul to save their father, or he'll never see him again. Mar's not willing to make that bargain and sets out to rescue their father with some unlikely allies, and will have to go to extreme lengths to succeed.
Kirkus Reviews calls it "an alluring high-seas adventure" and that "this romantic coming-of-age fantasy offers endearing, flawed heroes, an enticing villain, and high emotional stakes."
Malka Older's latest is on my most anticipated list for 2023. She's best known for her Centenal Cycle (Infomocracy, Null States, and State Tectonics), and in this book, she's headed out to a remote colony on Jupiter.
Investigator Mossa is working to track down a missing man, and heads to the colony's university, where she comes across her ex, Pleiti, a specialist in pre-collapse ecosystems who hopes to help bring life – and humanity – back to Earth. The two have to figure out what's behind the man's disappearance, and along the way, discover that there are secrets that could halt any efforts for humanity to return to their home planet.
Locus Magazine calls this novella a "delight" and that "As with the best murder mystery stories, it was entirely unclear (at least to me) what motives existed and who was involved in the crimes be­ing investigated until it started becoming clear to Mossa and Pleiti; and when it finally is resolved, it comes together in a way that genuinely makes sense."
Quantum Radio by A.G. Riddle (March 2nd)
Dr. Tyson Klein, a quantum physicist who works at CERN make an unexpected discovery from Large Hadron Collider data: a pattern. It appears to be a broadcast of some sort, and he calls it a quantum radio: as he decodes the message, he realizes that it's a profound message that will change how we understand existence. But someone has been following his research and will stop at nothing to stop him from understanding the full message.
Publishers Weekly says "thoughtful explorations of alternate history, especially surrounding WWII, take center stage as Ty's efforts to decode the quantum data lead him to a shocking revelation."
Samantha Shannon brings out a prequel to her acclaimed 2019 novel The Priory of the Orange Tree with A Day of Fallen Night.
Tunuva Melim is a sister of the Priory who's trained for decades to slay wyrms, but their long absence has led many to question their purpose in the order. Meanwhile, Sabran, the Queen of Inys has married the King of Hróth to save both realms, and in the east, Dumai has spent her life in a temple, trying to figure out how to wake the mountain's slumbering gods, only to have someone from her family's past complicate things. When the Dreadmount does erupt, each will have to find the strength to protect humanity from this new threat.
Kirkus Reviews gave the book a starred review, saying "Prepare yourself for the long haul. This is expansive, emotionally complex, and bound to suck you in."
Hospital by Han Song, translated by Michael Berry (March 1st)
Chinese author Han Song gets an English translation (by Michael Berry) of his dystopian novel Hospital. In it, Yang Wei travels for work to C City, where he expects a routine business trip. Things take an abrupt turn when he drinks a bottle of water from his hotel room: he takes ill and wakes up in a hospital, where he finds himself stuck in a labyrinth of impenetrable bureaucratic system with no answers. To escape, he has to figure out the secrets that the facility holds.
Roadside Picnic by Arkady & Boris Strugatsky (February 21st)
One of the science fiction novels that blew my mind when I first read it years ago was Roadside Picnic by Arkady and Boris Stugatsky. The story is about a man named Redrick Schuhart, who's known as a "Stalker", someone who goe into one of a handful of zones left behind after a series of alien landings on Earth. Those zone are littered with strange items and objects, and the Stalkers are hoping to find a big payday amidst the trash that was left behind.
I first came across the novel in 2012 when the Chicago Review Press published a new translation from Olena Bormashenko (with a foreword by Ursula K. Le Guin), and now, The Folio Society has picked it up this edition for a new volume. This edition comes with original art from Dave McKean, who also wrote the introduction. I've had my hands on a copy: it's a stunning edition. (There's also a 600 piece, limited edition that come with some additional art and prints.)
Emperor of Ruin by Django Wexler (February 28th)
In this new installment of Django Wexler's Burningblade & Silvereye trilogy (preceded by Ashes of the Sun and Blood of the Chosen), we find Gyre and Maya, two siblings separated by the malevolent Twilight Order: Gyre had searched for years for his sister after she was sold to the group, only to discover that she was fighting for them.
In this finale, the two are are finally together, and have to work together to overthrow the group, now run by a Chosen, Ashok. It's a formidable task: Gyre will have to unite some old allies from across the world to join their cause, while Maya has to uncover a legendary, hidden weapon that can tip the tide of the coming fight in their favor.
---
And that's just the first half of the month! Stay tuned: I'll have the second half headed your way in a couple of weeks.