23 new SF/F books to check out this February
New reads about fantastic worlds, disastrous missions, and quite a bit more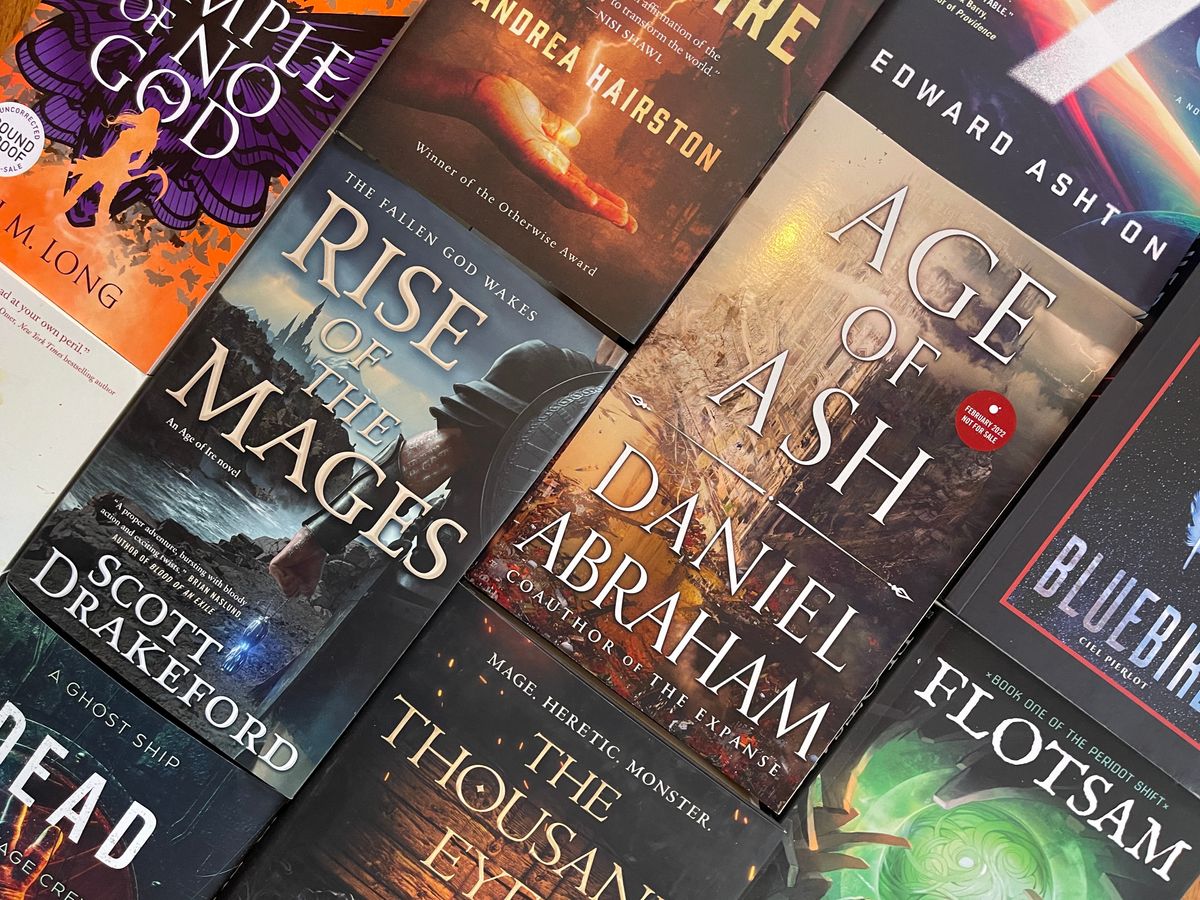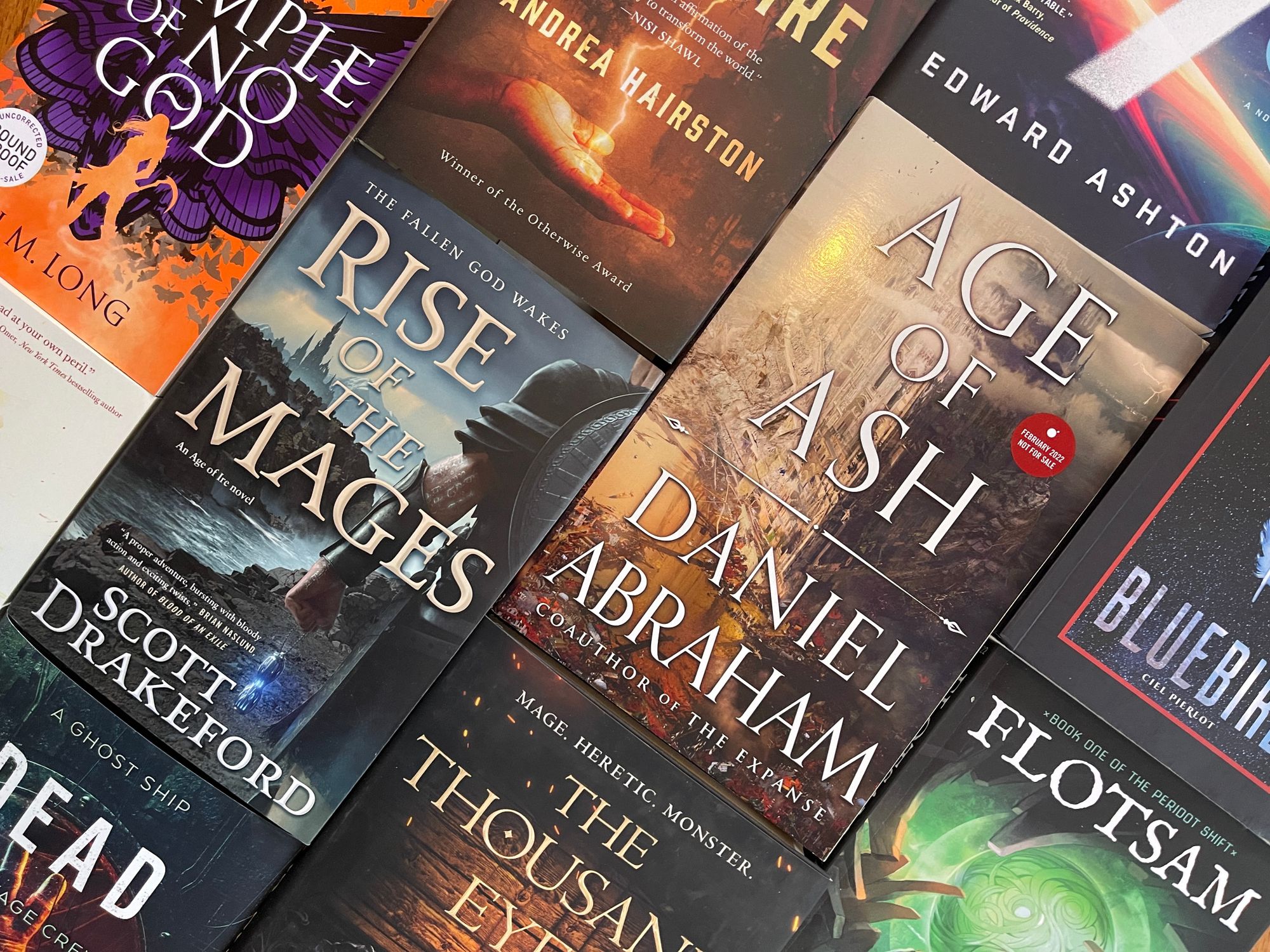 I saw a graphic float by on a feed somewhere that was apt: it showed the calendar as a circle with each month divided up into pie-shaped wedges. January was the largest, and as the months progress, they get smaller and smaller. That seems apt: this month felt like it lasted forever, and it's been a rough one — the Omicron wave brought plenty of stress (and isolation in my own home, although everyone is now fine), as well as bitterly cold temperatures, backache, and a bit more.
Fortunately, there are plenty of new books coming out to help forget some of these problems. February seems unnaturally packed for the number of novels hitting stores, and we've got a good bunch coming now that you should check out and toss onto your to-be-read pile.
The usual terms and conditions apply here: links to Bookshop.org are affiliates, and might yield Transfer Orbit a small commission if you make a purchase through them. Also keep in mind that there are a bunch of supply chain things going on, and some of these release dates might slip or more around a bit.
---
Science Fiction
Mickey7 by Edward Ashton (February 15th)
In the distant future, humanity has headed out into the stars, and begun colonizing other worlds, including an ice planet called Niflheim. It's a dangerous, deadly task, so this particular expedition is utilizing clones who're regrown with their memories intact after they die. Mickey's worked and died six times already. On one routine mission, he goes missing and everyone assumes he's died, so they decant his successor. But Mickey's still alive, and he's not happy to have been replaced by Mickey8. They haven't been caught yet (they'll be dumped into the recycler if there are duplicates), and they're forced to keep their dual existence a secret, all the while the terraforming effort isn't going all that well.
It's also looking like this story will make the jump from book to film soon: last month, Bong Joon Ho (the director of Parasite) snagged the rights to the film, and has been chatting with Robert Patterson (The Batman) to star. Obviously, there's a long ways to go before this hits, but it seems like a potentially big project.
Read an excerpt.
The Paradox Hotel by Rob Hart (February 22nd)
In a world where time travel exists, the wealthy tourists who embark to various points on the timeline have to have a place to prepare: that's the Paradox Hotel, run by the US government. There, January Cole works as the head of security, and strange things have been happening: the clocks run backward sometimes, there's the occasional ghost, and now, there's a body in room 526.
It seems like a weird coincidence, especially because the US government is about to privatize the technology behind time travel, and a whole bunch of high-ranking guests have checked in to take advantage of it. January can see things that others can't, and she can't tell if the body is real or if it's a symptom of mental illness.
Publishers Weekly gave the book a starred review, saying that "the twists keep coming without simplifying January's mental struggles in this impressive melding of creative plotting and three-dimensional characters."
Read an excerpt.
The Last Wild Horses by Maja Lunde and translated by Diane Oatley (February 15th)
A rare breed of horse is at the center of a story that stretched from 1881 to 2064. Norwegian author Maja Lunde's novel The Last Wild Horses has been translated into English, and it begins in the 19th century when a zoologist comes across a skeleton of the rare Przewalski horse, and embarks on an expedition to Mongolia to try and find a living specimen. In 1992, a woman named Karin and her son Mathias work to reintroduce the Przewalski to the wild in Mongolia, even as she puts her dedication to the horse above her relationship with her son. And in 2064, a woman named Eva is fighting to keep her family's horse farm in the midst of an uncertain future, even as her family urges her to leave the country.
Publishers Weekly gave the book a starred review, noting that "each of the segments are brilliantly complex, and they conclude with satisfying revelations."
The Misfit Soldier by Michael Mammay (February 22nd)
A conman named Gus goes on the run after a job goes bad, and ends up enlisting in the military's Augmented Infantry. Over the years that he serves, he becomes the guy who can get you anything that you need, and he's been looking for what comes next after his contract is up.
During a battle, one of his soldiers is left behind, and he sees an opportunity to score his biggest heist yet. Assembling a team of misfits, he sets off on an unauthorized mission, one that'll not only send him and his team up against their enemy, but against his superior officers as well.
Chris Kluwe at Lightspeed Magazine enjoyed the book, saying that "Mammay does a fantastic job setting up the camaraderie of the group in lots of little ways (drawing heavily, I suspect, from his own experiences), but it's a camaraderie built out of individual bonds, not a greater devotion to what might be a meaningless war (again, I suspect drawing heavily from his own experiences), and it begs the question of whether or not an institution considered vital is worth keeping if it treats its people as disposable."
Hunt the Stars by Jessie Mihalik (February 1st)
A bounty hunter named Octavia Zarola takes on a job from someone she'd rather not deal with ever again — Torran Fletcher, a former general and a personal enemy. But it's all in the name of keeping her crew together, and it's lucrative enough for her to hold her nose and accept. But when she and her team embarks on their mission, they discover that there's more to the story, something that could disturb a delicate peace between humans and Valoffs, and she realizes that they might be pawns, used to instigate a larger war.
Star Wars: Midnight Horizon by Daniel José Older (February 1st)
Daniel José Older pens the next YA installment of Star Wars: The High Republic, Midnight Horizon, which finds the Nihil reeling from a string of defeats throughout the galaxy, and the Republic is pushing its advantage. But when the marauders launch a surprise attack against the planet Corellia, the Jedi Council sends a pair of Jedi to investigate, Jedi Masters Cohmac Vitus and Kantam Sy, and their Padawans Reath Silas and Ram Jomaram.
The quartet are already exhausted from months of battle, and while the Masters investigate on their own, their Padawans take some unconventional routes to do the same, befriending a young security officer named Crash, and going undercover amongst Corellia's elite. As they do so, they discover something that could lead to even greater disaster.
Read an excerpt.
Bluebird by Ciel Pierlot (February 8th)
A weapons designer named Rig has run from a galactic conflict waged between three major factions in the galaxy. She's left that life behind and bought a ship and has making a life for herself, but when her former allies send her a devastating message: we'll kill your twin sister if you don't return what you stole from us, she sets off with her crew to rescue her. As she does so, she teams up with other former resistance members, her librarian girlfriend, and a bounty hunter on an adventure that'll take her across the galaxy.
This sounds very much like it'll appeal to folks who've been missing Firefly.
The This by Adam Roberts (February 3rd)
I've always found books by Adam Roberts to be extremely interesting reads. His novel New Model Army is an intriguing take on military science fiction, and the others that I've read feel as though they draw on his academic scholarship to interrogate the genre in unexpected ways.
His latest is The This, about a newfangled social media device that's implanted directly into a user, allowing them to connect with their followers mentally. The company's gained considerable notoriety, and one journalist lands an interview that might change everything.
At the same time, a man named Adan discovers that his mother has left him behind to join a European cult, and while he'd rather stay home with his robot Elegy, he ends up joining the military amidst an invasion of sentient robots — robots that he seems to be keenly able to survive.
In a world where Facebook and Twitter feel like they dominate society and the direction of nations, this looks like it'll be a pretty relevant read for 2022. Writing for SFX Magazine, Eddie Robson rated it highly, saying that "what could have been a pretty straightforward dystopia novel about Big Tech and loss of individuality becomes a fascinating exploration of where we might be going, one which we might sidestep easy cynicism to answer deeper questions."
Flotsam by R.J. Theodore (February 1st)
In this new edition of R.J. Theodore's Flotsam, we follow the adventures of Captain Talis, who's been working to keep the crew of his airship fed and and in tip-top shape. Work's been slow, so when they're offered a job with a high payday from an anonymous client, she jumps at the chance.
Their job? Salvage a wrecked airship, and as they sift through, they discover an ancient ring and a whole lot of trouble, which lands them right in the middle of a titanic battle between aliens, secret societies, and possibly, some ancient gods.
Inheritors of Power by Juliette Wade (February 22nd)
The latest installment in Juliette Wade's Broken Trust series brings readers back to the city of Pelismara, which has stood the test of time underground for a thousand years. In the first installment, Mazes of Power, a teenager named Tagaret is forced to represent his house in a ceremonial fight after its leader dies, all while his sociopathic brother Nekantor plans to seize power. In Transgressions of Power, Della and Tagaret play nice within the city's stratified society, all while planning to escape to safer territory, something that's more difficult with Nekantor watching their every move, and that of their younger brother Adon.
In this latest installment, Wade picks up the story a couple of years later after Nekantor has seized power, and the Imbati Service Academy has begun to suspect that Xinta, Manservant to the Eminence might have taken control of Nekantor. A cadet named Imbati Catín embedded within the place begins to look into those allegations, while a trash hauler named Akrabitti Corbinan accidentally discovers a hidden library and is whisked away by Catín, and the move might disturb the delicate balance that holds the city in place.
Read an excerpt.
Fantasy
Age of Ash by Daniel Abraham (February 15th)
When I asked folks what they were most looking forward to this year, the answer was inevitably Daniel Abraham's Age of Ash, the first installment of a new fantasy trilogy.
I'm a big fan of The Expanse, but I have to say that I've yet to read Abraham's other acclaimed fantasy books, but they've long been on my list to eventually get to. This one looks particularly good: set in the ancient city of Kithamar, it has a bloody past. This novel picks up the story of Alys, who's brother was murdered in the city's slums. As she works to discover who killed him, she discovers that the city holds some dark secrets that could overturn everything.
Publishers Weekly gave the book a starred review, saying that "the impressively complex dynamics of Kithamar's society and rival races are delineated without clunky exposition, making for a smooth, immersive first foray into its streets."
Read an excerpt.
Rise of the Mages by Scott Drakeford (February 8th)
Scott Drakeford kicks off his debut fantasy novel and start to a new trilogy. In it,  Emrael Ire is the son of an exiled general and has been training hard to become a weapons master, while his brother Ban studies to become a magical craftsman. Trouble soon comes to the kingdom: an imprisoned god is released and his brother is captured, and Emrael must unleash his own, latent magical talents to save him.
Publishers Weekly notes that "Drakeford takes great care with the intricacies of sword fighting and castle storming, as well as Emrael's conflicted feelings over his legacy as both his father's heir and a mage."
Read an excerpt.
Lesser Known Monsters of the 21st Century by Kim Fu (February 1st)
In this collection of 12 short stories, Kim Fu explores all sorts of strange things: haunted dolls, encounters with sea monsters, toys that seem to control time, houses full of insects, and quite a bit more. It looks like an intriguing literary read, and Kirkus Reviews gave it a starred review, noting that the "book will likely resonate with readers of Karen Russell and Ben Loory," and that "Fu addresses questions of technology and community with grace and subtlety."
Redwood and Wildfire by Andrea Hairston (February 1st)
Andrea Hairston explores an alternate history in the start of the 20th century, following the story of a pair of performers,Redwood, an African American woman and Aidan, a Seminole Irish man as they make the trek from Georgia to Chicago. They can conjure up fantastical worlds with their performances, and they're searching for a new home where they can live out their lives and perform where they and their talents are appreciated.
Hairston originally published the novel back in 2011 with Aqueduct Press, and it earned the Brandon Award and the Tiptree/Otherwise award that year. Publishers Weekly gave the book a starred review, saying that "Hairston captures an impressive depth of tenderness between her leads and makes a moving argument for the power of stories and songs in the face of bigotry."
Read an excerpt.
Aether's Pawn by Gabrielle Harbowy (February 28th)
A Jinn named Indigo "Quills" Steelquill left her home realm a thousand year ago and has never looked back, putting her skills to work as a tattoo artist in modern-day London. Her world is flipped upside down when a prominent Jinn overlord is murdered. While his main rival protests that he's innocent, and knows that it was done by someone with skills similar to that of Quills. She sets off to try and find the culprit, a journey that'll take her across England and alongside a human named Amy Jane, all while the slain Jinn's followers are looking for revenge.
Moon Witch, Spider King by Marlon James (February 15th)
Marlon James returns for a followup of his African-set epic fantasy Black Leopard, Red Wolf with a sequel, Moon Witch, Spider King. The first novel was about a man named Tracker who set off on a quest to try and find a missing child, traversing a fantastical landscape and meeting some extraordinary companions along the way.
In this new adventure, James follows Sogolon the Moon Witch, who has her own connection to the missing child. The book is about her life, starting from when she was an orphaned and abused child who set out to protect herself and discovered magic along the way. As her life progresses, she finds that she's being watched by Aesi, an assistant to Kwash Dara, the Spider King.
Kirkus Reviews gave the book a starred review, saying that "once Sogolon's painful, tumultuous initiation ends and the Moon Witch's legend takes hold, James' tale picks up speed with beautifully orchestrated (and ferociously violent) set pieces and language both vivid and poetic," and that it's "darker and, in many ways, more moving than its predecessor."
Read an excerpt.
The Thousand Eyes by A.K. Larkwood (February 15th)
A.K. Larkwood released her debut fantasy novel in 2020, The Unspoken Name, an epic fantasy that followed the story of Csorwe, a 14-year-old Orc princess who knows and accepts that she's fated to become a sacrifice. She avoided that fate when she encountered a mage named Sethennai who showed her a different path, helping him by being a loyal assistant as he worked to reclaim his former throne. Friends told me they got some real Earthsea vibes from this one, and it's on my to-read list.
Now, Larkood is out with a followup: The Thousand Eyes, which is set two years after the events of the first book. Csorwe and her companion Shuthmili have escaped the wizard's clutches, and they've been exploring ancient ruins along with a former rival, Tal Charossa. As they do so, they discover a long-sleeping Echentyri soldier and in doing so, reawaken a long dormant-conflict.
Read an excerpt here and here.
Temple of No God by H.M. Long (February 1st)
In this sequel to H.M. Long's Hall of Smoke, a war has been brought to a tentative peace between the ancient gods and humanity, brokered by Eangen High Priestess Hessa. But there's some new threats that are beginning to emerge against the Arpa Empire, as various factions seek to claim the thrown and the magic it bestows on its occupant. Hessa is thrown into the conflict and has to lead an army into enemy territory to save her people.
Read an excerpt.
This Woven Kingdom by Tahereh Mafi (February 1st)
Tahereh Mafi has made a name for herself with her Middle Grade and YA novels, and now kicks off a new trilogy that's inspired by Persian mythology. Long ago, Jinn were cursed to watch as humanity rose and took over what was once theirs. One former heir to the Jinn kingdom is Alizeh, who now hides a a servant in a palace. As the crown prince, Kamran learns of prophecies that spell out his father's fate, he falls in love with Alizeh, even as she might be the cause for his own family's destruction.  
Kirkus Reviews gave the book a starred review. It describes the book as "richly textured, descriptive prose coupled with agonizing romance combine in this fantastical epic."
Read an excerpt.
---
Horror / Other
Dead Silence by S.A. Barnes (February 8th)
The crew of a salvage ship has fallen on hard times when they intercept a beacon that could change everything: a long-lost space liner called the Aurora, which vanished two decades ago. It's a huge project, but as they board and begin to investigate the ship, they quickly realize that something is terribly wrong. The remains contain plenty of horrors: weird sounds, bloody messages, the whole works, and it's starting to drive them mad.
Publishers Weekly says that Barnes "plays nicely on human fears of both madness and of ghosts, carefully blurring the line between science fiction and horror, though readers may realize the truth behind the ship's haunting before Claire tracks down the answer."
Read an excerpt.
The Violence by Delilah S. Dawson (February 1st)
Housewife Chelsea Martin has to tread carefully around her home. Her husband David is volatile, and if things don't go exactly the way he expects, she can expect violence against her and her teenage daughter, Ella. She's lived in this state for years, cut off from family and friends, and has nowhere to escape to.
But when a strange illness called the Violence arrives in the US, bringing out violent rages in those it infects, Chelsea and her daughter have an opportunity to escape for the first time.
Publishers Weekly gave the book a starred review, saying that "Dawson doesn't hold back in her graphic depictions of domestic abuse, but the violence never feels gratuitous, clarifying the high stakes of this smart, fast-paced thrill ride."
Base Notes by Lara Elena Donnelly (February 1st)
Lara Elena Donnelly earned quite a bit of acclaim for her Amberlough Dossier novels — Amberlough, Armistice, and Amnesty, and now turns to New York City, where Vic Fowler has put together a lucrative side hustle in bespoke perfumes that can evoke vivid memories in his clients. Those memories are ones that people can — and will — kill for. When a former client offers Vic a lucrative job to kill three of his partners, Vic takes him up on the job. As he puts together the hit, he has to bring on some additional help, and things soon begin to go off the rails.
Publishers Weekly says that who "he picks and how he convinces them to do his bidding develops into a fascinating psychological drama."
Read an excerpt here and here.
The Art of Star Wars: The Mandalorian (Season 2) by Phil Szostak (February 15th)
The Mandalorian's second season is well behind us, but ABRAMS is releasing its art book for the season, showcasing the concepts and design that helped create the series. That season had a ton of new environments, characters, and ships, and it should be a good window into the creation of those episodes.
I've picked up all of Szostak's Star Wars art books to date and love flipping through them, and I'm definitely adding this one to my shelves.
---
As always, thanks for reading. I hope that you find a book that you'll enjoy in the coming weeks, and if you do, let me know what it is.
Andrew