Growing pains
This weekend, the biggest union behind the live entertainment industry is about to vote whether or not to go on strike. They have good reason to: the demand for original content has pushed Hollywood's workers to the limit.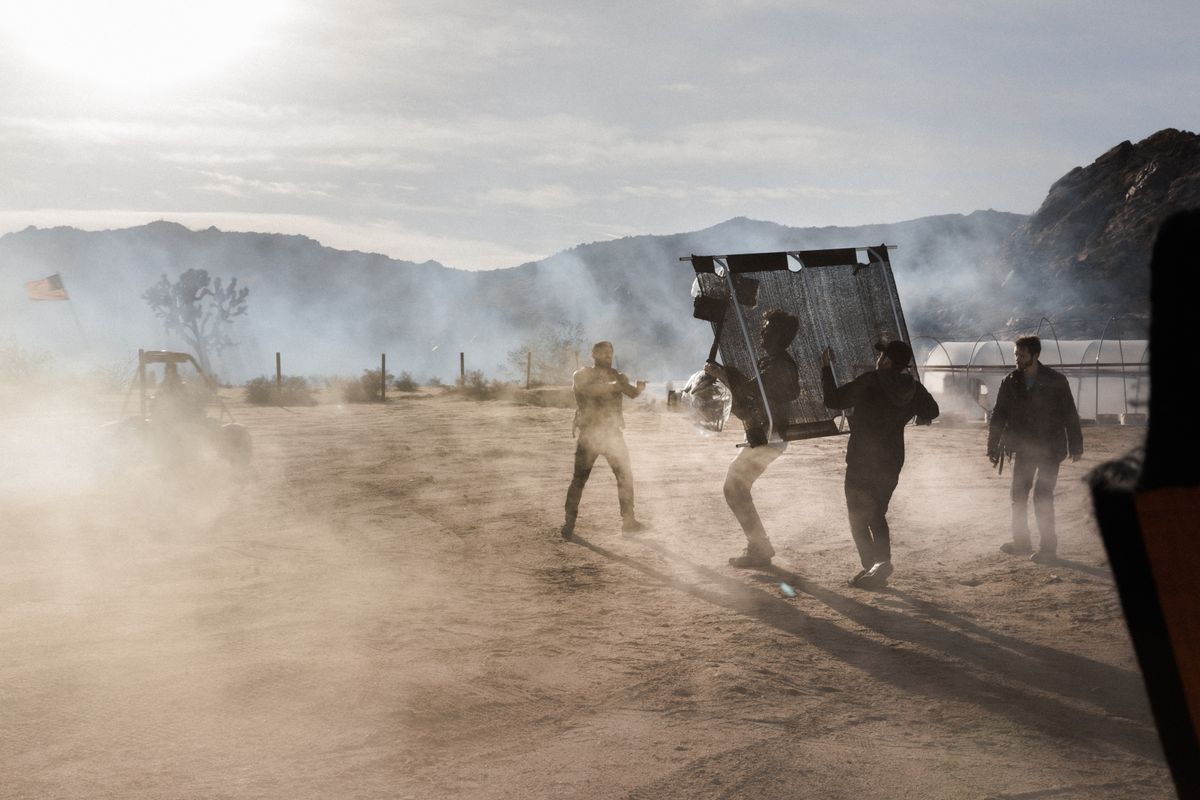 Happy Thursday!
This week's roundup is coming to you a day early, because tomorrow, I'll be sending out October's SF/F book list. This week has been a frantically busy one as I've been working to go through the final edits on Cosplay: A History. Over the last couple of weeks, my editor, Amara Hoshijo, and I have been trading sections of the book, and I've been dutifully addressing her edits, while also going through and adding in new interview quotes, additional details, or even fleshing out some sections that needed a bit of an overhaul.
The reality with a book like this is that I could likely spend a long time continuing to tinker, and given the size and breadth of the cosplay world, there's no shortage of cool things hiding under the next rock. At some point, you have to say that it's good enough and let it move onto the next steps.
And man, those next couple of steps appear to be coming up fast. I've already begun looking over marketing language, have started reaching out to folks for possible blurbs, and am starting to think about early promotional stuff like interviews and stuff like that. Apparently, we'll start to see pages for the book populated out into various retailers in short order, which means that folks will be able to preorder it soon. I haven't seen a cover yet, but apparently it's in the works. Eeee!
After that, it'll go through a legal review and copy edit, and then into the black hole of a production pipeline to hopefully end up in stores sometime in the middle of the year. Last I heard, that was July 2022, just in time for San Diego Comic-Con, but given how books have bumped back and forth a bit when it comes to the ups and downs of the printing world, we'll have to see.
More updates as they come, but the light is coming at the end of the tunnel for this stage of this particular project, which is a really nice feeling.
---

Vermont Sci-Fi & Fantasy Expo
If you're in or near Vermont this coming weekend, I have an event that I'll be at: the Vermont Sci-Fi & Fantasy Expo. It'll take place on October 2nd and 3rd at the Champlain Valley Exposition, and in addition to hanging out with the 501st Legion's Green Mountain Squad, I'll be on a couple panels:
DIY Cosplay: A Guide for Beginners to Intermediates, Saturday and Sunday, Room A, 10:30-11:00. I'll be sitting in on this one at least one of the days, and I'll be talking about how I built the various costumes that I've made over the years.
Meet the 501st, Saturday and Sunday, Room B. I'll be heading up this panel to talk about the 501st Legion. I'll likely talk about both the history of the group and the ins and outs of joining, building costumes, and the like.
If you haven't bought them yet, tickets are pretty reasonable: $15 for a day in advance ($20 at the door) or $25 for the weekend. The convention doesn't have a COVID-19 policy listed, but I've been told that they're adhering to the recommendations that the state has handed down, which is that masks are recommended. If you attend, please wear one.
If you're going, let me know!
---
IATSE's looming strike
A couple of years ago, I read Brian Merchant's The One Device: The Secret History of the iPhone, and came away from it with some profound revelations about the complicated story of how Apple's flagship product came to be. It's a fantastic book and you should pick it up, because he delves into a whole bunch of rabbit holes that touch on every aspect of the book, from conflict minerals and unsafe mining practices across the world, to working conditions, to how the various technologies that are present in the device came to be.
The most striking revelation to me was something largely unconnected to the actual device itself: how the growth of the smartphone industry fueled a massive expansion on the parts of service providers. The iPhone (and its other counterparts) work because of the networks that carriers like AT&T and Verizon provide to their customers, and the surge in demand for signal and data meant that they had to focus on expanding the capabilities of their networks. Over the last couple of decades, they've been doing that, and the result has been deadly.
One reason is that OSHA lists the work that's done on those tall cell towers as amongst the most deadly occupations in the country, and as more towers had to go up and be maintained, there are more people working those dangerous jobs. Merchant describes some gruesome deaths — a line worker who's killed on the job when a cable snapped, and notes that between 2003 and 2017 when the book was published, at least 130 workers were killed on the job. Reports cited poor training and safety equipment as a key cause, but Merchant points to another factor: "you may recall the complaints about AT&T's network that poured in after the iPhone debuted; it was soon overloaded and Steve Jobs was reportedly furious," he wrote. "AT&T's subsequent rush to build out more tower infrastructure for better coverage, ProPublica's report indicated, contributed to hazardous working conditions and the higher-than-usual death toll."  
That bit of the book has stuck with me, because it helps to show off how we don't often see these sorts of issues as demand for something skyrockets. It's particularly been at the front of my mind over the last couple of months because of another bit of skyrocketing demand: the unending demand for content from streaming services.
Companies like Disney, Warner Bros., Amazon Prime Video, Apple, and others have rushed into the streaming world to produce a flood of original content. For customers and fans of highly-produced, 10-episode television seasons, it's been great: there's no shortage of new projects to watch and look forward to, from Apple's Foundation to Amazon's The Expanse/Lord of the Rings/Wheel of Time, to Disney's The Mandalorian/The Book of Boba Fett, and so much more.
But as demand for those projects has grown, that growth comes with a significant cost: long hours for the workers responsible for those productions. I'm not talking about the writers and actors, but the actual, physical labor that goes into those productions, from grips to lighting, sound, props, craft services, and everything else. I've been on television stages, and the thing that doesn't quite come through in the finished product is just how much stuff is going on behind the scenes that helps bring that creative vision from the pages of a screenplay to the screens of streaming service subscribers at home.
Over the last couple of months, a handful of the accounts that I've been following on Instagram have been talking quite a bit about working conditions, and they've been sharing some pretty terrible stories: people who work incredibly long hours on overnight shoots and scenes that take hours to complete. People have talked about how they've fallen asleep on the drive home because they're so exhausted from their work, how they're largely underpaid and underappreciated for the jobs that they do.
In recent weeks, one of Hollywood's biggest unions, the International Alliance of Theatrical Stage Employees, Moving Picture Technicians, Artists and Allied Crafts of the United States, Its Territories and Canada (IATSE), which represents more than 150,000 artists, craftspeople, and technicians working on TV, film, and live theater productions has been threatening to go on strike against the Alliance of Motion Picture and Television Producers (AMPTP) in an attempt to bring about better working conditions and pay for its members. Between October 1st and 3rd, members of the union will vote whether or not to go on strike, and if such a strike is authorized, it'll bring the entire production side of the entertainment industry to a halt.
For consumers, that won't mean much for the shows that they're currently watching, but should a work stoppage go on for an extended amount of time, it could have an impact on what ends up streaming in the coming months / year. The last big strike that I can think of was the 2007-2008 Writers Guild of America (WGA) strike, which came to an impasse over contracts with the AMPTP — writers wanted better pay for things like DVD residuals, jurisdiction over reality TV and animation writers, and compensation for experimental mediums like streaming TV.
The strike ended up costing the entertainment industry and the city of Los Angeles anywhere from half a billion to two billion dollars in lost revenue, and a bunch of TV seasons ended up getting postponed (Most late night shows), truncated (Big Bang Theory, Bones, Breaking Bad, Heroes, Lost, Prison Break, Pushing Daisies Supernatural, Terminator: Sarah Connor Chronicles) or canceled (Bionic Woman, Journeyman, The 4400).
The IATSE is an organization that represents considerably more of the production side of things that the WGA did: most shows stopped because they didn't have the scripts to continue working. Without the people actually making the show participating, it'll be difficult for anything to happen.
What genre projects are currently shooting right now? Projects like The Boys Spinoff (Amazon), The Power (Amazon), Lightyears (Amazon), The Peripheral (Amazon), Anansi Boys (Amazon), Good Omens 2 (Amazon), The Walking Dead (AMC), Moonhaven (AMC), Wool (Apple), For All Mankind (Apple), Black Panther 2: Wakanda Forever (Disney), Iron Heart (Disney+), Moon Knight (Disney+), Obi-Wan Kenobi (Disney+), She-Hulk (Disney+), Secret Invasion (Disney+), The Mandalorian (Disney+), Willow (Disney+), The Witcher : Blood Origin (Netflix), Russian Doll (Netflix), Resident Evil (Netflix), Shadow and Bone (Netflix), Star Trek: Strange New Worlds (Paramount+), and Star Trek: Picard (Paramount+). (Sourced from SpoilerTV's database, which may or may not be 100 percent accurate).
Get the picture? That's a lot of content that could potentially be stopped dead in its tracks — a lot of those projects could end up getting truncated or delayed further, something that's not great in an industry that's already reeling from the effects of the COVID-19 pandemic.
One of the concerns/arguments that I've heard floated around here is that a lot of these projects are considered to be in "New Media" categories, and as such, they don't qualify for certain rates or subsidies. Given that a whole bunch of streaming properties just took home Emmy awards recently, I think it's safe to say that these aren't exactly experimental.
I'm sympathetic to unions: I was a member of the WGA East, which represented Vox Media's editorial staffers, and it really helped me when I left the company a couple of years ago — they're essential for ensuring that members have a voice and are given some power against those who control their jobs.
IATSE lists a handful of basic demands on its website: better benefits, better pay, and better breaks and rest periods. Studios are putting a lot of emphasis on streaming TV as their futures in entertainment, and that growth is fueled by new content to attract subscribers. It seems entirely reasonable that the people who make it possible be fairly compensated for their work.  
---
Further reading
Changing our climate future
Over on Grist, Maddie Stone has a really interesting look at the role that fiction plays in looking at and addressing climate change, and makes an interesting observation:
"It's no accident that Black, Indigenous, and other writers of color are less likely to frame climate change as a looming apocalypse. Not only are they more likely to experience its impacts today, their people have already lived through world-ending apocalypses in the form of slavery, displacement, and genocide."
I can think of three Indigenous climate change / apocalypse novels that fit the bill here: Rebecca Roanhorse's Trail of Lightning / Storm of Locusts, and Waubgeshig Rice's Moon of the Crusted Snow, all of which are well worth reading.
It's part of the publications' bigger Imagine 2200 issue, featuring a handful of short stories that they commissioned. It looks like it'll be a really interesting read, and includes some authors that I'm familiar with, like Rich Larson (and a bunch of new folks, too!). The art also looks particularly stunning.  
Foundation reading
Over on Polygon, I had two pieces about Foundation go up: one was a little explainer about how the first couple of episodes jump around, while in the second, I take a look at how Asimov crossed over his Foundation stories with his Robot ones, and how the Apple series is following that lead.
While we're on the topic of things that I've written about Foundation, in case you missed last week's roundup, I wrote about how Foundation came to be (and how it's come to influence the rest of science fiction, for better or worse), and some thoughts about the first two episodes of the Apple series.
The rest of those recaps are going to be locked to paying subscribers, so if you'd like to continue along with newsletter issues and take part in the slack chat with other subscribers (and support Transfer Orbit and my work while you're at it), subscribe here. The recap for Episode 3 should be hitting subscriber inboxes this morning.
Gautam Bhatia's Foundation review
I'm not the only one writing about Apple's Foundation: Transfer Orbit subscriber and The Wall author Gautam Bhatia passed along a link to his own review, published in India's Hindustan Times, looking at the legacy of Asimov's story. It's a good review, and asks a good question: "what explains Foundation's longevity?"
The answer, he says, and I largely agree with him, is that "Its appeal lies perhaps in the fact that Asimov was one of the first writers to use the genre of science fiction as a terrain for exploring layered moral, ethical, social, and political questions, on a grand scale."
SF historians and fans may nitpick with that a bit, but I certainly think that Asimov was the one who brought that sensibility to SF in a way that hadn't really been done before. Foundation, in many ways, is Asimov and editor John W. Campbell musing out loud in the pages of Astounding Science Fiction, and I think that it's led to some interesting explorations, arguments, and debates within the pages of magazines and books ever since.
Lee Pace book club
Esquire profiled Foundation star Lee Pace, and it's clear that he's One Of Us. Writer Matt Miller seems to have started up a science fiction book club with the actor, and notes in the piece that "Pace strikes me as not just a fan but a scholar of sci-fi," and notes that he's a fan of the likes of Ursula K. Le Guin and Cixin Liu, and has apparently been turned on to Arkady Martine and others.
The piece goes on to talk about more than just Pace's reading habits: he talks about the relevancy that the story holds, and how it ties in with our anxieties with climate change and more.
In the meantime, how can I get in on this book club?  
Netflix acquires Roald Dahl
Last week, news broke that Netflix had outright acquired the Roald Dahl Story Company, after partnering with it a couple of years ago for a couple of big animated shows. Now, the streaming service will have a freer hand to adapt even more. I wrote this up for paid subscribers, and you can read it here.
Netflix. Isn't. (Just.) A. Steaming. Service.
Remember how I've been banging the drum about how we should think about Netflix not just as a streaming video service, but as a content company? The company just went out and bought a game studio: Night School, which made the acclaimed game Oxenfree. In the release, Netflix noted that it's "We're inspired by their bold mission to set a new bar for storytelling in games. Their commitment to artistic excellence and proven track record make them invaluable partners as we build out the creative capabilities and library of Netflix games together.
Night School Studios's Sean Krankel wrote up his own thoughts, saying that they wants to "stretch our narrative and design aspirations across distinctive, original games with heart," and that Netflix offers them the opportunity to move deeper into "narrative gameplay and Netflix's track record of supporting diverse storytellers was such a natural pairing."
Metaverse
The Metaverse has been a bit of a buzzword in recent weeks, as big companies like Facebook have been talking about their vision for the future of the internet. The concept comes out of science fiction: The SF Dictionary defines it as "a computer-generated environment within which users can interact with one another and their surroundings, a virtual world; (more generally) the notional environment in which users of networked computers interact," and points out that it has its origins in Neal Stephenson's novel Snow Crash (which I still need to read).
Over in The Washington Post, Gene Park profiles Epic Games CEO Tim Sweeney (and speaks with a bunch of other tech executives), and his company's vision for the future of the internet. He sees the direction that we're headed in as a bit of a series of closed gardens, where Apple, Facebook, and Google users are sort of confined to their own ecosystems. He wants something a bit more free and open. "Sweeney's vision for the metaverse would give users the ability to seamlessly hop from one platform to another and not be limited by a company's virtual ecosystem," Park writes.
The whole piece is well worth a read.
Rebooting our last best hope for peace
The big news earlier this week was that The CW is rebooting Babylon 5, with J. Michael Straczynski at the helm to guide it. I wrote about the news for Tor.com, and for paid subscribers, wrote up some more detailed thoughts about why that makes me a bit anxious (Babylon 5 is my version of Star Trek, that comfort show that you watched in your formative years), but also why I think a reboot will serve the story in the longer run.
Also subscriber locked is a piece from a couple of weeks ago, where I laid out the case for the series to continue in some form, although I pegged that as a continuation that built off of the original.
---
Tomorrow, I'll have the regular monthly book list, and it'll be in two versions. The version sent out via email will be broken up by genre (y'all seemed to prefer that version, based on the feedback I got), but I'll link out a chronological list as well. Subscribers will also get a recap of the next episode of Apple's Foundation.
As always — thank you so much for reading, and let me know what you're reading / writing / enjoying.
Andrew