Here are the finalists for this year's Locus Awards!
An excellent crop of books from 2021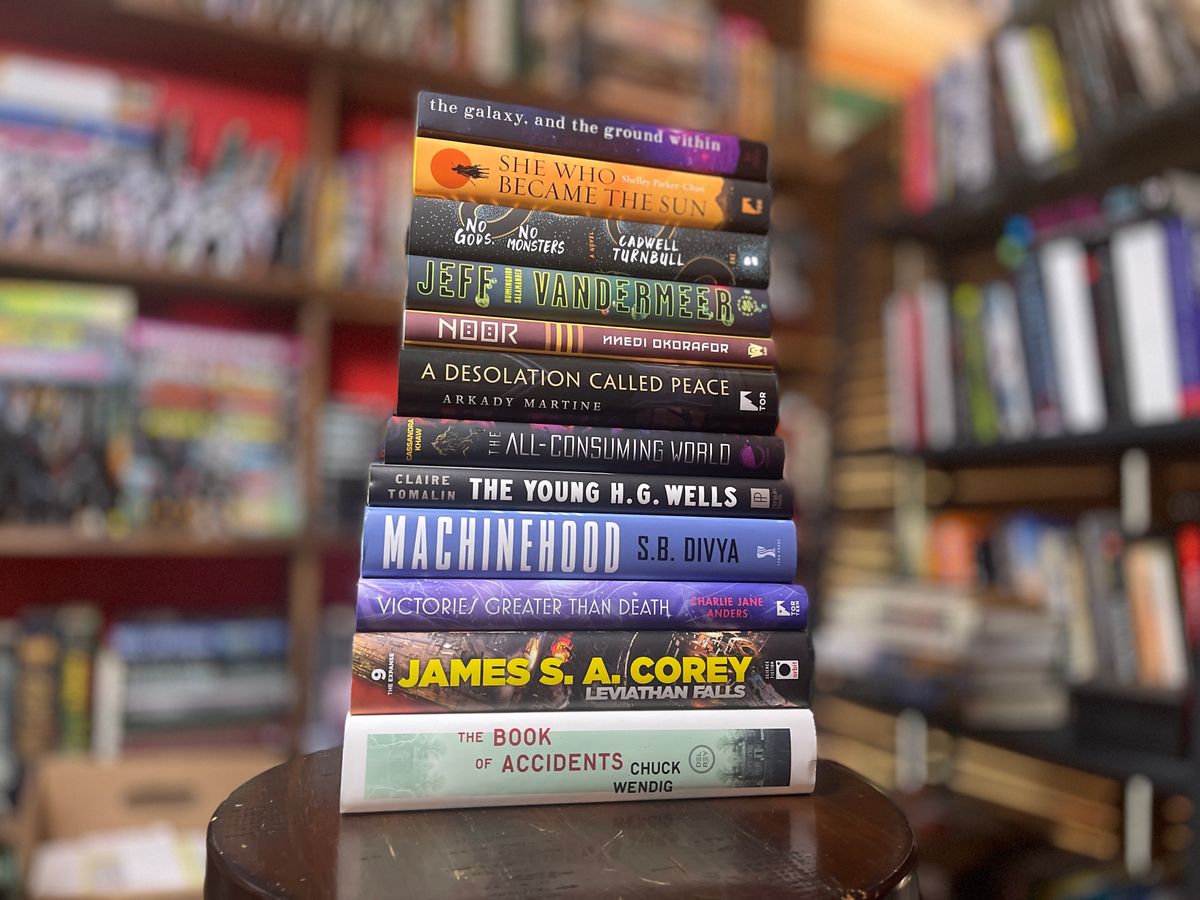 We're about to enter the next couple of months of the SF/F industry's award season, with the Nebula Awards coming up later this month, and with the Hugos and others coming later this summer. To that end, Locus Magazine has released its big list of finalists for its awards.
The Locus Awards are one of the bigger genre ones out there. Handed out annually at the publication's Locus Awards Weekend (this year, to be held virtually between June 22nd and 25th), they're a consensus from the SF/F community as to what the best works of the year are. The awards were once open only to subscribers of the magazine, but have since been opened up to the general public. (Subscriber votes are weighed a bit more heavily than the votes from the general public).
I've often found these lists to be a pretty good overview of the prior year's fiction, and they're usually just different enough from the Hugo and Nebula ballots that they provide a good additional consensus for the broader genre reading community. This year's list? It's quite good! I've read a whole bunch of the science fiction, some of the fantasy and horror, and some of the first novel books, and they're all titles that I'd happily vote for.
Here's the full list of finalists:
Science Fiction novel
The Galaxy, and the Ground Within, by Becky Chambers
Leviathan Falls, by James S.A. Corey
The Echo Wife, by Sarah Gailey
Klara and the Sun, by Kazuo Ishiguro
A Desolation Called Peace, by Arkady Martine
Noor, by Nnedi Okorafor
We Are Satellites, by Sarah Pinsker
You Sexy Thing, by Cat Rambo
Shards of Earth, by Adrian Tchaikovsky
Hummingbird Salamander, by Jeff VanderMeer
Fantasy novel
Light From Uncommon Stars, by Ryka Aoki
The Witness for the Dead, by Katherine Addison
Black Water Sister, by Zen Cho
Paladin's Strength, by T. Kingfisher
Under the Whispering Door, by TJ Klune
Jade Legacy, by Fonda Lee
The Last Graduate, by Naomi Novik
Soulstar, by C.L. Polk
The Jasmine Throne, by Tasha Suri
No Gods, No Monsters, by Cadwell Turnbull
Horror novel
Revelator, by Daryl Gregory
The Final Girl Support Group, by Grady Hendrix
My Heart Is a Chainsaw, by Stephen Graham Jones
Billy Summers, by Stephen King
Later, by Stephen King
Moon Lake, by Joe R. Lansdale
A Broken Darkness, by Premee Mohamed
Sorrowland, by Rivers Solomon
The Death of Jane Lawrence, by Caitlin Starling
The Book of Accidents, by Chuck Wendig
Young Adult novel
Victories Greater Than Death, by Charlie Jane Anders
This Poison Heart, by Kalynn Bayron
The Infinity Courts, by Akemi Dawn Bowman
The Gilded Ones, by Namina Forna
A Dark and Starless Forest, by Sarah Hollowell
Redemptor, by Jordan Ifueko
Chaos on CatNet, by Naomi Kritzer
A Snake Falls to Earth, by Darcie Little Badger
Terciel & Elinor, by Garth Nix
Iron Widow, by Xiran Jay Zhao
First Novel
The Unbroken, by C.L. Clark
A Master of Djinn, by P. Djèlí Clark
Machinehood, by S.B. Divya
The All-Consuming World, by Cassandra Khaw
A Marvellous Light, by Freya Marske
Winter's Orbit, by Everina Maxwell
She Who Became the Sun, by Shelley Parker-Chan
The Chosen and the Beautiful, by Nghi Vo
Wendy, Darling, by A.C. Wise
Iron Widow, by Xiran Jay Zhao
Novella
A Blessing of Unicorns, by Elizabeth Bear
A Psalm for the Wild-Built, by Becky Chambers
Defekt, by Nino Cipri
Fireheart Tiger, by Aliette de Bodard
A Spindle Splintered, by Alix E. Harrow
The Return of the Sorceress, by Silvia Moreno-Garcia
Remote Control, by Nnedi Okorafor
Comfort Me With Apples, by Catherynne M. Valente
The Past is Red, by Catherynne M. Valente
Fugitive Telemetry, by Martha Wells
Novelette
"The Red Mother", by Elizabeth Bear
"Mulberry and Owl", by Aliette de Bodard
"Broad Dutty Water: A Sunken Story", by Nalo Hopkinson
"Skindler's Veil", by Kelly Link
"The Black Pages", by Nnedi Okorafor
"Bots of the Lost Ark", by Suzanne Palmer
"L'Esprit de L'Escalier", by Catherynne M. Valente
"Unseelie Brothers, Ltd.", by Fran Wilde
"That Story Isn't the Story", by John Wiswell
"Small Monsters", by E. Lily Yu
Short Story
"If the Martians Have Magic", by P. Djèlí Clark
"Mr. Death", by Alix E. Harrow
"Proof by Induction", by José Pablo Iriarte
"Let All the Children Boogie", by Sam J. Miller
"Where Oaken Hearts Do Gather", by Sarah Pinsker
"Crazy Beautiful", by Cat Rambo
"Huginn and Muninn – and What Came After", by Michael Swanwick
"An Arc of Electric Skin", by Wole Talabi
"The Sin of America", by Catherynne M. Valente
"For Lack of a Bed", by John Wiswell
Anthology
We're Here: The Best Queer Speculative Fiction 2020, edited by C.L. Clark & Charles Payseur
The Best Horror of the Year: Volume Thirteen, edited by Ellen Datlow
When Things Get Dark: Stories Inspired by Shirley Jackson, edited by Ellen Datlow
Year's Best African Speculative Fiction (2021), edited by Oghenechovwe Donald Ekpeki
Speculative Fiction for Dreamers: A Latinx Anthology, edited by Alex Hernandez, Matthew David Goodwin, & Sarah Rafael García
Sword Stone Table: Old Legends, New Voices, edited by Swapna Krishna & Jenn Northington
Unfettered Hexes: Queer Tales of Insatiable Darkness, edited by dave ring
The Best American Science Fiction and Fantasy 2021, edited by Veronica Roth & John Joseph Adams
The Year's Best Science Fiction Volume 2, edited by Jonathan Strahan
The Best of World SF: Volume 1, edited by Lavie Tidhar
Collection
Even Greater Mistakes, by Charlie Jane Anders
Shoggoths in Traffic and Other Stories, by Tobias S. Buckell
Spirits Abroad, by Zen Cho
Big Dark Hole, by Jeffrey Ford
The Best of Elizabeth Hand, by Elizabeth Hand
Midnight Doorways: Fables from Pakistan, by Usman T. Malik
Belladonna Nights and Other Stories, by Alastair Reynolds
Alias Space and Other Stories, by Kelly Robson
The Ghost Sequences, by A.C. Wise
Never Have I Ever, by Isabel Yap
Magazine
Analog
Asimov's
Beneath Ceaseless Skies
Clarkesworld
F&SF
FIYAH
Lightspeed
Strange Horizons
Tor.com
Uncanny
Publisher
Angry Robot
Baen
DAW
Gollancz
Neon Hemlock
Orbit
Small Beer
Subterranean
Tor
Tordotcom
Editor
Neil Clarke
Ellen Datlow
Oghenechovwe Donald Ekpeki
Silvia Moreno-Garcia
Arley Sorg & Christie Yant
Jonathan Strahan
Lynne M. Thomas & Michael Damian Thomas
Sheree Renée Thomas
Ann & Jeff VanderMeer
Sheila Williams
Artist
Tommy Arnold
Kinuko Y. Craft
Rovina Cai
Galen Dara
Bob Eggleton
Victo Ngai
John Picacio
Shaun Tan
Charles Vess
Michael Whelan
Nonfiction
Yesterday's Tomorrows, by Mike Ashley
After Human: A Critical History of the Human in Science Fiction from Shelley to Le Guin, by Thomas Connolly
Roger Zelazny, by F. Brett Cox
Jewish Science Fiction and Fantasy Through 1945: Immigrants in the Golden Age, by Valerie Estelle Frankel
Chinese Science Fiction during the Post-Mao Cultural Thaw, by Hua Li
Gothic: An Illustrated History, by Roger Luckhurst
Dangerous Visions and New Worlds: Radical Science Fiction, 1950–1985, edited by Andrew Nette & Iain McIntyre
Diverse Futures: Science Fiction and Authors of Color, by Joy Sanchez-Taylor
You Are Not Your Writing & Other Sage Advice, by Angela Slatter
The Young H.G. Wells: Changing the World, by Claire Tomalin
Illustrated and Art Book
Clockwork Curandera Volume 1: The Witch Owl Parliament, by David Bowles, art by Raúl the Third
Monstrous Mythologies, by Michael Bukowski
Medusa, by Jessie Burton, art by Olivia Lomenech Gill
Norse Tales: Stories from Across the Rainbow Bridge, by Kevin Crossley-Holland, art by Jeffrey Alan Love
Spectrum Fantastic Art Quarterly Volume One, by Cathy Fenner & Arnie Fenner, eds.
After the Rain, by Nnedi Okorafor, adapted by John Jennings, art by David Brame
1984: The Graphic Novel, by George Orwell, art by Fido Nesti
The Labyrinth, by Simon Stålenhag
Squad, by Maggie Tokuda-Hall, art by Lisa Sterle
The Art of Neil Gaiman & Charles Vess's Stardust, by Charles Vess