Museum of Cosplay
Telling the story of fandom, item by item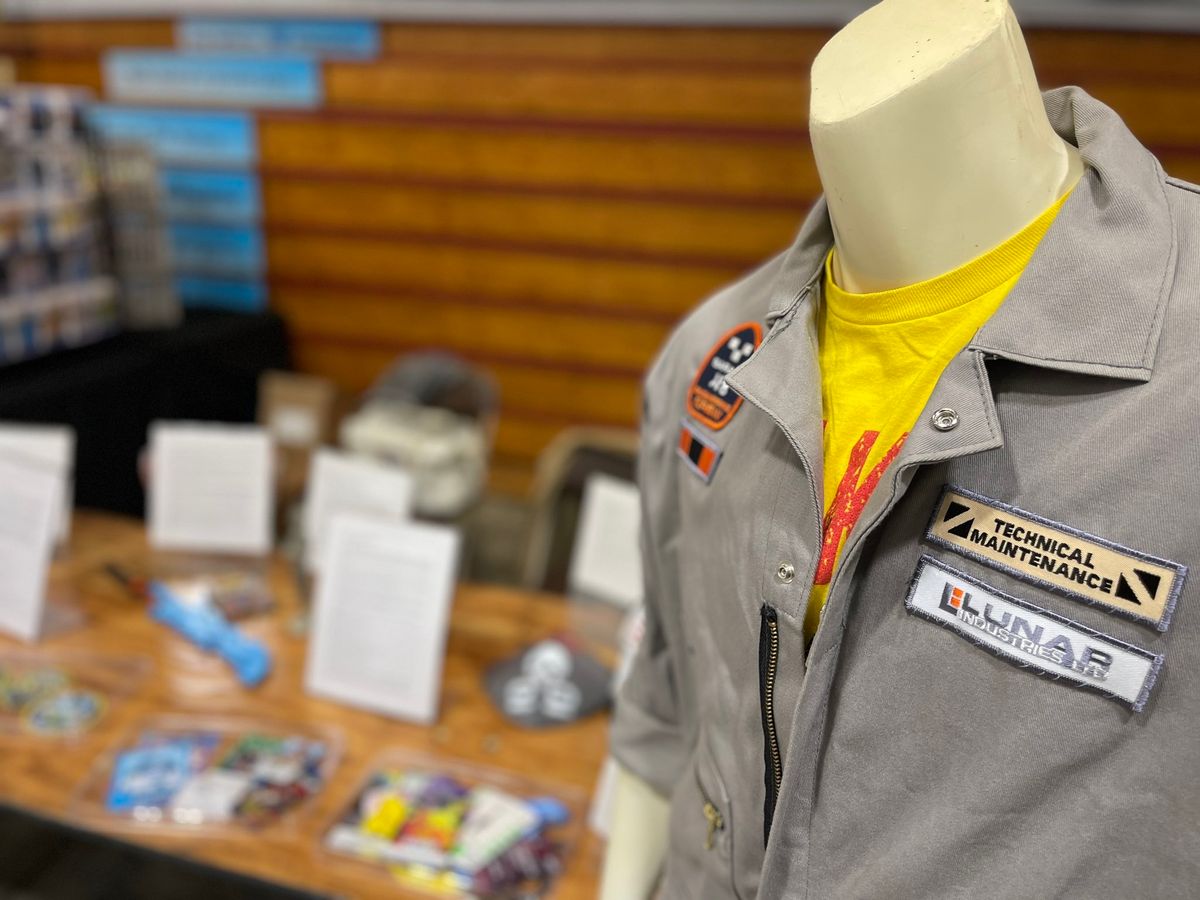 On Saturday, I packed up my car and took a drive over to Concord, New Hampshire to take part in KidsCon New England, a small, children-oriented convention. I'd sent out a flurry of emails to local comic cons and events earlier this spring, and this was one that was interested in having me come by. There was a little bit of a caveat: they weren't really doing presentation space, but they'd offer me a table. I've done tables before with the 501st, so I accepted, then realized that all I had was the book and a presentation that I've been giving to libraries – not exactly the most thrilling thing to have at a table.
While thinking it over, I realized that I had plenty of items that I've brought in as a demonstration: a Guardian ++ Sword and Sheikah Slate from Legend of Zelda: Breath of the Wild that I 3D printed for Bram a number of years ago, as well as a printed version of Khonshu from Moon Knight, stormtrooper armor, and a blaster from the comic Vagrant Queen that I made from EVA foam. I could bring those to show off, right?
At the same time, a colleague recently adapted an article I wrote about the history of a local soda company for an exhibit that we've got at the Vermont History Museum, and I've written up a couple of other cards over the last couple of months. The thought struck me: why not set up a museum exhibit? Thus, the Museum of Cosplay was born: a pop-up exhibit that showcases a handful of representative examples from Cosplay: A History, exploring some of the story of cosplay and fandom.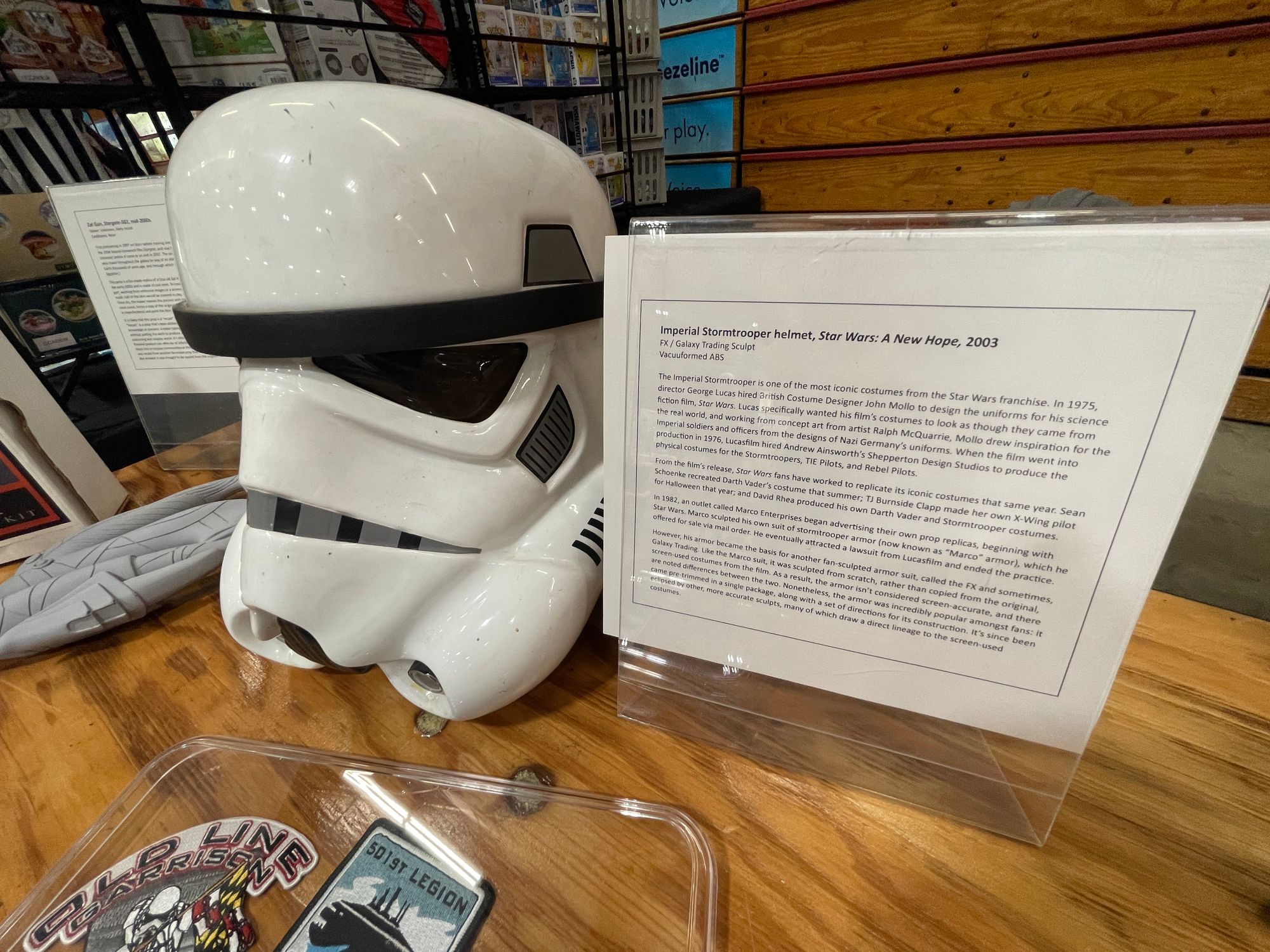 I began looking at the items that I'd brought with me for talks, and through the rest of my accumulated piles of cosplay things to see what else I had that was vaguely historical. My FX armor turns 20 this year, and it's a good example of how armor design works, so I threw that in there. My foam blaster build is a good in for talking about the importance of foam building, and a Zat gun from Stargate SG-1 is an excellent example of not only resin casting, but of recasting in the prop and costuming community. Megan suggested that I pull out some of the gazillion convention badges that I've accumulated over the years, and I selected a handful of patches from the 501st Legion as merch examples.
I have a trio of mannequins that I use to store armor on (my FX trooper is on one), so I decided it would be good to bring along an actual costume: my cosplay of Sam Bell's jumpsuit from Moon was the easiest to put together, so I threw that on there. My colleague at VHS suggested that I pick up some acrylic shoeboxes that she saw at a local TJ Maxx for display purposes: I didn't want someone to walk off with any of the patches or badges.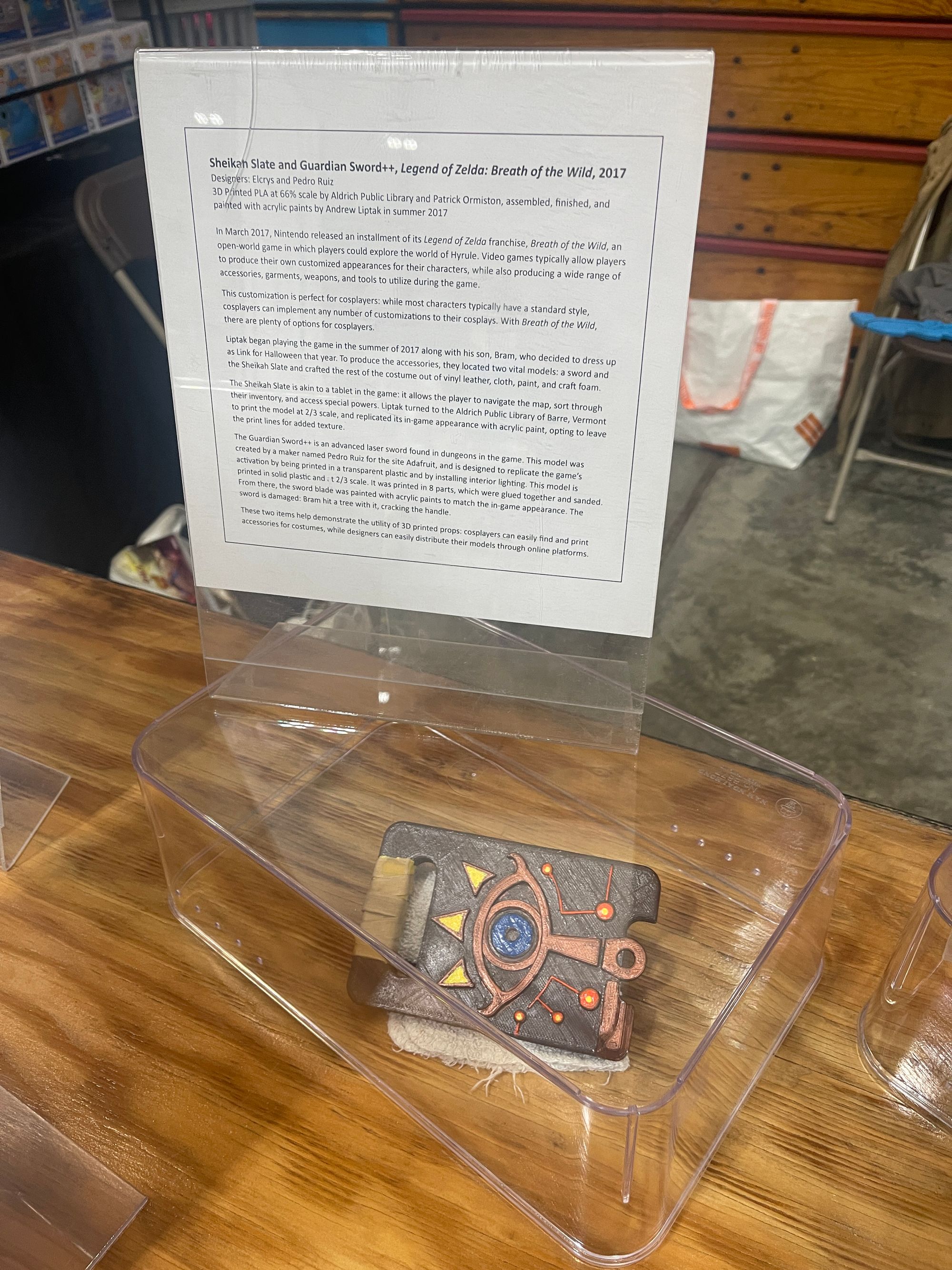 With the items selected, I had to put together some sort of interpretation. I wrote up an exhibit card in the same style that we do at VHS, treating each object like it was from my own personal museum: a title, the various makers / designers, building materials, and other details, before delving into the story of the item and what it represented for the history of cosplay.
---
Here are the cards that I put together:
Wrecker Helmet / Shoulder / Lula (I seem to have forgotten to save this after I printed it, so I'll have to recreate it...)
EVA foam blaster from Vagrant Queen (I forgot to print this one out and bring it with me)
---
This entire exercise proved to be an important thing for me; not because it was something borne of necessity, but because it got me to think a little more about how to talk about the history of cosplay and costuming. It's one thing to talk about the people involved and what they did to help make this slice of history. But cosplay and costuming are tactile things: and seeing a handful of items in front of you is another way of driving this particular story home.
More importantly, it got me thinking about these items as distinct pieces of cosplay history, and by writing out each card, I had to break the story down even further in a small amount of space. What is this object, and why is it important in the bigger picture? What does it represent, and what story does it tell a viewer? How do I tease a story out of something like a pile of convention lanyards and patches?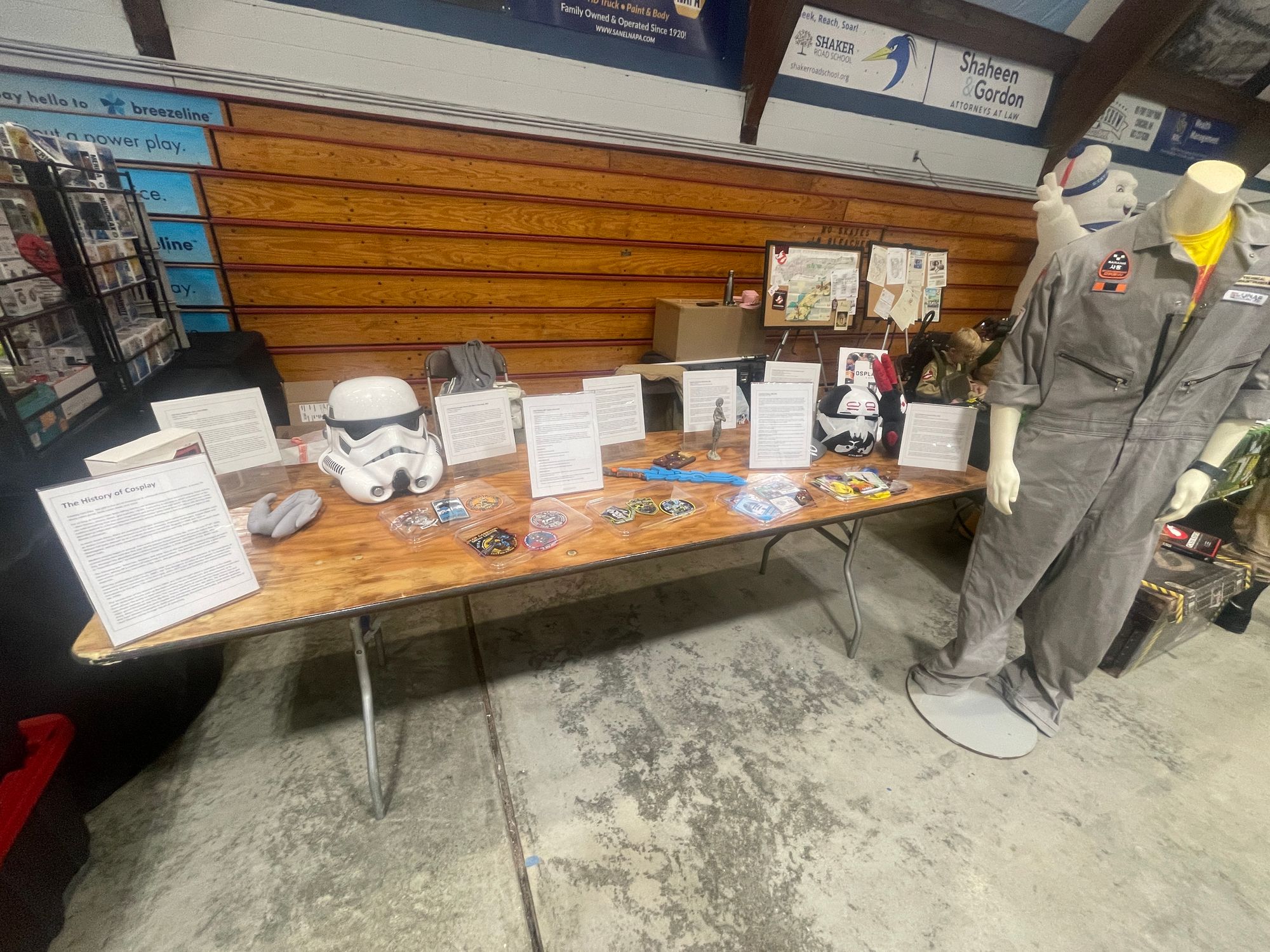 The end result was a table loaded with items: I arranged them in roughly chronological order, set up some books, and waited to see what people thought.
The day was... pretty slow, but an interesting experiment for this sort of display. I sold a single copy of the book (to a fellow 501st member), and talked to a dozen or so people about various items, but the value of the day was taking notes and treating this like a test: what types of things draw people in?
I took a couple of pages of observations. I need some broader, basic panels that are a bit more prominent that outline the story of cosplay: focusing on the various items didn't really tell the full story. People didn't necessarily read the cards I wrote up, but they spent more time looking at various items. The Stormtrooper and Wrecker helmets drew in the most people, but the items from Breath of the Wild did a good number as well. The convention badges and patches also drew in some gazes, and held their attention as they looked at each one. The Moon cosplay didn't really draw too many people in, but a couple of people recognized it.
The shoeboxes were a good idea: I started out with just the tops for the badges / patches, but ended up tossing the smaller items in the boxes themselves when kids started touching them, and even the empty ones were good for breaking up the cards (I ended up using them as a stand in a couple of cases). I need more things to give away (I brought some 501st legion cards), and a way to actually sell books – I missed out on a couple of sales because I don't have a good way to capture credit card sales. And pack up everything in one crate, rather than a bunch of separate boxes. I think I'll also upload the cards ahead of the con and put out a QR code for people to take the exhbit home with them, along with some pictures or something.
More importantly, KidsCon wasn't exactly the prime audience for something like cosplay history: people were more drawn to the Ghostbuster cosplayers on my left, and the stuffed animal store on my right, but enough parents were intrigued enough to briefly stop before getting dragged away by their children.
---
While book sales weren't ... optimal, I think this was a good way to think about showing up at conventions: bringing the concept of history to this particular field, something that more than one person noted "I hadn't thought about that" over the course of the day. Given the popularity of conventions all over the place, this is also a pretty easy thing to put together: a number of items, some item cards (I saved all of the ones I wrote up), a mannequin or two with costumes to display, and so forth. I've got a short list of topics that would be great for dedicated exhibits, such as the history of the 501st, 3D printing, helmets, cosplayer portraits, Mandalorians/Star Trek/Halo/Star Wars/Pokémon/Ghostbusters costuming fandom, and quite a bit more – a series of items that would tell a story in and of itself.  
I think it'll make for a good, ongoing thing to offer up to cons (or places where I'll be talking – maybe to set up ahead of time?) which has me thinking about what this project could mean, long-term: what could this become?
I jokingly called it the "Museum of Cosplay" online, but it could very well be something that's worth doing in conjunction with the book. History, of course, are stories, often grounded with objects, oral histories, photographs, and eyewitness accounts. Cosplay: A History was an attempt (a successful one, in my biased view!) to broadly document that history and put it together in one volume. But there are plenty of other items out there, stored away in closets and basements. I know Forrest Ackerman's Things to Come costume still exists, and the International Costumer's Guild has a phenomenal gallery of images from costuming masquerades from throughout their history. And of course, Rancho-Obi-Wan, Steve Sansweet's museum of Star Wars memorabilia has brought its own exhibits to Celebration and other cons over the years.
Bringing items together to be preserved as a collection would be a logical step: there are certainly important cosplays, props, and components out there that could – and should! – be preserved for future researchers and for folks interested in simply learning more about the history of the hobby they take part in.
---