26 SF/F (and other) books to check out this September
Here's the September 2021 book list, in chronological order.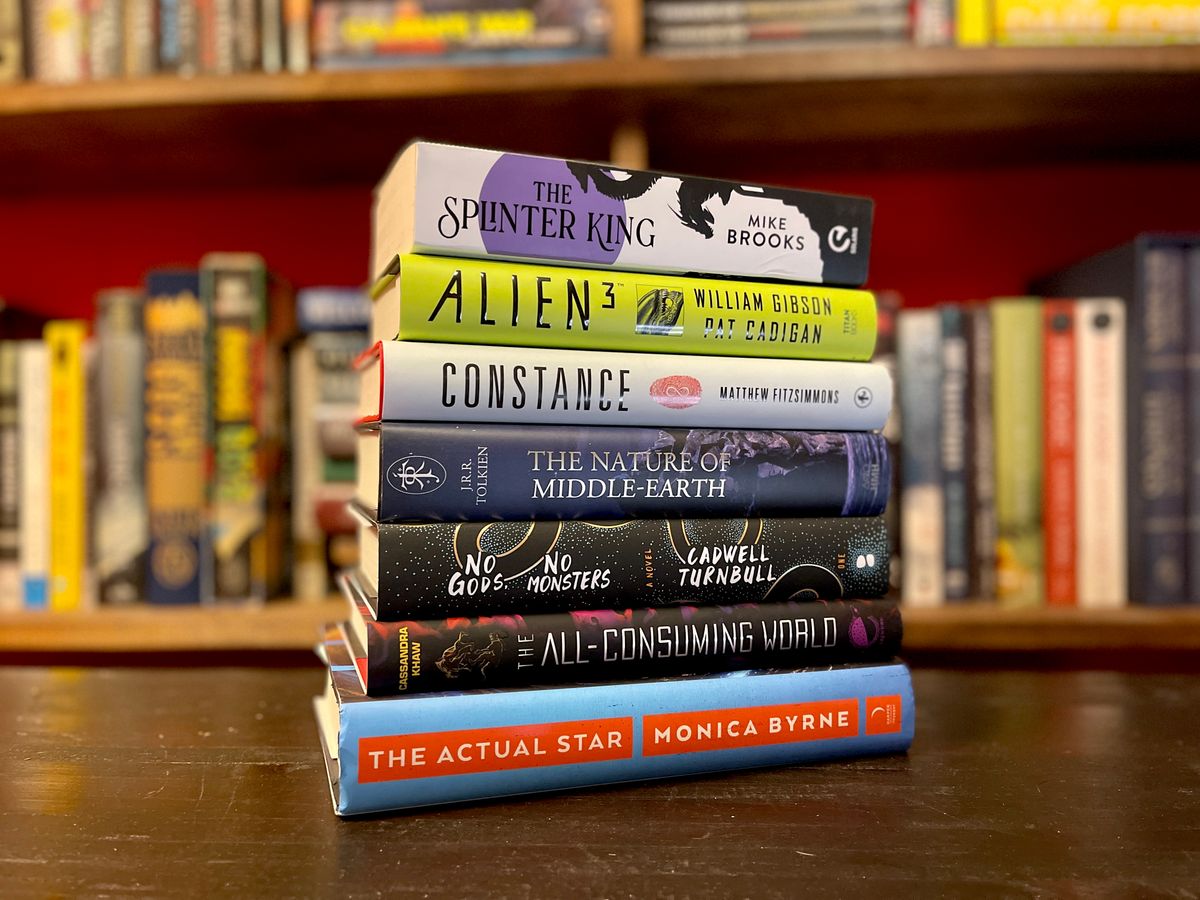 September is a packed month for SF/F (and other genre) books. There are stories of science fictional and fantastical heists, technological breakthroughs, artificial intelligences, hidden worlds, and quite a few more in store for us — 26 in all.  
I'm going to change up how I do book lists a bit with this roundup. For pretty much as long as I've done this list for all sorts of places (here's the last year's worth), these have been organized by date: the 4-5 Tuesdays marked down with their respective entries listed below. That's this list.
If you want to browse the list by genre (fantasy, horror, science fiction, and everything else), click here.
Let me know what you think — new way / old way?
As always, I'm a Bookshop.org affiliate, and anything you purchase through them might result in a small commission.
---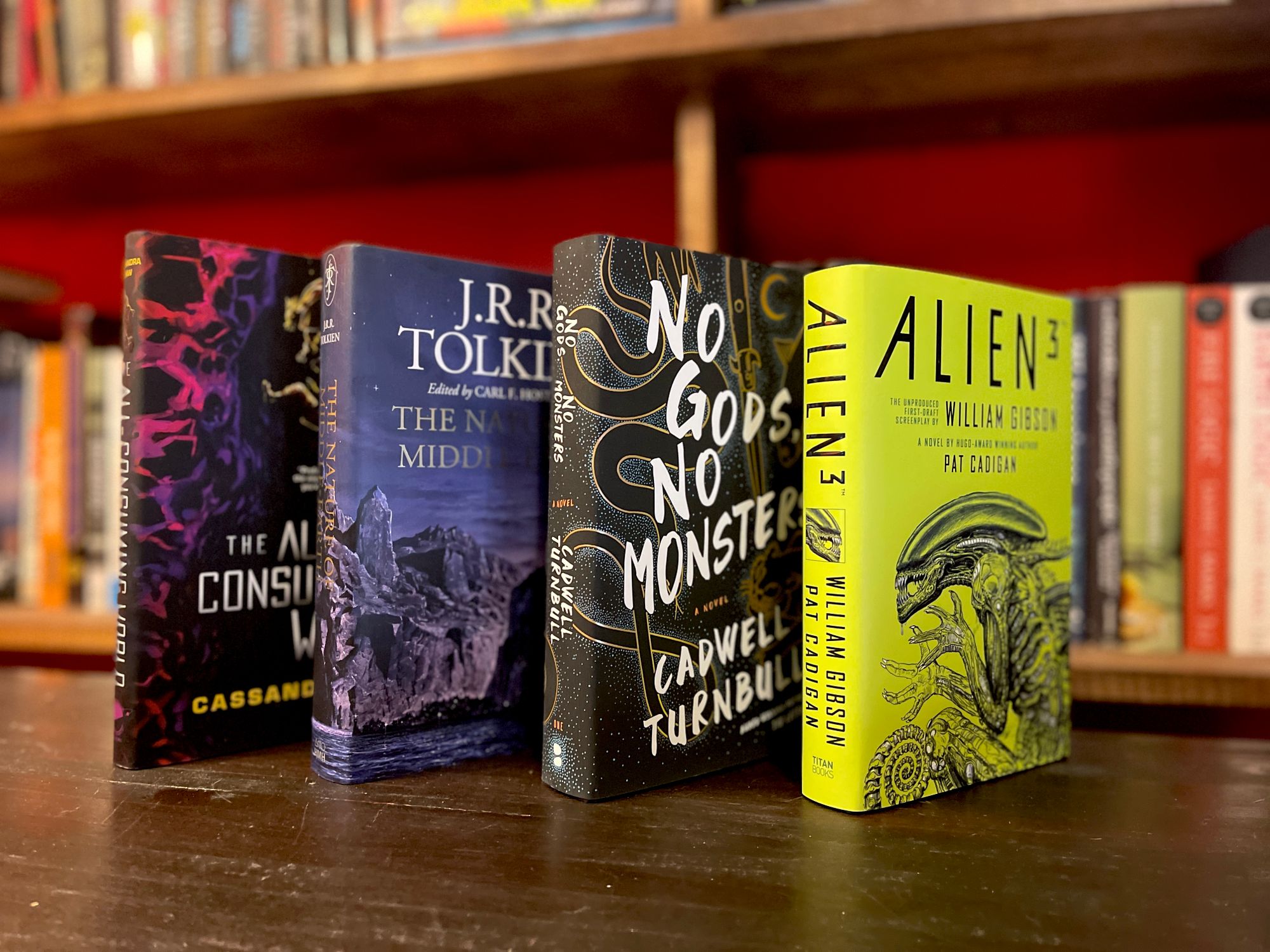 September 1st
Constance by Matthew Fitzsimmons
In the near future, new advances in medicine have led to breakthroughs in human cloning, which the wealthy use to prolong their lives. After Constance D'Arcy was gifted a cloned body by her late aunt (who co-founded Palingenesis, the company responsible for clones) she abruptly wakes up, learning that she was in a deadly car accident. She was resurrected with the memories that she had been backing up — except for the last 18 months, and has to figure out what led up to her untimely demise.
Kirkus Reviews says that the book a "super-brainy high-concept dystopian tale guaranteed to reward anyone who's in the mood."
Read an excerpt.
---
September 7th
The Splinter King by Mike Brooks
Mike Brooks follows up March's The Black Coast with the second installment in his God-King Chronicles, The Splinter King. In that novel, the citizens of the coastal city Black Keep believe an invasion is on its way, only to discover that they're about to be inundated with refugees from a demonic invasion.
In this new installment, Brooks plays out a power struggle taking place in the kingdom: assassins have targeting the family vying for the Naridan throne, leaving only the Splinter King standing. Darel, a dragon knight and leader of the Black Keep, heads off to the God-King to try and save the lives of his people, all while distant threats on the horizon come ever closer.
Publishers Weekly gave the book a starred review, saying that "Brooks delivers an outstanding tale of honor, religion, politics, and crime," with this book, and that "epic fantasy readers will find characters to cheer for and action to love in this excellent sequel."
Read an excerpt.
Alien³: The Unproduced First-Draft Screenplay by William Gibson by Pat Cadigan
Hollywood is full of screenplays that never ended up going anywhere, and one of those legendary ones is the Alien 3 screenplay that Neuromancer's William Gibson wrote. It's lived online for years, and a couple of years ago, Dark Horse adapted it for a graphic novel while Audible adapted it for an audio drama.  
Now, it's being reworked again as a novel, written by Pat Cadigan. Set just after Aliens, Ripley, Newt, and Hicks end up in a sector of space controlled by the "Union of Progressive Peoples," and get boarded. A facehugger gets out, chaos ensues. This looks like it'll be a fun read for fans of the franchise.
The Bronze Lie: Shattering the Myth of Spartan Warrior Supremacy by Myke Cole
Now for something slightly different: I enjoyed Myke's Legion vs. Phalanx: The Epic Struggle for Infantry Supremacy when I read it, and I've been looking forward to his take on the Spartans, ever since he published an article in The New Republic on the topic a couple of years ago.
Spartans have enjoyed a new level of popularity in recent years: prized for the stories of their prowess as warriors, which has led to no small amount of lionization from the American public. Like the article, this book looks to deconstruct that mythos by looking at the actual history behind the stories.
The All-Consuming World by Cassandra Khaw
An interstellar team of thieves reunite decades after a disastrous heist destroyed them, and to try and rescue one of their missing members. Maya is part of a crew of cybernetic thieves known as the Dirty Dozen, and they're now plotting a heist on the planet Dimmuborgir, where there's a valuable secret hidden away. They're not the only ones interested in whatever it is: an artificial intelligence also desires it, and it's going to stop at nothing to prevent them from getting their hands on it.
Publishers Weekly noted that "readers who don't mind the fast-and-loose worldbuilding—and who can stomach a fair amount of body horror—the fury and lyricism make for an adventure that doubles as a cathartic scream."
Read an excerpt.
Among Thieves by M.J. Kuhn
A woman name Ryia Cautella is on the run from the Guildmaster — the ruler of the five kingdoms of Thamorr. She has a deadly hand with a sword, and for the last six years, has been one step away from her foe's servants. When the head of one of the kingdoms, King Tolivver Shadowwoow of Edale meets with the Kestrel Crowns to discuss a job, Ryia listens in. She discovers that the Guildmaster's magical quill — the source of his powers — is the target of a potential heist, and decides to take on the job. But first, there's plenty of obstacles in the way, as well as plenty of opportunities for betrayal.
Publishers Weekly says that "Kuhn successfully builds a fast-paced mystery around both the quill's powers and Ryia's troubled past."
The Peculiarities by David Liss
In an alternative Victorian London, Thomas Thresher faces some problems: he's been forced to enter his family's trade as a banking clerk, and after his father dies, his brother takes over — who may be doing more harm to the business than good — all while the city has begun to experience what it calls "the Peculiarities": dense fogs that bring with them strange transformations.
As Thomas begins to sprout leaves and turn into a tree, he begins to investigate his family's dealings while contending with an arranged marriage. Kirkus Reviews notes that it's a "A colorful read with some rough edges but entertaining throughout."
Pantheon 2: Ares & Athena by K.R. Paul (September 9th)
Last year, K.R. Paul (a fellow board member of the Military Writer's Guild) released a fun military science fiction romp, Pantheon, about Valerie Hall, a US Air Force officer who escapes from an attack during a date and discovers not only that she has an unusual ability: she can teleport, but that the US has an entire agency set up to utilize her unique talents.
In this sequel, a Marine Staff Sergeant is in the midst of a patrol gone wrong when he discovers that he can teleport, and finds himself recruited into the Limitless Logistics team. Hall, now second-in-command of the unit, has to contend with her new officer, all while a terror attack on the US prompts them to jump into action to prevent a second.
The Nature of Middle-earth by J.R.R. Tolkien, edited by Carl F. Hostetter
Tolkien's estate has collected a number of some of the late author's final (unseen) essays into a new book about his epic Middle-earth. Essays range from the nature of elvish immortality to the creatures of Númenor, and the geography of the various lands. The book has been edited by Tolkien scholar Carl F. Hostetter.
Read an excerpt.
No Gods, No Monsters by Cadwell Turnbull
In October, a woman named Laina learns that the Boston Police department has shot and killed her brother, and while it initially looks like a case of police brutality, she soon learns that the case is much, much stranger when someone sends her a video of her brother transforming from a wolf back into a human.
She learns that monsters are real, and that for ages, someone's been trying to hide the true nature of the supernatural from the rest of the world. But that world is slowly breaking into our own — a move that threatens to upending everything.
Kirkus Reviews gave the book a starred review, saying that it's a "deeply human story, beautifully and compellingly told," while Publishers Weekly's starred review says that "the expert combination of immersive prose, strong characters, sharp social commentary, and well-woven speculative elements makes for an unforgettable experience."
Read an excerpt. Stay tuned: I'm slated to chat with Turnbull about this in the coming weeks.
---
September 14th
The Wisdom of Crowds by Joe Abercrombie
Joe Abercrombie closes out his Age of Madness trilogy (which started with A Little Hatred and The Trouble With Peace) — itself following his The First Law trilogy — with The Wisdom of Crowds. Set in a medievalish world, the Union has entered a new era of machines, which has brought new forms of unrest, heroism, and conflict.
Class struggle has spilled out into revolution as the Breakers and Burners have begun rioting in the streets. Citizen Brock, Citizeness Savine, and newly-crowned Orso the First work to adapt and survive in a world with new rules. But first, they must survive the bloody conflicts that come before them. Publishers Weekly noted that the book is a "thoughtful exploration of differing approaches to governance and rich, action-packed plot, [and that] this epic fantasy makes a fitting series close."
The Actual Star by Monica Byrne
Set over two millennia and across the world, Monica Byrne's latest follows three stories set centuries apart, all centered on a cave deep in the Belizean jungle. In 1012, a pair of twins are set to ascend to the throne in an ancient Mayan kingdom, while in 2012, a biracial woman named Leah takes a trip to Belize to try and reconnect with her family's distant past, while in 3012, two individuals are trying to take control of a new religion that seeks to save humanity from overwhelming climate change.
This sounds a bit like a favorite film of mine, Darren Aronofsky's The Fountain, mixed in with some liberal doses of Octavia Butler.
Black Nerd Problems: Essays by William Evans and Omar Holmon
William Evans and Omar Holmon created the website Black Nerd Problems, and bring together some of their essays about the nature of being a black nerd in the world in this new collection. They include a wide range of pop culture criticism, looking at everything from anime to Game of Thrones, conventions, oppression, and quite a bit more.
Publishers Weekly gave the book a starred review, saying that it's a "hugely entertaining, eminently thoughtful collection is a master class in how powerful—and fun—cultural criticism can be."
AI 2041: Ten Visions for Our Future by Kai-Fu Lee and Chen Qiufan
I'm a big fan of any type of fiction that explores the real world, and how people sometimes use fiction as a teaching tool. AI researcher Kai-Fu Lee (Author of AI Superpowers: China, Silicon Valley, and the New World Order) teams up with novelist Chen Quifan (author of the excellent Waste Tide) to explore the near future of artificial intelligence.
This book contains ten short stories set in 2041, in a world shaped by artificial intelligence. They cover everything from the emergence of a "job reallocation" industry, music, a teenager's attempts to date without big data, separated twins who reconnect with natural language processing, a scientist who uses quantum computing to exact revenge from the world, and more.
Among the Lilies by Daniel Mills
Daniel Mills is a fellow Vermont author that I really admire, and over the years, he's published some great short horror fiction (and novels). His next book is a collection of twelve short stories: most set here in Vermont. Publishers Weekly says that "Mills grounds his stories in considerable realistic detail, lending even the more surreal moments both gravity and tangibility."
---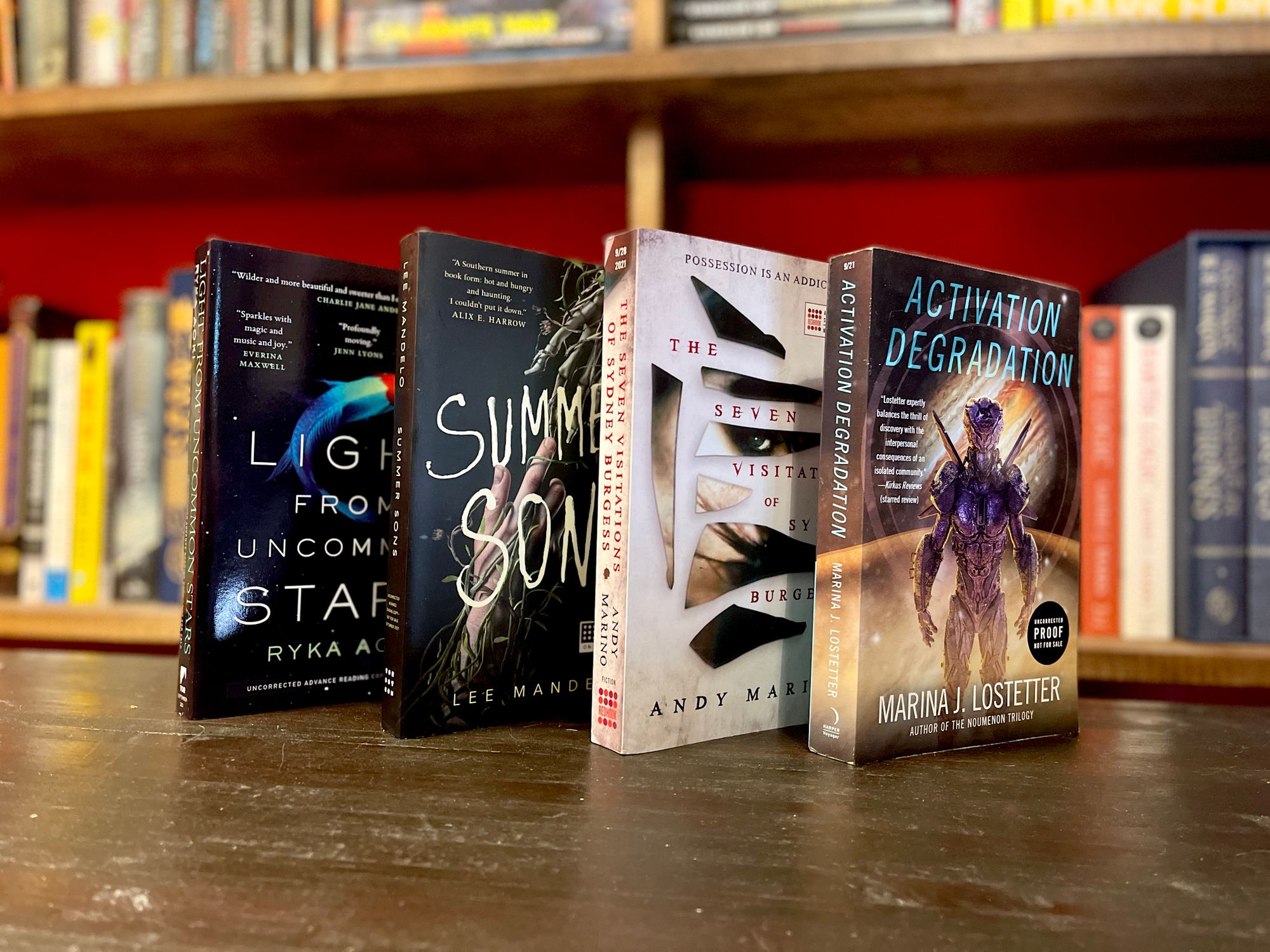 September 21st
Leviathan Wakes (10th Anniversary Edition) by James S.A. Corey
I get a lot of advanced copies, but I can remember pretty vividly getting this thick space opera novel in the mail from a then-unknown science fiction author. I enjoyed the book when I first read it, and I've read it quite a few times since then, and enjoyed it more and more. It's hard to believe that it's been ten years since I first read it, and how it's grown in that time.
Orbit's commemorating the anniversary with a special edition: it comes with a reversible cover, end paper maps, and painted edges. It looks like a very pretty volume. It'll be a nice teaser ahead of the final installment of the series, Leviathan Falls, when it's released in a couple of months.
Dune: The Lady of Caladan by Brian Herbert and Kevin J. Anderson
Just in time for Denis Villeneuve's Dune, Brian Herbert and Kevin J. Anderson have written a new installment of their sprawling extended Dune franchise, a sequel to last year's Dune: The Duke of Caladan. Set just before the events of Dune, it follows Lady Jessica as she wrestles with the decisions that she's made to split from the Bene Gesserit order, and choose between her family, and her obligations.
Read an excerpt.
The Body Scout by Lincoln Michel
I've become a big fan of Lincoln Michel's newsletter Counter Craft in recent months, and I've been intrigued by his upcoming book, The Body Scout. In the nearish future, anyone can afford the body of their dreams, as long as they can afford it. The book follows an industrial scout named Kobo who looks for the latest gene-edited talents for a baseball team owned by a big pharmaceutical company.
When is brother, J.J. Zunz, is murdered during a game, Kobo sets off to try and find out who murdered him, coming across a bigger conspiracy in the world of genetic engineering. Kirkus Reviews describes this one as "a cocktail that's one part William Gibson, one part Cory Doctorow, and a dash of generic but propulsive future noir."
Read an excerpt.
Plague Birds by Jason Sanford
Jason Sanford, author of the excellent Genre Grapevine releases he debut novel this month: Plague Birds. In the future, humanity is ruled over by some benevolent artificial intelligences, including some known as Plague Birds — entities that are both human and artificial intelligence that hand down and carry out harsh rulings. Crista has a particular hatred of them: one killed her mother when she was a child.
But to save her family and home village, she becomes the thing she hates the most, and her first mission is to track down a group of murderers who are wielding what looks like magical powers. As she gets to know her AI symbiote, she discovers a stranger world than she imagined, and a conspiracy that could threaten everyone.
---
September 28th
Light From Uncommon Stars by Ryka Aoki
Shizuka Satomi is a world-renowned violin teacher who once made a deal with the devil to gain her abilities. The cost? Get seven other violinists to make deals of their own in 49 years, and she gets to walk. She's on her last one — a trans runaway named Katrina Nguyen, and Shizuka is almost free.
But as she's working to recruit Katrina, Shizuka meets Lan Tran, a retired spaceship captain and mother who runs Starrgate Donut. Lan and her family are secretly refugees from an interstellar war, and her donuts are to die for. As she, Lan, and Katrina get to know one another, Shizuka begins to have a change of heart.
Kirkus Reviews gave the book a starred review, saying that "musicians selling their souls to hell shouldn't fit in the same story as alien doughnut makers building a stargate," but that it works and that "Filled with mouthwatering descriptions of food and heart-swelling meditations on music, this novel is an unexpected gift."
Read an excerpt.
Activation Degradation by Marina Lostetter
Marina Lostetter moves on from her Noumenon series for a new standalone story about artificial intelligence. A robot named Unit Four, stored in Jupiter's atmosphere, it wakes up to a crisis: aliens are harvesting the planet's Helium-3, something it's supposed to prevent from happening. It's tasked with protecting the planet, using any means necessary.
But something doesn't feel right: some of its data is corrupted, it doesn't have much information on the invaders, and it's told that it doesn't need to know anything other than its attack orders.
Publishers Weekly gave the book a starred review, saying that "Unit Four is a fascinating character, and Lostetter's vivid descriptions create a marvelously textured setting for this story of human error and hidden history, where nothing is really what it seems and the truth may be the strangest thing of all."
Summer Sons by Lee Mandelo
Lee is a friend who's written for this newsletter, and I'm really looking forward to reading his debut novel: Summer Sons. Two boys, Andrew and Eddie, were close as can be, until Eddie leaves for college at Vanderbilt. When Andrew follows along six months later, Eddie is found dead, apparently by his own hand, leaving his friend to navigate a new world without him in a place that he's unfamiliar with.
Andrew is driven to try and figure out why Eddie died, and discovers some deeply-held secrets about his family and its sometimes-literal demons. Publishers Weekly says that "Mandelo's debut is like Tennessee molasses—dense, dark, slow-moving, and with a distinct Southern flavor."
Read an excerpt.
The Seven Visitations of Sydney Burgess by Andy Marino
For years, Sydney Burgess has been working to rebuild her life: she's sober, has a new job, and is mending her relationship with those around her. Everything changes in an instant when she opens the door and is assaulted by a masked assailant. She's knocked out, and when she comes to, she recounts what happened: she escaped. The police, however, tell a different story: the assailant was murdered in a way that looks very personal, and nobody believes her story. As she tries to piece together what happened and pick up the pieces, a voice starts whispering to her, trying to bring her back to her old ways.
Publishers Weekly says that the book is "absolutely devastating," and that "Though the time jumps and unreliable narration can feel erratic, the dreamy, nonlinear structure keeps things from becoming predictable."
Listen to an excerpt.
Marked Man by Archer Mayor
I'm a long-time fan of Archer Mayor's Joe Gunther series, and this book is his 32nd installment. I'm behind on the series but in this latest installment, Vermont Bureau of Investigation's Joe Gunther learns that a Vermont millionaire who died several years ago at his home didn't die of natural causes, and as he begins digging into the case, learns the man wasn't who he claimed he was, and that his wealth came from some suspect sources.
Publishers Weekly gave the book a starred review, saying that it's not only the perfect jumping-on point for new readers, but that "Mayor matches vivid characters with clever plot twists."
The Annual Migration of Clouds by Premee Mohamed
Premee Mohamed has two books sitting on my t0-read list that I'm hoping to get to at some point in the near future: Beneath the Rising and A Broken Darkness. Her next is a bit of a departure from the Lovecraftian horror that she's known for: a novella about climate change. In it, a woman named Reid in a climate-wrecked Alberta is injected with a parasitic, mind-altering fungi. When she's offered a chance to leave her home for the safety of a college, she's forced to contend with leaving behind her family.
Publishers Weekly says that it's "an impressive feat of worldbuilding made stronger by the sensitive, nuanced characters and urgent questions about what people owe to each other."
The Last Graduate by Naomi Novik
Naomi Novik has a followup to last year's A Deadly Education, about a student attending Scholomance, a grim, violent magical academy from which not everyone graduates. Galadriel "El" Higgins — who is incidentally prophesied to become a dark sorceress and destroy the world — spent the last year forging some tentative alliances with her classmates, and has now reached her senior year.  
This year's curriculum is grueling and she's not sure how she or her newfound allies are going to survive the year — especially if she doesn't decide to go full dark side.
---
September 30th
To Boldly Go: Leadership, Strategy, and Conflict in the 21st Century and Beyond edited by Jonathan Klug and Steven Leonard
Science fiction has often been looked to for lessons, and this volume sees a number of military theorists and writers taking a look at what lessons Star Trek has to offer leaders (not just military leaders). I contributed to a book a couple of years ago called Strategy Strikes Back (Which did the same thing, except with Star Wars), and this looks as though it'll be just as interesting.
---
If you found this book list to be useful, please consider signing up as a paid subscriber for Transfer Orbit. This list is supported by members, and it helps make not only this book list happen, but some original reporting as well, like a deep dive into the history of Harlan Ellison's Last Dangerous Visions, a story about a cool short fiction platform called Curious Fictions and why it closed down last month, and one about an audiobook narrator who discovered he'd been scammed into recording a new edition of Frank Herbert's Dune. Subscribers also get some exclusive posts and interviews, as well as access to a Slack room. (And maybe, some free books?)
As always, thanks for reading. Let me know what titles catch your eye, and what you think of the new format (good? bad? eh?).
Andrew