Here are all the SF/F books you should check out this July
Stories of first contact, mad scientists, unfortunate homecomings, and quite a bit more to add to your TBR pile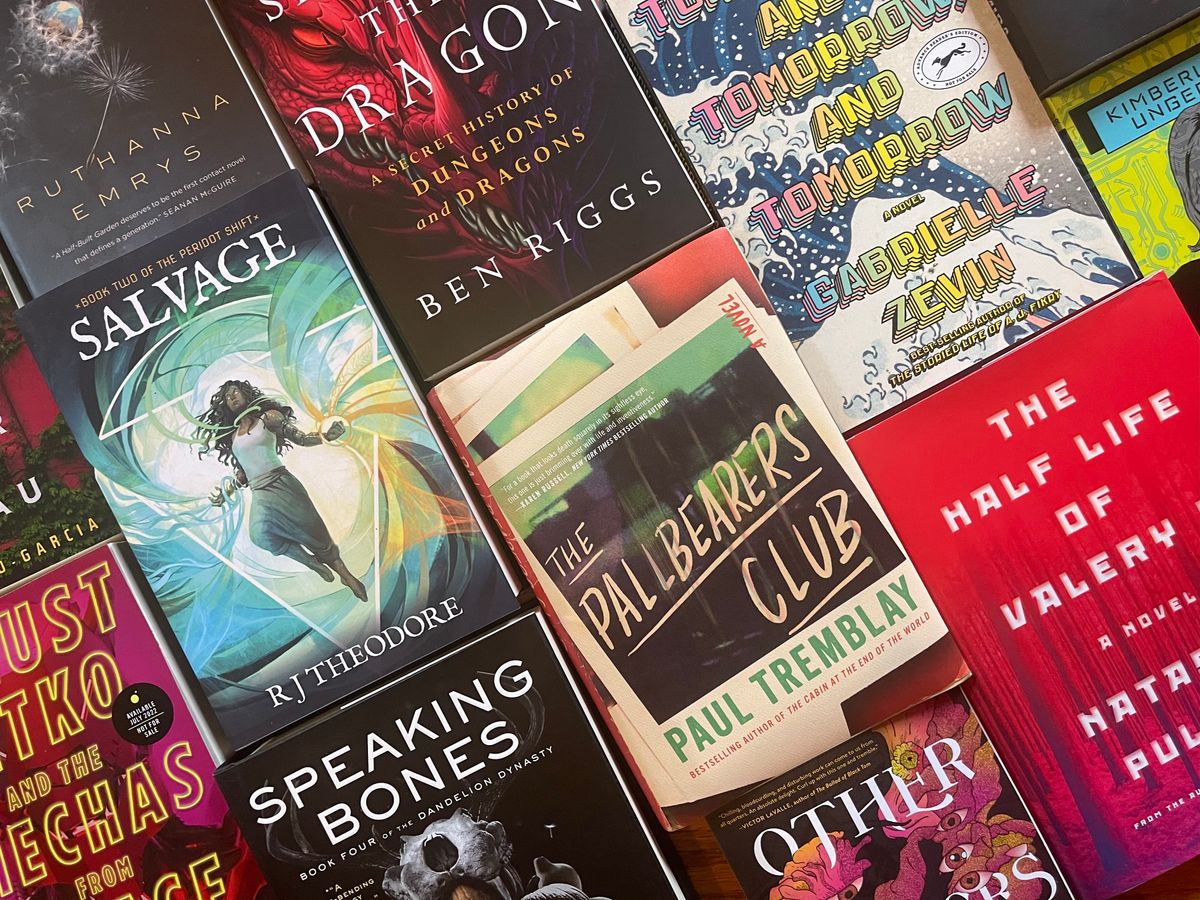 Here are 20 books hitting stores this month that you should check out. Here's the list for June, and as always, you take a look at prior lists here.
If you like this list, find your next favorite read, or just want to let other people know, please consider sharing this newsletter on your favorite social media site, and signing up as a subscriber:
As always: this newsletter is a Bookshop.org affiliate, and if you make a purchase through a link there, I might get a small commission.
---
Fantasy
Flames of Mira: Book One of the Rift Walker Series by Clay Harmon (July 12th)
In the fantasy world of Mira, the people who live deep under the frozen lands in the volcanic underworld undergo magical rituals to bind elements to their bodies to become elementals. Ig is a powerful elemental who works for Magnate Sorrelo Adriann as an enforcer. He's forced to be loyal to the Magnate: any sign of disobedience will activate a magical curse that will kill him.
However, when Sorrelo is overthrown, Ig will be tested to his limits as his master works to reclaim his throne, even if it means sacrificing himself.
Speaking Bones by Ken Liu (June 21st)
After seven years, Ken Liu has finally brought his epic Dandelion Dynasty to a close with the final installment, Speaking Bones. I loved the first and second installments of this series, and the third book, The Veiled Throne, ended up getting split into two books because it was so massive.
This tome takes place immediately after the events of The Veiled Throne, in which a war between two lands separated by an ocean is taking place. I'm looking forward to seeing how he ends it.
Science Fiction
A Prayer for the Crown-Shy by Becky Chambers (July 12th)
I've long been a fan of Becky Chambers' Wayfarers books, and really enjoyed her 2021 novella, A Psalm for the Wild-Build. A Prayer for the Crown-Shy is the followup to that volume, and it looks like an excellent read.
In that first volume, we follow Sibling Dex, a wandering monk who has been exploring the rural world of Panga, trying to find a purpose to their existence, when they come across a robot, Mosscap, who is on a mission to try and determine if humanity needs robots in any way. In this latest excursion, the pair head back from the wilderness to the cities and towns of Panga to continue their journey.
Publishers Weekly gave the book a starred review, saying that it's "quiet and contemplative, empathetic and warmhearted" and that it "builds on the themes of teh first volume to posit a more sustainable, more caring way of life."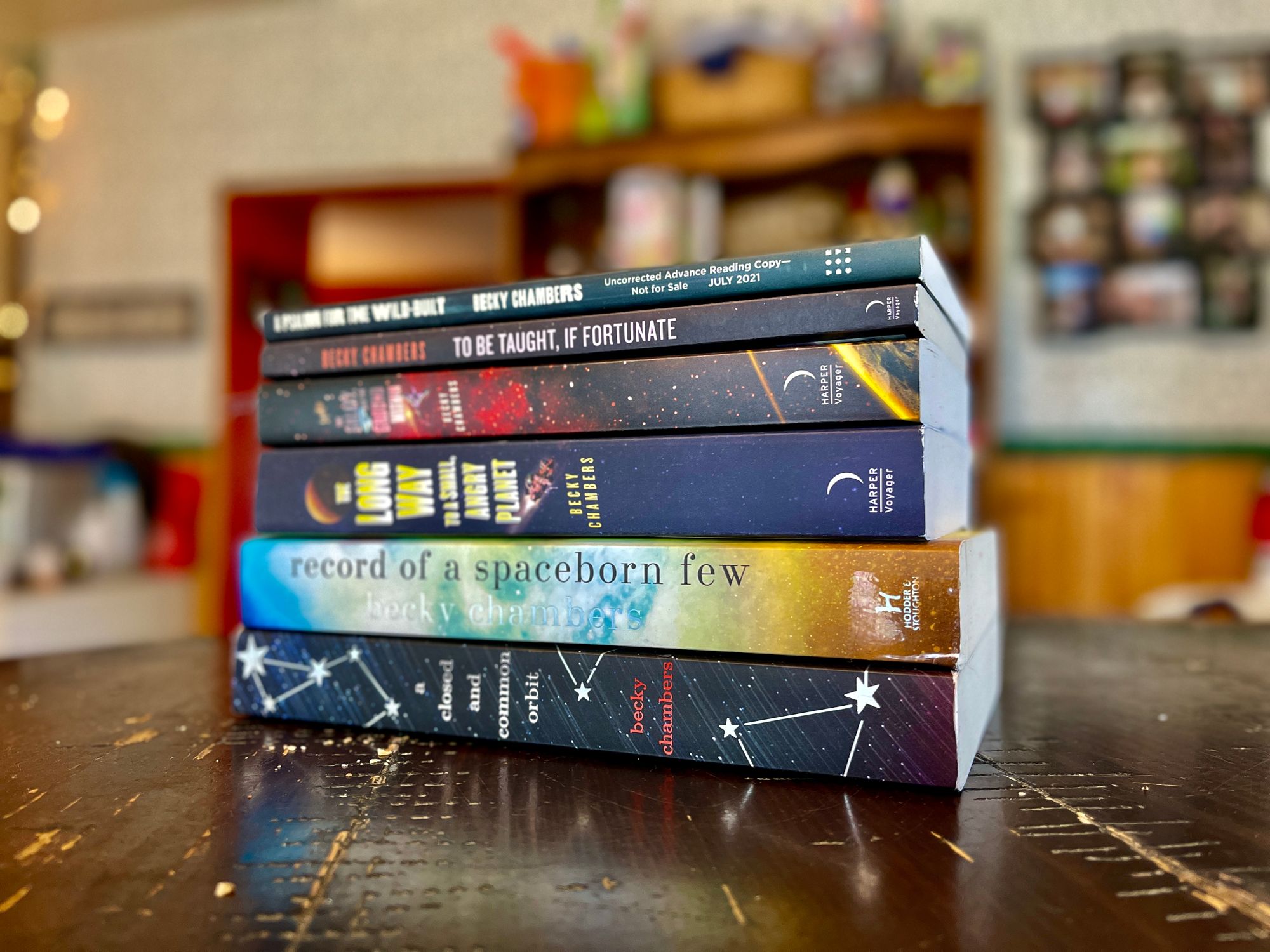 Upgrade by Blake Crouch (July 12th)
Government agent Logan Ramsay begins to notice something strange when he can concentrate a little better, can multitask and read quicker, and doesn't need to sleep a much. Something's happening to his brain: his genome has been hacked and someone is working to upgrade him for mysterious reasons that seem to have something to do with his family's past.
Kirkus Reviews says that it's "high-octane action, some moral complexity, and a surprisingly emotional ending elevate this novel."
A Half-Built Garden by Ruthanna Emrys (July 26th)
I loved Ruthanna Emrys' subversive take on Lovecraft's mythos with Winter Tide, and I've been intrigued to see her take on a future Earth. In 2083, a woman named Judy Wallach-Stevens gets a premonition of a chemical spill in Chesapeake Bay – something that turns out to be the arrival of aliens. They've come to try and save humanity from themselves, by force if needed.
Mike of One Mike to Read Them All had a decent overview of the book: "This is the kind of philosophical, big-idea science fiction novel that changes the way you look at the world, that could be read and remembered for generations...This book is all about learning about each other; not just human vs alien, but human vs human (vs human vs human vs human vs human vs…)."
Ymir by Rich Larson (July 12th)
Rich Larson takes cues from Beowulf in his latest novel, Ymir. Twenty years ago, Yorick Metu was grievously wounded on the ice world Ymir, and vowed never to return. But he's shipped home when his employer's mines come under attack by an alien machine. While there, he's pulled into a revolution led by his estranged brother, Thello, that aims to topple the company.
Publishers Weekly says "The connection to the classic is thin, but Larson layers the plot with dreams and flashbacks that create a deep sense of his characters, and the nonstop action and violence keep the pages flying
The Nova Incident by Dan Moren (July 26th)
Dan Moren continues his excellent Galactic Cold War series with The Nova Incident (I enjoyed the first installment of the series, The Bayern Agenda, and have the second, The Aleph Extraction on my to-read list.): which follows Simon Kovalic and his operatives as they work to uncover the truth behind a bombing on the Commonwealth's capitol, Salaam. It initially looks like the work of an extremist group, but the more they dig, the most it seems that there are some interstellar implications at play.
The book earned a starred review from Publishers Weekly, which says "Though most of the action is planet-based, daredevil car chases and fiery explosions provide plenty of excitement. Moren's meaty storytelling capitalizes on Kovalic and his crew's complex relationships and improvisational teamwork and buzzes with well-earned surprises."
The Daughter of Doctor Moreau by Silvia Moreno-Garcia (July 19th)
If you haven't guessed it, Silvia Moreno-Garcia's latest book is a take on H.G. Wells' classic novel The Island of Doctor Moreau. Set on an estate on the Yucatán peninsula in the 19th century, it follows Calota Moreau, the daughter of a mad scientist who has been working to create a race of animal/human hybrids. Also at the estate is Montgomery Laughton, Dr. Moreau's assistant who's turned to alcohol to cope with his tragic pats.
The delicate balance of their lives are upended when Eduardo Lizalde, the son of Dr. Moreau's patron, arrives, while the good doctor's creations are beginning to explore their own autonomy and personhood, setting up an explosive situation that could undermine their work and Carlota's relationship with her father.

Kirkus Reviews says that "in this volume, [Moreno-Garcia] deftly combines fantasy, adventure, and even romance; the result is hard to classify but definitely a lot of fun. This isn't the first book to riff on H.G. Wells' The Island of Doctor Moreau (1896), but it's definitely one of the better ones."
Here's my review of her *fantastic* gothic thriller, Mexican Gothic: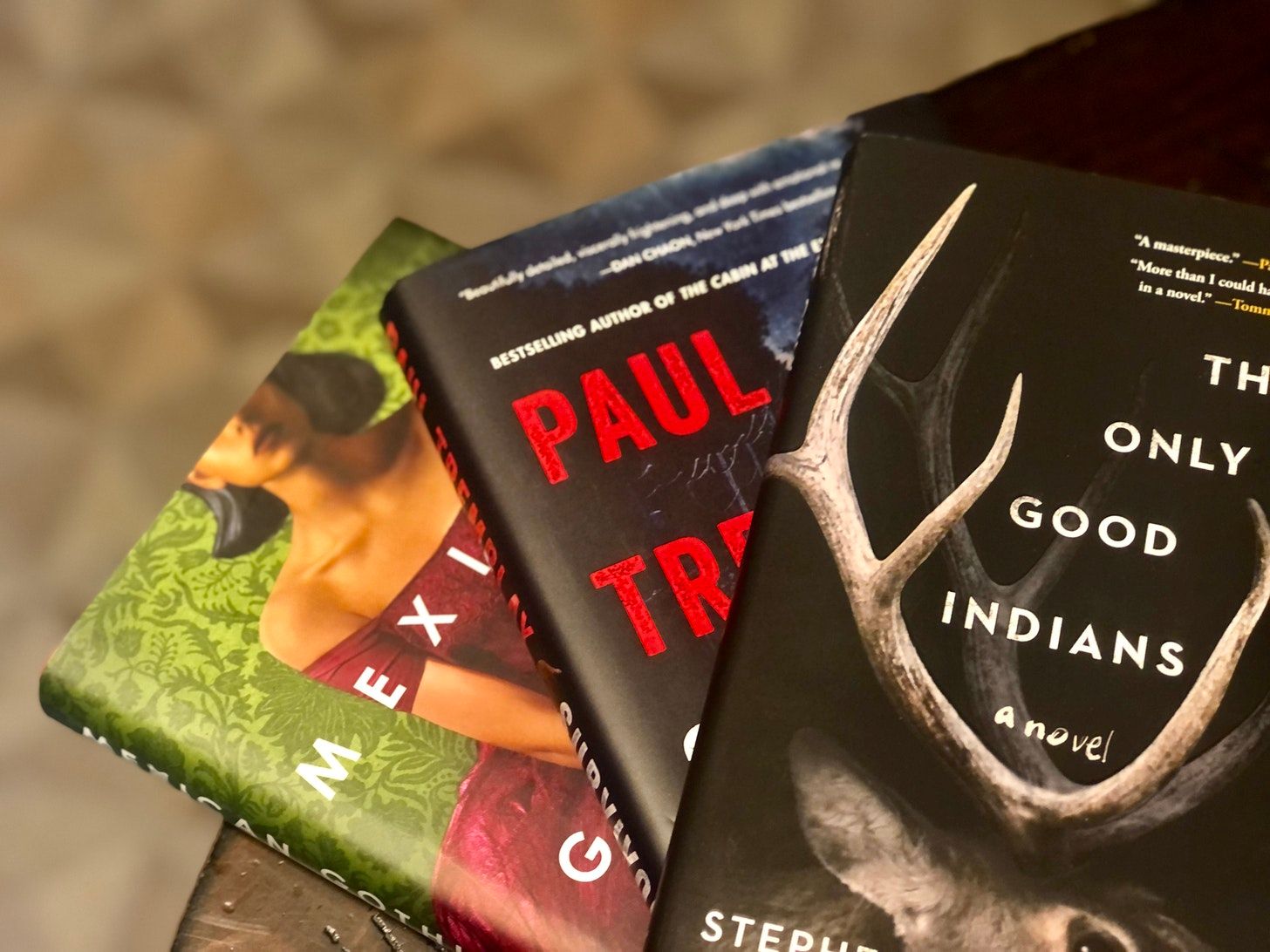 Needle by Linda Nagata (July 12th)
Linda Nagata continues her epic space opera series Inverted Frontier with a third installment, Needle, (The first two books are Edges and Silver, which in turn jump off from her Nanotech Succession series). Set in the distant future, humanity has been exploring the cosmos, and which has come under attack by a mysterious civilization, prompting a spacer named Urban to check out the situation.
Along the way, he encountered a god-like entity named Lezuri, who's weakened, but looking for his long-lost home to recover his knowledge and technologies. Urban acquired a puzzle from Lezuri that has the potential to unlock some lost knowledge, and in this latest installment, he and his ship, the Dragon has arrived at the Tanjiri system, which is littered with the remain of a fallen civilization and eerily silent.
The Half Life of Valery K by Natasha Pulley (July 26th)
Set in the midst of a Cold War Soviet Union, a former nuclear specialist named Valery Kolkhanov has figured out how to endure his sentence in a frozen Siberian prison, making sure he has the right connections and mindset. When his former mentor from his university come and take him out and to the mysterious City 40, which is home to a set of nuclear reactors and is surrounded by a diseased forest.
It's there that he's to serve out the rest of his prison term, studying the effects of radiation on animals, but his time there brings only more questions: why is there so much radiation, and what secrets is the town hiding?
Publishers Weekly gave the book a starred review, saying that "Pulley, extrapolating out from the records of a historic Soviet research center, raises questions about scientific experimentation and the ways in which it can be manipulated for less than honorable purposes...The chilling result feels all too plausible."
Salvage by R. J. Theodore (July 5th)
R. J. Theodore follows up her novel Flotsam with a sequel, Salvage. In the first book, an airship captain named Captain Talis takes on a risky mission to pay her crew and conduct some badly-needed repairs. When they discover an ancient ring, they're forced to go on the run from a powerful cult.
Things have gone badly since: a war has broken out in Peridot, and one of the Five, an ancient, alchemist god, has died, something that has prompted the remaining for to abandon the world. Talis and company have a plan to get things straightened out, but they're stranded far from home, and when an old enemy brings them an offer to return, it comes with some steep costs that will force them to make some considerable sacrifices.
The Extractionist by Kimberly Unger (July 12th)
In this cyberpunk adventure, we follow Eliza McKay, an Extractionist — an expert in digital personas, and for any number of reasons people get uploaded to a virtual reality system known as the Swim. It's her job to get them out when things aren't on the up-and-up.
After she turns away a digital attack on her digital persona, she's attacked in her home, and someone she's brought in to extract is weirdly reluctant to leave, leading her to realize that there's a secret online that lots of people will go to great lengths to keep under wraps.
August Kitko and the Mechas from Space by Alex White (July 12th)
Alex White kicks off a new space opera series, The Starmetal Symphony with August Kitko and the Mechas from Space, in which Earth is under assault from a force of alien robots called Vanguards in 2657. Jazz pianist August "Gus" Kitko is ready to accept his fate, playing one final concert before everyone is killed. But before that fate occurs, one of these robots decides to save Gus, and he's chosen to lead a breakaway faction of the Vanguards which aim to save humanity from destruction.
The book garnered a starred review from Publishers Weekly, which says "Music forms the backbone of this beautifully balanced, artistically rendered space opera, which expertly combines well-executed action with witty banter between charming characters."
The Icarus Plot by Timothy Zahn (July 5th)
One of my favorite science fiction novels of all time is Timothy Zahn's 1999 novel The Icarus Hunt. It's a fantastic comfort read: a chunky space opera in a well-built world where an alien civilization called the Patth have a chokehold on interstellar commerse because they were able to invent a better star drive. The story kicks off when a spacer named Jordan McKell is hired to transport a mysterious ship called the Icarus from one planet to another, which he and his crew thinks is something that could overcome the Patth's technological advantage. The reality is something altogether something different, and it's worth the read for the twists and turns.
For years, I've hoped that Zahn would do something else with this universe: it's a vast world with a lot of potential for more stories, and a couple of years ago when I interviewed him, he let slip that he was working on a followup. That followup? The Icarus Plot, which serves as a standalone entry in the world.
In it, Gregory Roarke left behind a life as a bounty hunter to become a Trailblazer, seeking out new world to develop across the galaxy. When he's approached to track down a woman named Tera and locate a project called "Icarus", he jumps at the chance: not just because it promises a rich payday, but because it offers the chance to bring him some long-delayed payback.
Tomorrow, and Tomorrow, and Tomorrow by Gabrielle Zevin (July 5th)
Gabrielle Zevin turns her attention to the world of game development in her new novel Tomorrow, and Tomorrow, and Tomorrow. It follows two designers, Sam Masur and Sadie Green, as they become friends and make their way through lives as they work to build their first game together, Ichigo, which become an overnight success, and which brings its own share of complications to their world.
The Washington Post's Ron Charles reviewed the book, saying "she's written a novel that draws any curious reader into the pioneering days of a vast entertainment industry too often scorned by bookworms. And with the depth and sensitivity of a fine fiction writer, she argues for the abiding appeal of the flickering screen. "No matter how bad the world gets, there will always be players," Zevin writes. "Maybe it was the willingness to play that kept one from despair."
---
Horror
Just Like Home by Sarah Gailey (July 19th)
After years of being estranged, Vera returns home when her mother calls her to tell her that she's dying. She has some complicated feelings returning home: her father was a serial killer. She discovers some unwelcome surprises: an artist has taken up residence in the guest house, and he's been using her childhood for inspiration, and it seems that there are more unwelcome secrets to uncover.
Publishers Weekly gave the book a starred review: "Suggestive prose ("The stairs that led from the entryway to the second level of the house always seemed to have too many shadows") enhances the twisty plot as Vera tries to better understand the killings her father was accused of.
Other Terrors: An Inclusive Anthology edited by Vince A. Liaguno and Rena Mason (July 19th)
I like a good themed anthology. Vince A. Liaguno and Rena Mason have put together a collection of 24 stories from a number of authors I really admire, like Usman T. Malik, Stephen Graham Jones, S.A. Crosby, and Taranative Due, all about otherness and terror.
Publishers Weekly gave the book a starred review, saying that "with impactful writing and authentically embodied characters, this anthology succeeds by lifting up a diverse and skilled group of authors and letting them dive deeply into the horror that sits next door to their own lived experiences."
The Pallbearer's Club by Paul Tremblay (July 5th)
When it comes to horror, the one author that I reliably pick up is Paul Tremblay: A Head Full of Ghosts, Survivor Song, The Cabin at the End of the World, and Disappearance at Devil's Rock all scared the shit out of me, and I'm eager to see what horrors he conjurs up for his next one: The Pallbearer's Club.
It follows the story of a kid named Art Barbara, a high school kid in the 1980s who's a bit of a stereotypical loner, and who start up a club at school to visit funerals of folks who'd otherwise be alone. It's not a popular club, but he strikes up a friendship with a new member who has some strange tendencies, like bringing her camera to take pictures of the bodies, and of New England folklore around vampires.
Decades later, Art is trying to make sense of that time in his life by writing a memoir, and along the way, his friend ("friend"?) gets her hands on a copy and begins to make some edits of her own.
I spoke with Tremblay about the book a while back, which you can read here: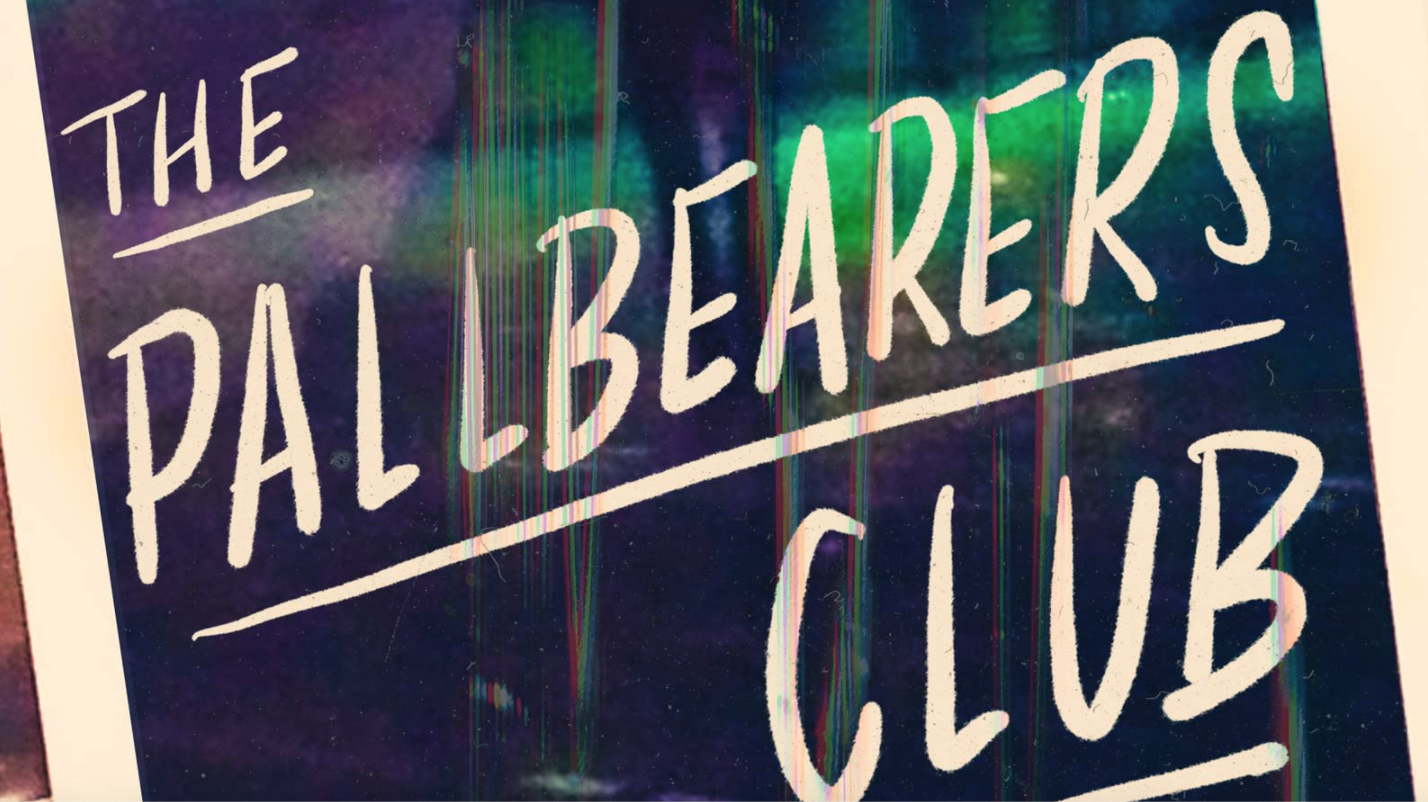 Everything else
Modern Masters of Science Fiction: Brian W. Aldiss by Paul Kincaid (July 12th)
I'm a big fan of the Modern Masters of Science Fiction series from the University of Illinois Press. It's a series of scholarly dives into a number of the genre's best-known authors, and the latest takes a look at the late Brian W. Aldiss. Written by Paul Kincaid, it explores Aldiss's contradictions and reluctance to fully embrace genre fiction, as well as how his experiences in post-war Asia and the UK helped shape his many writings.
Slaying the Dragon: A Secret History of Dungeons & Dragons by Ben Riggs (July 19th)
I'm a sucker for nonfiction histories of nerd things, and Ben Rigg's latest caught my eye: a new history of the roleplaying game Dungeons & Dragons. In it, Riggs aims to tell a story that diverges from the commonly-held history of TSR, Inc., and its impact, arguing that the original company wasn't killed when it was taken over by Wizards of the Coast in the 1990s, but because of mismanagement and self-inflicted wounds.
I started reading this a while back, and it's one of the books that I'm hoping to get back to before too long: it was a pretty engaging and interesting read.
---
I would be remiss if I didn't mention my own book is now out: Cosplay: A History: The Builders, Fans, and Makers Who Bring Your Favorite Stories to Life. If you pick up a copy, let me know: I'll comp you for a subscription on this newsletter. If you'd like a signed copy, I'll direct you to Yankee Bookshop in Woodstock, Phoenix Books in Burlington, Barnes & Noble in South Burlington, and Bear Pond Books in Montpelier (go to Bear Pond if you want something personalized – they're not far from where I work.)
As always, let me know what stands out, and what you've ended up picking up from this list or others. I'm always eager to hear what people are reading!