Even more SF/F books to check out this September
16 new books to add to your TBR pile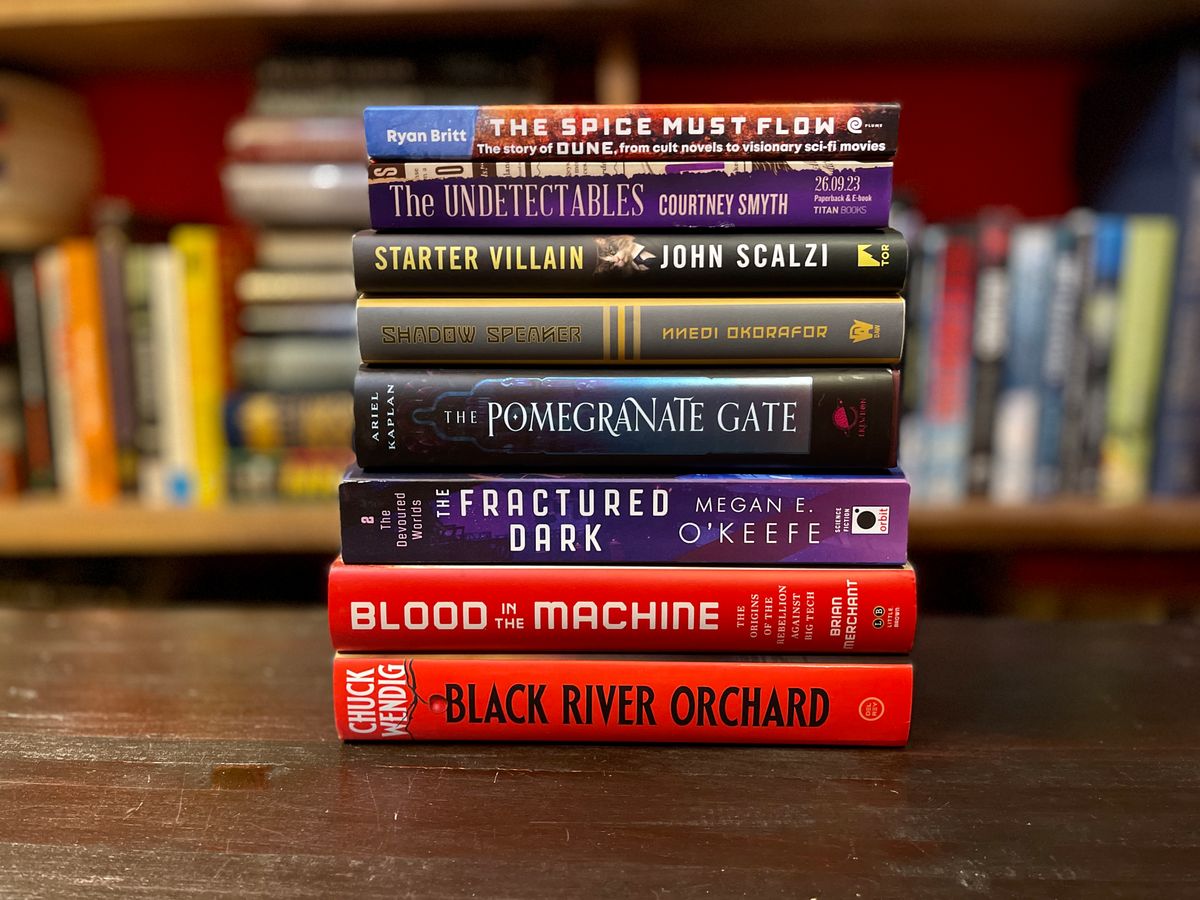 September is speeding right along, and it's been a huge month for genre books: there were a ton of excellent ones that have already come out in the first couple of weeks, and a whole new crop is headed to bookstores in the coming weeks.
In case you missed it, here's the list for the first half of the month: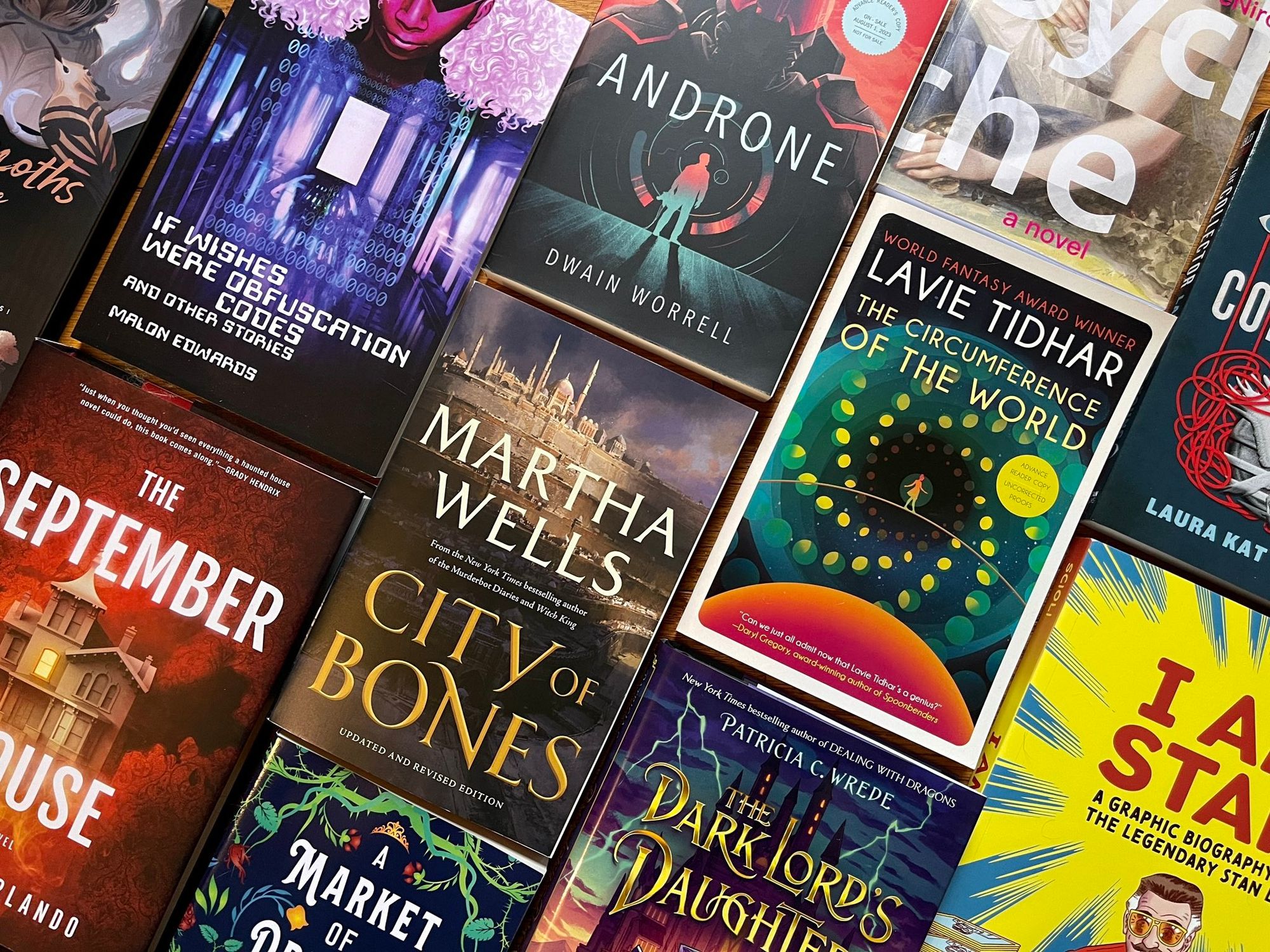 As usual, here are some housekeeping notes:
Books with a Bookshop.org link are affiliates, and any purchases you make will lead to a small commission for this newsletter.
If you find a book that you like, or simply enjoy these lists, please consider supporting Transfer Orbit with a paid subscription. It's currently marked down to 50% (I'm likely going to bump the price back up starting in October – it's a good time to resubscribe if your subscription lapsed!), and your support helps keep the newsletter hosted on Ghost. You can find details about signing up here:
If subscribing isn't in the cards now, please consider sharing this list with your followers on Twitter, Bluesky, Reddit, or your social network of choice, or by telling a friend about it.  
And with that, here are 16 new books that you should check out over the rest of September:
I read Ryan Britt's Phasers on Stun!: How the Making (and Remaking) of Star Trek Changed the World last year and really enjoyed it: it was a good, high-level examination of why Star Trek has endured for more than half a century. In his next, he takes a look at Frank Herbert's Dune and follows its story through its various incarnations.
There are two other books about Dune coming out this month as well that look like they're worth checking out: A Masterpiece in Disarray: David Lynch's Dune – An Oral History by Max Evry (September 19th), which examines the story behind the making of the classic 1984 film, and The Worlds of Dune: The Places and Cultures that Inspired Frank Herbert by Tom Huddleston (September 26th), which looks at the influences behind the novel.
Ariel Kaplan kicks off her Mirror Realm Cycle with The Pomegranate Gate, an epic fantasy inspired by Jewish folklore set in Inquisition-era Spain. Toba Peres and Naftaly Cresques are both Jewish outcasts in a hostile country, and each have their own particular abilities: Toba can write quickly in multiple languages in each hand, while Naftaly dreams of strange worlds and sees things in the real world that can't possibly exist. He also possesses a book that's been passed down through his family, full of what seem to be nonsense words.
The pair have been forced to flee their homes after the Queen of Sefarad issues an order for all Jews to convert or leave. As she escapes, Toba stumbles upon a strange gate that leads her to a mythical world of Maziks, where she learns that she's a descendant. She finds that her half-Maziks existence is forbidden, and she finds that she's a target of another inquisition, the La Cacería. Separated, Naftaly has his own challenges: Spain won't allow books to leave the country, and he's falling for a Mazik he sees in his dreams, one who might put him in the path of the La Cacería as well. The pair will have to uncover some long-held secrets about their pasts and the mysterious book, and how the events in one world are affecting those in the other.
Writing for Grimdark Magazine, Fabienne Schwizer says "It combines lyrical writing with meticulous world-building and brilliant characters and douses it all with a good dose of magic – all the ingredients for a breakout success in the genre. Reminiscent of Ava Reid's The Wolf and the Woodsman and Alix E. Harrow's The Ten Thousand Doors of January in very different ways, The Pomegranate Gate stands out both thematically and through its writing. I loved it and am looking forward to continuing on with the story in the next instalment."
Brian Merchant is the author of The One Device, a book about the making of the iPhone, and did so in a way that looks at all aspects of the phone, from the minerals that make its components, the towers that help power the signals, and the people who are responsible for all of that. It was an incredibly influential book for me (Brian also kindly blurbed Cosplay: A History, because it in no small part guided my approach), so I've been eagerly anticipating his next book: Blood in the Machine, about the Luddites. (Brian also edited the excellent SF website Terraform, and the anthology that collected the stories from it.)
The Luddites are known for destroying machinery, but their name has become something of a byword for being anti-technology. That's not really the case, and Brian takes a look at the origins of the movement and how it played out to better understand their role in the history of technology, and what we can learn from them about our relationship to tech and capitalism.  
Shadow Speaker by Nnedi Okorafor (September 26th)
I've long been a fan of Nnedi Okorafor's novels, and I'm intrigued by her next release, Shadow Speaker, the first in her Desert Magician's Duology. (The next book, Like Lightning, comes out in November.) This book was originally published way back in 2007, and it's now back in print and features a new introduction.
In 2074, the world is adapting to a new reality after a brutal war: the weapons unleashed during the conflict have altered the nature of reality, and some of the survivors have developed strange powers. We follow a young woman named Ejii Ugabe, who witnessed her father's death when she was younger. She's not heartbroken at the loss of her cruel parent, but as she manifests some powers, she decides to track down his killer, embarking on a post-apocalyptic journey alongside a mysterious ally named Dikéogu Obidimkpa, one that will take them across this strange new world as they search for answers about their place in the world.
Publishers Weekly gave the book a starred review, saying "The postapocalyptic Saharan landscape is striking; technology, magic, and awe-inspiring nature all weave together in the background of this vivid adventure centered on the coming-of-age theme that is a hallmark of Okorafor's work."
The Fractured Dark by Megan E. O'Keefe (September 26th)
Earlier this year, Megan E. O'Keefe published The Blighted Stars, the first installment of her Devoured Worlds trilogy. In that prior book, a revolutionary named Naira Sharp is intent on taking down the powerful Mercator family that controls the exploration of the known universe, and found an unlikely ally in Tarquin Mercator, a member of the family who just wanted to study geology and read. The pair end up getting stranded on a dead planet and have to deal with uncovering a plot and their own survival.
In this next installment, the pair have escaped from said dead world, and are now intent on finding out the cause behind a blight that's infecting habitable planets – a task that will require them to track down some of the family's hidden secrets. When the head of the Mercators vanishes, the galaxy is poised to fall into utter chaos.
Library Journal gave the book a starred review, saying "Skillful work with printable bodies, mind downloads, and alien influences creates a myriad of morally gray decisions by many characters that bring twists throughout."
Dry Land by B. Pladek (September 26th)
Set during the First World War, a young forester in Wisconsin named Rand Brandt discovers that he has a gift: he can help grow a plant by simply touching it. With this power, he hopes to bring about new life to a devastated landscape. It isn't long before those around him begin to notice his powers, and he's drafted to grow timber for the war effort.
But there's a cost to his gift: those things that he grows whither away and die, and leave the soil completely sterile, and the pressure to succeed and come to terms with this gift become overwhelming.
Kirkus Reviews says "compelling in its underlying conversation about environmental preservation, this book is rich with well-researched plant knowledge that conveys the delicate balance of ecosystems," and that it's "a winning combination of history, magic, and science that reiterates the importance of environmental preservation."
Starter Villain by John Scalzi (September 19th)
John Scalzi's back with a new adventure: Charlie's a guy down on his luck who's been getting by as a substitute teacher and with dreams of taking over a local pub. Everything changes when a long-estranged uncle, Jake, dies and wills Charlie his business. Jake happens to be a supervillain and his death has opened up something of a power vacuum in the supervillain world. Now in charge of a global operation, Charlie has to figure out how to keep the family business afloat, but also keep his own employees – including a team of intelligent cats and dolphins bent on unionizing – to survive.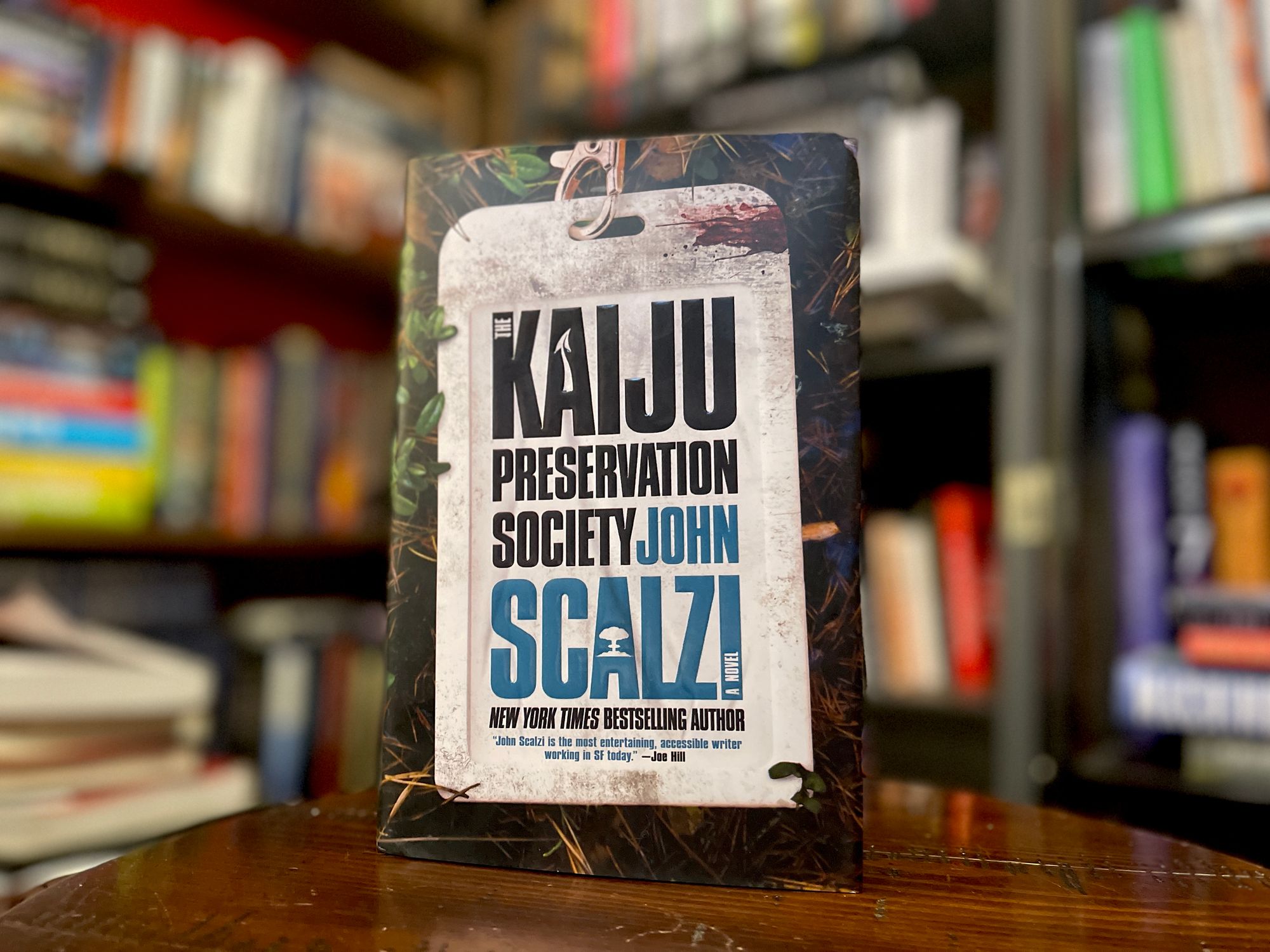 I read this book earlier this year, and it's a fun romp: if you've read anything by Scalzi recently, like the Kaiju Preservation Society or Redshirts, you'll know what to expect: pithy dialogue and a neat premise for fun read.  
V.E. Schwab returns to the world of her Shades of Magic trilogy (A Darker Sharde of Magic, A Gathering of Shadows, and A Conjouring of Light) with a new entry: The Fragile Threads of Power. Those prior books introduced a fantastical multiverse, where travellers could jump between four worlds each connected by a London. Problems arose, and each world tried to shut down the connections between one another, and as the years passed, fewer magicians could open those doors. Now, there are only three Antaris: Kell Maresh of Red London, Delilah Bard of Grey London, and Holland Vosijk, of White London.
In the last seven years, those three haven't been seen all that much, and a new Antari named Kosika has arrived in London, taking Holland's place, and is about to be consumed with religious fervor, while in Red London, King Rhy Maresh is contending with growing rebellion. Amidst these troubles arrives a young woman named Tes, who has a device that might alter the future of each of the four worlds for the better or worse.
Kirkus Reviews gave the book a starred review, saying "Schwab gives readers more of everything they love about that series: dynamic, unconventional characters; suspenseful plots; rich worldbuilding; and compelling relationships. New characters Tes and Kosika more than hold their own against returning fan favorites. Schwab's pacing is confident, assured, and the book weaves a masterful spell on the reader."
Jared Shurin (formerly of the excellent genre blog Pornokistch and editor of some excellent anthologies like Djinn Falls in Love and Other Stories and The Lowest Heaven) has put together a big tome of more than a hundred cyberpunk stories.
This looks like an excellent volume, with names like Madeline Ashby, Greg Bear, Lauren Beukes, Pat Cadigan, Samuel R. Delany, Philip K. Dick, Cory Doctorow, Greg Egan, Isabel Fall, William Gibson, Ken Liu, Neal Stephenson, Bruce Sterling, James Tiptree Jr., Yudhanjaya Wijeratne, and a ton of others (here's the full table of contents).
You can read an interview with Shurin about the book over on Clarkesworld Magazine.
When a group of con artists find themselves imprisoned aboard a malevolent penal warship called the Justice, it's up to them to figure out how to escape – alive. Murdock owes a lot to their leader, Hark, who helped train her into the hacker she is today, while their getaway driver Bea is always willing to take a risk, and Fitz can talk anyone into anything. The four had been a formidable crew until they were captured.
The Justice has taken a particular interest in Murdock – it needs a hacker, and it needs to break her hold on her devotion to her team's leader in order to make use of her. Murdock is already fraying as the team struggles to escape and it'll be up to them to resist the ship's manipulations in order to escape alive.
Library Journal gave the book a starred review, saying "Skrutskie builds upon her success with the "Bloodright Trilogy," delivering a space-opera thriller that pits humans against each other and against artificial intelligence, with an exciting plot that starts strong and only gets stronger."
The Undetectables by Courtney Smyth (September 26th)
A serial killer is targeting the occupants of a town called Wrackton, causing their victims to chew their own tongues off. The Undetectables, a detective agency run by witches (as well as a ghost in a cat costume) are hired to investigate. They'll have to figure out some of their own quirks if they're going to succeed: Mallory is the group's scientific expert, but is dealing with some health concerns, Cornelia has feelings for Mallory, Diana is the group's extrovert, and Theodore is the subject of their first unsolved murder case.
As this unconventional team sets about trying to investigate, they're led to even more magical mysteries, and they'll have to work quickly before they're the next victims.
I've enjoyed Chuck Wendig's books over the years, and I'm really looking forward to his latest: Black River Orchard, in which seven apple trees in the town of Harrow begin sprouting a new type of fruit: dark red apples that prompt those who eat them to keep eating them. They have some seemingly-great side effects: those who consume them feel better: more like themselves, more vital, and gifted, and the more they eat, the better they feel.
As the town's obsession with the apples grows, dark secrets about the origins of those apples and the town begin to come to light, with some horrifying consequences coming with them.
Publishers Weekly gave the book a starred review, saying "Wendig is brilliant at slowly raising the plot's emotional temperature and making his characters, caught in a creeping nightmare, feel both real and empathetic."
The Iliad by Homer translated by Emily Wilson (September 26th)
Emily Wilson provided a new translation of Homer's The Odyssey back in 2017 that was highly acclaimed for bringing a new take and feel to the classic. Now, she's back with a new translation of The Illiad, once again bringing new light to the journey, warfare, and trauma that Odysseus and his crew endured on their return from Troy.
Kirkus Reviews praised the book with a starred review, noting that "part of that bigger picture is a complex ambivalence about war, which can bestow or restore honor but also destroys friends, families, towns—the common bonds from which people and nations build empathy and tolerance."
You can also read a profile of Wilson and her translations in The New Yorker.
A chef has escaped her city life to a mountaintop colony in Italy as a toxic smog spreads across the world that has decimated crops everywhere. There, she finds the sky is clear and her new host is excited to build a new life for himself, his family, and his wealthy friends. Under that optimism and utopian lifestyle is something far more sinister: she's essentially a prisoner whose world around her is pulling down any boundaries that she might have once had.
Kirkus Reviews gave the book a starred review, saying "This is, among other things, a story of what survival looks like in a world riven by gross inequality, and the narrator's choices are driven by self-interest," and that "Zhang earned bountiful accolades—including being longlisted for the Booker Prize—for How Much of These Hills Is Gold (2020), and her skills have only increased since she wrote her stunning debut."
---
Thanks as always for reading: let me know what catches your eye this round!
Andrew