All the new SF/F books to check out in early September
17 new reads for fall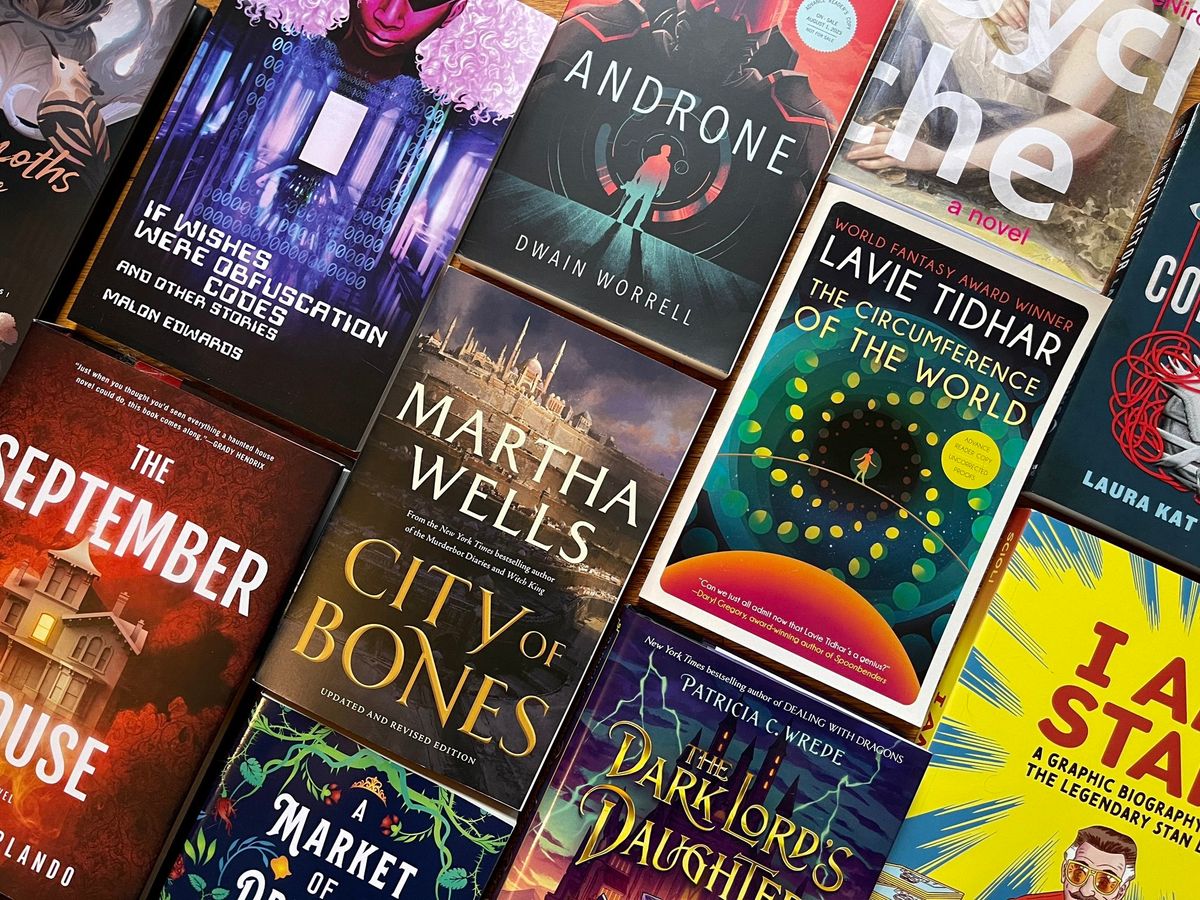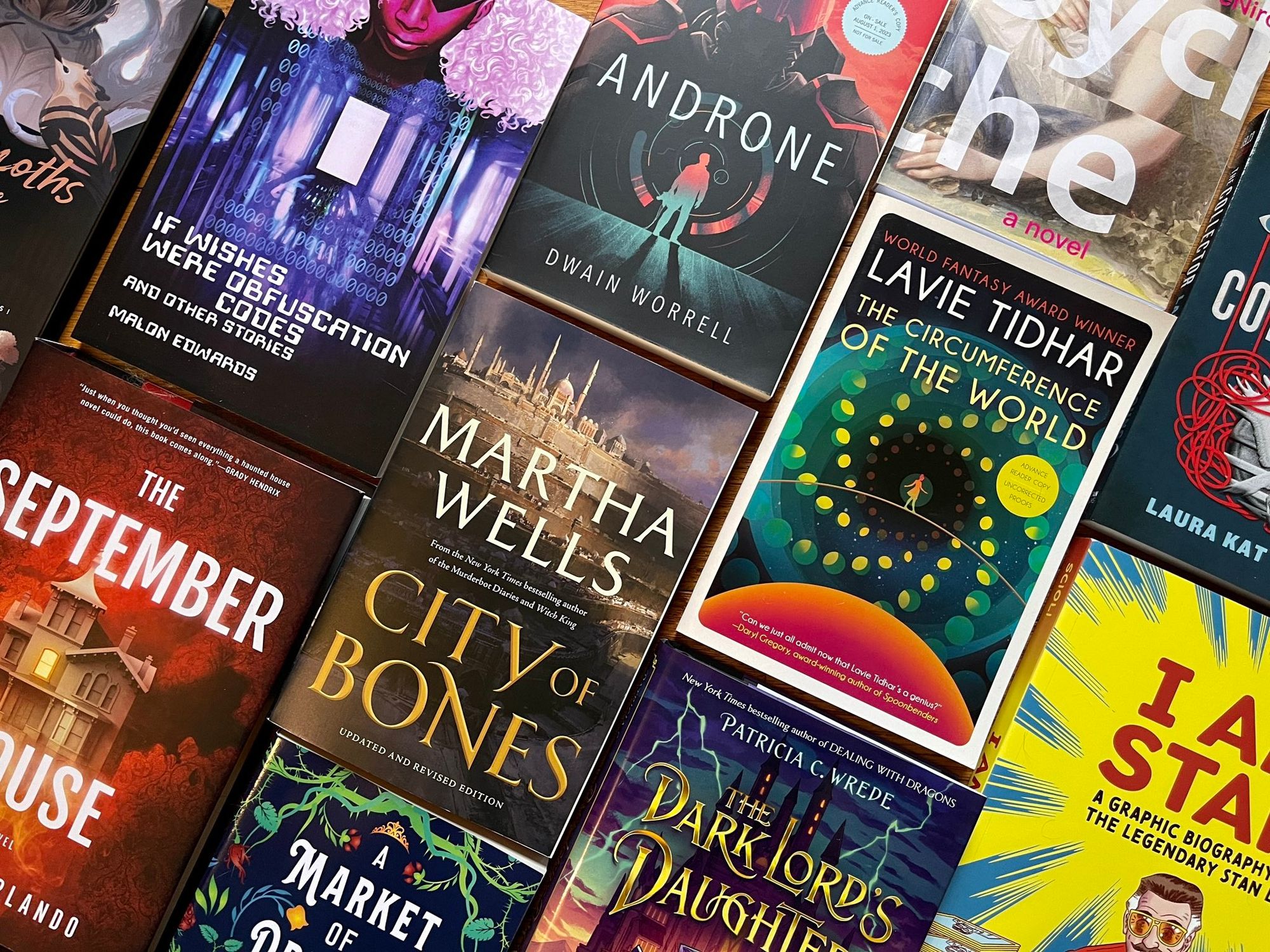 Here's the first of two book lists for the month of September: expect the next one to drop halfway through the month. There are a ton coming out: they include stories about the future of war, mysterious, magical marketplaces, comic books, and quite a bit more.
Here are the usual housekeeping reminders: If you're looking for more recommendations, you can find past lists via the Book List tag, and books with a link to Bookshop.org are affiliates: any purchases you make through them might yield a small commission for Transfer Orbit. It's one small way of supporting the newsletter.
If you find a book that you like, or if you find these lists useful, please consider forwarding this newsletter on to a friend, or telling your follows about it on social media. Twitter used to be a good avenue for this, but it's gone off a cliff in recent months, hasn't it? You can also sign up as a supporting subscriber: I've had that discounted by 50% the last couple of weeks ($25/year, $2.50.month), and I'll be flipping that back soon.
That support helps keep this newsletter on Ghost, my time writing, researching, and reviewing, and so forth. It's greatly appreciated, and I've got a Slack channel set up for subscribers that's been a fantastic place to hang out and chat about various nerd things. (Most recently, the launch of Starfield, and the the merits of various file-sharing platforms.)
Okay, here are 17 new SF/F books hitting stores in the first half of September that you should check out:
OKPsyche by Anya Johanna DeNiro (September 12th)
I met Anya years ago at ReaderCon, and we've crossed paths a couple of times since. I've enjoyed her shorter fiction, and now, she's got a new novel OKPsyche. It follows a trans woman in the near future who's navigating the complicated realities of the world: her family lives in another state, environmental disasters are taking place, and she's just trying to survive.
Booklist gave the book a starred review, saying "DeNiro's novel is a lyrical, emotionally powerful story about what it means to try and find a place for yourself in the midst of a hurricane of climate disaster, violence, and fear. It's a story told through weird, ghostly, haunting fantasy."
In this final project from the Fireside Fiction Company, Malon Edwards brings together ten of his short cyberpunk stories that explores resurrection, a rap novella about Black excellence in Chicago, hackers, assassins, teenagers, and more. I've long enjoyed the work that Fireside has put out, and this seems like the perfect coda for the site.
Exadelic by Jon Evans (September 5th)
Worries over AI have been a constant trope throughout the history of science fiction, and this book from Jon Evans looks like it'll be an intriguing entry. An unconventional offshoot of the U.S. Military has developed a new type of artificial intelligence called Coherence that has learned how to hack reality, allowing its users to teleport matter from place to place, make objects invulnerable, and it's decided that a middle manager in a Silicon Valley company is a threat to its existence. The poor guy is forced to go on the run from every level of the government, and as he investigates why he's being targeted, he embarks on a journey that'll take him far from home (in time and space).
Publishers Weekly gave the book a starred review, saying that "Evans does a brilliant job at taking the contemporary moment as his jumping-off point and then turning it inside out to create a unique new reality."
Under Market lies under London's Covent Garden, where everything is for sale and has a steep price. Deri was sold to one of the Under Garden's prominent merchants as a child and after years of work, has saved up enough to buy his freedom and find a new place in this society.
When a princess named Owain runs away to the market to sell her destiny, Deri sees an incredible opportunity: if he can broker a deal, he'll be set for life, but getting caught can also get him imprisoned for the rest of it.  
In this perfectly-titled book for the month, Carissa Orlando spins out a story about Margaret and her husband Hal, who've just bought a large, old Victorian mansion at a can't-pass-up price. That should have been a warning: the house is haunted, and every September, ghosts appear, blood drips out of the walls, and something comes out of the basement.
Margaret is determined to stay in the house, even as her husband abruptly leaves and vanishes. When her daughter Katherine comes home looking for him, the two set about trying to find him, and uncover some more secrets buried in the house.
Publishers Weekly gave the book a starred review, saying "when push comes to shove, it's a hard-won combination of biological and found family that unites to confront the supernatural threat. This utterly original haunted house tale is a joy."
The Never Wars by David Pedreira (September 19th)
I first came across David Pedreia several years ago when I read his debut novel Gunpowder Moon, a chillingly realistic story about a geopolitical struggle for control over the Moon.
In his latest, a team of special forces soldiers are given an opportunity to redeem themselves: orbit a black hole and experience some time dilation to take part in a war in the future. If they can complete ten missions, they'll have their records cleaned up – if they survive.
Publishers Weekly says "The firefights and relationship dynamics ring equally true, and the clash of political orders and military discipline with individual moral conviction resounds with heartbreaking intensity."
Last year, Penguin introduced comics to its iconic Penguin Classics books with Captain America, Black Panther, and Spider-man. Now, it's adding some additional comics to that lineup: The Avengers, Fantastic Four, and X-Men. Each of these collections pulls together a handful of each lines' iconic entries, and I've found that they serve as excellent entry-points for some of the genre's most influential stories and characters.
The books are available in trade paperbacks and as higher-end collectible hardcovers, and features forewords and introductions by Leigh Bardugo & José Alaniz (Avengers), Jerry Craft & Ben Saunders (Fantastic Four), and Rainbow Rowell & Ben Saunders (X-Men).
For better or worse, Stan Lee is probably one of the best-known figures in the world of comics, and it seems only fitting that the story of his life would be told in comic form. Tom Scioli given him that treatment in his latest book, I Am Stan. It's a new look at Lee's life (another great biography to check out is Abraham Josephine Reisman's True Believer), which Scioli notes in his foreword isn't approved by Lee's family or Marvel.
Library Journal gave the book a starred review, saying that Scioli "avoids reducing Lee to a one-dimensional caricature by deliberately highlighting his mercurial nature" and that he's "created the most compelling and layered portrait of Lee to date."
Scioli also wrote and illustrated 2020's Jack Kirby: The Epic Life of the King of Comics, which comes out in paperback on September 12th.
I've enjoyed reading Lavie Tidhar's astute, self-aware novels over the years: his latest is Circumference of the World, in which a girl named Delia Welegtabit discovered that she loved math, and a book called Lode Stars, written by a pulp author and church founder named Eugene Charles Hartley that features a protagonist named Delia.
Delia grows up to become a mathematician, marrying Levi Armstrong, a colleague. When Levi goes missing searching for a copy of the book, she hires a rare book collector named Daniel Chase to help find him, only to encounter a mobster named Oskar Lens who's obsessed with the book and the power over reality that it reportedly holds.
This looks like quite a trip: Publishers Weekly called it a "knockout" in its starred review, saying "toggling between perspectives and the ethereal text of Lode Stars, Tidhar's slippery metafictional tale lyrically entangles scientific fact, mysticism, and mental illness."
Gundog by Gary Whitta (September 12th)
Last year, Gary Whitta (the screenwriter of Book of Eli and Rogue One) launched a serialized podcast called Gundog, about a near-future Earth that's been invaded by alien machines called the Mek. The future of humanity might lie in the hands of one young woman named Dakota Bregman, who discovers a map that leads her to a lost mech known as Gundog. Realm (Formerly known as Serial Box) acquired the podcast for its network, and now Whitta is releasing the story as a print novel.
I've been meaning to check out the podcast: it sounds like a blast.  
Androne by Dwain Worrell (September 1st)
In the near future, all of humanity's military installations are wiped out in an instant – an event known as the Ninety-Nine. Nobody knows who was behind the attack, and to prevent another one, we created the Andrones: massive android war machines piloted remotely by soldiers far from the battlefield.
When a new pilot named Sergeant Paxton Arés is deployed for the first time in an unfamiliar battlefield, he contends with the boredom and isolation that comes with warfare, but quickly adapts to the lifestyle and moves up in the ranks. As he does so, he begins to question the nature of the war that humanity's engaged in, and begins to discover some unexpected truths about it.
Publishers Weekly says "Taut intrigue reels readers into a thrilling yet thoughtful narrative about the futility of war and the cost of doing the right thing, and a clever, quantum twist will please sci-fi fans."
In this fourth installment of her Singing Hills Cycle, Nghi Vo follows Cleric Chih as they return home to the Singing Hills Abbey for the first time in years. It's a bittersweet reunion: their mentor, Cleric Thien, has passed away, and has been laid to rest in the abbey. But Thien was once the leader of the Coh clan in the Northern Bell Pass, and his granddaughters have come to claim the body for themselves. Chih's put in the position of mediating the wishes of his mentor while preventing the abbey from being invaded by war mammoths.
Publishers Weekly says "Vo's mythologically infused alternate Southeast Asia draws readers in just enough to keep their attention and elevate her characters as they move through the plot, which gets off to a slow start but picks up the pace in later chapters."
City of Bones by Martha Wells (September 5th)
Martha Wells (whose birthday is today!) has become best known for her Murderbot stories, but she's had a long and distinguished career as a genre author. With the success of those stories, Tor has reissued one of her early fantasy novels, City of Bones, which has been revised and updated.
It's about Khat (a member of a humanoid race created by an ancient civilization) and Sagai (human), a pair of relics dealers who're skirting trouble with the law. When they're hired by a Warden to find a powerful artifact that can be used in one of the Ancients arcane engines, they start to unravel a mystery and a deeper conspiracy that threatens the world.
My son turned 10 earlier this year, and it's been a fun opportunity to seek out new Middle Grade novels for him to check out. This one caught my eye when it came in the mail the other day: the story of a girl named Kayla, who's been living a perfectly ordinary life until the day she learns that she's really the daughter of a "Dark Lord" and is whisked away to a fantastical realm where she's expected to accept her birthright, something she's not sure she wants to do.
The Collector by Laura Kat Young (September 12th)
In this near-future dystopia, people who are diagnosed with incurable depression are given a mind-wipe so that they'll become more productive members of society. It's Lieutenant Dev Singh's job to record the memories of those who'll be given the procedure. Away from the office, he's been jotting down those memories and storing them away. When the Bureau discovers this unauthorized activity, he's dispatched to a sanatorium to heal.
---
That's all for now: thanks for reading. As always, let me know what catches your eye and what's on your TBR list!
Andrew