Squandered legacy
The rise and fall of ANOVOS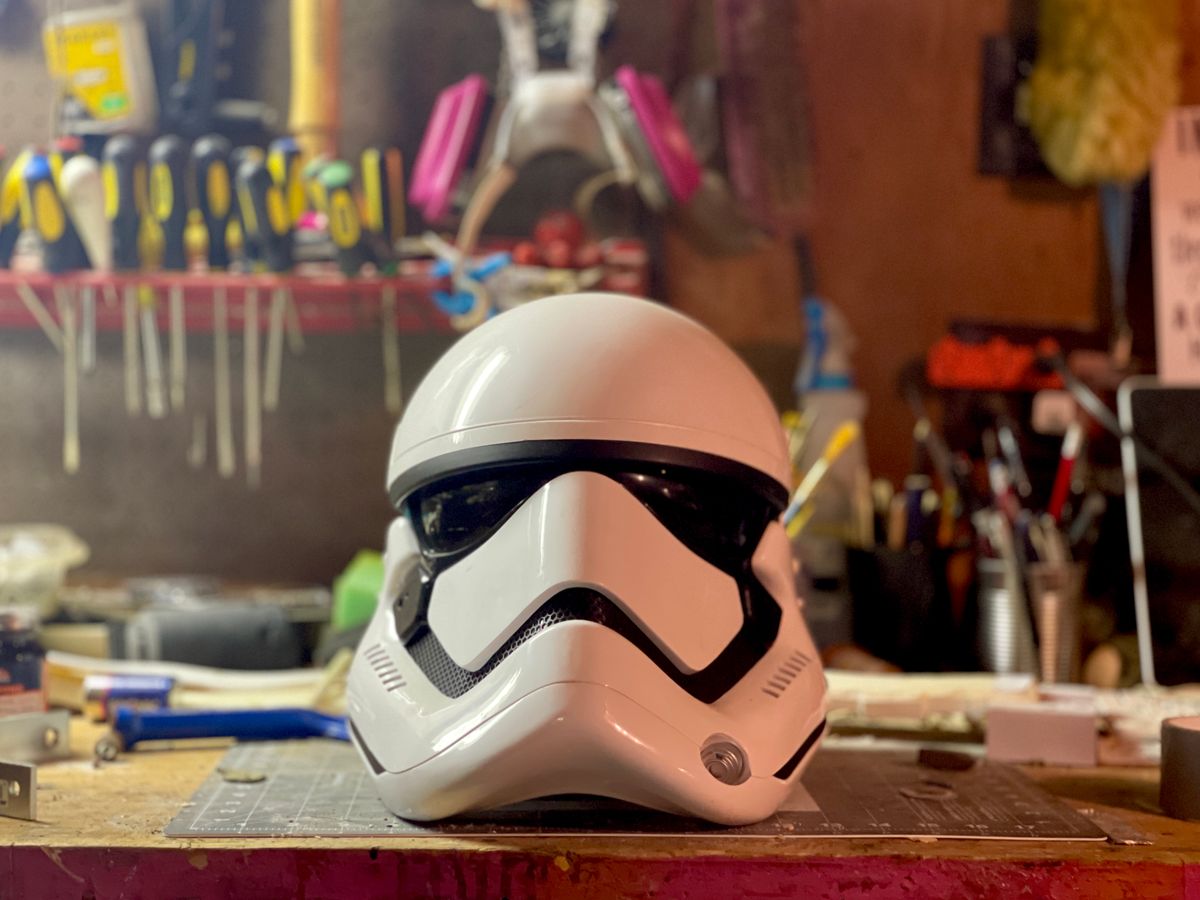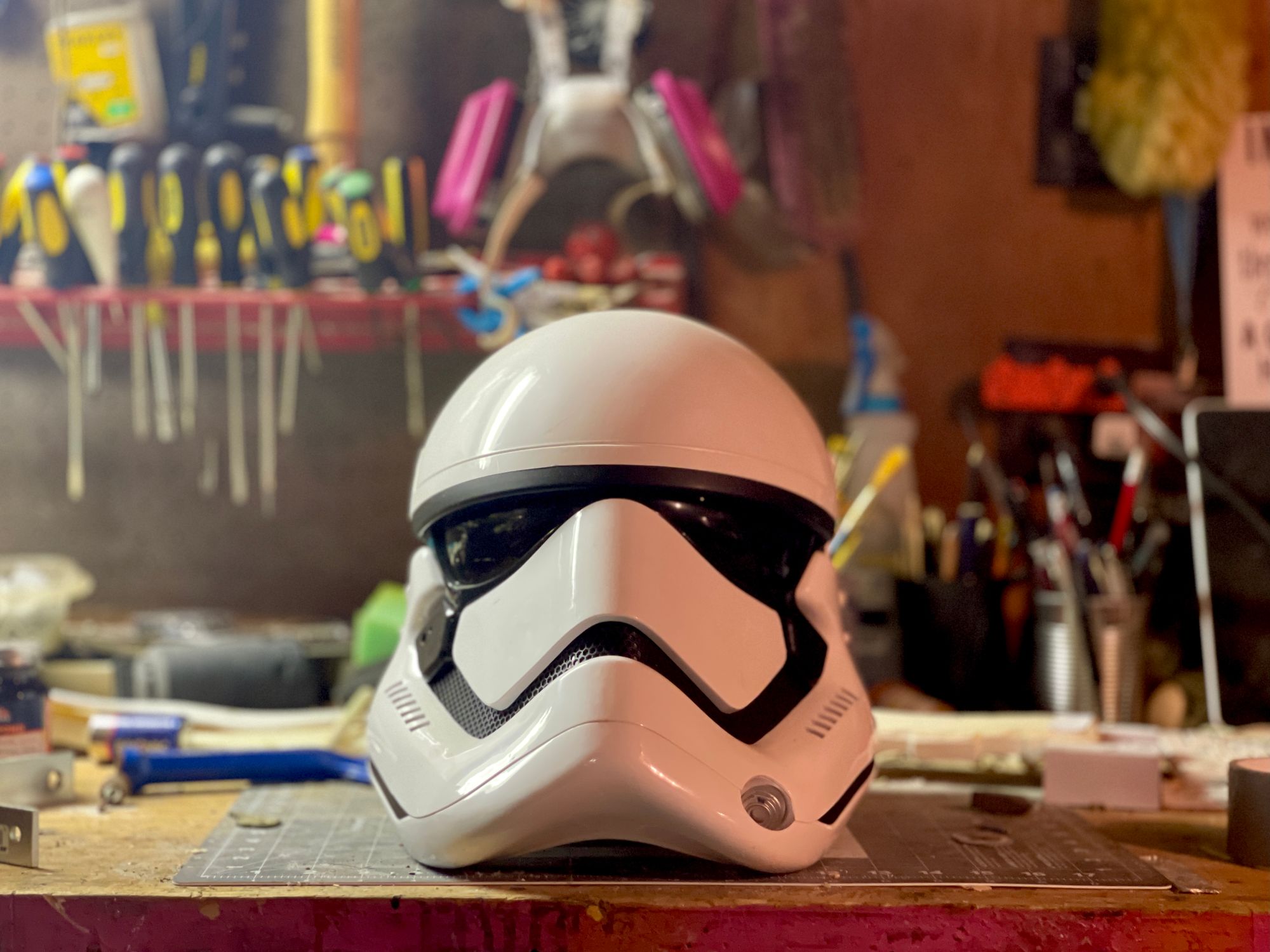 In the middle of August, a handful of Star Wars cosplay Facebook groups lit up, sharing screenshots of an email that they'd received from a company called Denuo Novo. "We understand that it's been a long time since you made your original purchase from ANOVOS," the email read. "Our priority at Denuo Novo is the back-order fulfillment and we are working as quickly as possible to get items production. Denuo Novo just became a licensee for high-end Star Wars collectibles this year and as part of our licensee arrangement, we are fulfilling the Star Wars back-order from ANOVOS."
The email brought about a new wrinkle in a long-running saga within the Star Wars costuming community. While cosplay has existed for decades, consumer have up until recently been largely uninterested in the highly-accurate costumes that came out of that scene: for casual Halloween parties, an off-the-shelf costume would be sufficient. If you wanted a high-quality costume of something like a Stormtrooper or a Darth Vader, you'd have to seek one out from the fan community, not store shelves.
Over the course of the last decade, cosplay has exploded in popularity. As shows like Game of Thrones and the films that made up Marvel's cinematic universe became mainstream hits, the various fan activities like fan fiction, and cosplay have followed. It's no longer a niche activity practiced by a few hardcore fans. While much of that world remains firmly in the hands of fans, there have been companies over the years that have catered to cosplayers by turning out high-quality (or higher-quality) props and costume parts.  
Enter ANOVOS. Founded in 2009 by Dana Gasser and Joe Salcedo, the company's products were designed by cosplayers who wanted to retain that accuracy to the films they were based on. They started off with costumes from Star Trek and Battlestar Galactica, and in 2014, acquired the license to produce Star Wars costumes. Fans were excited: the company had a good track record when it came to quality, and for the first time, they'd be able to get a fully licensed costume that was based directly on the original costumes.
But in the years that followed, ANOVOS squandered that goodwill. Its name became synonymous delays, moved goalposts, and sub-par quality service. Years after they placed their orders, some customers have yet to receive their orders, and others have taken to hounding the company's social media, reporting them to the Better Business Bureau, and in court.
Now, it seems that there might be light at the end of the tunnel: on August 18th, two established costume and collectable companies, Rubies and the National Entertainment Collectibles Association (NECA), announced that they were forming a new company: Denuo Novo, which they described as one that would create and sell "high-end collectibles including replica costumes and props from various pop culture franchises." And, it would help fill the backorders from ANOVOS that have languished for years.
---
It's hard to understate the excitement that surrounded ANOVOS's arrival into the cosplay world. For years, if you wanted to get a Star Wars costume that didn't look like a cheap costume, you'd have to turn to the fan community. The members of groups like the 501st and Rebel Legions had spent years documenting and constructing their own replicas of everything from the polished-white stormtroopers and bright orange rebel pilots, to characters like Han Solo, Chewbacca, Princess Leia, and Darth Vader.
Up until the late-2000s and mid-2010s, there wasn't much of a market for adult costumes: it was still largely a niche activity that occupied only the most dedicated of fans. While some companies turned out mid-to-high-quality prop replicas from companies like Sideshow, Master Replicas, or eFX Collectibles, they largely only sold costume components, like helmets or weapons, not the whole costume. Companies like Rubies did sell full costumes aimed at casual fans (which accuracy hounds found lacking), while Museum Replicas maintained its own costuming license, but focused mainly on Jedi robes.
That began to change in 2009 when Gasser and Salcedo founded their company. The two had come up in the fan costuming scene, and saw a market for the fan-made costumes they were making. Upon founding the company, they acquired the licenses to produce Star Trek and Battlestar Galactica costumes, as well as a handful of prop replicas to accompany them. In 2014, they acquired another license: Star Wars. It kicked off with three main costumes: Darth Vader, Han Solo, and Luke Skywalker's Bespin outfit.
At the time, ANOVOS had built up a solid reputation for their work: their Battlestar Galactica and Star Trek costumes were widely praised by fans for their accuracy. When ANOVOS released its version of the iconic stormtrooper, it promised a new avenue for aspiring Star Wars costumers. You could now go to a website and buy the costume directly.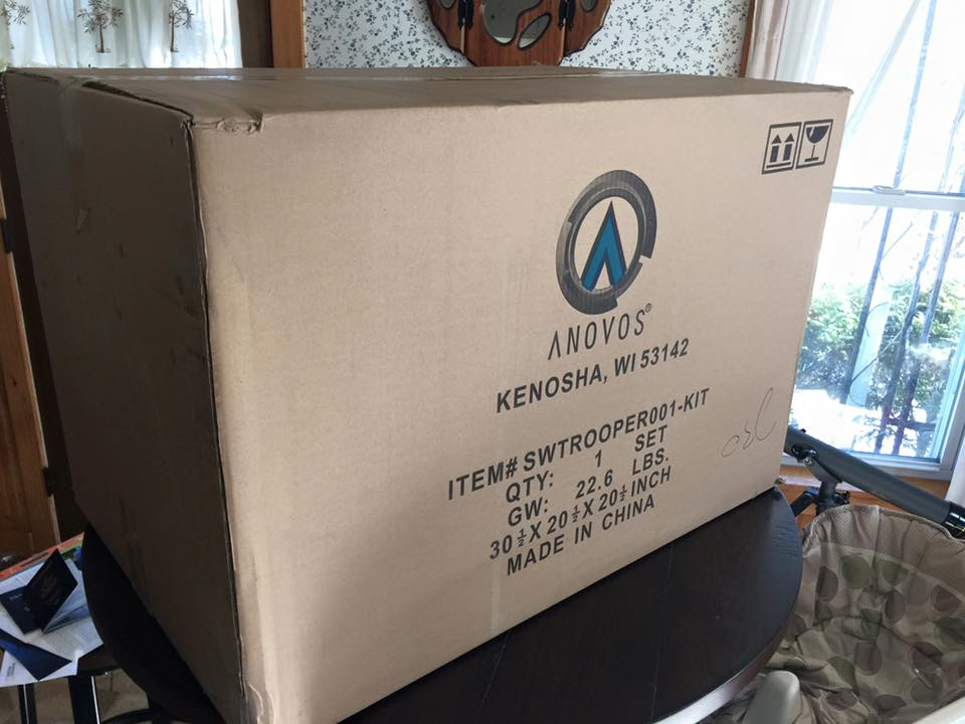 That's a huge development, because it helps smooth the entryway into the hobby. ANOVOS's accessibility, all-in-one box of parts, and directions significantly lowered the barrier of entry for aspiring cosplayers. Someone who might have not known about the 501st and the shadow industry that it helps support could now get into the hobby and fulfill that childhood wish of becoming a stormtrooper or other character. The result in the 501st community was a huge influx of members into the 501st: In 2015, the Legion counted around 7,000 members across the world. As of last year, that number had soared to more than 14,000 members, who wear more than 34,000 approved costumes (as of 2021).
ANOVOS's Star Wars gear was also of a fairly good quality quality — I purchased a stormtrooper kit in 2015 when they went on sale for a can't-miss-it-price of $350, and was largely pleased with what I got when it eventually came in a year or so later: the edges were detailed and crisp, thanks to ANOVOS's time looking over the original screen-used costumes and putting in some updates. The armor ended up being a bit thinner than I expected, however, and ultimately, that would lead to some complaints from 501st members, who found that it didn't hold up to the rigors of trooping that we were used to. I also picked up a First Order stormtrooper helmet, which I've been nothing but pleased with.
ANOVOS's foray into armor kits was just the start, and they had plenty of places to go from the original stormtrooper — there's no shortage of trooper types in the Star Wars universe. In 2016, just months after the release of J.J. Abrams' The Force Awakens, the company announced that customers would be able to buy the new version of the stormtrooper, and in the years that followed, it released a number of other products, ranging from high-end helmets for a number of the films and games, as well as accessories for those costumes, like a First Order trooper's ammo vest or the F-11D Blaster. It also began selling its costumes at Disney's theme parks. It also sold more than just basic kits: it offered up premium suits made of high-quality materials, which could be built for you.
But while the company was expanding its line of costumes, its customers were becoming increasingly agitated, thanks in part to how it took orders, and its response times for questions or refunds.
Within the costuming community, it wasn't an uncommon experience for someone to wait for years for a costume or prop, because they were almost exclusively built by hobbyists working on their own time. Early on, ANOVOS took preorders for upcoming products, often at a discounted rate. Early adopters could pick up a costume or part below the regular price, because they were buying it early: locking in those preorders helped the company place orders for production. But as delays mounted, customers began to complain — loudly.
In 2015, the company released a blog post that addressed some concerns that customers had begun to raise about the delays that they were seeing in their purchases. In it, Salcedo and Gasser outlined their rational behind how it handled preorders: "First and foremost, it gives you, the loyal fans, the best possible price (see next paragraph for a full explanation). Secondly, because you dictate the demand of a product, we minimize our risk of a bloated inventory and use the saved dollar to bring even more awesome product to you."
Some of those complaints were prompted by what seemed like an increasingly frequent occurrence from the company: updates that saw many of their announced products delayed further and further away, leaving customers without products that they'd paid for.
Over the years, I'd spoken to a handful of ANOVOS employees, and they cited a number of issues that were behind the delays. Manufacturing in China meant long supply chains, along with international shipping that could mean lengthy shipping times. They also pointed to onerous restrictions and approvals from Disney for everything from packaging safety to marketing materials, which would sometimes send the company back to the drawing board. Customers were also a cause for concern.
In 2017, a group of customers launched a Facebook group: Boycott ANOVOS, occupied by frustrated customers who shared tips for how to get through customer service, shared employee emails, and generally commiserated with their fellow cosplayers. ANOVOS had implemented a no questions asked refund policy, and it seems that as it delayed its products, more customers worked to claw back their preorders with help from other cosplayers.
That tactic apparently had a direct impact on the company's production budgets. It addressed those issues in a blog post, noting that "cancelations of pre-orders caused a gradual shrinkage of overall production budget," the pair wrote. "Fewer pre-orders led to a number of issues including an increase in raw goods pricing, increase in per unit cost, a deprioritization of product (moving items to the back of manufacturing queue) and—in some extreme cases—the cancellation of items that no longer met the factory's minimums."
ANOVOS changed its preorder policy in 2018, and in 2019, the company sent out an apology to its customers. "We realize that we have not effectively met the delivery expectations of our customers, and we would like to sincerely apologize for any frustration this may have caused," Salcedo and Gasser wrote. "Over the next few days we will be communicating how ANOVOS plans to change in order to serve our customers and community better."
Days later, they released a longer post, citing a variety of issues that they said were behind some of the delays: the nature of costumes, the need to source from a variety of companies and different materials, shipping delays from overseas manufacturers, and the work put into prototyping their various costumes and parts. "With more vendors," the pair wrote, "comes an exponential increase in variables. If multiple prototypes are required, delays occur and in extreme cases, vendors substituted, running the risk of starting the production timeline all over again."
But in many ways, it seems as though it was too little, too late. Shortly after the company apologized for its delays, the company was hit by a lawsuit from a customer who ordered more than $40,000 worth of merchandise, who also alleged that Disney, Luacsfilm, NBC, and CBS were partially responsible for allowing the company to continue its practices. The judge in the case eventually dismissed the studios from the lawsuit, but as of last year, had allowed it to continue against the company. The Better Business Bureau gave the company an F grade, citing its "failure to respond to 254 complaints filed against [the] business."
Talking with various people in the cosplay community, it sounds as though Disney and Lucasfilm pulled ANOVOS's license to sell Star Wars products sometime in 2020, and accordingly, the site's stock of Star Wars props dwindled as they quietly sold out. Disney did not provide a response about the state of its license, and emails to Gasser, and ANOVOS's public relations line went unanswered.
As of now, it seems as though ANOVOS has quietly gone dark. Its Twitter feed haven't been updated since 2019, its Facebook and Instagram pages were last updated in January, and recently, visitors to the company's website are now redirected to Denuo Novo. It seems as though ANOVOS's time has come to an end.
---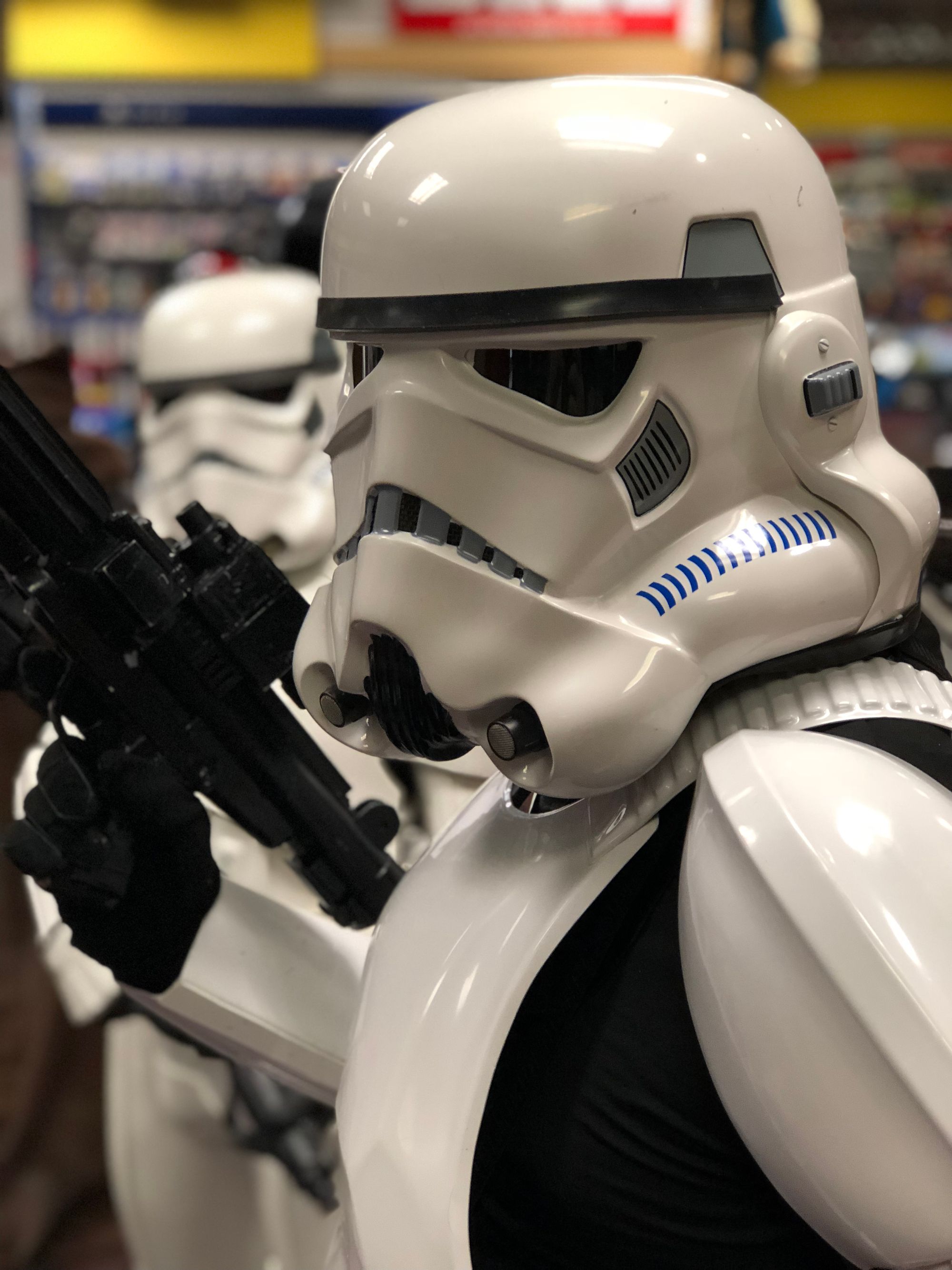 In its email to customers, Denuo Novo says that it will be taking over and "fulfilling many of the existing orders of Star Wars replica and high-end collectible products originally produced by ANOVOS Productions." People I've spoken with explained that the new company has acquired ANOVOS's debt, and might have also brought over some of its employees, although I haven't been able to confirm that. If true, it looks as though the products that ANOVOS developed will live on under this new brand.  
Indeed, the new company's website features a handful of products that ANOVOS previously sold: Din Djarin's helmet from The Mandalorian, a shoretrooper helmet from Rogue One, a First Order flame trooper helmet from The Force Awakens, a royal guard helmet from Return of the  Jedi, black and olive officer hats, and a couple of light-size statues produced by Rubies, all of which are now available to purchase.
In a statement, Denuo Novo told me that it is "its own entity, owned by NECA and Rubies. We have the license for high-end Star Wars collectibles. Being the new license holder, we are also fulfilling the ANOVOS back-orders so these items will be the same products that were once offered by ANOVOS."
The new company didn't answer any followup questions, and it isn't clear if it will be selling the range of costumes that ANOVOS had offered at one time or another, such as full sets of armor, additional helmets, prop guns and other costume components. Rubies also didn't respond to questions, and the ultimate fate of ANOVOS is unclear at this time.
---
While it appears that Denuo Novo hasn't acquired ANOVOS outright, if it's selling the former company's products and has some of the same personnel, does what does that mean for fans?
What's clear is that ANOVOS squandered a considerable amount of goodwill amidst the community that it catered to. At best, members of the Star Wars cosplay community have been skeptical of the apparent transformation. At worst, they're just as hostile to this new entity.
Their skepticism and hostility is not unwarranted: seeing a company vanish after you've paid for goods isn't a good feeling, and as of yet, Denuo Novo hasn't fulfilled those missing back orders. "We are working as quickly as we can to deliver on back-order items from ANOVOS," it writes on its FAQ page. "Your order is important to us and we hope to have it delivered to you as soon as possible."
But there's something to be said for wiping the slate clean and starting over. Rubies, for better or for worse, is the biggest manufacturer of Halloween costumes, and NECA has produced a wide range of collectables and prop replicas over the years for a variety of franchises. If one is to take ANOVOS's complaints about supply chains at face value, a company with the resources and connections like that o Rubies and NECA will likely help solve some of those supply chain problems. And while Rubies doesn't have the best of reputations amidst the cosplay community, it does have considerable expertise with handling licenses and bringing them to market without the issues that seem to have plagued ANOVOS.
Indeed, ANOVOS seems to have suffered from some systemic issues: it wasn't able to manufacture its products at scale to the point where it could adequately handle a customer revolt. That seems to have permeated the company to a deep level: speaking with a booth rep years ago, I was a little shocked when he characterized the fan community as "pirates" who were stealing Lucasfilm's IP (and thus, its own revenue source). That level of hostility isn't entirely surprising given the treatment that fans and customers leveled at the company, but given the long history and nature of fan-made props and costumes that supported the company, it felt like an overly extreme attitude that wasn't helpful.
Looking back, it feels as though ANOVOS suffered from some systemic problems that it couldn't overcome, especially compared to the fan community. Where it had to contend with Disney and other license-holders, fan-makers aren't bound by such restrictions. Once a costume is introduced for the first time, it isn't long before it's quickly replicated by fans within cosplay circles. ANOVOS was often a couple of steps behind, and while it could boast screen-lineage props and costumes, that isn't always a top-of-mind concern for fans and makers: speed and cost are. If a fan-produced costume is good enough, it's a lot harder to convince someone that they should pay more money for something that is only marginally better. (And even then, it's not always better: last year, a friend showed me their ANOVOS-produced Din Djarin helmet from The Mandalorian, and the quality left quite a bit to be desired.)
More importantly, its worsening customer service track record actively turned its customers against it, prompting them to organize on social media and forums to complain about their experiences with the company.
Those various factors taken individually might have allowed the company to survive and retain a loyal base of customers. Taken altogether, its a recipe for the failure that ultimately seems to have befallen the company.
What will happen next will depend entirely on how Denuo Novo approaches the fan community, how well it handles customer service, how quickly it'll fulfill those backorders for skeptical fans, and if it can both retain the quality that the earlier ANOVOS costumes displayed. If it can't do that, we'll be back to where we started: skepticism around Denuo Novo will linger, and costumers will quietly advise newcomers to avoid the company.
I hope that Denuo Novo can change the low expectations that exist in the cosplay community — while I didn't hold onto the suit of stormtrooper armor that I purchased from ANOVOS, I still regularly troop in both of the helmets that I picked up from the company. ANOVOS made good stuff, and hopefully, their legacy of hard work producing costumes, helmets, and props will outlast their tarnished reputation.
But if they want to bring back customers and fans, Denuo Novo need to demonstrate that they really have turned over a new leaf, and aren't just a new name.
---
This type of feature involves a ton of research and interviews, and I think it's the types of stories that are important to readers. If you liked this story, please consider signing up as a member or paid subscriber for Transfer Orbit.
You can find some other, similar stories here on Transfer Orbit: