Toxic fans, streaming IP, and the Hugo Awards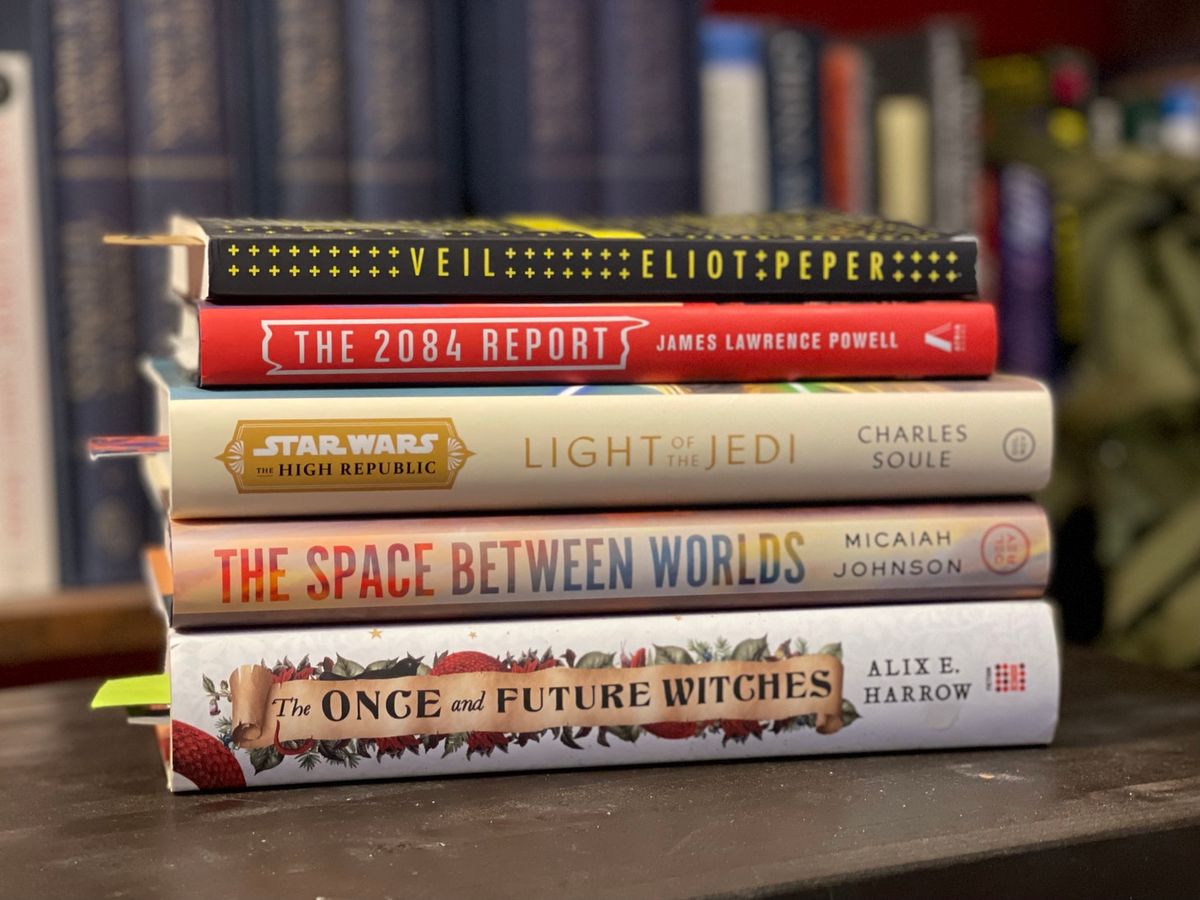 Hello!
We're a month into a new year, and it doesn't quite feel as bleak, does it? It's a nice feeling.
I'm making a couple of programming changes with what I've been calling the "roundup" newsletter public issues, which will hopefully be more useful to y'all.
I'm going to bump the regular roundups to weekly on Fridays, and introduce a new section to it, which I'm calling The Week in SF/F. My goal is to provide a bit of a snapshot of the last week in the bigger stories of the week, with a bit of context.
A couple of weeks ago, I attended Substack's first writer's conference, and one speaker, Casey Newton, mentioned something that I'm taking to heart: this newsletter is a good way to do some curation for readers in a pretty crowded world.
I've sort of done that with the Further Readings section, but I've been focusing on that as more of a way to highlight long reads and whatnot. That part will still remain (and will be cannibalized a bit), but I'll highlight those a bit more and why I'm drawn to those particular articles. I usually do a bit of a review / commentary in these roundups, but I think I'll split those out into separate (for the full subscriber list) issues. That'll make it easier for me to link to as separate posts.
This is all a bit of an experiment, so I'd be interested in how useful you find it. I'll also invite you to send along links and stories that you find interesting, ask me to dig into something a bit more, and so forth.
Also: I have a question for y'all: last weekend, I had a good number new subscribers sign up (welcome!). I can't quite figure out where that flood of new folks came in from (it's not entirely normal, which makes me think that someone recommended this publication somewhere?) and I'd be interested in tracking down the source!
---
I also have a bit of a commercial interlude: I don't view this newsletter as a one-man operation where I get to pontificate about *waves around* whatever I fancy talking about this week. I see it as a way to write about the happenings of the science fiction and fantasy world in a way that matters to you. I hope that it's been helpful and interesting, and I want to encourage you to leave comments, send me emails, and start up discussions about what you read.
You're one of more than a thousand readers who have signed up to get this in your inbox, and the work that you get on a regular basis happens because of you and your fellow readers.
This work is supported by a small number of readers who've signed up for a subscription. I've been treating the last couple of weeks as a bit of an NPR-style subscription drive, where a bunch of listeners/readers chip in a bit to help make the operation happen. Your support helps in many ways — it allows me to budget out time to work on the in-depth pieces that I've been putting out for paid subscribers, allows me to use tools like Otter.ai and Blue Dot Sessions, to pay the occasional contributor (I'd love to bring in more), and so forth. It keeps the lights on, especially in an increasingly uncertain world of freelance journalism.
It allowed me to do a deep dive into the future of Michael Crichton's estate and IP, muse about the natural world and the footprint we leave behind, explore the importance of Dragonlance, take you into a military school to think about wargaming AI scenarios, and explore the troubling history behind Harlan Ellison's anthology Last Dangerous Visions. There's more to come — this year has already seen some takes on Orwellian and dystopian science fiction, fan fiction, cop shows, and more.
For the last couple of weeks, I've dropped the price of subscriptions through the end of January. If you've been a casual reader and enjoyed what you've read, I'd invite you to sign up as a subscriber, and help support more in-depth, long reports about the state of the SF/F world. I also hope that this is useful for industrial readers who're working in publishing and publicity (You might be able to expense a subscription for your office!)
The discount will only be around for a couple of more days, and it'll go back up to the normal rate in February.
If financial support isn't in the cards, that's okay: another way to help support Transfer Orbit is to tell someone about it. Much of the growth of this little community has come from someone forwarding an email to a friend, or posting about it on social media. If you've found a book you've enjoyed through one of the monthly book lists or a review, or found something interesting that made you think about the genre in a new way, please consider sharing this with your friends, followers, and acquaintances.
Thank you — I genuinely appreciate the consideration, your support, your messages, and the time you've taken to read this newsletter. It's really something that's kept me going, and something that's gotten me to think more deeply about the genre that we all love and appreciate.
Okay — that's it for subscription drive. Onto the regularly scheduled #content that you've signed up for.
---
This Week in SF/F
#istandwithkrystinaarielle
Last week, Lucasfilm announced that actress Krystina Arielle would be hosting a new, regular web video series about its High Republic franchise. Arielle, a Black woman, has spent some time pointing out instances of systemic racism on Twitter, and when the collective ratball of alt-right personalities and their enabling websites like Bounding Through Comics went through her profile and began yelling RACISM.

The result was pretty horrific: Arielle posted screencaps of racist hate mail that people had sent her. Lucasfilm, via @StarWars had to go out of its way to affirm its support for her. It's an unfortunate reminder of the toxicity that exists in the Star Wars community, and of the logistical network of terrible fan sites and social media influencers that help it fester.
While you're at it, you can watch the first episode of the High Republic Show.
Dragonlance moves forward
Margaret Weis and Tracy Hickman announced that they would be moving forward with their new Dragonlance trilogy, putting to an end a dispute between them and Wizards of the Coast.
I profiled the history of Dragonlance last fall when word broke about the lawsuit they filed against WotC: the issue seems to have been around the publication process in which Wizards had to approve drafts that they'd produced. Wizards seems to have refused to approve a draft, which they allege broke their contract. Last week, I wrote that they'd settled, and the official confirmation came earlier this week. The books will tentatively be available later this fall.
Babylon 5 gets a facelift
This is something that's been long overdue: Warner Bros. has moved J. Michael Straczynski's space opera series over to HBO Max, and as it did so, it gave the series a bit of a visual refresh.
When the series was shot, the live-action footage was shot in wide-screen (with the intention of anticipating better TV screens down the road), but released in a 4:3 ratio for television. The CGI was created only for that 4:3 ratio, so when Warner Bros. released the series on DVD in widescreen, that CGI and scenes that blended live-action and CGI were pretty compromised.
The whole thing is back to 4:3 for streaming, and they've remastered the show from the original masters for an HD presentation. It looks quite good, and it's an excellent opportunity to check the series out if you haven't before.
Harry Potter: the TV series?
The Hollywood Reporter broke the news that Warner Bros. is exploring the possibility of developing a Harry Potter TV series for HBO Max. The efforts don't appear to go beyond meetings at this point — THR says that nobody's signed anything yet, but it seems like a pretty forgone conclusion that we'll see something like this at some point: the Wizarding World is a huge property for them, and bolting on additional content with HBO Max seems to be Warner Bros. MO: so it makes sense that they'd want to include this particular franchise in that.
That said, creator J.K. Rowling has gotten herself in a lot of hot water in recent months over her really awful stance on trans people. (Background on this here). She's faced a lot of pushback, and hasn't backed down — presumably, it's an issue that's we're only going to see escalate.
I imagine that Warner Bros. will want to wait and see how Fantastic Beasts 3 goes before moving forward on anything, to see how much her self-inflicted PR wounds will cause problems with the franchise as a whole.
Westeros: The Franchise
Rowling's Wizarding World isn't the only big property that Warner Bros. is looking to mine for gold: word broke this week about two potential Game of Thrones spinoff projects that are now in development: a Dunk & Egg series, and some sort of "adult-leaning" animated series.
We've known that HBO wants more Game of Thrones for years, even before the series closed out with a lackluster finale. There were five different projects in the works at one point, which whittled down to one: House of the Dragon, which is currently in production. Mind, these new shows are in development and might not make it through, but if they don't, it's almost assured that another project will.
What seems likely here is that while HBO had planned on more Game of Thrones projects, AT&T's push into streaming video with HBO Max means that they're desperate for content, and leaning into established IP is an easy way to do that: you already have an established fanbase from folks, right? Look at what Disney's been doing with Star Wars and Marvel on Disney +. Warner Bros. is warming up, and with properties like DC comics (Batman and Suicide Squad shows are in the works), Dune (Dune: The Sisterhood), and now Harry Potter and Game of Thrones? That's a lot of recognizable names to attract new subscribers.
DisCon III Hugo Awards: Now Open
DisCon III, this year's World Science Fiction Convention, has announced that nominations for this year's Hugo Awards are now open, and will remain so through March 19th. This year will see Best Video Game make an appearance as a special category, and is open to anyone who had registered for the convention (or was a member of CoNZealand) as of December 31st, 2020.
This year's con has experienced some controversy, as the con initially announced — then backtracked — on a plan to limit names on the ballot and award itself to four parties. The con said that this was for legibility purposes, but critics noted that it'll particularly affect creators from marginalized communities for categories like Best Fanzine, Best Related Work, and so forth. The incident prompted the con's Co-Chair, Colette H. Fozard, to resign, although her explanation was called out for a variety of reasons.
The incident highlighted a persistent criticism of the larger WorldCon / World Fantasy Con / fan community: systemic issues ensuring that fans / authors / creators of color are included and made to feel safe at the con and within its programming. It's not an insurmountable problem: SWFA has been doing a fairly good job by prioritizing accessibility and equality, while upstart cons put on by publications like FIYAH went over extremely well.
Something that I'll throw out there as well: I *think* Transfer Orbit is eligible for Best Fanzine, and I'm eligible for Best Fan Writer. If you've enjoyed this newsletter or my writing, please consider it when you're nominating!
GameStop
I'm not going to bother to try and summarize the GameStop thing that went viral earlier this week. But Jason Koebler over at Vice did a good rundown of what's going on. WNYC's On the Media also has a good segment on it.
---
Currently Reading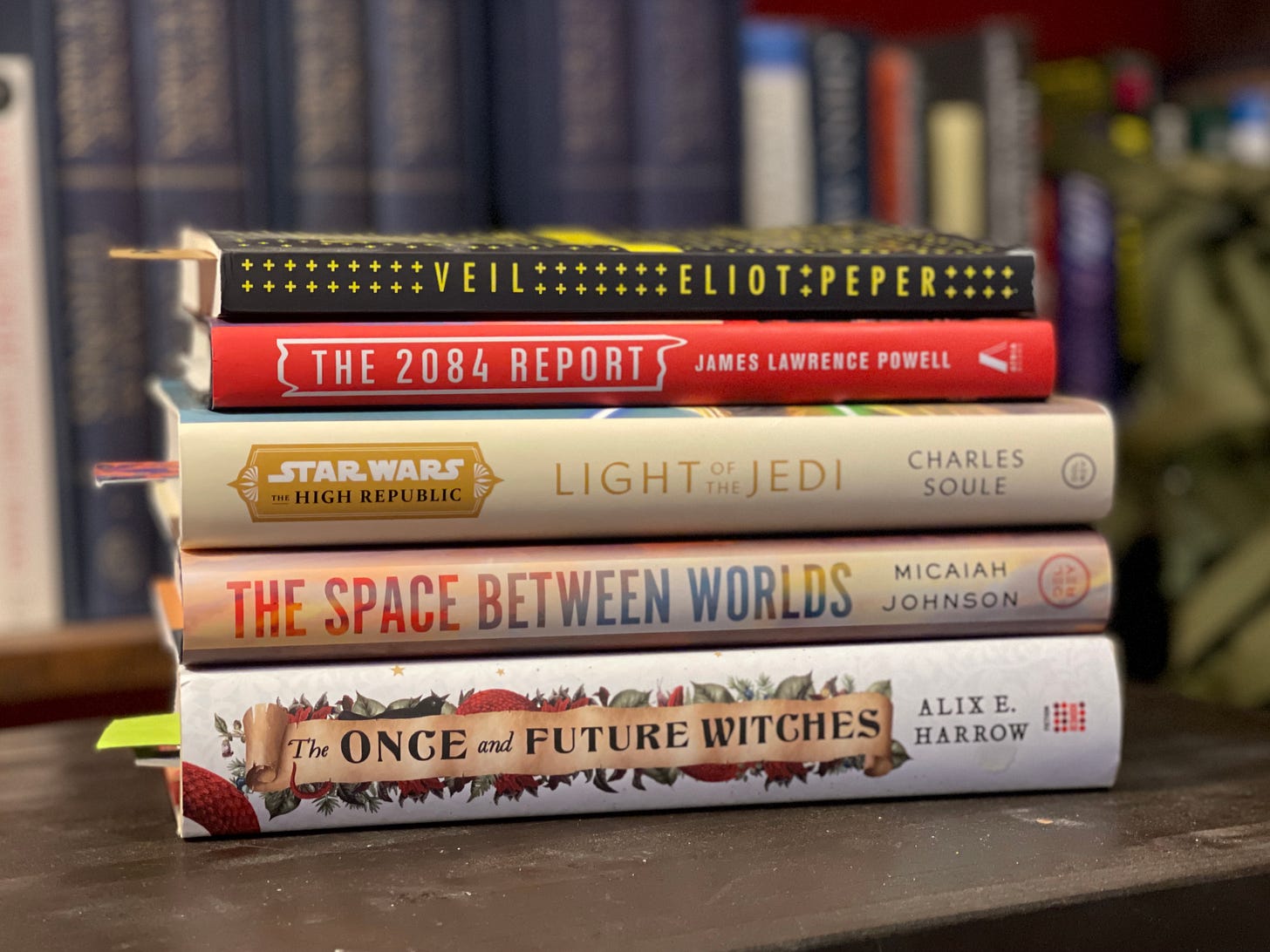 I've finished a couple of books in recent weeks:
Justina Ireland's A Test of Courage, one of the Star Wars: High Republic books. This was the first longer, middle-grade books that I read with Bram, and it's a fun adventure that's helping kick off that sub-franchise.
Nnedi Okorafor's Remote Control. I had high hopes for this one, but was a bit let down by it. The story was interesting, and while I really enjoyed the world that Okorafor set up, but it felt too short, and ultimately it didn't quite mesh for me.
James Lawrence Powell's The 2084 Report: An Oral History of the Great Warming. This is a chilling read. Where Kim Stanley Robinson's Ministry for the Future was a bit scary then optimistic, this one shows the darker side of what could lie before us.
Currently on the to-read list? Finishing out the books that I started and got a good chunk into last year, like Alix E. Harrow's The Once and Future Witches, and Michiah Johnson's The Space Between Worlds. I'm also working on Charles Soule's Light of the Jedi , Simon Ståhag's The Labyrinth, Kathleen Belew's Bring the War Home, and Eliot Peper's Veil.
There's also a growing stack of books that I've got that I'm planning on picking up: Claire Holroyde's The Effort, Natalie Zina Walschots' Hench, Mike Chen's We Could Be Heroes and Stina Leicht's Persephone Station.
And of course, it's the beginning of the year, and ARCs/finished copies are making their way to me in earnest. Here are a couple of stacks of books that have come in this week. I'm very interested in this copy of Abraham Riesman's upcoming biography True Believer: The Rise and Fall of Stan Lee.
---
Further Reading
---
As always, thanks for reading. Coming up on February 1st, I'll be releasing the regular monthly book list, and for subscribers, I've got a longer issue about the science fiction and climate change, as well as a deep dive into The Turner Diaries, a horrific science fiction novel that's helped inspire some terrorist attacks.
Stay safe,
Andrew